An Introduction to Marketing Collateral
A basic overview of marketing collateral and its role today
What is Marketing Collateral?
Marketing collateral is a collection of media used to inform, educate, and guide prospects and customers about how their challenges can be solved. It is designed to deliver actionable value and ensures that it occupies top-of-mind real estate with your buyers.
History of Marketing Collateral
Until about two decades back, marketers created printed marketing collateral for use sales reps. Rather than forcing reps to memorize technical details, they figured it might be easier to provide printed handouts with product specifications and features. 
Traditionally, this media was handed over to clients or placed in locations (during events and conferences) that clients could access or in door-to-door marketing.
These handouts had a call to action, should the target audience need to contact the sales reps.
But, over time, marketers realized that a lot of the printed marketing material did not serve its original intent for various reasons such as:
The sheer number - There was too much of physical marketing collateral to use in the form of brochures, case studies, pamphlets, fliers, circulars, and booklets.
Difficult to use formats - Physical marketing collateral used to be clunky with jargons and flowery language that concealed key actionable insights from the user.
No way to measure ROI - There was no way marketers could measure the ROI of the marketing collateral they created. Metrics such as audience interest levels, time spent on it, and its connection with revenues generated could not be determined because marketers failed to track the journey of physical marketing collateral.
Did not reach the target audience - A lot of times marketing collateral did not reach the intended target audience, or was not convincing enough to prompt them to take action.
As a result, marketers began creating marketing collateral in digital formats such as PDF documents, infographics, videos, or podcasts, so that the target audience could easily comprehend it.
Printed marketing collateral forms continue to exist even today, but the number and forms of digital marketing collateral that marketing and sales teams can use for different stages of the buyer's journey have surged exponentially over the years.
Get Actionable Insights That Moves Sales Forward
The image below explains how digital ad spending is projected to touch $517 billion by 2023.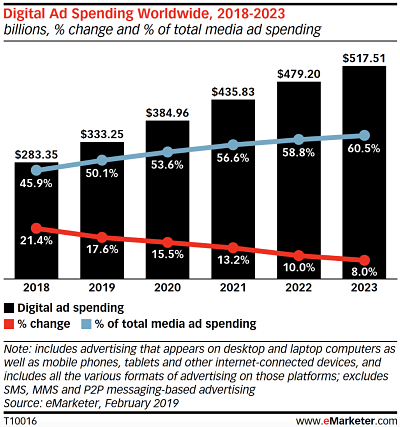 Why Do You Need Marketing Collateral?
Marketing collateral lies at the heart of a company's content marketing efforts. It enables customers with all the information and features they need about a product/brand/service.
It acts as an extension of a company's content marketing efforts. It does not attempt self-promotion or trickery to generate sales. Instead, it focuses on providing authentic content to solve buyer needs and challenges.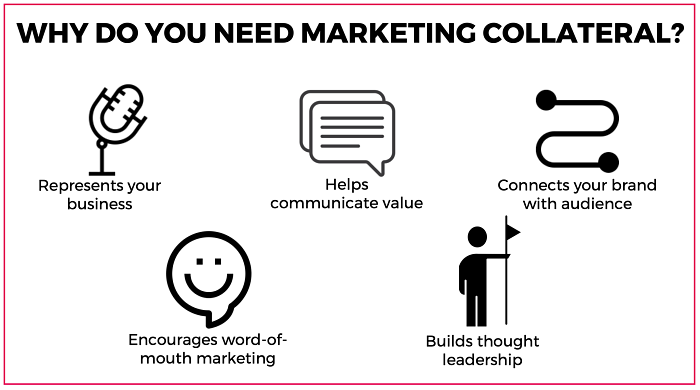 Let us now understand why marketing collateral is significant. Here are five reasons why every business needs marketing collateral:
1. Marketing Collateral Represents Your Business
No matter what your company is - B2B or B2C - marketing collateral represents your business or brand.
In B2B scenarios, sales transactions have long cycles and large deal values. Sales reps need to constantly nurture buyers with appropriate marketing collateral through the length of the sales cycle. Effective marketing collateral can help build lasting customer relationships. 
In B2C situations, customers tend to decide quickly before they buy a product. So, marketing collateral such as customer reviews, product details, websites, etc. help buyers arrive at decisions.
Marketing collateral is active even when you are not, as it is visible in the shared channels to the potential buyers at all times of the day.
Marketing collateral lets every business speak for themselves. Every company, big or small, can get word of their business out quickly. The marketing material could be anything – case studies, customer credentials, videos, brochures, e-books, websites, landing pages, microsites, and similar media.
2. Marketing Collateral Helps Communicate Your Value Proposition
People have needs and challenges. It is because they have unfulfilled needs that businesses exist.
Marketing collateral explains how businesses solve people's needs and challenges. It attracts a customer's attention to a product that fulfills his needs and persuades him to make a move by informing and educating them.
For example, GEICO (Government Employees Insurance Company's) promotes videos that clearly call out the value proposition of a product.
In one ad known as the 'Unskippable' campaign, a family is shown having spaghetti for dinner, as a huge GEICO logo appears right in the middle of the screen with a background voice that announces, "You can't skip this ad because it's already over. Fifteen minutes could save you 15 percent or more on car insurance." A dog then climbs on the dinner table and polishes off all the spaghetti. This video won the Film Grand Prix award at the Cannes international ad festival.
3. Marketing Collateral Connects Your Audience With Your Brand
Marketing collateral share brand messages and encourage conversations with and among customers across a fluid mix of paid, owned, earned, and shared communication channels.
'The Avengers' movie franchise is a brilliant example of how a 90-minute movie sends global audiences into a tizzy and engages them with an array of merchandise like toys, clothing, accessories, and home decor. It helps fans grow closer to their favorite action heroes.
Denise Morrison, former CMO of Campbell Soup Co. says that "We are moving away from brand marketing to brand experience where we earn consumers' trust, rather than buying it." 
The bridge of trust built between a business and its audience by the marketing collateral helps facilitate a strong connection.
4. Marketing Collateral Encourages Word-of-Mouth Marketing
In today's digital age, consumers can make or break a company.
Imagine yourself shopping for a pair of jogging shoes. You fix up a budget for it and then scout online or local stores for different options. However, invariably, you want to check user reviews because they are experiences narrated by real users.
Alternatively, imagine yourself attending a business conference where you bump into your college pals who tell you about an excellent email automation software that they've been using. You are immediately drawn to it and want to give it a try when you are back at your desk.
These are various forms of word-of-mouth marketing. A Nielsen study revealed that 92% of consumers believed what their family and friends told them than advertising.
By nature, human beings are wired to share, as Peter Blackshaw, head of digital and social media at Nestlé explains it in his book "Satisfied Customers Tell Three Friends, Angry Customers Tell 3,000."
Google Android launched a video called 'Friends Furever' featuring rare combinations of animals—a dog and an orangutan, an elephant and a dog, a tiger and a bear, a baby rhino and a goat - being playful friends. Captioned as 'Be together. Not the same', the video highlights how two people can be different, yet be stronger together, in line with Android's core message that irrespective of the device you use, the operating system works perfectly.
The video garnered 24 million YouTube views and 6.4 million shares on Facebook, Twitter, and blogs in the first nine months.
5. Marketing Collateral Promotes Thought Leadership
Thought leadership is about knowing how innovation can impact lives, and using it to provide insights to help build trust around your community.
When done correctly, marketing collateral positions the company as an industry thought leader.
Richard Branson and Bill Gates have become thought leaders in their respective industries, not just because they are successful entrepreneurs. They regularly publish blogs and videos on social media about topics ranging from climate change, caring for nature, dementia, best books to read, and a lot more - the list is endless.
Makino Machine Tools, a Japanese machine tool builder, hosts a series of industry-specific webinars on handling complex industrial equipment that makes a thought leader in a niche space. Hubspot and Google have become thought leaders by designing courses that enable sales and marketing teams to upskill themselves.
McKinsey's dedicated thought leadership website named as 'Featured Insights,' provides a wealth of information on a range of issues across industries. It positions them as thought leaders who have answers to everyday business challenges.
These marketing collaterals examples explain how thought leaders have become well known for publishing content in a non-pushy way.
Benefits of Marketing Collateral
Developing good marketing collateral with a clear strategy has many benefits, both internally and externally. Here are five benefits of marketing collateral for any business:
1. To Communicate Standard Information
In every industry, there's usually some specific information that customers need. These could be as straightforward as the terms and conditions of a product, pricing information, or technical specifications.
It makes much more sense, then, to have this information already prepared and ready to share, rather than having sales teams learn it by rote and recite it each time a client asks for it. For example, the FAQ section on a website is a type of marketing collateral which can be proactively shared it with a customer.
2. Reference Material for Sales
When there is a lot of technical information to remember, it is generally a better practice not to rely on sales teams remember it verbatim – especially when a wrong specification could drastically impact product performance.
Having a technical sheet or a sales kit that a sales rep could refer to during a customer meeting, and then share it with customers acts as handy reference material and a conversation memento.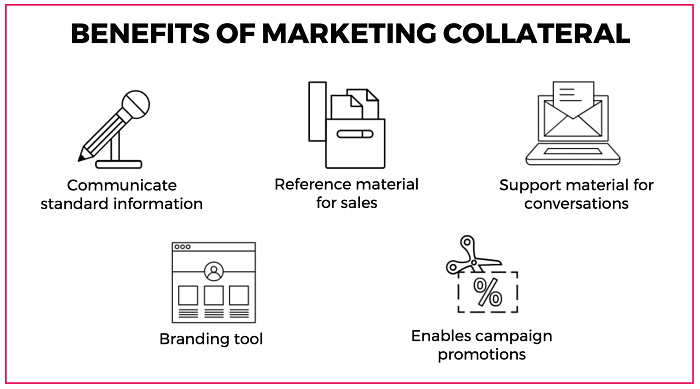 3. Support Material for Conversations
Good collateral should be able to add value even when there isn't a sales rep to explain it. Such marketing collateral communicates a specific value to the customer and augments sales conversations. It empowers the customer with answers to some of their standard questions, and to make a fair comparison with other products.
4. Branding Tool
A company's customers engage with good marketing collateral repeatedly. It can be useful then to ensure that the marketing collateral communicates your brand identity clearly, and distinguishes your values and principles from other brands.
That way, each time your client sees it, they will be able to associate your values better with your brand. The more often they see it, the more likely it is that your brand will stay at the top-of-their-mind.
5. Campaign Promotions
Marketing collateral is also extremely useful as supporting tools for sales campaigns. They provide a method for businesses to communicate their products/services/solutions with their existing brand identity and help to flesh out a more cohesive understanding of their brand personality.
Campaigns are known to be very effective at creating a sense of importance at a short-term event and are a great way to garner customer attention. 
Marketing Collaterals Ideas
In this section, we will look at different marketing collaterals ideas for B2B and B2C companies.
Marketing collateral varies in its types, i.e., in form, structure, usage, distribution methods, and target audience. That' s because each marketing collateral type has its own purpose, utility, merit, and demerit.
For example, collateral for sales teams is designed to convince customers of the value of the products they are selling. 
On the other hand, collateral designed for sales enablement is used to train sales teams about the company's products, brands, business segments, and core value proposition. A sales rep would require a competitor battle card to make more effective sales calls, while collateral designed for YouTube would be videos that convey a specific message to a target audience.
What does this mean?
Marketing collateral cannot be generic and needs to suit the buying stage of the prospect.
What is a Buyer's Journey?
A buyer's journey is a decision-making process buyers experience as they explore, examine, evaluate, compare, decide and finally purchase a product/solution.
It begins with a challenge that a customer has and culminates with the product/solution to solve it. If he is satisfied, the buyer might come back for repeat-purchase and may even suggest it to other buyers. However, if he is unsatisfied, chances are that he will exhibit his disgruntlement to others.
Marketing collateral prompts buyers to take action at every stage of the buyer's journey, and so, it must be customized based on the needs of the stage the buyer in.
Here is a table showing the different stages of a buyer's journey and marketing collateral suitable for each stage.

Let us examine the marketing collateral suitable for each stage of the buyer's journey.
Marketing Collateral for the Awareness Stage
In the Awareness stage, the customer is facing a challenge and is looking for solutions. He is not aware of the existing solutions in the marketplace and is keen on exploring more about his problem. Marketing collateral in this stage should educate the customer about their problems and not dump products on them.
Here are marketing collateral suitable for the awareness stage:
Creating articles with your audience in mind will reap rich rewards no matter what your business is. Take the example of Coca-Cola – have you ever wondered if you could bake a cake with Coca-Cola? Read it here. It shows how the company is engaging its audience in unique ways.
Blogs are content produced for numerous reasons such as new product launches, thought leadership, educating customers, generating leads, and a lot more.
We have been a fan of HubSpot's blog for many years now. Their blog design is simple, replete with actionable content, and published regularly. Not just that, they have separate sections for marketing, sales, and service - this helps guide visitors to the right content that they want to read.
Assessments or reviews of your product is a smart way of getting your products certified by an expert. People value expert opinions from others of your product more.
Digital Trends is an online magazine that reviews hardware products such as the latest VR Headsets, Netflix movies, earphones and much more. If you are a seller of hardware products, having your product featured in one of their blogs can yield website visits. Similarly, wine sellers can feature themselves in the Wine Enthusiast Magazine.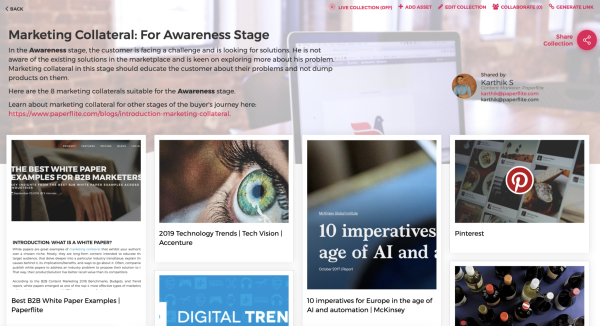 Infographics are visual pieces of content condensed in the form of pictures and minimal text that convey a message. They are easily consumable and have good recall value.
For example, a research report can be summarized into infographics. If you're looking for ideas to create infographics, then look no further than Pinterest that houses infographics for every industry.
Point of Views (POVs) are a captivating form of engagement within the Thought Leadership framework. McKinsey's 10 imperatives for Europe in the age of AI and automation lays out the ten things that European companies must do to scale digital.
Accenture's yearly Tech Vision series is another prime example of staying at the forefront in the minds of your customers. This series is produced once at the beginning of the year and gets reused in many different forms such as videos, discussions, and industry-specific blogs.
White Papers are long-form content that shows the author's authority of a subject. They are perfect examples of marketing collateral for prospects exploring more about their challenges and looking for the most suitable solutions.
They have the potential to generate a large number of leads if used effectively. Here are the best examples of white papers that we have analyzed across various industries.
Videos rank as the third most preferred form of content with 72% content marketers preferring it after social media and case studies. If you can nail your visual depiction, why spend effort on written material.
Maersk's video titled 'Day of the Seafarer,' that shows their impressive liners and how the company's employees value working for them, is a powerful type of marketing collateral that is meant to attract the best talent to Maersk. Any aspirant looking to build a career with Maersk will surely want to look up the company's careers section after watching the video.
Press releases are news articles about the company such as recent developments, mergers & acquisitions, executive recruitments/departures, awards won, earnings reports, new products/features launched, etc.
Marketing Collateral for the Interest Stage
In the Interest stage, the buyer has a better understanding of his problem. From his research during the awareness stage, he has found a few solutions for it.
A company's marketing collateral for this stage should build interest and direct the buyer to look up your products. These could be in the form of brochures, data sheets (spec sheets), and short videos.
The ideal types of marketing collateral in this stage are:
Solution videos or demo videos are used to display key information about a product and its benefits. They vary between 1 and 3 minutes, simplify the process, and urge people to take action.
DataHug's short video shows how to improve sales forecasts and pipeline visibility. Apple's iPhone XR introduction video shows how its impressive camera works, and the A12 bionic chip powers the mobile.
Frameworks are marketing collateral that helps prospects easily understand how implementing a solution will benefit them. They are created in the form of microsites, landing pages, or PDF documents for potential customers to grasp the value immediately without having to handhold them.
 
Lightwell's B2B Framework is a landing page that showcases how it reduces implementation and costs by 70%.
Worksheets are marketing collateral that helps your prospective customers make notes of their needs and challenges, and match them with a product's features.
IBM's Performance and Tuning Worksheet helps prospects understand their hardware requirements based on operating systems, the number of CPUs they have deployed, and processing volumes.
Women's Economic Ventures has created worksheets help women entrepreneurs to track their spending, take inventory, identifying a market niche, marketing message, etc.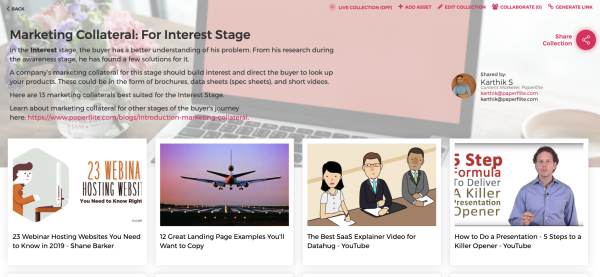 Perspectives are similar to Point of Views and Thought Leadership documents that help a company build authority over a chosen niche.
Dell Technologies' Perspectives website host content ranging from Formula One racing to urban farming to robotics. A common theme that binds them is technology. Using this website, Dell Technologies is positioning as an expert in new technologies. The company has enlisted influencers, small-business experts, YouTube mavens and entrepreneurs to share their stories.
Solution pages or landing pages are marketing collaterals examples that can help visitors move faster into the next stage of the buyer's journey. Designing great landing pages that promote your offer clearly and simply needs clarity of thought and extensive testing.
HubSpot's landing page examples are a good starting point for marketers who are looking to create engaging experiences for their leads.
Sales presentations are used by sales teams to pitch their products and solutions. They call out pain points faced by customers and substantiate it with charts, statistics, graphics, key numbers, solution, benefits, and have a clear call to action. Marketers must help sales reps with sales presentations so that there is no duplication of work and branded content gets distributed.
We suggest every marketing team create a specific sales presentation for their company. Lucidpress has designed presentation templates for marketers to draw inspiration from. Watch Rule the Room's 5 steps to deliver a great sales presentation.
Webinars enable B2B and B2C companies connect with a broader target audience, strike a dialogue with prospects, drive lead generation, and establish you as a thought leader. Some companies invite external experts to speak about their products. It is important to choose a good topic, rehearse your delivery, promote it ahead of the event, and follow-up with leads.
Shane Barker has listed 23 webinars that marketers can learn from to improve their customer service and find new customers. 
In-person events and conferences give marketers a chance to connect with leads and prospects. No matter how good your marketing collateral, it is still only marketing collateral. In-person events help you share a drink with your target audience and build lasting customer relationships.
Events such as Dreamforce, Sapphire, and Oracle OpenWorld have carved out a niche for themselves. They provide opportunities for prospects, existing customers, and your peers to come together under one roof to discuss what works.
Research reports are concise, readable, and understandable documents that present cohesive information to the target audience. Companies gather information in a systematic manner and publish research reports to make announcements about new discoveries, new products/features/service lines, mergers & acquisitions, etc. This type of market collateral can take a long time, but they help companies build thought leadership rapidly.
Research organizations such as Gartner, IDC, Forrester, HfS Research, and Everest group partner with the business to produce research reports that help them communicate value to their customers. 
Here's a detailed guide on how marketers can get started on creating research reports.
Marketing Collateral for the Consideration Stage
During the Consideration stage, the buyer is weighing the pros and cons of the various products or solutions that are available. Some of the solutions are feature-rich, some have good customer support, some have are budget-friendly.
But, the buyer needs more guidance in arriving at a shortlist of products that solve his challenges. 
In a B2C environment, the process might not last beyond a few hours because the transaction size is small and the need/challenge is not very complicated. However, in a B2B environment, the problems are complex, and the purchase value is high.
The most suitable marketing collaterals ideas for this stage are:
Buying guides or product guide are essential pre-sales information to know about the product in detail including key features, specifications, components and configuration guidelines. Product guides can be in the form of a landing page or even PDFs so that they could be downloaded and referred to it earlier.
Lenovo's ThinkSystem server's product guide is a perfect example of this marketing collateral type. This guide is meant for technical experts, sales teams, sales engineers, and other IT professionals who want to know about the server before deploying it.
Another example is American Dental Association's product guide for dentists that provides details about equipment, supplies, and services available in a drop-down format across various categories.
Brochures are a specific type of marketing collateral that contains the necessary information about a product/service, its features, benefits, and use cases. The purpose of a brochure is to educate the customer ahead of buying the product/service.
Daikin's brochure list for its company's products features its range, specifications, components, etc. Buyers can easily browse through this list before making a decision.
Evaluation tools help buyers consider different options before making a choice. This type of marketing collateral often comes in the form of decision tree matrices, maturity models and analyzers let users visualize scenarios and determine the output based on certain inputs.
CMMI Institute's People Capable Maturity Model helps companies chart a course to build strong teams, develop skills and manage their performance. AON Hewitt's Risk Analyzer helps insurers manage risk in their retirement plans based on actuarial and investment calculations.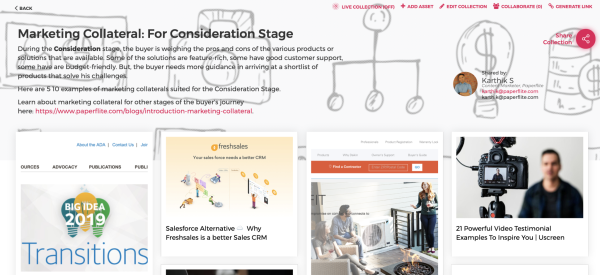 Case studies are another form of high-impact marketing collateral that resonates well with the target audience. When you have helped your customer experience benefits by using your product/service, it is time to bloat about it a bit!
Amazon Web Services' US Department of State case study explains the challenge, the solution, and the benefits. This is a good example of creating a case study where a prospect learns about how the company's solution has helped a client and relate to it better.
There is no better way to get customers to give your product a thumbs-up than a testimonial. If your customers are happy about your product, feel free to reach out to them and get written or video testimonials that emphasize on your product's efficiency, cost-effectiveness, etc.
Here are 21 examples of video testimonials that marketers can use ready-to-guide their efforts. This list covers most B2B situations (including emotions, information overload, product benefits, etc.) under which testimonials have been recorded.
 
Datasheets are technical documents that address a buyer's pain points, benefits, and provide a comprehensive list of features for a product. They are an essential part of a sales kit that sales reps can readily share with buyers during conversations.
Informatica's B2B Data Exchange data sheet is 4-pages long and comprehensively explains why companies must opt for it.
 
Tip sheets or cheat sheets are short documents that marketers can use to help buyers skim through a product's features. This marketing collateral type addresses vital topics and is usually a subset of bigger documents (such as brochures or sales presentations). The idea here is to give prospects a quick summary before they meet customers.
Here is Marketo's cheat sheet landing page that features all its offering including financial services, campaign optimization, and a lot more. 
Alternatives help buyers know the options that they have before zeroing in on a product that matches their expectations, needs, and budget. A good example of such a marketing collateral type can be found in the SaaS economy, where the competition is intense, and companies differentiate themselves with their competition on every product feature.
Here is Freshsales' take on how it measures against one of its key competitors - Salesforce.  This landing page lists 4 different reasons why a buyer must choose it over its nearest competitor.
Pricing comparisons are short documents that help buyers understand the pricing differential between two products. Companies often mark down the price of their products and features versus the competition to simplify the decision-making process for buyers.
SmallBusinessPricesCo is a UK-based B2B pricing platform that helps small business compare prices of banks, commercial mortgages, electricity suppliers, and insurance providers.
Feature comparisons are similar to price comparison sheets, that help buyers compare the features of various products in one go. This spares them the hassle of searching for products with similar features, matching their prices, etc.
Cloudfy's feature comparison landing page provides an overview of b2b e-commerce platforms and how it stacks up to competition across parameters like scalability, user experience, responsiveness, customer service, and integration.
Marketing Collateral Ideas for the Decision Stage
In the Decision stage, the consumer has shortlisted the products that he'd like to purchase. Within the product list, he is undecided about the best option that suits him. So, marketing collateral appropriate for this stage should be convincing enough to help them make an informed decision. For example, user reviews narrate how a user's challenge was solved using the product.
Here are marketing collaterals examples that are applicable during the decision stage:
As the prospects move closer to a decision, it is important to create marketing collateral that explains every feature of the product and how it solves real-world challenges.
Invite your leads and prospects to online tailored workshops where you can pick different challenges a buyer is facing and address each one of those with your product's features. You could even explain how your product fares better than your competitors on each feature so that it is easier for them to decide.
In this stage, there is a high likelihood that buyers will want to take the approval of their top management before purchasing a product. So, sales reps must send collateral that buyers can use to showcase to their higher-ups to earn their attention and support. Executive presentations can include:
Reasons why buyers must buy your product
Benefits of using your product
Differentiation versus competition
Pricing and information
There is no template for executive presentation because each company has different ways of putting together such information packs. Here is an HBR blog that explains the best practices of putting together executive information packs.
User reviews are important to build your business reputation. TrustRadius's 2018 B2B Buying Disconnect Report revealed that customer reviews had become the second most popular source of information during the B2B vendor selection process. 
Popular social media platforms like Google and Facebook provide a platform for customers to leave reviews. However, third-party websites like G2 Crowd and Capterra are even more important review platforms as buyers often find their way to your website through them.
Know the biggest review platform for your industry and encourage your employees and customers to use them. Acknowledge their reviews and reward them for their time.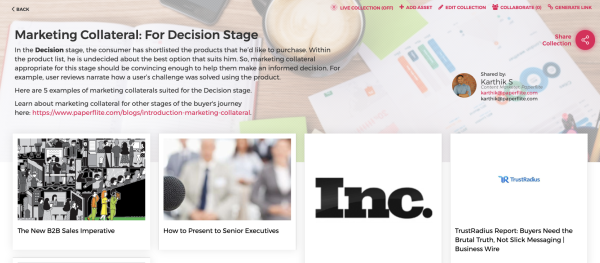 No matter the choices they have, some stakeholders will always look at alternatives to resolve their business challenges. This not only slows down the buying process but also leads to pre-purchase anxiety: "Is this the right product? What if it does not meet our needs? Could there be better alternatives?" HBR research shows that such second-guessing occurs in 40% of B2B transactions.
In such cases, it is important to handhold potential leads and prospects a little longer with contextual marketing collateral so that they don't drop off the funnel. Here is an example of a commercial real estate purchase guide, and one for buying an aircraft too!
Proposals are confidential documents that are customized for every B2B transaction. Every B2B deal has inherent terms, conditions, and pricing associated with it. Sales reps must distribute proposals to potential buyers to avoid any last-minute surprises.
Similar to executive presentations, marketers must create business proposals that are unique to their company's needs with branding elements. Template Lab's business proposal templates can give you a starting point to create one for your company that sales reps can readily use.
Marketing Collateral for the Implementation Stage
In the implementation stage, the customer has made his choice and purchased your product. Marketing collateral for this stage of the buyer's journey helps him understand how to use the product and make the most of it.
Here are a few marketing collaterals examples most suited for this stage:
How-to guides or FAQs (Frequently-asked Questions) are the first marketing collateral that customers need after buying a product. They help users through common tasks such as using, configuring and setting up their products. They address specific topics or issues that users may have. Using a combination of text, videos, and images to create How-to Guides and FAQs make it user-friendly.
Common examples of How-to Guides are:
When you are dealing with B2B customers, all the features of your product/service must convince buyers that it will make their lives simpler. Marketing collateral such as use cases helps you do just that. Use cases are potential circumstances and business scenarios of how/when a product could be used.

Some companies like Remedi prefer to publish a blog on popular use cases for using blockchain in B2B supply chain. Others like BrightTalk host webinars to explain use cases for bots for consumers and businesses. Here is IBM's template/guide to creating B2B use cases. 
B2B Checklists are examples of marketing collateral that are created to reduce failure rate and serve as reminders to users. Being new to a product, they may forget certain steps leading to poor user experience. But, checklists can motivate them to use the product correctly and achieve positive results.
Trew's 15-Point Checklist to Evaluate Your B2B Technical Website acts as a comprehensive guide to improve the impact of a technical website. Or, if you are looking to do business in China, make sure to read this comprehensive checklist.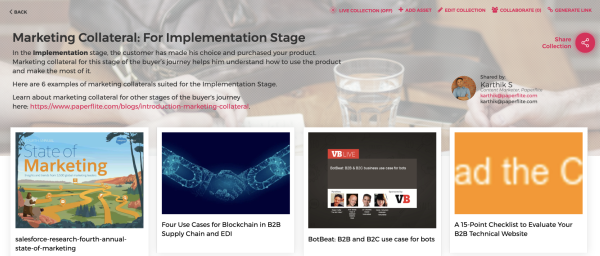 68% of business leaders say they are competing on the basis of customer experience. When clients purchase products or solutions, they are signing up for an experience.
Welcome kits help clients have a good onboarding experience and reinforce their client's decision to purchase your product. They can contain a welcome letter/email, introductory videos, supplemental reading resources, reference guides - all marketing collateral that help new users become familiar with the product or service quickly.
Read B2B Marketing Academy's blog that explains 5 ways to make your customer onboarding experience memorable with welcome kits.
Some B2B products need setting up, installation, and configuration that might not be straightforward. Reference guides help buyers know how to use products effectively. For businesses that onboard a lot of customers daily, having a reference guide helps in reducing the pressure on customer onboarding reps.

Reference guides are compiled using screen grabs, videos, images and text to give users a good idea on how to use a product. 
 
Marketing Collateral for the Adoption Stage
In the Adoption stage, the customer has begun using the product and has discovered the benefits. At this stage, the ideal marketing collaterals are new feature updates, tips and shortcuts while using the product, etc.
Here are marketing collaterals examples for the adoption stage:
As users begin to use a product extensively, it is imperative that they are introduced to efficient ways of using it. However, not all users are experts - some are a novice, while some are first-time users. Marketing collateral must address all their needs in the form of best practice documents/landing pages.
Salesforce's 7 best practices for providing the best customer service explains why providing an exceptional and consistent experience is important for businesses.
Tips and Tricks to use a product more efficiently are good marketing collateral examples aimed at users in the Adoption & Retention stage. Industrial equipment provider Binder hosts a comprehensive library on tips and tricks to use its products. Similarly, Intel's technology tips and tricks help users expand their technical know-how.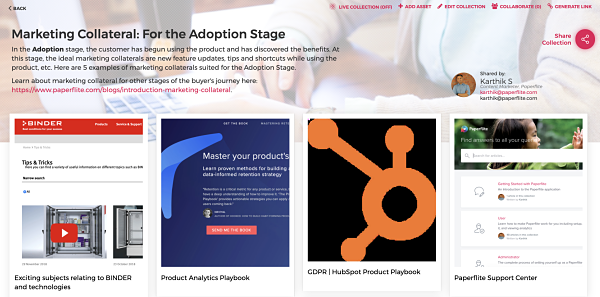 Playbooks are detailed types of marketing collateral that help users gain a deeper understanding of the product that they are using. It even helps sales reps retarget users who may have purchased a product but never used it.
Amplitude's Product Analytics Playbook helps experts understand the techniques and strategies for using data to enhance user retention. HubSpot's GDPR playbook helps users know the new features that the company has built to comply with the change in legislation.
Support guides help assist with answering repetitive client queries. They provide immediate access to useful information and include step-by-step instructions on a variety of topics.
Paperflite's support guide helps our users know every feature in detail. Each article includes images and videos that show users how to make the most of it.
Marketing Collateral for the Retention and Advocacy Stages
When the buyer is quite satisfied after using the product, he becomes an advocate for it and begins suggesting it to his business associates. He might even review your product on online forums and platforms for the benefit of his peers.
Here is the complete list for this stage:

Practitioners guides are for experts and professionals (such as scientists, doctors, lawyers, consultants) that helps them understand the processes, tools, and procedures of their industry. It aims to enhance the knowledge of experts and delves deeper into industry-wide topics like sustainable development, mental health, and data interoperability.
For example, the Practitioner's Guide to Security Maturity Model provides a pragmatic approach to the desired state of IoT security maturity.

Journals are magazines or newspapers published on a specific topic aimed at engaging and informing a group of experts. They are published on a monthly or quarterly basis and serve as an authoritative record of the latest developments across different industries.
The Journal of Customer Behaviour deals with current issues and challenges in B2B marketing and features white papers and research documents authored by industry experts.

53% of B2B companies do not use email marketing - this is despite an estimated 4200% return. Monthly newsletters are a roundup of the original content in the form of the most popular events, news, blogs, articles, and downloads specific to an industry. Newsletters delivered via emails help in improving user engagement and enables easy recall.
There are probably thousands of email templates that you can pick and customize for your company. Vogue Business's newsletter that has 7,000 subscribers in 39 countries is a good example that you can draw inspiration from for your business.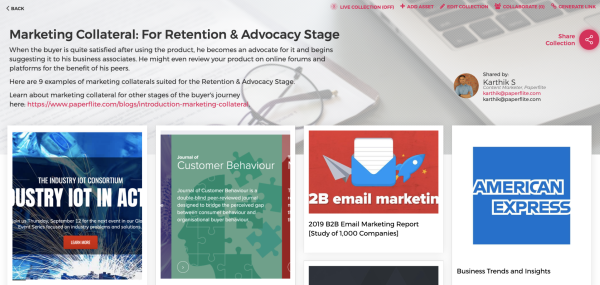 In the Retention and Advocacy stage, the buyer feels the need to be a part of a community, so user-generated content is ideal for this stage. B2B communities are managed by companies and host members who exchange ideas and share knowledge with everyone around them.
American Express's Business Trends and Insights is the gold standard for creating B2B communities that creates trust amongst entrepreneurs, thought leaders, and corporate executives since its launch as OpenForum in 2007.

New feature updates enable your users, fans, advocates, and supporters to learn how their challenges can be solved in real life. They are always in a lookout for new ways to address their pain points, and your product updates can help them get more out of it.

Product marketers are responsible for creating product update emails because they know every feature and how it influences the customer experience. Learn how to write effective product update emails that your users will love.

Acquiring a new customer costs 600%-700% more versus retaining an existing one, and companies with a well-designed customer service program have a 92% retention rate.

Your customers are always thirsty for success. But, what if they were awarded for their efforts by their vendors? That is what companies such as Genesys and Automation Anywhere do. These awards are part of customer service programs that drive customer loyalty and develop relationships.

Upcoming features lets you communicate to your users what they can expect in the near future and what your teams are working on. It is your product roadmap that informs your customers what lies ahead for them so they can plan for their business.
Printful lets their buyers know what are the new features that they are working on. Corvid too has a landing page dedicated for their upcoming features. The alternate way to do is to have a support center document that outlines all the features that are under development similar to Google.

Q&A forums are places where your users discuss your products and services. They tend to help each other by answering queries based on their product knowledge. Quora and Reddit are two such forums that help buyers find answers to their queries.
Companies can have dedicated customer support staff who can answer customer queries to encourage employee engagement. They can even become an important source for new product developments and features.
Now that we have a fair understanding of marketing collateral ideas, in the next section, let us look at a few B2B marketing collaterals examples to help us know its real-world uses.
Marketing Collateral Examples
Let us now look at a few marketing collaterals examples to understand how leading companies are enticing their target audience.
In May 2017, Nike attempted what no human had ever tried before – get athletes to run a marathon in less than 2 hours. Three elite athletes were chosen for it (including world champion Eliud Kipchoge), and after six months of advanced scientific training and preparation, they were ready to run.
Nike won several accolades for its efforts. It became Twitter's biggest brand-driven live-streaming event with about 13 million people watching it. Till date, 19 million people have seen it. Nike even roped in leading running influencers to add their aura to what they were creating.
Nike's attempt was audacious and a much-needed antidote to a sport that was losing its credibility over drug abuse. It probably changed the future of sports marketing and how consumers can be inspired. Powerful marketing collateral can help achieve this – encourage consumers to do great things.
Marriott is taking an innovative approach to content creation by setting up an in-house creative and marketing collateral studio in September 2014. Since then, they boast of many successful TV shows such as 'The Navigator Live', 'The Two Bellmen' and 'French Kiss' (which garnered over 6.2 million views on YouTube).
"We are a media company now," says David Beebe, Marriott's Emmy-winning vice-president of global creative who was hired from Disney. The French Kiss, created to drive revenues, gave the company $500k worth of bookings inside 60 days.
Zipcar has mapped its target audience personas very well. They have an active YouTube channel that hosts videos ranging from 'How to use Zipcar to parallel park,' and actively blog on topics such as "Top 10 Weekend Road Trips for the Time-Strapped and Adventurous."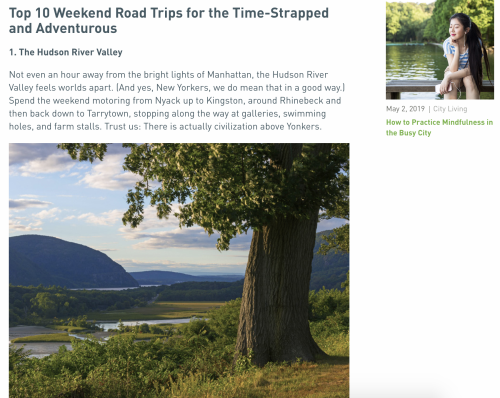 These blogs are based on themes that resonate with their target audiences such as city living, fashion, hiking locations, sustainable living, and travel inspiration stories. Zipcar has managed to hold onto its own and become even more popular amongst its target audience despite being acquired by Avis, a monolith in car rental in 2013.
Equinox, a US-based upscale fitness company that operates several fitness brands, has a dedicated website named Furthermore. It is a famous online fashion, fitness, lifestyle and travel magazine that engages readers with absorbing content.
Led by publishing veterans, this online magazine churns content that was initially a question blog. Equinox assembled triathletes, photographers, stylists, directors, and writers from The New York Times, Condé Nast Traveler, etc. to make it a complete package.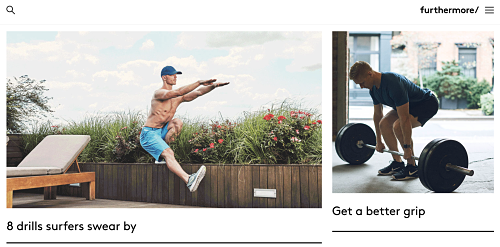 Companies are also using their target audience to generate authentic content. For example, First Republic's travel gallery compiles stories by its customers who have traveled to holiday destinations and share their tips and experiences. They even feature stories of how their clients are bringing a positive change in their communities.
Starbucks's My Starbucks Idea is another example of innovative community-based marketing. Their transparent yet straightforward site allows participants to submit ideas, express opinions on other people's ideas and share feedback. Favorite additions to their menu such as Cake Pops, Hazelnut Macchiato, and even the free Wi-Fi are outcomes of this campaign. Besides, Starbucks can also scan for patterns in user submissions to discover customer intent.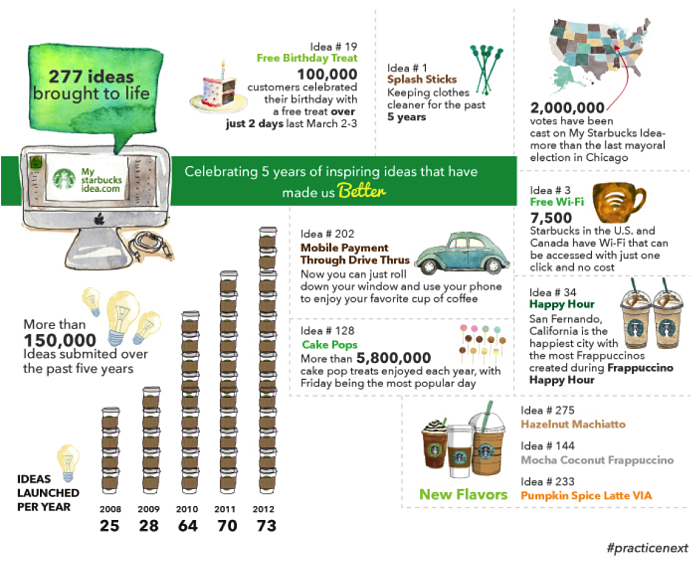 Sephora launched Beauty Board, a Pinterest-type social platform where users can upload pictures of their makeup looks. Customers who are unsure how they'd look if they were to apply makeup can get inspired by the image and make an informed purchase.
Marketers at Land Rover, produced a video series of a couple's journey along with their baby in one of their cars to showcase a spirit of easy outdoor travel.
Buyers can know how safe a Land Rover is before they test drive it. It is about showing your customers your product in action and shows why the conventional route to creating marketing collateral may not be relevant.
Marketing collateral can be created to address a specific customer need. For example, GE's white paper on gender equality explains different ways of improving gender balance across a company's business units. This white paper is purported for a particular need – enhancing gender equality.
Similarly, UK's largest technology company Sage has put out a suitably titled blog called Sage Advice that hosts content on a variety of topics for businesses such as initial funding, payments, growth regulations and a lot more. Content ideas on this platform come from the many calls that its call centers receive each day.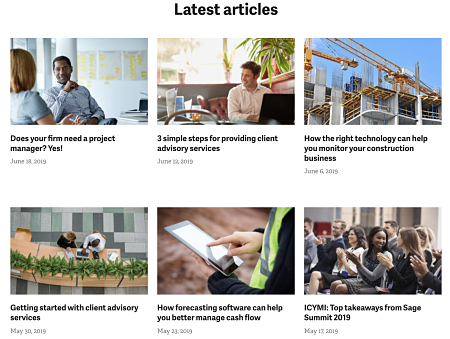 We have handpicked these marketing collaterals samples to inspire you to create similar engaging content for your company.
Marketing Collateral Strategy
Putting together a successful marketing collateral strategy needs flawless planning. It is much more than a transactional blog post one week and an e-book the week. That is setting yourself up for disappointment even before you have published a collateral piece.
What is needed is an organized approach to build a marketing collateral strategy that can flow to a marketing calendar and later for execution.
Here are six things to keep in mind to create a top-notch marketing collateral strategy:
1. Identify Goals for Marketing Collateral
Identify what you want to achieve with your marketing collateral strategy. Think about what you hope to accomplish by creating a marketing collateral strategy – more revenues, more sign-ups, more traffic, more referrals. Which of these suits your business or are there other metrics specific? Make sure you have that metric pinned up on the wall, as a constant reminder towards achieving it.
2. Get Executive Buy-in
Before you embark on creating marketing collateral pieces, ensure you have your executive approvals for your ideas plus they're ready to sponsor it too. Keep them posted about how your strategy is coming along and how it is starting to bear fruit.
Take their feedback from time-to-time so that: a) They are well aware of what you are trying to achieve and b) You know the type of marketing collateral pieces that are needed to suit your company's target audience, agenda, and objectives.
3. Align with Organization-wide Themes
Every organization has different marketing themes that they want to be known for, such as industrial automation and workforce of the future. Marketers must ensure that marketing collateral is aligned with such themes so that your target audience is able to relate to it easily.
This is where an Integrated Marketing Communications process helps as it conveys a unified message across a variety of channels to drive higher customer engagement for a company's products and solutions.
4. Create Brand Identity
Every brand, big or small, has an image that they want to project to their outside world. Ensure that your marketing collateral are designed according to your brand guidelines or more importantly reflect what your brand stands for.
Nobody does it better than Google Chrome. By cleverly designing doodles to celebrate birthdays of physicians, psychologists, social reformers, political leaders, Nobel laureates, athletes – in essence, people from all walks of life, they rekindle interest in personalities who might have been long forgotten. This is what they stand for - a brand that encompasses every aspect of life.
5. Learn From the Leaders
As you build your marketing collateral strategy, don't forget to look over your shoulder to know what leaders in your industry are doing. Distill the best aspects of their marketing strategies and incorporate them in yours.
For example, if you are a mid-sized consulting firm, take a look at McKinsey's collection of Thought Leadership pieces. You need not necessarily replicate them in volume, but focus on what your consultants are good at and develop marketing collateral leveraging it.
6. Use a Marketing Collateral Management System
When you have created a marketing collateral piece, it is time to make them count. Having a marketing collateral management system informs stakeholders when new collateral is available or when old collaterals get replaced.
That way, salespeople always have access to the latest marketing collateral that they need for their meetings, and they avoid sending irrelevant content to your prospects.
Make sure you can grant access to people who will need them instead of giving access to everybody. A marketing collateral system that tells you key insights on your content (number of views, downloads, and re-shares) and can seamlessly sync with your workflow (i.e., CRM, and email) might work wonders for your marketing collateral creation team.
Now that we have seen how having an effective marketing collateral strategy in place is helpful, learn how you can activate using "The Secret to Effective Marketing Collateral."
Marketing Collateral Best Practices
Here are a few things to keep in mind as you start planning for marketing collateral for your business:
Mend Your Fences With Salespeople (if broken)
Salespeople and marketing teams often don't see each other eye-to-eye. As marketers, having a healthy relationship with the sales team will give you ample ideas to generate different types of marketing collateral.
For example, creating competitor battle cards for salespeople can give them a good idea about their competition and equip them in unique ways to position their product/services to the customer.
Speak to internal teams such as product engineering, design, customer support, etc. For example, the engineering team might provide you newer insights about how your product/service benefits customers. These insights can later be used to build effective marketing collateral.
Venture Out as Often as You Can
One of the requirements of being a marketer is to keep searching for an opportunity to leave your desk (even if needs you to fib to your boss!). Try and participate in webinars, conferences, gatherings, fireside chats, etc. as much as possible.
That is because when you attend events, you're bound to have interesting conversations with peers and learn how they're doing it in their organizations. It will open a window of ideas for you to create new marketing collateral.
Identify the list of best external forums that you'd like to participate at the beginning of the year and make your travel bookings early.
Meet Customers at Every Opportunity
Never let an opportunity to meet a customer pass by. They are the real judges of your product/service. Use the chance to get to the bottom of any trouble they're facing while using your product/service. It's highly likely that others could be facing the same issue.
Take notes and then convey your feedback to the respective teams when you get back to the office. Ask customers if they're willing to be advocates of your product. There is rarely high-impact marketing collateral than a customer giving your product a thumbs-up via a video or an acknowledgment on your website.
If you can get executives in your company to open up about what they think of the industry, the operating environment, competition, etc., you might get undiscovered secrets.
For example, speaking to the Chief Product Officer could tell you the product roadmap, the new features in the pipeline, etc. The CEO could tell you what he/she thinks is the future of the industry. Being alert to vibes from executives could give you newer ideas to create high-quality marketing collateral that is authentic.
Marketing Collateral Management System
Until now, we spoke about creating the ideal marketing collateral for your business. We are now ready to look at the next stage, i.e., a marketing collateral management platform. As you scale your business, marketing collateral is bound to go up and so will the demands on the need for a unified collateral system.
This platform must be able to fulfill the needs of various stakeholders across the company including marketers, communications teams, Investor Relations, Salespeople, Designers, Product Engineers, and more. In this section, we will look at the reasons how a collaborative marketing collateral management system will be helpful for your business:
1. Enabling Content Discovery
Let us look at a conversation between a John, a health insurance seller and Malcolm, a prospect looking to buy a health insurance pack for himself and his family.
**********
John: Hello Malcolm. I hope I have not caught you in the middle of something.
Malcolm: No, I'm good.
John: Great then, just following up from our last week's conversation, I thought I'll quickly walk you through some of our newest insurance plans that we've launched. Is that okay?
Malcolm: Sure.
John: Fantastic! Our newest policy is the most comprehensive in the market that covers a variety of illness, hospitalization, premium calculations, deductibles, provider networks and a lot more. Here's how it works…(voice trails off).
Malcolm: That's good to hear. Do you have a video that can explain these concepts for me? It'll be more comfortable for me to decide.
John (scratching his head): I'm sorry, we don't have one right now. Can I get back to you next week on this?
Malcolm: Sure, I'm ready whenever you are!
**********
This is a realistic sales conversation that happens daily across businesses and industries. John could have closed out a deal right there if he had a video that explains important health insurance concepts.
Today, salespeople are struggling to find original content that their target audiences want. On the contrary, B2B marketers are allocating 28% of their total marketing budget towards content marketing. Isn't this scenario paradoxical by itself?
Let There Be No More Content Scavenger Hunting
It calls for a marketing collateral platform where sales reps can easily find the content they need. The marketing collateral platform can host content when it is ready. It enables sales reps to discover and identify the right content to use for the right sales opportunity that will close deals.
2. A Seamless Distribution Mechanism
Imagine the number of times salespeople end up not being able to deliver on their promises because they could not find the relevant content they were looking for (similar to the conversation between John and Malcolm above).
In 2011, EMI Strategic Marketing reported that on average, salespeople spend 8 hours a week working on client presentations, 5 hours looking for marketing collateral and 4 hours looking up information on their customers. That amounts to 100 days lost in a year.
In 2013, Sirius Decisions said that up to 70% of marketing collateral goes unused by salespeople. Companies spend millions of dollars on producing such marketing collateral.
That's why a seamless distribution strategy must be adopted, but not through emails (as it is most likely to get buried under the sea of emails they get every day). Instead, a content management and distribution platform could be used to store content and update it whenever the need arises.
Make Your Content Available Anywhere Anytime Any Device
Salespeople should get automatic notifications about new content. That is how a robust platform works instead of clunky emails where you keep digging till you realize that you have deleted those emails long ago.
3. Curation Platform
How odd will it be for teams to share marketing collateral that is stale? One of our colleagues who had worked at a large technology company tells us that despite the company undergoing a major rebranding exercise (and spending millions of dollars in that effort), internal teams continued to use old templates and sometimes it even made its way out of the organization into client email inboxes. The clients were aware of it due to the massive publicity undertaken as part of the rebranding exercise. As a result, some of the clients were a little confused with the collateral they received.
Creating marketing collateral collaboratively can help avoid such disasters from happening.  You could share marketing collateral with your prospects and still update it so tha it always stays relevant. With emails, it is always a one-way street, and once the content goes out, you have no control over it.
4. A Unified Business
We often talk about the rift between the Sales and Marketing teams. As content marketers, we have discovered that one way to create meaningful content is to design customer personas that tell us what our customers need. The same applies to our sales teams as well.
In the July-August 2006 issue of the Harvard Business Review, industry experts Philip Kotler, Neil Rackham, and Suj Krishnaswamy opine that "…when Sales and Marketing work well together, companies see substantial improvement on important performance metrics: Sales cycles are shorter, market-entry costs go down, and the cost of sales is lower."
They have cited IBM's example where sales teams were focused only on fulfilling product demand and not creating it, whereas marketing teams struggled to connect the ROI on advertising to the sales it generated. When marketing teams announced new product launches that sales teams weren't ready for, the problem worsened. Situations like this can be avoided by way of a marketing collateral platform that lets marketing and sales educate each other and address the situation jointly.
5. An Audit Platform
Auditing marketing collateral is a must for all businesses – big or small. Think about the number of blog posts that you have, the Thought Leadership papers/White Papers that are housed under the Resources section on your website or the eBooks where you have spent a lot of money getting them in shape.
For that matter, your website may have numerous inner pages linked to your homepage. Added to all this is your SEO strategy which uses keywords, hashtags, backlinks, descriptions as links between each marketing collateral. Now, that is a heady mixture of several things that generate leads for your business.
If you are not able to take stock of them from time to time, you will be staring at an abyss of endless content that is intertwined along with your business. A marketing collateral platform tells you the date when collaterals were created, the people responsible for it, when does it need a refresh, which ones should you retire, what are the new ones you should create (in line with your evolving marketing themes), etc.
All of your collaterals can be in one place, and all that you need to do is get your content teams to look at it and determine the future course of action. It can organize your collaterals under various themes, initiatives, the purpose for which they are created and a lot more.
Making Salespeople Smarter with Marketing Collateral
Thus far, we have explored how we create, curate, distribute, audit marketing collateral. In this section, we will look at how can marketing collateral be personalized so that the sales reps who are using it for sales pitches appear smarter in front of customers.
Until now, when sales teams launched email campaigns loaded with attachments to customers, they could not prioritize the right call and adapt their conversations according to the interests of the target audience.
Not just while reaching customers for the first, even for customers who're known to them, the attachments that sales folks use are large ones that might take ages to open/download. Moreover, despite having spent considerable energy and resources in developing these attachments, sales teams aren't even aware if their customers have engaged with their content.
That is because organizations are not looking at the bigger picture – Is the buyer aspiring to achieve far more than just buying a product/service once? Is the buyer looking to increase his knowledge? Is the buyer trying to get newer insights from a piece of content?
Teams are only looking at fulfilling short-term Key Result Areas (KRAs) versus catering to the customer's holistic needs. Companies are still providing to process-centric journeys instead of buyer-centric journeys that addresses the overall story.
That is why enabling salespeople must be enabled with sharp abilities to converse with customers such as:
1. Personalized Experience for Each Buyer 
Who does not like personalization? From mobile covers to the music playlist in our cars, all of us like the stuff we are most familiar with, and it never gets boring. So, why not give salespeople the ability to personalize their outreach to buyers.
Build Personalized Digital Sales Room At Scale Using Paperflite
Customizing a story to the unique needs of the target audience allows for a one-on-one conversation with customers. Salespeople can drag-and-drop content pieces on visually enriching storyboards that reinforce brand ideology and offerings and convey a lot more than simple emails.
2. Engaging User Experience
Research tells us that a user spends only 10-15 seconds on a content piece. A user can be compelled to stay on a content piece if it has a clear proposition in terms of value. Let salespeople have the ability to pinpoint which pieces of marketing collateral are going viral within their target audiences.
Want To Know Who Is Viewing Your Content And When?
As a result, enable your sales teams to get rid of email attachments and instead create unique experiences that effortlessly integrate different media into a single customized interface.
3. Understanding Buyer Intent
By the time a buyer becomes an actual customer, there are numerous touch points that he has had with the company selling the product. He would have seen the product ad on a social media platform, and he might have seen a YouTube video to know how the product works, read reviews, spoken to sales reps for more information.
By tying all these touch points together through a single instance of content, and tracking its journey through the digital ecosystem, businesses can control their messaging, identify how the marketing collateral is best engaged, and clearly understand the consumer's intent.
This leads us to our final section in this guide, and that is measuring the ROI of marketing collateral.
Measuring the Effectiveness of Marketing Collateral
For today's businesses, content is now at the core with over 25-45% of marketing budget spent on content marketing. A majority of them cannot track how the audience engages with them. Zazzle Media's "The State of Content Marketing Survey," revealed that 62% of marketers did not know how to measure the ROI of their marketing campaigns.
Marketers and salespeople are therefore firing in the dark and hope their messaging resonates with their customers. The number of channels to distribute content aggravates this situation.
Good content undeniably produces better customers – customers who are more invested in your business, are more loyal and are more willing to share their story with others. It amplifies the value marketing collateral provides to the company, extending well beyond the direct top-line revenue it generates, making the Return on Investment (RoI) on content a significant indication of success.
This section is about metrics for assessing your marketing collateral strategy. Consider these questions for a start:
1. How do you know which marketing collateral piece is becoming viral?
2. Which content piece is garnering more attention than the rest?
3. Which page of your eBook are your leads/prospects spending more time reading?
4. Who is viewing your marketing collateral?
5. Are all outbound content branded according to your company's standards?
6. Which of your pieces is a favorite among your sales teams?
7. Do your sales teams know the next part of marketing collateral in the pipeline?
8. How are salespeople discovering your collateral?
9. Who are your marketing collateral's biggest fans?
We often tend to get carried away by the number of likes and shares that our social media posts get. True, they are a good indicator of what our audience feels about it. However, do they define the efficacy of our marketing collateral? Can they tell us by how much did our conversion rates improve? Or, what is the next marketing collateral that our target audience is ready to consume? The answer is a resounding 'No.'
That's why measuring marketing collateral engagement is critical. It can give you answers to questions such as:
1. How many people have viewed/downloaded your content?
2. Who gets to see it further?
3. Which portion of your document is attracting more attention?
4. What was the average time spent?
5. How many marketing collateral pieces are unused/undiscovered?
6. What are the opportunities that you are not cashing on in yet?
7. Are there clear trends which types of content are working better? E.g., Blogs, videos, white papers.
These metrics can then enable you to track down the leads to their source. To be able to do this, you need to tag your leads to the marketing collateral pieces via your platform. Or, you can do this intelligently through your CRM platform. Ensure you have integrated your CRM with your marketing collateral platform.
Get Actionable Insights That Moves Sales Forward
Ultimately, it is the dollar numbers that count. From the leads that your marketing collateral generates, you can get the percentage conversions into actual sales and revenues influenced. Find out which types of marketing collateral compresses the sales cycle or moves the pipeline faster.
A 100-page whitepaper is hardly equipping your sales reps better than just being a bragging topic. Probably your YouTube channel is keeping buyers hooked on to your website. However, to get there, you will need to get your primary metrics in place.
Measuring marketing metrics can tell you if your marketing strategy is headed in the right direction or not, and which marketing collateral you need to focus more. Define these metrics when you start putting together your approach so that it becomes more comfortable for you to know what to measure. Assessing the ROI of your marketing collateral closes the loop that began during the creation stage. It gives marketers a clear idea of which marketing collateral is working and which one is not.
Conclusion
Creating marketing collateral is just one aspect of your overall marketing strategy. Distributing, hosting, and categorizing them, keeping them relevant to your brand, making it usable for various events, conferences, i.e., doing everything to making them valuable are the larger chunks of work associated with it.
Despite your best efforts in creating marketing collateral, ensure you revisit your strategy frequently so that you can refresh it and tune it to the needs of your target audience. This guide will enable you to think about how you can create and distribute effective marketing collateral that results in positive outcomes for your business.