Defining Integrated Marketing Communications
Integrated marketing communication delivers a consistent and clear message
What are Integrated Marketing Communications?
Integrated marketing communications is the process of conveying a unified message across a variety of channels to drive higher customer engagement for a company's products and solutions.
Introduction

GE: From 'Bringing Good Things To Life' to 'Imagination at Work.'
When General Electric decided to revamp its 24-year old advertising slogan "We bring good things to life," the odds were stacked against them. Developed in 1979 by ad firm BBDO, before Jack Welch's appointment as CEO in 1981, the jingle had positioned GE as an integral part of people's lives until 2003.
Consumer research undertaken in the early 70s had revealed that a 'typical GE consumer' was older, unsophisticated, and low-income. As a result, a single brand message that brought all parts of the company together was needed to build brand loyalty.
By 1990s, GE's ad campaign had proved successful as new research indicated that GE was perceived to be more progressive, energetic, and approachable than before.
Several publications, including The New York Times and The Wall Street Journal voiced their apprehension about it and termed it risky. Some experts thought it was a brave attempt at a time when attention spans of consumers were shrinking.
"'We bring good things to life' is a great line and speaks to the benefits we bring, and I was hesitant to move away from it, but we needed a new articulation that is part mission, part vision, and part strategy,'' said Judy L. Hu, GE's general manager for corporate advertising and marketing communications.
Rebranding a company can be a tricky affair, especially for a company like GE, which had until then, spent millions on building its corporate brand image.
Jeffrey Immelt had taken over in 2001 amidst a declining share price and unwanted public attention over Jack Welch's retirement benefits. However, research showed that the earlier slogan had invoked a sentiment of lighting and appliances amongst consumers -  a segment that contributed only about 6-7% of its revenues.
What followed was a brand makeover worth $100 million spread over 18 months with a new slogan 'Imagination at Work.' It united all divisions of the conglomerate, including medical, appliances, financial services, aerospace, and biotech under an 'innovation' mindset.
The 2003 Golden Globe Awards premiered the TV ad featuring the Wright Brothers' Kitty Hawk aircraft fitted with a modern GE engine. As the plane soars powerfully, the black and white video gives way to colorful footage showing the competency of GE's engines.
Following its launch, TV ads on primetime shows like Friends and ER were beamed that drew a 'young' audience in the 18-49-year-old age group.
An internal company-wide campaign had preceded this launch as employees participated in trivia contests with the ultimate prize being a ticket to the Golden Globes Awards ceremony.
No marketing avenue was spared - with an aim to spreading a more broader message, BBDO floated print ads in Forbes, Time, The Wall Street Journal, and other business, news and technology-based publications.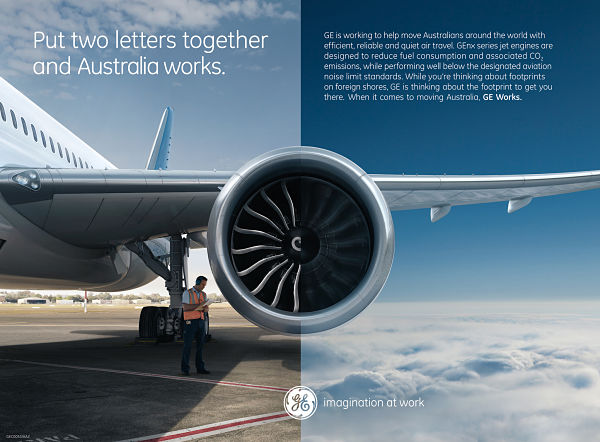 BBDO thrust GE into non-traditional advertising including HTML banner ads on AOL, Yahoo! and MSN, and even on gaming sites to reach 'the widest possible audience.'
To encourage a two-way conversation, the ad agency then launched a campaign called 'The Pen Sketch' that let users put their ideas to work by drawing virtual illustrations on a landing page while controlling the background color, the ink color, and line sizes. Users could email their drawings to friends, making it a viral campaign. These sketches were then uploaded on a website for people to browse through them later.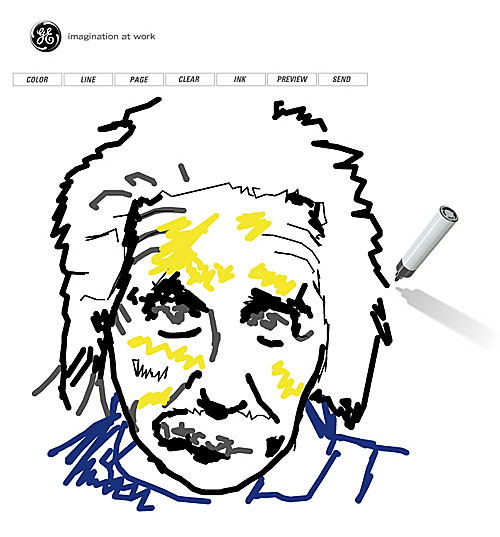 GE's plan started to fall in place. According to market research reports, months after launching the integrated marketing effort, perceptions that the company was 'innovative' increased by 35%, perceptions that it was 'dynamic' rose by 50%, and perceptions that it offered 'high-tech' solutions spiked by 45%.
GE' integrated campaign launched 16 years ago is much more than just a scattered collection of brilliant content.
What makes it so powerful is that the message "Imagination at Work" integrates all its pieces. The message strikes people with pure emotion—GE brings to life what you imagine. You're likely to latch on to every bit of its infiniteness and ability to deliver the best technology. No matter how you receive this message, GE's campaign delivers a clear and consistent brand message.
Companies produce value, and they must effectually communicate that value to the outside world. A winning integrated marketing communications strategy delivers a steady, compelling and consistent message about businesses and the value of their products and solutions. 
In this post, we will look at some of the best-integrated marketing communication examples of our times. Our objective is to understand how leading companies have successfully implemented integrated marketing communications by blending a sound strategy with extraordinary creativity to achieve results that outlive the campaign and give incremental benefits.
Here is what we have covered in this post:
What are integrated marketing communications?
Five reasons why integrated marketing communications are important.
How does the integrated marketing communications process Work?
Benefits of integrated marketing communications.
Disadvantages of integrated marketing communications.
Planning for integrated marketing communications.
Tools for integrated marketing communications.
Measuring the effectiveness of integrated marketing communications.
EXPLAINING Integrated Marketing Communication
In our earlier blog, we defined integrated marketing as an approach to creating a unified and consistent experience for customers to interact with a brand or company.
According to Philip Kotler, the integrated marketing communications process involves creating, communicating, and delivering value for consumers such that the 'whole is more than the sum of parts'.
It maximizes the individual and cumulative effort of all communication channels, including mass media, advertising, digital media, social media, events, public relations, and mobiles for engaging with customers.
Businesses spend millions or even billions of dollars on marketing efforts. Marketing budgets for B2B companies averages around 6.4% of revenues. For a company the size of GE, that amounts to about $2 billion.
However, CMOs face a different reality today than they did several years back thanks to a surge in digital communication techniques.
The digital era has spawned a revolutionary method of communication for B2B companies - that ranges from TV, print media (newspapers, magazines, publications, brochures, case studies), digital media (mobiles, tablets, websites, blogs, microsites, email, videos, podcasts, webinars), social media (Facebook, LinkedIn, Instagram, Twitter, Pinterest, WhatsApp) and so much more.
That is why companies need to have an integrated marketing communications strategy that enables them to coordinate their marketing messages for the most significant impact.
5 Reasons Why Integrated Marketing Communications are Important
According to Kantar Media's 2018 annual state of marketing study, marketers are grappling to understand cross-channel behavior. 82% of marketers said they had integrated marketing strategies, but their efforts are not permeating through to consumers. 
It shows why B2B marketers must understand how to use the communication process to reach end-consumers by decluttering the advertising process. 
Let us now understand the importance of integrated marketing communication for companies and the need for a combined strategy:
1. Customers are better informed
In today's digital age, consumers know what they want, and seek knowledge for it themselves. They do not rely on marketers to tell them what they need, instead gather information through internet research, social media posts, peer reviews, word of mouth, and other means.
On average, two-thirds of B2B purchases were significantly influenced by digital media. They can even generate brand messages and relay them to others. Marketers are challenged to find newer ways of reaching their targeted audience.
2. Customer segments are becoming more fragmented
Consider this: a 30-second TV ad beamed in the 1960s simultaneously on three major networks, i.e., ABC, CBS, and NBC would have reached 80% of American women.
Today, companies cannot reach the same level of audience even if they advertise with 100 TV channels. As a result, marketers are required to develop more focused marketing programs for narrower customer segments and slender micro markets.
3. Marketing communication is cluttered and intrusive
The average city dweller is exposed to as many as 5,000 ads versus about 2,000 ads 30 years ago. No matter where you are: at a Superbowl game, a gas station, a pizza joint, a grocery store, driving on a highway, watching your favorite TV series - you are bombarded with short-form videos and ads.
Consumers feel that ads have become more intrusive than before. Marketers need to be creative in leveraging technology to engage with customers in a non-intrusive manner.
4. The emergence of newer marketing channels 
Marketers at companies traditionally known for spending a chunk of their advertising budgets on conventional advertising channels are beginning to move away towards digital media. Unilever spends about 25% of its $8 billion budget on digital.
According to The CMO Survey, a quarter of B2B marketers spend 61-80% of their marketing budgets on digital. A HubSpot survey pegged this number at 47%, which is only expected to increase. Marketers at Salesforce spent nearly half of their budgets (46%) on digital.
Old media mainstays have ceded ground to newer forms of marketing, and hence, marketers must reach their audiences through a combination of new age technologies, including mobile,  digital, online, and social media.
5. More marketing channels, more chaos
As different forms of new-age communication channels open, it presents a unique problem - marketers are struggling to integrate their messages across a broad range of communication channels.
For example, a TV ad (mass media) may convey a specific message, but it may not resonate when transmitted through websites, landing pages, YouTube videos, social media posts. What marketers often fail to understand is that consumers do not differentiate between the source of these messages. What matters to them is the utility value that a brand/product/solution provides.
Far too often, marketers are focused on short-term preferences of customers. Instead, a well-planned integrated marketing communications strategy can result in continued engagement, and build customer relationships based on consistent brand experience.
Integrated marketing communications are essential because it enables a compelling message, using specific marketing tools that are carefully synchronized.
How Does the Integrated Marketing Communications Process Work?
Customer segments are becoming refined, and so a well-coordinated integrated marketing program will need to be created for specific customer segments, niches, or even individuals. In this section, we will examine every component of the integrated marketing communications process.
Let us understand the components and how they come together to form a well-rounded process that enables marketers to set aside their budgets more efficiently and effectively.

To help readers understand effectively, we have defined the different components of integrated marketing communication identified with a Microsoft Super Bowl 2019 Xbox commercial.
The commercial was launched at Super Bowl 2019 and later in YouTube where it has garnered more than 29 million visits.
The integrated marketing communications process has two parties, four functions, and two communication tools.
Sender: The source of this message, in this case, Microsoft.
Encoding: The process of assembling marketing collateral like this by McCann, including creating a narrative, identifying actors, creating scripts, shooting, into a YouTube video that conveys a strong message.
Message: The actual ad packaged as a video sponsored by Microsoft.
Media: Which media is used to bring the message to its audience - in this case, it is YouTube. There could be other channels through which it appears.
Decoding: How does the target audience interpret the video's message?
Receiver:  The party receiving the message. In this case, it is anybody who sees this video (fans at a stadium, people watching it on a TV/mobile/tablet)
Response: What is the expected outcome for the video? Does Microsoft expect people to buy Xboxes, follow them on social media channels, engage with their content or do nothing at all?
Feedback: The response back to the sender after seeing the video: do Xbox fans rave about it on social media or they don't like it at all?
Noise: Ignore this component at your peril. When a receiver receives a message which is entirely different from its intent, that is 'noise.'
If you are a marketing communicator, the success of your communication depends on many factors. For example, unless a video creator is empathetic to the emotions of an Xbox fan, he might not be able to create a video that resonates with them.
Benefits of Integrated Marketing Communications
Integrated Marketing Communications has tangible benefits to B2B companies. It is a fusion of a company's promotion tools to communicate value to customers and build customer relationships persuasively. Here are the benefits of an integrated marketing communications strategy:
1. Helps build good customer relationships
Companies want to develop and nurture relationships with their customers - it cannot be achieved simply by creating a great product, pricing it appealingly, and making it accessible to your target audience.
An Integrated marketing communications strategy can enable your brand to convey the intended message across marketing channels and mediums, that resonate with your targeted audience. This way, marketers are not left wondering how their audience is perceiving it.
Marketers often gather a lot of fans but fail to interact with them. However, American fast food restaurant chain Chick-fil-A, lets their fans know when they open a new store through social media announcements. They even feature employees from their store to add a human touch to their messages.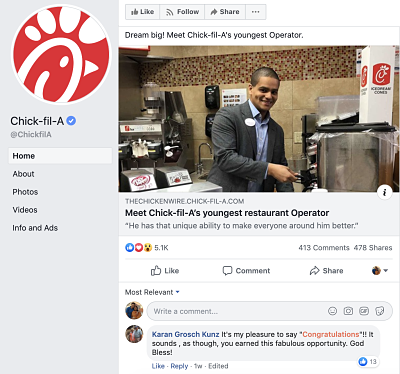 2. Enables personalized communications
Have you ever wondered why you get so many emails about the latest fashions and offers from clothing retailers? It is only a select few who have indicated a desired to be informed get these messages. Statistics suggest that when customers receive a birthday message tend to think positively about the company, that also results in increased brand loyalty.
One way of building increased personalization is through loyalty programs. When it comes to loyalty programs, nobody does it better than Starbucks. Their reward program features a mobile app that rewards loyal customers with limited time, bonus offers, and extends it even for merchandise purchased outside their stores. Starbucks has reported a 14% rise in members to 16.3 million people in Q1, 2019.
The Point Defiance Zoo & Aquarium in Tacoma, Washington increased their customer count by 300% by identifying postcodes of their most-frequent customers and engaging others within those locations with discount campaigns.
3. TARGETING SEGMENTED GROUPS
In an era where consumer groups are becoming increasingly segmented, integrated marketing communications enables B2B companies to target consumer segments based on their preferences, needs, attitudes, and interests. Segments can be based on:
Demographics - i.e., Age, gender, income, ethnicity. Men watch more sports programs than women. American women influence 83% of consumer spending, amounting to $7 trillion - marketers can use these factors to design marketing communication targeted at women.
Psychographics - i.e., responses that reveal a person's interests, thoughts, activities, i.e., believers, achievers, thinkers, innovators, experiencers, strivers, and more). Atlantic City-based casino Revel, designed an integrated marketing communication for 'leisure and lifestyle' consumers via TV, radio, print and digital ads around the 'Elevationist' theme, that suggested you experience a new high like never before.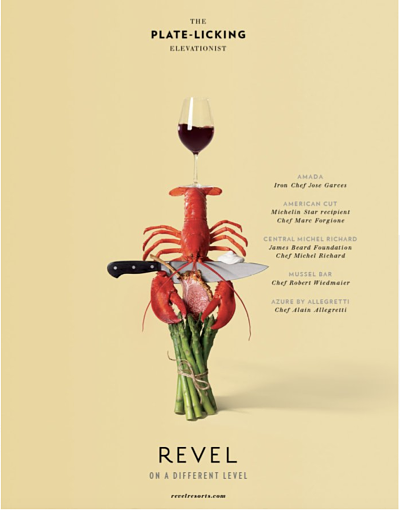 Generations - i.e., Millennials, baby boomers, Gen X, Seniors, social class, orientation. Millennials attract maximum advertising dollars who continuously look for bargains and promotions, yet seek high-quality products and experiences.
Geographic area - Consumers in a specific geography will receive marketing communication based on an event happening in their city/town. For example, during the 2016 Summer Olympics in Rio, P&G launched the 'Thank You, Mom' ad campaign in honor of the courage and fortitude shown by mothers through their child's life.
4. Improved brand perception
A successful integrated marketing communications program that can position a product appropriately in the consumer's mind so that she can compare it with other competitors. A unified message helps in creating a healthy and positive brand image.
Industrial equipment manufacturer Scott Equipment was spread across 25 different locations in the US with each region creating different brand images for their products. Scott Equipment hired Peter Mayer advertising agency to integrate their marketing under a tagline named 'Heavy-Duty Commitment' that let consumers know of the support they can expect.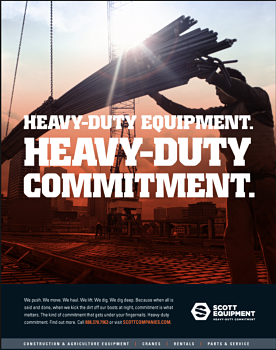 Such well-targeted communication programs can provide positive assurance to consumers about what to expect irrespective of where it is purchased.
5. Increased Customer Retention
Integrated marketing communications enable higher levels of customer acquisition, retention, and loyalty. Moreover, maintaining repeat customers is less expensive than replacing customers who move away.
While marketers can use integrated marketing communication programs to sell products, and acquire new customers, increasing retention and loyalty should be their primary focus.
When a customer logs on to a website and is greeted with a message saying "Welcome back, Jennie!", that means Jennie has been on the website in the past, and the website content can be customized to display information on products/solutions that Jennie wants to purchase.
6. Measure the Impact
An integrated marketing approach connects brands with each customer through various channels, collectively or sequentially.
It produces meaningful insights across multiple channels that enable marketers to measure the impact of every component of a campaign. It lets brand managers identify the channels that are working and the components that resonate with the target audience.
Integrated marketing communications have exponential benefits to businesses, provided there is sufficient emphasis on customer engagement through consistent and clear messages.
Disadvantages of integrated marketing communications
When a tree falls in a forest, how many people notice it? Unfortunately, too many integrated marketing communications programs have 'fallen' due to various reasons without causing as much as a rustle. 
In a world where viewer attention spans are getting shorter, a user seeing half a screen for two seconds counts as a view. As Keith Weed, CMO of Unilever, whose prime responsibility is to derive a higher ROI for Unilever's ~$8 billion marketing budget, says "Can you imagine seeing half of a TV screen for two seconds and we'd say that is a TV ad view? I certainly wouldn't consider it as such."
Integrated marketing communication is not easy because it needs different marketing channels to act coherently in a synchronized manner.  Let us examine its disadvantages and why it could go wrong if not carefully managed:
1. High costs
It is quite expensive to launch marketing campaigns across all channels simultaneously. It is because it involves the creation, production, and distribution costs. Marketers might fall short of budgets while running campaigns at such a large scale.
2. Challenging to reach national/international audiences
Despite allocating millions of dollars to it, an integrated marketing communication might not succeed because of an inability to standardize or adapt them to local cultures. What works in a TV ad in Brazil may not work in India.
3. Information overload
Far too many marketers make the mistake of putting too much information out there for consumers. That results in information clutter, and consumers don't get the message. It defeats the purpose of having a well-crafted integration marketing communication program.
4. Managing content
All integrated marketing campaigns have loads of content that is shared with consumers directly. However, managing content can be a challenge, especially if it is across marketing channels, geographies, and consumer segments. Updating every piece of marketing collateral, publishing it, customizing it to audience needs is not easy.
5. Measuring ROI can be difficult
Kantar's research shows that 40% of marketers are relying on short-term ROI metrics, despite 85% saying that a mix of both short and long-term metrics are ideal. The sheer number of marketing channels (e.g., TV, magazines, publications, digital, web, social media) participating in a coordinated marketing program - such that demonstrating measurable results can be a challenge. Different metrics/parameters to measure the impact of different marketing channels can prove to be a marketer's nightmare. 
6. Not geared for all businesses
An integrated marketing campaign may not be possible for small businesses as they may lack the resources for putting it together. It needs imagination, creativity, skill, and experience to pull it off, which small businesses may not have.
Despite its obvious disadvantages, integrated marketing communications can help the business grow through existing accounts and add newer customers. When carried out properly, it becomes a powerful marketing weapon.
Integrated Marketing Communications examples
Things always change. No company can remain bottled up for too long if they aspire to grow. Integrated marketing communications programs are designed to change this status quo to either reinforce popular belief about a brand or change consumer views. Marketers at B2B companies then create consistent messages designed to educate and inform buyers.
A Heinz marketing statistic revealed that companies with $200 million in annual revenues experienced a 3X higher effectiveness of their marketing initiatives versus those companies that did not have integrated marketing programs.
In this section, we have narrowed down on three top examples of successful integrated marketing campaigns undertaken by B2B companies that have stood the test of time. Some of these campaigns (like GE's) are a little old, but serve a reminder to us that no matter what your business is or how small your budget is, integrated marketing campaigns can give you exponential returns if you stick to basics, i.e., understanding customer needs, communicating a consistent message, focus on.
Let's dive right in then!
INTEGRATED MARKETING CAMPAIGN EXAMPLE #1
'Intel Inside': The Insider Story
In 1991, Intel launched a coordinated marketing campaign to promote its computer chips. It had lost a legally bruising battle with AMD a year earlier (that continued to gnaw at it in the remainder of 90s and 2000s) and personal computers hadn't yet become a household necessity. People were hardly aware of what a 'transistor' in a chip meant, let alone make purchasing decisions for computers.
Intel saw an opportunity in what others could not see. The 'Intel Inside' campaign was designed to turn Intel into a brand that symbolized quality, trust, commitment, and experience. 
In 1993, Intel booked an ample exhibit space at CES mirroring what they'd done at other events. Intel's Executive Vice President Craig Barrett and his team put up a grand show with multimedia videos to convince audience members about what the future of consumer technology looked like and how they were at its forefront.
It then followed it up with TV campaigns ubiquitously equipped with 'Intel Inside' branding and a 5-tone jingle that let consumers know to look for it while purchasing a computer.
Despite not having direct access to its consumers, the TV campaigns had consumers believing that Intel chips meant high-performance computing products and services.
As troves of personal computers started taking off, Intel pounced on the opportunity and convinced PC manufacturers to feature the  'Intel Inside' logo on their products and product advertisements.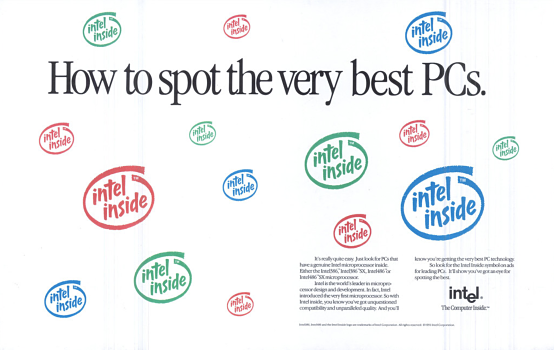 It then designed a co-op marketing program to contribute to PC manufacturer ads directly. If a manufacturer participates in this program by purchasing chips from Intel, it will reserve a percentage value of the transaction as a corpus amount for co-op ads.
PC manufacturers will then be reimbursed 50% of his advertising costs for featuring the 'Intel Inside' logo from the corpus amount. PC manufacturers could then get their ads done at half the rate. Manufacturers who jumped on this opportunity included tech giants like IBM, Lenovo, Toshiba, and Sony. (Later, in 2008, this co-op program required manufacturers to spend 35% of Intel's contribution to spending on online marketing.)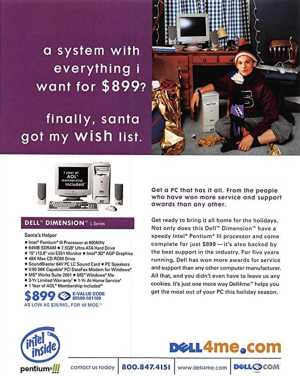 Intel's competitors began feeling the brunt of its campaign when in the mid-1990s, higher-powered chips such as K-6 by AMD and PowerPC (designed by top-notch manufacturers) failed to cut ice with consumers. People purchasing computers without the 'Intel Inside,' logo were becoming consciously aware of it and were ready to pay a premium for it rather than settle for anything less.
INTEGRATED MARKETING CAMPAIGN EXAMPLE #2
Buick: No longer the 'sofa on wheels'
When you mention Buick to someone, the first impulse is that of someone who is old, old-fashioned, owned by older people, a car you would expect your grandfather to drive. No wonder then that in 2009, the average age of a Buick LaCrosse buyer was 55.
Rather than going down with a whimper just as how the 107-year old GM Oldsmobile did in 2004, Buick mounted a major comeback effort by appealing to a younger audience including millennials. It started with designing elegant looking automobiles.
The problem, though, was more than just an image makeover. Years earlier, the automobile company had discontinued an extended range of its cars, including Saturn, Saab, Hummer, and Pontiac to focus on a four-brand model for the US market. Even then, in 2015, about 80% of the approximately 500,000 Buicks on the road were no longer in production.
It realized early on that letting go of older models in favor of new SUVs to differentiate with its competition, was the first step in the right direction. Its product transformation effort yielded attractive-looking vehicles like Enclave, Verano, and the Encore - compact crossover. Although Buick experienced a spurt in initial growth, it started to level off after a few years. Consumer perception of Buick was a grandpa vehicle that was piled up in a scrap yard or outside bingo parlors.
It was time for a change. Buick had to do something surprising to shrug off its old-fogey reputation. The company decided to launch an integrated marketing campaign centered around the 'That's a Buick?' theme.
These self-deprecating ads poked a little fun on Buick's image. The ads showed older people and millennials seeing a new Buick for the first time and being wowed by it because 'It doesn't look like a Buick.'
One ad showed a grandmother hardly able to control her disbelief while noticing her grandson's new Buick. A valet worker looking for a dull-looking Buick is surprised to see a stylish vehicle blinking when he presses the car's key chain buttons. In another spot, a girl isn't able to spot her friend in a Buick that is parked right in front of her.
Another ad campaign with the tagline '24 Hours of Happiness Test Drive' showed how millennials were test driving a Buick for 24 hours to convey a sense of well-being and happiness that Buick owners have.
Along with traditional ads, Buick used alternate marketing channels, including videos, imagery, press releases, and podcasts aimed at millennials and baby boomers to create a sense of good feeling overall.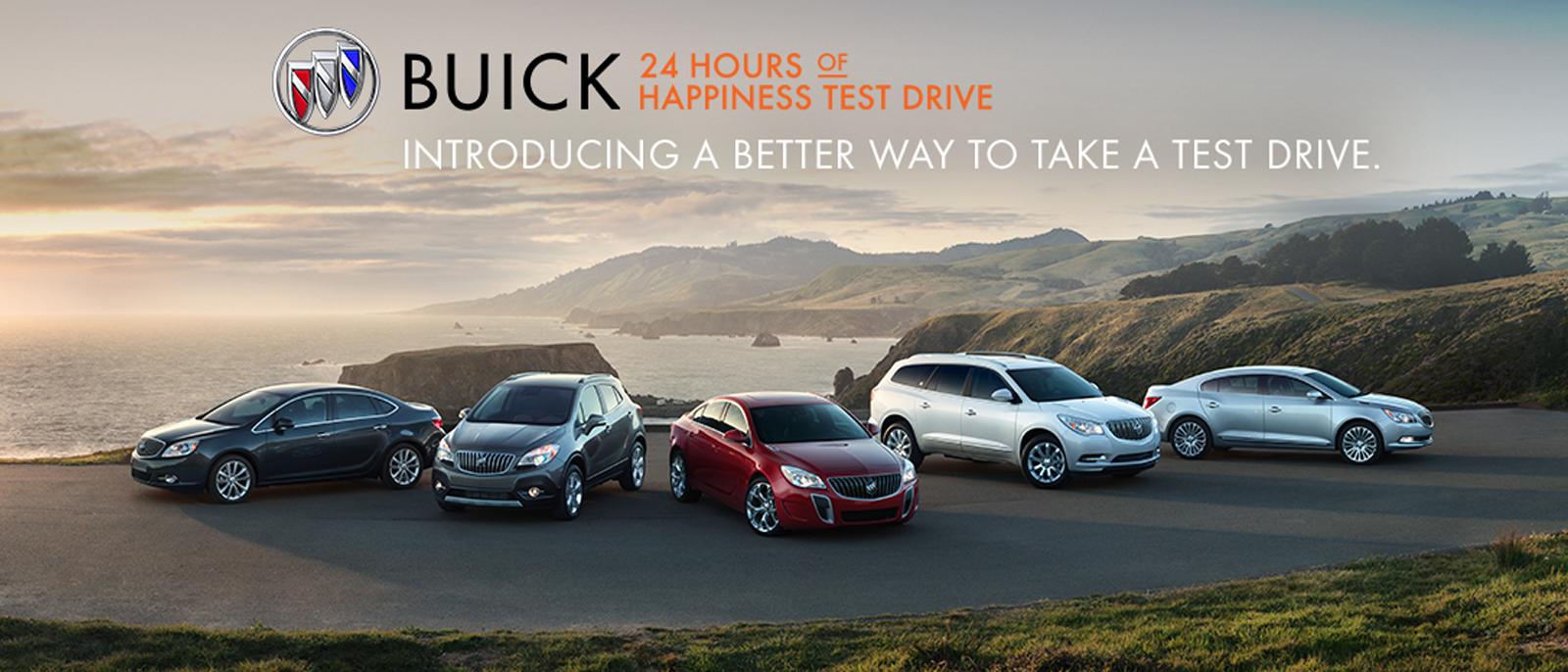 In 2016, Buick debuted on the Super Bowl to introduce its newest convertible in 25 years, the Cascada. The ad showed Emily Ratajkowski catching a wedding bouquet similar to New York Giants wide receiver Odell Beckham's gravity-defying catch. Beckham is at hand in the commercial as well. Buick's website traffic surged by 100% the following day.
Over the years, Super Bowl commercials have attained iconic status given the large fanbase and chatter it generates. Influencers such as Beckham and Ratajkowski have more than 8 million followers combines that offer an opportunity to appeal to create social media buzz and access to international markets.
Buick followed up the 2016 commercial with another one in 2017 featuring Carolina Panthers quarterback Cam Newton and model Miranda Kerr.
Buick's integrated marketing campaign coupled with its product makeover, resulted in 1.18 million vehicle sales in Asia in 2017, becoming the number 4 brand in China. Buick is expected to continue these their campaigns for a while to create a new image in the minds of millennials and/or boomers, who don't yet have one.
Like these integrated marketing communication examples? Read the best case studies that we've shortlisted to bolster your understanding of integrated marketing further.
FEATURES of Integrated Marketing Communication for B2B companies
For B2B companies, an integrated marketing communication plan requires coordination between the company's marketers and any agency the company employs. These groups are responsible for connecting products to their marketing messages and communication methods. Integrated marketing campaigns are successful when existing customers become even more loyal to the brand, and newer customers are added in the process.
Here is how a B2B company can plan for an integrated marketing program:
1. Objectives for Integrated Marketing
Integrated marketing programs need to have clear and consistent communications objectives, which helps marketers to design the actual marketing messages. These are subsets of overall marketing objectives that include more sales, increased market share, higher profits, and improved ROI. However, here are examples of objectives that a B2B integrated marketing program may have:
Increase sales
Improve brand awareness
Increase product/service/solution demand
Increase market share
Change customer perceptions and beliefs
Encourage repeat purchases
Enhanced user experience
Enhance brand image
For Alicia Hatch, Chief Marketing Officer at Deloitte Digital, the marketing objective is "Surrounding my customer with a total brand experience and not just serving up content…the idea is to provide the right content to the right consumer at the right time."
2. Communications research
The planning for communication begins with research. B2B customers are keenly interested in the value of a product, such as:
Savings in time
Savings in costs
Faster time to market
More leads for the sales force
Improved customer support
Comprehensive research enables B2B marketers to know their audience, their competition, objectives, financial goals, etc.
Product-specific research helps in unearthing critical product features that are selling points. For example, a cloud-based supply chain company can provide B2B users with configurable models to cut costs and make quicker decisions.
Marketers can use consumer-oriented research to learn the context of a product's use. Business consumers might use an internal-only communications/messaging platform to collaborate between themselves and work remotely with colleagues.
A target-market research earmarks business users who will receive this communication. For instance, auditors, accountants and book-keeping administrators (a unique set of individuals) need nimble software that can help them store and retrieve files digitally over a secure platform - a solution that nobody else in the company needs.
3. B2B Market Segmentation
The next step is to segment the market as not all companies need a B2B product.
Marketers often use the NAICS (North American Industry Classification System) to identify companies in specific industries such as real estate, construction, and human resources. Industry segmentation allows B2B marketers to focus on one industry instead of spreading all over.
Segmenting B2B companies by sales volume or number of employees helps in tailoring marketing to specific groups of companies. Companies with 100,000 employments have requirements different from smaller peers. A large prospect company, like Citibank, may hire an external vendor for customer support. However, mid-sized and smaller companies may have in-house staff doing it over SaaS-based chat platforms.
Segmenting based on geographic location helps in identifying prospect companies in a city/town/industrial area. For example, banks and financial institutions in New York's Manhattan may need compliance software versus community banks in Texas who may need retail lending software.
Marketers often use segmentation based on customer value. As B2B prospect companies report sales numbers, segmenting them on their capacity to spend helps in positioning products better.
When identifying market segments, marketers should narrow down on groups that best fit their goods and services as well as the brand's overall message.
4. B2B Product Positioning
B2C marketers rely on variables such as price differentials, product quality, distribution, availability, packaging, imagery, reviews, and description to position their product. However, product positioning for B2B integrated marketing campaigns varies significantly as compared to B2C marketing.
It is primarily because:
B2B transactions are more significant in ticket sizes.
Decision making is longer.
Unique needs of B2B customers.
There are many stakeholders involved.
Shelf-life of B2B products is much longer.
Here is how B2B products are positioned for successful integrated marketing campaigns:
5. Thought Leadership
B2B integrated marketing communications must have a core 'Thought Leadership' element to it. Being a thought leader can help B2B companies differentiate themselves from competitors and educate B2B buyers. Recall how GE positioned itself as a futuristic company at CES conferences year after year?
Thought leadership involves creating original content in the form of white papers, blogs, videos, infographics, and more. Digital content artifacts used for thought leadership purposes have longer lifetime value and help B2B companies build trust and confidence amongst prospects.
6. Ability to customize
B2B companies have unique needs, and products/solutions must be customized to meet their requirements. B2B marketers must differentiate their products by conveying that customers will experience customized versions of their products/solutions suited to their needs. Therefore, transmitting the same ad to every B2B buyer who visits a website will not work.
Today, technology can help marketers to customize websites and landing pages with specific offers for B2B companies. For example,  CRMs can use mass customization techniques for both communications and products. Such tools that let marketers personalize messages and record effective and ineffective communication are essential for successful integrated marketing campaigns.
7. Faster and efficient responsiveness
The main motivations of B2B customers are satisfaction and resolution of problem issues. Hence, B2B marketers must design an integrated marketing communication plan that communicates their ability to respond to customer needs faster with quality control mechanisms, customer service desk, and technical support.
8. Vendor identification
The next step is to evaluate vendors who are capable of executing a B2B integrated marketing campaign. An initial screening of proposals can whittle down the playing field to three to five competitors. Selection criteria include quality of output, delivery, performance history, warranties, workforce, geographic location, and technical capabilities. Once the terms are agreed upon by both parties, pricing details are worked out.
A detailed integrated marketing communications process helps in identifying the primary goals at the beginning of the campaign and working towards it.
Integrated marketing communication Tools
The integrated marketing communication system has three significant variables.

The source, the message, and the system. 
Every company or business that implements/ is planning to implement an integrated marketing communication plan must take into consideration the variables mentioned above to design a compelling and successful campaign. 
To do that marketers (like us) need to how each variable interacts with the consumer's response. How? We use the Persuasion Matrix. The matrix has two sets of variables. 
Set 1 - Independent Variables - These are controllable variables of the integrated marketing communication process.
Set 2 - Dependent Variables - These variables are the steps the receiver ( the person who is at the receiving end of a promotion/ad) goes through in being persuaded.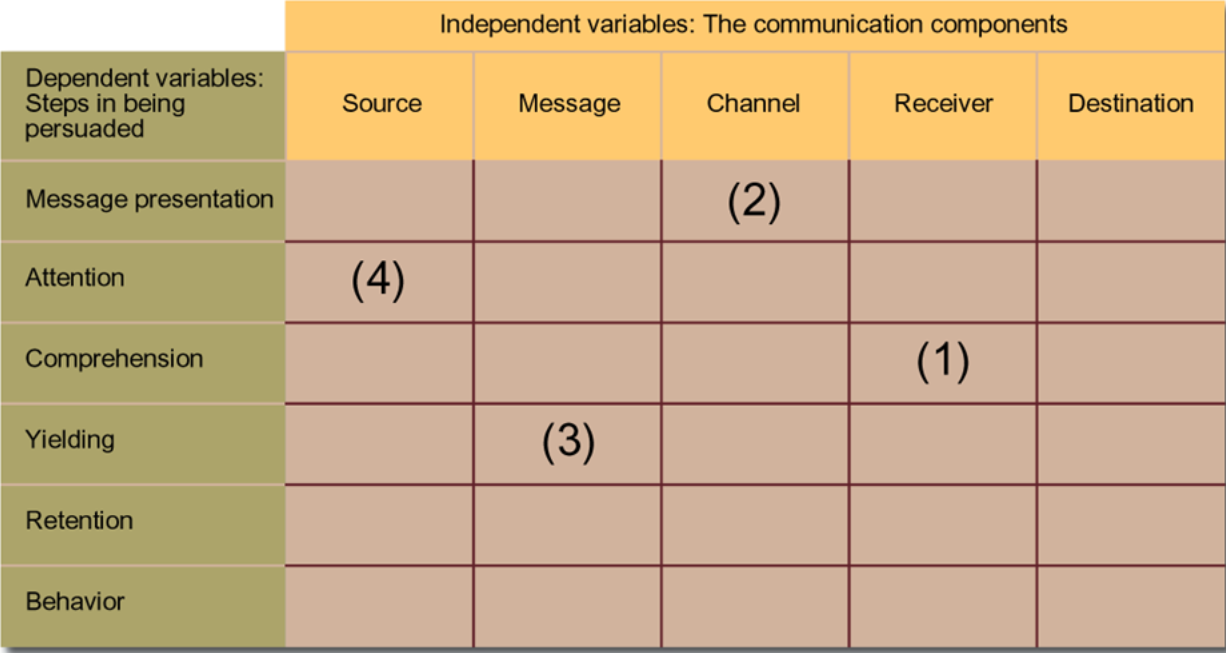 Here are a couple of examples of how decisions in the integrated marketing process can be evaluated using the matrix: 
1 - Can the receiver/audience of your integrated marketing campaign understand your ad? Is your ad filled with jargon that only a highly-educated person can comprehend? Your ad should convey a sense of familiarity using symbols, expressions, and words that your audience would understand. 
2 - Which channel maximizes your reach? If you are promoting a product that is widely used across all age groups a spot on Primetime television might prove useful. It is also essential to consider this: there will always be channels that have higher reach in terms of viewers, readers and so on. But while choosing a channel, the target audience has to be kept in mind. If you advertise to 20 million people who aren't your target audience, your campaign will not run at its peak efficiency. 
To be able to use the right channels, we have to understand them in depth. Choosing the channels involves gauging its pros and cons to arrive at a decision. The following section of the blog will talk about each channel in-depth and equip you with the information to make the right decision. 
Integrated marketing communication tools - #1
Television
Televisions have been around for over 90 years and the first ad on tv aired in 1941. Since then it has been the go-to channel for marketers to reach a broad audience. Technology has grown leaps and bounds in the television space. From 30 channels on cable to over a hundred via satellite. The advent of the DVR also has been a landmark with over 43.4 million households using it to record and watch their favorite shows at their convenience. 
These changes and developments that occur in the television industry are essential as they influence one of the largest advertising mediums at our disposal. 
Advantages of Television

1. Impact and Creativity:
Ads on television combine the power of visuals and sound to create a persuasive and resonating image. They are used to associate emotions, feelings, and moods to a brand, company or product.  Using television ads to craft a story around a brand creates an emotional attachment with the consumer.

2. Coverage and Cost Effectiveness
A lot of people watch. You, me, everyone. Nielsen Media Research reports that nearly 297 million aged 2 or older live in the nations 116.4 households with a TV.  77% of which are 18 or older. I bet the marketer in you is excited about the advertising clout of this channel. Likewise marketers of mass consumption goods that appeal to wide audience leverage this channel to promote its products to a broad audience. For example, companies like Verizon, AT&T, and Sprint spend over 2/3rds of their budget on different forms of television. 
3. Attention and Captivity
Remember this annoying jingle from the last ad you saw that has been stuck in your head. Well repeated exposure to a commercial and a catchy slogan/jingle can have a powerful effect on consumers. 
4. Selectivity and Flexibility
Using this channel for your integrated marketing campaign allows for some flexibility in targeting a different audience. You can choose a specific TV channel according to the cohort that watches it. You can also want to advertise at various times during the day to reach different audiences. Promoting a sports shoe? Find a spot on ESPN during a match. Selling highly fashionable clothing? Look for a spot during shows like Keeping Up with The Kardashians. Want kids to go gaga over your company's new toy? Find a spot on a Saturday morning on the Disney channel. 

Disadvantages Of Television
1. Costs
Getting a spot during a prime time show or during a major sporting event can be very expensive. 4 million for a 30-sec spot during the Superbowl. Phew! Once you buy the spot, you have to dish out some more money to create an advert worth of such a spot. One with famous movie stars and athletes. This too piles on to create advertising on TV a very costly affair. 
2. Highly Specific Audiences Cannot be Targeted
If your product appeals to a very niche audience, advertising on TV might not be a great idea. 
3. Clutter 
The TV channels are getting crowded with a lot of ads clamoring for the viewer's attention. This combined with 15-30 sec ad, it is quite a challenge to deliver a resounding message that sticks with the viewer. 
4. Limited Viewer Attention
What do you do when there's an ad on TV? Check your phone, of course. With smartphones in everyone's hands, it is hard to catch some eyeballs during the commercial break as they are mostly looking down into a smaller screen. Then there is also the infamous zapping between channels during a break. This too limits the attention given to ads on Television.
Integrated marketing communication tools - #2
Radio

Radios too have been around for nearly 100 years ( 99 to be precise). It is an old school channel that can be used in your integrated marketing communication mix that can work wonders (if used in the right way). Here are some stats about radio as an advertising channel (in the USA) that will motivate you to add it into your mix. 11,300 commercial radio channels. 576 million radios in use. It reaches 77% of all Americans over 12.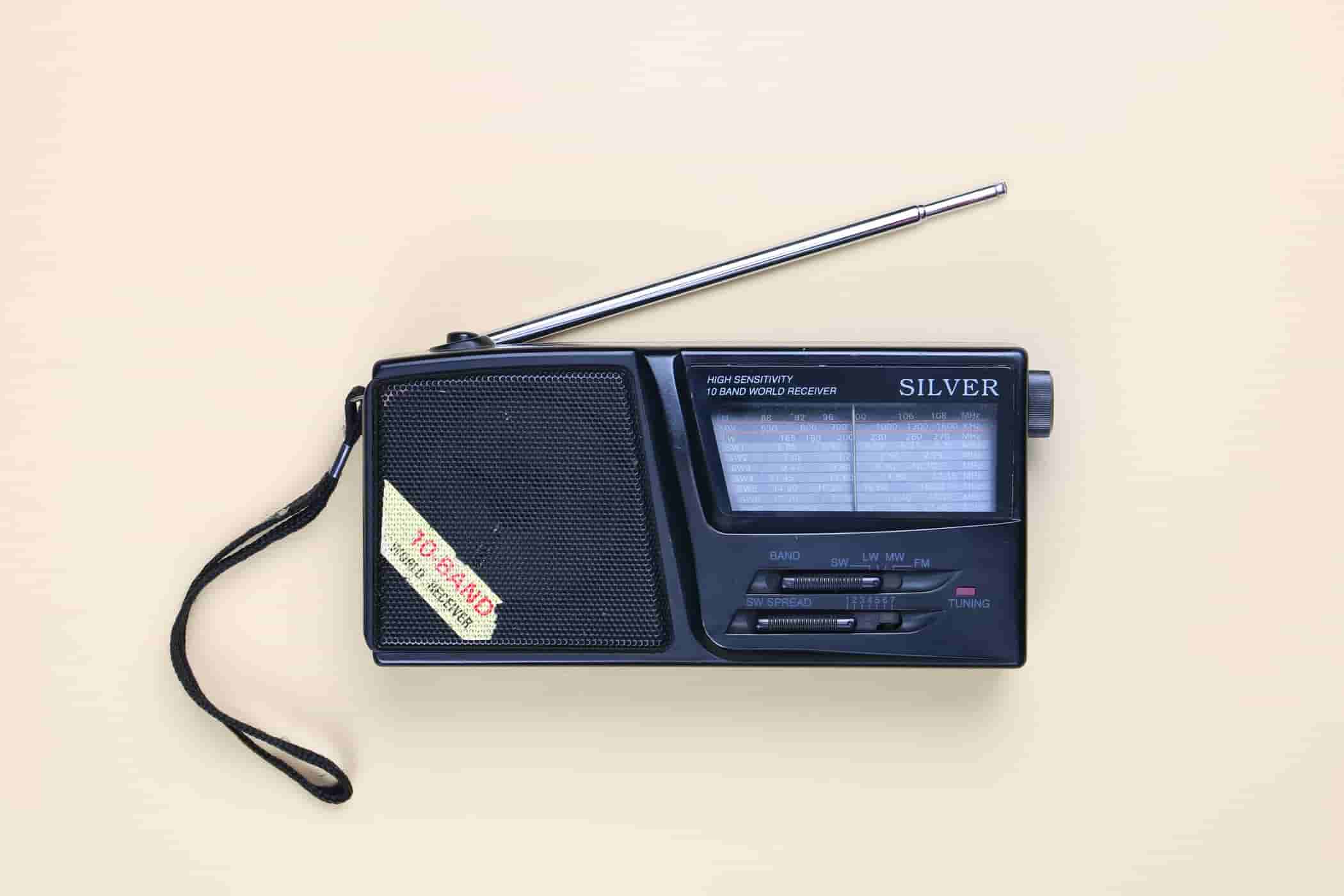 People listen to the radio while driving, running, working, at a bar, everywhere. 
There are more advantages to using the radio to promote a product than just those numbers. Let's look at some more:
Advantages of Radio
1. Cost Efficiency
They are very inexpensive to make. A pre-recorded sound byte or a script that's read by the radio jockey makes a radio advertisement. It also has a relatively quicker implementation time. Approximately it would cost you $3-$4 to reach about a 1000 people. This allows the advertiser/marketer to increase the frequency of the ad and employ multiple radio stations to run the ad. 
2. Receptivity
Radio listeners find advertisements they hear more personally relevant to them, according to research by Radio Advertising Bureau. They report that listeners are emotionally connected to the stations they listen thus making them more receptive of ads. 
3. Selectivity
A large number of choices are available in terms of stations and programs. Ads over radio allow you to select particular audiences. Data on listeners such as age vs. music genre will enable marketers to choose the right stations and programs. It can also be used to advertise to audiences that are hard to reach like teenagers, college students, and working adults. This integrated marketing channel is also used to reach ethnic markets that have dedicated radio stations. 

4. Flexibility
You can change up the ad copy without thinking twice. 
5. Integrated Marketing Opportunity
Radio campaigns can be used to reinforce campaigns from different channels.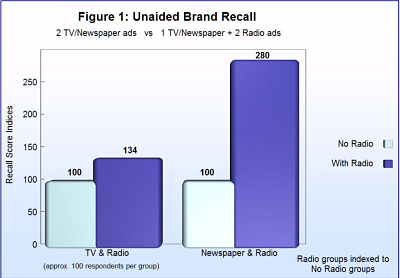 Research by Radio Ad Lab shows that in ad campaigns that used radio along with print or television showed significantly higher brand recall. 
Here's an excerpt from the research paper: 

"We now believe this new research suggests something different—that radio is an important way to communicate with consumers who are reached with other media. Even when a consumer has been touched with a television or newspaper ad, radio communications are powerful, and not just as "supplements." This study suggests that synergy may involve something more than just light reinforcement or increased frequency. "
Disadvantages of Radio
1. There are Creative Limitations
With the lack of visual images, there is only so much you can do. You cannot show the picture of the product, portray its visual appeal. A short, fleeting audio byte that is at the risk of ultimately going over the listener's head. 
2. Fragmented Audiences
With over 11K stations to tune into, the audience for each station is very fragmented. So as a marketer, if you want to reach a sizable audience, you will have to advertise in more than one radio station and at a higher frequency. 

3. Lack of Data
Compared to the other integrated marketing channels, the radio does not have a considerable amount of research data. Most radio stations are small and lack the financial clout to undertake a study on their audience. Hence this lack of data does not help a marketer make the decision of using radio as one of his integrated marketing channels.

4. Clutter
During a usual radio broadcast, there is a barrage of ads between every song. 10 minutes of commercials every hour. Some radio stations also attract audiences by offering an ad-free block of music which then leads to all the ads being aired in a short time. Only ads that break through the clutter and use heavy repetition will reach the consumers.
Integrated Marketing Communication Tools - #3
Magazines 
Magazines are a form of high involvement media. They elicit effort from the readers and involve them at their own will. Unlike radio or television, magazines as an integrated marketing channel do not feel intrusive.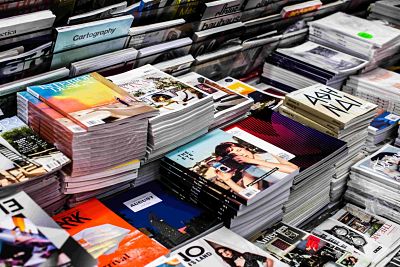 They also slightly differ from the newspaper because most of the magazines reach specific types of consumer segments and audiences. 
Magazines broadly serve 3 purposes:
To Educate
To Inform
To Entertain
Some magazines cater to a broad audience such as Reader's Digest as well as magazines that cater to one specific lifestyle, hobby or interest. 
There are also magazines that target specific businesses, industries, and individual professions. If your company is B2B, you must not miss out on this channel. 
Classification of Magazines
1. Consumer Magazines
This is read by the general public for news, sports, fitness, entertainment and so on. These magazines are useful for marketers who are looking to reach general consumers and not a very niche audience. Companies like H&M and Forever 21 use magazines like Elle, Allure or Cosmopolitan to reach their target audience of young women. Similarly, auto parts companies advertise in magazines about cars. This creates a very conducive environment to mentally persuade a consumer to make a purchase. 
2. Trade/Business Magazines
These magazines are specific to businesses, industries or occupations. 
3. Professional Group Magazines - National Law Review for Lawyers, Architectural Forum - Architects and Builders
4. Industrial Magazines - Targeted at business people in various industries. Automotive News, Chemical Week, and Industrial Engineer.
5. Trade Magazines - To target dealers, wholesalers, and retailers. For example Progressive Grocer, Drug Store News,  Women's Wear Daily, and Restaurant Business
6. General Business Magazines - Appeals to business execs in all industries. For example Forbes, Fortune, Harvard Business Review. 
7. Healthcare Publications - To target doctors and professionals in the medical, dental, surgical, nursing, hospital administration space. Examples include Modern Healthcare, Veterinary Practice News, and Dentistry Today.

Advantages of Magazines
1. Selectivity
Magazines can reach a particular target audience or a special interest group. For example: If you are looking to reach a tech-savvy millennial using magazines like the PC Mag will be favorable.  Most magazines are aimed at a well-defined target demographic segment. Marketers can use this data to reach their audience with ease. 
Ladies' Home Journal, Shape, and Cosmopolitan have women readers; Esquire, Maxim, ESPN The Magazine, and Sports Illustrated appeal to a male reader segment. Older consumers are reached through publications like AARP The Magazine. 
A magazine might also divide the area it operates in into various geographical paving the way for regional editions of national magazines. This gives advertisers a method of targeting their ads in specific areas such as metropolitan areas and so on. 
2. Quality of the Advertisement
Ooooh, those glossy pages! Magazines are (usually) printed in a high-quality printer and have an enjoyable and sharp aesthetic. This allows marketers to publish ads that are crisp and great to look at. They also integrate this with media channels by using advertisements that animate when seen with a camera lens. One such creative ad for Lexus animates—the engine revs, the headlights flash, the wheels spin, and the background pulses with color, all to a musical soundtrack—when placed over an iPad that has a Lexus microsite. 
3. The permanence of the Advertisement
These messages and your ad is here to stay. Unlike TV or Radio, it is not a short message. People usually preserve magazines to use them for reference and are typically read over a few days. This ensures multiple exposures to the ad. In addition to that, magazines are read at a slow pace that allows for a detailed examination of ads. 
4. Prestige
Simple logic. If the magazine you are advertising in is well reputed and famous, that image will rub off on your product or brand. 
Disadvantages of Magazines
1. Cost
Advertising in magazines is costly. To give you a fair idea: A one-page ad in the Time Magazine will set you back by $352,000. Want to advertise on the cover? Half a million dollars. These costs are not inclusive of the price of creating an ad worthy of such a platform. 

2. Limited Reach and Frequency
With so many magazines competing for readership, even the magazine with the highest readership only covers a small segment of the population. To circumvent this issue, marketers usually have to advertise in more than one magazine. Increasing costs and effort. Magazines are generally monthly, fortnightly or weekly. In addition to that, the publications close the last date of submission well in advance because of which marketers cannot refer to current events in their ads. They also cannot edit or change their ads once they have been submitted. 
3. Clutter and Competition
A magazine is usually divided into 47% ads and 53% editorial content. 
If a magazine you are advertising it has 100 pages. There are 47 pages of ads. Your ad is one of them. You can imagine the competition for eyeballs and the clutter that this creates. 

Integrated Marketing Communication Tools - #4
Newspapers
Newspapers are a significant form of print media. They also serve as a local form of advertisement but is not restricted to that.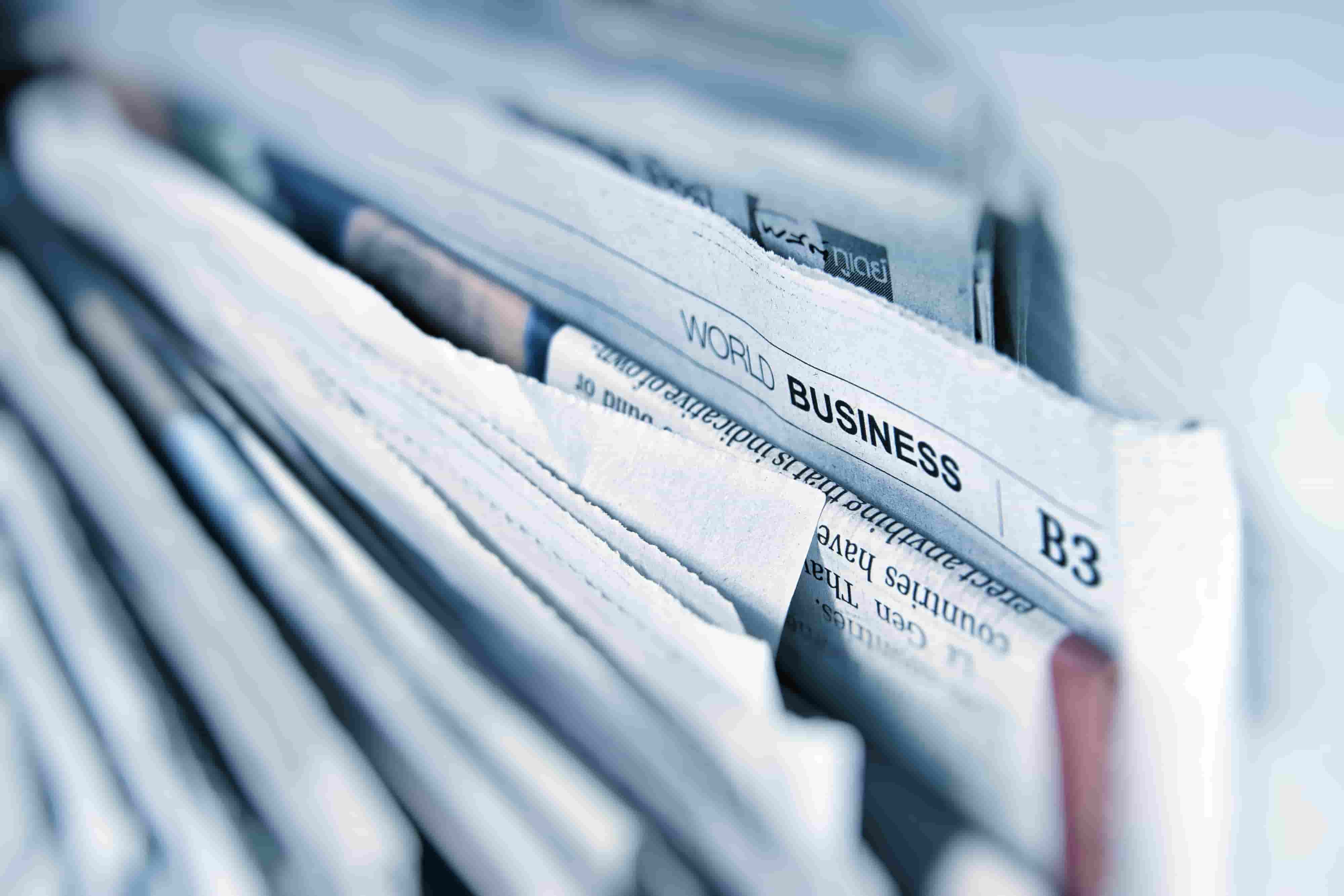 Types of Newspapers
1. Daily
Usually present in cities and larger towns. Primary readers are old folks above the age of 55. (40%) Only 20% of 18-34 adults read these papers. 
2. Weekly
These papers are present in small towns and suburbs. They report local news, sports, and events. They are a massive boon to the local advertisers who use this low-cost medium to reach their target audience. 
3. National
Examples of Nationals in the USA: USA Today, The Wall Street Journal, and The New York Times. These papers have editorial content with a universal appeal. Large national advertisers generally use this integrated marketing channel to reach a broad audience across the country. They also leverage the geographic editions of these nationals to reach an audience in a specific location.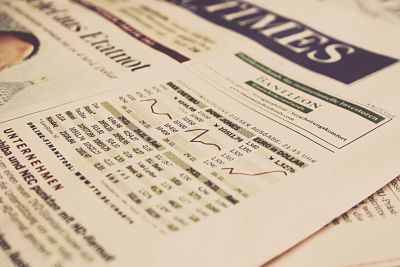 Types of Newspaper Advertisements
1. Display
These are usually illustrations, headlines, and pictures with the copy.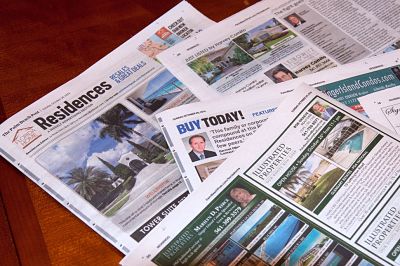 2. Classifieds
Ads arranged under different categories on a dedicated page. Usually contains ads about employment, real estate and so on.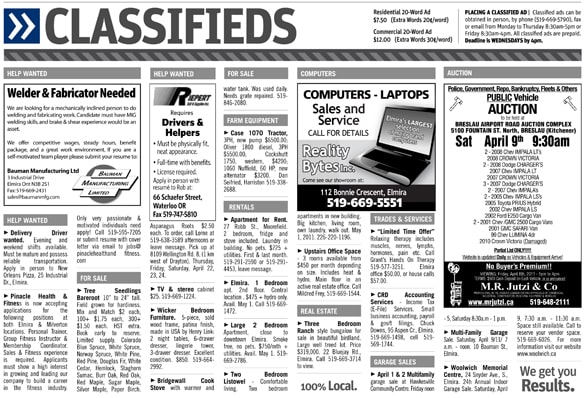 3. Special Ads and Inserts
These are ads that are inserted into the paper before delivery. These are usually local advertisements by restaurants or retailers who aim to reach a particular audience in a neighborhood. 
Advantages of Newspapers
1. Market Penetration of Newspapers
Newspapers provide advertisers with the opportunity to reach a broad audience with their message. In addition to that, papers are printed daily, allowing for a high level of frequency of ads. 
2. Flexibility
These ads can be made very quickly and need to be sent in only 24 hours before the date of publishing. This allows brands and companies to respond to current events and put out more relatable content. 
3. Geographic Selectivity
As a marketer, you segment your audience based on geography. With this data, you can use newspapers that specifically cater to these geographies and using them to promote your product. This also allows you to tailor your ads and include a cultural element of each place and thus making your ad appealing to the local audience. 
 
4. Reader Involvement and Acceptance
Consumers rely heavily on papers for their daily dose of news, information, and entertainment. There also exists a specific segment of consumers who buy paper for advertisements by local retailers.

Limitations of NewspaperS
1. Poor Reproduction of Ads
Newspapers are generally printed on coarse paper. In addition to that, the absence of right color and lack of time results in a mediocre quality of the print. Hence diminishing the quality and value of your advertisement. 

2. Short life span
Papers are usually kept only for a day, therefore, no multiple exposures. Also, Consumers spend very less time with the paper as they browse through them at a fast pace. Although this issue can be offset with a higher frequency of ads. 
Integrated Marketing Communication Tools - #5
Internet and Social Media
The internet has made marketers rethink their integrated marketing communication strategy. It has created new habits in the later generations that marketers can leverage to promote their product. It has created a sea of 2 billion users to advertise to. As of now, there is a growing shift in the marketing spend from traditional media to social and digital media.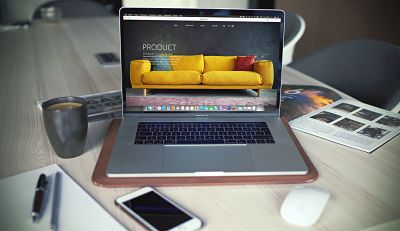 WhY should your brand use the internet & social media?

1. Create awareness about your product
To create awareness about your product and offerings, especially for small companies that don't have large marketing budgets.

2. Generate Interest towards your product
Take advantage of a consumer's curiosity and persuade them to visit your site to learn more about your product.

3. Spread Information about your product
Provide detailed information about your products and services through your website and social media channels. If a customer is looking for you, when he or she finds you, your website and social media feeds must have sufficient information to persuade a purchase. 

4. Create a strong brand
Your company should have a voice of its own. This voice can be heard/seen through its promotional campaigns over social media and the internet. A consistent tone of voice and a precise positioning will allow you to stand out amongst your competitors.

5. Create a buzz around your company
Creating a buzz and viral trend around your company or brand can get you a lot of traction over the internet in terms of website visits and brand recognition. 
Advertising on the Internet

1. Banners
Most common (and annoying) for of ads on the internet. You probably see over 1700 banner ads a month. They are used to increase brand recognition or to persuade users to register for an activity. 

2. Sponsorships
Companies sponsor individual sections of a high traffic website, or they sponsor the content creation for a part of the site. They do this in return for name association and ad space on the website. 
 
3. Pop-Ups
I bet that you have seen these! They 'pop-up' when you access a website. They most often elicit some information from your end to send your newsletters and so on.

4. Paid Searches
Advertisers pay to reach consumers by Pay Per Click (PPC) advertising by placing ads on search engines for specific queries. PPC spend is expected to increase to 40 billion in 2019. Companies now also use SEO (Search Engine Optimization) to drive traffic to their website. SEO is the process of improving the traffic to a site using relevant keywords and other techniques to list on the results page of a search engine. 

5. Interstitials
Full page ads that show up when you the site you want to go to is loading. These types of ads are discouraged by Google and have been deemed mobile-unfriendly.
 
6. Behavioral Targeting
How many times have you searched for a specific product and the next day you see ads about that product literally everywhere? That is behavioral advertising. Your activities on the internet are monitored, and you are targeted with advertisements according to your browsing history. 

7. Contextual Ads
Slightly different from the previous type. This simply means that if you are browsing on a website about shoes, the banner ads that would be shown to you will be about shoes. This also includes native advertising where the ads provide useful and actionable information to consumers to gain attention while being less intrusive.

Social Media
Merriam Webster defines social media as ' Forms of electronic communication through which people create online communities to share information, ideas and personal messages.'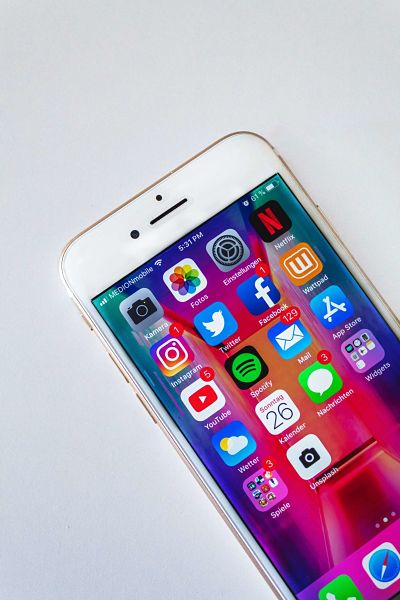 A study with marketers by Social Media Examiner reported that 97% of them include social media in their integrated marketing mix. 
How they use the primary social media channels can be summarized in the infographic below: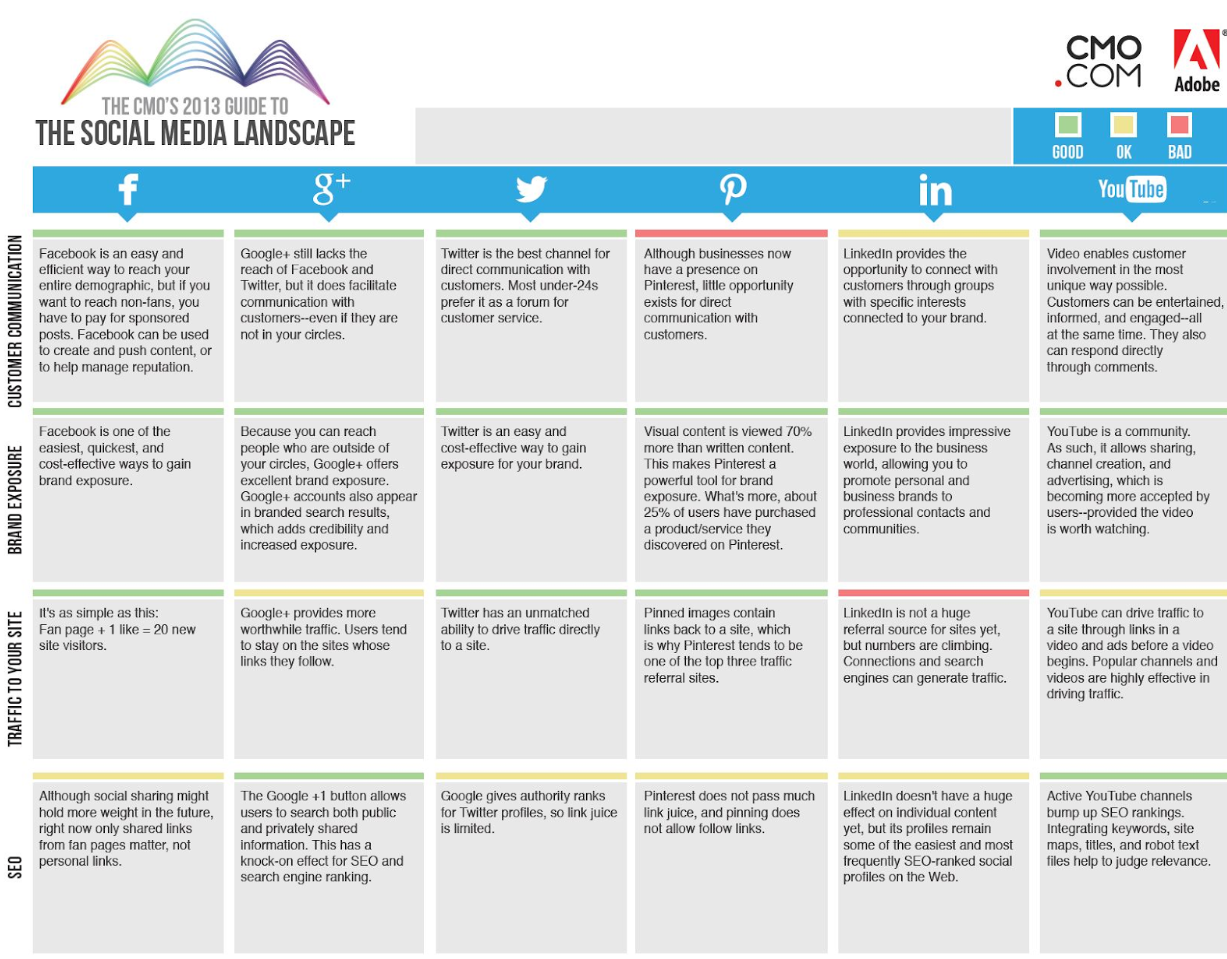 A brief look at the favorite Social Media Channels
1. Facebook
The most significant social network of over 2.3 billion who spend approximately 27 minutes a day on the app. At the end of 2018, they reported a whopping $16.6 billion spent on the platform by advertisers for ads.  Apart from housing large amounts of data about people and their preferences and their behavior that marketers can use, Facebook has been continually upgrading its advertising options to make it a more lucrative channel by introducing features like sponsored stories, mobile video formats, 360 photos, and VR.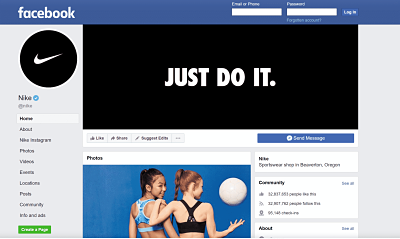 2. Twitter
A microblogging site with 126 million users. Companies and brands use Twitter as a medium to interact with and listen to their consumers. It allows you to nurture a community and share content with them, consequently driving them to your website or blog.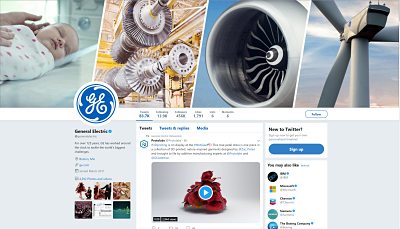 3. Instagram
A photo-sharing the app with 1 billion users. Businesses use Instagram to create deeper relationships with their customers using visually immersive formats of pictures and videos that spark action.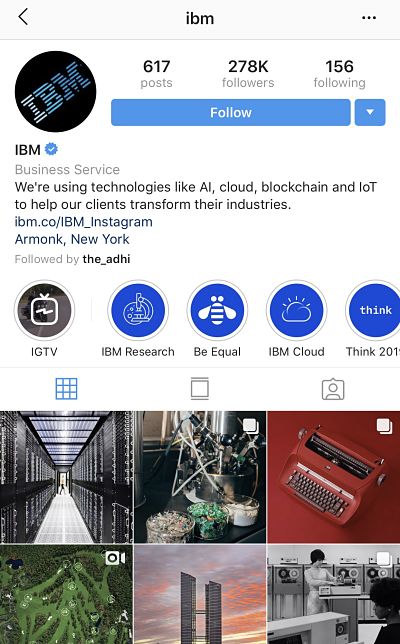 4. Snapchat
Developed as an app for disappearing pictures, Snapchat now houses 186 million users. Why should businesses use Snapchat? 45 % of Snapchat users are 18 to 24 y.o and 71 % are under 34. No other better way to reach millennials and a young demographic and get a potent source of engagement.

5. Pinterest
With 250 million active users, Pinterest a pinboard-style photo sharing app that lets users create and maintain theme-based image collections. On the platform, users are looking for inspiration, including specifically for ideas about new products to purchase. If a business were to post about its latest offering on Pinterest, that would positively influence the purchasing decision of the user.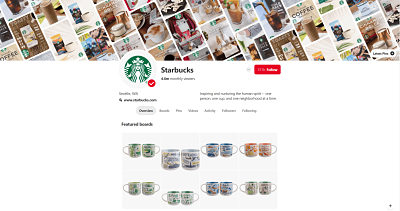 6. LinkedIn
A tool with over 500 million business professionals used for networking and allows businesses to reach customers with specific interests that are related to their brand.
7.  Youtube
Youtube, a content aggregator, hosts videos that entertain and inform. Here are some facts: A whopping 300 hours of videos are uploaded to youtube every minute. Youtube has an audience more significant than any single network in the USA. Marketers use this platform to upload content about their products that can be informational or entertaining. Companies now have their own Youtube channel that can be customized with a branded URL and personalized content. Youtube also allows users to create a community and showcase a brand's personality.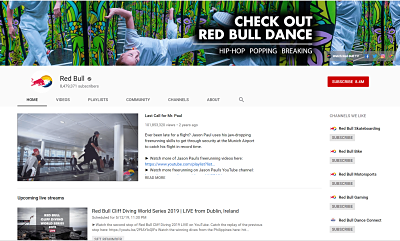 8. Blogs
Blogs offer a way to reach your target audience by writing content that informs them, entertains them and captures their attention. A channel if appropriately leveraged can reach a broad audience at a very low cost. Your customers will find value in your blogs while increasing your chances of making a conversion. It will also position your brand as a thought leader in its space which will build trust within your target market.
While these different channels  speak of the myriad ways in which you can promote your product, listed below are a few disadvantages:
. 

Disadvantages of The Internet and Social Media
1. Unreliable Measurement Methods:
The inability to accurately measure the results of integrated marketing campaigns over the internet & social media cause lack of validity and reliability. Large conglomerates like McKinsey have their doubts about investing in this channel because of the lack of sufficient metrics. 
2. Clutter
With over a billion websites and millions of users vying for your attention, the internet is full of clutter. Ads go unnoticed, and it is tough to convey a message with all the noise. The patience levels of users have also decreased at this results in annoyance towards banner ads and interstitials and therefore a lower click-through rate. 
3. Potential For Deception
The internet and social media are rife with scammers and tricksters trying to make a quick buck. In addition to that, websites that collect data without permission, including sensitive data such as credit card information does not make the internet a safe place. There are also bloggers and influencers who will promote any product, good or bad, for money. 
4. Privacy or the lack thereof
One of the most pressing issues regarding the internet and social media at the moment. With numerous data leaks of private and browsing data to advertisers make users feel skeptical and unsafe while they engage with this channel. 

Integrated Marketing Communication Tools - #6
Public Relations

What are Public Relations?
Definition: The professional maintenance of a favorable public image by a company or other organization or a famous person.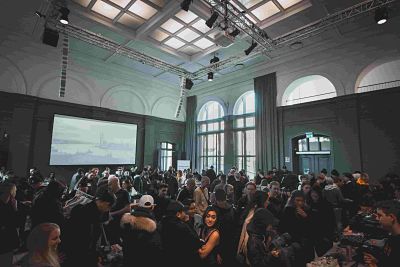 Conducting public relations and integrating it into the integrated marketing mix involves these following steps:
Determine and evaluate the general attitude towards your company
 
Establishing a concrete PR objective
 
Developing and executing  the individual tasks towards the objective
To execute these tasks, PR managers have a few tools at their disposal.
What are the most prominent PR tools?
Press Releases
 
Press Conferences
 
Exclusives
 
Interviews
 
Community Involvement
 
Social Network and Blogs

Advantages of Public Relations
1. Credibility:
A successful PR campaign is not perceived in the same light as advertising. A simple example. An article about how milk is good for health works way better in influencing the public than an ad about milk.
2. Cost:  
Public relation campaigns technically are not especially expensive considering the results it drives. Although hiring a PR firm to do your PR work can drive the prices up. 
3. Avoidance of Clutter:
As these are looked at as articles or a news item, they are not cluttered with other ads. 
4. Lead Generation:
An article about a new product announcement or breakthrough technology can lead to numerous inquiries. These inquiries may prove to be future sources of revenue. 
5. Image Building:
An effective PR campaign can build a positive image of your company in the mind of the public. This comes in times of need when a company might get bogged down in controversy, and they need to pull through in spite of the negative sentiment.

disadvantages of Public Relations
The major disadvantage of a PR campaign is that the effort might not always link back to the source of the campaign. 
MEASURING THE EFFECTIVENESS OF INTEGRATED MARKETING COMMUNICATIONS
Why should we measure the effectiveness of integrated marketing communications?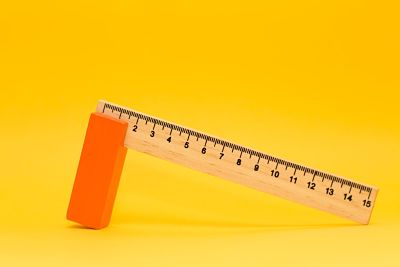 1. Maximize Investment
$316 billion was spent on marketing and advertising in 2018. With large amounts of money being paid, it is necessary to know how your different channels within your integrated marketing communication program are performing.  This allows marketing managers to effectively manage the promotional mix and spend more on channels that are performing well. 

2. Optimizing Efficiency
Measuring the efficiency of each campaign can set up a feedback loop that allows you to tinker with it and continuously optimize for maximum efficiency. 
3. Checking if Targets were met:
Measuring effectiveness helps us analyze if the targets of the integrated marketing communication plans have been met. This further helps in setting future goals. 
Measuring Integrated Marketing Communications - Television
The primary metric for measuring a television ad campaign is 'Reach.' Which in turn is used to determine the rating of a TV show or network? 
Reach can be defined as the number of people who have the chance of viewing an ad within a specified time slot. 
As a marketer, you will have access to data about the reach a spot will have during specific times of the day. This helps decide the most effective spot for the ad. 
1. How do you measure reach?
Firms such as The Nielsen Company specialize in TV ratings. They break down viewer information into different demographics so that marketers and advertisers can make informed choices while airing their commercials. Nielsen has also made some data public, here is a link for you to better understand how ratings work:

A different approach to measuring the ROI of TV ad campaigns is measuring the increase in brand awareness and increase in sales. How do they measure this? They analyze purchase data after the ads run and also keep a tab on the visits to their social media accounts and website. 

Measuring Integrated Marketing Communication Effectiveness - Radio
Measuring the ROI of your radio campaign can be quite tricky. Although radio is a public medium used by marketers and advertisers alike, it has always been bogged down by the lack of data to measure the effectiveness of their radio campaign directly. 
Here are some indirect ways of measuring the ROI of your radio campaign:
1. Online Redirects
At the end of your radio ad, adding a byte to redirect your listeners to a dedicated website or persuade them to call or text a phone number will allow you to measure the effectiveness of your ad campaign. Although you might not know how many people heard your ad over the radio,  you will have a count over people who were persuaded enough by the ad to follow the call to action. 
2. Surveys
After your ad has aired, a simple survey during the sale of your product or service can help you understand which marketing channel drove that customer to make a sale. This way you determine if your radio ad has driven any sales. 

3. Increase in Sales
Similar to measuring the ROI for TV ads, analyze purchase data after the commercial airs over the radio. An increase immediately after the transmission will give you insight into the effectiveness of your radio ad. 
Measuring Integrated Marketing Communications - Print
The most important aspect of a print advertisement as a part of an integrated marketing communication plan is devising a definitive call to action. Not only is it the right way to get more results from your ad but it is also crucial in measuring the effectiveness of the ad.
Here are a few ways to measure effectiveness using CTAs.
1. Dedicated Contact Information:
Similar to tracking radio and television, setting up a dedicated URL, a phone number that is used to redirect readers from the advert will let you measure the effectiveness of the ad. 

2. Coupons and Discount Codes:
Incentivizing the customer to take action is a useful strategy and - who doesn't like a good discount? This way you can track the number of readers who are using the codes and coupons. 

Measuring Integrated Marketing Communications - Social Media
The advantage of the internet and social media in the integrated marketing communications strategy is the ability to get a real-time measurement of the effectiveness of a campaign. 

1. Measuring the effectiveness of your Social Media Campaign
Effectiveness of your social media should be measured with more than likes and shares. The results of social media campaigns should be tied to business goals such as Conversions, brand recall, and awareness. 
2. Vanity Metrics
Although these metrics should not be the only source of measurement, they should be used to gauge the overall presence over social media. 
Once you have narrowed down over business goals you are looking to achieve via your social media campaign, choose the metrics that correspond with your goals. 

3. Awareness
Followers count, Reach. Mentions, shares, & Retweets

4. Website Traffic
Clicks from Social Media, Bounce Rate, 

5. Lead Generation
Conversion of leads from Social Media

6. Brand Engagement
Likes, shares, and mentions 

7. Customer Service
Response Time, Customer Satisfaction Score 
Companies implementing integrated marketing communications are now leaning towards person-level marketing efforts. This allows brands to engage with their audience individually.
In these individual conversations, initiated by bots and people alike, brands position themselves as thought leaders/experts in their domain by sharing information in the forms of white papers, infographics, and videos. 
Tracking how your audience is engaging with this content by measuring metrics like downloads, views, and time spent on a document will help you determine what kind of content works the best.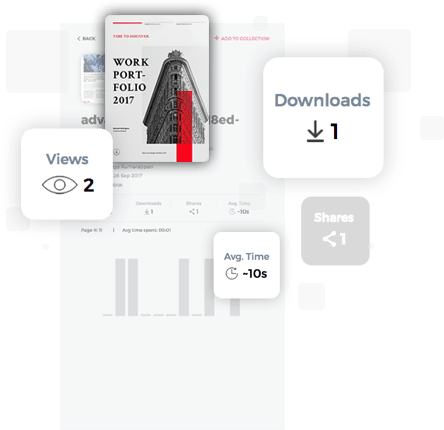 Conclusion
In the context of an integrated marketing communications approach, the effects of the integrated marketing activity are higher than the impact of each individual marketing activity. 
A pivotal point in an integrated marketing communication plan is the coherence and consistency of the message propagated through all the different channels. Each channel must support and strengthen the message of the other channels. The primary motive of the integrated marketing communications strategy is to build relationships with an audience through consistent communication. This is made possible by sharing information across the organizations and involving all departments in the activity of setting business goals and strategies. 
    
Integrated Marketing Communications are the product of the unification of all communications to build trust and coherence of how the audience perceives the brand.