The Best White Paper Examples for B2B Marketers
Key insights from the best B2B white paper examples across 9 industries
Introduction: What is a White Paper?
White papers are great examples of marketing collateral that exhibit your authority over a chosen niche. Mostly, they are long-form content intended to educate the target audience, that delve deeper into industry trends, issues, and policies and explain its causes, implications, and benefits.
Companies, public institutions, governments, universities, and individuals publish white papers to address an industry problem to propose their solution to it. That way, their product/solution has better recall value than its competitors.
According to the B2B Content Marketing 2018 Benchmarks, Budgets, and Trends report, white papers emerged as one of the top 4 most effective types of marketing collateral that companies use with 71% companies preferring it.
Content marketers across industries use white papers as potential tools for sales. But, a lot of effort, time, and money go into creating it. In this blog, we have condensed our study of more than 70 white papers across industries and have drawn the below insights that will help you create the best white paper for your business.
"White papers are long-form content intended to educate and inform the target audience. They delve deeper into issues, trends, and policies, and explain their causes, implications, and benefits."
Here're eight steps to writing awesome white papers with free templates.
Creating a white paper needs a lot of work even before you begin working on the core structure. Planning, stakeholder signoff, SEO strategy, value proposition, ability to drive revenues are just some of the vital things you need to sort out while putting together your content strategy.
Let's look at how some of the most famous companies are doing it effectively. Jump to the best white paper examples in your industry:
To make it easier for you, we have outlined below the best practices that you can implement while putting together a white paper that will resonate with your target audience:
1. What is the BEst Structure for a White Paper?
Every company/author has their way of creating a structure for their white papers. White papers often follow the author's thinking process. The template of a white paper shows the clarity of thought of the author.
For example, if you're authoring a white paper on a new product that you're about to launch, then describe the market opportunity, the deficiency of a right solution, the reason why your solution is the best, etc. Create the structure and stick to it all through the document. 
Some of the white papers we examined gave out terminology definitions even before the introduction, while some had it at the end. Most of them provided their core message at the beginning either in the form of an executive summary or a brief synopsis. Some of them used a case study to explain their views, while others explained their solutions.
In essence, there is no unique structure to a white paper - it evolves based on the needs of the target audience. 
2. What is the ideal length of a white paper?
There is no such thing as 'ideal length' for a white paper.
However, every page must add incremental value to the reader. Keep the curious reader hooked on with new things that they weren't aware of in every sentence that you put out.
It is easy to get carried away by all that you want to write, but your readers may not be interested in knowing them.
If you're publishing a white paper titled "5 ways to prevent cardiovascular diseases," then your readers are going to look for the text under the bullets that speak about the five different ways. So, devote maximum effort in making this portion of the document valuable for them.
3. Get a Subject Matter Expert to Write for you
Compare these two: a weather meteorologist predicts that there will be rain tonight. Your 80-year old grandma peering out of the living room window says it is not going to rain anytime soon. Whose prediction are you more likely to heed? It is natural human psychology to take notice when an expert opines.
So, it is a good idea to partner with a leading academician or a client executive or an independent blogger to co-author a white paper.
It is valuable only because it comes straight from a bevy of experts. You can nominate an SME from your company to partner the influencer in the authoring process.
Two is always greater than one - simple.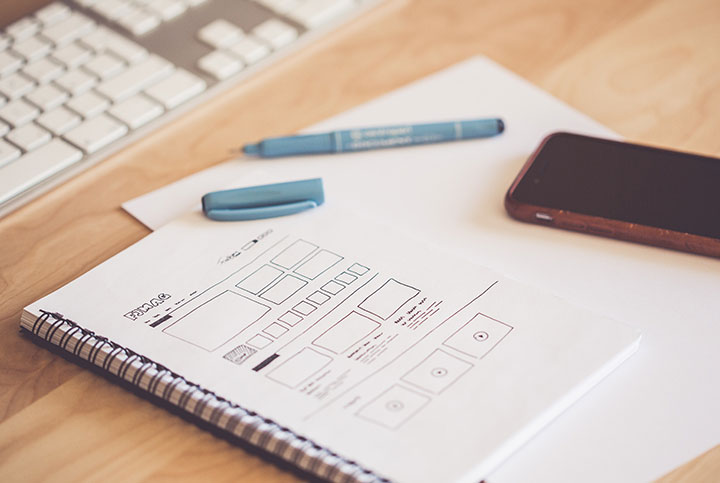 4. Give wings to your white paper with research
Think about it – aren't you eager to know the prediction of poll results in your state even before they are declared? That is because the predictions are a cumulation of surveys.
From our analysis, we found that some of the best white papers were the ones that had some form of research/survey results embedded in it. These results were an aggregation of public opinion who have given their verdict.
Today, with online surveys, you can compile results within a few hours of putting it up.  People want to know what other people in their community are saying. It is bound to engage the target audience more than a one-page newsletter.
5. Where do I GET a WHITE PAPER template?
One of the biggest stumbling blocks in the white paper creation process is the availability of templates or white paper formats. Here is our post on How to Write a White Paper [with free templates] that you can download and get started right away. These templates will help you not be overwhelmed with the monstrosity of the project. Feel free to tweak them based on your needs.
6. Make your white papers visually rich
One reason why marketers don't see a high ROI on their white papers despite the best efforts is that they fail to make it visually enriching.
Include infographics, images, charts, etc. to explain your points as well as giving a takeaway for your target audience. Remember you could use all of these visuals in social media etc. to boost white paper downloads.
Let us now dive into the best white papers across industries that we analyzed.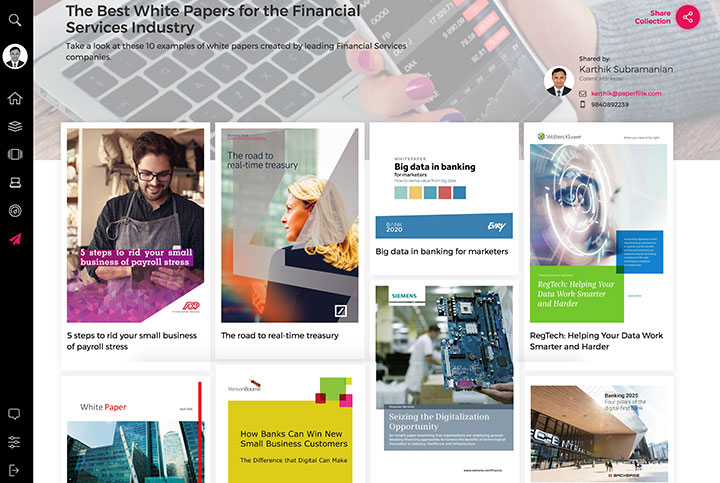 1. 5 steps to rid your small business of payroll stress
Published by: ADP
Why do we like this?
ADP is an established authority in the payroll software industry, and they know what works in the payroll industry. This white paper uses a lot of visual appeals to explain how small businesses can overcome payroll-related challenges.
Moreover, this white paper's target audience does not have much time, so ADP has stuck to the basics - giving out information that they are seeking instead of flooding it. While giving out the five steps, they've even given a case study of how they helped one of their clients, which makes their opinion invaluable.
2. Seizing the Digitalization Opportunity
Published by: Siemens
Why do we like this?
For starters, this white paper is an 'insight paper,' which is a smart move by the company. They have laid out the key findings upfront which is the core of their white paper and have substantiated TCO (Total Cost of Ownership) financing with examples of how they have helped clients in the real world. It doesn't have a lot of white spaces but is full of core and reference text.
3. RegTech: Helping Your Data Work Smarter and Harder
Published by: Wolters Kluwer
Why do we like this?
This white paper tackles a complex topic, one that does not have a lot of literature out in the open - Regulatory Technology (RegTech). The company introduces a solution, explain its basics, the necessity for it, how it helps companies in various geographies, and the benefits of implementing it.
Wolters Kluwer explains what their opinion is on RegTech in a manner that an IT professional would comprehend it.
Published by: HSBC
Why do we like it?
This finance white paper has loads of content in it to explain why the equity market might be overvalued and why asset allocation could be the answer to it. It has content under five clear headings and is bound to interest portfolio managers, fund managers, and investment professionals.
Authored by the bank's global executives, it is a significant report that has a clear message - investors need to be cautious in their equity allocation approach.
5. How Banks Can Win New Small Business Customers
Published by: VansonBourne
Why do we like it?
We like this white paper for two reasons:
1) It is produced in collaboration between Avoka and Vanson Bourne. Avoka creates customer acquisition and onboarding journeys in financial services, while Vanson Bourne is an independent specialist in market research for the technology sector. An excellent example of how a collaborative effort counts a lot more than individual efforts.
2) It compiles verbatim responses to a survey administered to 300 small business owners in European countries. It is rare to see such white papers where two vendors catering to similar target audiences join hands to create marketing collateral that serves them both.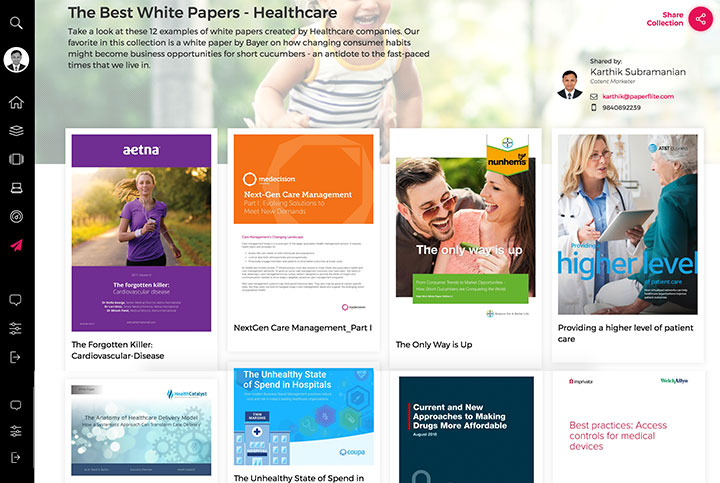 1. Journey To Value: The State of Value-Based Reimbursement in 2016
Published by: McKesson
Why do we like it?
This white paper is well-structured for the healthcare industry, with an academic orientation. It begins with the list of charts and figures used and the definitions of healthcare terminologies. McKesson had already forayed to answer the question "Is value-based reimbursement real?" two years ago in a similar white paper.
This time in a sequel to the earlier document, they teamed up with a niche research company to survey 465 payers and hospitals to see how far the needle had moved on value-based reimbursement.
By expanding and repeating the earlier study, they have established themselves as an authority in the subject. The white paper moves along from one stage to the next by explaining the survey methodology, the sample design, and the findings.
2. Reinventing Utilization Management to Bring Value to the Point of Care
Published by: McKesson
Why do we like it?
Mckesson's Vice President has authored this white paper on the topic of Utilization Management which is a good strategy as it exhibits how much they value their content.
After a brief introduction, it moves to the limits of traditional utilization management models and how shifting to a collaborative exception-based model combined with analytics will serve as a bridge to the future. 
3. Current and New Approaches to Making Drugs More Affordable
Published by: CVS Health
Why do we like it?
Dealing with industry issues and suggesting remedial measures for a company like CVS Health is an excellent way to build topic authority.
Bringing drug costs under control is an industry-wide problem for US healthcare companies, and CVS Caremark has taken the lead here to explain how if manufacturers across the board were to reduce drug prices, it would improve health outcomes and reduce medical costs.
Besides suggesting three techniques to reduce costs, the company has suggested three recent innovations that help further reduce costs. The company has explained how medications can be made further affordable by comparing the high-profit percentages of pharmaceutical companies as compared to other industries.
Published by:  Bayer
Why do we like it?
In terms of the choice of subject, this is one of the most attractive white papers published by Bayer. The company explains where short cucumbers originate from, how cucumbers are a core component within Middle Eastern cultures and the critical consumption drivers for the vegetable in Europe and North America.
The white paper is a storehouse of insights that includes average household sizes, life priorities of the customers, the evolution of the consumer, etc. For a company of the profile of Bayer, to be opining about short cucumbers and how they have entered the snacking market is very unique.
5. The Forgotten Killer: Cardiovascular disease
Published by: Aetna
Why do we like it?
This white paper serves as a primer for cardiovascular diseases (CVD) and explains the most common conditions of CVD, how various countries such as Finland are adopting measures to fight it, the promise and limitations of new drug therapies and the advancement in technologies that could improve early diagnosis.
This white paper is an eye-opener for those who are not aware of CVDs and gives out a lot of information on ways to avoid it. With impressive noting of footnotes and charts, this is an excellent piece for people looking to fight CVDs.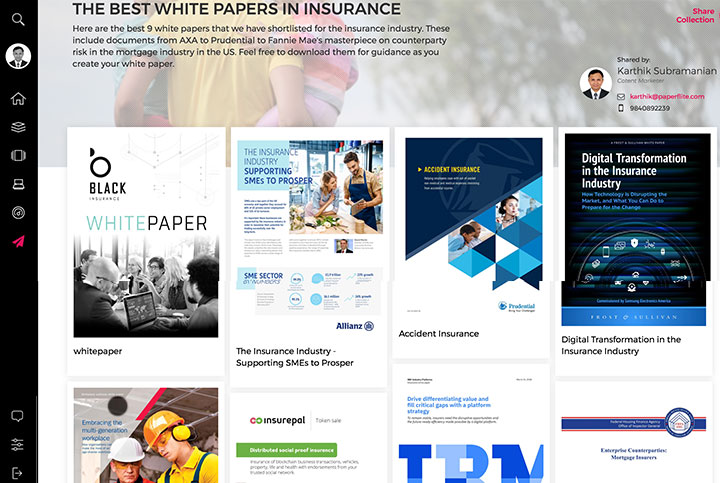 1. Digital Transformation in the Insurance Industry
Published by: Frost & Sullivan
Why do we like this?
Commissioned by Samsung Electronics America, this white paper deals with the trends that are shaping the Insurance industry. It deals with how insurance companies can thrive in this changing industry landscape, and how technologies such as mobile, wearables, AR/VR are impacting the industry.
It is a good example of how a company specializing in a niche has partnered to not just author what the insurance industry is going through, but also explain how they're at the forefront of it. 
2. Black Insurance's White Paper
Published by: Black Insurance
Why do we like this?
Black Insurance's white paper on the challenges faced by the industry (i.e., multiple parties, high costs, and barriers to entry) shows their deep understanding of the subject.
It explains Black Insurance's proposed solution to this situation along with with the business model, the pricing framework, licensing, token economics, technical design, etc. It is a comprehensive white paper that positions them as an authority in this domain.
3. 9 ways insurance carriers are driving down combined ratios with video
Published by: Panopto
Why do we like this?
Panopto is a video platform that enables users to record videos. The company has created a white paper for an industry that uses video extensively.
It is almost a no-brainer that the company has put out a white paper to further their business initiative and showcase its authority in the subject.
4. The Insurance Industry: Supporting SMEs To Prosper
Published by: Allianz
Why do we like this?
This white paper is similar to other step-by-step pieces that lay down the number of steps that an organization must take to achieve a specific goal.
Each page highlights a challenge that SME (small and medium entrepreneurs) businesses face along with the remedial actions that they could bring which makes it easier for readers to know how to deal with them.
Moreover, this is a survey of 500 SME businesses to identify the top 5 challenges facing the SME industry.
5. Embracing the multi-generation workplace
Published by: AXA
Why do we like this?
AXA's white paper has impressive statistics by experts about the aging population in the UK (right on page #3) followed by an executive summary that is in bullet form (pretty unconventional, but seems to work!).
It then moves methodically into the challenge that aging employees and the organizations alike face, covers the benefits of having a diverse workforce, recommendations for companies. It is not too long, neither is it abridged and is perfect for a good read for human resource professionals who are dealing with an aging workforce.
Again, a good example of how a company talks about a cross-industry issue but does not advertise any of their services upfront because their knowledge about it is good enough to drive leads and sales conversations.
6. Enterprise Counterparties: Mortgage Insurers
Published by: Fannie Mae and Freddie Mac
Why do we like this?
This white paper is by the US government charters to provide liquidity, stability, and affordability to the mortgage market. So, it is a highly valued piece because it has the US government's stamp on it and is a bible for many mortgage insurers, academics, policymakers, regulators, etc. who want to get to the point straight.
This document is in a free-flowing format without any pictures, but it has substantial intrinsic value. We included this piece to show how government agencies prefer putting out their publications.
Published by: Prudential
Why do we like this?
Prudential's white paper on accident insurance for the US market is extremely well structured and explains the various aspects of accident insurance, its finer details all backed by numbers and graphs, the reasons why people need accident insurance, what employers need to do, etc.
With 13 pages of useful content, companies looking to provide accident insurance benefits to its employees can use this document as a handy guide.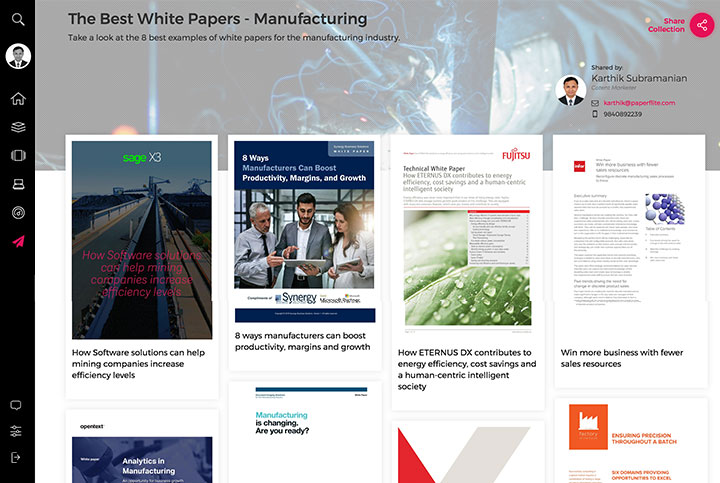 1. How ETERNUS DX contributes to energy efficiency, cost savings, and a human-centric intelligent society
Published by: Fujitsu
Why do we like this?
Fujitsu describes how their disk storage systems provide energy efficiency in the face of rising energy costs in data centers. It is a technical paper replete with diagrams and process flows. Clearly, Fujitsu has explained technical concepts with an intention to sell their solution that increases disk storage, saves energy,  and improves energy efficiency.
Fujitsu also describes their green IT initiatives and what they're doing to reduce burdens on the environment. With 'caring for the environment' a core topic of this white paper, their Green IT initiatives resonate well with the document.
2. Win more business with fewer sales resources
Published by: Infor
Why do we like this?
An example of a white paper that has been created solely to market the company's solutions. It explains the need for change in discrete product sales and other technical concepts very well backed by secondary research. A no-frills document that sticks to the point and conveys its central message within five pages.
It offers suggestions on the way sales are managed by manufacturers and how they have a choice to take advantage of the situation with fewer resources.
3. How Software solutions can help mining companies increase efficiency levels
Published by: Sage Business Solutions
Why do we like this?
A very well-structured white paper that moves in a step-by-step manner by explaining the challenges of improving mining efficiencies in Australia, software solutions that are available, and mobile dashboards that can enhance productivity.
It follows the inverted pyramid structure of laying down the most significant challenges and narrowing down on the ideal solution.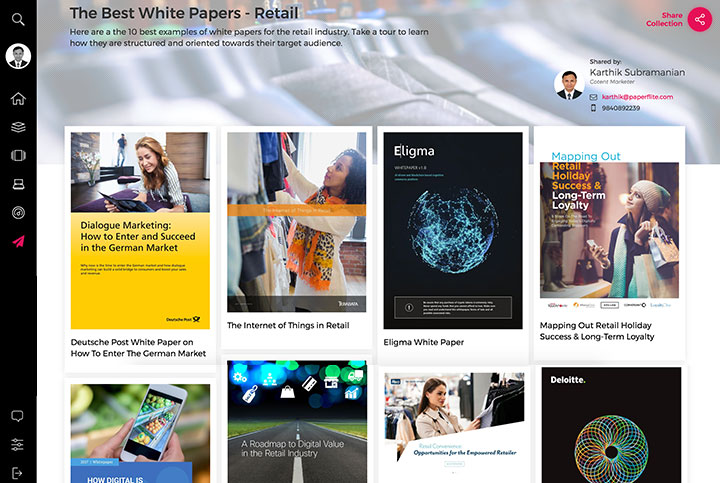 1. Dialogue Marketing: How to Enter and Succeed in the German Market
Published by: Deutsche Post
Why do we like this?
This exciting piece speaks about ways to enter the German market using dialogue marketing, i.e.,  all marketing & advertising activities aimed at starting a direct dialogue with customers.
It explains what non-German retailers need to do to enter a new market (if they haven't) already done it — a white paper published by UPS, who has a strong presence in Germany and it makes a lot of sense for them to do it.
Why? Because if e-commerce companies were to enter Germany, shipments would go up which will ultimately benefit them.
2. Eligma - AI-driven and blockchain-based cognitive commerce platform
Published by: Eligma
Why do we like this?
Although this is a white paper that aims to harness AI and Blockchain to improve the decision making for e-commerce customers, it is applicable for all industries.
This white paper is an example of a product that has not yet been launched, it researches the market opportunities that exist, business model, execution plan, technology solution framework that leverages AI and Blockchain, loyalty program - all of which ultimately are linked to one core vision: to offer a set of solutions to discover, purchase, track and resell eCommerce items.
Seldom do we find such white papers that have the depth and coverage for a solution that isn't launched in the market yet.
1. Design and deliver cloud-based apps and data for flexible, on-demand IT
Published by: Citrix Systems
Why do we like this?
In this no-frills white paper, Citrix Systems deals with the topic in hand straightaway: A better way to deliver cloud-based workspaces using Citrix Cloud IT. From a visual perspective, there aren't many pictures in this document, but it makes up for it with use cases that further give evidence of their proposed solution.
Published by: Hitachi Vantara
Why do we like this?
A technical white paper bereft of any visual appeal, barring system architecture diagrams, it delves deeper into how Hitachi's solution can help minimize vulnerability and threat exposure. A company-specific white paper which focuses on the problem at hand and how their solution can help overcome it.
3. Creating the Foundation for Digital Transformation
Published by: Hewlett Packard Enterprise and Red Hat
Why do we like this?
A unique white paper that is written jointly by HP and Red Hat that speaks about how their partnership brings the best of both companies, along with consulting and migration services to help companies achieve digital transformation.
They've even highlighted the success story of how one of their clients, DreamWorks Animation was able to accomplish digital transformation. A good example of how they're bringing their proposition to life.
4. Using Virtual Platforms for Pre-Silicon Software Development
Published by: Synopsys
Why do we like this?
This white paper is similar to the Hitachi Content Platform piece that we mentioned above but does not propagate their solution.
Instead, they explain how in a variety of application domains like wireless, multimedia, networking and automotive, it has become more and more challenging to sell silicon without the associated software executing on the hardware.
It is a common problem that many semiconductor companies are facing and explains how a virtual platform can be used to develop and integrate the software. The target audience for this white paper is semiconductor engineers, IT architects, etc. who know the nuances of semiconductor development.
5. Air, Fluid Flow, and Thermal Simulation of Data Centers
Published by: Autodesk
Why do we like this?
A technical document explained with diagrams on the usage of computational fluid dynamics cloud-based services within the Autodesk 360 platform. It was published in 2013 and is still very relevant due to how they command authority in their chosen niche.
Published by: Fjord (An Accenture Organization)
Why do we like this?
Fjord's white paper on global trends is a treat for those who track technology developments closely. Each trend has a section on what's happening around the technology, what lies ahead and Fjord's recommendations for enterprises looking to adopt the technology.
Each trend has examples of how companies are leveraging it to prove why it is significant and references at the bottom of the document that has been used to arrive at it. The report stands out for its clarity, simplicity, and depth of coverage of each trend.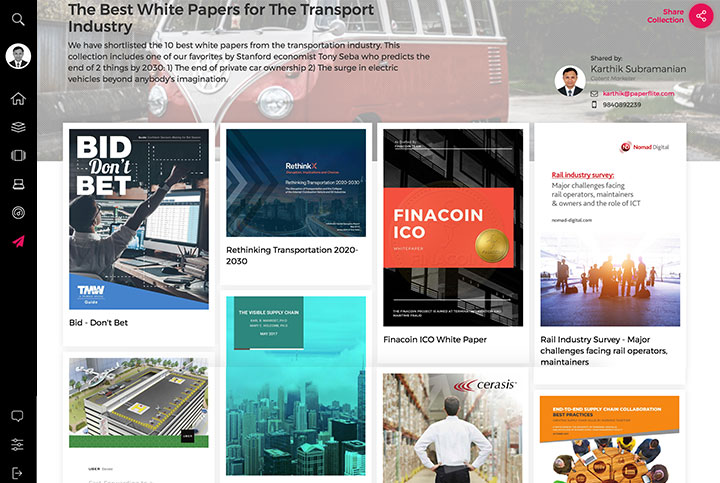 1. Fast-Forwarding to a Future of On-Demand Urban Air Transportation
Published by: Uber
Why do we like this?
This document is a quick example of how a transport company predicts a bold new future. While Uber has sponsored the white paper, note how it mentions reviewers from NASA, MIT and other elite organizations that provide air transport.
They've coined the term VTOL - short for Vertical Take-off and Landing. Imagine a service that does not exist today, and you have the opportunity to bring it to life. This white paper introduces the concept of VTOL in urban cities; it talks about all aspects of this - barriers to achieve them, emissions, certifications, safety, performance, and rider experience.
They conclude by saying what steps they will take to bring this to life. A 98-page document, it sure is bound to appeal to the die-hard fans of futuristic transportation.
2. Rethinking Transportation 2020-2030
Published by: RethinkX
Why do we like this?
This white paper is bold in many ways, because its author, Stanford economist, Tony Seba is a man known for his daring, but accurate predictions. He predicted the rise of the solar industry when solar panels were a lot more expensive than they are today.
In this white paper, Tony predicts the death of the automobile and the oil industry. He goes deeper into every aspect of these predictions and gives the reasons for his predictions.
It is not so much about his predictions, but the statistics, the research and the sound logic that backs them and the recommendations which appealed to us. Every concept is explained in detail in the appendix section - an ideal example of a comprehensive white paper.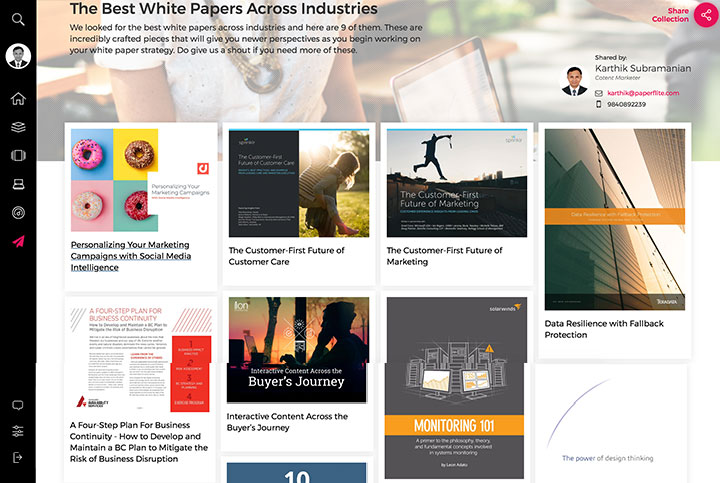 1. A Four-Step Plan For Business Continuity - How to Develop and Maintain a BC Plan to Mitigate the Risk of Business Disruption
Published by: Sungard Availability  Services
Why do we like this?
Simply put, this white paper tells us the four steps needed to plan for Business Continuity (BC). BC applies to all companies and all industries, so the company has a unique advantage in that it can appeal to any company in any industry. It does not lean towards any particular industry; instead, it is a generic document.
2. The Power of Design Thinking
Published by: Dassault Systemes
Why do we like this?
One of those white papers where the format used is in the first person, and the author is an academic. It is another unique way of creating a white paper by getting academia or an expert from a different organization to write for you. It contains valuable advice especially because it comes straight from Philip Gray, an expert who has spent four decades in product design.
3. Data Resilience with Fallback Protection
Published by: Teradata
Why do we like this?
Teradata's technical white paper explains the need for a high-level discussion of the features of Fallback, a unique element to Teradata Database, that enhances the availability of a single Integrated Data Warehouse system. The target audience for this white paper is data experts who will comprehend fallback recovery tools, performance impact due to Fallback, the benefits of having the Fallback.
4. Interactive content across the buyer's journey
Published by: i-on interactive, Inc.
Why do we like this?
A common topic across industries, this white paper explains why interactive content is better than static content and the different interactive content tools. While they don't talk about any new concept in content marketing, they've cleverly used the buyer's journey concept to further their case why businesses must use interactive content, which is their expertise.
5. 10 Best Practices for Writing Effective White Paper Titles
Published by: inSegment
Why do we like this?
An often neglected feature, this white paper features the top 10 best practices for creating the best headlines. It is a short document and does not have a lot of content, but makes up for it via examples and useful suggestions.
Published by: Solar Winds
Why do we like this?
A generic white paper applicable to companies across industries, it introduces the concept of 'monitoring' for someone who is familiar with computers and IT in general, but not with monitoring. As such, (almost) no prior knowledge or experience is required to read this white paper.
It talks about the FCAPS model of surveillance, building blocks of monitoring framework, techniques of monitoring,  and more. A seemingly technical concept has been explained well so that readers can understand it easily.
What are your favorite white papers?
Do you have any favorite examples that should be featured on here? Is there any white paper that has awed you? Let us know in the comments below, and we will make sure it is part of this list.