15 Best Chrome Extensions for Sales Reps
The only chrome extensions that your sales teams will ever need
Salespeople are always on the lookout for hacks that can make their lives easier. And, our sales folks are always willing to help everyone with what they've learned. So, we asked them for the best chrome extensions that they use daily, ones that enable them to crush their targets.
Chrome extensions are a smart way of getting things done faster and fit into your daily work life seamlessly. If your sales folks use Google Chrome, then they're going to love this list that we have compiled below: 
Category: Lead Generation
Pricing: $65/$100/user/month
We begin with the ones that are most obvious that you might already be familiar with – LinkedIn Sales Navigator – but, whether you've tried it or not, you can still get the Sales Navigator browser extension, as it works both for those who have a regular, free LinkedIn account, and those who have the LinkedIn Sales Navigator tool.
And depending on your plan, you'll get different benefits and features:
Regular LinkedIn Account:
Look up for a profile of any of your Gmail contacts by hovering over their email address - you'll get to see important information from their LinkedIn profile directly without having to leave Gmail, including your shared connections and their work experience.
Sales Navigator Account
If you have full access to LinkedIn Sales Navigator, you can use the extension to quickly save your contacts as leads. You also have access to 'TeamLink' which helps to find any common connections with prospects so you can get an introduction.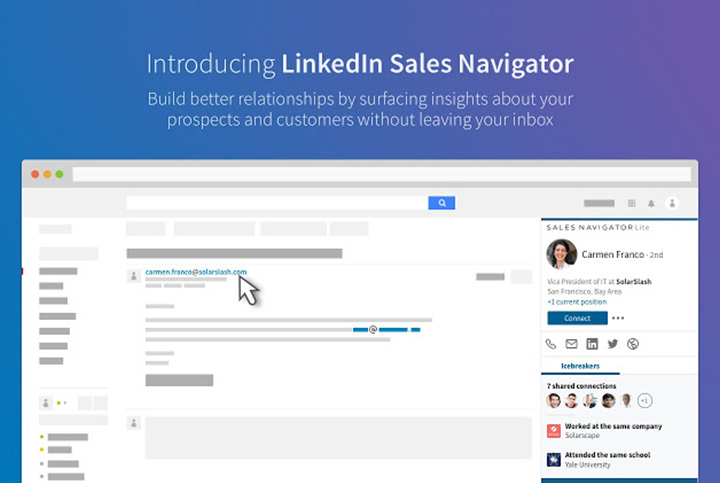 CATEGORY: Email Scraping
Pricing: Free, $39, $79, $159 /user/month
The Hunter Chrome Extension helps you find the most crucial contact information that you care about – company email addresses.
The tool can be used on any website you want - if the icon is colored orange, that means it's found some emails for that particular company, so you can click on it to check the results.
Sometimes, you also get a name with the email to help you understand whose it is, but not all the time. Additionally, you might encounter quite a few out-of-date emails, but Hunter combats this by giving all emails a quality score to let you know how likely it is that email is still in use.
You can also find possible email addresses from lead names using their native algorithm and domain names and verify the validity of email addresses. Hunter.io has the highest accuracy rates of all the email scraping tools our sales folks have used so far.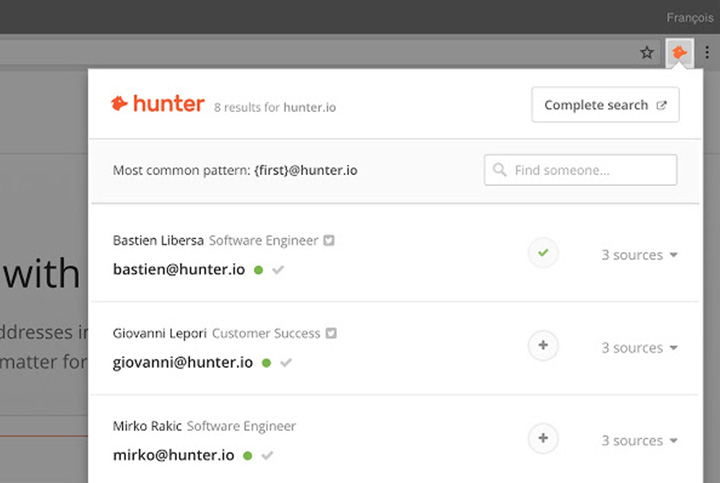 CATEGORY: Email Scraping
Pricing: Free, $9.99 onwards
Email Extractor is a tool similar to Hunter.io that assists in finding the right domain and email addresses for prospects. It can even host details such as Twitter and Facebook accounts in its databases. It can provide you with domain names and email addresses of members of the organizations with those domains that are scraped from various websites.
Alternately, you can also enter the name of a lead and the domain name and Email Extractor will give you an email address with decent accuracy rates.
You can also verify any email address on the platform and it will let you know if it is a valid email ID or not. We have encountered scenarios where the domain is a "catch-all" domain and it cannot be 100% verified if the email exists or not.
Exporting of the contact details of bulk prospects and downloading as a .CSV file is a notable feature of Email Extractor.
CATEGORY: Email Scraping
Pricing: Free, $49, $99, $199, $299 /user/mONTH
Skrapp as a Chrome Extension works seamlessly with LinkedIn and can help you pull professional email addresses of your prospects straight out of their LinkedIn profiles. 
It runs on a predictive algorithm and hence reliability of the email addresses is not 100% but the reason why our salespeople have Skrapp in their Sales stack is the convenience of it - the "Find Email" button right under the "Message" button makes it so easy to quickly scrape the email address of the prospect and then moven to the next - a deadly combination with LinkedIn Sales Navigator!
The lists in Skrapp are quite useful as well and are directly accessible within the Chrome extension itself. You can add the scraped email addresses to any of the lists that you may have created. However, it doesn't always find the email that you need although when it does, it mentions the probability of it being accurate.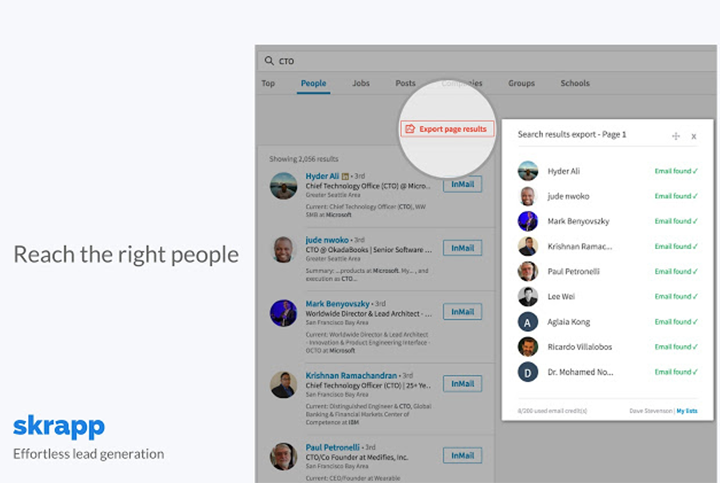 Category: Email Outreach
Pricing: $30, $60, $100 /user/moNTH
Klenty is your one stop shop for all your cold email outbound needs and the Chrome Extension lives up to that. You can set up cadences, automate follow-ups, track sent emails and even find email addresses of prospects.
You can quickly start your cadences from your inbox via the Gmail plugin without having to hop on to the platform and toggle settings like time of sending, number of days between touchpoints and nifty placeholders which can be customized on the platform.
There are also some well researched cold email templates that will increase your open rates and response rates.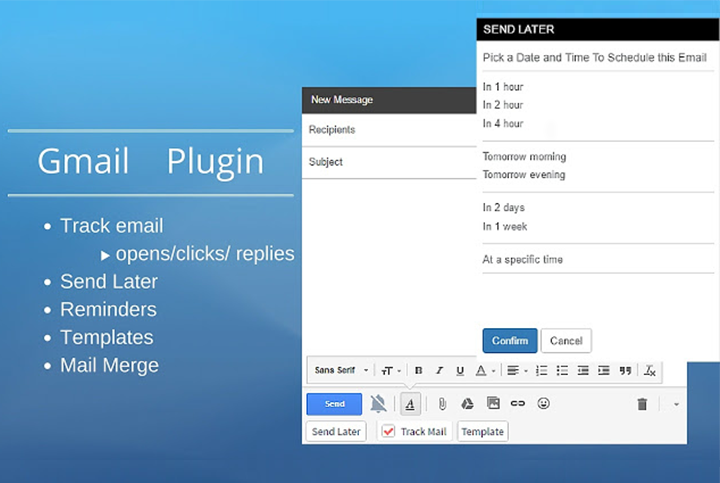 CATEGORY: Email Tracking and CRM
Pricing: Free, $49, $99 /user/month
Streak was made specifically for businesses that thrive on the Google suite of products. It integrates seamlessly with your Gmail, Google Sheets, Google Docs and can send/ track emails, set up cadences and is also a CRM. The beauty of Streak is that it is capable of running your entire sales process from within your inbox.
It also provides you with options to completely customise the CRM as you see fit allowing it to run as a tool for Sales, Recruiting, Fund Raising and even Project Management.
As a CRM, Streak is designed to be as flexible as possible with use cases for all members of an organization and is also one of the most downloaded Chrome Extensions on the web store in this category.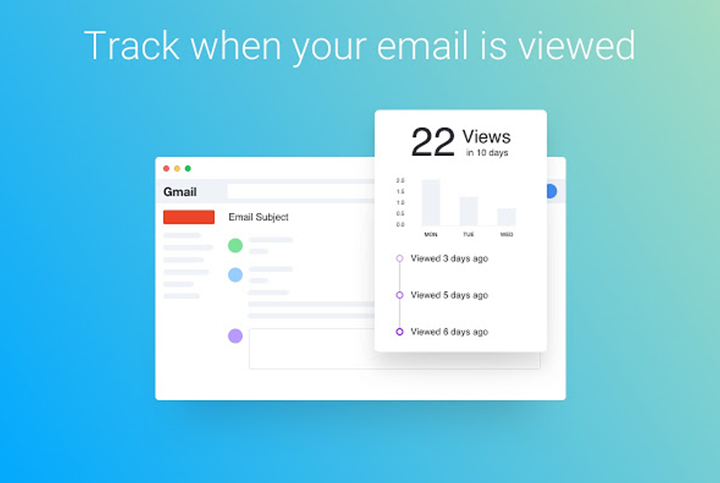 category: Sales Prospecting
Pricing: Free
Datanyze Insider is a simple, yet highly useful tool for sales prospecting.
Whenever you're on a company website, all you have to do is click on the extension to get a wealth of useful information to prepare you for contacting your leads:
See, at a glance, important information about the company, such as their location and contact details, as well their revenue bracket, how many employees they have, and how much they've spent on tech
Quickly access social and technology insights about the company
Plus, you can also highlight a person's name to see if you can find their contact details, and add/export contacts to your CRM tool.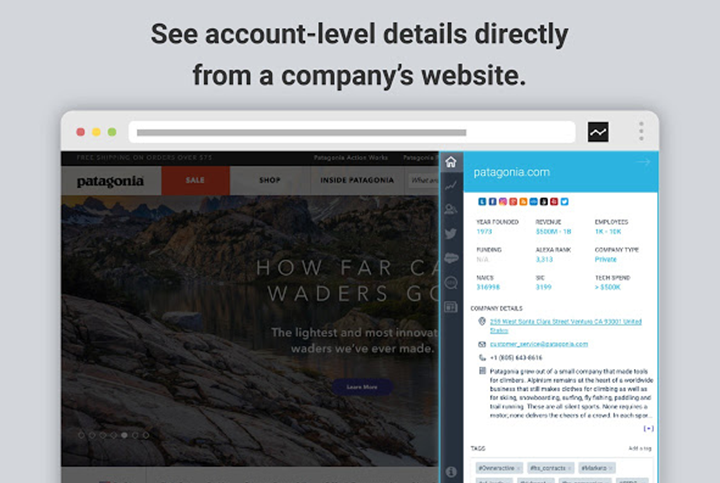 CATEGORY: Virtual Meeting
Pricing: Free, $14.99, $19.99 /user/month
Zoom, the cloud meeting company, unifies mobile collaboration, cloud video conferencing and simple online meetings into one easy-to-use platform.
The Zoom Chrome Extension allows participants to schedule Zoom cloud meetings directly from Google Calendar. With the click of a button, you can start an instant meeting or schedule a future meeting. The meeting URL and information is sent via a Google Calendar invitation so the attendee can join with a single-click.  
Zoom Chrome Extension allows you to:
Start an instant meeting
Schedule a meeting
Schedule a meeting for others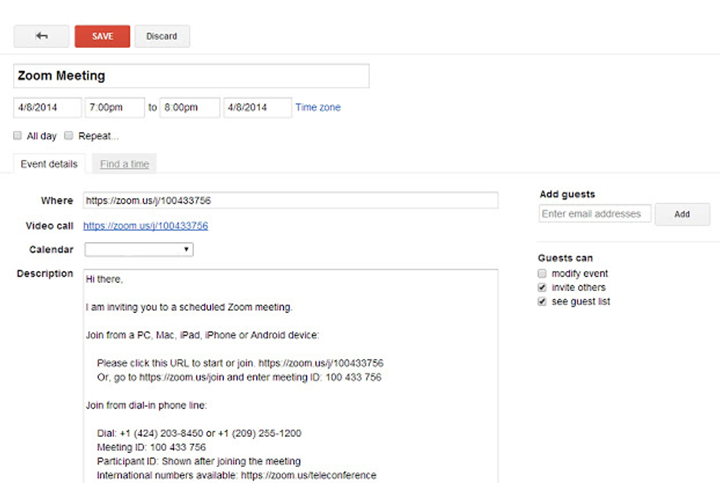 CATEGORY: CRM
Pricing: Free, $12, $25, $49, $79 /user/month
Freshsales is a sales CRM for teams who don't want to juggle between multiple tools. It offers everything a salesperson needs - built-in phone and email, lead scoring, customizable reports, event tracking and a visual sales pipeline - in one single platform.
With Freshsales' Chrome extension you will have a 360-degree view of the prospect inside Gmail, so you have more context before connecting. Once you install the chrome extension, you will be able to see all the relevant information and sales history whenever you open an email from a lead or a contact. Information such as recent activities, notes, tasks and associated deals will all be visible. Freshsales possibly has the cleanest UI out there.
By providing the most commonly-used features at very nominal prices, Freshsales is quickly becoming one of the most widely-used CRMs.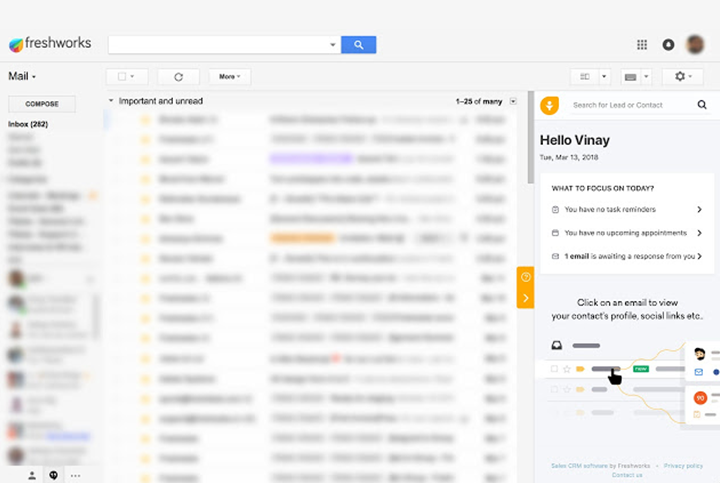 Category: CRM
Pricing: $25, $75, $150, $300 /user/month
Lightning for Gmail lets you experience Salesforce right from Gmail. This Chrome Extension is compatible with Salesforce Classic UI and Lightning Experience.
Increase productivity by getting additional information about your email with details coming from Salesforce. Create new Salesforce records without toggling between applications.
Salesforce is the most well known CRM in the market and is widely considered the leader in this space. It will however eat a huge chunk out of your pocket and is recommended for teams who truly need the features.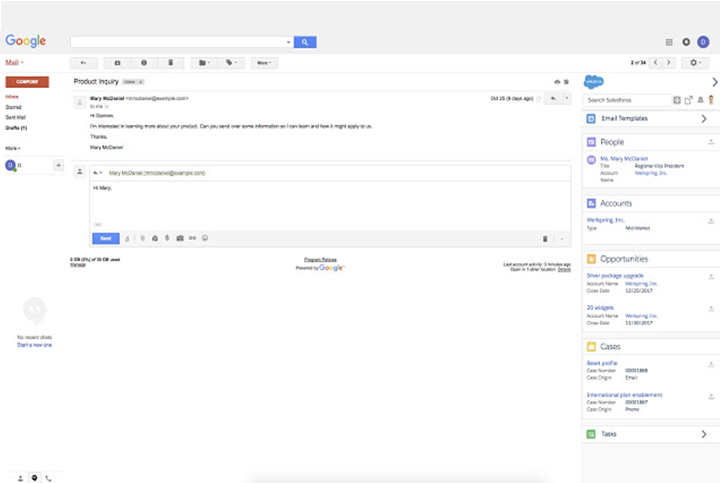 CATEGORY: CRM
Pricing: $15, $29, $75 /user/month
Pipedrive is a feature packed CRM which can be a very good addition to your stack. With this Chrome Extension, you'll be able to access your Pipedrive contacts and deal without having to leave Gmail. The moment you click on any email, you'll instantly see your sales history with the contact, so it's easy to get the full picture before moving forward.
From the comfort of your Gmail inbox, you can add new contacts, create new deals, add notes and activities in Pipedrive without having to leave Gmail. 
An increasing number of businesses are employing Pipedrive as their preferred CRM, the customizable dashboard being a key reason for doing so.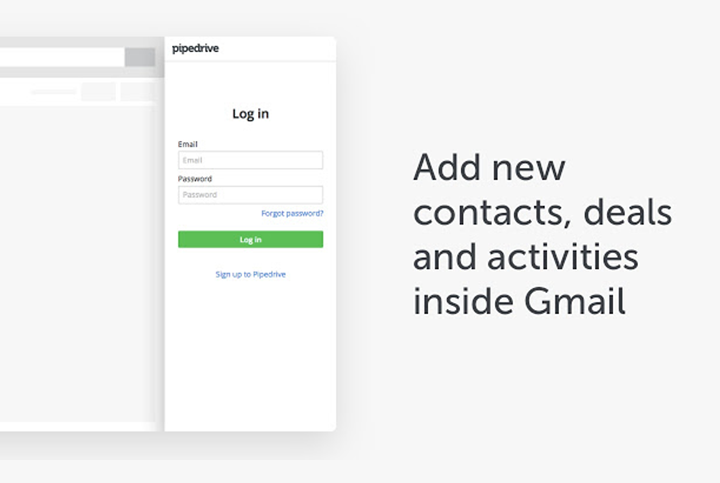 Category: Email outreach & CRM
Pricing: Free, $50, $400
Hubspot Sales is a suite of sales tools that aid in email outreach. Features like email tracking, attachment tracking and automated cadences make it a well rounded Sales software which they call the Sales Hub.
Hubsoft also provides a CRM which is included in the suite. The Hubspot Sales Chrome Extension integrates with your Gmail and allows you to automate your email cadences straight from your inbox. What's more, the leads get automatically updated on the Hubspot CRM.
If you are willing to shell out on the higher price plans, you can have the full gamut of its nifty features.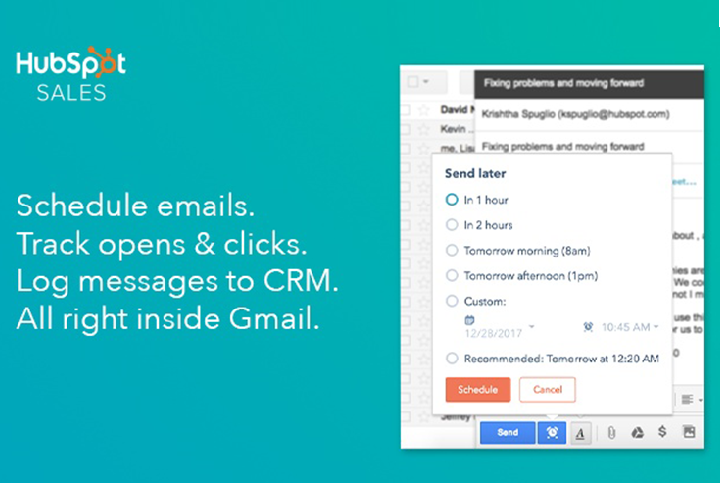 CATEGORY: Customer Centricity
Pricing: Free, $50, $500 /user/month
Drift lets you automatically greet prospects with a personalized message when they're on your site.
The Drift Chrome Extension closes the loop between conversations that happen over email and conversations that happen in real-time on a website, ensuring that sales reps never miss an opportunity to connect with a prospect at exactly the right time.
With the Drift Extension, sales reps will be able to greet website visitors with personalized messages and respond instantly while a prospect is live on their website.
Drift has some very nifty features that could make it your chat subscription of choice.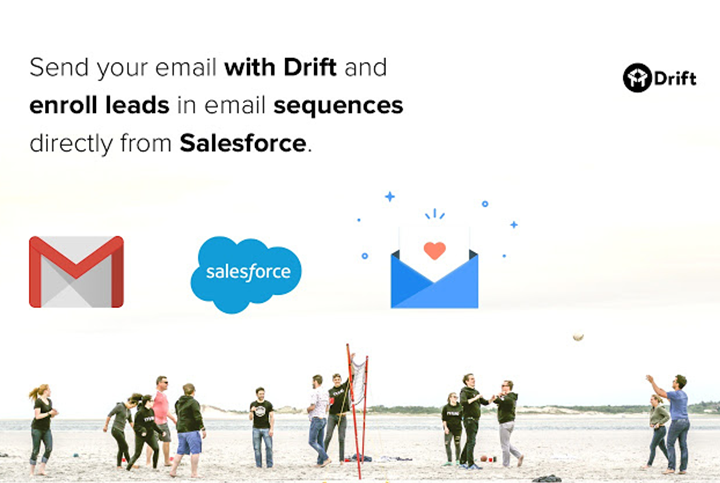 CATEGORY: Content Intelligence
Pricing: $30, $50 /user/month
Paperflite is the content everything platform that enables you to organize your content in structured streams, share it with prospects across channels in stunning storyboards and track how it is engaged with by prospects.
With the Paperflite Chrome Extension for Gmail, you can directly append content in the compose box and pull it from the Paperflite cloud - super fast and super easy. The best part is that you still get the analytics on how the end user has engaged with your content - page level analytics on what works and what doesn't. Talk about content ROI!
With the focus on relevant features and simple UI, Paperflite is quickly becoming the preferred content intelligence and sales enablement tool for fast growing businesses.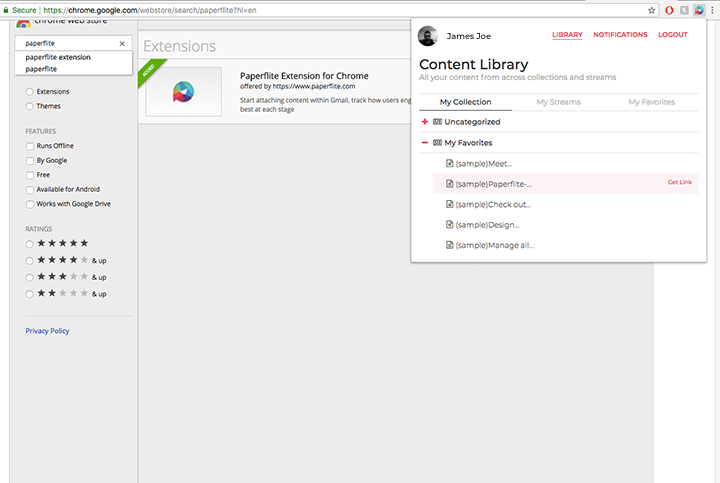 Category: Content Intelligence 
Pricing: $36, $60, $96 /user/month
Attach.io is the simplest tool for sharing content and tracking results. It works well for organizations without a lot of content. It is a tool for a very specific use case - sending content to prospects and tracking how they engage with it.
With the Attach.io Chrome Extension, you can send attachments straight from your inbox and measure open and click rates.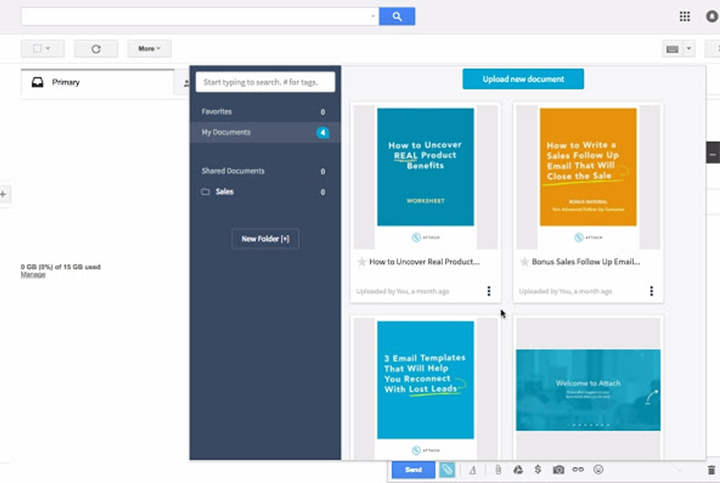 There are a lot more extensions than the ones that we have featured in here. For a start, these 15 examples should hopefully be good enough for you to get inspired and forge ahead. Do give us a shout in the below comments if there are any extensions that you'd like to see here.