HubSpot integrations for Sales and Marketing in 2021 and Beyond
December 03.2020
6 minutes
In 2009, Apple launched "there's an app for that" commercial for iPhone 3G. 
Back then, the app ecosystem was just beginning to flourish. The phrase was quite precise in conveying the excitement around technology and the possibilities emerging from it. 
It was so catchy that it became a tried-and-true way to introduce every app. Both media and businesses used it to such an extent that Apple had to trademark it. 
Though we don't entirely agree we had an app for everything back then, it now does seem that there's an app for (almost) everything. 
Today, the sales and marketing technology landscape is going through a similar phase. Newer categories are coming up, intelligence is growing sharper, and communication is getting better.  
Think of a business challenge - chances are, "there's a tool for that." 
The best part is that you can leverage the power of different tools and turn them into a single powerful unit using simple integrations. 
Knowing that many sales and marketing professionals use HubSpot CRM, we decided to create a roundup of integrations that we highly recommend.  
Use these to execute your growth strategies for your high-value accounts. 
What's HubSpot CRM? 
HubSpot is a complete marketing, sales, and customer support platform. It has all tools and integrations to increase leads, accelerate sales, streamline customer service, or build powerful websites.
With that understanding, let's dig in!
(I) Account-Based Marketing 
Successful implementation of account-based marketing requires sales and marketing teams to work in cohesion. 
You need to ensure your customers don't receive any conflicting or repetitive information as it may lead to poor customer experience, longer sales cycle, bad reputation, and lower conversion. With these integrations, your sales and marketing will get along almost like peanut butter and jelly!
RollWorks is a powerful tool for B2B advertising - you can identify the right accounts, launch digital ad campaigns, offer web personalization, automate sales, and measure your programs' performance. 
Its HubSpot integration helps marketers launch focused digital ad campaigns that leverage the customer relationship management data in the HubSpot CRM.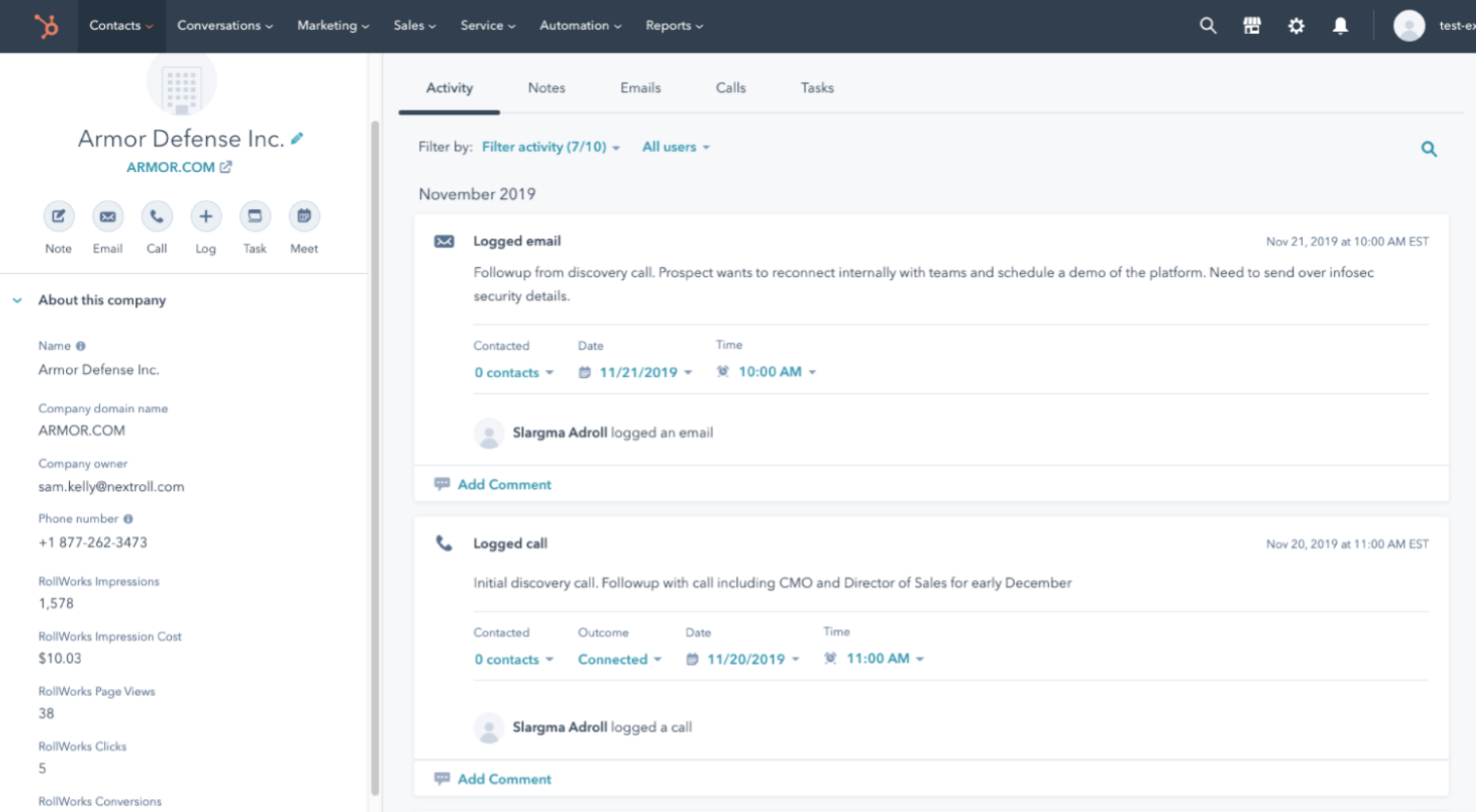 Why we like it
RollWorks is an excellent alternative to traditional advertising for B2B businesses of any size. Using RollWorks-HubSpot integration, you can:
Use your HubSpot lists and create dynamic audiences for digital advertising.
Access all the campaign performance metrics are accessible right from the HubSpot CRM dashboard. 
Get end-to-end funnel visibility of your ABM programs, right from the first impression to the deal closing. 
(II) Analytics and Data
Admittedly, we all have our noses buried into the dashboards ever since being "data-driven" became the need of the hour. You got to be careful, though. There are consequences of missing the big picture.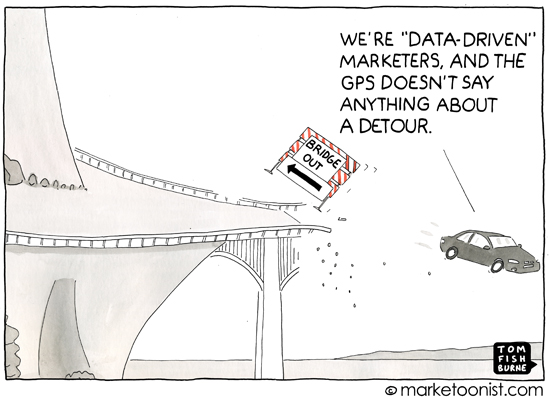 Here're some integrations that help you go beyond the usual metrics, look outside the windshield, and drive your strategy in the right direction. 
This one is outrightly one of our favourites! With a zillion platforms and metrics, it's a pain to make sense of data and draw meaningful insights. 
Databox saves the day and brings all real-time data from different platforms to a single place. The integration also keeps track of your KPIs across platforms and sends performance alerts and recommendations.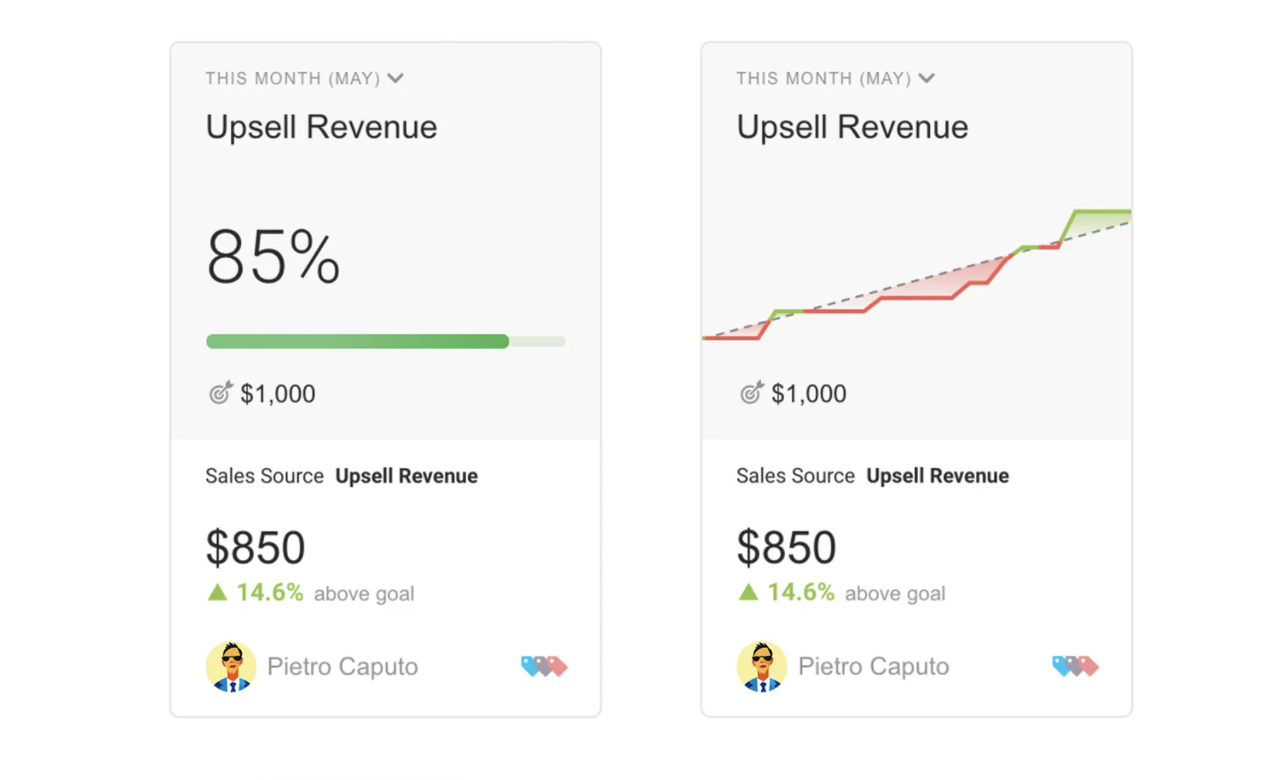 Why we like it
 The range of platforms it supports and its ease of use is admirable. You can:
View real-time data from HubSpot Marketing/Sales/Service on any device, taking insights right when you want. 
Pull out data from spreadsheets, databases, cloud services, and platforms such as Facebook Ads, Google Ads, Google Analytics, Mixpanel, Adobe Analytics, Salesforce, Stripe, and more.
Hotjar saves you from drowning in numbers, quite literally- "Understand how users are really experiencing your site without drowning in numbers." is in fact their tagline!
We love this integration as it collects valuable behavioural inputs of your leads from on-site survey functionality and adds it to their contact timelines. It helps in knowing your leads better - what interests them on your website, how they engage with your website, and what their needs are.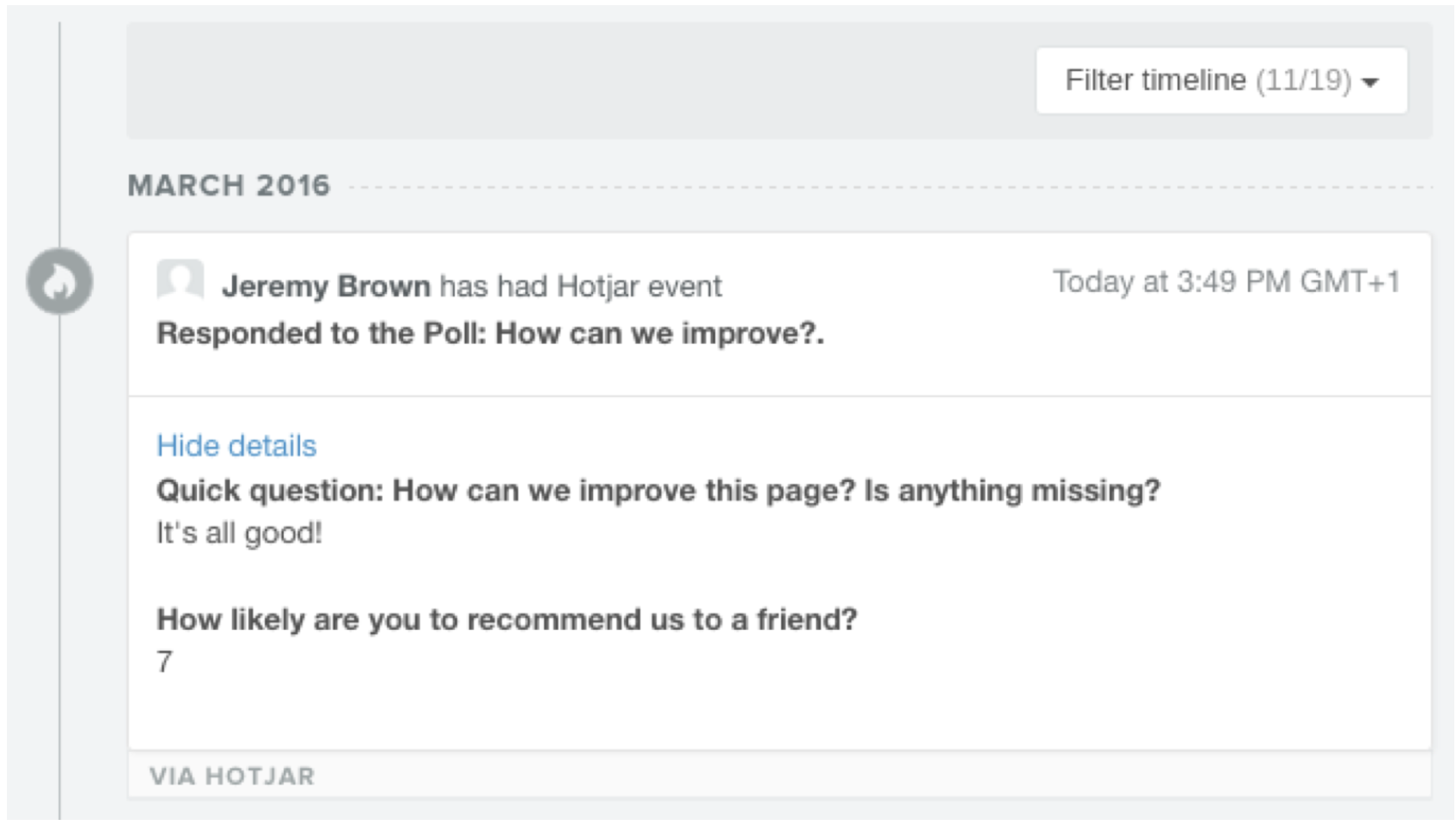 Why we like it
Hotjar is a revered tool among small and mid-market sized businesses for its conversion optimization capabilities. Using the Hotjar-HubSpot integration, you can:
Quickly identify how the front and back end of the website impact your leads and, therefore, work to resolve any issues. 
Generate valuable feedback from your leads and use it to have better conversations with them.
(III) Email Marketing 
Email has certain capabilities that other channels don't. But, the channel demands careful handling. Every sentence you write, every email you send needs to be meaningful and contextual. If you err, you lose. 
The integrations below help you unify your sales and marketing team, and send campaigns tailored to your prospects - a win-win for your teams and customers!
There are two integrations available for Mailchimp in HubSpot - i) A standard one, and ii) PieSync from HubSpot. 
The standard Mailchimp-HubSpot integration syncs CRM contacts to Mailchimp and displays email activity associated with those contacts within the CRM itself. It is quite helpful in knowing what interests your users.  
In comparison, the PieSync integration supports bi-directional sync (yes, it's two way!) between HubSpot and Mailchimp. Any change you make in HubSpot CRM will reflect in Mailchimp and vice versa. You can manage all data syncs to and from HubSpot itself, set up rules for syncs, add custom field mapping, and more.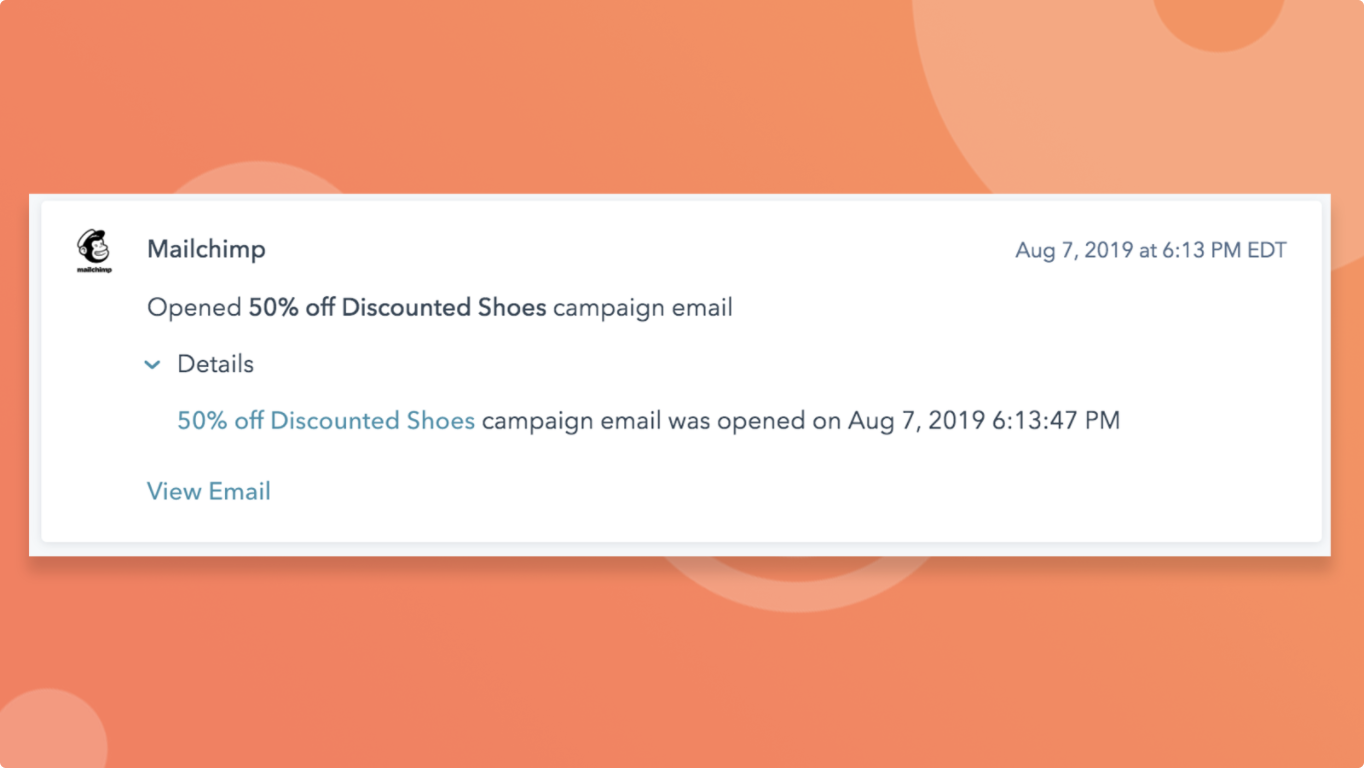 Why we like it
A perfect solution for small businesses and mid-market, the Mailchimp-HubSpot integration helps you keep up with your leads. 
You don't have to worry about adding new leads to the Mailchimp email lists and losing them through the cracks.
The performance results of the campaign are also visible in the contact timelines, so you can use them to build better relationships and send better emails. 
A lot of success in email marketing relies on your email deliverability. Neverbounce helps you maintain good email deliverability through real-time email verification and list cleaning. 
Using this integration, you can verify existing HubSpot email lists directly from NeverBounce and get an estimate of your bounce rate even before launching your email campaigns, therefore improving your email conversion rate.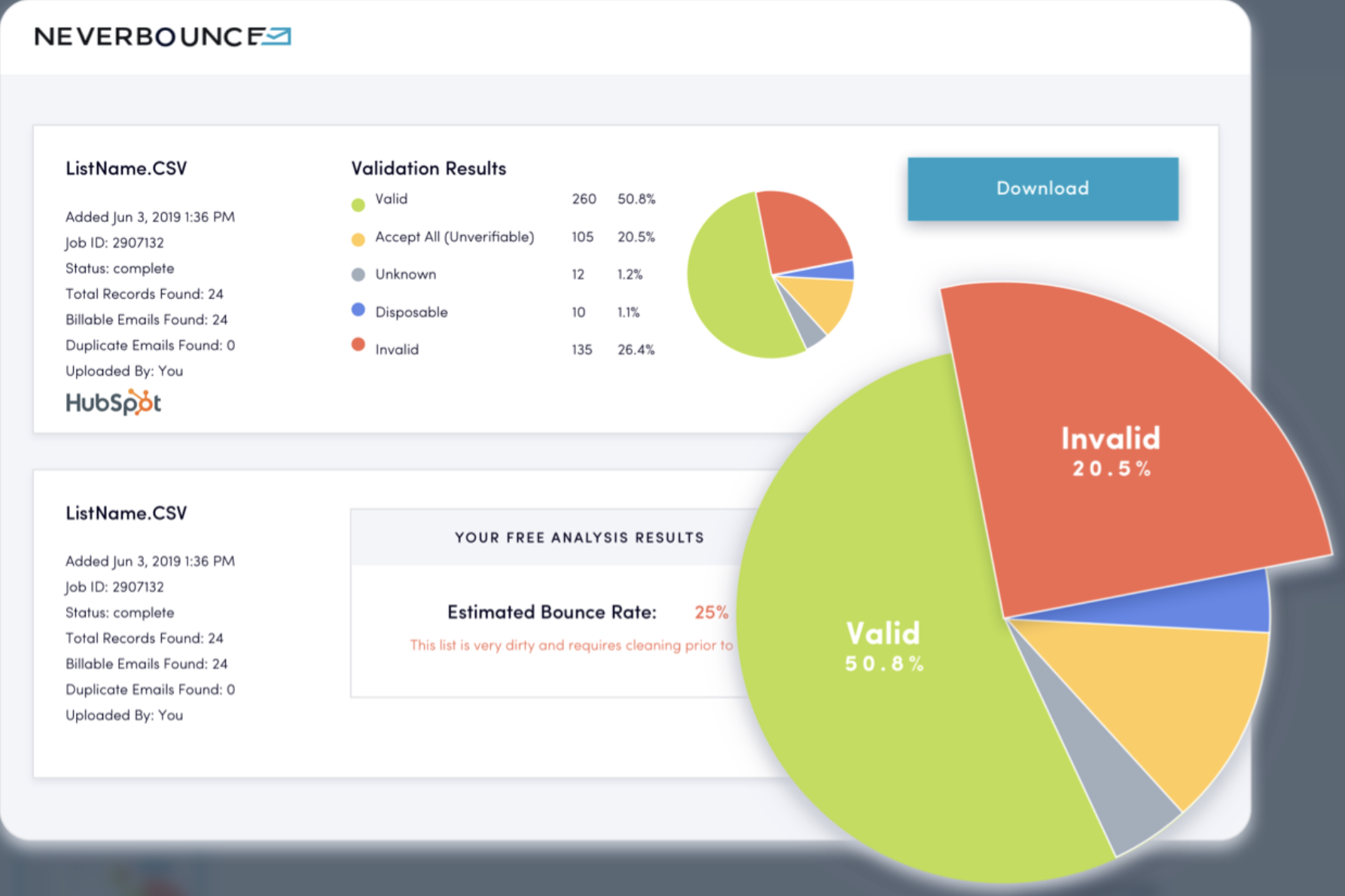 Why we like it
Neverbounce is one of those tools that does what it promises. 
It removes all the bad contacts from your CRM so that you can work on the ones that matter. 
Lets you test single emails, a bulk list, or their API.
Businesses of all sizes use it to cut down on their bounce rates and improve email deliverability. 
Overall, it is a quick, easy-to-setup, and super-efficient tool. 
(IV) Sales Enablement 
Sales enablement tools ensure your sales, marketing, and customer success teams go together like peanut butter and jelly. Did we do that reference already? 
Backspace. Backspace. Backspace.
...teams go together like ketchup and fries!
Your teams develop a shared understanding of customer expectations and needs, thereby improving efficiency. 
Paperflite is a sales enablement and content management platform that lets you fast-track your complete lead management process.
It integrates with a number of platforms including email systems, marketing automation platforms, CRMs, and sales engagement platforms. With the Paperflite-HubSpot integration, you can send personalized emails to your leads in HubSpot, all laden with contextual content housed in Paperflite. 
This way, you can communicate with your leads one-to-one and know exactly what content suits them. No more heavy-lifting!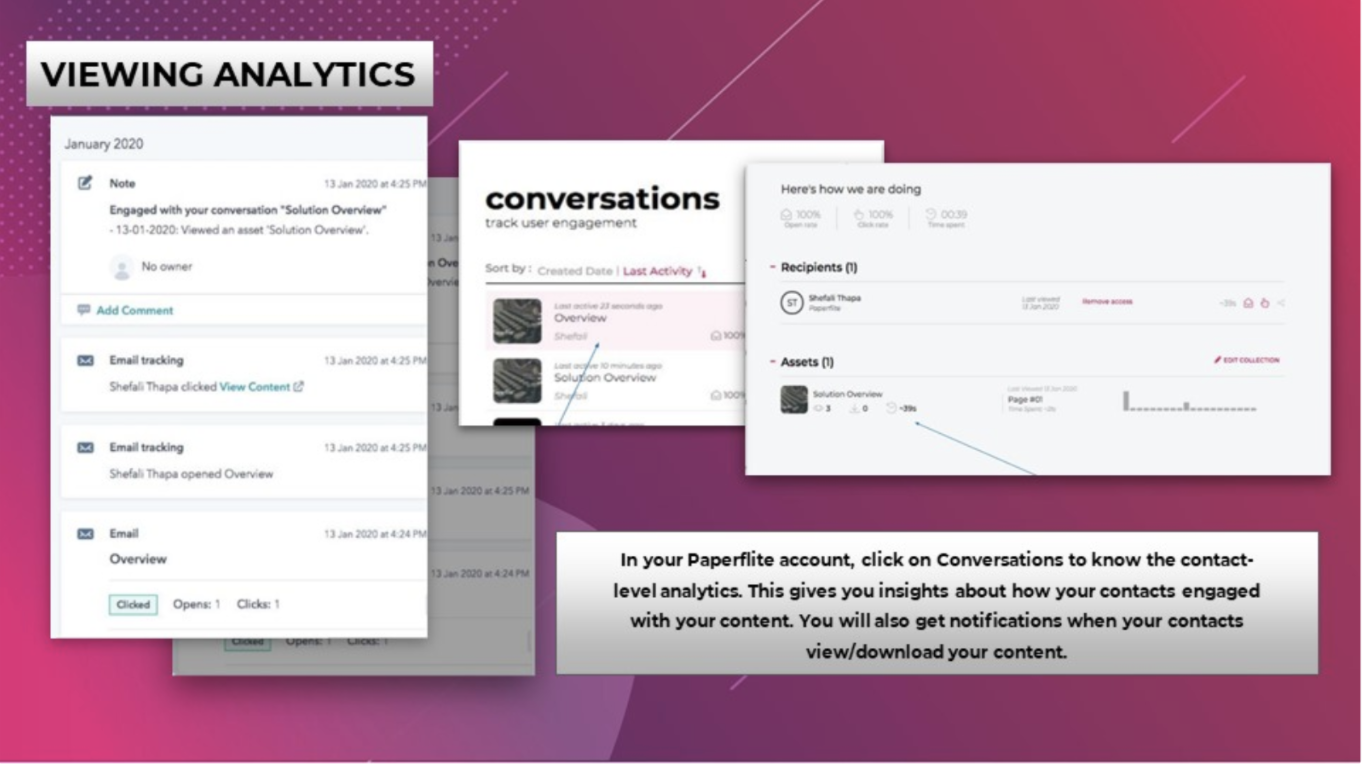 Why we like it 
The Paperflite-HubSpot integration lets you:
Share all your sales and marketing content via HubSpot
Sync all your HubSpot leads and prospects with Paperflite within minutes. 
Learn what your prospects have been viewing, downloading and re-sharing, so you can tailor your follow-ups accordingly
Capture every interaction, from page-level views to time spent on videos, so you can engage with hot leads and nurture cold ones.
Stripe has emerged as a one-stop solution for everything payments. Accepting payments is made simple - your clients can pay you using payment integration on the quote itself. 
By integrating with Stripe, your sales team can easily create trackable quotes and send it to their prospects. No more playing catchup with Bob from finance to process those orders. (Hi Bob!)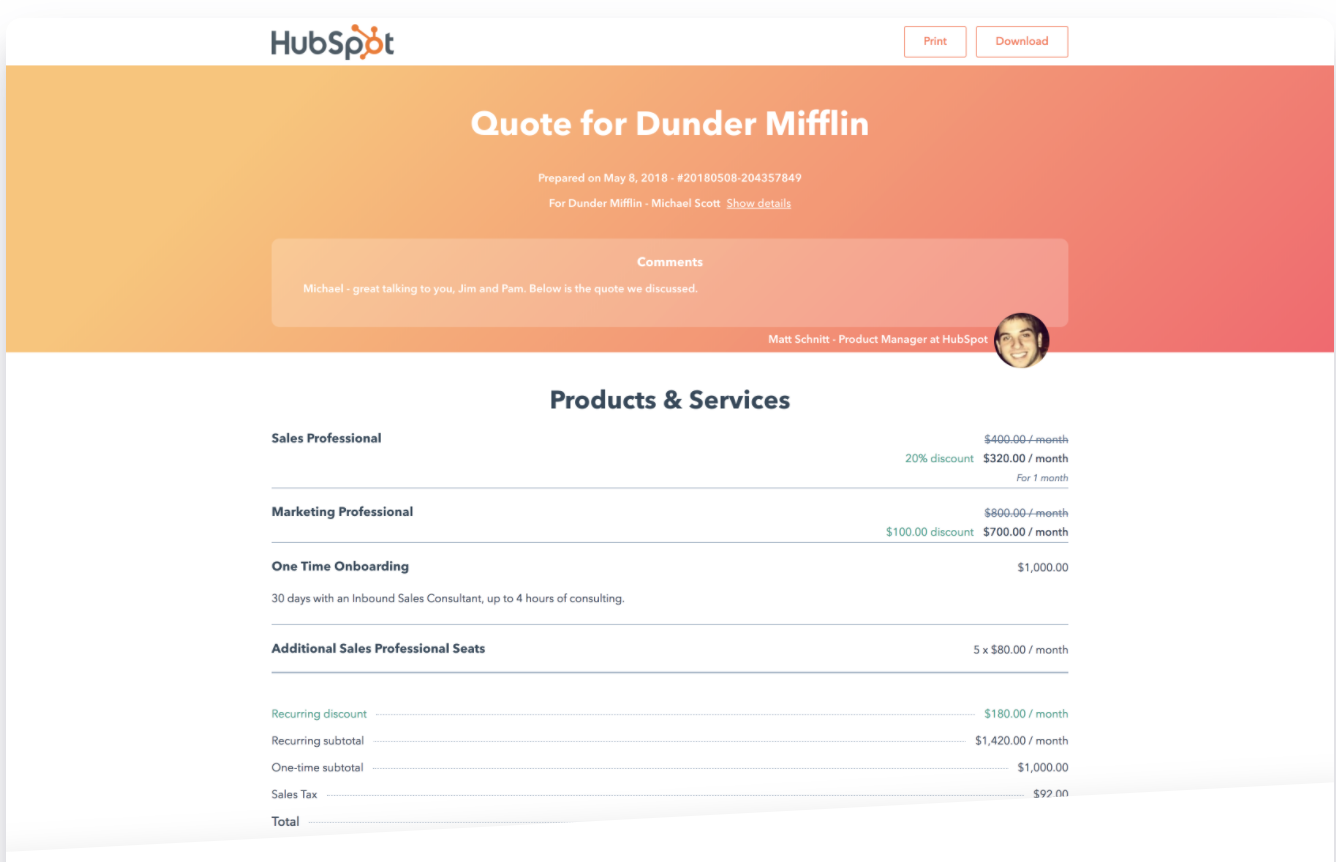 Why we like it 
The Stripe-HubSpot integration works seamlessly to automate your payments, proposals and invoicing. 
When a payment is accepted, HubSpot automatically creates a customer and adds subscriptions to that customer in Stripe. 
You can speed up the process of creating and sending proposals and receiving payments quite effortlessly. 
(V) Calling 
Online calling solutions became our saviours this year. Be it a team meeting or a customer conversation, they make it quite simple to connect with people. When integrated with your HubSpot CRM, you get a perfect winning solution for your teams. 
Unless you belonged to the population that was wiped out from the face of the earth by Thanos momentarily, you would have definitely heard about Zoom. 
Zoom is a video-conferencing platform used for hosting virtual meetings, online events, webinars, and even simple 1:1 video calls.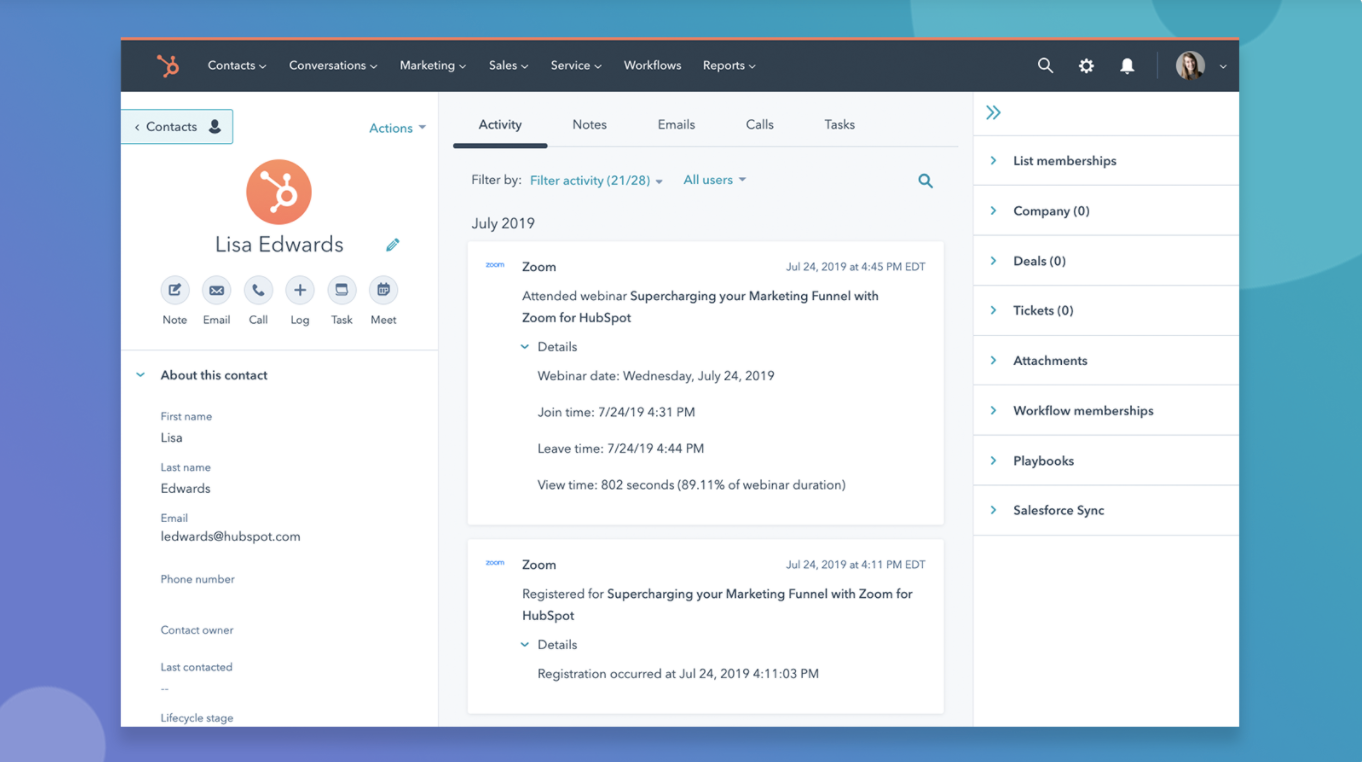 The integration helps you sync Zoom with HubSpot meetings to add dial-in and conference details to your CRM prospects automatically. You can promote your Zoom webinars through HubSpot workflows using which you can send your contacts automatic reminders, notifications, follow-up emails, and more. 
You can also track webinar attendance and use the data to segment lists for marketing workflows. 
Why we like it
Booking sales calls is a breeze with this one and takes off a lot from your plate. 
Teams and businesses of any size can use the integration. There's no need to send the meeting link manually.
 It comes as a real help to track multiple webinars and meetings. You can see whether a contact attended your webinar and use segments to filter the engaged leads. 
Aircall is a cloud-based phone system that resides within HubSpot.
This integration can be used by your sales, marketing, and support teams. Other than saving time on manually logging call details, it automatically records all the information of inbound and outbound calls in the CRM, including missed calls and voicemails. 
You can also keep track of call recordings, notes and increase the number of calls, improving your service team's productivity. Besides, your marketing team can use it to track the ROI of their phone campaigns!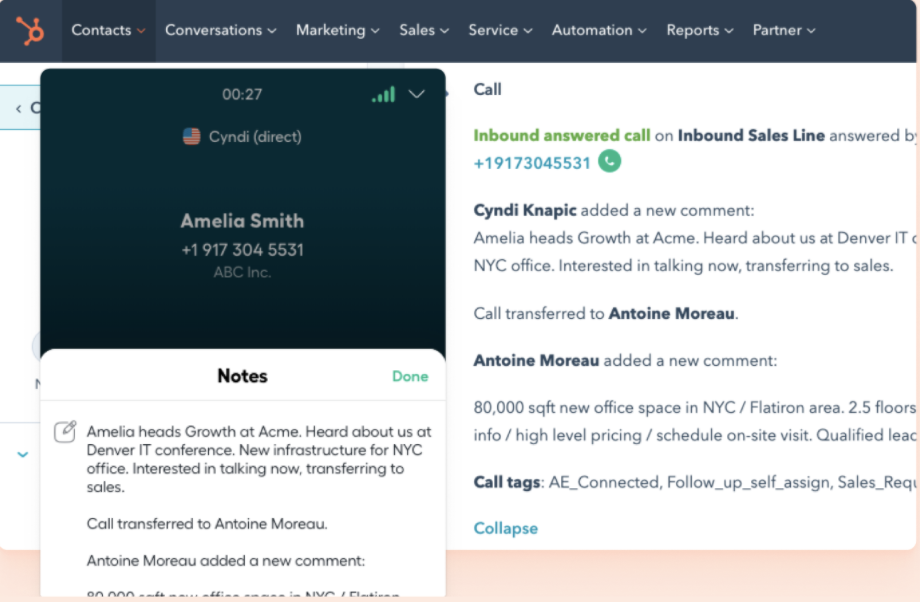 Why we like it
The Aircall-HubSpot integration made it to the list because:
It automatically captures all your notes and logs your calls to HubSpot CRM, so you don't have to worry about the manual entries. 
You can retain your business number while making calls remotely. 
It is effortless to log in or transfer calls to other numbers. 
(VI) Live Chat 
Live chat integrations make it easier for visitors to engage with your business. You can communicate in real-time and nurture visitors into customers. 
Without a doubt, Intercom is the most powerful live chat solution. The Intercom - HubSpot integration makes it extremely easy to qualify leads from chats, which you can send to your CRM for nurturing. You can set rules for triggering your marketing workflows based on specific conversations.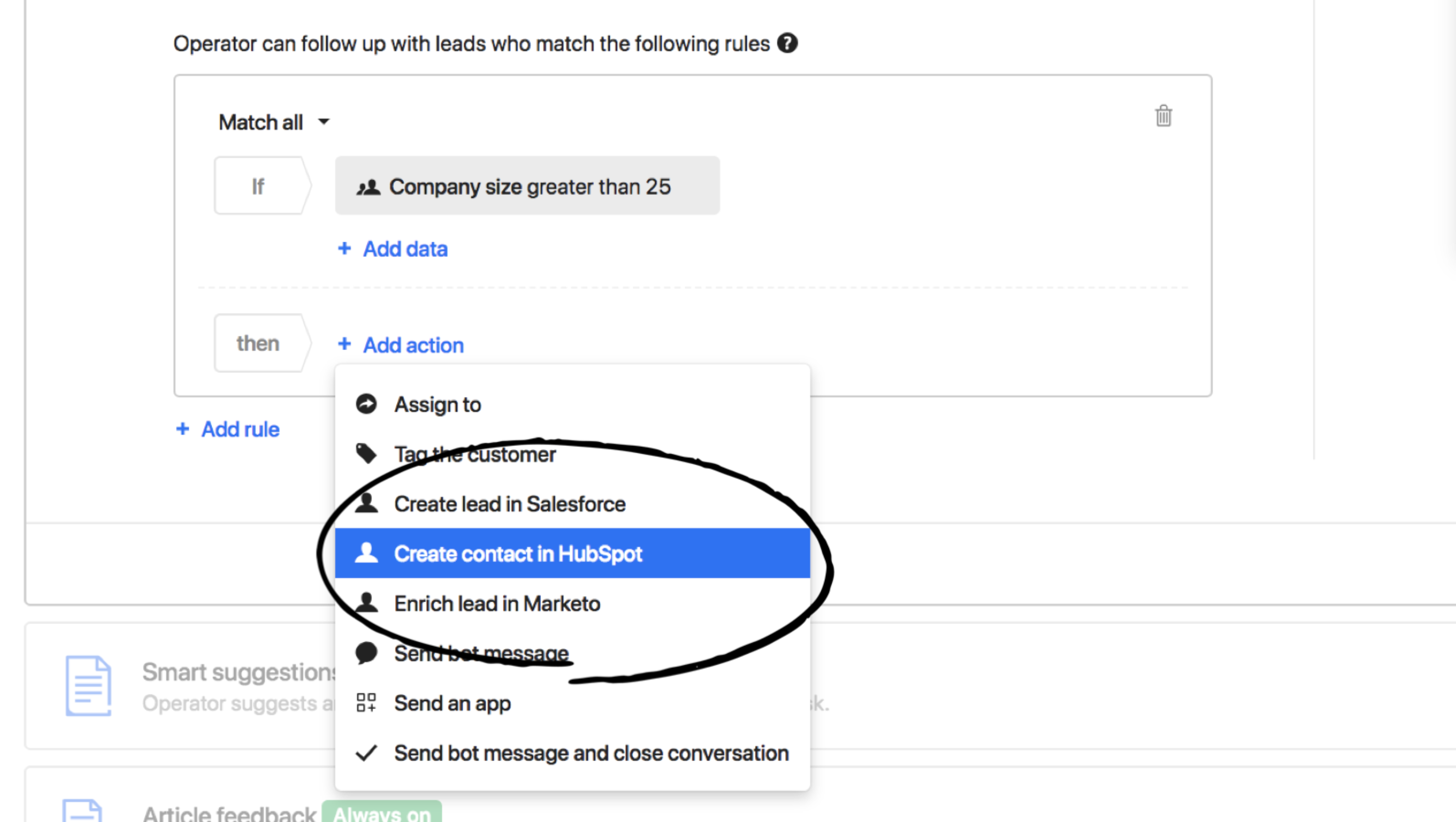 Why we like it
What makes it a "must-have" solution for us is it:
 Gives a complete overview of a lead's journey with an activity timeline, including their lifecycle status and deal stage. 
Syncs all the customer conversations under contact records. When a lead participates in a chat, you can easily see the lead owner information in your CRM and pass on the lead to the right owner. 
Besides, the customer lifecycle details and deal stage brings more context to your conversations. 
Categorized as a lead generation platform, Drift primarily offers live chat support.
The Drift-HubSpot integration helps you sync your Drift contact records to HubSpot CRM and qualify them as leads. Besides adding the live chat capability to your website, it records all the conversations in your HubSpot contacts' activity timeline. Using this information, your sales team can plan better outreach campaigns, and your marketing team can trigger workflows.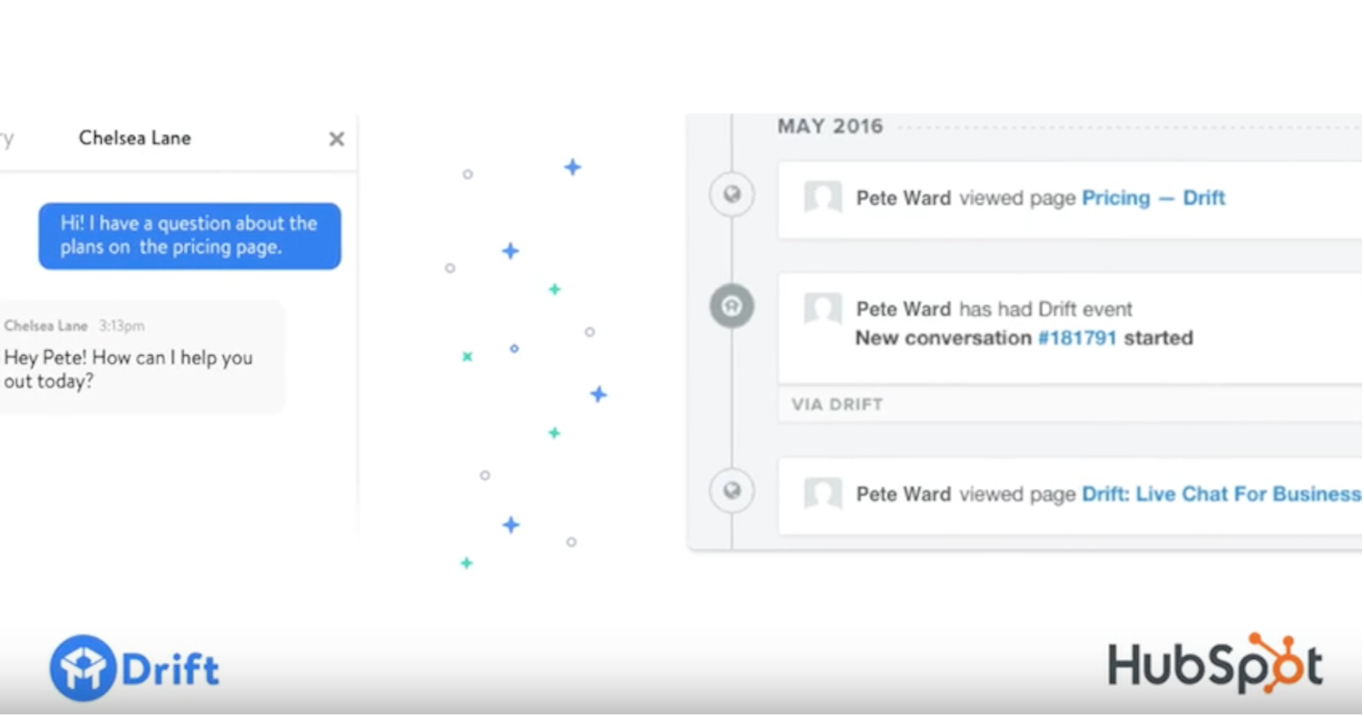 Why we like it
Using this integration, you can talk to people when they're on your website or app in real-time. 
The conversation that you have with them gets recorded in their contact timeline on HubSpot CRM. 
The automated conversational bots help in routing prospects and qualifying them.
The Drift conversation link is logged as an event on the HubSpot record, and the transcript of the conversation is added as a timeline event.
Further, the support experience in the chat is exceptionally great for answering simple queries! 
To an integrated way of doing business
Integrations have the power to supercharge your already robust solutions. With HubSpot CRM as your sales and marketing engine, your capabilities multiply with vast integration offerings. 
If you want to see any of your favourite HubSpot integrations here, write to us at marketing@paperflite.com!