20+ Sales Enablement Tools That Will Make Your Life Easier
August 31.2022
15 minutes
What is Sales Enablement? 
Sales Enablement is nothing but dynamically enabling proactive methodologies using adaptive tools to collaboratively drive sales and productize holistic content. 
No, that was not the spell from Mary Poppins. It definitely was NOT the definition of Sales Enablement, either. 
Sales Enablement is nothing but equipping your sales team with enough (right) tools to ensure the unhinged flow of the entire sales process. And, of course, to make them feel like Batman. 
Sales Enablement can also be specific processes, content and anything that bridges the gap between the Terrific Trio of - the Marketing team, Sales team and the customers. 
Why do Sales teams need Sales Enablement Tools?
If you have this question even after we mentioned it'd make them feel like Batman - here are some of the other reasons we can think of. 
Sales Enablement tools allow the sales teams to :
Work with more clarity
Deliver targeted ROI
Gain insights on buyer persona and behaviour
Share multiple content pieces from the right place to the right prospects
Track audience performance
Unify Sales and Marketing teams to work toward a common goal
Access content anytime, anywhere and on any device
Strengthen sales reps and buyers relationships
Get Granular Information About Every Content Being Sent
Sales enablement tools come in all shapes, forms and sizes since no two companies have the same sales process. This varies due to multiple factors such as the size of the organization, the end-goal, the product and the functionality of the organization as a whole. Therefore, you must pick out tools that save your company time rather than add to the workload. 
However, sales enablement tools can be split into 5 different categories based on their specific use-case. This includes 
Content Management Tools
Sales Intelligence Tools
Sales Prospecting Tools
Learning Management System (LMS) Tools 
Sales Productivity Tools 
20+ sales enablement tools that will make your life easier 
Here are 20+ sales enablement tools across the 5 mentioned categories that will make your life easier and have your Sales Team on Cloud 9 : 
Content Management Tools
"Content Management Tool? You mean a CMS?". If you work in Marketing or Sales - chances are you groaned reading this line. 
Content Management Tools go with different names such as Digital Asset Management Platform, Brand Asset Management Platform and so on. However, it all serves a singular purpose - Organized Content. 
Let There Be No More Content Scavenger Hunting
Due to the abundance and overabundance of marketing jargon being circulated on the daily, certain terms and tools may get confused with others. 
Content Management Tools create a centralized, accessible, organized repository for all your content. Gone are the days of "needle in a haystack" situations with content. With Content Management Tools, you can store, manage and distribute content without shuffling between decks of documents, sheets, case studies, whitepapers and the whole lot. These tools also help you gracefully distribute content in personalized microsites. 
Here are some examples of effective Content Management Tools :
1. Accent Technologies 
Accent Technologies offer AI-driven content management for your team. Accent Technologies offer a surfeit amount of features including Sales Management Insight, Sales Data Subscription, Guided Selling and more. Accent Technologies take their name very seriously and pay a serious amount of heed to the cutting-edge technology inculcated in their products. 
Landing at Content Management - Accent Technologies offer the following features : 
Hassle free access to content across teams 
Personalized content for buyers 
Powerful content search 
Streamlined cloud-sharing for documents and easy multi-doc sharing 
Intelligent content suggestions 
2. Paperflite 
Paperflite is also a sales and content management platform but we're on a mission here to explain to you how they stand out from the rest. Because, we work here. Jokes apart, Paperflite is a sales and content management platform that offers you some top-notch features such as :
Content Discovery - Give your users that Netflix experience by enabling your users to discover content like never before. Seamless and bingeworthy.
Content Distribution - Bring content to wherever you want it to reach. Content knows no boundaries with Paperflite's content distribution; This means you can enable your sales team to share multiple content pieces right from their inbox. 
Content Experience - With Paperflite, it's all about the experience. Create personalized microsites that include a myriad of features such as collaboration and more. 
Content Analytics - Know exactly what works and what doesn't. Content Analytics that provide you pristine data on how each piece of content is performing with respect to every viewer. 
Content Intelligence - Paperflite diversifies on the intelligence by offering Content Discovery Intelligence, Content Engagement Intelligence and Content ROI - Revenue Intelligence.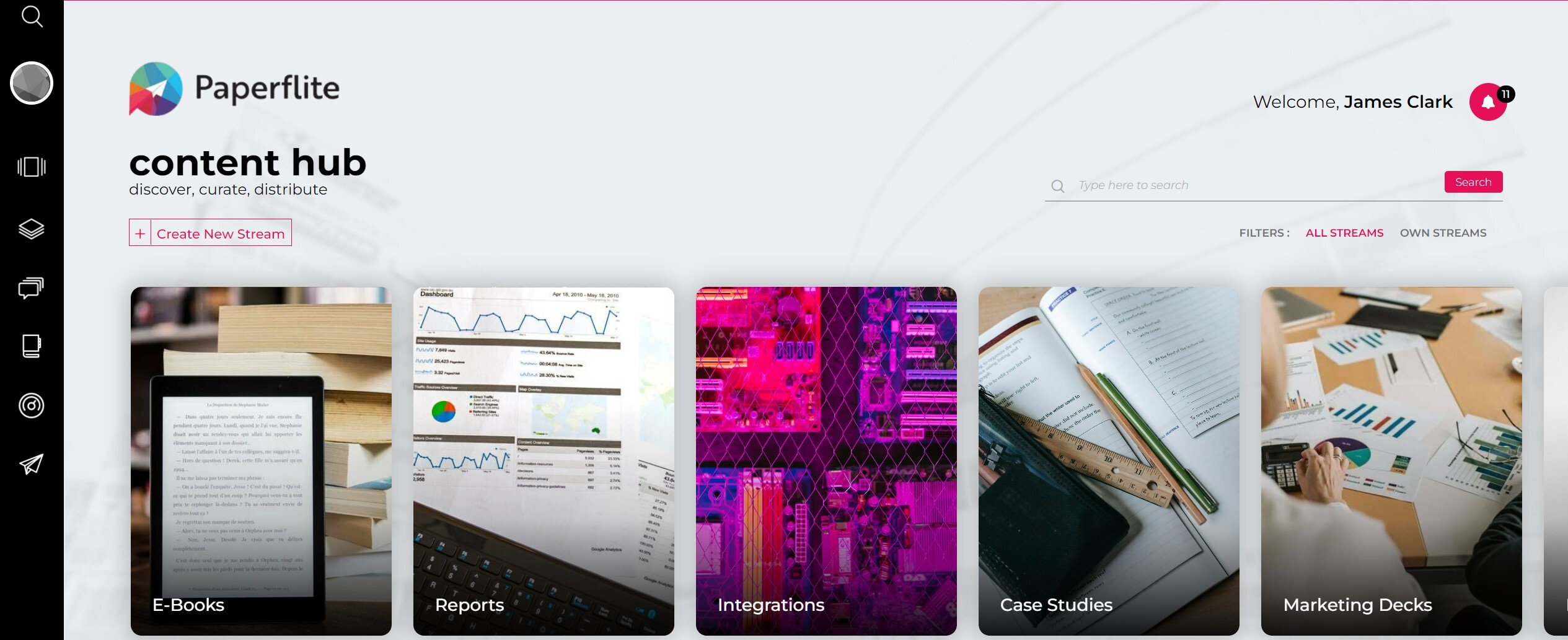 3. Fotoware 
Fotoware is Digital Asset Management software that caters exclusively for images, videos and graphics. Fotoware can be used by all teams of an organization given the boost in visual content. Fotoware has unique and user-friendly features such as : 
Superfast image search 
A powerful metadata engine
Set up efficient workflows using Actions and Markers 
Integration with your favourites such as WordPress, Microsoft Office, Adobe CC and much more. 
Sharing of pretty much any file type
4. Brandworkz
Brandworkz is a Brand Management Software or BAM! Because their awesome features are about to hit you out of nowhere. If you're opting for a Brand Management Software, chances are your brand value is your biggest asset. 
This platform was built while exclusively keeping Marketers and Brand Managers in mind. If you're a marketer, a brand manager or someone who houses and deals with a ton of content everyday - it is only fair that you precisely organize, store and manage all your digital assets. This is one of Brandworkz' many products amongst Free Online Brand Kit, Web-to-Publish, Approval Workflow, Logofinder and more. 
Here are some of the Brandworkz' Brand Asset Management's features : 
Content Accessibility 
Ease of workflow
The "Download Wizards" magically convert any file into any format you need
High-speed file transfers that allow you to download files on the go
An automatic colour search, powered by AI, enables you to find an image in any particular colour.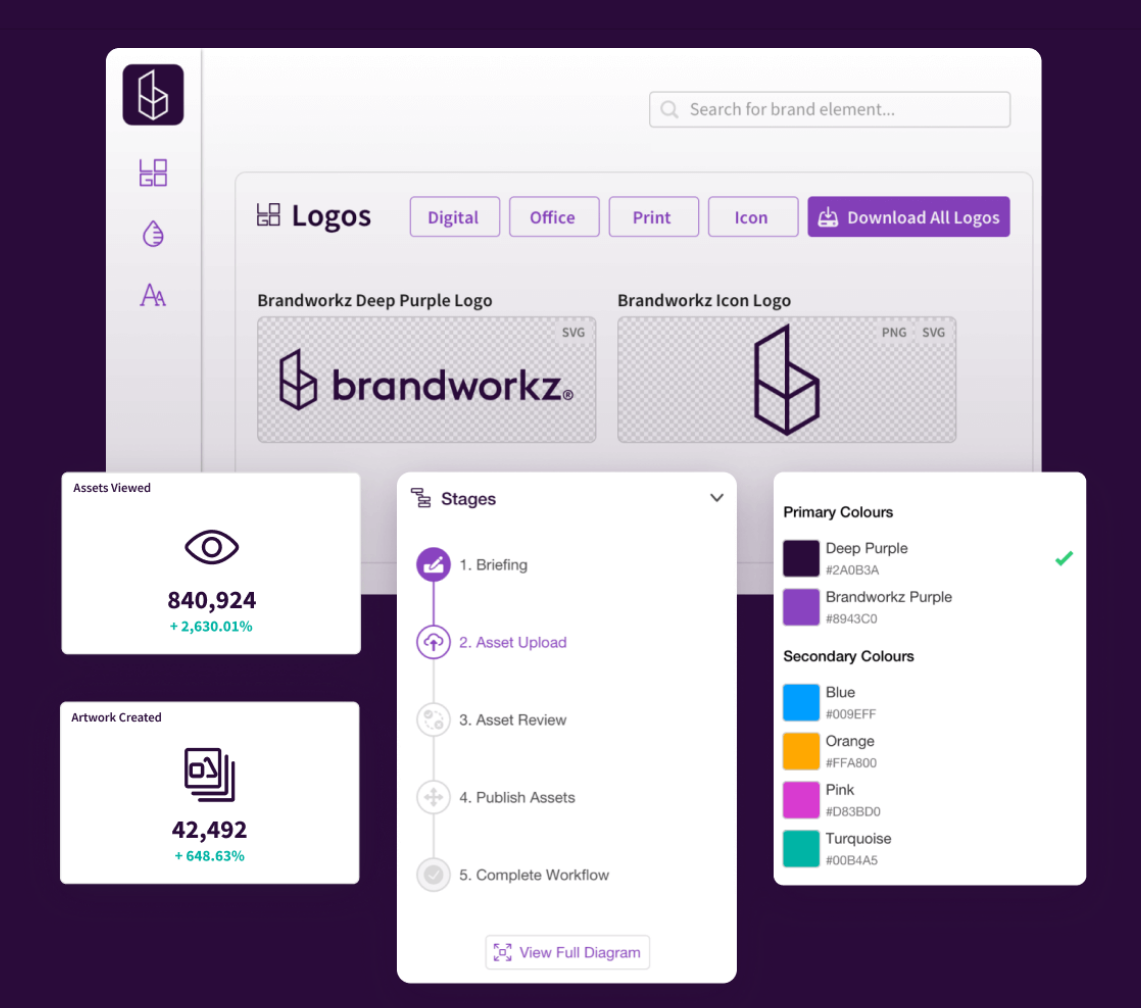 5. Pickit 
Pickit provides a secure repository for all your documents, templates, media files and other digital assets. This helps you get a clear overview on all your documents. Some of Pickit's distinct features are listed below : 
Media Asset Management - Perfect for logos, photos, icons, audio and video files. 
Document Management - Index and organize all your documents in one centralized space. No more frantically digging through zillions of files.
Brand Management - This includes adding brand colours, fonts and basically anything that makes your brand unique in an easily accessible medium. 
License Management - Conveniently store usage rights and other such important documents to share with users. Pickit stores licenses next to images to find them in a flash. 
Insights Dashboard - Get specific analytics to boost brand intelligence. 
Sales Intelligence Tools
In plain and simple terms, Sales Intelligence refers to data, insights and tools that enable your sales team to pick out quality prospects from anywhere and in turn close more deals. Wait, wait, wait… You haven't heard the selling point yet - none of this requires any manual work. Sales Intelligence provides colossal benefits to both Sales and Marketing teams through the powering of some magnificent AI. 
Here are some of our favourite Sales Intelligence Tools and their strong suit, respectively. 
6. Draup 
Draup is an AI powered sales intelligence tool that enables you and your sales team to make intelligent data-backed decisions. Draup also helps with the following : 
Micro targeting prospects 
Account Intelligence - This refers to the short-listing clients based on specifics such as financials, geo-presence, outsourcing and more. 
Understanding the Global Footprint of the accounts being targeted
Exploring technology across 1000+ product segments 
Discover emerging use cases 
7. Gong 
Gong is a revenue intelligence tool that enables your team to get a complete overview into your team's deals, team performance, market changes and gain an insight into what exactly is coming your way each month. With Gong you can : 
Take complete command of your business through Gong forecast
Forecast future prospects with confidence - by knowing each customer's specific needs
Provide your entire team with complete visibility into all deals, overall team performance and market changes
Capture and analyze frontline interactions to make insightful decisions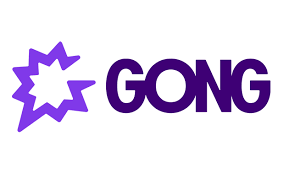 8. Chorus by Zoom Info 
Chorus is a revenue intelligence platform (amongst other things - link to features / products page) and is the brainchild of ZoomInfo. Chorus also offers relationship intelligence (where were you all this time, Chorus?) and gives you a clear picture of exactly what's going on in your sales pipeline. Here are some of Chorus' stellar features and products : 
Forecasting Intelligence - Effectively unblock any obstacles while striking a deal with Momentum by Chorus 
Proactive Deal Recommendation - operated via a patented Deal Recommendation engine that is exclusive to Chorus, this feature helps you identify the best opportunities and land quality deals. 
Data Sync - Chorus provides automated customer data capture that enables your team to make data-backed and informed decisions. 
Revenue intelligence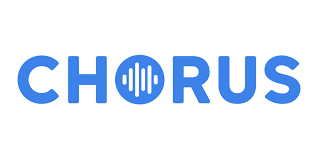 9. SalesPanel  
Salespanel is a visitor intelligence platform that helps your sales and marketing teams gain an all-inclusive view on prospects, visitors and leads. With SalesPanel you can also run highly targeted marketing campaigns to certified customers. Here are some more features offered by Sales Panel : 
Capture and sync leads from anywhere (Live chats, email tools, any lead magnet or lead form)
Track all visitors who land on your website - helping you identify the marketing touchpoints
Capture leads from acquisition channels 
Facilitate a marketing automated workflow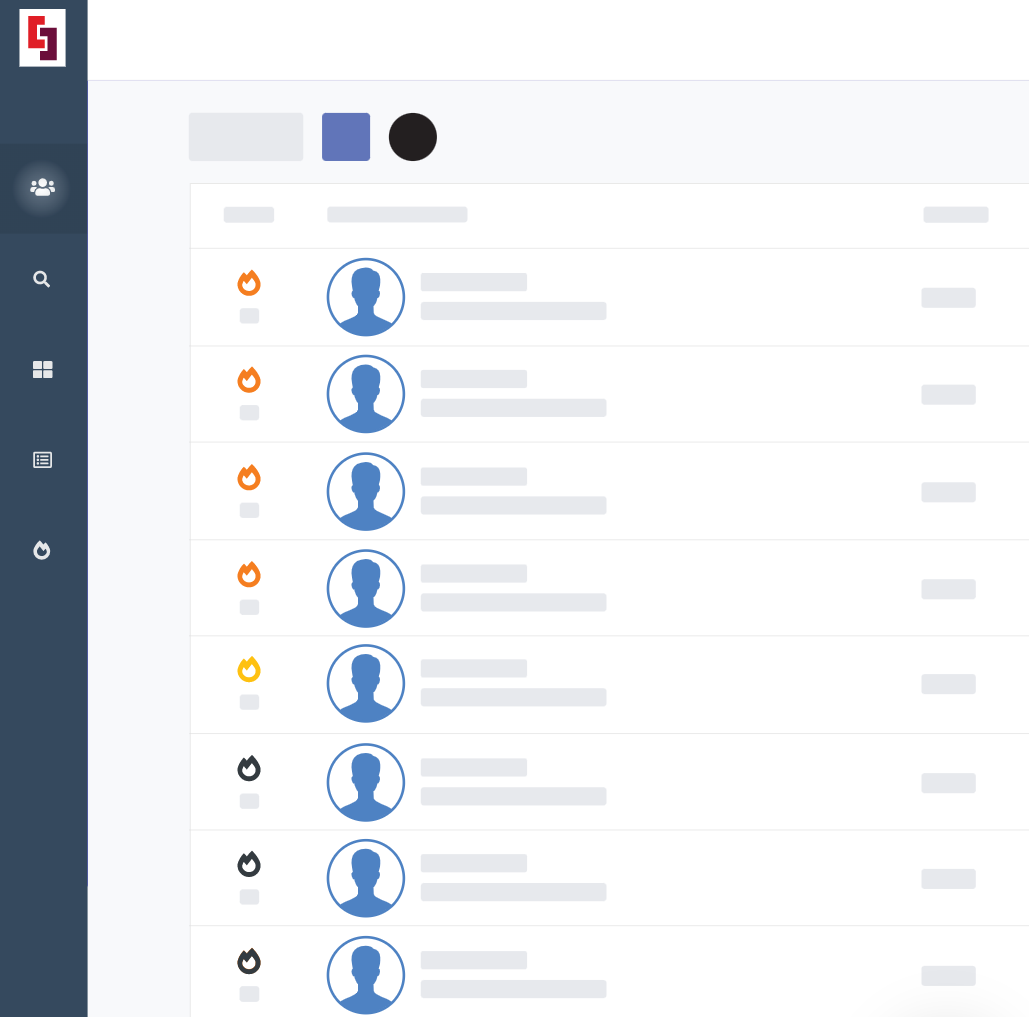 10. Lusha 
The Lusha browser extension is the only addition needed to turn your prospects into sales. With Lusha, all you have to do is :
Sign up for free
Look up prospects on LinkedIn
Acquire their contact information almost instantly!
Begin your sales process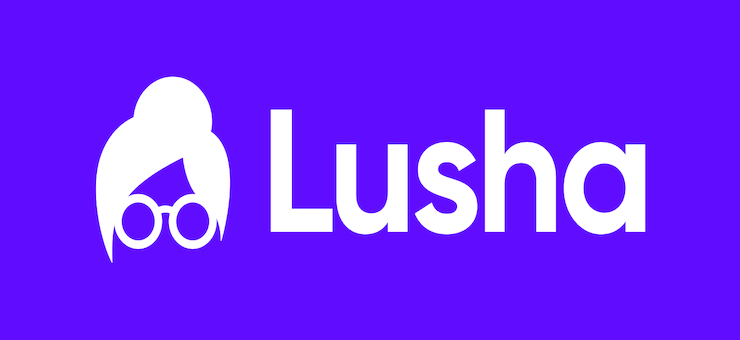 Prospecting Tools
When we hear the terms prospecting or prospector - this guy is probably the first thing that pops into our mind.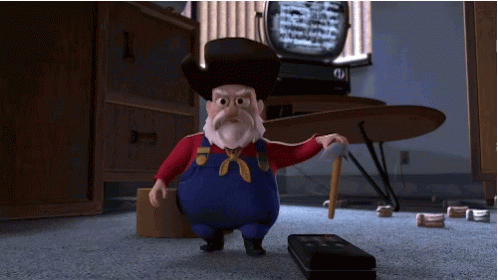 A prospector explores various regions in search of valuable minerals and such using maps, tools and equipped with knowledge in geology. Much like Prospector Stinky Pete used to do. Before the Chicken Man kidnapped him, of course. 
Prospecting in sales, however, doesn't include the geology part. Prospecting in sales is the process of stalking researching, filtering, identifying ideal prospects and of course, work on converting them into customers. But hey, that's a collective process. Prospecting is quite a cumbersome yet highly necessary process in every organization. This is where prospecting tools come in handy. 
11. Lavender 
Lavender is a Sales Email Assistant tool that helps personalize your emails and optimize them in order to faster, more positive replies from your prospects. Emailing is a superpower that everyone needs to master - this is simply because emails possess the power to make or break a deal. Persuasiveness is an artform if implemented in the right quantities and this is exactly what Lavender can help you with. Here are some of Lavender's features : 
Email Assistant - Lavender's email assistant finds and fixes anything that could potentially be a reason for low responses. This means anything right from templates, sequences, 1:1 emails and much more. 
Personalization - Personalize your emails but minus the dreary research bit. That's right, Lavender's AI powered personalization delivers recipient research and data right in your inbox. They even take it up a notch and generate personalized intro messages for you! 
Email Intelligence - Get in-depth coaching and analytics on your emails to monitor your email's performance. The Coaching Dashboard shows you the best practices and insights for you and your team.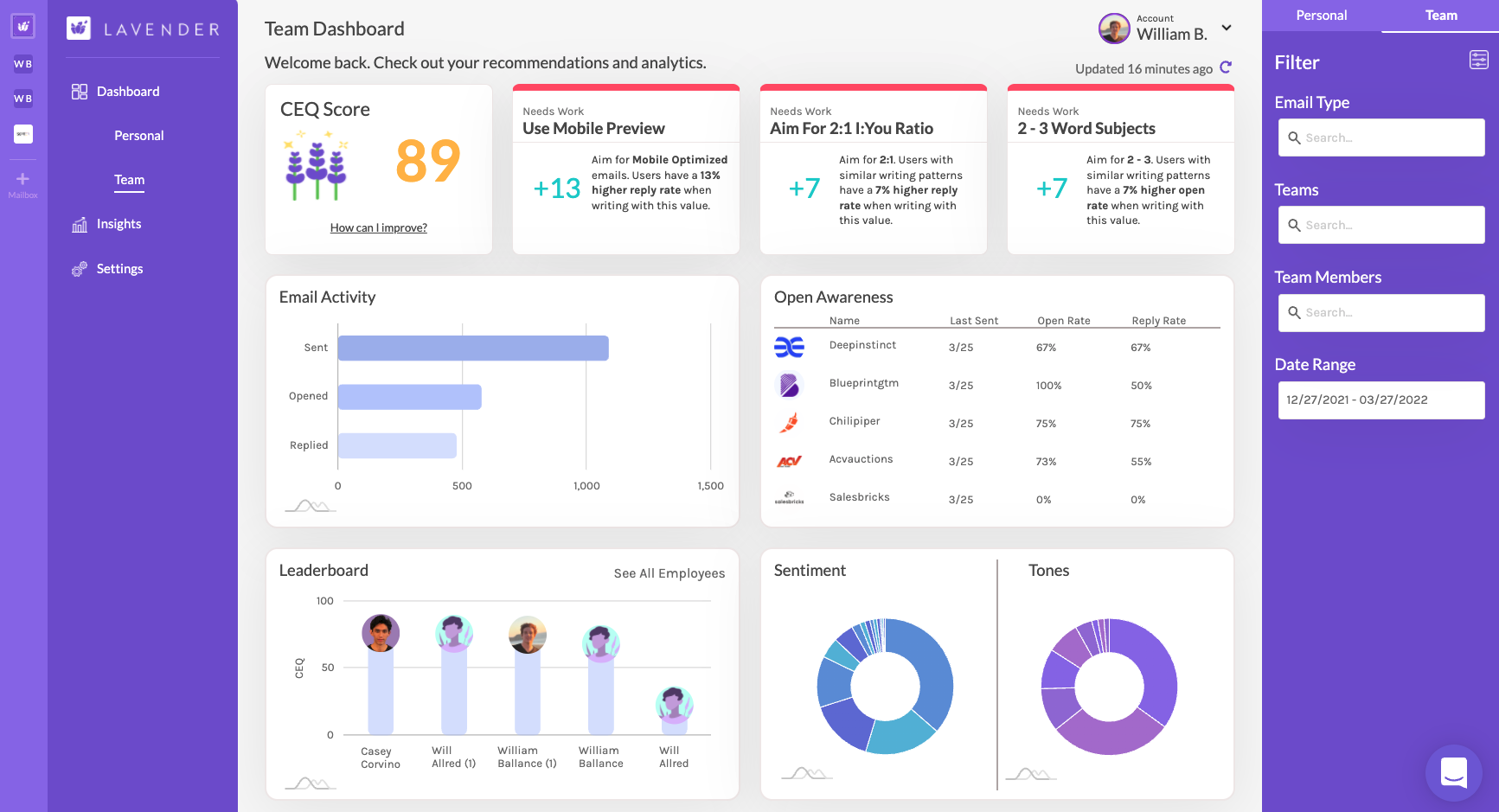 12. Lead Forensics
Lead Forensics is a website visitor identification software that plays a major role in prospecting for B2B clients. With Lead Forensics, you can uncover your anonymous website visitors and in turn, fuel your business growth. Here are some of their distinct features : 
Uncover high intent leads and aptly begin the process of converting them into clients
Discover a world of prospect intel and close deals rapidly
Instantly access the contact information of said prospects and a detailed report of what they have been looking at 
Gain instant alerts for all of the above mentioned features 

13. Meet Alfred
Meet Alfred enables you to prospect across multiple channels and interact with your prospects through LinkedIn. This gives you a chance to establish a connection with your prospect naturally. Meet Alfred guarantees saving over 10hrs of work per week so you and your sales team can focus on the rest of the sales process. Meet Alfred improves efficiency and productivity by serving as an all inclusive medium for prospecting. With Meet Alfred you can : 
Proactively manage multi-channel LinkedIn campaigns
Operate on an effective in-built CRM system to view, organize and manage LinkedIn connections in an organized dashboard. 
Customized and automated messaging that auto-generates apt responses. You can also curate custom message templates for the same. 
14. UpLead
UpLead is one of the most sought after B2B prospecting tools. With UpLead, you can find your top prospects' contact information and generate new deals in your sales pipeline. With UpLead you can start more conversations and successfully close more deals. Here are some of UpLead's key features : 
Acquire the perfect leads for you through quality prospecting 
Compile their information and use it as a personalized icebreaker to start conversations 
Data verification makes sure you connect with real, qualified leads - none of the catfishing business here.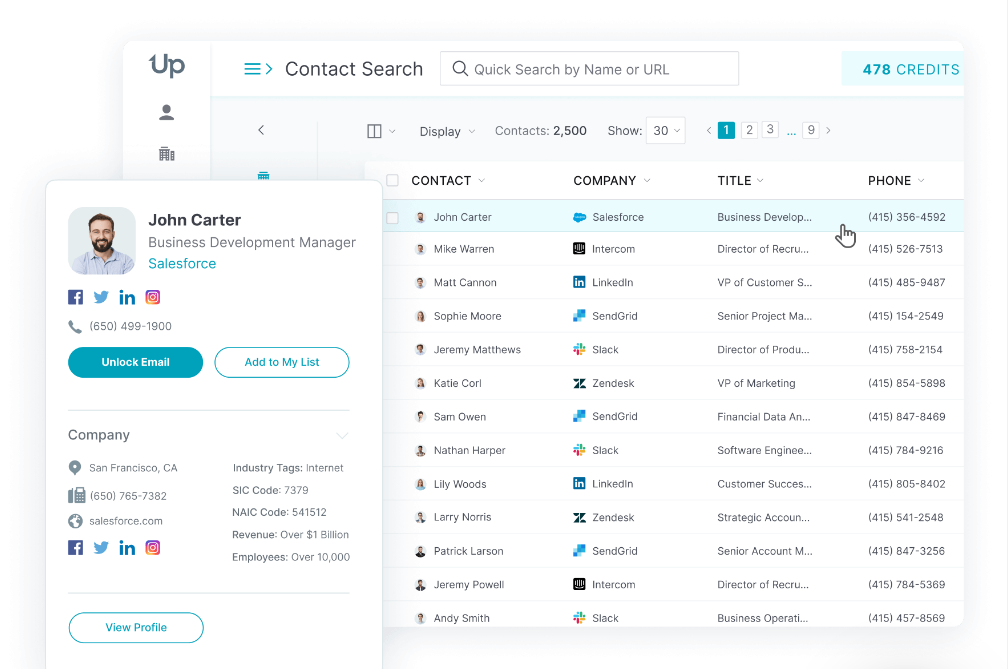 15. Slintel 
Slintel helps you identify active buyers in the market and in turn enable your GTM team build a sales pipeline. Here are some of their stellar features : 
Gain insights into high-intent leads in your specified target markets 
Implementation of extensive filters that give you a detailed breakdown about technologies that are currently in use, no longer in use and previously in use. 
Allow you to learn about your prospect's tech stack and how your product can contribute to their current scenario. 
Prioritize the right accounts in order to strike the iron while its hot - i.e strike your deal. This can be done with Slintel's precise buyer intent score that is derived from 6 company signals. 

Learning Management System (LMS) Tools
LMS tools are predominantly used in initial employee training by helping companies manage and track each employee's individual progress overtime. With effective LMS tools, you can curate personalized courses for any and every topic, generate quizzes, enforce skill training and so on. 
LMS tools provide you with centralized content libraries where you can have a complete overview of all the tools needed for creating content as well as manage your existing creations. This dashboard can also be used for uploading existing material such as videos, courses and other such documents.
LMS tools are used across a variety of fields, largely in the corporate field, as they are an excellent and quick way to kickstart employee training sessions. 
Here are some of the top LMS platforms in the market : 
16. Absorb LMS
Absorb LMS is an award-winning LMS platform for businesses. Absorb LMS fuels productivity by enabling you to curate elevated training programs. They have over 28M users and operate in 34 countries across the globe. Here are some of Absorb's distinct features :
Instant access to Key Training Data and Analytics - Absorb's super-effective system administration allows you to create multiple dashboard templates to assign to various departments. 
Meet Intelligent Assist - Absorb's AI powered assistant that helps the admin handle day-to-day tasks with utmost efficiency and speed.
Administration & Automation - Give your admins access to schedule and automate tasks within the LMS such as certificate renewals and training reminders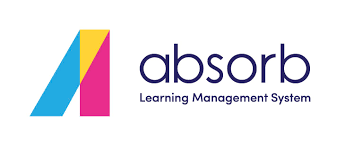 17. Kitaboo Insight 
Kitaboo is a mobile-first interactive online training platform. Kitaboo ensures creation and delivery of interactive training content across multiple platforms. You can equip your training programs with audio, video, hyperlinks and images. Here are some of Kitaboo Insight's features : 
Add various evaluation techniques such as MCQs, quizzes and more in both audio and video modules. 
Nothing gets in the way of learning with Kitaboo Insight on board - not even the lack of an internet connection. With Kitaboo, you get offline access to digital training content using their DRM protection system.
Measure progress of your learners with in-depth analytics and deliver personalized training based on this data.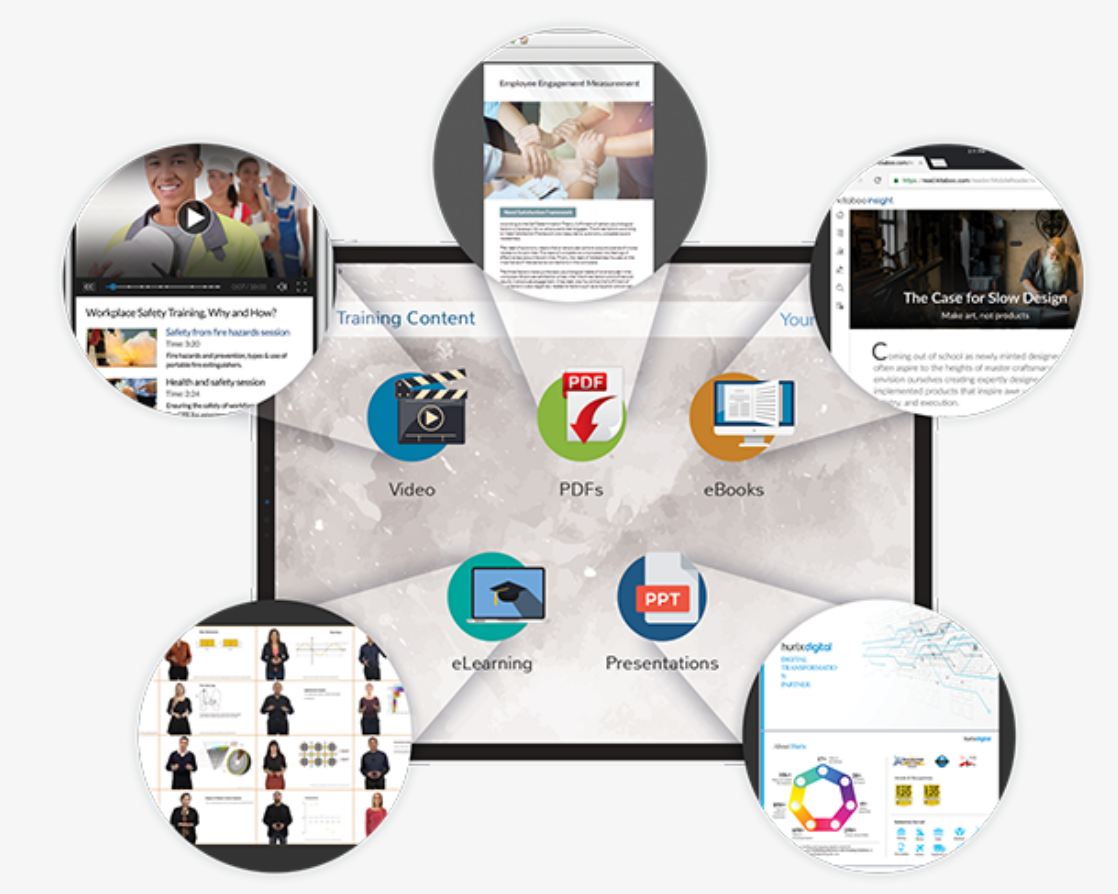 18. Zenler
Zenler is your all-inclusive course creation, delivery and marketing platform. Zenler offers a massive amount of features but let's dive into their LMS for the time-being. Zenler's LMS offers the following features : 
Easily create courses and track student performances
Set any pricing of your choice - we mean one-off courses, tier-level pricing, subscription based pricing or instalment plans. 
And….. they're live! Create and run live courses, webinars and interactive webinars.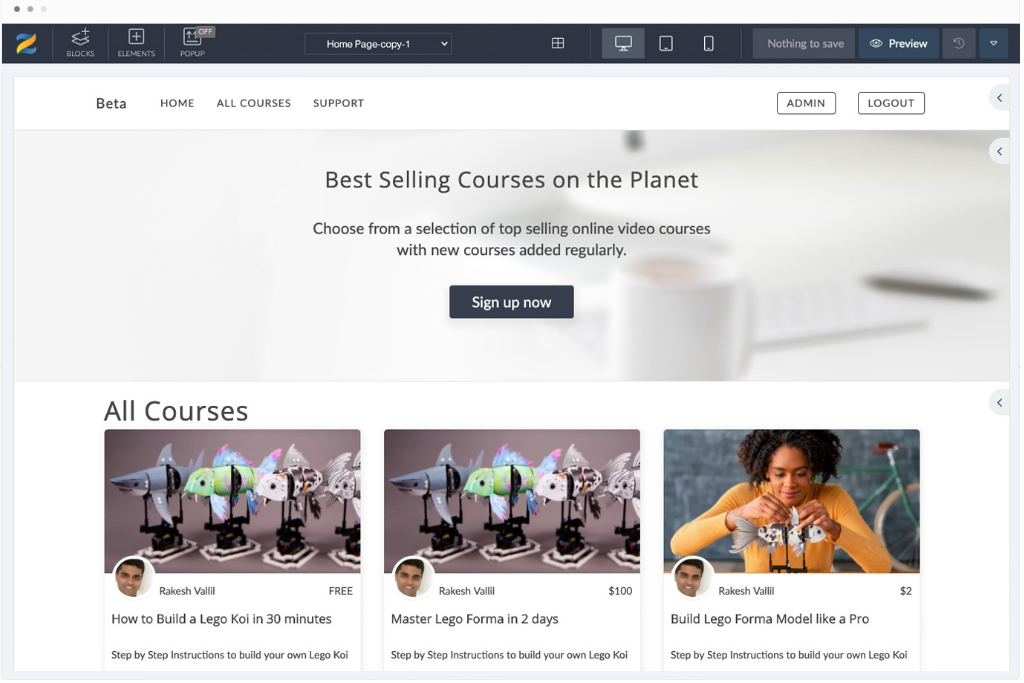 19. iSpring Solutions
With iSpring Learn, you cover all your training programs under one single platform. Increase productivity levels of new hires by getting them up to speed on product knowledge using exclusively tailored material such as quizzes and seminars. 
Here are some more features of iSpring Learn : 
Production Training - Provide your team information about the latest product updates and practices through effective methods.
Sales Training - Share collaterals pertaining to the best sales practices.
Train Communication Skills - Equip your team with communication training in a safe and risk-free environment.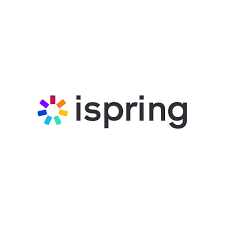 Sales Productivity Tools
Sales productivity tools (Not to be confused with Sales Enablement tools) are tools that up the productivity of your sales team by easing their day-to-day tasks. This can be anything right from scheduling to email management to organizing content to communication and so on. Sales Productivity tools are designed to make simple tasks simpler in order to save time.
Here are some of the best sales productivity tools that we know of : 
20. Calendly 
Calendly is a free (and fabulous) appointment scheduling software that serves all your scheduling needs in a single platform. Say goodbye to back and forth emails by simply scheduling a meeting on Calendly - which automatically embeds on both your calendar and the recipient's calendar. Here are some awesome stuff you can do with Calendly : 
It's all about the options - Provide your invitees with a variety of meeting choices: giving them the gift of convenience based on the nature of the meeting
Multi-person scheduling - Calendly allows you to fix meetings based on your specific scheduling needs. Whether it is a webinar that includes multiple guests (group scheduling) or if it is a demo featuring more than one person from your team (collective scheduling)
Of course, these features come with Calendly's basic plan which is totally free. Calendly also offers scheduling automation, customization and integration in their paid version.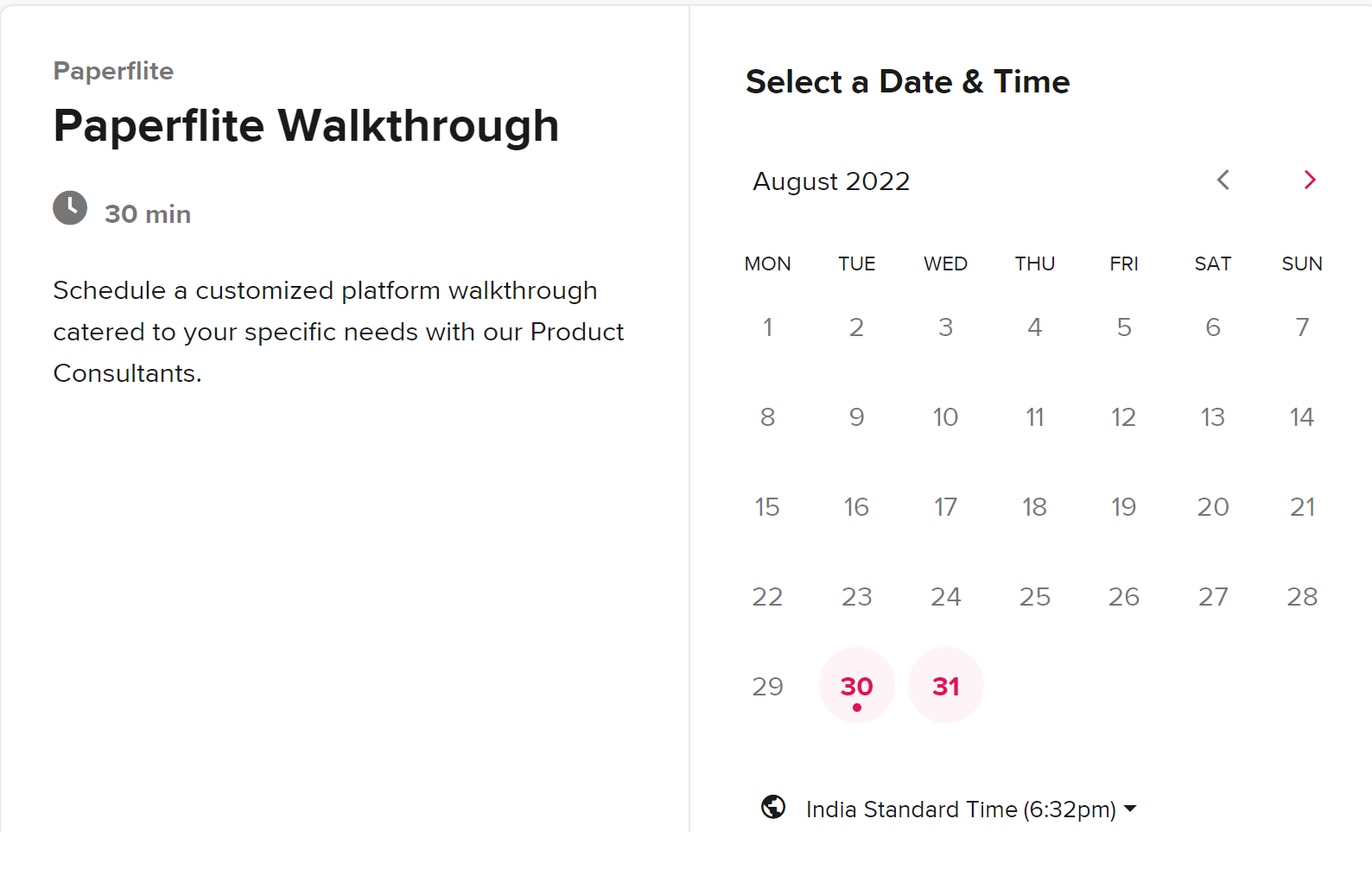 21. Toggl
Toggl has three super-efficient products that cater to solving various roadblocks in an organization. However, two of these products act as direct sales productivity tools. Meet Toggl Track & Toggl Plan. Let's dive further : 
Toggl Track - A time-tracking and reporting tool that took the term "Time is money" very seriously and actually made it happen. With Toggl Track, you can plan and set budgets with utmost confidence by systematically tracking billable hours, employee time and much more 
Toggl Plan - Track, schedule, collaborate and deliver projects on time. Toggl Plan is your all-encompassing platform for managing tasks and ensuring deliverables are up to speed. You can add specifics regarding each task, assign tasks to team members and add any required content to the same. 
22. Hiver
Hiver is an email management platform that essentially allows you to master the art of emails. With Hiver, you can make email management your best friend, and you can do it right right from the comfort of your Gmail Inbox. Here are all the amazing things Hiver has buzzing :
Ensure email accountability - make sure all your incoming emails are 100% accounted for.
Complete insight into email activity and assignment across all teams 
Assign/Re-assign emails to team members 
Check the status of your email - Open (default), Pending or Closed. 
Track the resolution status of your emails at any given time
Oh, for all the ones who've skipped to the very end hoping for a cheatsheet - we've got you.