A Definitive Guide to the B2B Sales Process
An in-depth guide on the B2B Sales Process and its different stages.
Think about every marketplace you know of. There are a handful of players who dominate and then there are the rest. What sets the key players apart from the others? It is their ability to execute a well-defined process. The capacity to implement an impenetrable sales plan. 
Yet there is more to an effective sales plan than assembling a team of sales superstars. It also gets trickier when the sale is between 2 businesses i.e. a B2B sale. 
What is B2B sales?
 
A B2B sale is defined as a business transaction between two companies.  Is this different when compared to a sale between a business and a customer? 
Oh yes. 
They differ in many ways such as:
Sales Process
Number of decision makers
Pricing Strategy 
Length of the sales cycle 
In this piece, we are narrowing down and taking a closer look at sales processes and its constituent stages with a precise focus on the B2B sales process.  
What is the 'sales process'?
 
It is a procedure followed by sales folks to convert a prospective client to a customer (who pays *wink*)
Why is it important?
Effective B2B sales strategies put into use through a tight process will literally translate into a higher growth rate of your company. An HBR study reports that companies with a superior and well-managed sales process saw a 15% increase in their growth rate. 
In addition to a higher growth rate, a sales process provides direction. A sales rep who is well versed with the different stages of his sales cycle has an internal compass to ascertain how and in which direction the sale is moving. 
A rep armed with an iron-clad sales process can be compared to a spacecraft on a long journey during which it knows how to correct its course at different circumstances. Similarly, reps should be able to traverse through the sales cycle making the precise adjustments at the right moments. 
Being thoroughly aware of the complete B2B sales pipeline requires us to understand the intricacies of each stage of the process. 
They can be broadly divided into 4 stages:
 
Research
 
Qualify 
 
Inform
 
Close
The entire B2B sales process flowchart is delineated below: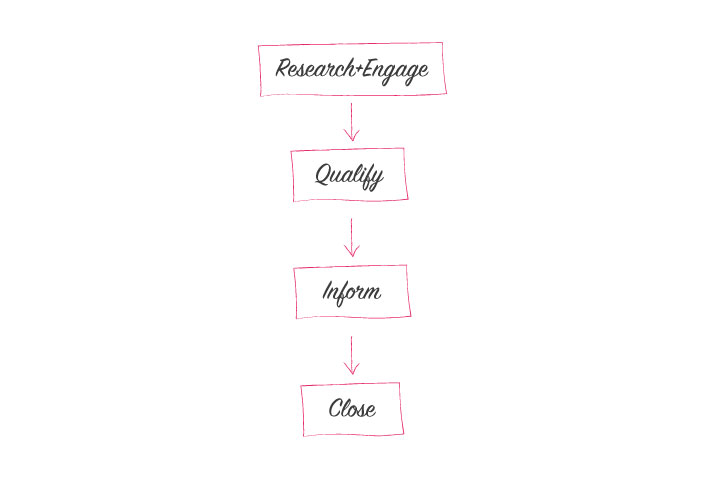 Research is important

The first step in the B2B sales process involves digging up troves of information on your prospect and the industry they are in. 

 "Research is formalized curiosity. It is poking and prying with a purpose" - Zora Hurston

Divide your research into 2 broad categories
 
Industry Research
 
Prospect Research
Industry Research
When you can speak in your prospect's language you know that you have an upper hand. Examining market share, nature of competition and current industry trends helps you build a strong rapport with your client and is also a way to show them the work you have invested in understanding their requirement down to the nitty-gritty. 
Prospect Research
Really dig deep into the details. Investigate the key frustrations that your prospect is dealing with. Approximate how much would these hurdles be costing them.
Also, notice if the company is in a state of change. If they are undertaking a complete revaluation of their strategy due to external or internal influence. This helps because companies in such a state of flux are more receptive of solutions that can improve their current predicament.
Verify if the customer you are dealing with has the authority to act and is not bogged down by a mass of company policies. 
 
In addition to that, putting together a list of clients similar to the prospect and presenting it to them would allow for easy imagination of how the solution can provide value.
 
Tip: It is wise to condense all the data you collect into the form of a sales enablement collateral (such as battle cards) that will enable you and your reps to have efficient client conversations. Here is a detailed guide on battle cards supplemented with some proven examples. 
At the end of this exercise, you know what your customer needs and how you can position your product in comparison to your competitors.
Qualify your prospects

An essential process to the sales process, Qualifying leads prevent us from wasting time pursuing dead ends. 
Engaging with a lead who does not fit in your buying persona is a drain on resources and energy.
Looking beyond the immediate problem your solution solves, we must strive to understand a lead by their goals and business model. Taking into account how your product fits into the larger picture allows you to determine if the lead is worth pursuing.
A structure to follow to accurately qualify leads is the GPCT-BA framework. 
Goals 
 
Plans
 
Challenges
 
Timeline
 
Budget 
 
Authority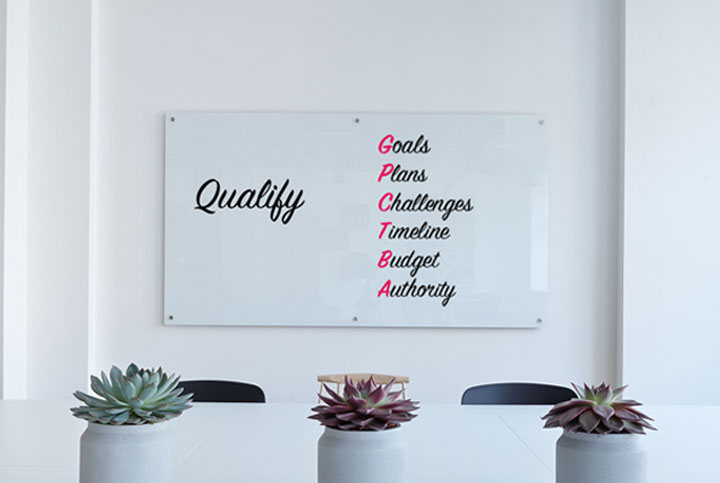 Seek clarity on Goals
Seek clarity on your customer's goals. You can accomplish this by posing questions about their current priorities, revenue projections.
discuss Plans of action
Ask them how they plan on achieving the above goals. Clients value insights and expert opinion. Give valid feedback on their methods and make recommendations.
address Challenges
Address the gap between their plans and their goals. Closely examine each aspect of the plan that has not worked for them and help them understand why they (might) need external assistance. 
establish a Timeline
It is crucial to be aware of the timeline that the lead is currently on. Knowing how much time they have to reach their goals and how soon will they implement plans. This helps prioritize and target leads that have an immediate requirement. 
agree on a Budget
A sensitive area that must be dealt with care. Quoting a higher price can completely jeopardize a deal. Taking an approach where you educate the lead on the benefits of your solution and mutually agree upon the potential ROI your product or service can provide. 
verify Authority
The lead can be either of the following:
 
An economic decision maker
 
An internal coach/influencer.
It does not really matter who you are engaging with. Use influencers and coaches to learn the possible concerns that would be raised and what the priorities of the decision maker are.  This will provide insights into how we can get the decision maker on board.
Inform and provide value
 
The landscape has changed. Customers are coming to the table with detailed information. They would have already performed a thorough market study and already zeroed in on a potential solution. A study by the Corporate Executive Board postulated that nearly 60% of the purchasing decision is already made prior to contact with a supplier. 

At this juncture, it might be counterproductive to proceed in the traditional solution selling approach and bank on open-ended questions. 
Instead, the need of the hour is to position ourselves as thought leaders of their industry and provide real value and insights into their business. A survey by LinkedIn indicates that a sales professional who offers new insights into a clients business has 5 times the chances of engagement. 
Close the deal 
 
The final stage where you either make a customer out of a prospect or you don't.
Considered to be the hardest stage of a sales process and also the most glorified. But closing necessarily does not have to be a stage where you either win or lose. Instead, when we hit a roadblock while closing, we must keep options open and revisit the above processes.
"Sell actual business results and outcomes and not products" 
Here are a few tips on closing B2B sales faster.
A caveat: The B2B Customer Journey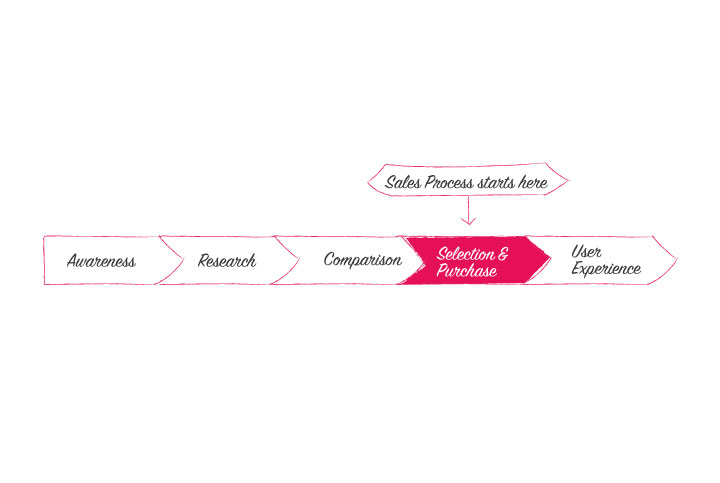 A sales process is a part of the larger B2B customer journey. As stated above, an average B2B customer is already 60% down the pipeline before the first contact with a sales rep is made. 
A rich customer journey is essential in retaining the customer in the funnel. The attributes of such a journey are: 

Straightforward journey

Although B2B journeys are lengthy and complex, splitting the journey into transparent tracks can reduce complexity and provide customers with a sense of ease. 

Spontaneous service
Delays are frustrating. Ensuring timely responses and delivery help the customers feel valued and can enrich your relationship with them.  

Proactive attitude
Using existing customer data at your disposal to deduce customer pain points and prevent them beforehand can translate in a smooth experience.

Customers interact with us in different instances throughout their journey. We should ensure that at these touch-points, we give the best experience possible. 
Analyzing the journey allows us to predict potential customer requirement and address them at timely intervals. Thereby providing a very rich and personalized experience. 
Conclusion
Effective management of the complete B2B sales process in an organization proves instrumental in reaching that revenue projection and hitting those sales quotas. 
 

"Constant repetition carries conviction." 

 
Mastering the B2B sales process is more than just knowing what it consists off. Constant repetition and experience in every stage will help you tailor the complete process to suit your style.