How Aspire Systems solved its deep-rooted content issue using Paperflite
+ an ice cream analogy for sales enablement
September 20.2021
8 minutes
Aspire Systems is a global technology services firm helping innovative enterprises and independent software vendors leverage technology and outsourcing. 
By 2014, Aspire had scaled almost all of its departments - including operations, sales, and delivery. The only team that needed structure and scaling was marketing. 
A new VP for Global Marketing, Raghu Vijayaraghavan, was swiftly brought in to take Aspire to new heights by ensuring all service lines got an unequivocal marketing focus. 
Once he settled in, Raghu diagnosed and identified the areas that needed to be fixed. Since Aspire had gone all-in on outbound, he started piecing together an inbound demand generation strategy.
But there was one problem. 
Prospects demanded content across verticals and use cases, but the internal experts were too busy to create this content themselves. So as the first order of things, Raghu set up dedicated teams for content, paid advertising, marketing operations, and creatives. 
As the organization grew, the amount of content they produced also grewwWWW.
"In the last two years, we have probably generated content 10 - 20 times compared to what we were producing three years ago," recalls Raghu.
And then with the power of content, Aspire cashed in all the $$$$ and lived happily ever after. 
Naaah. IF only that was the case. 
Here's your guide to navigating the breakdown of how Aspire Systems handled its content issue: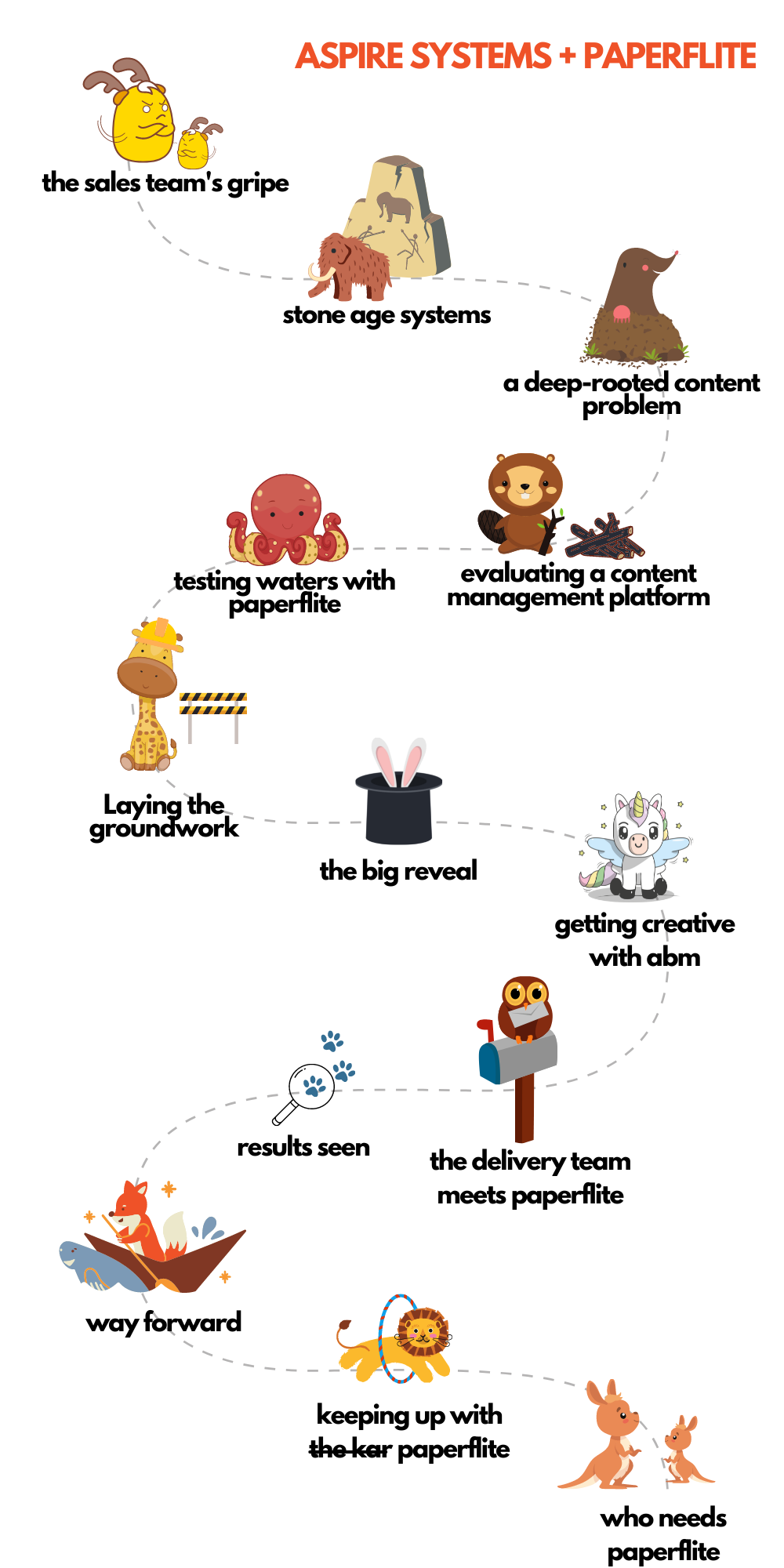 The sales team's gripe
Even when Marketing was spending an average of $500- $600 every month in the creation of marketing and sales collateral, Aspire's sales team was unhappy. 
Turns out, they were spending more time searching for the collateral instead of spending time selling. Approximately, it'd take 6 hours to find the content, personalize it, and then share it with prospects. 
They were also not able to quantify the results that all of this collateral generated. It felt like they were sending across proposals and crossing their fingers in prayer that the prospect would find it interesting.
"It's simply not worth the effort," they'd shrug every time they were asked why they didn't share this amazing collateral that Marketing had created. 

Oh, and not to forget the communication war brewing between Sales and Marketing.
Let's zoom out a little and see what went wrong here. 
Stone Age systems
Aspire Systems had an internal portal that the team used to house all of its content. You know the one - where you scan file after file, folder after folder, and if you're really lucky, you'll find the document you went hunting for.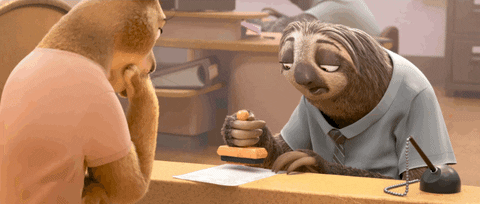 You'll even be visiting your personal hell if you have a teammate who names files like this: ABCD_CORP_FINAL_FINAL_PROPOSAL_12 or if the system decides it can't handle all this pressure. 
"It almost felt like the Stone Age and would take us anywhere between 10 to 20 minutes to find a specific collateral," says Veena Gowda, Global Marketing Manager at Aspire. 
"Someone on the team would take ownership of making sure that all the folders had a specific tree structure and all the content was updated. And god save us if we wanted to track the content we share.
If we wanted to try and track how our content was consumed externally by prospects and customers, we had to set up email and ad campaigns. But even that did not allow us to keep a tab on how content was consumed internally. Were Sales even using the content we created?"
While this might seem like an exaggeration, it's vital to recall that Aspire was an enterprise that spent huge sums of money and mass produced its collateral. 
"It was never as simple as just selecting the collateral and uploading them. Sometimes, there was a huge time lag because we would go searching for specific collateral. And this time lag widened when there was a new hire. Inducting them on what collateral to find and once found, ensuring they're relevant and updated was a Herculean task. It easily took us 2 days to induct every new hire," says Veena. 

A deep-rooted content problem  
Now is when we can introduce and glorify Paperflite as the saviour for Aspire. But this isn't an average case study and Aspire isn't an average brand.
Before impulsively investing in a tech stack, Raghu identified that their content problem had several layers and ran deeper:
Who will ensure that the created content is relevant and useful to our prospects? (Let's face it - a visually-rich case study means nothing unless it helps your prospects)
How do we measure and identify if the content is consumed? If yes, what content works best and what doesn't for multiple buyer personas?
Is there a way to personalize our content approach to uniquely suit each prospect?
How will Marketing organize and store content that caters to all our service lines?
How can we enable sales to look at content and other key strategies to develop conversations with customers?
How can we automate feedback if the sales team did not find what they were looking for?
How do we justify the RoI of content to the C-suite?

Evaluating a content management platform
Once he was cognizant of Aspire's needs and what they wanted to achieve, Raghu and his team were on a conscious hunt to invest only in the necessary tools. 
The criteria for consideration were clearly stated. The platform had to: 
Be a DIY platform that's comfortable to use (with a minimal learning curve) 
Have a great UX and not be clunky
Help Aspire address all its content problems
Cut down the back and forth communication internally and externally 
Be easy for new hires to learn and adapt
Give a holistic view in each vertical to the prospect and take them on a structured journey
Arm the sales team with the power to personalize the relevant collateral, get in touch with leads, and analyze their consumption in a matter of minutes 
And above all, motivate Sales and Marketing to return to the platform and use it
Testing waters with Paperflite
When Raghu and the team came across Paperflite, they realized that the platform had the potential to fulfil their needs, but they had their doubts. 
But once they'd seen the product demo and had a detailed discussion with the Customer Success team, going for the product was a no-brainer. 
Paperflite was slowly rolled out to a small portion of the marketing team to test the waters. Cleaning up old content, organizing it in a structured way, adding necessary tags, updating descriptions and buyer personas for each collateral, and validating its relevance were all part of this process. 

This way, one collateral at a time, Marketing had begun to set the stage before the rest of the organization met Paperflite.
"When we decided to roll out Paperflite to marketing teams across service lines, there were a lot of gaps that had to be filled. The entire marketing team assisted us and we were able to lay the groundwork for the sales team to build on. Once that was done, we followed up with smaller tasks. 
We spoke to each of these teams and explained the tasks to be done. Post that, we'd gather again and analyze how the process was. A lot of the initial groundwork has really helped us!" says Veena.
Laying the groundwork before the reveal
Subsequently, Aspire also created a dedicated sales enablement team within the overarching content team since sales enablement was shaping up to be a key strategy for them. 
"We averaged at 20 to 30 collateral a month and sometimes more if there were conferences, events, or workshops. And this began to multiply at a steady pace," says Veena.
Since then, the ownership and supervision of content on Paperflite shifted to this sales enablement team. They made sure that the sales team was in a position to sign in to the platform and find the content they needed - in a matter of seconds.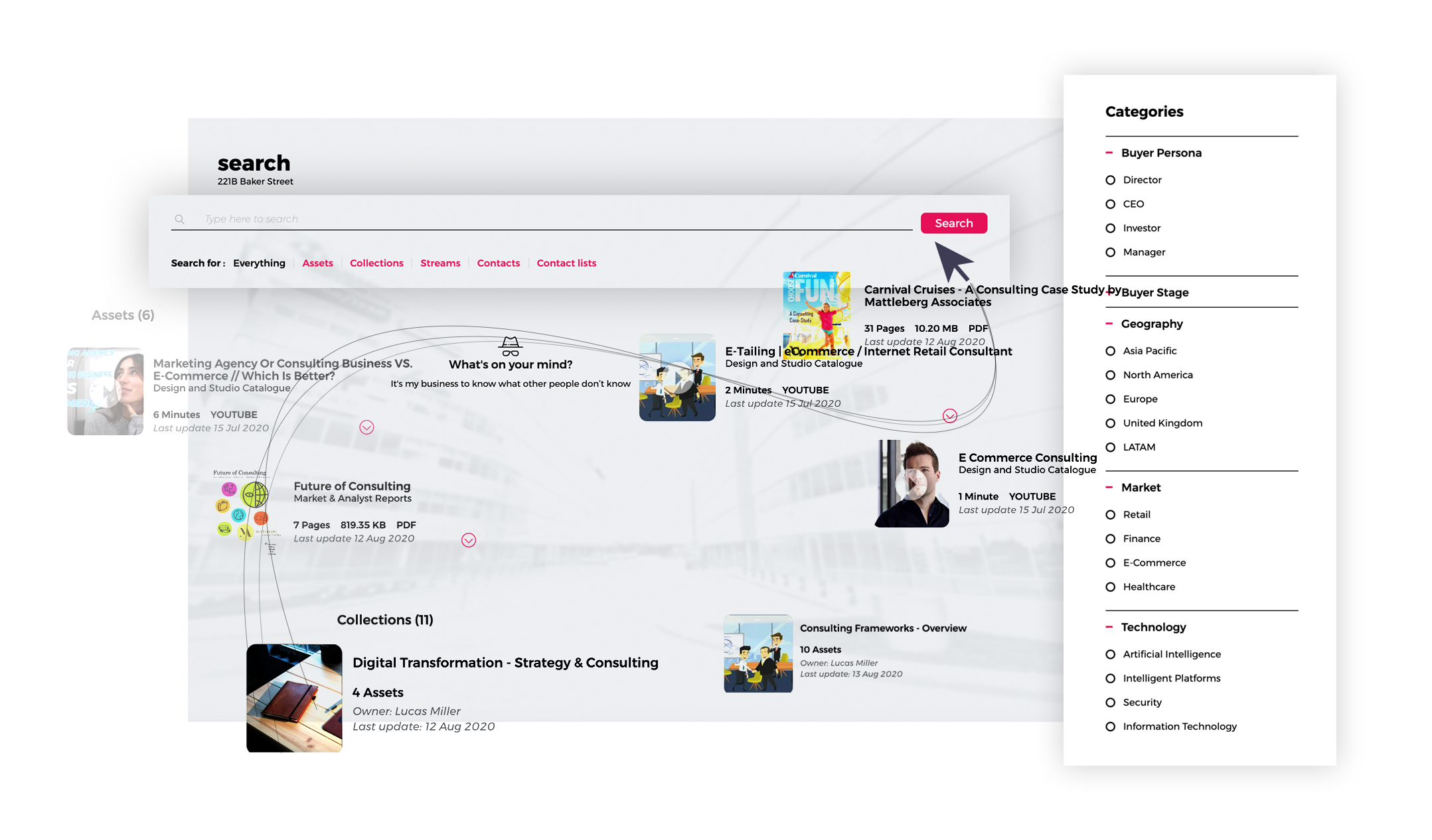 "Searching on Paperflite is like Google searching something and getting the results in the next couple of seconds. And we want to give a similar experience to our sales team so they can find the content they need and use it as they see fit," says Raghu.

The big reveal to Sales
Once Marketing concluded its prep, the sales team met Paperflite. 
"We introduced the platform to Sales and walked them through the product. When they looked at Paperflite, they found it better than what was exposed to them in the previous experiences and that gave them the initial motivation to try out the platform. 
Right after the session, we saw heavy traffic in terms of people going to the system, getting the content in, and just checking it out. I think it was an amazing feeling at that point in time!" recalls Raghu.
There was consensus within Aspire that they'd found an amazing solution to their platform issue. All they had to do now was scale their content creation efforts strategically and take it to the next stage. 
Armed with Paperflite, the conversation moved from a platform perspective to the crux of what Aspire was trying to address.

Getting creative with ABM
Even though Aspire Systems initially viewed Paperflite as a sales enablement platform, they realized they could get creative with the platform once it became a part of their everyday activities. 
"We started looking at Paperflite not just as a content platform, but as a marketing platform. Because a content platform can be seen just as a repository. But Paperflite has gone past the notion and now we wanted to know how we can use it for our campaigns. Moreover, the platform in itself generated interest in terms of being creative in all of our campaigns," says Raghu.
Add to the mix justifying this investment to the C-suite and it sums up every marketing team's existence.
So Aspire's marketing team began to work with the Customer Success team at Paperflite to learn the know-how.
Several rounds of cappuccino and conversations later, Aspire Systems was ready to deploy Paperflite in their Account Based Marketing strategy. 
"We never thought of Paperflite as an ABM tool, but are now using it to target accounts with hyper-personalized content. We are able to look at who's coming, how they're interacting with the content, their pattern, and the like. So in that way, I think my team is also motivated to try out different things. And we're seeing Paperflite as a default part of any campaign right now," says Raghu.
"We are also exploring a content 'structuring' strategy," he continues. 
"Let's say, I've put an article for example to suit a CMO persona. Now how do I structure the platform in such a way that when this CMO comes in, he's served with content that is tagged for his persona? So it's kind of going a level deeper rather than generic and is much more contextual to each persona. It's very aspirational and that's what we want to be," he finishes. 

The first wow moment
"I still remember the first probably major ABM campaign we did a couple of years ago, where one of my team members said, 'I'm going to send this campaign to a specific retail chain, and let's see who first bites'. 
Saying so, she sent it to most of the C-suite leaders of that chain. And when one of them actually replied, we were able to see that they had gone through the entire content storyboard we created on Paperflite! And that was kind of our first wow moment," recalls Raghu.
Storyboards as conversation starters
"Storyboards were interesting because it was not only about how we address a challenge when talking to prospects but primarily about getting and holding their attention. A storyboard was a logical and step-by-step process and our sequence looked like this:
Address a challenge
Highlight industry best practices
Talk about how the prospect's competitors are operating
Mention the kind of solutions available and 
Finally, introduce ourselves and explain how we can help them mitigate those challenges 
If a prospect has gone through all those phases of our content and the story that we knitted for them, then that's a very good way of gauging how engaged he/ she is, irrespective of whether we have a deal or not. And having this kind of positive impression in the initial stages of engaging with the prospect is crucial. So storyboarding helped us do that," says Veena.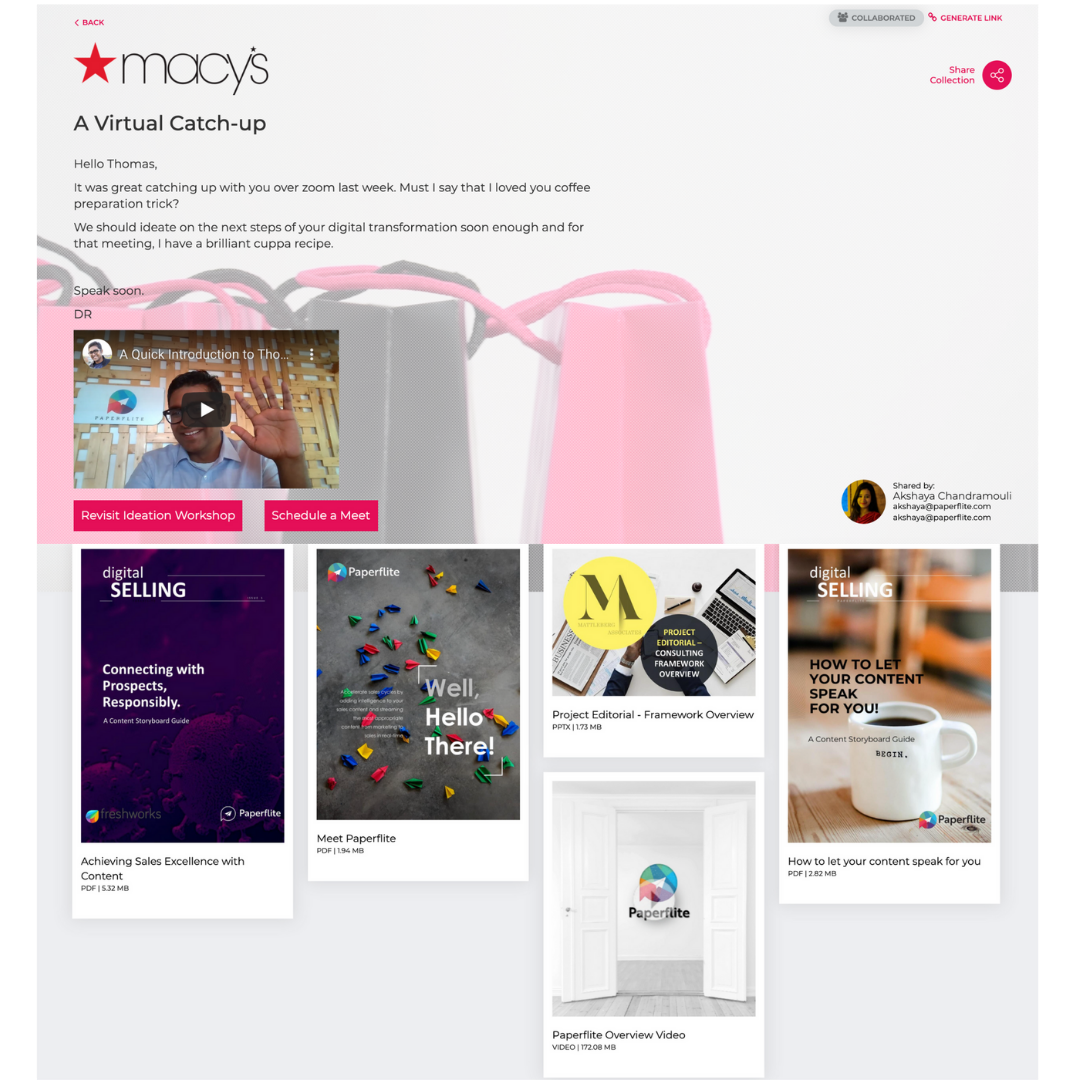 The delivery team meets Paperflite
As Aspire began to roll out Paperflite to Marketing and Sales in its entirety and saw huge success, Raghu wanted to take it up a notch and introduce it to the delivery team.
"Our delivery teams work in parallel with our existing clients. At the time of introducing Paperflite, this team had 45 members. The delivery team handles client accounts and the end-to-end proposal setup. Since they work with 1000+ collateral on a yearly basis, we wanted to house them in Paperflite.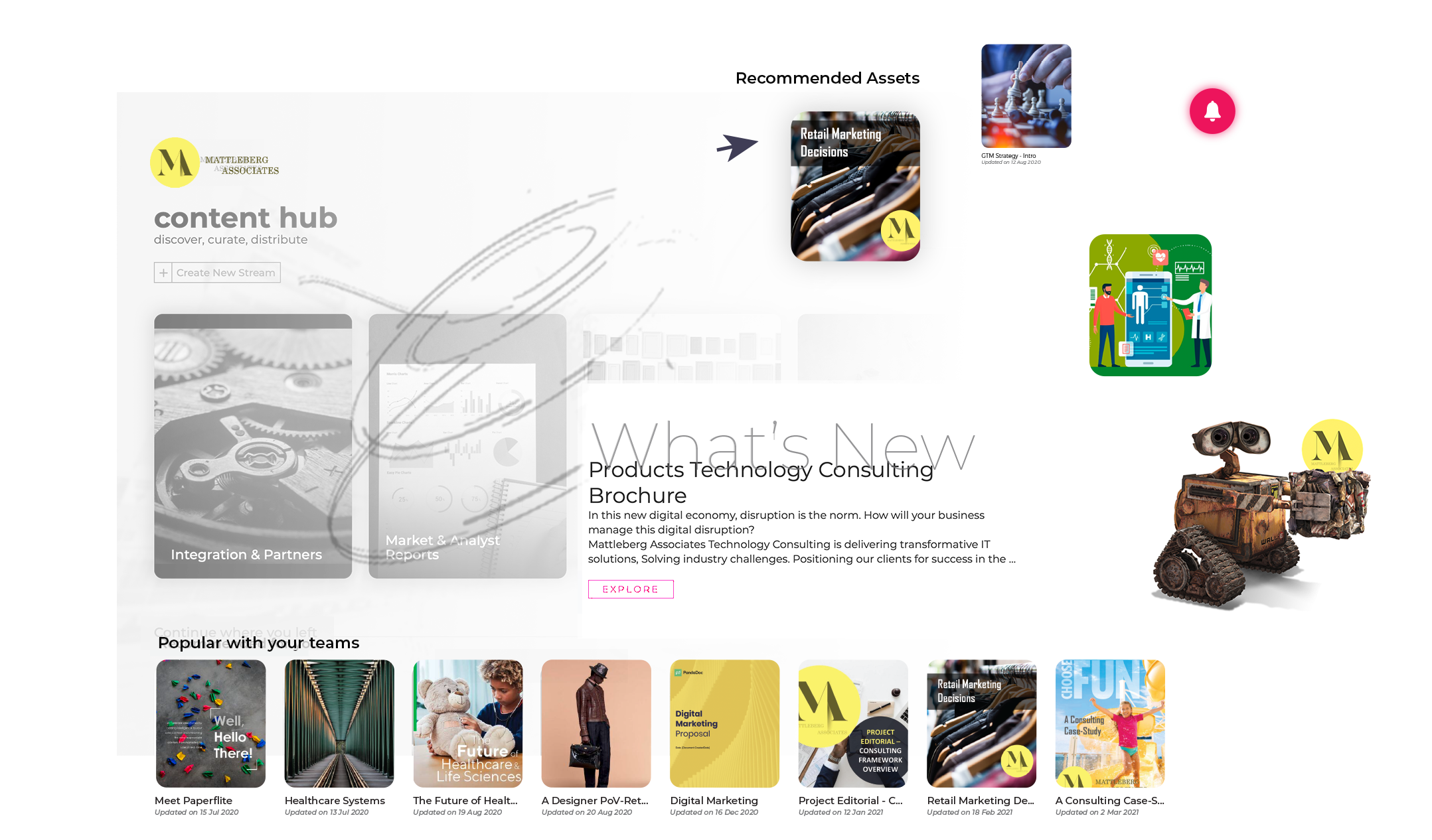 This way, the marketing, sales, and delivery teams had access to all the collateral we owned and Paperflite became the single source of truth for the entire organization," explains Veena. 

Results seen
"It's all fun and games talking about the process. But what results has Aspire seen?"
Fantastic question. And here's the answer to your burning question:
See what content sells
Aspire's content spectrum included videos, white papers, case studies, and a lot more. So it was crucial for them to identify the kind of content that worked well with their prospects and clients.
"We recently found out that a lot of people who came for our webinars didn't watch for more than 10 minutes. So we pivoted our content strategy and started producing a lot more 10-minute videos," says Raghu. 
"It takes a lot of time to build a 50-page white paper even when you try to keep the content minimal. And this includes all the relevant infographics and graphs. When we spend this kind of time and effort, we want to know if the reader stayed with us till the end," continues Veena.
"So those were game-changers for us. We were able to answer questions like:
What is it that the reader is are looking at? Are they just speed reading? How much time they are spending on a particular page?
With this information available, we were able to personalize the content further, especially for sales," she finishes. 
Aspire Systems was also able to clearly identify the kind of content that was getting them the leads. This helped them set clear purpose and expectations for every piece of content they created.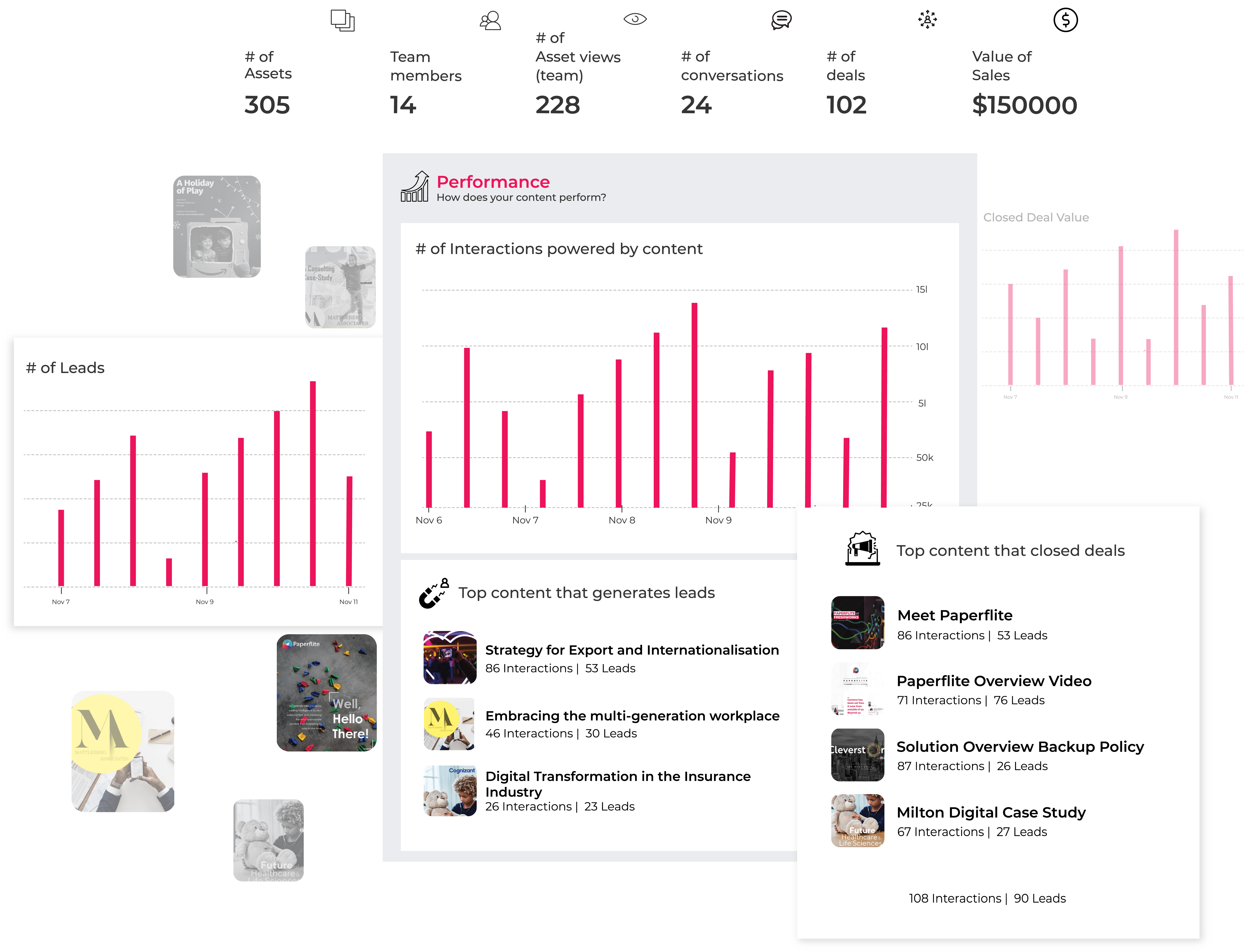 Uncompromised security
Beyond the metrics, Aspire had to ensure that the collateral they shared didn't end up in the wrong hands. Here's Veena:
"From a security perspective, we were able to email gate our content and keep a tab on who was accessing it. We didn't however add a gazillion form fields and restricted it to just the business email IDs.
Paperflite also gives us the option to set up passwords for sensitive content. If you want the collateral to be read by only a certain set of people, you can customize the links, and as well as set up passwords for it. So that way, it's very secure and easy to share on the cloud.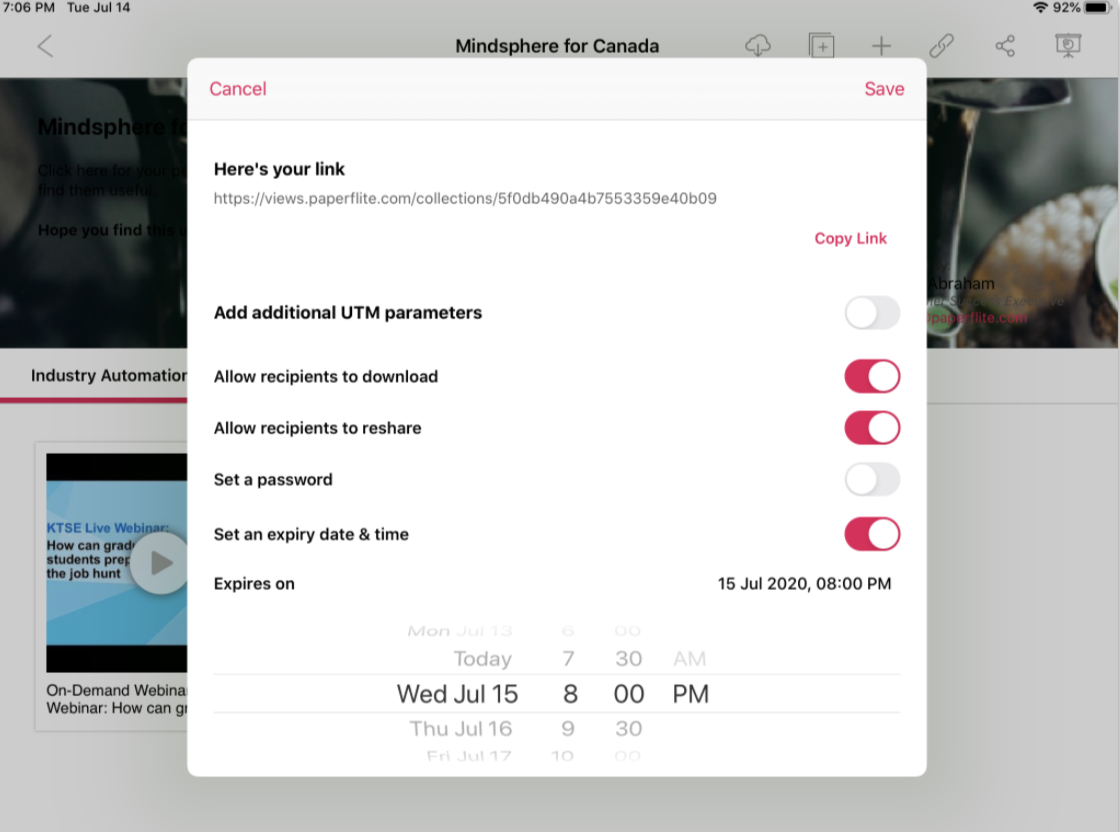 Since analytics was tracked for every single person, we were able to identify which user from which organization saw the collateral, interacted with it, and spent what amount of time.
Recently, we were also able to see that the IP address is being tracked and this helped us zero in on the geographies of our prospects and tailor our future content accordingly. Before Paperflite, we had paid sources to give us this data. Even then, the data would say something else and the person was somewhere else.
Also, because of the COVID pandemic and remote working, people have shuffled around a lot. So getting that information of their locations and the browser gave us a lot of clarity". 
Data-backed content personalization
"Once we knew what content worked best, we began to double down on our key accounts to increase the chance of closing that deal. Paperflite gives us that edge where we can let the data reveal to us what should be our next collateral or next conversation element. 
We were now in a position to personalize the future course of conversation according to the prospect's preferences. Because personalization is not in the future, it's here now."

Improved relationship between Sales and Marketing 
"Complaints from Sales have gone down and the relationship with them has definitely improved. They don't have a reason to complain in terms of collateral anymore! They search for a specific location or a specific topic and get numerous instant results. 
It takes us less than 3 minutes now to find and share all the relevant collateral we need," smiles Veena.
The time saved would approximately translate to $84k in savings for each sales rep. EACH of them!
"Team collaboration has also improved manifolds. Everybody is aware of the collateral that are being added and personalized Collections are made when needed. Personalizing a storyboard for each account takes us less than 10 minutes! We even had an activity where we made sure that every team creates a storyboard and runs a campaign."
New standards for Sales Enablement
"We are setting up new standards in sales enablement for our teams. We want to make sure that these practices are carried out not only by the sales team but by different levels of marketing and sales team across the organization. There is complete transparency in the ways of reaching out to clients as well as the kind of collateral created for that," reveals Veena.
Aspire has also pivoted from creating top-of-the-funnel content to sales enablement content. And Raghu being the incredible storyteller that he is, explains the reason for this pivot with an icecream analogy:
"There's Guy 1 and he thinks of ice cream all day long. And there's Guy 2, who has stepped into an ice cream shop and considering which flavour to pick. Our sales enablement content should target the one who's already at the ice cream shop and not the one who's only thinking about ice cream!" he finishes.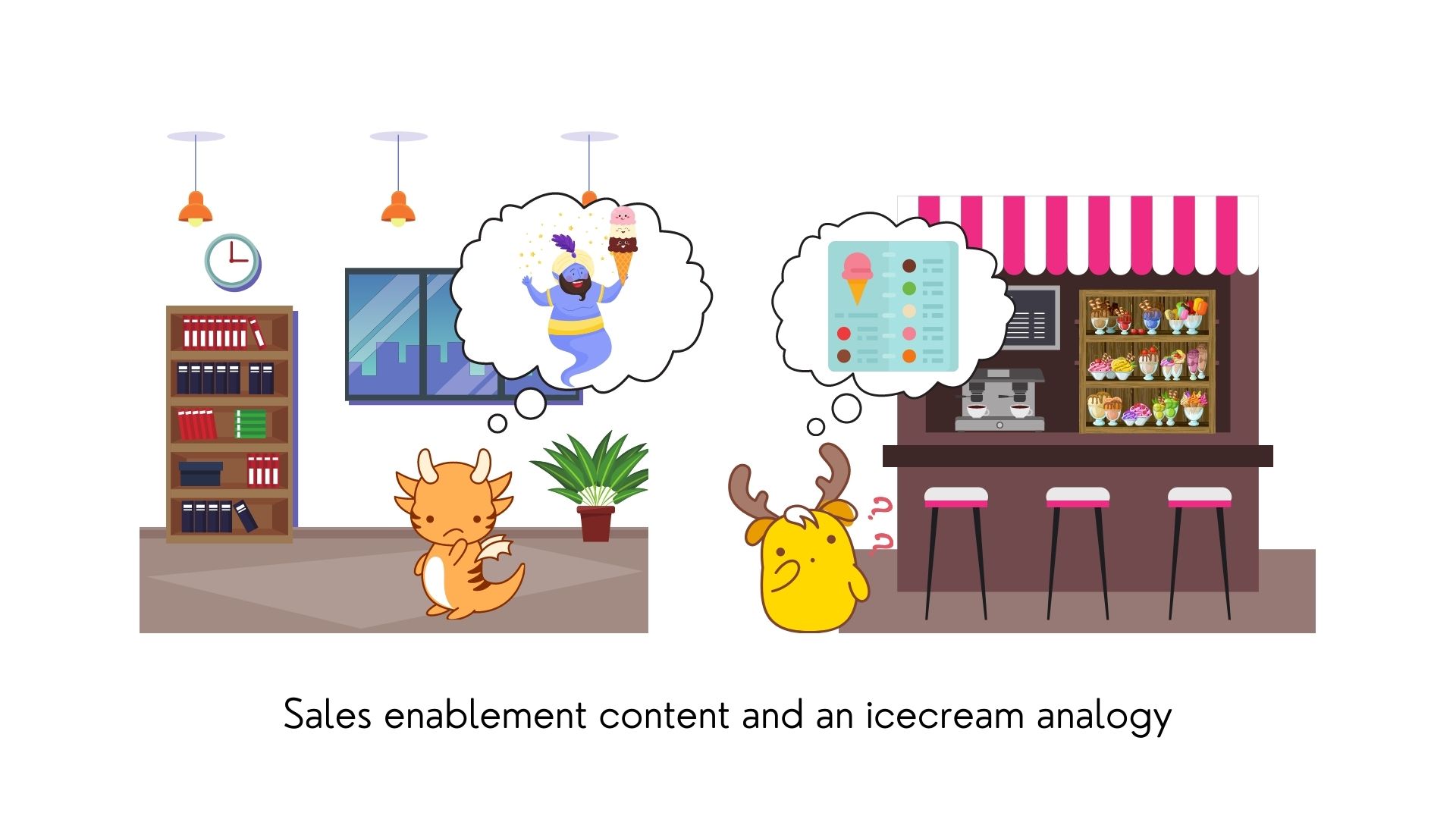 Power to play fast 
Veena goes on to further explain how the Paperflite mobile application gives her the power to play fast:
"I'm working out of India and currently catering to the sales in the US. So there is a definite time lag. But when I have to check an email immediately and act on it, I don't need to always switch on a laptop. The mobile app gets the job done conveniently and it's easy to just drop the collateral and send it across! If I have to, I can create a Collection quickly and send it across on Outlook because it's integrated with Paperflite. It takes me less than 10 minutes!".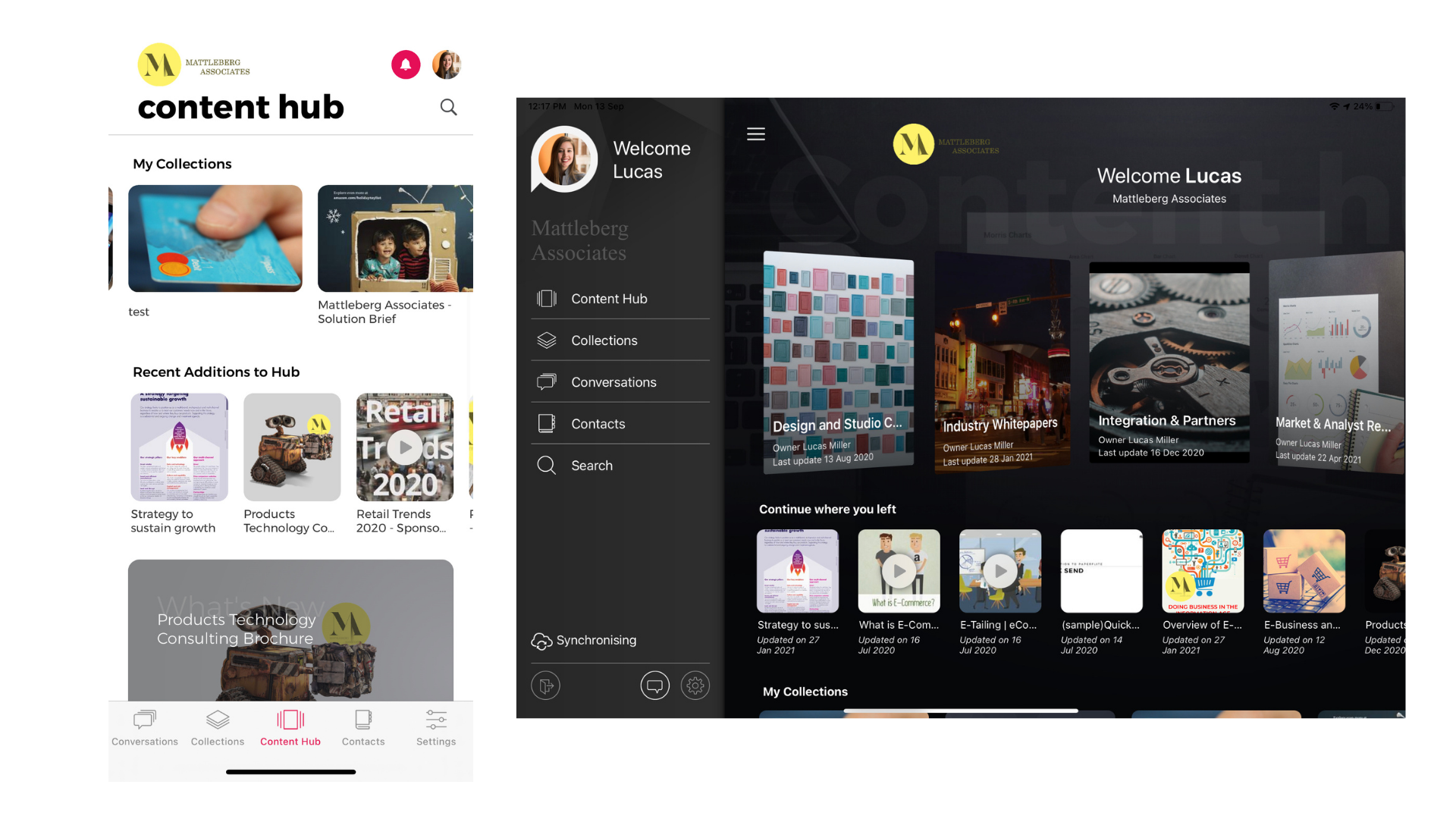 Internal playbooks for a new offering 
There has been a drastic change in the way content is now marketed at Aspire and it continues to evolve. And even internally, the marketing team has found an interesting way to use Paperflite when they have a new offering.
"Let's say we're rolling out a new offering today. We call it XYZ services and it has the latest machine learning automation, RPA, and other technicalities. Now if we have to roll it out to sales internally, we have to educate them first. 
Figuring out how to educate sales or even the calling team, whose job is just to make calls and get some appointments done is crucial for the success of this offering. And this becomes challenging in today's remote working setup. 
Even when we can have one on one conversations and virtual team meetings, it still doesn't cover all the bases. So what we try to do with Paperflite is to build a sales playbook, add all the material, and package it in a way that you have:
An email template
A sales call link script
Probably a video testimonial or a case study or a use case of the business benefits and 
Details of how we set out the target audience for them
And that's how we roll it out. It's now much easier for us to introduce a new offering internally and equip the team better to sell it out in the market," Veena finishes.

Faster induction for new hires
Aspire has significantly brought down the time and effort spent in inducting new hires with the Paperflite platform. 
"We direct the new hires and tell them 'Log in to Paperflite, you have everything. If you're still lost, there is nothing to worry about. You have a nice search system that's equivalent to a Google search and you should see immediate results because we've already set up the internal customizations'. All of this takes us less than 35 minutes (from 2 days earlier). 
I should thank Paperflite's Customer Success team for hand holding us and showing us how to customize the platform to meet Aspire's requirements". 
And a very happy marketing team 
"Above all, life has been made easy for all of us as marketers when compared to three or four years ago. We're no longer bombarded with requests for collateral because it's all there on the cloud and it's safe and secure. 
If we see the report now, we're able to see the growth in the number of users, the number of collateral, the search results that we get, how much and how far we used these collateral for different marketing campaigns. And when we integrated Paperflite with a lot of the other tools we were using, it gave us a solid platform to scale up.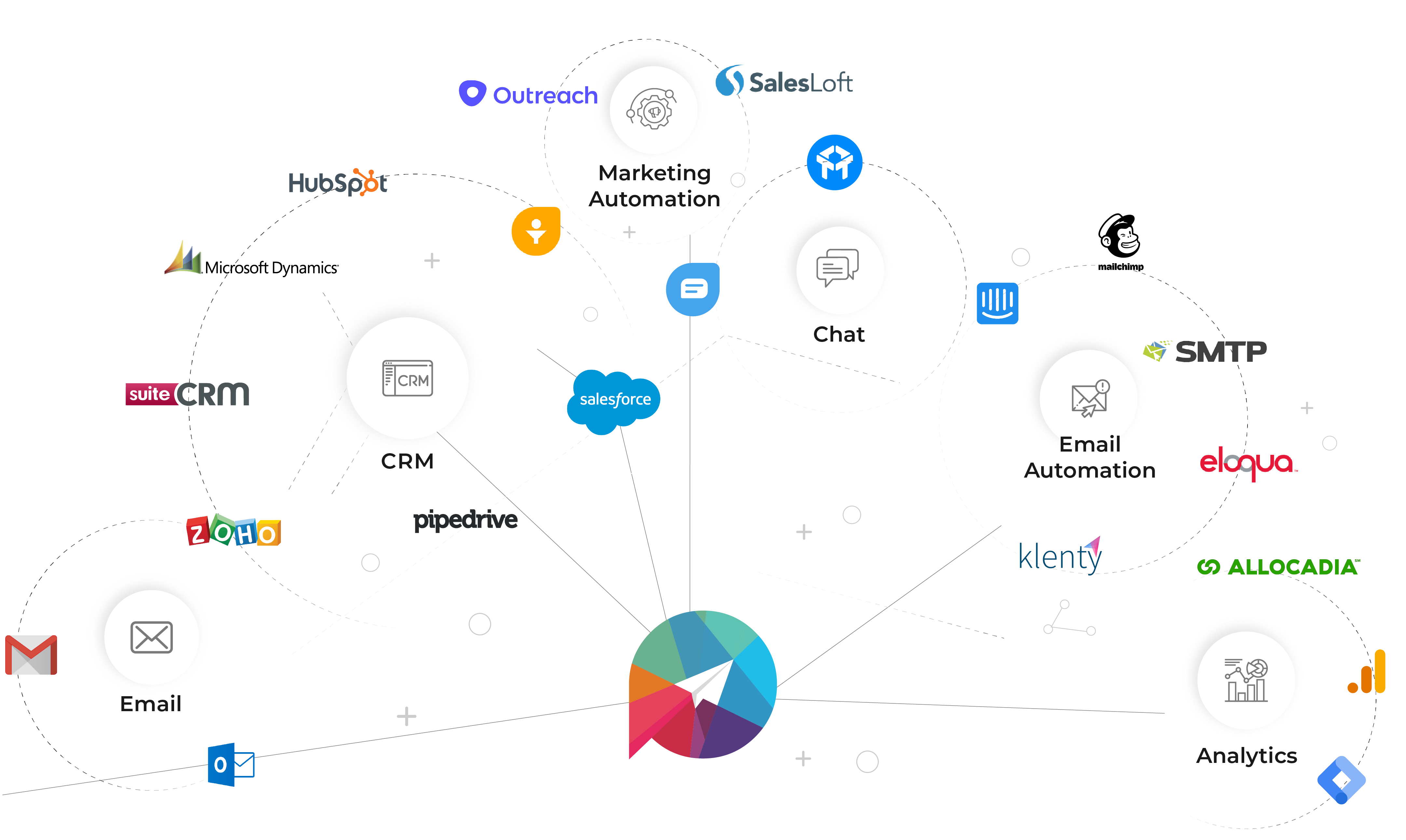 Paperflite has given us a granular level of insights in content, which was lacking earlier. Because of that, we are empowered to do better content today. We can adapt to change, and personalize it to suit our needs. So that is something that Paperflite has done for us. And it's improving and there are a lot of new features being introduced.
Things are getting much easier. So I think there might be a time in the future when we probably will not even need a creative designer or strategist. You will be a one-man-army with Paperflite!" says Veena.
Way forward
"We produce hundreds of content every year.  And with Paperflite, we're able to see what works and what doesn't. Moving forward, we want our sales team to be able to determine the exact actions they need to engage in, using Paperflite's data. We aren't there to a tee, but that's one of the key goals for our content strategy in the future.  
The way we're looking at content from a website perspective can be boiled down to answering questions such as:
How many website visits do we have? What kind of content are visitors consuming? How can I align that back to my content strategy? 
And that's something we are actively looking at. Right now, we are doing it to a limited extent but we want to expand on that. There are a few resource barriers we want to overcome in terms of human capital as well. So these things are aspirational and we want to do it," says Raghu.

Keeping up with the Kardash Paperflite
At least one person from the marketing or sales enablement team attends the monthly product webinars that we host at Paperflite. After each of these webinars, this person then determines ways to circulate this information and educate the rest of the team.  
"For example, Account Based Marketing is a key strategy at Aspire. So if there are new features introduced in Paperflite, we try to use these features in such a way that it strengthens our existing processes.  We would then demonstrate the new features to each team and give them 3-4 weeks to implement and test them out.
But what we are also trying to do regularly is just like Paperflite has got the feature videos, we've also put up some feature videos using our setup in the Paperflite portal. And that serves two purposes: 
New hires in Marketing, Sales, or Delivery can just have a look at it and get started right away. They don't have to go in search of a person to get a product demo 
Update existing users of Paperflite with the new features. Whenever a new video is added a notification is sent out. We no longer have to worry about communicating it internally"

Who would you recommend Paperflite to?
"If sales enablement strategy is a key aspect of your organization and you know that it is crucial in terms of building a content-driven strategy, then Paperflite is a must. I think every marketer's dream is to ensure that the sales team uses his/her content. With Paperflite, that will no longer be a problem. After that it's up to you on how good your content is; the platform part is taken care of, " concludes Raghu.
Want to see how Paperflite can help your business? Talk to us now!