Best White Paper Templates For New Markets
Creating a White Paper for a New Market? Here are key insights how the top companies are nailing it
September 06.2018
6 minutes
Entering a new market can be tricky for even the most seasoned businesses who are spread across the globe. A lot of time, effort and money are spent in terms of planning, budgeting, research, feasibility study before the new office is unveiled to the public.
All businesses are likely to face questions for which they don't have immediate answers – for example:
Do we set up a new office or do we partner with a local vendor?
What are the laws and regulations in the new state/country?
What are the taxes applicable to our business?
What will be our marketing strategy?
Is talent available in abundance or do we think about nearshoring?
What is the time period between filing for a new business proposal with the local government and making the first sale?
Are you in the business of advising clients on what are the things that they need to keep in mind as they mount their plans on the drawing board? A white paper is a thoughtful piece of marketing collateral that you can put out to educate your customers on what they're likely to encounter. It can become a brilliant lead magnet for the product/solution/ expertise that your business has.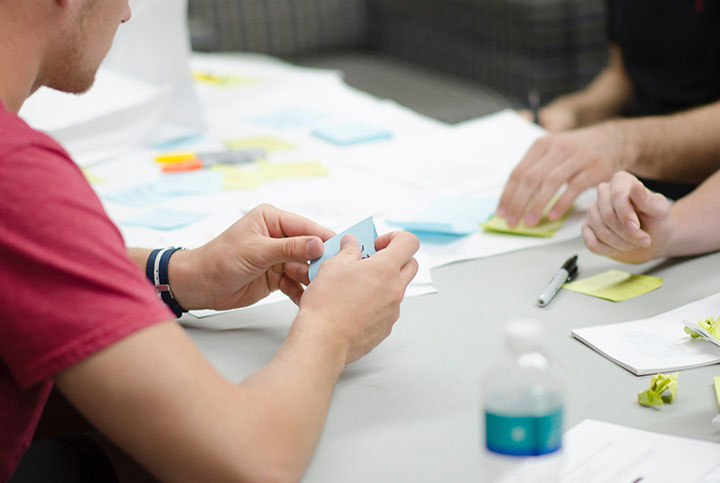 So, how does a prospect become a customer after reading your white paper? Prospects can read through your white paper and come back to you to know more about what lies ahead and even buy what you have to offer – be it consulting services, advisory, legal, regulatory etc. That is the potential of a white paper. It is perfect marketing collateral for the middle of the funnel where prospects are exploring more about their challenges and trying to find the most suitable solution. Read our post titled "The Best White Paper Examples for B2B Marketers," to uncover key insights and examples from the top companies across 10 industries.
But, entering a new geography is a different monster that cannot be easily tamed. Just so make it easier for the content creators in you, we have scoured the web and identified the best white papers by the top companies which will give you a fair idea of how to go about it. Here is the list and our reason why we like them: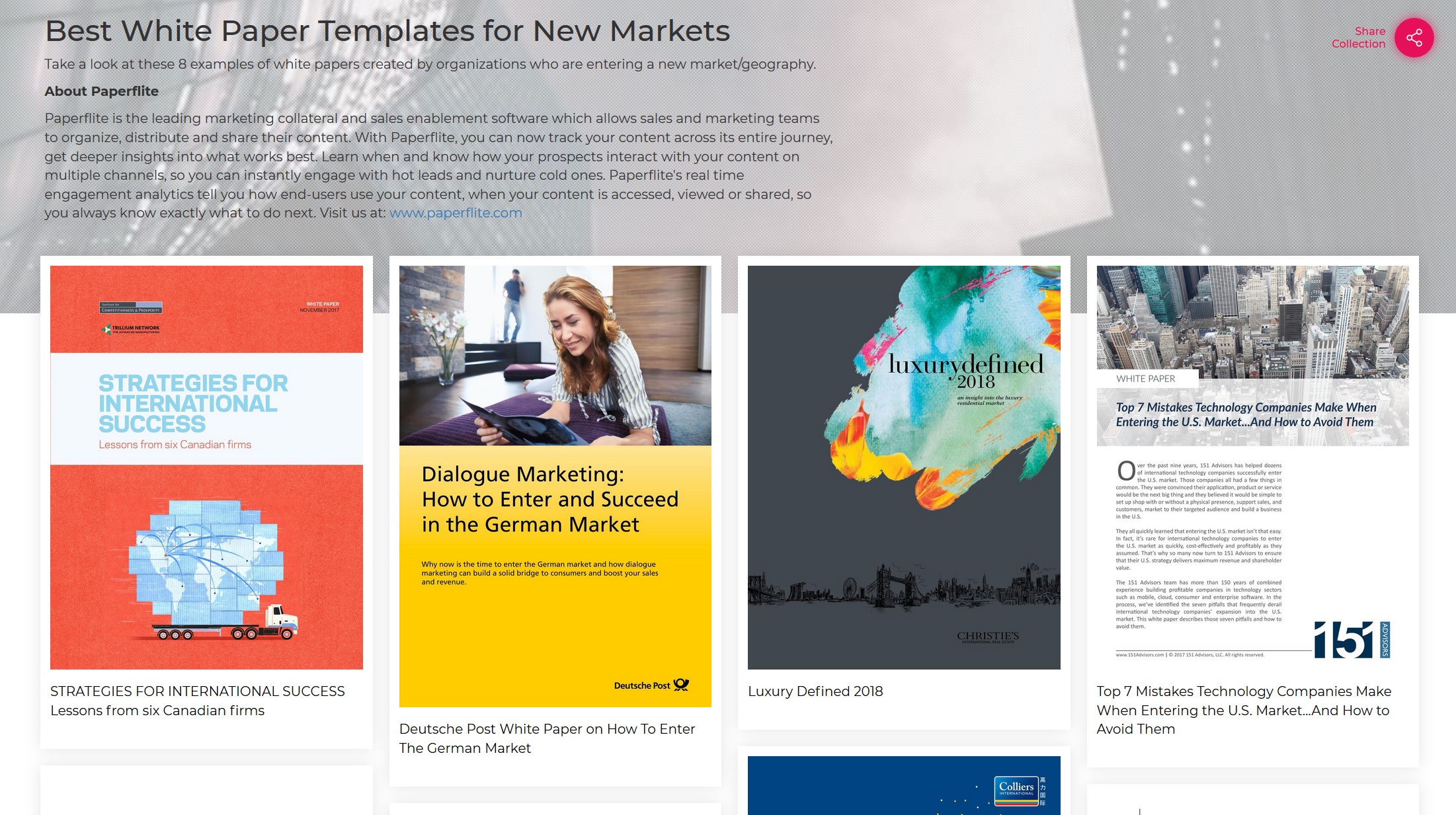 1. Dialogue Marketing: How to Enter and Succeed in the German Market
Company: Deutsche Post
Why do we like this?
This white paper talks about the importance of 'Dialogue Marketing' for e-commerce business in Germany, a market where online shoppers fear high shipping costs, long delivery times and lack trust in foreign goods. It neatly assimilates its argument of why Germany is one of Europe's key markets for online shopping, the demographics of the average German customer and how Dialogue Marketing can help crack the market. Besides, it also explains the approach and tools that companies can take as part of their Dialogue Marketing efforts. Now, why would Deutsche Post put out a white paper on this topic? Because if there are more e-commerce vendors selling cross-border to German shoppers, then more packages and parcels are likely to be delivered which means more business for them. We call it smart thinking!
Company: Christie's International Real Estate
Why do we like this?
A subsidiary of Christie's art auction house, Christie's International Real Estate outlines the shifts and trends in global luxury real estate, taxes applicable on luxury properties, the threat of natural threats on prime property markets, hidden luxury gems etc. across 81 prime markets. It opens with a foreword by the CEO himself that sets the tone for the manuscript, which is a clever ploy by the company. Luxury real estate is a very niche market with high-profit margins and most often a personalized outreach like a letter from the CEO could be a deal clincher. They have even included their own rankings in the white paper in the form of 'Luxury Index' and 'Luxury Thermometer' to give readers a sense of the prime real estate markets. Embedded with impressive imagery, it is an excellent piece by Christie's that helps them educate their target audience (the richest class of society) on acquiring luxury real estate. This document makes them an authority in the subject and could create multiple leads for Christie's.
3. Top 7 Mistakes Technology Companies Make When Entering the U.S. Market
Company: 151 Advisors, LLC
Why do we like this?
Firstly, we like their headline. Although it could have been a good headline for a blog, the fact that they chose to create a white paper out of it speaks about their zeal to do serious business. Every mistake that management at technology companies make has been detailed and the remedy that 151 Advisors offer is also documented. That way, readers know what mistakes are most prevalent and their solution is right there in front of them. The company has drawn from their deep expertise in advising tech companies, so their content is original and not dependent on any third-party research.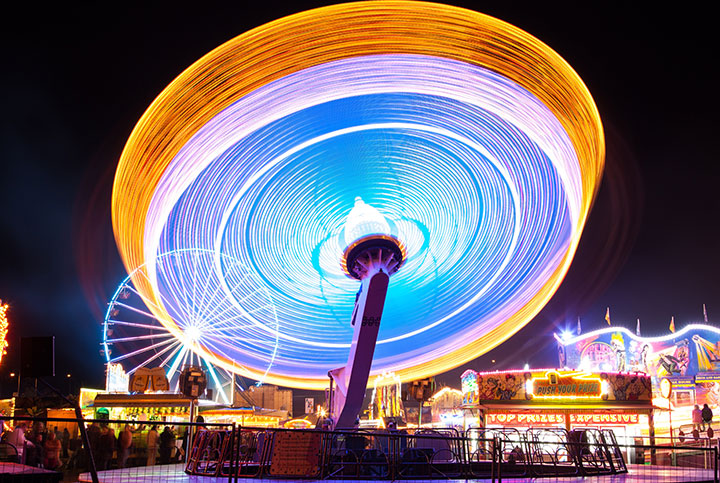 4. China Theme Parks: A Magical Journey Ahead
Company: Colliers International
Why do we like this?
A very well illustrated marketing collateral, it is a white paper replete with numerous charts and figures (that exhibits the depth of research undertaken to create this document) about the development of theme parks in China. It lays out the reasons for the mushrooming of a number of theme parks in China, their history, a reason for a surge in demand, ticket price analysis and most importantly their impact on the local economy. Colliers International is a commercial real estate company in China and this document certainly shows their deep expertise and understanding of the way theme parks work in China. Theme parks involve large investments that are recouped by companies not just by ticket sales, but also from hotels, restaurants, retail etc. So, in essence, this white paper could warrant interest from a multitude of prospects across industries.
5. Global Green Power: How International Markets Are Changing Clean Energy
Company: Schneider Electric
Why do we like this?
Schneider Electric's white paper on green energy is a comprehensive document on how clean energy markets are developing, as well as the unique products and standards available to meet the needs of the institutional buyers with global operations (Schneider Electric's target audience). The company not only showcases its dexterity on clean energy but also covers every emerging market in the world, the opportunities that lie for companies to capitalize on them and the need for buyers to procure internationally. One of the rare white papers in our purview that also explained with a case study showcasing how companies are doing it in real life.
6. Strategies for International Success: Lessons from six Canadian firms
Company: Trillium Network and The Institute for Competitiveness & Prosperity
Why do we like this?
Selling in foreign countries is not easy, but when you have a document that acts a lighthouse, then you're more likely to succeed faster. We were thrilled to lay our hands on this document. Because this is as direct as it can get. To hear from executives at companies that export to new markets on the winning business strategies, and then creating a white paper out of it is quite an effort. Page 5 of the document talks about the key questions asked the key findings, and recommendations – an entire research document encapsulated in one page. This is a must-have document for any Canadian company looking to export outside geographical borders. Every company's response to its questionnaire has been captured granularly. We believe if the company had interviewed a few more companies, it could have had enough material to produce a book out of it! The endnotes and comprehensive references make it a complete white paper.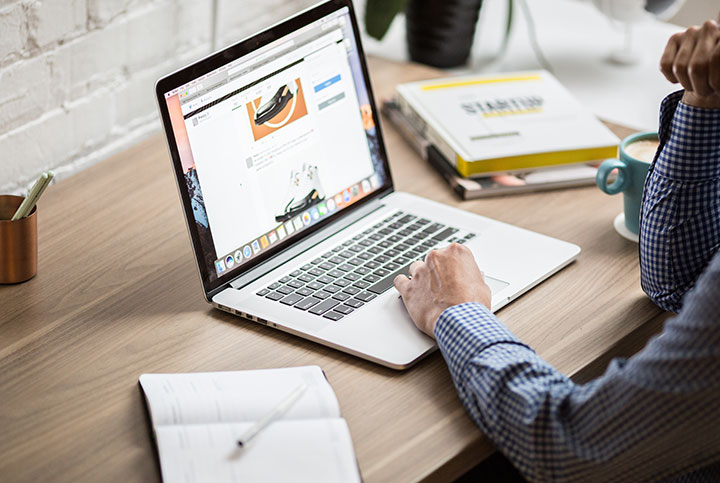 7. Strategy for Export and Internationalisation
Produced by: Norwegian Ministry of Trade, Industry, and Fisheries
Why do we like this?
We included this document because this is produced by a government organization (Norwegian government). It describes how Norwegian authorities are committed to facilitate internationalization and increase trade and investments to and from Norway. A white paper where Norwegian ministers have stamped their signatures, it gives a blueprint of how they intend to create value for their country through free trade agreements, bilateral investment agreements, policy frameworks etc. We like this document for its exquisite details that is embellished not only with charts, diagrams, and pictures but also highlights from their continuing initiatives. This goes to show that not just corporates, even governments are producing white papers showcasing what they're committed to for their countries.
8. Emerging markets: Four entry strategies for small and midsized companies
Company: Quintiles
Why do we like this?
This white paper addresses the prevalence of diseases in emerging markets along with some stunning facts (for example, cancer accounts for 15% of all mortalities) and how small and midsized firms can choose a strategy that suits them. While large-sized companies already have a presence in emerging markets or can easily figure out their way given the strength of the resources at their disposal, smaller companies might struggle. Quintiles has clearly outlined the 4 strategies which smaller companies can adopt – meaning don't go hunting around for anything outside of this. Page 4 of the document outlines the strategies along with the options and their different trade-offs. We like this representation because it clearly shows pictorially where companies stand and what approach they need to take.
Do you have any favorites that you wish to highlight? Write to us at karthik@paperflite.com and we will feature them in here.