12 Sales and Marketing Collateral to drive revenue in 2021
"Nothing makes me happier than a good coffee on a bad day. Nothing makes me angrier than a bad brochure on a good day." - Every Marketer Ever.
Ever attended a 3 hour seminar where time passes so slowly, at the 1 hour mark you feel like you're stuck in Deja Vu and you could swear everything is playing out at 0.2x speed in real life? 75 minutes in and you are assured that your late grandma, fictional childhood friend, and unborn 4 y.o could individually do a better job at making that PPT. 
That is how selling without collateral feels like. No one cares, the ones that do are here to save their jobs (your sales team), and the only way someone is buying from you is to make you stop selling to them. Yes, maybe your company is not the girl next door, fun, witty tech company. Maybe it's the professional and open Financial Advisor company. However, professional does not equal B-O-R-I-N-G. 
You really don't want your customers to walk away with mass printed brochures and a bored expression. You want the 'wow!'. At the very least, you want, 'hmm, interesting'. Your brand experience is going to be a collection of all the touchpoints your customer has. Your collateral carries your brand - whether to the grave or to a board room will depend on its quality.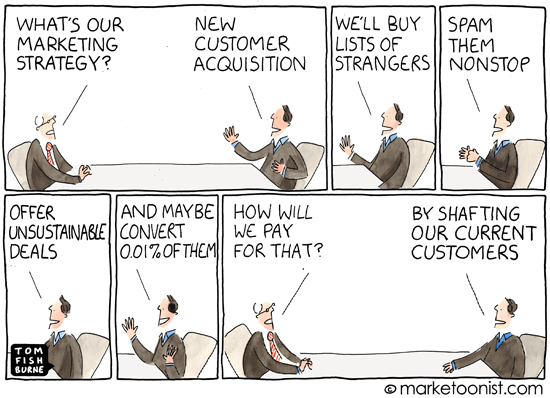 Yes, agreed, no one ever thought, "Hey, this is a super insightful blog, let me buy their $2,000 CRM software plan", but a lot of people often think, "Hey, I've seen their infographics on LinkedIn, read their blogs and whitepapers and I've seen enough testimonials, let me invest in their CRM plan." 
Having great collateral isn't just a great marketing decision, it's also common sense. If we wanted to build a website, we'd read up on how-to or watch a few videos. We won't call up wix or wordpress and demand a tutorial. You cannot expect your customers to walk into a sale. 
If you're looking to upgrade your strategy and design better collateral, here's the list of 12 collateral that are proven to drive revenue in 2021:
Infographics 
Remember how when we were young and if an adult asked us to read, we'd refuse to read any book that didn't have pictures in it? Tiny humans didn't outgrow these things, we just learned to rephrase them. Now we call them infographics.
Think of it this way, you're probably more likely to share memes and news slideshows than you are to read the news in the captions on Instagram. It's also why reading Manga barely feels like reading at all.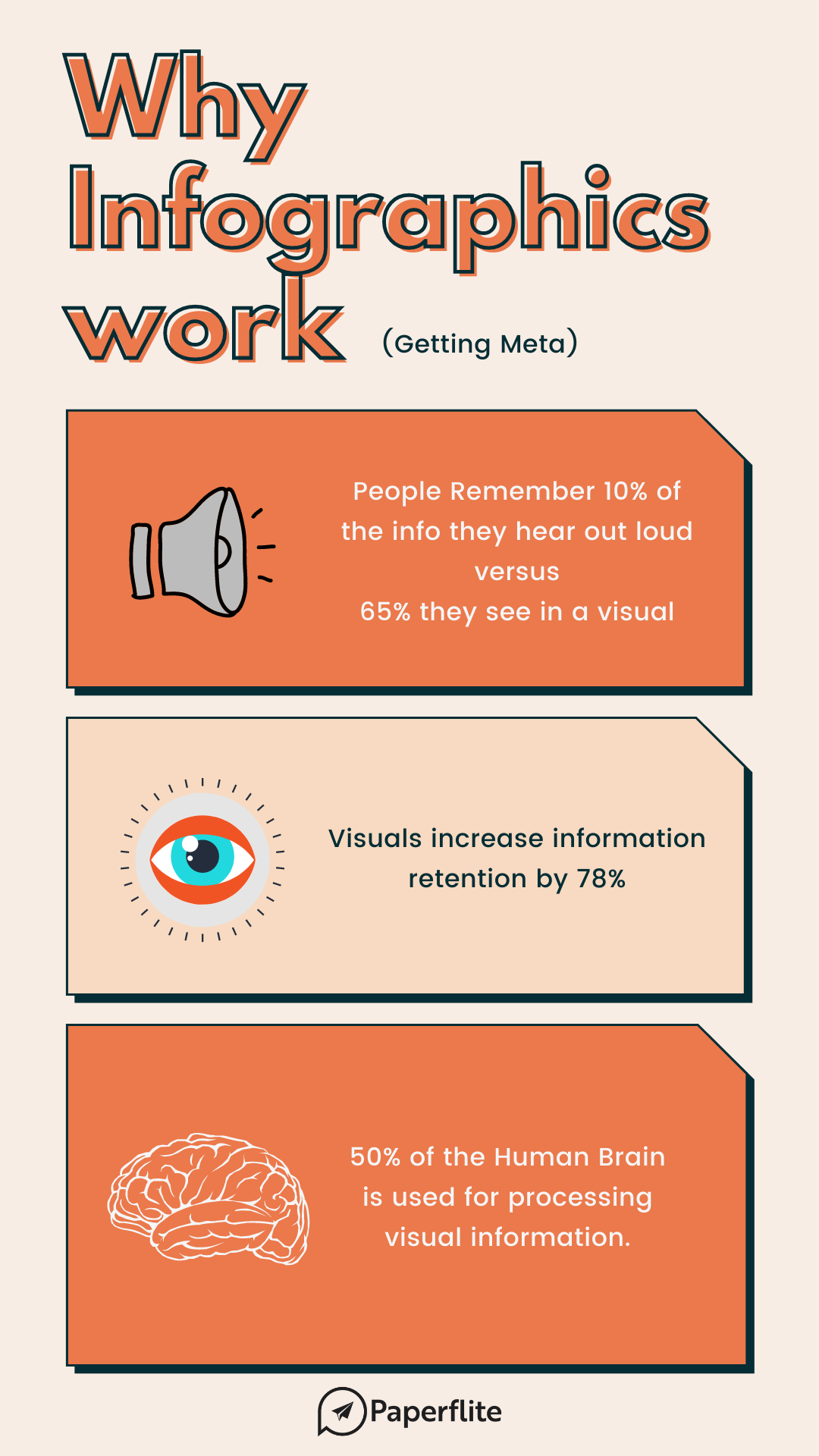 Infographics are crisp pieces of information that have been arranged in a visually appealing way to trick you into remembering pointers. (It's literally in the name!)
And to no one's astonishment, they work.  Kissmetrics was able to generate 2,512,596 visitors and 41,142 backlinks from 3,741 unique domains, with 47 infographics - way back in 2012! (Source)
Landing pages
If you're paying to run ads or have great organic content marketing strategies and those links land your audience on your website's homepage, oof. 
What a sin!
If you want your audience to take action, you can't expect them to read your website copy, go through all relevant blog posts, and then make their choice. 
You need to give them the information they're looking for (which is just right for them to make that purchase) and make them feel as though everything on that page was written just for them. That's how cool landing pages (and accompanying copy) can be.
If you want their info, give them a freebie and they'll happily fill up that form. (Give before you ask, that's the key.) Check out Lyft's landing page for drivers for reference, it appeals to their audience, makes you want to take action, and alter your life goals. Now that's powerful!
Your landing page cannot be a badly written blog that has links to every single thing on the web. Design them according to your consumer and what action you want them to take next.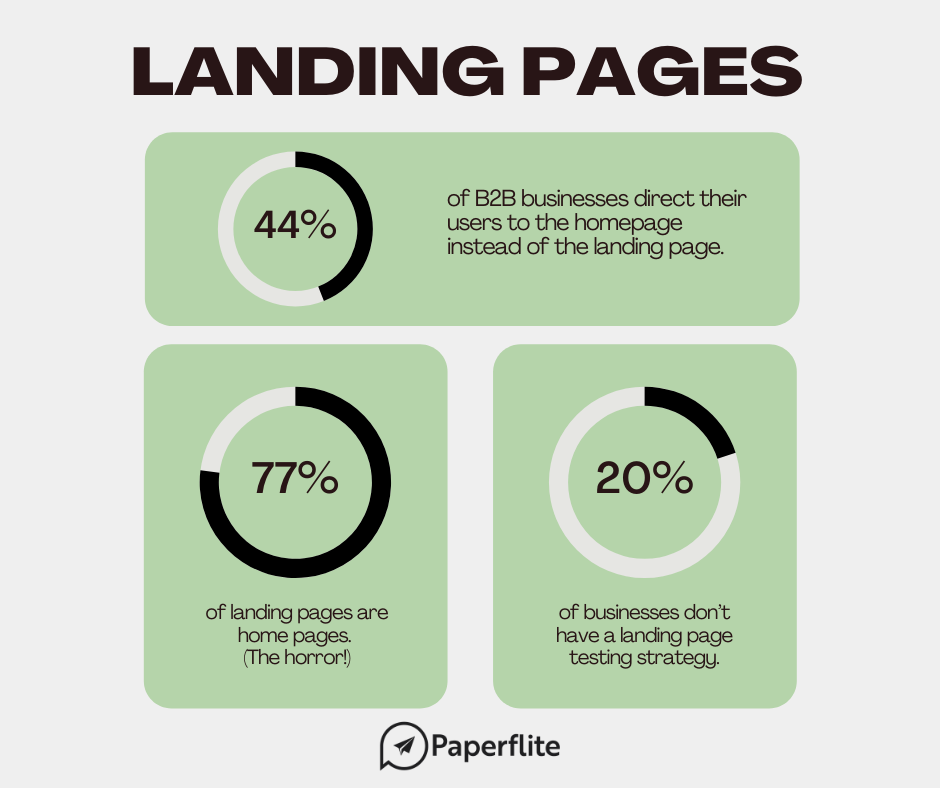 Elements of a great landing page :
Fluff-free copy
No jargon overload
Freebies before Forms (aka Give before you Take)
Relevancy
A clear case for your product/ service
Brand Stories
If you spend even a decent amount of time on LinkedIn or tune into marketing podcasts, you'll notice that 'storytelling' is a buzzword that gets thrown around like a frisbee. And just when you think the frisbee's gone far far away and is never seeing the light of the day again, it comes right back and hits you on your face.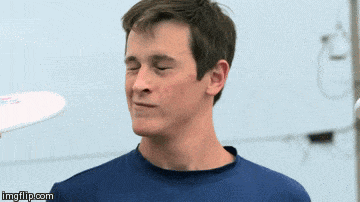 Set aside everything you've ever heard about stories on these platforms. At the core of it lies a simple truth - humans are emotional beings (why else would brands try to sell us insurance with those sappy ads?) and when we hear an inspiring/sad/ambitious story, we want a piece of it. 
Also consider reading - Stories, Vulnerability, and Binge-Worthy Content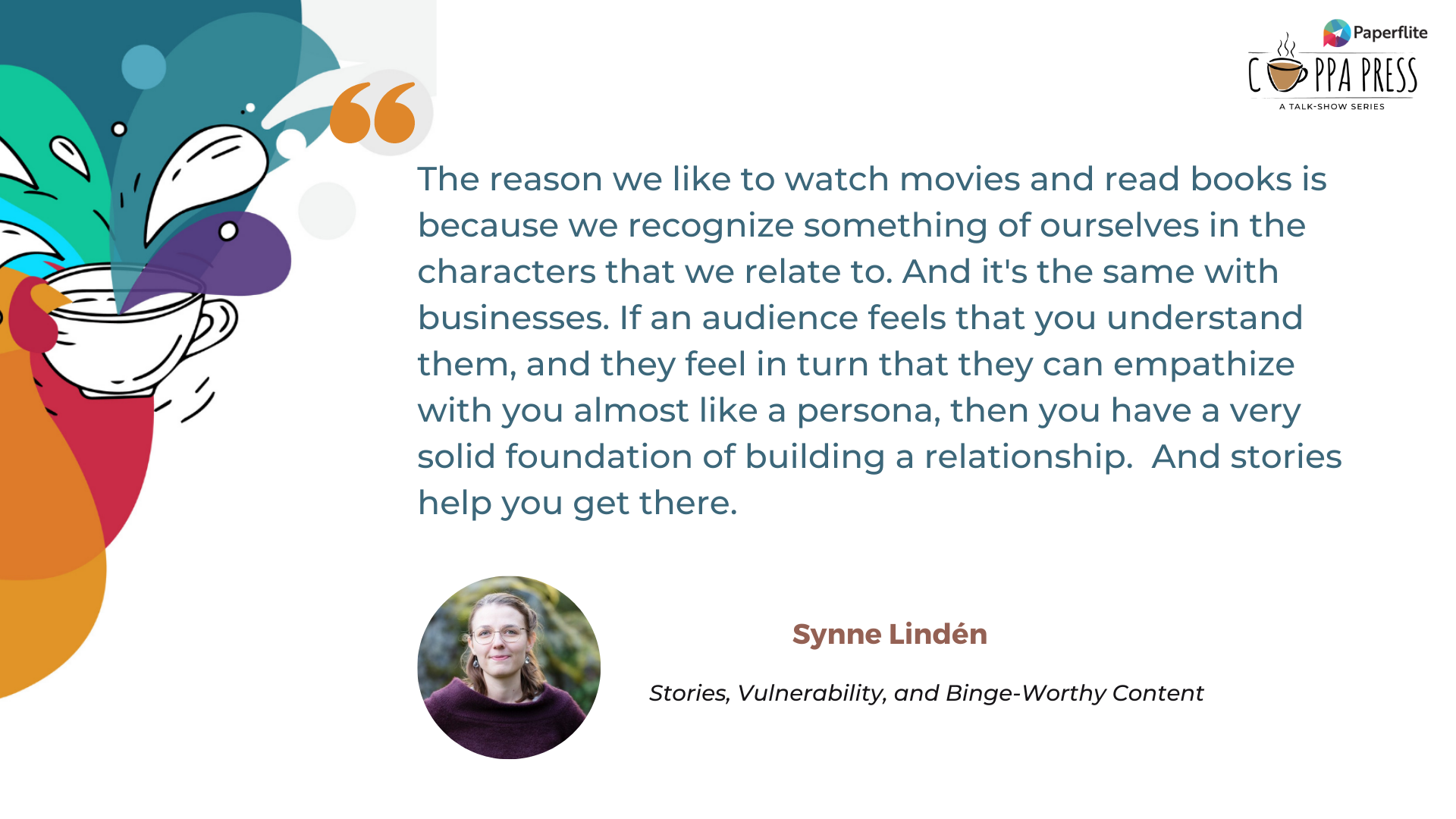 Your brand story is where you tell your audience your 'why'. And more often than not, it will affect your brand. (Why else would multi-billion dollar company CEOs pretend they started it all from their parent's garage, conveniently forgetting to mention it was the garage of a very, very fancy house?) 
Now, we don't advise you to lie, but having an 'About Us' section on your website will do you more good than bad. Great brand stories say a lot about a brand, making your brand accessible and loveable. 
This is not a place where you sell your product, it is where you sell you.
Podcasts
Yes, this list includes Podcasts. In 2021, podcasts are to marketers what emails were to them in 2005. 'The next big thing'. Let's admit it, people now have the memory of a goldfish and the attention span of a fruit fly. We're drowning in content and yet never have anything to do.
Don't be mistaken, no one is taking your podcasts seriously, it's probably playing in the background while your customer chops their veggies. However, because listening to a podcast is easier than watching a video, this is all the more reason for you to record them. 
Podcasts also help you build authority and position your brand as a thought leader. A podcast could be your audio Netflix for your brand! 
Here's an episode from Cuppa Press that goes one step further and says why you should tie live streaming and podcasting together. 
The key to making podcasts engaging is to: 
Do your research
Stay away from fluff
Focus on follow up questions ('what led you to believe that?' or  'I'm curious to know more about...')
Keep it fun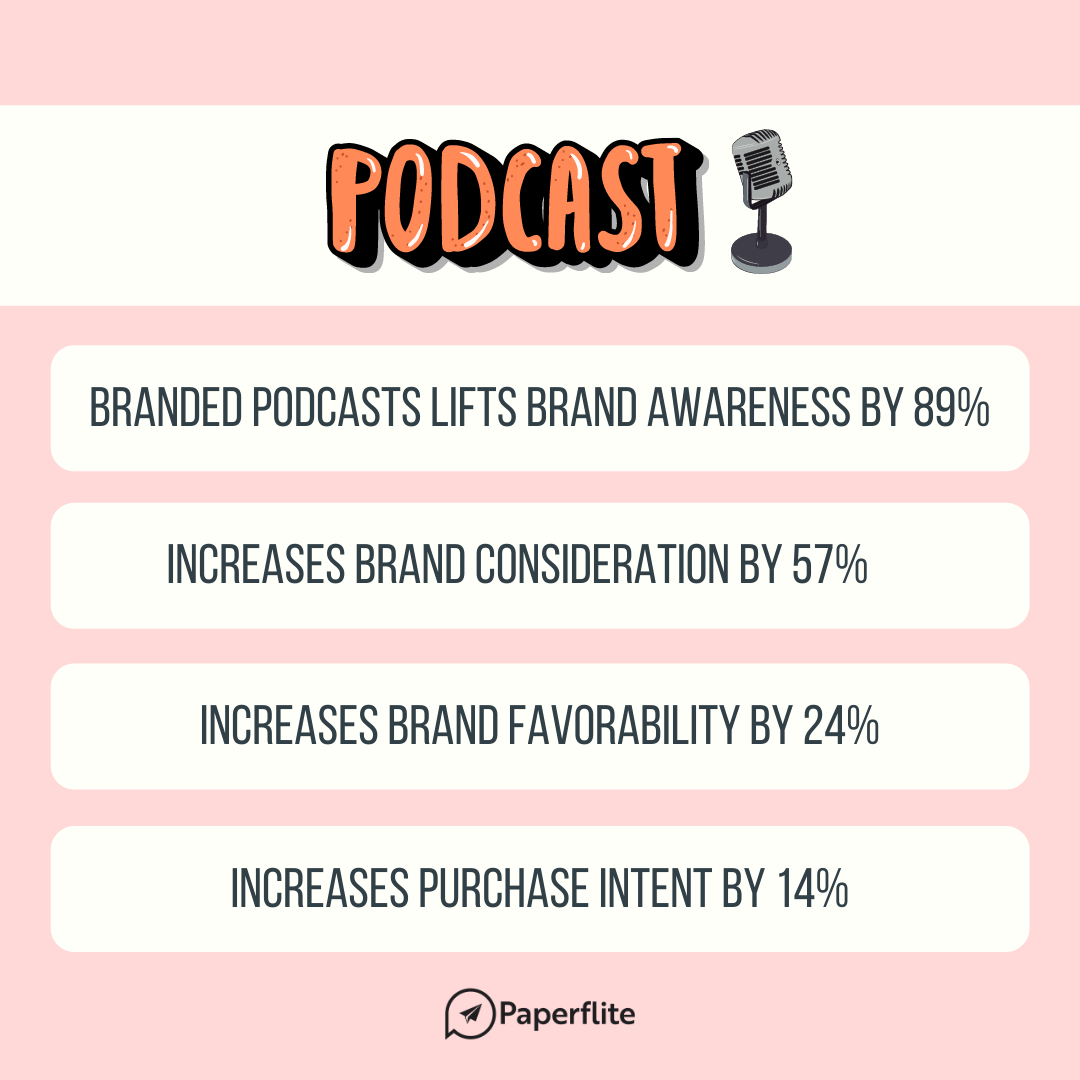 Blog posts 
Blog posts are fun. Your audience enjoys reading them, your content writer likes writing them, they're small bundles of joy and a part of someone's workday that doesn't suck the soul out of them. But apart from making people happy, they also serve an economic purpose. (Oh capitalism, here we go!)
Blogs answer questions that your consumers might have, but most of all, they often introduce your audience to you. They're a great collateral to be used in the awareness stage. 
Elements of incredible blog posts:
Consistent
Informative
Funny 
No one is reading a 2000-word blog post unless you're giving them either of the three (better yet if you're giving them all three). Blog posts are great ways to tell your stories (or someone else's) in your brand voice.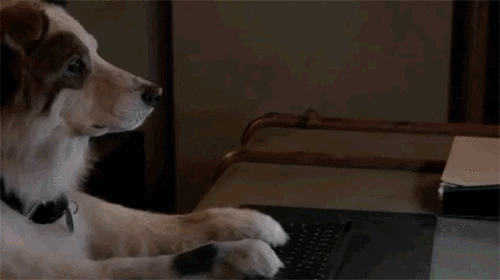 Remember, your blogs aren't a way to sell your products, but they can be a way to show them why they need you.
White papers
"What do marketers use to wrap presents?"
No one, absolutely no one likes writing white papers (Unless you're dead inside). White papers are to marketing what taxes are to adults! Super important, but the activity will kill you.
Once you get past how technical it is and stop dreading about talking to the Product guys who drink bitter coffee and wear shorts to the office (ooh, chills), you'll realize how essential they are to your content strategy. 
Tips to make your white papers stand out:
Make it visually rich
Get your internal experts to write it
Break down seemingly technical concepts to simple terms 
Have a plan to repurpose your content
Use an effective template
But publishing industry-leading content that isn't boring and stands out takes more than a few get-rich quick type tips - it takes skills. 
Browse through our curated collection of white papers from across industries by clicking the image below if you're looking for inspiration.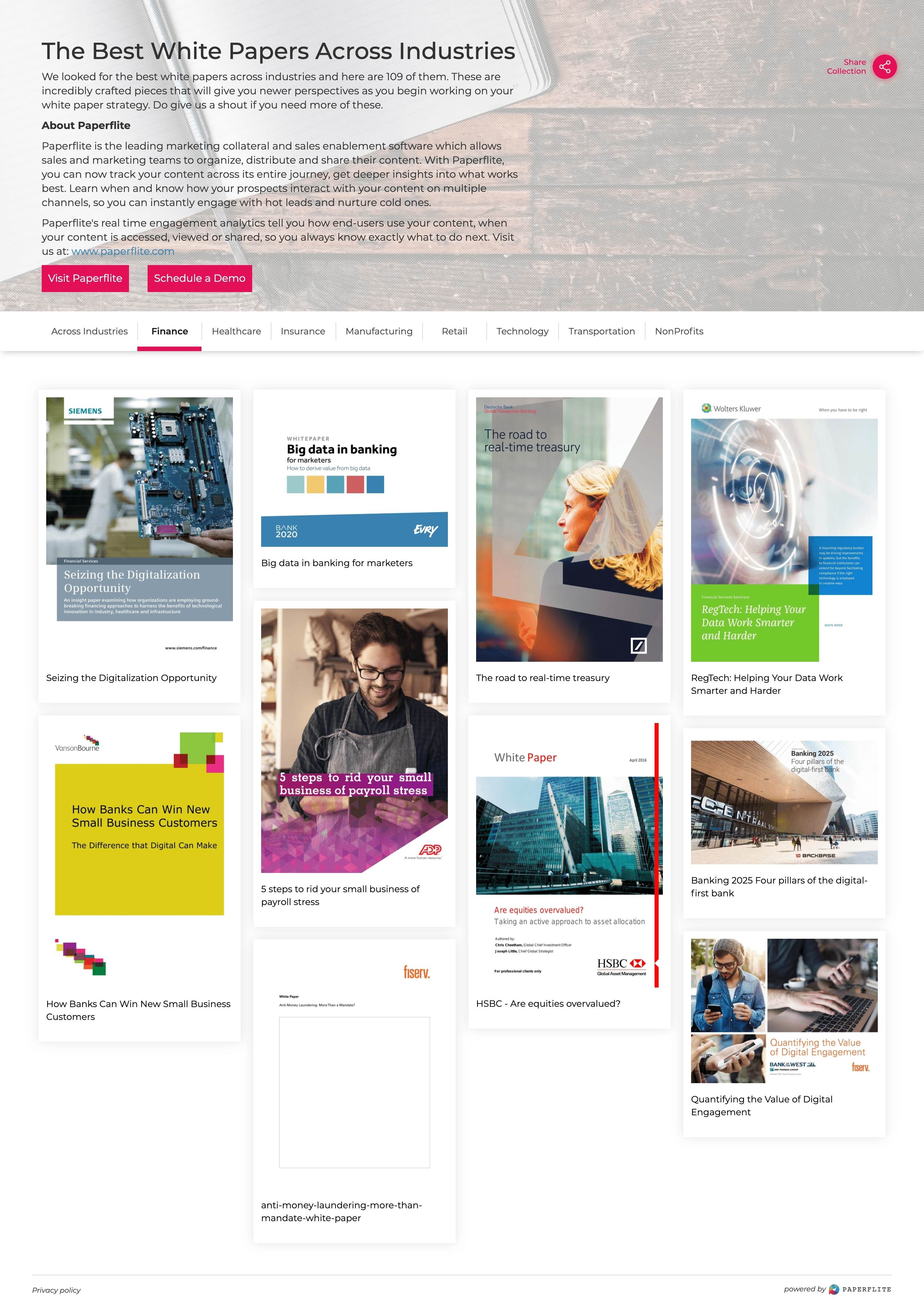 Case Studies
Case studies tell your audience how amazing you are and what you can do for them, without you having to toot your own horn. People who are already looking at your case studies and not lurking. Case studies aren't and cannot be a rabbit hole where your consumer just randomly ended up on. (They're not your childhood best friend's 2009 Facebook photos)
It has to be intentional. Which is great, because here, you don't have to sell! Generally, this is the step the user takes before engaging with your company through a salesperson. This is where they make the choice of whether they : 
Will trust you for life
Try you out once
Never visit again
No pressure!
To craft effective case studies:
Prioritize firsthand knowledge over second-hand evidence
Incorporate visuals in your case study
Use slide-in call-to-action in lieu of pop-ups
This can be your chance to impress your customers without talking facts and figures or presenting them with boring data sheets. A good case study can make your company an authoritative figure and provide social proof.
If you're looking for examples, head here or click the image below.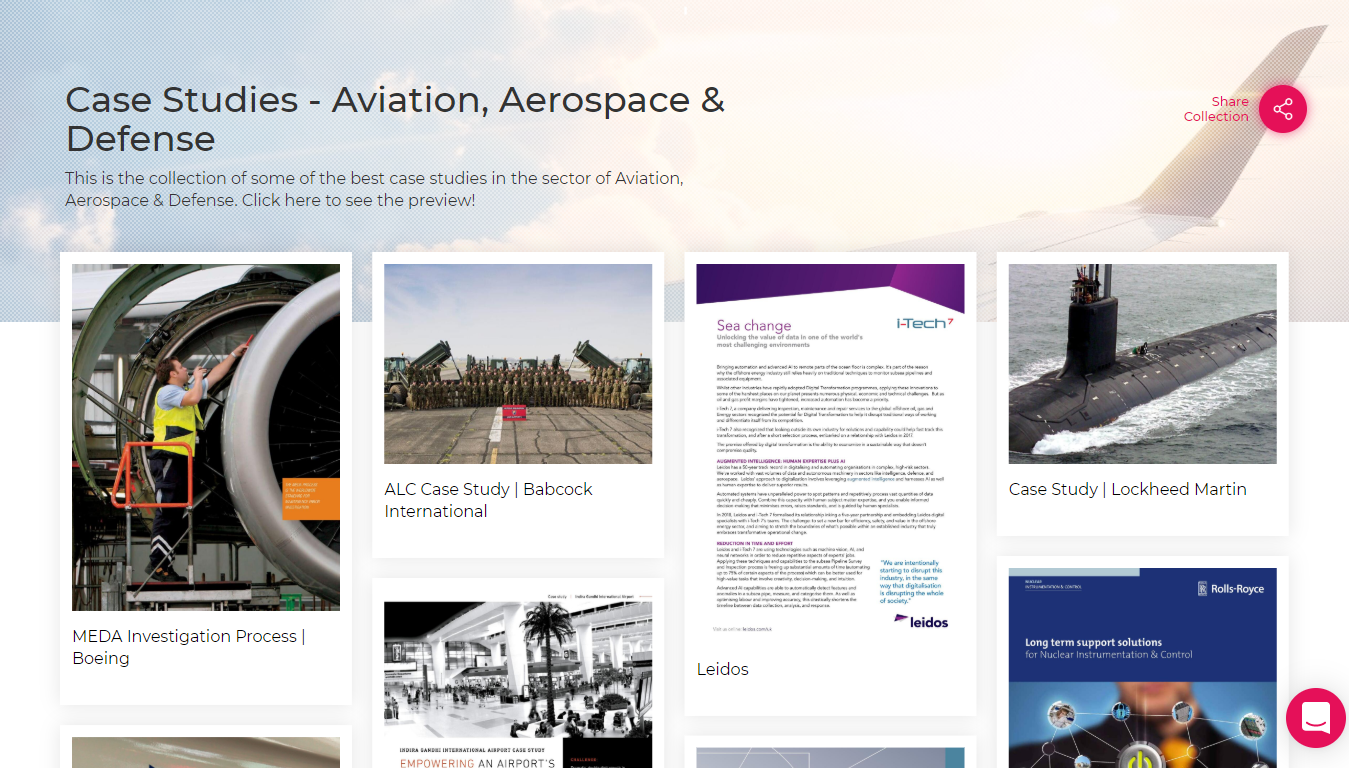 And here's a case study of Coca-Cola by App Annie and here's one by Bitly. (Personal favourite : Intercom.)
Videos 
The only thing better than Manga is Anime (controversial and personal opinion. Hate mails will not be received well.) Basically, if anyone could watch something, they would not be reading it. (Unless it's the Harry Potter series)
94% of marketers have said that videos have helped their users understand their product better. 54% want to see more video content from a brand they love.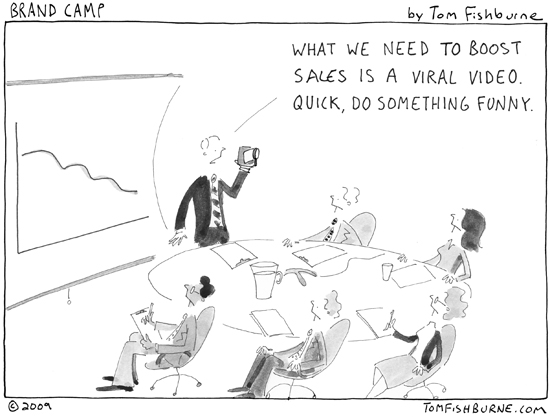 Use videos to your advantage. Simple guide - if it doesn't spark joy, you need to say bye-bye. Your videos can be your company's elevator pitch, an explainer video, or just a brand video. Maybe consider asking one of your chirpy, outgoing, knows-everyone-in-the-office people to film 'a day at my company' vlog. 
Want to stand out? Do something obscure. Try telling yourself this isn't gold.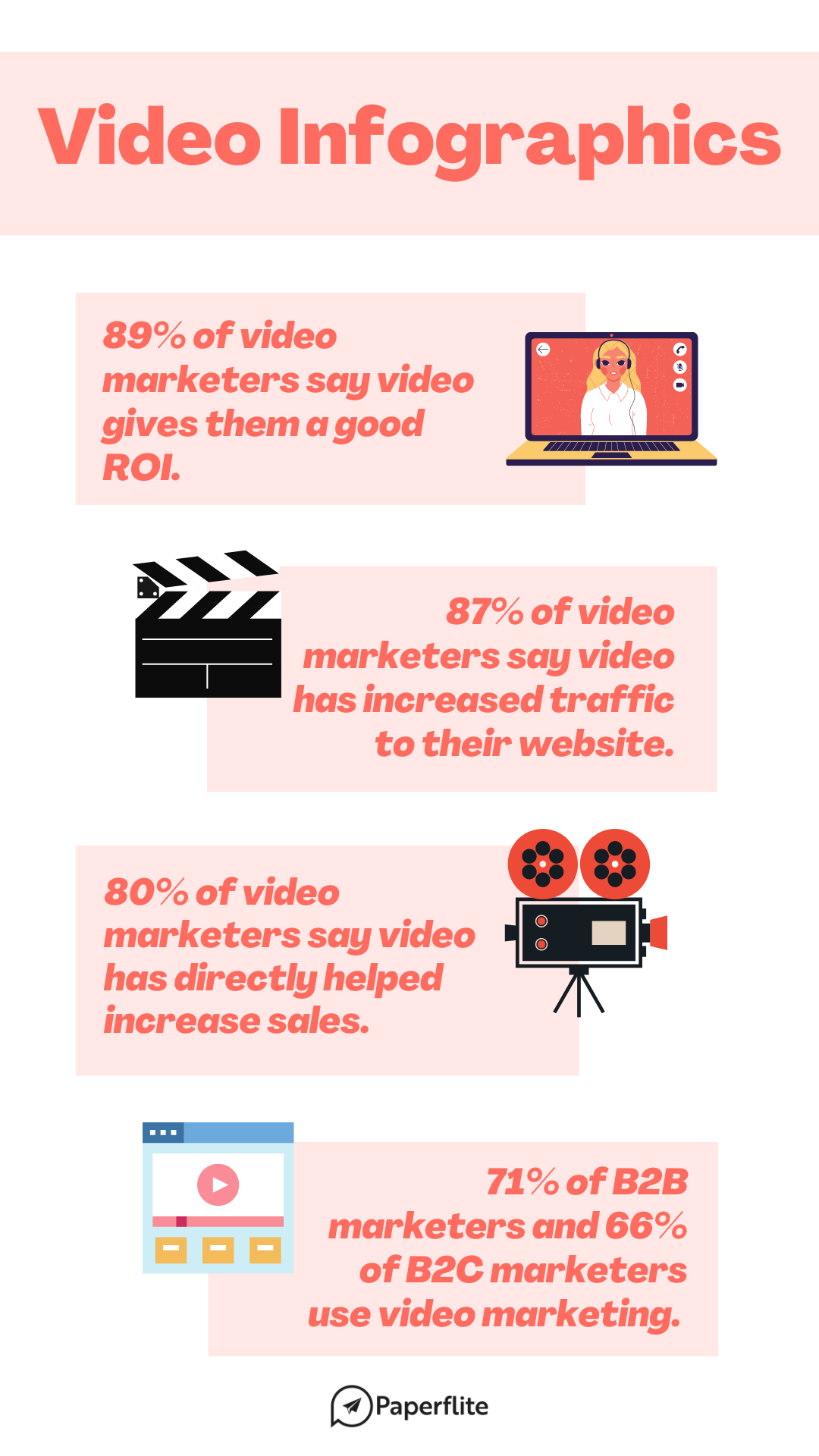 If you geek out over data, you can also track the video analytics!  
Sales Deck
We don't mean a text-heavy, poorly designed Deck that takes hours to explain, because if you're going to be reading from the slides, you might as well hand out brochures and trust their language skills to be over elementary school level. (If nothing else, a marketing degree teaches you how not to make horrific decks.)
We mean good presentations that last no more than 20 minutes and tell the user what problem you solve for them and how. Your sales guy/gal/NB will thank you for making their job easy. 
They will also thank you for not making them look boring. Look at this interactive sales deck and tell us you're not impressed. We dare you. We double dare you. 
However, if you are a bad visualizer or just bad with graphics (simple test : if you think sun yellow and bright purple go together, you failed), just use Canva. If you're a good one, you're probably using it anyway.
Also consider reading - B2B Sales Enablement Collateral : What is it and why it's important
Testimonials
Ever have that one customer that gives great structured feedback instead of going 'we could do better' every time you send them a new proposal? If you close your eyes and they pop up (capitalist dreams, ooh we're finally here), you have found the one. Those are the people you want to take testimonials from.
If your customers are not in the stage of reading your case studies yet, testimonials are a way to their heart (or wallet, let's be honest here). Your website is probably going to be the biggest collateral you invest in anyway, so let your customers speak for you there.
And no, your testimonials don't always have to be in the boring, "I had a problem, the company solved it for me, now I am happy" format. Make sure they include numbers and insights.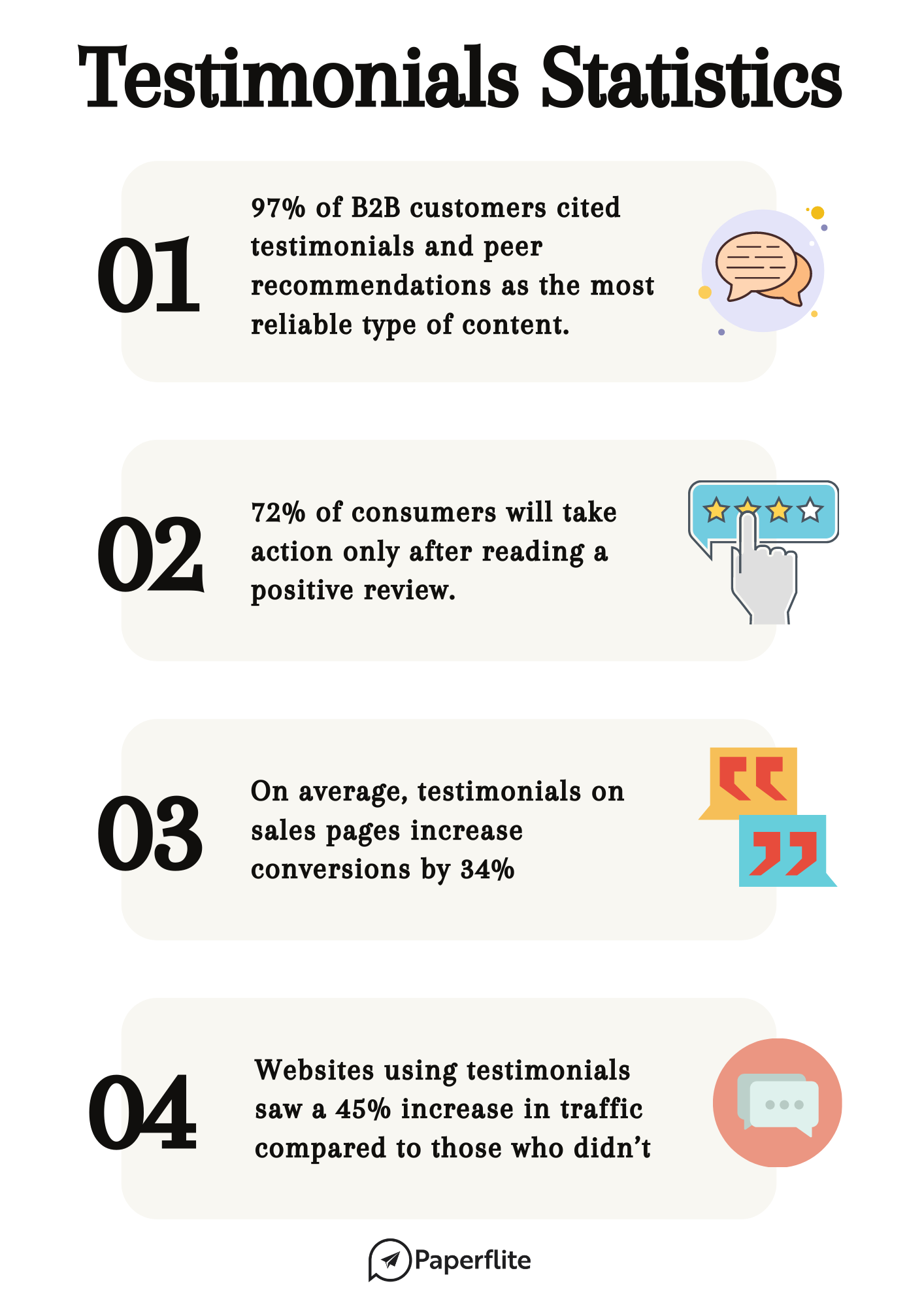 Here are a few innovative ways you can incorporate testimonials into your other collateral. 
Effective ways to collect and curate testimonials:
Create an official request process
Use the top of the mind recall of your fresh customer
Nurture your best customers to brand ambassadors
Avoid the use of generic comments

Legitimize the testimonials by crediting the relevant customer
Brochures
Don't print them out (save paper and your efforts). The only thing that's going to become of your printed brochures are Paper Airplanes (if you're lucky, or it's ending up straight in the trash). Great and crisp copy, bullet points, and clean design can save any brochure from being forgotten in the black hole called social media files.
A brochure does just what you think it does. Do not get too ambitious and write an ebook or an essay, your audience does not need to know how your product works. They need to know why it works for them. Granted that not all old things are gold, but this one comes pretty close to being silver.
Here's how to design a good one. Just don't use it after a sales call and you'll be fine. If you're looking for examples, click the image below.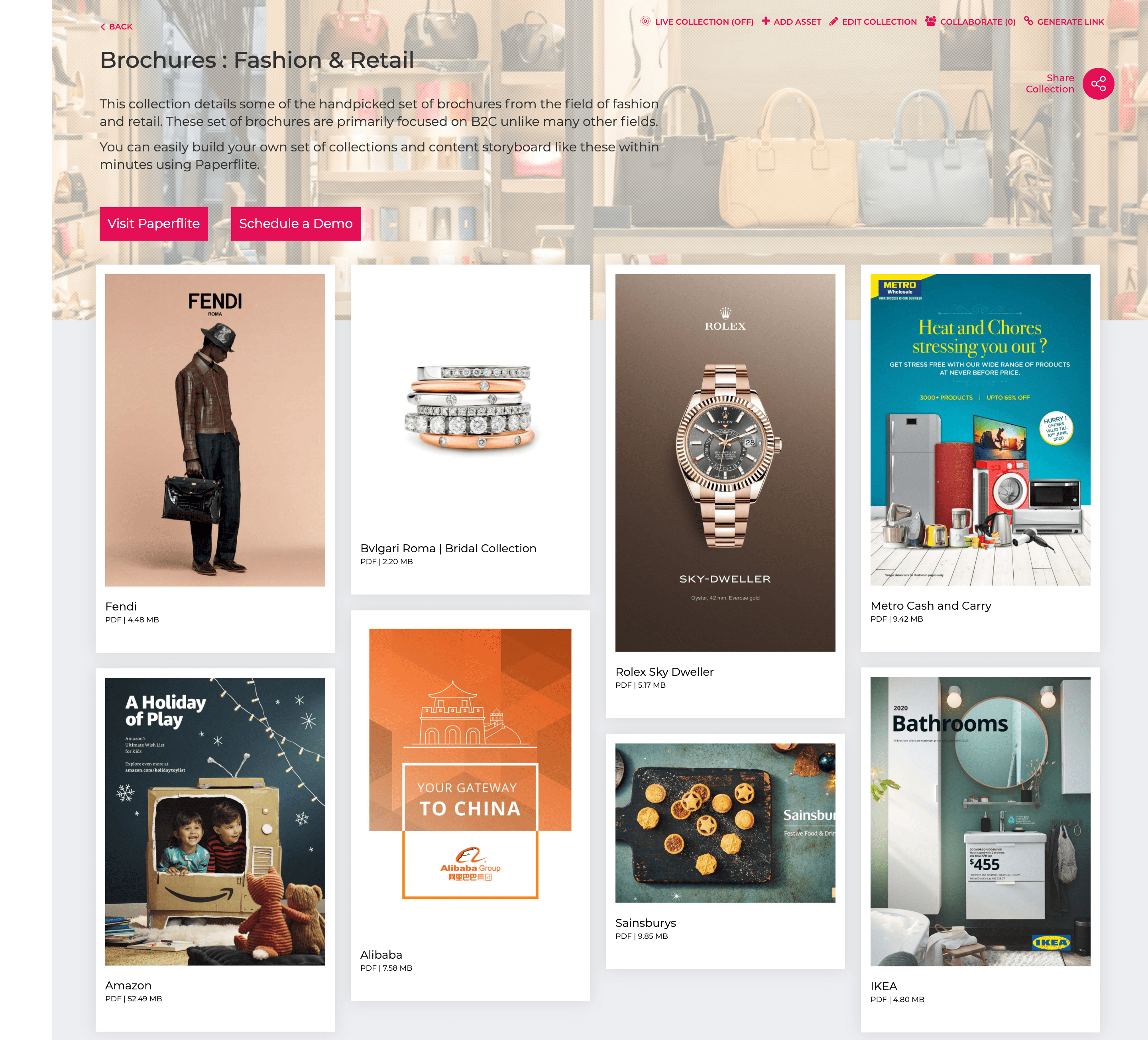 Crafting better brochures:
Know your target audience
Be concise
Have a clear call-to-action
A crisp headline
Emails 
As adults, unread emails are our worst nightmares. Emails are no Truffles, hell, they aren't even Ravioli. They're probably rice porridge or breakfast oats at best. But, emails are cheap, accessible and they give great ROI. 
Emails still work, but you cannot expect to send a boring newsletter or a horribly crafted product offer and expect them to leap with joy.
To write an email your audience will actually read:
Provide value
Bring out your personality 
Don't be boring
Aid copy with images / GIFs and design
And don't, just don't spam. Thank us later. 
Also consider reading - How to make your fans love your product update emails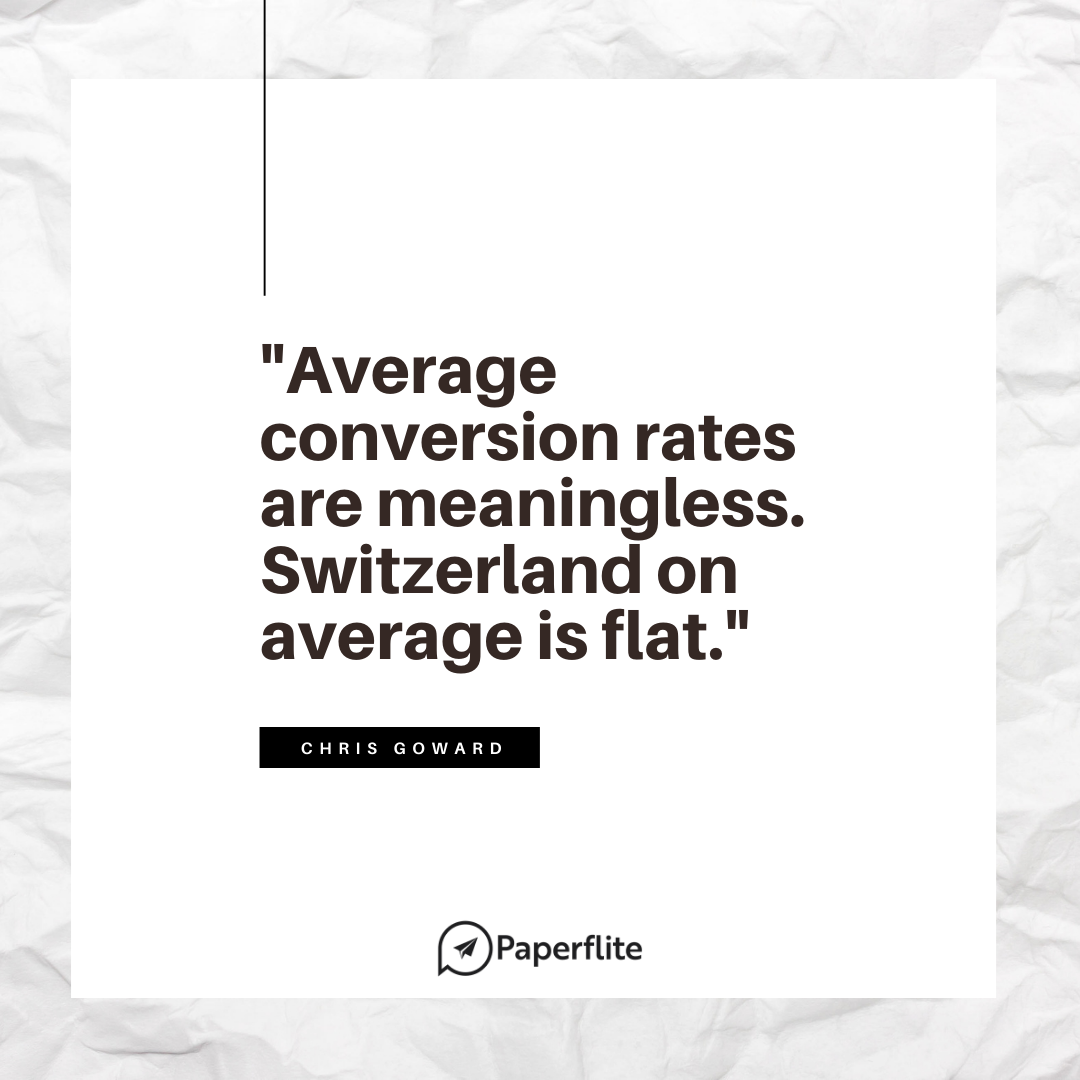 Summing it up
Since you're at the end of the article, we can only assume that you believe in the power collateral hold. The different types of collateral show your company's worth, their stance, and their credibility. Oftentimes, a collateral is your company's first impression. If nothing, don't let it be the last. (This is your cue to come up with a better strategy than printed brochures and hopefully viral video content.)
In the meantime, if you're still not convinced about why you need better marketing collateral (we absolutely cannot fathom why), read this.