100+ Proven & Effective Customer Testimonial Examples
Browse through a wide range of Testimonial Templates for Sales and Marketing across various industries
"When others are doing it, it's okay for me to do it, too."
-Chet Holmes, Author of the book "The Ultimate Sales Machine"
That's the power of social proof! When we talk about social proof, how can we not refer to the classic psychological experiment conducted by Solomon Asch in the 1950s, called 'The Asch Conformity Experiments'? 
A brief for those who are unaware of it - Asch's research included people who pretended to be normal participants alongside others who were real and unaware study subjects. Those who were in on the experiment would behave in specific ways to see how their behaviour affected the actual participants in the test. The naive participants were told they had participated in a "vision test." 
After conducting the analysis, they discovered that approximately 75 percent of the participants went with the rest of the group, at least one time. After combining the trials, the results showed that the participants replied approximately one-third of the time to the incorrect group response.
That is the sheer power of social influence in human psychology! Seems more powerful than Thor's hammer already, eh?
Let us astonish you with some solid numbers to back the findings:
According to Nielsen's research study, "92 percent of people will trust a peer 's recommendation, and 70 percent will trust someone they don't even know."
88 percent of consumers say reviews influence their decision to buy online
The search traffic can increase by 10 or more reviews
If reviews are displayed, conversion rates can rise by 270 percent, a figure that shoots to 380 percent for higher-end products
Hence, if you are a marketer looking to perfect your content marketing mix that gives you exponential conversion rates, you might want to include the element of social proof in your marketing communications. And the two best ways to incorporate it into your marketing strategy are case studies and testimonials. We will talk about testimonials in this post.
You can read about case studies here.
What is a Testimonial?
A testimonial is a marketing collateral wherein a person (satisfied buyer) is offering positive feedback about your product or service. It is aimed to build trust and brand reputation. Testimonials can help buyers overcome objections, boost online sales, and turn customers into brand ambassadors when combined with excellent copywriting, sharp salesmanship, and targeted marketing. 
How are Testimonials in a B2B market different from those in a B2C market?
Most of the products in a B2C market are ubiquitous on social media. The products in a B2C market that has a hedonistic appeal can get their consumers talking effortlessly. But in a B2B market, when your product is functional, you need to focus your efforts on channels such as LinkedIn and Youtube to showcase those facts easily. In a B2B market, you need to first show that your company is of value. 
However, testimonials become an essential tool in a B2B market as B2B buyers invest a significant amount of time, resources, and finances before making the purchase decision. Testimonials can cut through all that noise in this context, simplifying the process to help purchasers make informed and faster decisions.
Types of Testimonials
It is important to bear in mind that different types of testimonials and platforms can have a different impact on your target audience. Hence, you might want to use a specific format that closely aligns with their values. To help give you an idea of how testimonials can be presented, below are 7 forms of testimonials that can be used to portray the stories of your customers.
1. Quote Testimonials
Quote Testimonials serve the function of instilling trust in visitors that they are heading in the right direction in considering a purchase of a product or service. It can be far more effective than conventional forms of advertisements because most people count on a peer over a paid actor. You can build strong credibility with potential leads by using the voice of your loyal clients to advocate on behalf of your brand.
Quote testimonials come in different forms; one of the earliest forms of quote testimonials cite just the statement on the product landing pages and homepages. It can accompany the feature of a slider of star rating that can increase the engagement of the readers. 
The other variant of the quote testimonials, which is commonplace in modern times, is a quote accompanied by a picture of the person providing the testimonial. In many cases, images increase conversions because prospects can more easily identify with buyers. 
The advanced variant of a quote testimonial incorporates a picture with a CTA (Call-to-Action). It is gravely wrong to assume that the prospects know what to do after having a glimpse of a post. Hence, it becomes of paramount importance to provide a strong call-to-action along with the testimonial.
2. Audio Testimonials
An audio testimonial is a cost-effective variant of a video testimonial. All you need is a recording software, a quiet room, and a microphone. An added advantage of audio testimonials is the effective distribution and consumption by the customers. They can do wonders for you if executed effectively.
3. Video Testimonials
Video appeals to both the visual and auditory senses and tells a captivating story of a brand that motivates viewers. It is no surprise that it is the most formidable combination to market a product or service. A report states that 52 percent of marketers worldwide referred to video as the type of content with the best ROMI (Return on Marketing Investment).
You can ask your customers to record on their smartphone, or any device for that matter, with a short testimonial video, discussing what they enjoy most about your brand. You can provide these videos to your prospects at different stages in their buyer journey.
4. Influencer Testimonials
Reach out to your industry authorities and ask if they'd like to try your product or service. That said, getting featured in Business Insider or Forbes is not a cakewalk. Hence, try to gun for the attention of influencers in your industry, who your target audience is most familiar with.

5. Blog Post Testimonials (Reviews)
Blog post testimonials are similar to case studies, but unlike case studies, this format allows the company to tell the story of its customers from its own perspective. A blog post can be a means of displaying customer testimonials informatively. Bloggers can dig deep into a customer's story and break down subtle details within the journey of the customer.
6. Social Media Testimonials
The way we express ourselves has entirely changed with the growing dependence on social media. We often turn to social media to share our fears and grievances with our favourite brands. A distinctive advantage that social media testimonial has over others is that you can easily click through and see the person you're reading about. Hence, this type of testimonials is very engaging and relatable for the prospects.
7. Peer Review Testimonials
We, as customers, are most receptive to the actions of people like us who think similarly. We are more likely to be open to their testimonials. Reviews and feedback posted by review platforms like G2 Crowd, GetApp, and Capterra are all examples of the peer review testimonials. For customers, these reviews can be very influential as many of them look at these review sites during the decision-making process. Peer reviews are especially helpful for first-time customers who interact with your business.
 
Best practices to follow while collecting and curating testimonials
1. Create an official request process
Many companies have formal testimonial rules that can extend the process if you want them to be involved in a case study. Your customer may need to consult with a legal department or senior management to obtain permission to proceed. Hence, it becomes imperative to create a formal process to create a testimonial pipeline. Post that, create an official document outlining how to submit the testimonial. Detail how often your sales and customer success reps will provide names. Also, provide a brief about the time commitment involved after a customer agrees to participate.
2. Use the top of the mind recall of your fresh customers
Your product or service is going to have the highest awareness in your recent customers' minds, so now is a perfect time to ask them what they think about their experience. Securing customer testimonials at all stages of their relationship can help you address and overcome a broader array of objections. Use the drip campaigns to send emails to recent customers automatically after a set time to secure their testimonial.
3. Best customers can become your brand advocates
You know you will get a great testimonial from your best customers. The simple act of personally reaching out to them will strengthen their relationship with you and with your brand. It is an enormous win-win all around.
4. Provide value to your customers
Testimonials are often of innate value to a client too, and you need to convey it to your customers. Explain how you will be linking it to their website, describe their positive outcomes on social media, and advertise them via email. In the case of video testimonials, you can also offer them the use of B-roll.
5. Avoid the use of generic comments
A great testimonial pinpoints the brilliant experience at each customer touchpoint across the whole buyer journey. It should succinctly point out the technicalities of your product or service. Generic statements like "good product" or "great service" would not convey the benefits of using your product to your prospects. Edit grammatical errors and feel free to paraphrase if it lucidly conveys the message. Just be sure to send back any significant changes before publishing the testimonial to the customer for approval.
6. Beautify and legitimize the testimonial
In addition to the testimonial itself, provide the name, date, and picture of the person who availed the testimonial. Insert a link to the customer's website wherever possible. All of this information serves to help legitimize the testimonial.
Here is a curated collection of 100+ best examples of testimonials from each industry.
Banking, Financial Services & Insurance
Healthcare and Life Sciences
Logistics
Manufacturing
Real Estate, Hospitality and Travel
Technology & Services
Telecommunications
Examples of Testimonials
Check out some of the stellar testimonials from each industry and our take on what makes it so flawless.
Best Testimonial Examples for BFSI Sector
1. Manulife Financial Corporation
Type of Testimonial: Blog Post (Review)
A financial services company deals with a myriad of problems, and it becomes tricky to prove your prowess to your prospects. Manulife, in this blog post testimonial, aptly classified the testimonials in terms of the experience of a particular customer in different service offerings. This helps a prospect to quickly browse through a specific testimonial for a service offering he/she is contemplating.
Type of Testimonial: Video
Barclays has created one of the best testimonials in its industry. It has merged quotes, blog posts, and video testimonials, and created a one-of-a -kind testimonial. A video testimonial works best when it progresses as a conversation. Barclays has done exactly that. It has also talked in detail about its customers. Adding a video transcript and handpicking customer quotes from the video testimonial can be the takeaway from this testimonial.
Best Testimonial Examples for Healthcare & Life Sciences Sector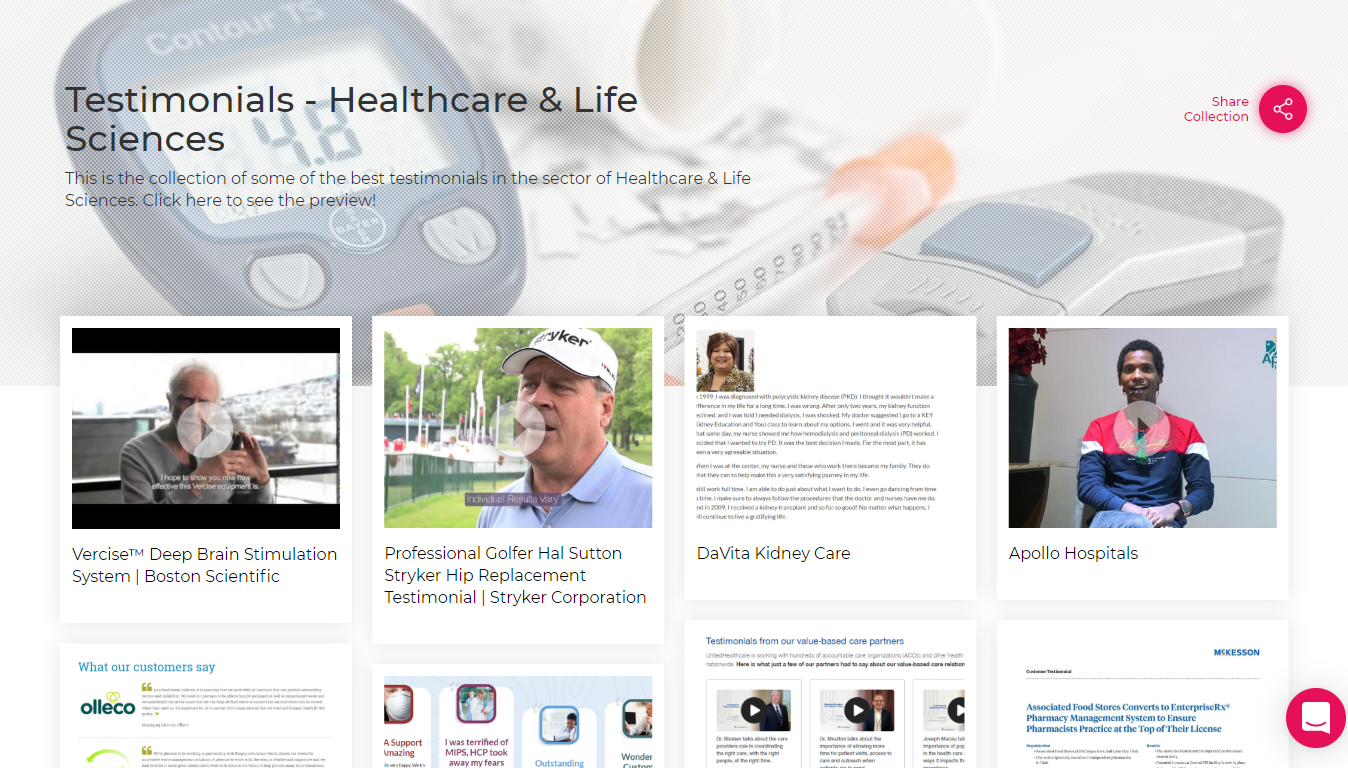 Type of Testimonial: Quote (Case-study approach)
McKesson has created a unique template for testimonials by making use of the case-study approach. Throughout the testimonial, McKesson has used multiple testimonials of their client and stitched it in the form of a story in a single template.
Best Testimonial Examples for Logistics Sector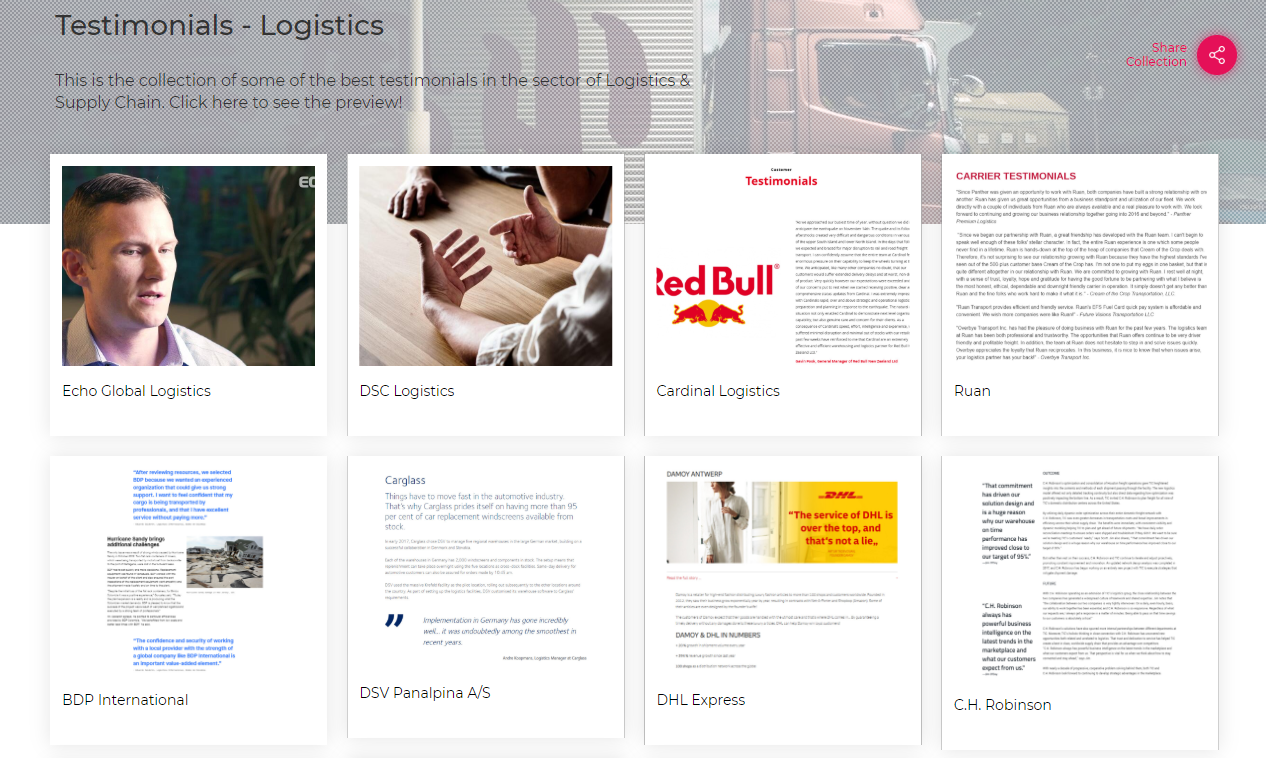 Type of Testimonial: Quote
The best practice that this testimonial has adhered to is: avoiding the use of generic comments. Its client, Red Bull, has provided an elaborate explanation of the entire experience, right from the beginning. It has also covered how amid adverse crises, Cardinal Logistics was able to deliver the result. This practice helps your clients to put faith in your operations amid adverse situations.
Type of Testimonial: Quote (Case-study approach)
What we love about this testimonial is its outcome orientation! The company has focused more on including quantifiable results. Whenever possible, you should try to quantify the results that you delivered to your clients and incorporate the same in your testimonial.
Best Testimonial Examples for Manufacturing Sector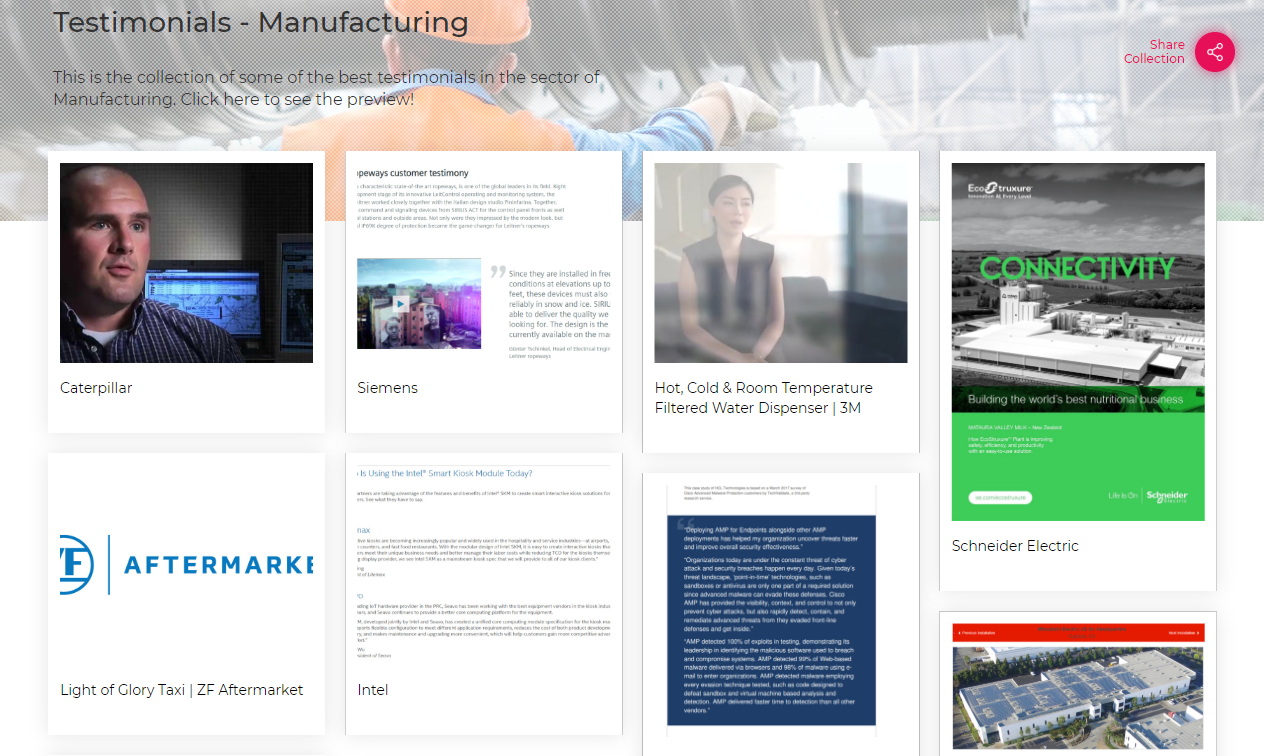 Type of Testimonial: Video
Siemens has done a brilliant job in creating this video testimonial that incorporates the use of multiple quotes and a description that gives the readers a context. It also included testimonials from officials of different departments that help the readers get an idea of what worked well for a particular user.
2. Cisco Advanced Malware Protection
Type of Testimonial: Third-Party (Influencer)
This type of example brings more credibility to your customer testimonials as it gets validated by a research firm or an industry expert. Cisco, along with the help of a research service provider, TechValidate, conducted a survey that collected some of the best customer testimonials.
Best Testimonial Examples for Real Estate & Travel Sector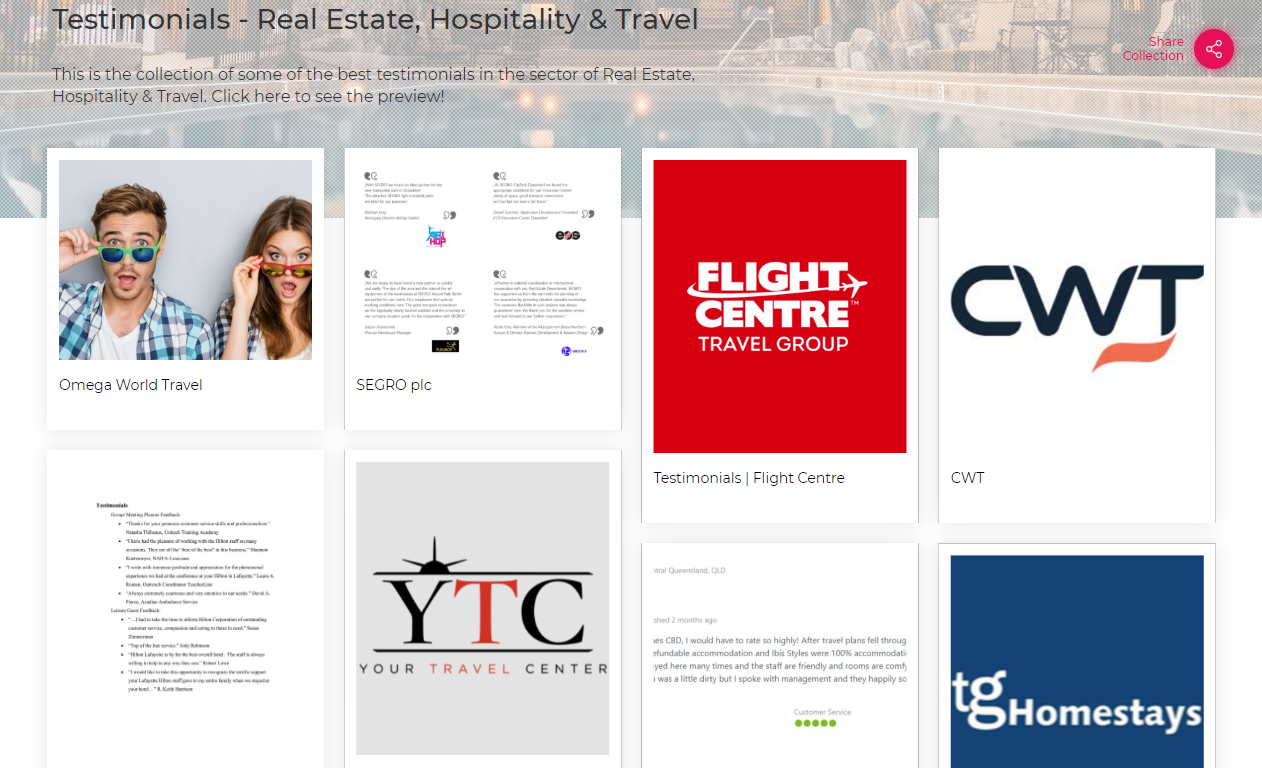 Type of Testimonial: Blog Post
The distinct characteristic of a blog post testimonial is that it allows the company to frame the testimonial from its own perspective. CWT executed that extremely well by collating the best testimonials and narrating the experience of each customer from their perspective. Moreover, they have aptly corroborated each story with tangible results.
Best Testimonial Examples for Technology & Services Sector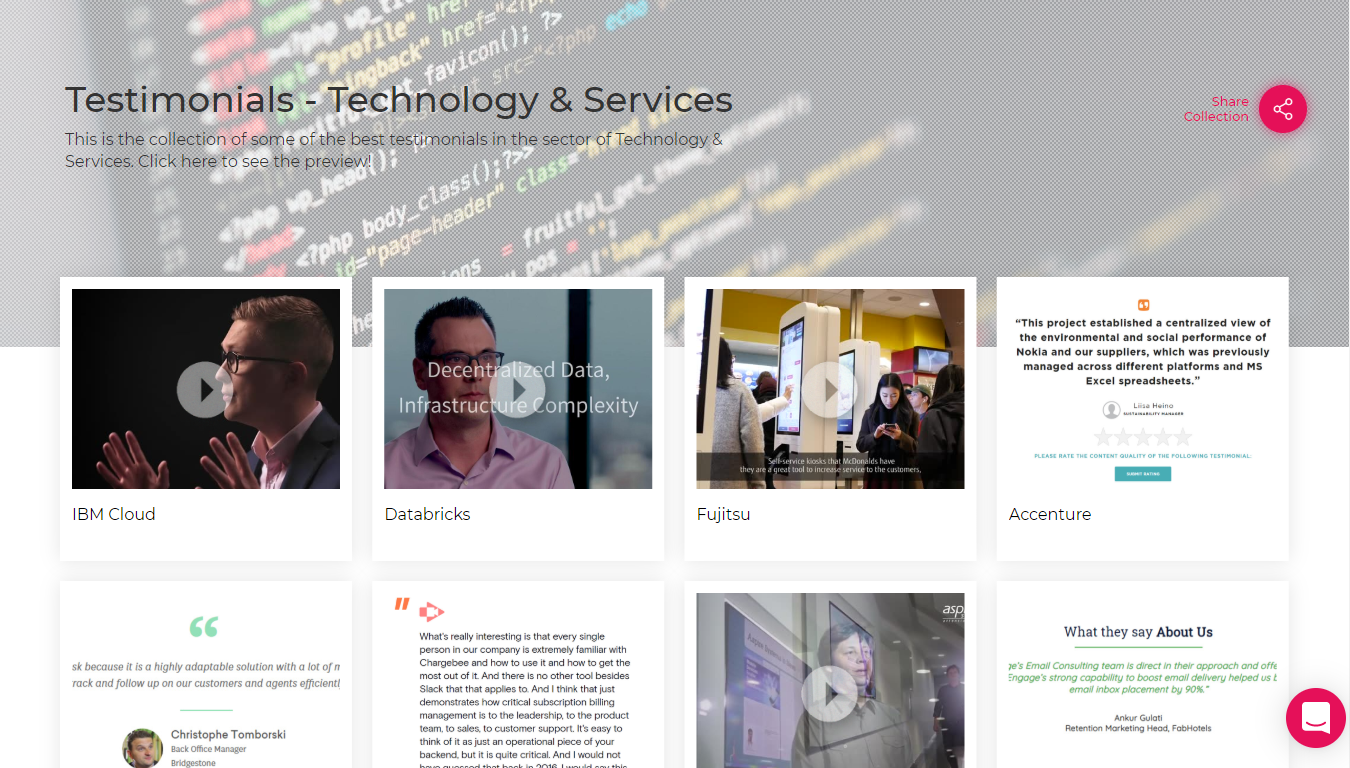 Type of Testimonial: Quote
This is a perfect example that reflects how Chargebee has successfully made brand advocates out of their clients. The testimonial, given by the CEO himself, succinctly conveys what Chargebee has done for them and what it can do for all such similar companies.
2. Leadcomm Performance Security
Type of Testimonial: Quote (with a picture)
To legitimize your testimonial, always try to include a picture of the concerned authority, like what Leadcomm has done. You can go one step ahead and try linking the customer's website and the speaker profile.
Best Testimonial Examples for Telecommunications Sector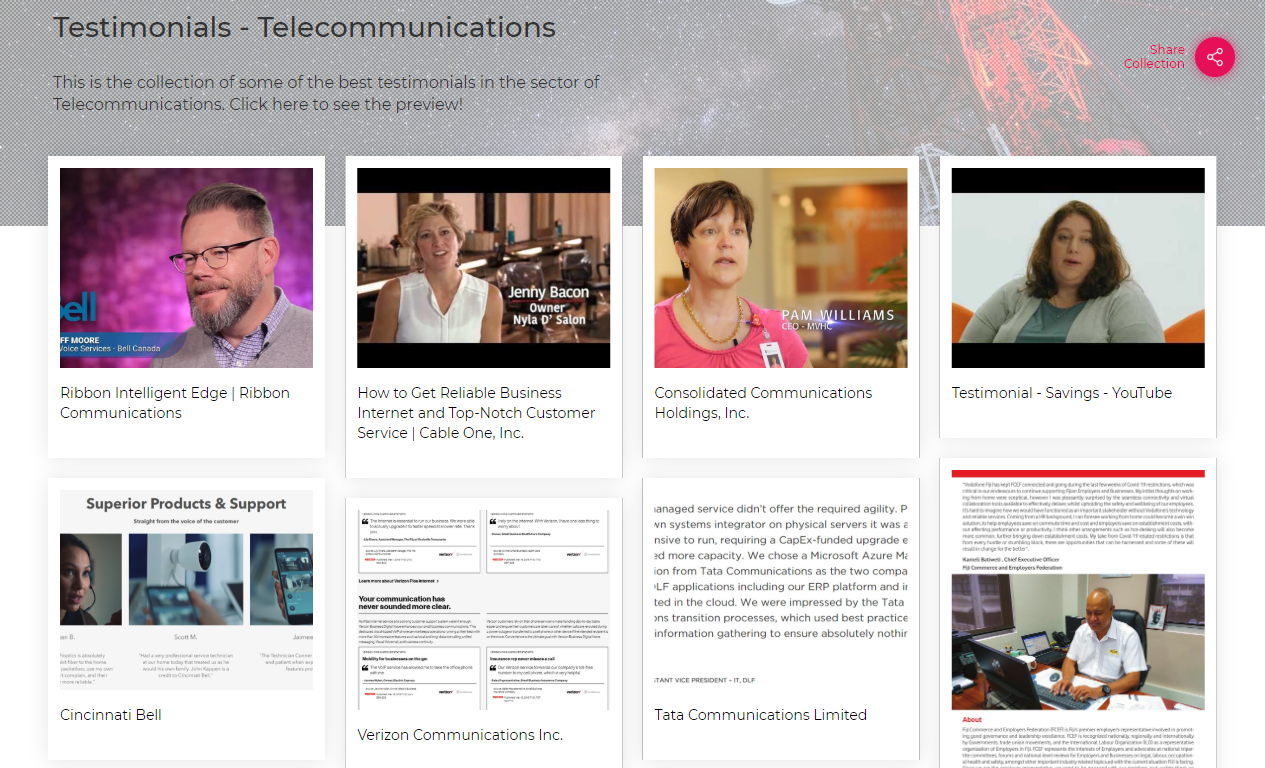 Type of Testimonial: Peer Review
This is one of the best examples of a peer review testimonial for the telecommunications sector. Peer review websites like G2, Capterra, FeaturedCustomers, and so on, are often the go-to resource for customers searching for software and services. Hence, such testimonials can always do the work of warming up your cold prospects and push them further in the buyer's journey.
2. Ribbon Intelligent Edge | Ribbon Communications
Type of Testimonial: Video
Ribbon Communications, not only conveyed the customer testimonial through this video, but also, went a step ahead in creating a compelling video integrated with captivating visuals that work as a tailored pitch in itself. It does a stellar job of an explainer video which helps the target audience understand how the company was able to deliver the solution to a customer.
So, tell us, next time, when you feel like embracing the power of Thor's hammer for striking a brilliant content marketing mix, wouldn't you count on Testimonials?
Find your complete content marketing guide here -
100+ Best Examples of Press Release Templates
100+ Case Study Examples for Sales and Marketing
The Best White Paper Examples for B2B Marketers