100+ Best Examples of Press Release Templates
Browse through examples of a wide range of Press Release templates from various industries
"How can I get press coverage?"
"How can I ensure that I get the best return on marketing investment (ROMI) with spectacular news reach across the whole globe?"
Both the questions lead to a common answer: Press Release.
A Press Release is a marketing collateral that is an integral part of any public relations strategy of a business.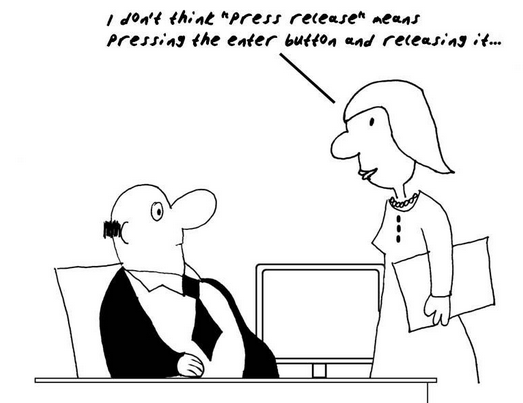 What is a Press Release?
 

A press release is an official (written or recorded) statement that a company makes to the news media, and beyond. We are talking about the same thing whether we call it a "press announcement," a "press release," or a "news release."

 
It is a marketing tool used to increase the visibility of your brand, often via including links, which increases your rankings in search engines. It also gets published by high traffic websites thus creating a positive perception of your brand.
Initially, press releases were developed as a contact mechanism between company PR staff or public relations companies and the media. Yet now that online news outlets such as Yahoo News and Google News provide such an abundance of material from the press release and RSS makes it easy to syndicate news, press releases can effectively be used as a direct contact tool for customers.
In modern times, press releases also enable customers to locate news releases online via a web search, or read them on a company's blogs or can be sent to mass media outlets. You can also use press releases to communicate directly with your clients, as well as with bloggers, writers, and other key players in your industry.
But as a marketer, one should know what other strategies need to be coupled with the traditional press releases in order to make them effective. 
Best Practices to adopt while constructing a Press Release
Here are some of the best practices to follow when announcing press releases:
1. Make your headlines cut the clutter
No matter how well configured it is, mundane news will not give you the results. Focusing on a given topic is important. To both news search engines and readers, reliance on too many keywords and details will only dilute the message.
2. Optimization
Optimize a press release using web page optimization principles and bear in mind that the most important keyword phrases need to be at the top of the document. However, as mentioned earlier, this is a double-edged sword and it is very important to choose the right keywords in the right frequency to keep the communication crisp and appealing.
3. Define your objectives
It is important for a marketer to ask himself – What am I targeting to achieve out of a particular press release? It can be building brand awareness, brand equity, or creating a buzz around social media. It is necessary to recognize this at the outset, as you will have to follow various approaches to achieve each of these goals.
4. Gun for the right beat
A marketer can have the greatest press release ever, but if the sales pitch goes to the wrong journalist, all the returns on the marketing investment will go astray. When pitching the press release, you need to take the following things into account:
Whether the target audience of the journalist or publication is in tandem with yours
Whether the publication covers the territory that your product or service is involved in
5. Use infographics and visual content
Represent your story in the most vivid way possible including infographics with key statistics and details, product images, or a video demo. Replace those dry numbers with a vibrant map that underlines the point visually. This adds value to your press release and can make a difference in convincing a journalist to cover your story over another.
6. Provide a Clear Call-to-Action
Don't just let the press release hang out in the open. Wrap it up with a clear call-to-action that will guide the journalist or blogger in taking the next step.
But don't overdo it either. Prefer using just one CTA per press release. For example, if your press release concerns the launch of a product, you could use:
Sign up now to receive daily updates
Demo Request (Supply is limited)
Press Release Format
It is important to conform to a format that your journalist is familiar with. A typical press release format is as below:
(i) A headline and a subheading that stands apart
A title that captures the attention of people and explains clearly what the release is about - Is it about a product launch? Awards and recognition? Mergers and acquisitions?
(ii) Location
It describes the location of where you are and where you get the news.
(iii) Strong Lead
This is where you explain in one sentence your newsworthy study/content.
(iv) Body
This information should be easily skimmable.  Adding quotes throughout the body to back up your arguments is a very good idea.
(v) Boilerplate
A few words to describe your company to the public.
(vi) Press Contact and information
Include the name and contact details of your media coordinator or executive communications. Typically, anyone who can get in touch with the reporter to get more information.
Types of Press Releases
Product Launch Press Release
Rebranding Press Release
Expert Position Press Release
Award and Recognition Press Release
Charitable Initiative Press Release
Mergers and Acquisitions Press Release
Executive, Staff and Employee Press Release
"Updates on the existing products" Press Release
Event Press Release
Examples of Press Releases
Here goes a curated list of 100+ examples distributed across the 9 different categories.
1. Product Launch Press Release
Thinking of launching a new product? Announce it to the world via a press release. A press release announcing a new product or feature should ensure that the exciting aspects that make this newsworthy are highlighted. It's not enough to simply focus on the new product's functionalities or attributes. The release needs to reflect on the advantages, and explain how it helps the brand stand out from its competitors.
We have gathered a handful of product launch press release examples from companies such as Siemens, Microsoft, General Motors and Nike to give you a highlight on the variants within a product launch press release. These examples, we hope, will help you construct something similar when the need arises.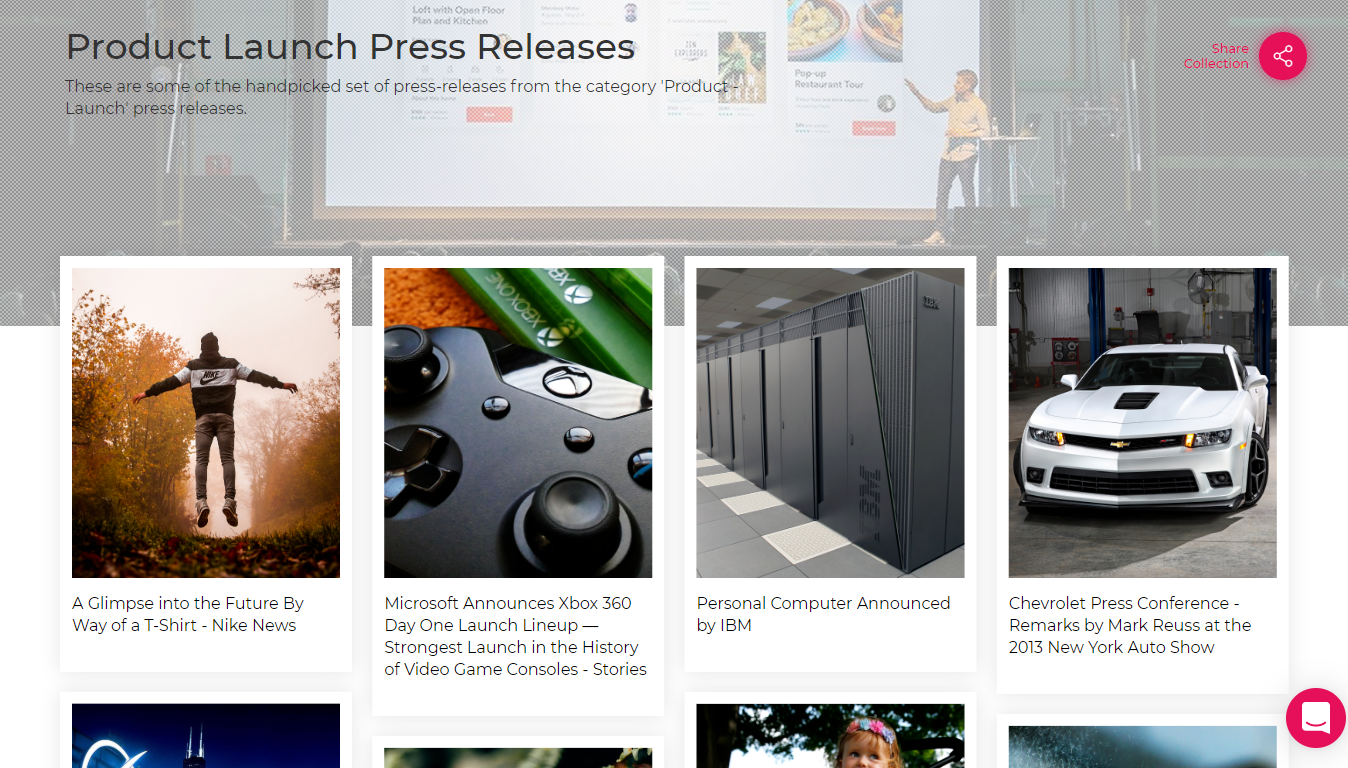 Why we like what we like:
1. Siemens body temperature solution minimizes infection risk in buildings
Published by: Siemens
Siemens AG is a German multinational conglomerate with headquarters in Munich and the largest industrial manufacturer in Europe. It is a leading technology company that is a pioneer in engineering excellence, quality, innovation, and reliability.
This press release comes at a time when the whole world was fighting with the pandemic that had culminated, creating a diverse set of challenges for the global economies. Siemens Smart Infrastructure, at that point in time, announced the product launch of Siveillance Thermal Shield. This set of solutions easily tests a person's body temperature seeking entry to a building and enables the findings to be incorporated into corporate video and entry systems. Thus, this press release by Siemens gives various employers an antidote to their worsening problems.
2. Microsoft Announces Xbox 360 Day One Launch Line-up
Published by: Microsoft
This product launch press release is a historic launch in the segment of video game consoles. In this press release, Microsoft announced the launch of 18 Xbox 360 games and 13 Xbox 360 accessories. This entailed each of the games and accessories in detail, making all the gamers awe-struck.
Published by: General Motors
This product launch press release is a momentous launch in nature as it reveals the product of the only brand in the US that competes in the open-wheel, stock car, and sports car racing category. This comes right after Chevrolet had launched the powerful and exuberant Corvette Convertible. Strengthening its forte in high-performance cars, Chevrolet, with this press release, announced the launch of yet another high-performance car - Camaro.
4. A Glimpse into the Future By Way of a T-Shirt
Published by: Nike
The pioneer in the design, innovation, development and manufacturing of footwear, apparel and accessories, Nike, in this press release, remarked its excellence in innovation. Through this press release, Nike launched the NikeLab NIKE AAE 1.0 T-shirt, which uses computer design to fuse a series of body maps and form a knit pattern based on motion, fundamentally shifting the conventional process used to make a typical T-shirt. This is dream apparel for every athlete, indeed!
5. Stitched Products Introduces Its Line-up of Lint Removing, Antimicrobial iPhone Cases
Published by: PR Newswire
Stitched Products, in this press release, established themselves again as a leader in innovation, and melding fashion and function in the segment of mobile cases. This press release entails the summary of the line-up of iPhone cases which can remove the unwanted lint, dandruff and pet hair with just one swipe.
2. Rebranding Press Release
Rebranding is a marketing technique in which a new name, icon, logo, idea, or a combination of all of them is developed for an existing brand with an intention to build a new, differentiated image in the minds of customers, investors, competitors, and other interested parties. This strategy helps in repositioning the brand and helps to consolidate it by distancing itself from the negative associations or bad publicity surrounding it.
This type of press release is used to outline the details of the changes the customers and investors can expect. It highlights how the rebranding strategy will contribute positively to the future and improve the customer experience.
Below are the rebranding press release examples of companies Apple, Inter-American Development Bank, Instagram and Freshworks, among others.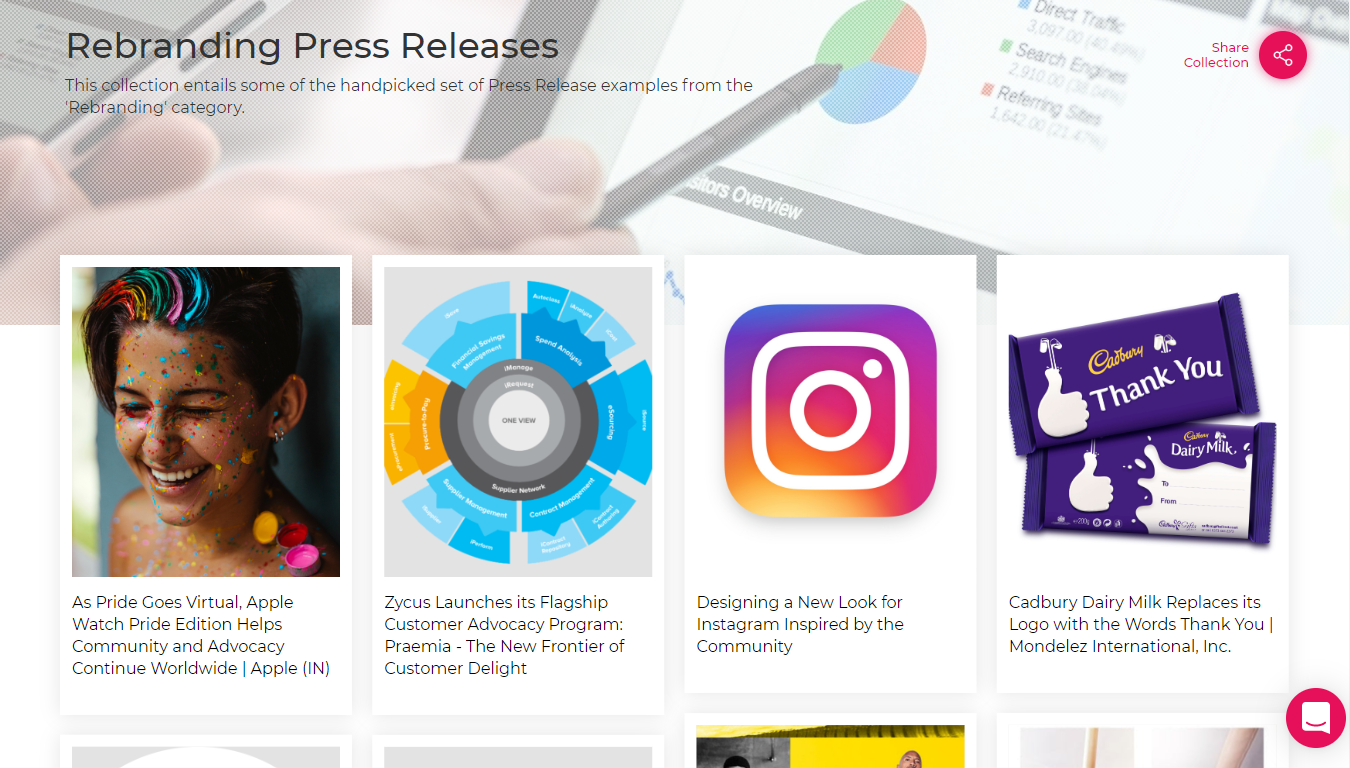 Why we like what we like:
1. As Pride goes virtual, Apple Watch Pride Edition helps community and advocacy continue worldwide
Published by: Apple
Apple stands to its commitment to the LGBTQ community and advocacy in this rebranding press release. This press release is unique in its nature as it incorporates the apt usage of visuals, text, structure of a press release. Moreover, it not only plays the role of rebranding itself as a supporter of the LGBTQ community but also launches a new edition of Apple Watch Pride Edition.
2. Freshdesk Inc. is now Freshworks Inc.
Published by: Freshworks
This rebranding press release is one of the best examples of umbrella branding. The press release serves as an example of a marketing practice where a particular brand uses a single brand name for the sale of two or more products under its purview.
In this press release, Freshdesk announced the creation of a new umbrella brand, Freshworks, which will bring together a suite of products - Freshdesk, Freshservice, Freshcaller and Freshsales.
3. Designing a new look for Instagram, inspired by the community
Published by: Medium
Instagram, in this press release, announced their rebranding strategy by giving a fresh, vibrant look to its entire interface and logo. This press release is important as it aptly incorporates the best practices to follow when writing a press release. It beautifully explains to its audience the reason behind its rebranding by making use of videos, images and text. Instagram does an extraordinary work of rebranding in this press release as it encompasses its family of apps – Layout, Boomerang, and Hyperlapse – and creates a unified look.
4. The Inter-American Development Bank Group rebrands its private sector arm as IDB Invest
Published by: Inter-American Development Bank Group
This press release is one of the best examples of rebranding in the financial services sector. Luis Alberto Moreno, president of the Inter-American Development Bank (IDB), announced the launch of IDB Invest – its private sector arm – in this rebranding press release. The decision to rebrand the IIC follows the expanding focus of the private sector by the IDB Group and its goal of repositioning it as the Latin America and Caribbean solutions bank. 
3. Expert Position Press Release
This is a form of the press release that is used to establish the credibility of a person or company in a given area. The aim is to place the individual or organization as a go-to source of information for the media to contact, at any given point of time in the future. A press release of an expert position provides a general introduction and some type of expert verification by a third party.
Below are the expert position press release examples of companies Aspire Systems, Adobe, S&P Global and H&M, to name a few, and also why we like it.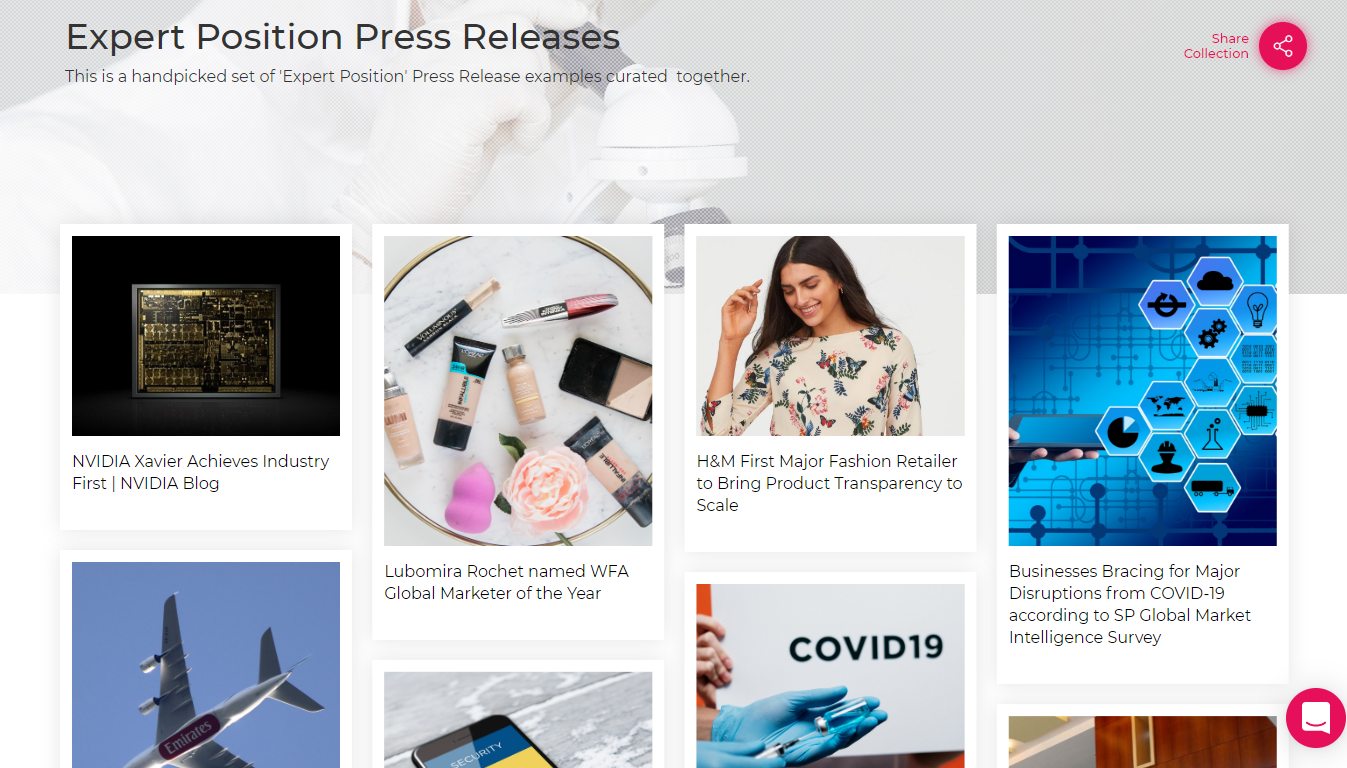 Why we like what we like:
1. Aspire Systems is one of India's 100 Best Companies to Work For in 2019
Published by: TechGig
Aspire Systems, founded in 1997, is an IT services company with presence in the United States, UK, BeNeLux, Middle East and India. It provides services that include outsourced product creation, software testing, application support infrastructure & oracle services.
This press release marks the excellence of Aspire Systems as it earns the recognition of "India's 100 Best Companies to Work For in 2019" accredited by Great Place to Work® (the global authority in creating, assessing and identifying the Best Workplaces) and The Economic Times.
2. Adobe Named a Leader in B2B and B2C Commerce Suites by Independent Research Firm
Published by: Adobe
This press release is an excellent example of an expert position in the technology & services sector. The computer software giant, Adobe, in this press release, reflects its expertise in the segment of B2B and B2C commerce suites. This press release serves as a great template as the expert position is corroborated and validated by the research of an independent firm. It also encompasses how Adobe received the highest score possible in personalization, product vision and roadmap, and delivery and extensibility ecosystem criteria.
3. Businesses Bracing for Major Disruptions from COVID-19 according to S&P Global Market Intelligence Survey
Published by: S&P Global
S&P Global Market Intelligence is a division of S&P Global that provides vital insights that enable individuals, companies and governments to make accurate decisions. This press release is a brilliant example in the sector of financial services, as it exhibits expertise by being proactive in releasing a report entailing the difficulties faced by the companies or are expecting to face the challenges as a result of the COVID-19 outbreak sweeping the globe. This press release recognizes S&P Global as a leader in providing market-intelligent insights and empowering the enterprises facing difficulties.
4. H&M First Major Fashion Retailer to Bring Product Transparency to Scale
Published by: H&M
If you are looking for a perfect example of an expert position press release in the sector of fashion & retail, this press release is the one! It exudes the expertise of H&M as it becomes the first fashion retailer in adding multiple transparency layers, thereby enabling the customers to make informed choices. They had done it before, and in this press release, they are repositioning themselves as an expert by doing it again. 
4. Awards and Recognition Press Release
You wish to announce it to the whole world when your company receives an accolade for all the hard work that it has done. That is when you declare an Award Press Release. However, there is one caveat – Refrain from being over promotional or over-emotional about your success as it will make your company come across as "showy". Instead, you should consider explaining how this recognition will help your company align with its mission and vision. This will help corroborate your brand image as an industry leader.
Below are the awards and recognition press release examples of companies such as MoEngage, HSBC, ITC and AT&T, to mention a few.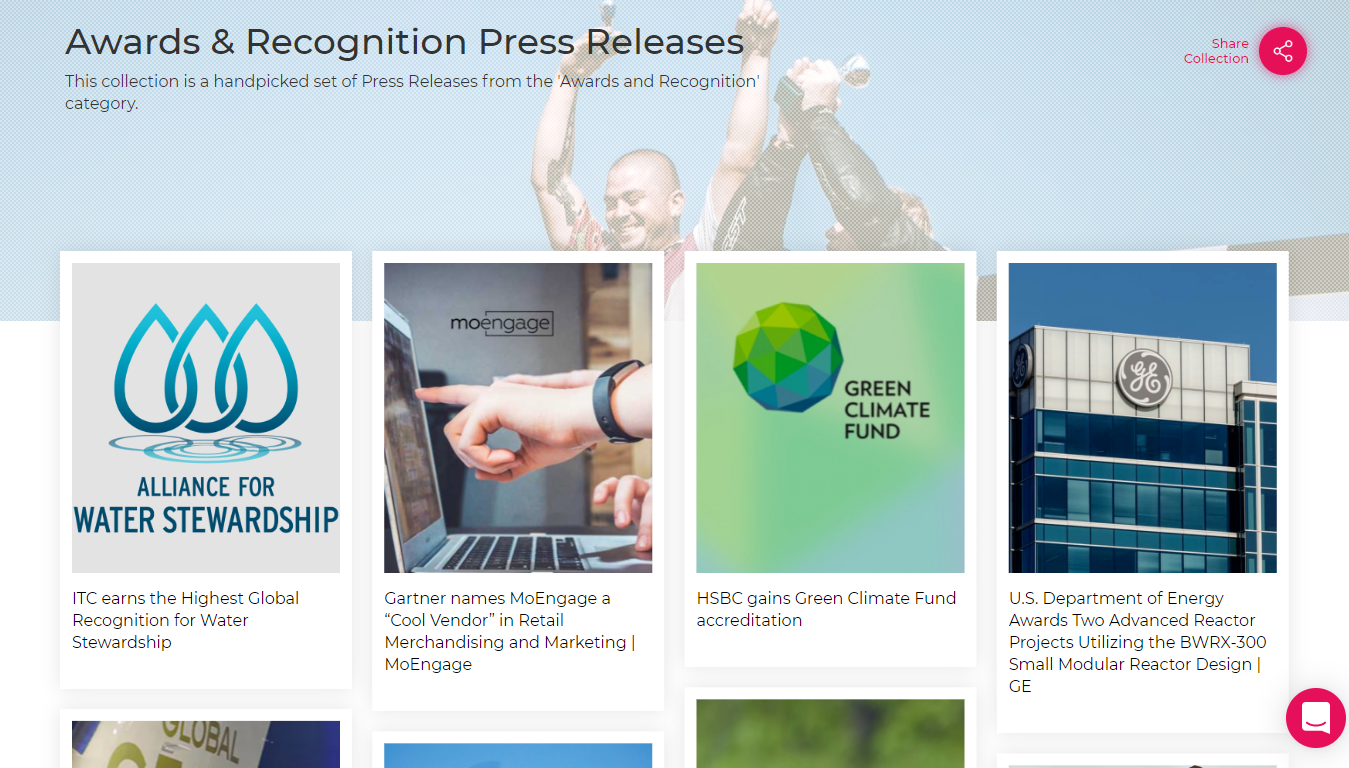 Why we like what we like:
1. Gartner names MoEngage a "Cool Vendor" in Retail Merchandising and Marketing
Published  by: MoEngage
MoEngage is a customer engagement company headquartered in San Francisco, USA, providing a platform for marketing automation that supposedly helps companies boost customer experience.
This press release is important as it comes along with the launch of MoEngage Sherpa – the AI-based engine that improves customer engagement. This press release reflects the coveted recognition by Gartner for its solution for digital retailers. Hence, in this way, software companies can leverage the power of awards and recognition press releases.
2. HSBC gains Green Climate Fund accreditation
Published by: HSBC
The Green Climate Fund is a specific global forum for investing in low-emission and climate-resilient growth to respond to climate change. Hence, HSBC positioned itself as a frontrunner in green financing in this press release. This press release reestablishes the fact that HSBC is committed to sustainable development and will continue to work with clients, governments and businesses to address the climate challenge.
3. ITC earns the Highest Global Recognition for Water Stewardship
Published by: ITC
In present times when water conservation is of paramount importance for all the industries, ITC, in this press release, earned the most coveted global recognition for water stewardship. This press release succinctly captures the facts and figures related to water conversation and strengthens its inclination towards a sustainable future. In this press release, ITC also states that it is the only water-positive organization in the world for 17 years, and its Water Stewardship System cumulatively spans 10.87 lakh acres, benefiting more than 3.20 lakh people in 15 states
4. DiversityInc Names AT&T to Hall of Fame for D&I Leadership
Published by: AT&T
Time and again, employees and employers have reiterated the importance of diversity and inclusion at the workplace. This press release is one of a kind example in the sector of telecommunications. AT&T, in this press release, announces its recognition as a member of Hall of Fame on DiversityInc's top 50 companies for diversity list. Hall of Fame companies are recognized as long-standing, ever-evolving leaders in the field of diversity and inclusion and as a result of fair and equitable treatment of their employees.
5. Charitable Initiative Press Release
The media is always on the lookout for feel-good stories. Showcasing your inclination towards philanthropy can help your company gain the media attention and eventually, that of the larger audience. Charitable initiatives portray the culture of your company and build your brand equity. It conveys to the audience that your company is concerned with more than just the profits.
Below are the charitable initiative press release examples of companies AstraZeneca, HUL, Honeywell and The Walt Disney Company, to name a few.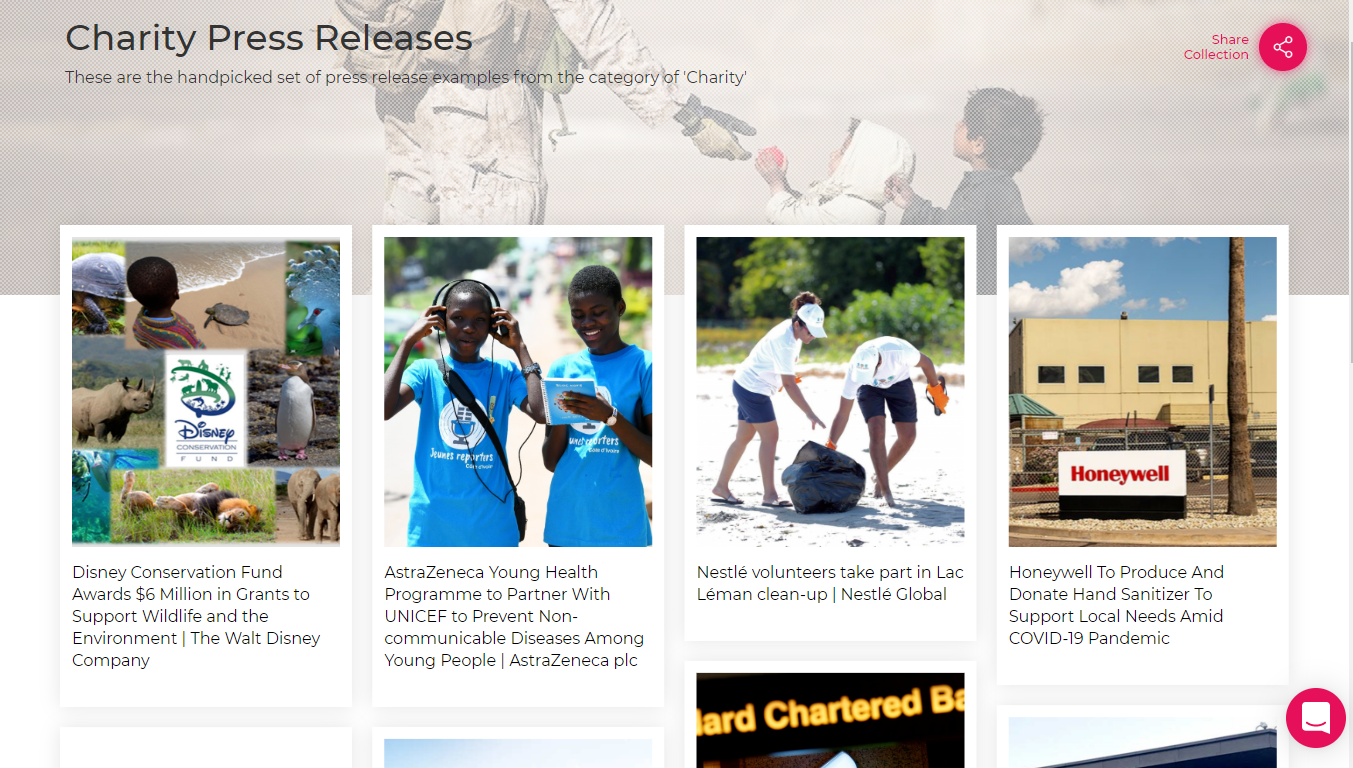 Why we like what we like:
1. AstraZeneca Young Health Programme to partner with UNICEF to prevent non-communicable diseases among young people
Published by: AstraZeneca
The World Health Organization (WHO) recognizes non-communicable diseases (NCDs) as the world's number one cause of death and found that 70% of premature deaths from NCDs can be related back to habits that first occur in adolescence. In this press release, AstraZeneca announces the crucial partnership of AstraZeneca Young Health Programme with UNICEF that will raise awareness among young people and key decision-makers about the dangers and consequences of NCDs, such as cardiovascular disorders, preventable cancers and mental health conditions. The press release aptly puts across the coverage and efficacy of the programme and establishes its inclination for the welfare programme.
2. I for Isolation – Project Stay I
Published by: HUL
At a time when the awareness of the precautionary measures became very important for every individual and enterprise, this press release launched by HUL (a subsidiary of Unilever) plays an important role in reducing the burden on the healthcare system. Through this partnership, HUL aims to amplify the existing initiatives of the government and to help create many more medically sound isolation centres, which will reduce the pressure on numerous hospitals.
3. Honeywell To Produce And Donate Hand Sanitizer To Support Local Needs Amid COVID-19 Pandemic
Published by: Honeywell
This press release exhibits the resolve of the company in fighting the pandemic by undertaking charitable initiatives. Honeywell, in this press release, communicates how it is temporarily shifting manufacturing operations at two chemical manufacturing plants to produce and donate hand sanitizers to government agencies.
4. Disney Conservation Fund Awards $6 Million in Grants to Support Wildlife and the Environment
Published by: The Walt Disney Company
In this press release, the Walt Disney Company spreads awareness among a larger community of the efforts made by the Disney Conservation Fund. This press release aptly promotes robust environmental protection programs and projects that conserve biodiversity and ecosystems, while encouraging kids and families to take action on behalf of wildlife and nature in their communities.
6. Mergers and Acquisitions Press Release
You enter into an agreement with a company to gain a larger market share or diversify your product and services, or any strategic business reason for that matter. But when you finally sign the agreement with the stakeholders involved, announcing a press release is the aptest way to make the news official.
The main point of demarcation between this type of press release and others is that you need to draft this press release considering all the stakeholders involved. Both the companies might have a different customer base, and hence, you will need to develop a press release that caters to both. Not to mention, this agreement will be of paramount importance for investors, and hence, it is imperative to write a press release that appeals to them.
Below are the mergers and acquisitions press release examples of companies such as Canva, New York Life, Facebook and Berkshire Hathaway, to name a few, with a brief description of why we like it.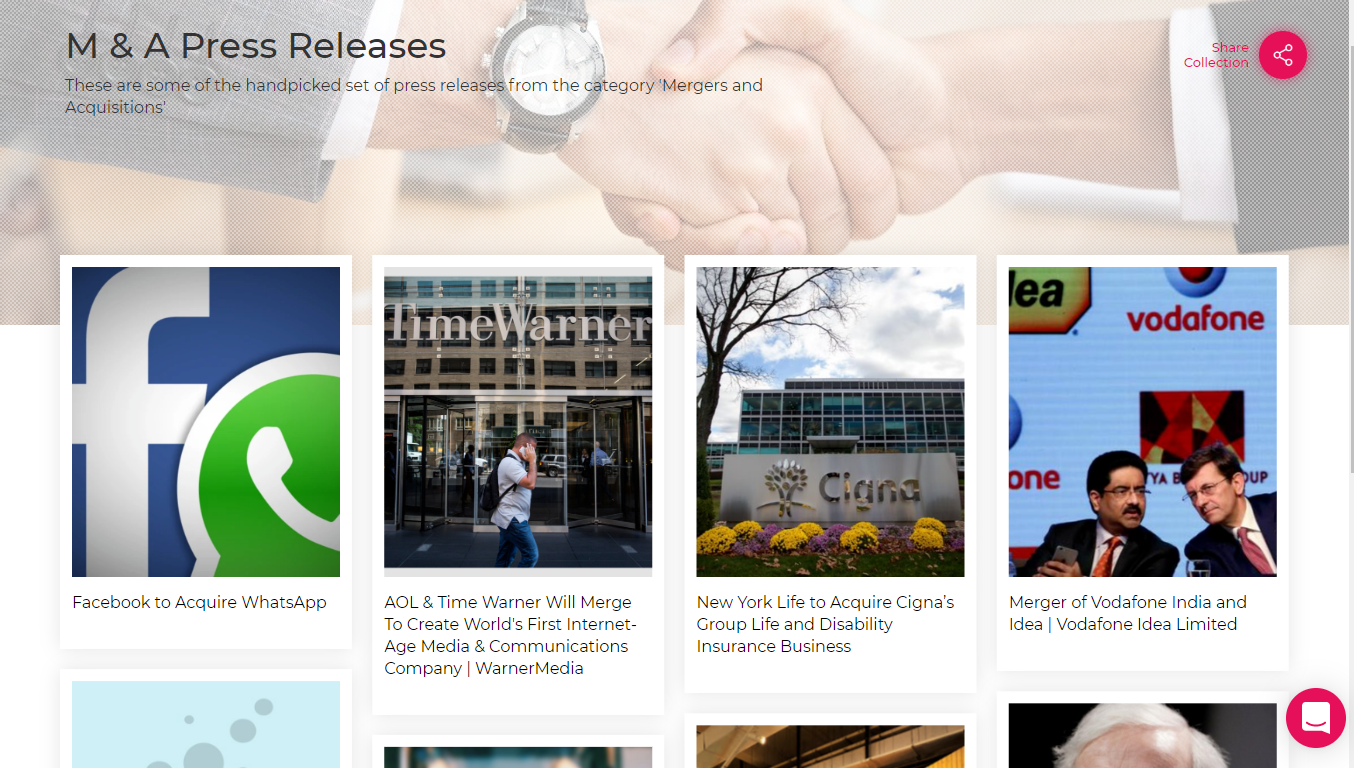 Why we like what we like:
1. New York Life to acquire Cigna's group life and disability insurance business.
Published by: New York Life
This press release communicates to its target audience the increase in value that New York Life can bring to its policyholders and the enhancement in their well-defined business model. New York Life with this merger adds millions of customers to their family and hence, they did right in using the press release to convey it to the larger community.
2. Facebook to Acquire WhatsApp
Published by: Facebook
In this press release, Facebook communicated how with this merger, it will strengthen its connectivity and utility to the world. The press release gives a detailed description of the deal and the financial evaluation behind it. It is one of the most significant deals in the technology and services sector. This press release also reiterates that the leading messaging company would continue its operations independently retaining its brand.
3. Berkshire Hathaway Inc. to Acquire Precision Castparts Corp. for $235 Per Share in Cash
Published by: Berkshire Hathaway
The decision to buy Precision Castparts Corp. was the conglomerate's most massive takeover ever. This press release is significant as it complements the strategy of the legendary investor, Warren Buffett, to increase the company 's earnings by acquisitions.
7. Executive, Staff and Employee Press Release
Large enterprises typically announce new hires in a press release, especially those with high management levels. This kind of press release also contains relatively detailed biographical details on the new recruit. It should include at least one photo of the individual as well.
Below are the executive, staff and employee press release examples of  companies like AB InBev and JPMorgan Chase, among others.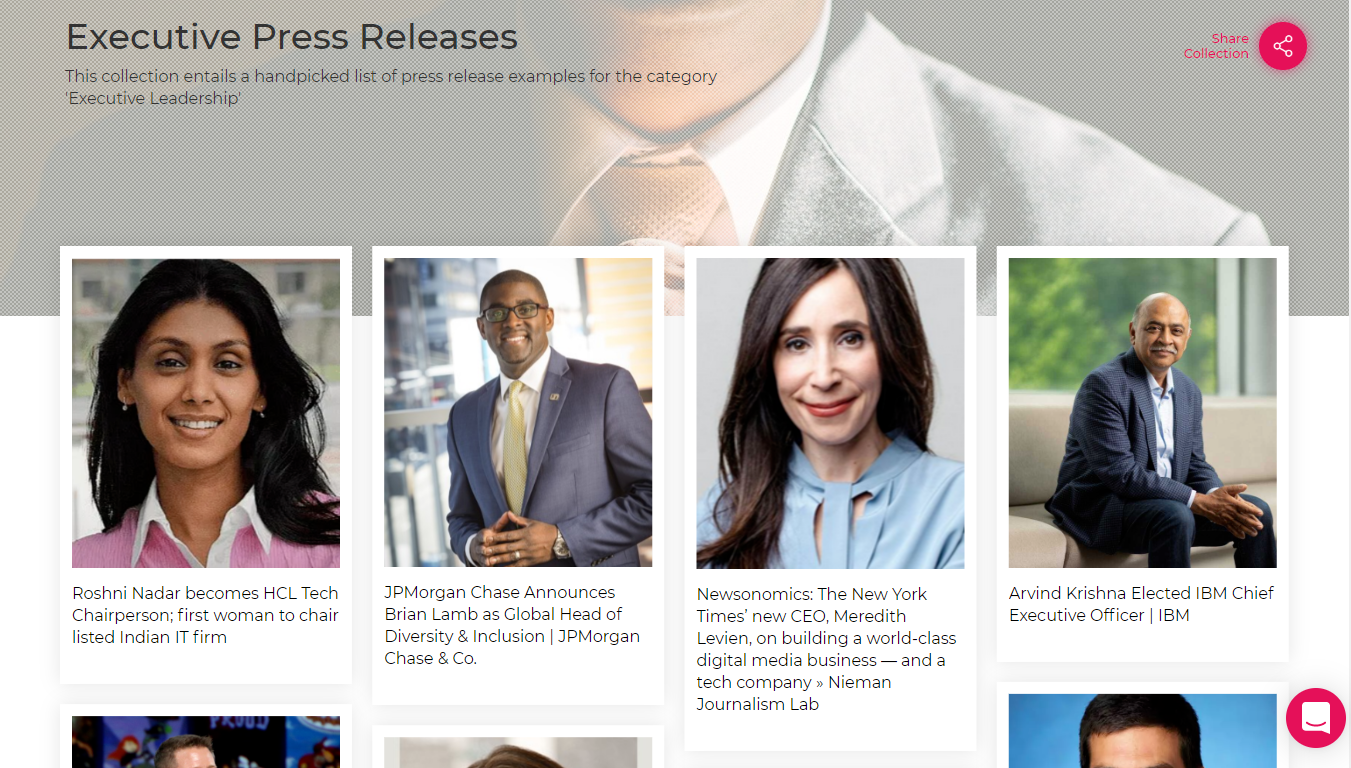 Why we like what we like:
1. Roshni Nadar becomes HCL Tech Chairperson; first woman to chair listed Indian IT firm
Published by: HCL Technologies
India's richest woman Roshni Nadar Malhotra became the first woman to head a listed Indian IT company as she took over as the Chairperson of $8.9 billion HCL Technologies from her father and billionaire Shiv Nadar.
This Press Release example talks about the person that is Roshni and also covers some aspect of what her responsibilities as a leader will be for the forthcoming tenure. Also, it covers what will it be for the company.
2. JPMorgan Chase Announces Brian Lamb as Global Head of Diversity & Inclusion
Published by: JPMorgan Chase
JP Morgan created a new position at the firm named "Global Head of Diversity & Inclusion" and announced the same lucidly in this press release. This press release by JPMorgan comes at a time when racism reached an all-time high, thus, reflecting JPMorgan's stand on the importance of diversity and inclusion in the workforce.
8. "Updates on the Existing Product" Press Release
Launch of an update to an existing product should be no less grandiose than the launch of the product itself. This type of press release aims to bolster the prowess of your company in a particular product. It illustrates your diligence and proactive planning.
The press release should highlight the exciting and novel features or updates that make this significant. The release must focus on the benefits, and explain how it continues to distinguish your brand from competitors.
Below are the "Updates on the existing product" press release examples of companies such as Stitched Products, Chargebee, Volkswagen and Sony.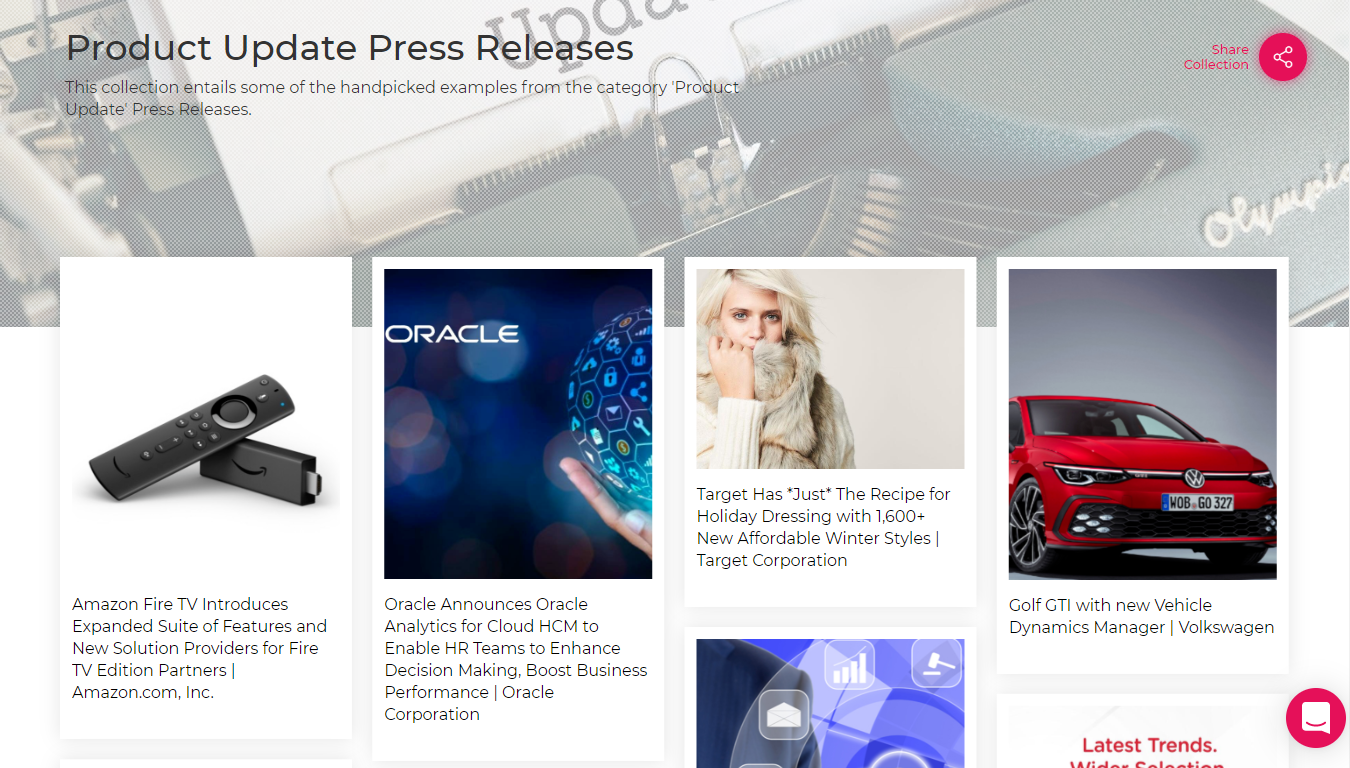 Why we like what we like:
1. Chargebee Unveils Features to Improve Revenue Recognition and Optimize Revenue Operations for Subscription-Based Businesses
Published by: Chargebee
Chargebee is an emerging leader in SaaS subscription management and recurring billing solutions with more than 1,700 global customers. If you are looking for a perfect example of a "Updates on the existing product" press release in the segment SaaS-based enterprises, this press release is the choicest. The press release further strengthens the needs of high-growth subscription-based businesses with a higher level of business intelligence and automation.
2. Golf GTI with new Vehicle Dynamics Manager
Published by: Volkswagen
Golf GTI comes up with the best updates with each variant, but this press release announcement of a vital update in Golf GTI takes the automobile to the new heights. The new Vehicle Dynamics Manager manages the electromechanical operating gear systems intelligently. This is a perfect example of a brilliant template of "Updates on the existing product" press release in the sector of automobiles.
3. Sony to Release Six Types of Stacked CMOS Image Sensors with Global Shutter Function with Back-Illuminated Pixel Structure
Published by: Sony
This press release is one of a kind template of "Updates on the existing product" press release encompassing technical and commercial aspects of the six different types of CMOS image sensors. It uses a perfect mix of images, text and table and clearly explains each element of the update, thus, making it a significant press release in this segment.
9. Event Press Release
If you want your event to flourish and get houseful with your target audience, you need to create a buzz by announcing a press release.
A press release for an event is used to advertise a buzzworthy event that is being hosted, attended, or sponsored by the organization. Such press releases aim at increasing awareness among the general public and attracting media members to attend the event or cover it.
Below are the event press release examples of companies Saudi Aramco, L'Oréal, Wingify and Mastercard, among others.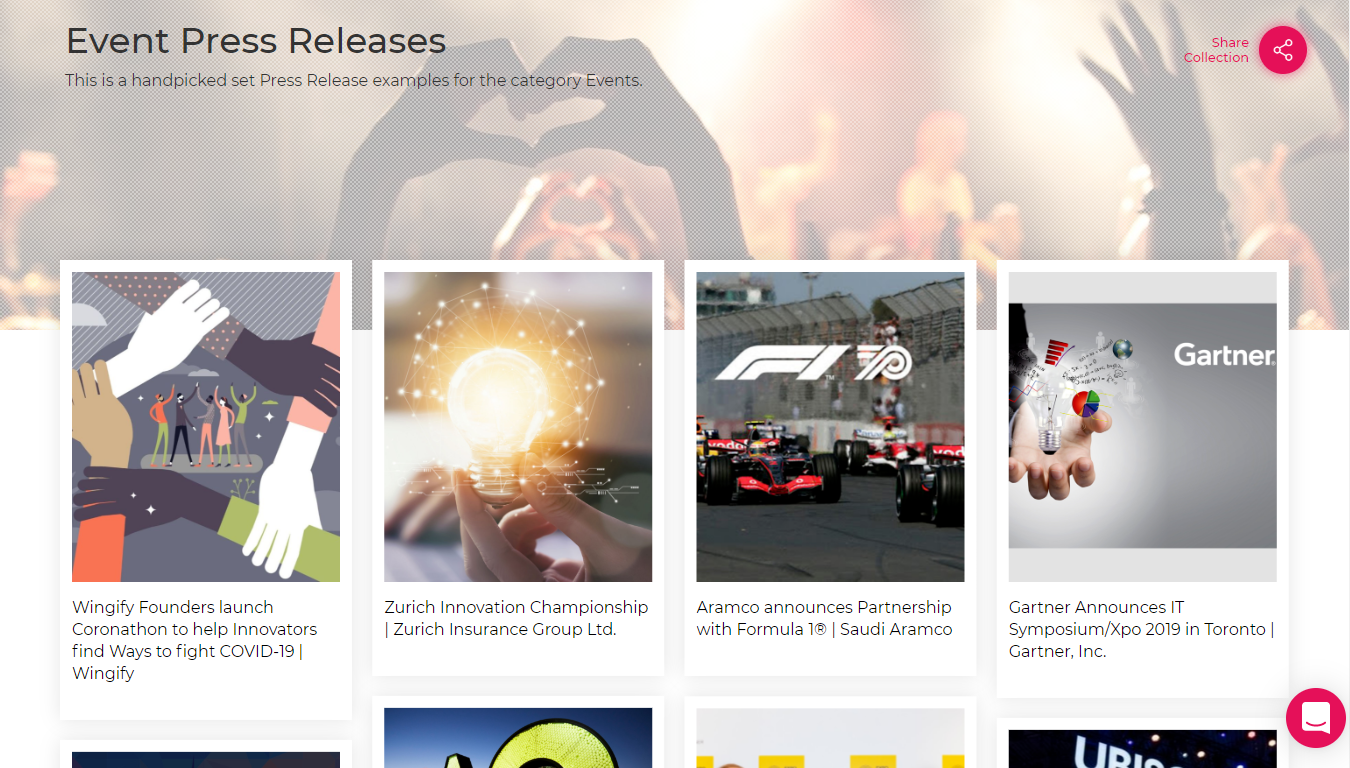 Why we like what we like:
1. Aramco announces partnership with Formula 1®
Published by: Saudi Aramco
This press release announces the long term sponsorship with Formula 1®, thus connecting Saudi Aramco to a vast audience of 500 million racing fans. The press release is a significant one as this is the first time when the world's largest oil and gas company announced a sponsorship with a major sporting event. It aims to strengthen its corporate branding and engagement by this PR event.
2. L'Oréal signs partnership with Expo 2020 Dubai as Official Beauty Products and Services Partner
Published by: L'Oréal
L'Oréal, a pioneer in the beauty industry, in this press release, announces its partnership with Expo 2020 Dubai as Official Beauty Products and Services Partner. This press release follows the best practices of writing a press release and succinctly describes how L'Oréal will present the latest beauty products and services and participate in events showcasing the future of beauty, driven by personalization, new technologies and sustainable innovation.
3. Wingify founders launch Coronathon to help innovators find ways to fight COVID-19
Published by: Wingify
Wingify, in this press release, aptly leverages the power of press releases as a marketing collateral to promote a unique digital event – Coronathon. It is a hackathon on digital technology where people can put forward innovative ideas to deal with the coronavirus crisis. Wingify, with this press release, garnered support and participation from a huge global audience who later presented insightful ideas to battle Covid-19.
4. Australian Open Extends Landmark Partnership with Mastercard
Published by: Mastercard
This press release marks a significant opportunity for Mastercard to provide an enriching fan experience at a global level. The press release also encompasses the deliverables and opportunities for Mastercard to serve a diverse set of customers. This world-class tournament provides Mastercard with endless possibilities to create priceless experiences for cardholders and consumers around the world that will bring the sport to life in meaningful ways.
We hope these examples helped you understand press releases better!
You might also want to read How to write a White Paper? [With Free templates].