How to write a White Paper? [With free templates]
Download free white paper templates to get started.
What is a White Paper?
White papers are great examples of marketing collateral that exhibit your authority over a chosen niche. They form a key part of a company's marketing collateral strategy, given their potential to generate a large number of leads if used effectively.
Being structurally long-form content and more expensive to produce than eBooks or blogs, companies plan for white papers at the beginning of the year.
In this post, we have identified eight easy steps on how to write white papers based on our research of the Best B2B White Paper Examples. Along with it, here three definitive templates to get you started right away.
8 Easy Steps On How to Write a White Paper
Here are 8 easy steps to create a white paper that resonate with your target audience.
1. Identify the topic
Make sure you identify the topic for the white paper, the target audience, and its coverage. This helps you focus on the job at hand without digressing.
2. Determine the objectives
If there are a number of stakeholders, determine the objectives of creating the white paper. For example, it could be getting more leads, building your brand, educating your target audience, predict the future of your industry etc. Make sure you have metrics to identify the success or failure of your white paper.
3. Let experts be the authors
Identify the authors in your organization who will create the white paper and timelines for it. If you need an external copywriter, communicate with them so they clearly know what is expected of them.
4. Use visuals
Use charts, pictures, graphs, blurbs and callouts to weave a story as they get consumed easily. You can use them later in infographics as reusable components to market/distribute your white paper. 
5. Provide real-life examples
Real-life stories add authenticity to your central theme and the solution you are suggesting. So, earmark separate spaces in the document for case studies, examples, scenarios etc.
6. Provide references & footnotes
If you are using data from other sources, acknowledge them in footnotes and reference them to their origins.
7. Get your marketing act together
Before you complete the production of the white paper, determine how you will market it to your audience - through emails, social media posts, buying banners in online magazines/publications, launching them at events/conferences, hosting webinars around it etc.
8. Use well-defined white paper templates
One of the biggest stumbling blocks in the white paper creation process is the availability of templates or white paper formats. That is exactly what we have addressed in this post with three simple templates. These templates will help you not be overwhelmed with the monstrosity of the project. Feel free to tweak them based on your needs. And, we don't need your email ids, so go ahead and download them without a worry!
This template is used where the topic is not too intense, yet its importance cannot be brushed aside. The template introduces the challenge at hand, breaks it down into smaller components and then proposes the solutions to tackle the challenge. It then uses real-life case studies to show how a prescribed approach can solve the problem.
Here are a few examples that you could consider before using this template:
How cardiovascular diseases can prove fatal and steps to avoid them. (Industry: Healthcare)
How virtualized networks can help healthcare organizations improve patient care. (Industry: Healthcare)
How dialogue marketing can help businesses succeed in Germany. (Geography-focused)
The supportive approach to helping SMEs prosper in the UK. (Geography-focused)
Effective data management techniques to integrate, clean and maintain your data. (Generic)
If you noticed each of the above circumstances have a problem at hand in the beginning. As an expert, you are at a vantage point of having already experienced those challenges (for yourself or your clients).
You are now ready to suggest solutions and remedial measures needed to overcome them. This white paper format is lightweight and may not have more than 5000-7,500 words.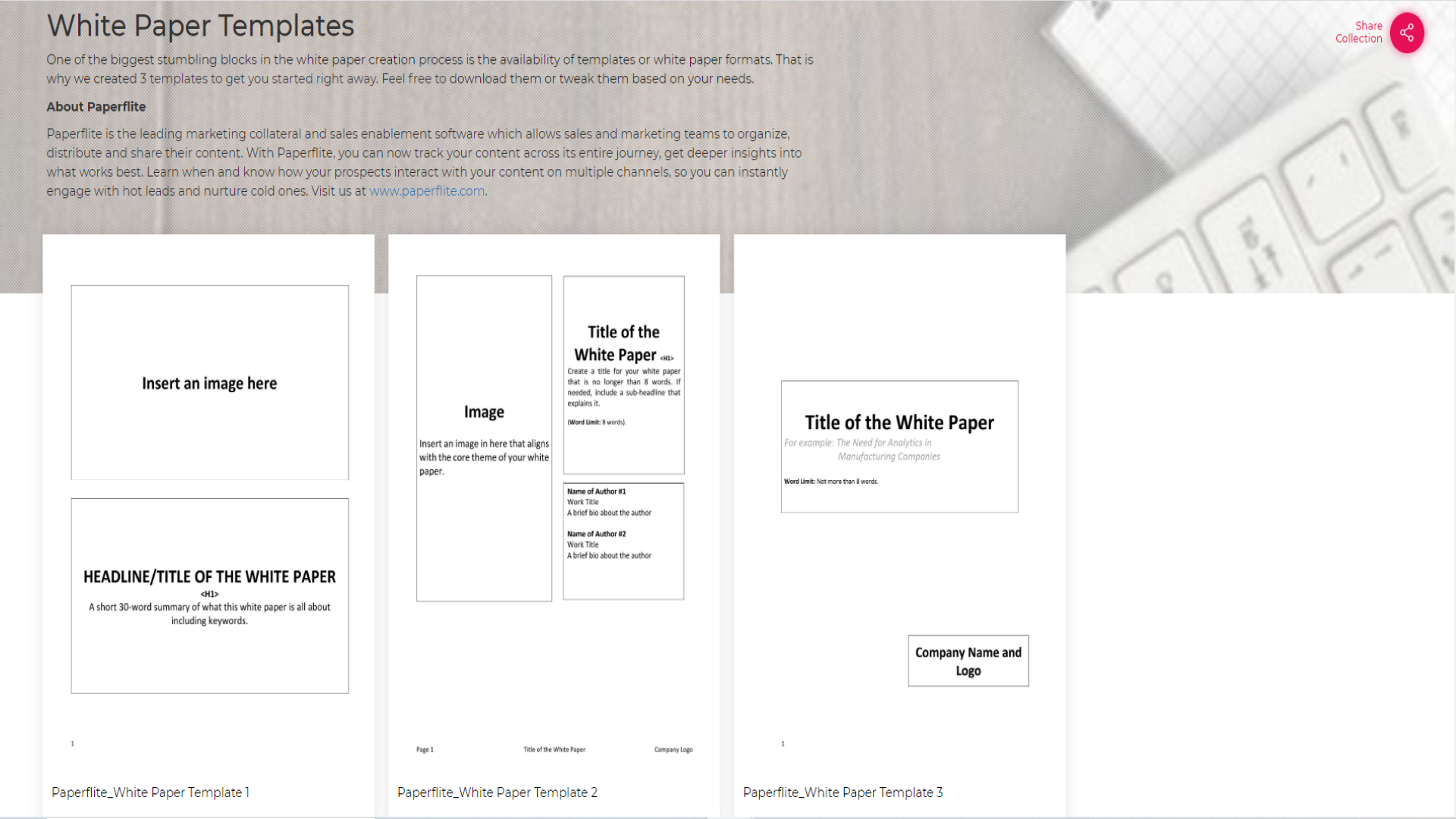 Unlike the previous example where the challenges were defined, this template begins with an approach that is already identified as one that solves challenges. Companies publish such white papers when they have realized tangible outcomes from their approach and to announce in the market how they are the first to get there.
Here are a few examples where this template will prove handy:
Implementing Robotic Process Automation for the financial services industry.
How the Digital Supply Chain can enable greater visibility and improve customer experience.
How Shared Service Centers can drive innovations at an organization by blending people, processes, technology, and infrastructure.
How Disruptive Innovation can help traditional companies succeed and thrive in the digital economy.
How Patient Journey Mapping can help insurance companies create better experiences.
Notice how each of the above instances highlights an approach that has already been tried and tested. In each of these instances, the challenges are rather broad and their contours not clearly demarcated. However, companies who are seeking answers to their existing problems can draw a leaf out of these white papers before engaging with the experts for advice and suggestions.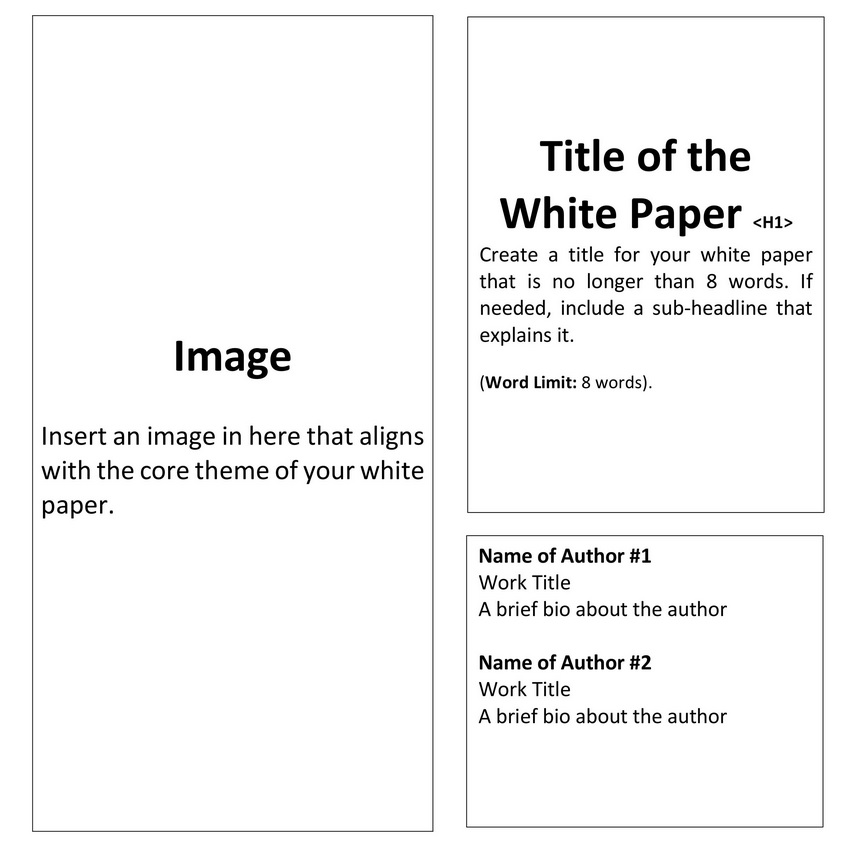 The third type of format is more elaborative than the other two. It delves into the latest trends that are taking over the industry and how an organization can take advantage of them. These white papers identify a large topic and how it is imperative for businesses to adopt them or risk falling by the wayside. They look quite far ahead in the future and make bold predictions.
Here are a few examples to explain where such white papers are practical:
How innovative technologies such as mobile, wearables, AR/VR are helping improve productivity, boosting revenues and maintaining compliance for insurance companies.
How data and analytics are the newest resources to boost the economy in the 21st century.
How the collapse of the internal-combustion vehicle and oil industries could change the transportation landscape by 2030.
How on-demand urban air transportation can reduce a 90-minute drive to a mere 6 minutes.
How the growth of car connectivity and cars with advanced driver assisted systems can impact the distribution and market for motor insurance.
Each of these white paper themes is very large in their coverage and could take up to several weeks or even months to publish. They might need a lot of assumptions, unlike the other two approaches that we explained earlier in this blog.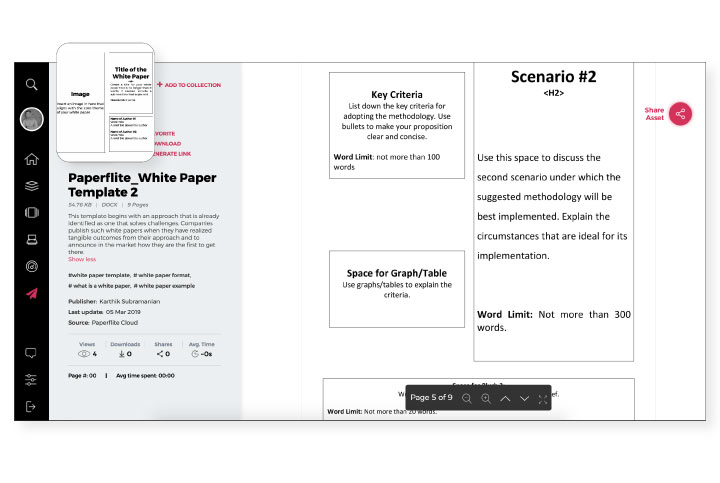 Choosing the Best White Paper Template 
While these three templates stand apart in their utility and purpose, some of their elements can be borrowed and combined with others. For example, the first template uses graphs, numbers, and images to weave a story – feel free to select portions of it in a different template.
Before you sit down to put pen to paper, it is important to select the best white paper template that works for you and your organization's needs. Remember that white papers are timeless pieces that once created can live to get you more business much long after they were created.