What is Video Analytics and Why You Should Care about it?
Video analytics enables sales & marketing teams to discover, create and share contextual videos, and measure its success.
What is Video Analytics?
Video analytics provides marketing and sales teams with visibility into how their leads and customers are engaging with videos, their preferences, usage patterns, bounce rates and their popularity.
When was the last time you saw a video? 10 minutes back? An hour ago? We'd not be surprised if you landed here right after watching a video.
The word 'video' originates from the Latin word 'Videre,' (meaning 'to see') and combines with the English word 'Audio.'
As the below infographic would indicate, videos are a type of marketing collateral that are not a fad - they are here to stay. As humans, we are wired to absorb stories that appeal to us visually than text. That is why we find movies, ads, and games that we've watched more memorable than reading about them.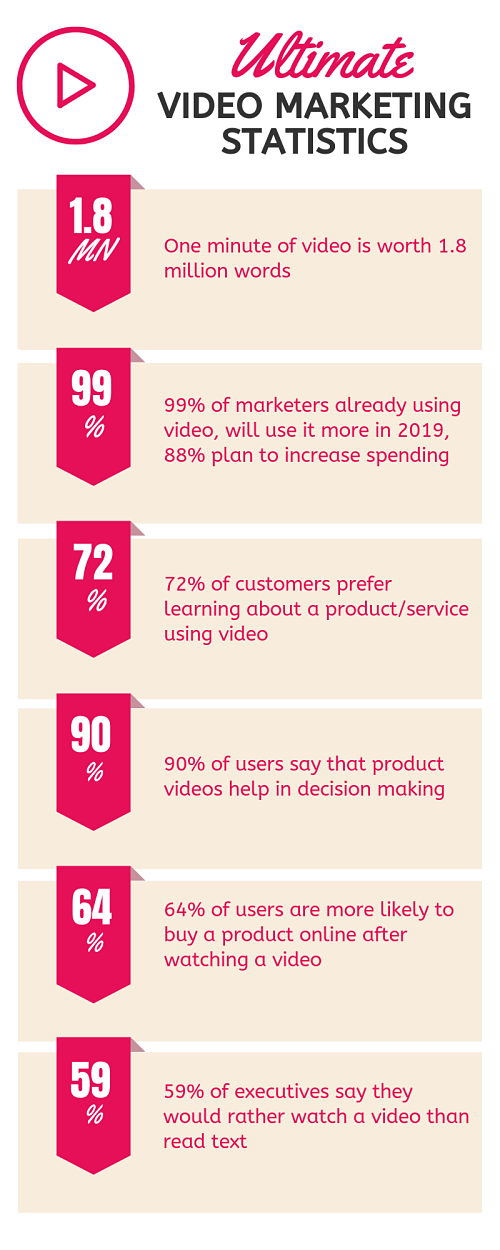 It is no surprise that about 500 hours of videos will find their place on  YouTube by the time you finish reading this blog.
And the numbers keep increasing every year. Video ads are expected to touch $103 billion by 2023.
Videos in Sales & Marketing
Videos are integral to the success of sales and marketing teams. In B2B scenarios, salespeople use videos to:
Convince customers/prospects to buy their products/solutions
Demonstrating how a product works (product walkthroughs)
Educating leads about how to find solutions to their problems
Onboarding customers into their fold
Showcase customer testimonials as proof of success
Marketers use videos to:
Train sales teams about new product launches/features
Enable sales teams to make effective pitches
Exhibit their solutions during conferences, roadshows, events
Enhance their organization's brand image
Improve conversion rates of their website visits
However, marketers and sales reps don't know what their ROI is from creating and video marketing for pitches.
The main reason sales folks and marketers fail to measure video marketing ROI is because they don't know how to do it and need an easier way to do it. Problems arise when it is not apparent how a video marketing campaign has influenced sales.
Here is how a marketer thinks about having insights about videos?
Are our sales teams using videos that we've put together?
Do our customers like watching our videos?
What should be our theme for the next video?
Meanwhile, a sales rep is left wondering after a sales pitch using videos:
How do I track user engagement with our company's videos?
How do I know the right kind of videos to nurture my prospects?
My next meeting with a prospect is two days away. How do I begin my conversation?
What is Video Analytics in Sales & Marketing?
Video analytics provides marketing and sales teams with visibility into how prospects and customers are engaging with videos, their preferences, usage patterns, and their popularity.
In short, video analytics converts disparate and difficult-to-organize data into ideas, trends, statistics, and insights via smarter techniques.
It enables marketing and sales teams to learn how videos are helping their customers.
Video Analytics: Use Case for Sales Teams
Andrew is a sales rep at a manufacturing company and uses videos in his email campaigns to communicate features about his product to customers. In one such campaign, he used a video to show his customers the benefits of using his product's latest features to shorten production time, improve yield and reduce wastage.
Andrew can uncover exciting insights via video analytics including:
Total time spent by every customer on a video
Time spent across each frame (including multiple views)
Exit points for users in a video
Number of views across each a video's entire duration
Video Analytics: Use Case for Marketers
Jennifer is an event marketer at an ad agency and visits conferences to exhibit how her product could solve customer challenges. She uses an iPad at her booths to interact and share videos with customers. However, she struggles to know pre-event and post-event marketing metrics for her videos.
Jennifer can discover powerful insights using video analytics that includes:
Finding the appropriate video to be shown to prospects (pre-event)
Average time spent on a video (pre-event)
Number of people who've watched her videos (post-event)
Number of times her videos have been downloaded (post-event)
Number of times her videos have been re-shared (post-event)
Video Analytics: How does it work?
Let us now understand how it works in real time. Salespeople use videos hosted in content management systems such as Paperflite. It helps them search and find appropriate videos that they can readily share with their customers.
The below screenshot shows how a user can search for a video in a content management system. 
Clicking on a video will reveal its vital analytics such as views, downloads, re-shares and the average time spent on it.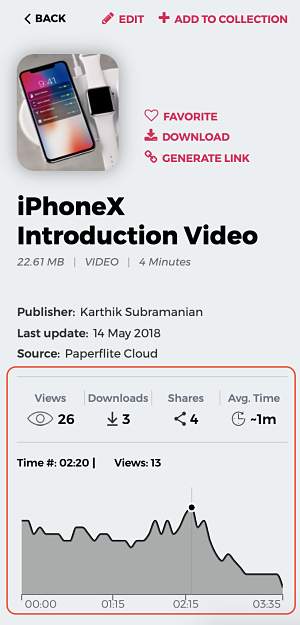 In a nutshell, video analytics can tell a marketer or a sales rep how popular a video is, making it easy for them to learn which ones are working and are worth sharing with prospects.
But, what if a user wants to add a YouTube video. Conventionally, YouTube video analytics offer simple insights like number of views, likes, and dislikes.
Content management systems enable marketers and salespeople to import YouTube videos without downloading them. All that they need is a YouTube link that can be imported and hosted.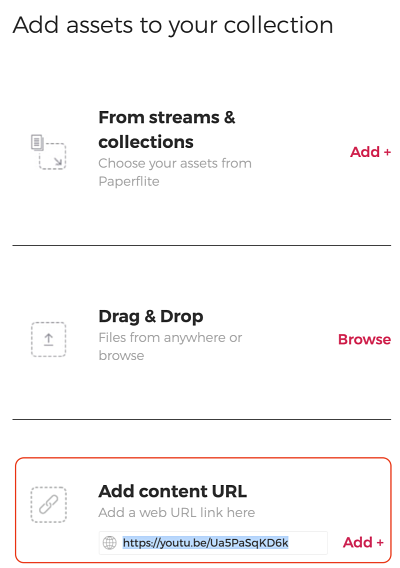 When a YouTube video URL is added, the content management system can collate video analytics for it over its life aiding more discoverability, findability, and shareability.
Summing it all up
Video analytics has the potential to extend a company's brand awareness and improve its bottom line.
For marketers, video analytics helps quantify the return on their video marketing, making it easy to build the business case for producing. Marketers need to know video production costs, its usage, and performance to determine video marketing ROI and how it can help achieve a higher return.
Sales teams can leverage video analytics to find the most contextual video for their customers, use it to engage customers in a meaningful way.
Overall, video analytics enables executives to chart future roadmaps for their business based on discovered trends.