How to track videos and measure their ROI?
Video tracking can be daunting, not if you know what metrics to focus on.
Track videos and their performance to optimize your marketing collateral strategy.
 
 On April 24, 2005, YouTube co-founder Jawed Karim uploaded the first video titled Me at the zoo, which has garnered 69 million views and 2 million comments. 
 
Talk about content engagement, eh?
 
That day was important to the history of (digital) marketing as his video demonstrated the potential of video content in terms of engaging a wide array of people and converting them into buyers.
 
If you don't have a video for your business, the chances are that you are not giving enough outlets for your brand's message. For sales and marketing teams, videos are an essential piece of their marketing collateral.
 
Videos are entertaining and educative, and at the same time, they convince buyers about your product faster than any medium.
 
Videos that consistently help in selling your product have the greatest ROI value. Creating more of such videos would boost your sales, so you'd need to track videos that yield the ROI you expect. 
 
 
How to calculate video content ROI?
In simple terms, video content ROI is the net of returns it generates and cost, entirely divided by the cost of producing it.
Video ROI (in %) = (Returns on Video Content-Cost of Video Content)/Cost of Video Content
 
Cost of producing a video includes:
Money paid to contractors, agencies, in-house employees to create it.
Time spent in creating it
Money spent in distributing it across channels, medium, social media
Money spent on dubbing artists, voice over artists, etc.
Returns on video content include:
Sales that you can directly map to a video
Visits that it drives to your website
Enhanced brand sentiment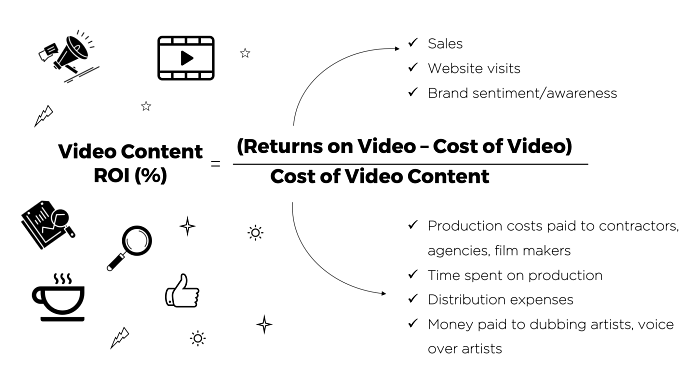 With these many variables, trying to track videos and its efficacy is often a struggle. The IAB Ad Spend study for 2018 highlighted measuring video ROI as the second biggest obstacle to video advertising. 34% respondents said they struggle to measure ROI, up from 32% in 2017.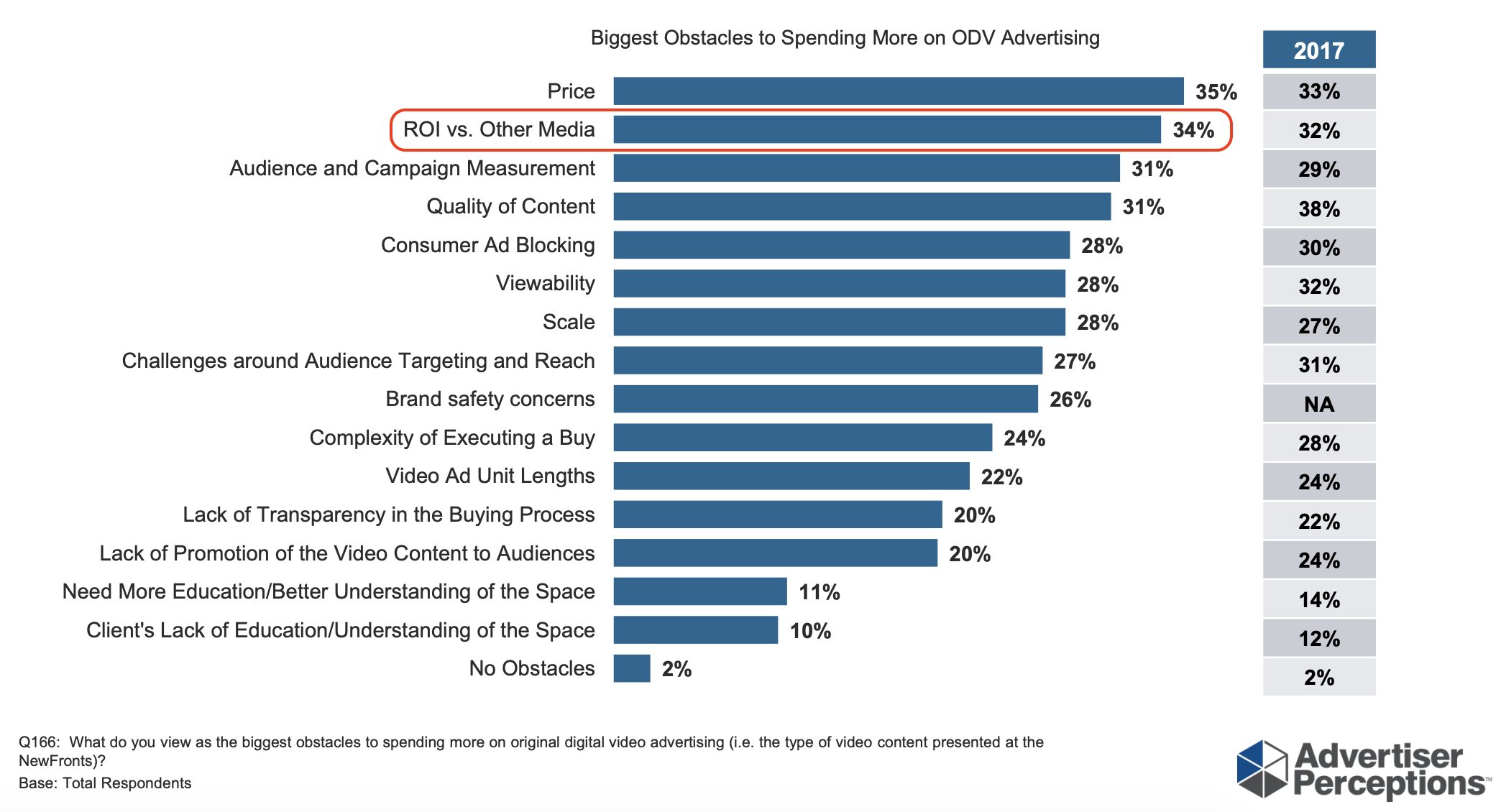 USE TECHNOLOGY TO TRACK VIDEOS

With 34% of respondents finding the task of measuring the ROI of videos cumbersome, it is clear that trying to sort through the data and calculating manually will not work.
 
Using an agile content management software, you can track videos and their ROI easily as it helps pin the variables and make a coherent sense of what drives customers to your products.
Let There Be No More Content Scavenger Hunting
Video tracking analytics gives you a granular view of how successful each video is rather than just a big-picture aggregate.  
 
Here are a few metrics that a video tracking software can help you with:
Track videos and their views
The number of views for a video tells you which videos are more popular amongst your target audience.
Track videos for the number of downloads
As people begin to notice your videos, they get downloaded more, which means people want to look at it later.
 
Track videos and their re-shares
People would also share the link of your videos online, in social media and community-driven platforms. This shows that they want other people to know about it and make product-based decisions through your video. More re-shares mean that your customers are finding value from your videos.
Track videos at a frame-level
Ever wondered what makes up a video? Well, they are just a continuous sequence of images (aka frames) rendered at a fast pace. People often view the interesting frames of a video more than once. Knowing how your target audience interacts with every frame gives you granular details which portion of a video is working well. This is how we track videos and audience engagement for every frame.
Track videos and their bounce rates
When you track frame-level analytics, you have access to powerful insights such as:
At what point in a video, do people drop/bounce off?
Do people view an entire video from start to finish?
How/where do I optimize a video for its efficacy?
 
TRACK VIDEOS: CONCLUSION
Video tracking software helps you leverage the right videos at the right time to convince their customers faster. If you track videos, you can develop and finetune your video marketing strategy based on what your target audience's preferences, usage patterns, and their popularity.

As your videos get more audience engagement, it indicates your video strategy is headed in the right direction. Ultimately, better videos mean more engagement and more sales.

Word of caution:
While working to track videos, you could account for many more metrics. Vanity metrics such as likes and shares on YouTube might sway us (after all, who doesn't dream of having metrics like Jawed Karim's video?), but when it comes to knowing which videos are giving more bang for your buck, you need to focus on the metrics that help you picture the video's ROI clearly.