B2B Sales Enablement Collateral: What Is It, And Why Is It Important?
B2B Sales enablement collateral is used to train sales teams with the company's unique value proposition.
Sales enablement collateral is content used to train sales reps with a company's value proposition. It includes playbooks, battle cards, quizzes, how-to guides, call scripts, training & demo videos, FAQs, buyer persona documents, and a lot more.
Jim Smith is a salesman at Mangrove Realty, a leading real estate consulting and advisory company based in Sydney. A while ago, he met a prospect who evinced interest in Mangrove's most recently launched Highrise Residential Assessment Framework. This framework lets builders assess the suitability of a construction site for residential housing, including geological conditions, water availability, etc.
The prospect is interested in knowing how Mangrove's framework works, its features, benefits, and more importantly, how he could derive value out of it. Jim knows that a good demo of the assessment framework could land him the deal he has been after for quite some time now.
But, there is one issue. Although Jim is aware of the framework, he is not very sure how it works and lacks the training to demonstrate its workings to clients. While he has seen a few videos on the assessment framework, there is nothing substantive that could help him tide over his present crisis.
What is amiss here? Jim cannot talk to his prospect about a potentially great product.
The reasons could be numerous: the marketing team might have created a comprehensive package of sales training material, including content on the assessment framework. However, they might have missed uploading it on a collateral management system.
Or, they would have created the collateral but might have failed to update it with the new features it has introduced. Or, Jim might have missed checking out the most recent updates to the existing collateral. Or, more simply, there might have been no collateral created at all!
There are so many ways things could have gone wrong. Whatever be the reason, it is preventing Jim from achieving his goal.
In this post, we will examine the need for sales enablement collateral, best examples, ideal tools, materials, and resources to be used.
Sales vs. Sales Enablement
We often tend to confuse sales and sales enablement as the same. However, they are two distinct teams who are united by the same vision – to grow revenues.
Sales are the function that interacts with the end-customer and sells products or services. They have quotas and revenue targets to meet, and their performance depends on these parameters. Sales reps are ambassadors for their respective organizations. (In organizations where marketing drives leads online, sales plays a fulfillment role of honoring promises made by marketing teams.)
However, sales and sales enablement are different functions. Let us now understand what does 'sales enablement' mean:
What is Sales Enablement?
Sales enablement is the function that helps sales teams make impactful pitches, have meaningful conversations with customers, and win deals for the business.
Sales enablement teams are responsible for recruiting, coaching, training, onboarding sales reps, back-end operations, ensuring adherence to processes, etc. They form the conduit between marketing and sales teams. From what we have noticed across organizations, they are not required to interact with customers.
Marketing teams are responsible for sales enablement content that is used to train sales reps with it. Sales enablement teams need suitable content that helps them convey the right message to sales teams. In the next section, we will see why there is a need for sales enablement content.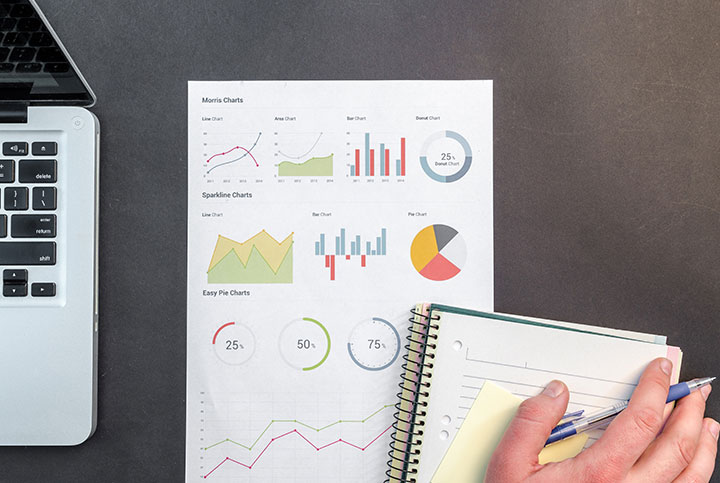 What is the Difference Between Sales Collateral and Sales Enablement Collateral?
Before we proceed, let us understand the difference between sales collateral and sales enablement collateral. These two are very different, and the purpose they serve.
Sales collateral is used to convince clients with the value proposition of the company's solutions. These could be videos, brochures, customer credentials, case studies, etc. For a more detailed understanding, read our blog titled "The Basics of Sales Collateral You Need to Know."
Sales collateral can be shared with prospects/customers to guide them towards our product in the buyer's journey. They are embedded with the company's branding elements to increase customer mindshare. The target audience is external customers.
Sales enablement collateral is used to train sales teams with the company's value proposition. They answer questions such as:
Who is your ideal buyer?
What are the needs/challenges of your buyers?
How do you begin a conversation with a prospect?
What are the benefits a customer needs?
Which features of the product will appeal to the prospect?
What are the typical use cases you should keep in mind?
How do you handle objections?
How do you position your product versus the competition?
The target audience for sales enablement material is internal sales teams. In essence, while these collaterals will have some branding included, they are educative material meant to reinforce the value in the company's solutions. In most cases, they are not shared externally with customers because they might have sensitive information (such as competitor pricing, positioning, etc.)
The Need for B2B Sales Enablement Materials
Let us consider these statistics for a minute:
About 48% of salespeople say their pitches aren't focused on the right things, making them a commodity.
81% of sales executives cited content search and utilization as the top productivity improvement area. (Spotio, 2021).
55% of businesses said their sales reps are not able to personalize the buyer's journey because they struggle to find tailored collateral. (MarketingProfs).
On average, a sales rep spends spend 20% of their time researching about their prospects, which is about 52 days a year.
52% of marketing managers feel sales reps don't know where to find sales collateral.
38% of marketers were not confident if the content they produce is serving its intended purpose. (American Marketing Association).
Searches for "Sales Enablement" on Google increase by 51.2% year over year. (Spotio, 2021).
43% of buyers want subject matter experts to solve their business problems.
Organizations see a significant impact on sales as a result of sales enablement; 76% of organizations see an increase in sales between 6% to 20%. (Spotio, 2021).
What does this heady mix of numbers mean? It means several things that are unique and definitive:
Sales reps need appropriate sales enablement tools to be able to sell.
Sales reps need help with finding suitable sales enablement material.
Sales reps need training on their company's unique value proposition.
Buyers are changing faster than sales teams.
Buyers are looking for more value in every interaction.
Buyers expect sales reps to be more prepared/equipped before a conversation.
There is a need to understand what sales enablement material is needed.
Moreover, B2B buyers have moved away from presentations and are looking for more informative, interactive, and visually appealing content before they decide to buy.
Their attention spans are getting shorter, and competition levels are rising every day. So, in effect, sales teams will have to fight for a narrowing class of buyers with knowledge derived out of B2B sales enablement materials.
Framing a Strong Sales Enablement Content Strategy
Before endeavoring to get great content out of the door, it is essential to put together a strong sales enablement content strategy. It helps sales enablement teams prepare sales teams for their conversations with customers.
1. Identifying the Stakeholders
The first step in creating a sales enablement content strategy is identifying the key stakeholders who will be a party to it. They could be sales reps, sales managers, content marketers, marketing managers, publishers, etc. Not everybody might have a significant role here, but it is essential to keep everyone informed.
If needed, get all your stakeholders together and tell them how you are planning to produce sales enablement material, distribute them, and measure its ROI. Take their feedback so that there is consensus before the final edition of the collateral is out.
2. Defining the Objectives of Sales Enablement Collateral
Before you begin work on sales enablement collateral, ask yourself these primary questions.
Why are you creating the sales enablement collateral?
What is the expected outcome of your efforts?
How will sales teams use these pieces of content?
How will you measure the success of your sales enablement material?
Defining these objectives before you begin working on it will help you determine a clear path.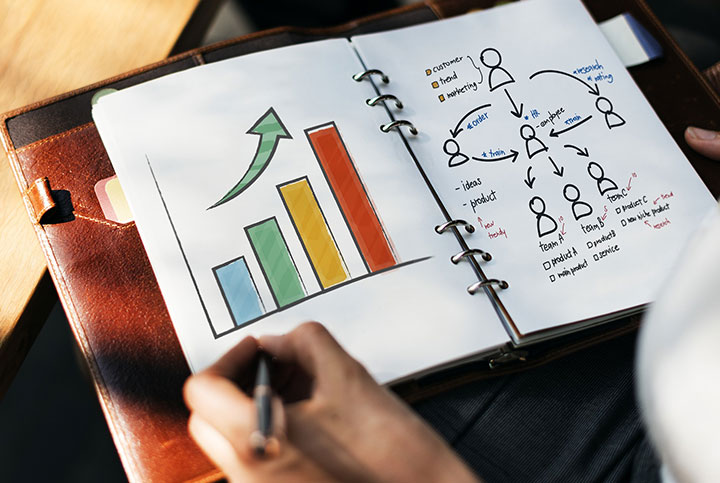 3. Organizing Your Sales Enablement Content
Imagine you have produced excellent content, and you have had a few sessions with the sales teams to walk them through it. At some stage, they are going to refer back to it to keep themselves updated. But, what if they cannot retrieve it? What if it gets lost in their mailboxes?
Making sales enablement content easily findable is key to higher usage by sales reps. In effect, categorize the sales enablement content, insert tags, and add descriptions to it so that sales teams can easily find it.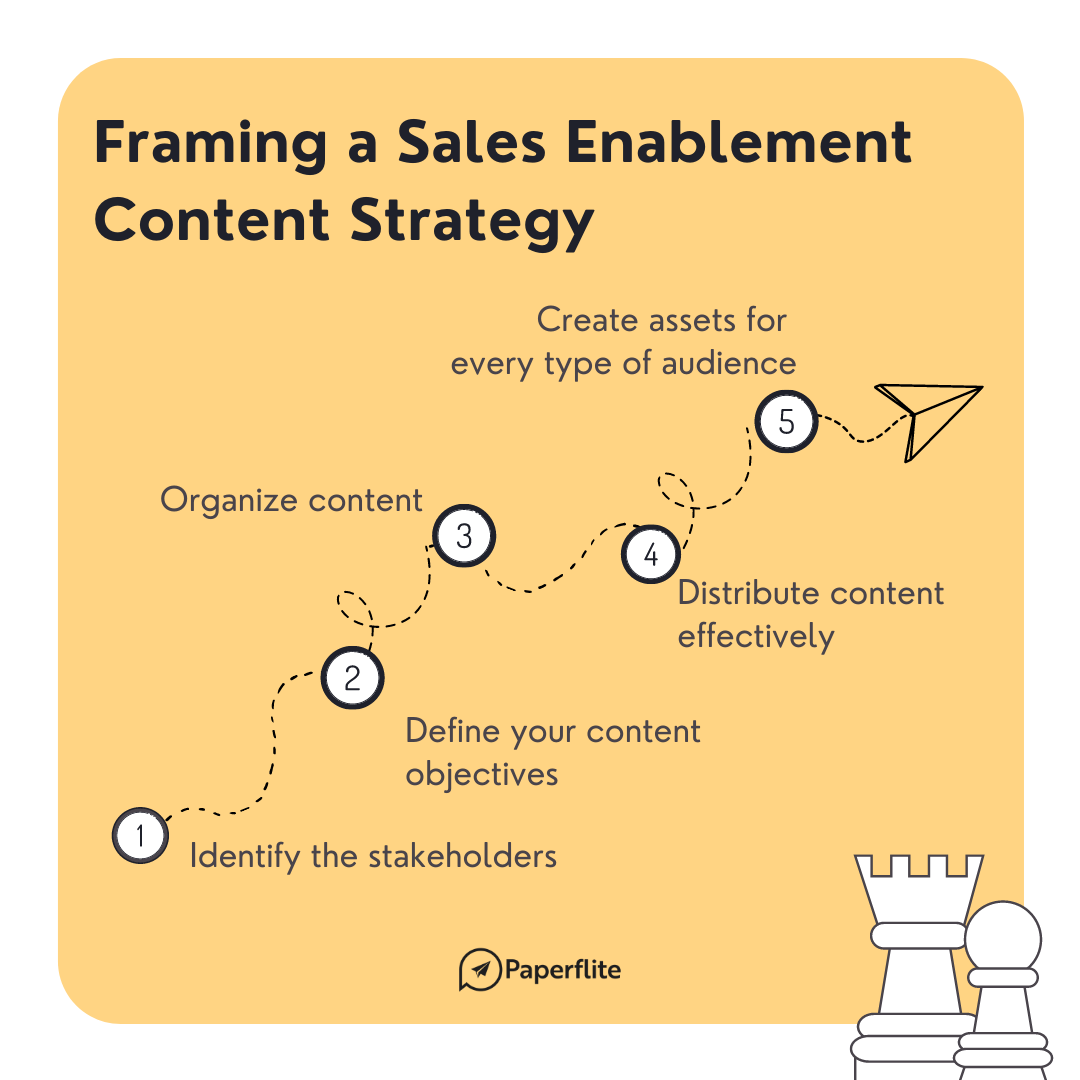 4. Distributing Sales Enablement Collateral
As much as you create sales enablement collateral, make sure you can distribute it seamlessly. Having it in SharePoint or shared folders or sending large files via emails is old-school and can create synchronization problems.
Hosting your sales enablement resources in a content management platform that every stakeholder has access to will give your teams a rich user experience. You can even set rights as to who has access to what type of sales enablement resources.
5. Creating Sales Enablement Assets for Every Type of Audience
One size does not fit all. As you map your stakeholders across the organization, you will realize that the need for everyone is quite different. Sales reps will need training on products or objection handling, while sales managers might need training on customer escalations. That is why having one common sales enablement asset across the organization type will not work.
But, before you begin work on sales enablement assets, talk to your target audience, and understand their requirements. Or, more simply, write down how they work throughout the day, what do they mostly indulge in at work, and whom they meet. That will help you create various buyer personas according to which you could design the sales enablement assets. Here is how you can do it.
New Hires in Sales
Recruits in sales teams need a hand around the organization. So, a welcome kit or a sales playbook that includes content material about the organization, customer segmentation, prospect engagement strategy, sales targets, commission percentages, operational processes, etc. would be convenient. They would need the ideal pitch material as well in the form of PDFs or presentations that they can refer back.
Existing Sales Reps
80% of sales training is visual – that means videos are most useful when it comes to training sales reps. Reps can always return to it as often as necessary to strengthen what they have learned. At the same time, email templates, new product launch modules, quizzes, or tests to check their progress, etc. will be helpful.
Sales Managers
A critical part of a sales manager's job is to help sales reps sell better. They teach sales reps about targeted sales plays, team selling, conversation techniques, cold calling essentials, objection handling, role plays, etc. So, call scripts, how-to guides, and battle cards are convenient for this type of audience.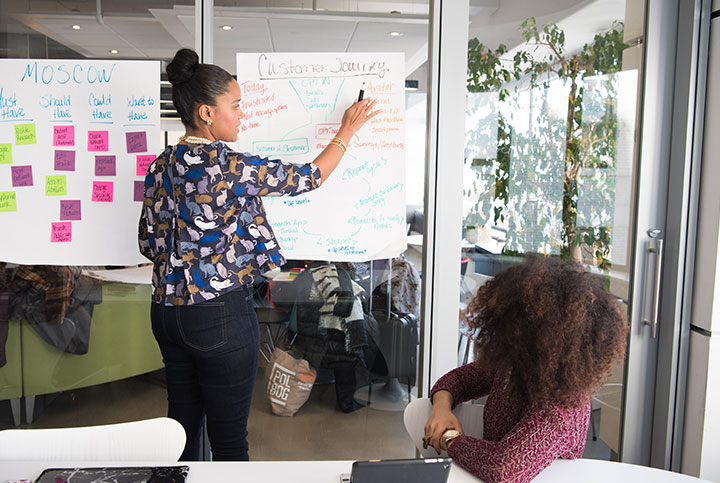 Sales Leadership
Sales leaders are executives whose job profile includes setting targets, developing strategies, assessing performance, and driving a culture of sales excellence across the firm.
They need sales enablement material that is different from the rest of the organization. These could be in the form of short videos, analytical dashboards, and infographics that will be effective.
Account Executives
Account executives deal with an exclusive set of people in a customer's organization. They are involved in deepening the organization's existing relationship with their customers, discussing opportunities, and even cross-selling solutions to them.
They would need sales enablement material in the form of solution roadmaps, project milestones, or better negotiation techniques with their customers.
Channel Partners
Many organizations go beyond their sales force to sell their solutions. That involves resellers, service providers, independent consultants who are invaluable to an organization. They are engaged in selling products and services to customers, maintenance, and support, and sometimes even training customers to use products.
They would need training on handling customer questions, identifying available features of a product, and dealing with all sorts of customer issues. This is where how-to guides/product manuals, brochures, product certifications, etc. will be suitable.
In the next section, we will examine the most ideal sales enablement content types and examples.
The Best Sales Enablement Content Types
"The average consumer consults 10.4 sources before making a purchase..."
Adam Singer, Google Analytics Advocate
The above quote proves how impactful content can be in making purchase decisions. According to CSO Insights, salespeople have to create one-fifth of the content they need on their own.
Sales enablement content helps in educating sales teams about what they have to offer their ideal buyers. It prepares them for that decisive moment when they are talking to their customers.
Sales enablement content types vary between various target audiences and their purpose. In this section, we will also discuss the top sales enablement content types and examples that will prepare your sales teams better.
1. Playbooks
Playbooks are elaborate documents that include everything a salesman needs to do his job. It contains details about sales strategy, buyer personas, his quotas/revenue targets, product features/benefits, counter questions by prospects, details about sales operations/processes, sample call scripts/emails, calls to action/next steps, compensation numbers (including commission percentages).
Sales playbooks cannot be jumbo-sized documents that make sales teams exasperated. They need to have just the right amount of information that keep readers informed about what the business expects from them.
We think DSG's sales playbook is one of the most comprehensive ones for B2B sales teams. (If you are looking for more information on how sales playbooks can help your sales teams, don't forget to check out their video on their homepage.)
2. Battle Cards
Sales battle cards are documents that enable salespeople to have meaningful client conversations. They host information about your product/service, competitive intelligence, pricing, possible counter questions from customers, etc. Anything that helps your sales team win deals with customers.
For a more detailed understanding of sales battle cards, read our post: "The Ultimate Guide to Sales Battle Cards."
Windstream's battle card is an excellent example of how a battle card should look like and its components. Take a look at our collection of battle cards across industries that could prove decisive during client conversations.
3. How-to Guides / User Manuals
"Wherever you are in life, there's always a manual somewhere, hidden behind the scenes,"
Paul Ballard, Managing Director of 3di.
One of the earliest known instruction manuals was for the copier machine created by James Watt, the inventor of the steam engine. How-to guides are a distinct form of sales enablement collateral that show how a product works. They are also referred to as product manuals and inform customers on how to use the product.
For example, Oracle Fusion Middleware has a buyer guide that is as comprehensive as we have ever seen. It has screenshots, diagrams, definitions, appendixes, and a lot of technical information that is valuable from a user's perspective. Similarly, the West System User Manual & Product Guide is an example of a complete document that has product information, technical details, and pictures that provide a wholesome view.
4. Call Scripts/Email Scripts
Sales folks need call scripts and email scripts to interact with their customers. Creating and storing them in a content management system is not enough. It is essential to train sales teams on how to use them as well
Call scripts will need training in particular because there are parts in a script where a sales rep should pause or retain the buyer's attention through his pitch. There are innumerable examples of such scripts that are known to have high open and response rates.
Every CRM provider has built-in email scripts, which users can always tweak to suit their needs.
5. Training Videos
Sales training videos are an excellent form of sales enablement content that is apt when the sales team size is large. Videos can be created once and uploaded to online content distribution systems for sales teams to view it. They could even be used in classroom scenarios to train an audience of sales reps.
Today, with the kind of proliferation we have seen in video platforms, producing videos is quite agile. Even sales reps could shoot a 1-minute video of what worked for them during a week and share it with a broader audience. This way, everybody gets to know how their colleagues are tackling problems and can replicate them.
6. Product Demo Videos
In a B2B scenario, product demo videos often land you deals. Customers want to view how the product works in a real-life situation before they decide to buy it. And sales reps have to run these videos past their customers. But, before customers view it, sales reps themselves must be aware of it to handle queries or doubts.
Product demos are an excellent form of educating sales teams on how the product works. Remember that Volvo truck ad that had Jean-Claude Van Damme performing a split with each leg on a truck? Okay, that is too outlandish for a salesperson.
But, Wrike's video on online project management software is a better match here. It explains how a team working on a joint project can narratively use their product.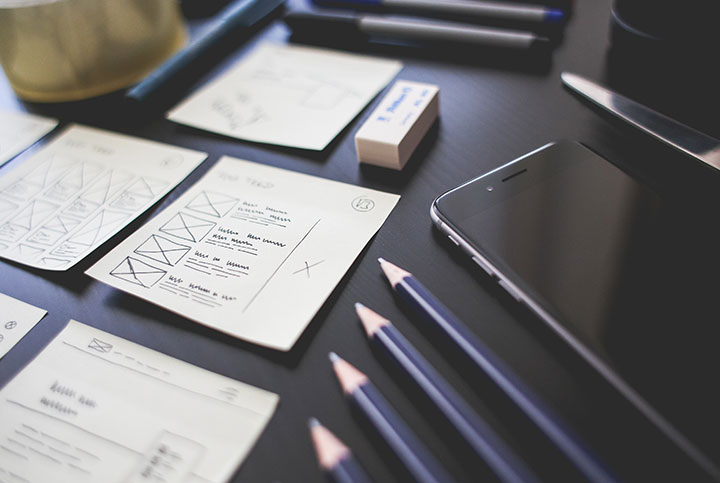 7. Role-play Scenarios
Sales role plays are a great way to train sales reps for their client conversations. Role-plays involve a limited audience where others can learn from their peers. Managers could give constructive feedback to the reps so that they don't make mistakes when they're talking to customers.
Imagine your sales reps staffing a booth during a conference, and they're required to explain how their product works. Role plays help them become prepared in advance, so they're able to connect the dots when confronted with queries.
Thirty years ago, the Harvard Business Review (HBR) had published an article by Larry Robinson, on how he used role-plays to train staff at his jewelry store. It is still very relevant today.
8. FAQs
A Corporate Executive Board survey of 7,000 customers revealed that they are more likely to make a purchase when they're able to find information quickly. FAQs are one way to simplify the information customers need.
They are the ideal place we go to when we need answers to issues while using a product. They are a useful sales enablement tool to train sales teams on how to find their way around a product and talk to customers. These can be hosted on content management systems for sales teams to find it when they need it.
9. Objection Handling Techniques
Every objection by a customer is an opportunity to sell. Acknowledging your competitors, turning their complaints into a conversation starter, suggesting several time slots instead of one can make a difference.
Sales teams can be trained in handling objections using email scripts or call scripts so that they know how to respond to complaints. Of course, they will need a lot of creativity to handle some scenarios, but training can surely help them be indefatigable.
10. Sales onboarding kit
Sales folks need to be on-boarded into an organization smoothly. They would need all the stuff to get started immediately. The sales onboarding kit will have product information, email templates, call/voicemail scripts, lead qualifying questions, closing remarks, the schedule for the first week at work, etc. This process will cut down the time needed to ramp up when they're newly inducted.
Smartsheet has a detailed 90-day sales onboarding checklist that includes essential components such as sales practice systems, product knowledge tools, etc.
11. Buyer persona document
Every business solves problems that a specific niche segment of customers have. What kind of issues do these buyers have? Who do they turn to if they need solutions? How does their typical workday look? How do they qualify in the sale process? What is the technology they use?
These are the ideal questions that a buyer persona document has answers. Salespeople need training in filling these documents so that lead qualification/generation becomes more natural.
Arcs & Curves lists 20 questions that a buyer persona document could answer. While this is only a starting point, it can be tweaked further to suit an organization's needs.
12. Competitor research documents
Your competitors are always itching to get a slice of your revenue pie. That means you need to guard your fortress staunchly. Sales teams must be aware of who their competitors are, what is their unique selling proposition, strengths, weaknesses, and how their product is stacked up against the competition. They can be trained to comprehend this information and build their pitches based on it.
These documents are useful in handling objections, helping customers decide between two products or while explaining how your product is different from the rest.
Here is a free template from ThinkBusiness (a Bank of Ireland subsidiary) that captures nearly everything that a competitor research document should ideally have.
13. Quizzes
Quizzes work best under all circumstances. They are relevant not just for beginners, but even for experienced pros. Online quizzes prepare a sales rep efficiently. A new product launch can be accompanied by a quick quiz that not only sharpens their knowledge but helps them become familiar with it sooner.
These are some examples of great B2B sales enablement resources that we came across during our research, which should be a good starting point in your journey.
Best Practices for Sales Enablement Collateral
Sales enablement collateral resonates in sales pitches, emails, campaigns, and conversations. If you are looking to create high-impact sales enablement collateral, here are the best practices that you need:
Have a Sales Enablement Content Publishing Calendar
Create a calendar of when you will publish sales enablement materials, so your sales team are aware of it. Make sure you have training days earmarked in your schedule as well. For example, a new joiner's training session can be planned once in a month. Even if you are not able to get it done for the full year, try publishing a calendar for 3 or 6 months.
Audit Sales Enablement Collateral
Ensure you have a transparent audit process in place for your sales enablement collateral. Content that is stale or outdated does not serve any purpose and reflects poorly on your company's reputation. Weed out the old ones that are no longer relevant to your company and replace them with new ones.
As your business evolves, so will the solutions as well. That also means you need to update your sales enablement collateral accordingly.
If you have made changes to existing content, or if you have added new content, let your sales teams know about it. These could be through automatic notifications via the content management platform.
Make it visually appealing
No matter what content you produce, make sure it has enough visual appeal by way of images, infographics, animation, videos, etc. As much as you value text-based content, make sure you have enough of image-based content as they are easy to consume.
Producing and distributing sales enablement collateral will not be enough unless you know if it has helped your sales force or not. Take feedback from your users on what they felt useful, where they need more material etc. These could be through analytics as well, which we will discuss in the next section.
Measuring the ROI of Sales Enablement Collateral
While creating sales enablement collateral is essential, measuring its effectiveness is also equally important. Otherwise, you will not know which assets are working better than the rest. It helps in determining the next piece of sales enablement content theme you need to devote your attention.
Ask yourself these questions when you are taking stock of the situation:
How is your sales enablement content being discovered by sales teams?
How does the Content Discovery Matrix look like – how many of your sales enablement content pieces are discovered once, twice, etc.?
How do the asset views rank for your content?
What content is most popular within your team?
Who are the top users of your content?
How often is your content being shared by the sales teams internally? (i.e., what are they recommending the most to their peers?)
Answering these questions will tell you how your sales teams are deriving utility out of your sales enablement content. Measuring your sales enablement content will tell you if your content creation and distribution strategy is headed in the right direction or not.
Are you able to answer these questions quickly? If no, then it is time for you to look at a sound content management system that can fetch you these answers.
Sales Enablement Content: Conclusion
There is no denying that sales enablement content is probably as relevant as your marketing collateral. Even though it is internal, it is used to train sales reps. If you are using the right content to train your sales force, they are highly likely to succeed. Setting aside time and resources to get your sales enablement content strategy in proper shape will reap your business rich rewards down the line.