The Ultimate Guide to Sales Battle Cards
Battle Cards enable sales teams stay ahead of competition.
Sales battle cards are documents that enable salespeople to have efficient client conversations. Battle cards host vital information that could prove decisive in conversations with the client.
They include material about your own product/service, competitive intelligence, pricing, areas where your sales teams could score higher, possible counter questions from customers and a lot more. Basically, anything that helps your sales team win deals with customers.
In medieval times, kingdoms were conquered and battles were won by wielding powerful swords, which were symbols of power, honor, and strength. King Arthur's legendary magical sword, the 'Excalibur', that was known to blind his enemies, was one such.
Today's sales teams are often faced with a need for a 'magical weapon' like the Excalibur to outsmart the competition, although 'enemies' is hardly the word you would attribute to your competitors.
Why Do Sales TEAMS Need Battle cards?
(Alternatively, what can they do with a battle card?)
Sales folks need all the support that they can get to go out in the field and compete hard and need battle cards for the below  reasons:
To Make an Effective Pitch
Sales battle cards help them deliver effective pitches. They don't have to scramble for information on websites, SharePoint, or inside their cabinets when the customer is on the call. With these battle cards primed right in front of them, the information that they need is at their fingertips and makes them nimble.
Furthermore, with businesses seeing multiple customer personas that come to their website/shopfront, battle cards help them prepare adequately ahead of a sales pitch. Why? Because each pitch can then be customized based on the persona that a salesperson is pitching to.
TO Stay One Step Ahead of Competition
Salespeople are mostly on customer calls or on the road and might miss a chance to train themselves on their company's new offerings, features etc. The battle card helps them stay well-informed of what's shaping the industry, competition, regulations etc. For example, if your competitor has come up with a new feature in his product and your product already has it, then you could include language in the battle card that tells how your feature is less expensive than your competitor's or how it helps customers reap immediate benefits.
TO Brace Up for Situational Pitches
Use situations to help your sales teams navigate tough customer meetings. Explain what a salesperson could do in the below situations:
If they're aware of an existing challenge that a customer is facing, then they can contextualize the pitch. For example, dipping employee productivity, decreasing sales in particular geography etc.
Your sales teams have unearthed what product the customer is using and if the license is nearing expiry, then your battle card must have that information.
If you have launched a new feature that your customers have spoken about earlier, then your battle card must have that section.
If you are launching promotions or offering discounts on your product, it should be cited in your battle card.
TO Track Competition (But Don't Get Paranoid!)
Marketers track their competition all the time. Tracking what the competition is up to and including information about it in the battle card is important (but not a lot of it!) Keep a close eye on your competitor's website, social media posts, geographical expansions, new client wins (if reported) campaigns etc. and ensure you're including it in the battle card. But, at the same time don't report it in the battle card to the point that you're just following your competition and doing nothing else!
What are The Types of Battle cards?
Based on the need, battle cards can be classified in various categories, which we have listed below along with the best examples of battle card templates. Take a look at our collection of the best sales battle cards.
Product battle cards feature all the information that your sales teams need about the product that they're selling. For example, the Oracle Sales Cloud Battlecard lists the challenges that potential customers are facing, the value that Oracle Sales Cloud is adding and the expected success that they could experience using it, the industries where it is applicable and a lot more information. Their battle card even has the initial mail script that sales could use. Product battle cards are meant to be educative material for sales teams so that they can 
On the other hand, the Product Comparison Battlecard by HeroPay compares the three most popular Point of Sale systems: Square vs. PayPal vs. Verifone on the fees that they charge, equipment that they provide, the user experience and features. They provide their assessment at the end of it that lets their sales staff understand how the three products stack against each other.
Marketers often adopt an infographic to depict the information. For example, PlanetOne's infographic-based battle card on unified communications portrays what unified communications is, its importance, the suitable deployment model etc. This battle card template is favored by sales personnel because it easily explains the whole scenario with a combination of images and text.
The competitor battle cards host all information about the competitor that you're closely following. Klue's Competitor Battlecard gives a piece of brief information about the competitor, their market value, annual run rate, solution overview, and the customer profile. Competitor battle cards will enable sales teams to pick out vital information about their competitors and accordingly prepare their pitch.
Another example is their detailed competitor overview battle card, which is possibly one of the most comprehensive battle card templates that we have come across. This battle card template has been divided into 8 distinct sections that help declutter the information contained in them. The competitor battle card template helps sales folks be ready when they're confronted with questions on how their product is better than the competition.
Comprehensive Battle cards
The comprehensive battle cards are detailed in their coverage. Sales teams need not to look elsewhere for information on the product that they are selling. For example, the Windows Server 2016 battle card is one of the most complete in its coverage. This comprehensive battle card includes what Small and Medium Businesses could do with a server and goes on to explain the use cases, the right edition for SMBs, and a separate section on popular myths.
Question-Based Battle cards
The question-based battle card has information that a potential customer could ask the salesperson. These battle cards could be smaller in size in comparison to others because they are created for the purpose of handling questions from customers. Zebra's question-based battle card has questions that a salesperson is likely to face while trying to sell their product. Answers to questions such as "Why Should I Think About Upgrading to a New Operating System When My Current Windows Product Works Fine?" could be crucial for sales teams to have a good conversation going.
Value Proposition-based Battle cards
One of the best value proposition battle cards that we came across is OnRamp's Data Centers battle card that captures a lot of information including target customers, qualifying questions, value proposition, opportunity registration process, why customers need to choose OnRamp etc. This battle card template clearly lays out how customers can benefit by using their product.
The partnership battle card highlights the key features of a company's partnership. IntelePeer and Advantone's partnership battle card highlights the key differentiators of the partnership, its sweet spot, challenges, and qualifying questions.
Use Case-Based Battle cards
Use case based battle cards call out the use cases that are applicable to the product. We found the VSS's use case battle card features 2 use cases of how the product could fit into the customer's enterprise along with the qualifying questions. The document was also embellished with network diagrams that teams might need to refer to.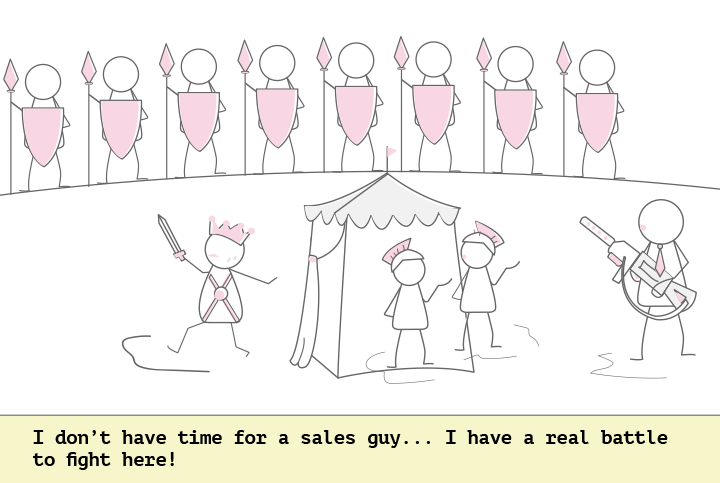 How to create a competitive battle card?
From our analysis of battle cards, here are the steps that marketers need to follow while creating battle cards:
Designing the Battlecard Template That Works
While there are many templates available to create battle cards, we recommend you create the ideal battle card template that works for your sales team because it is they who will put it to good use. If they don't find it useful, you will need to revisit the drawing board. Make the design of the battle card template simple and easily scannable, so that they don't struggle to find the information they need.
Remember, sales folks don't have a lot of time in their hands, so keep it brief. Moreover, battle cards could also be used by external facing personnel such as customer support executives – so an uncomplicated design will be ideal. Click here for a collection of the simplest looking battle card templates.
Creating battle cards needs a lot of research. It will involve scanning the internet, pouring over analyst reports (if available), databases, listening to webinars, reading blogs etc. It might even involve having interviews with your product leads, technology executives, engineering teams etc. to come up with a crucial set of information that will ultimately find its way into the battle card. If you are creating battle cards for your products,
Analyzing Your Competitors
Competitor analysis is a critical component of battle card preparation. You will need to look at their product features, existing customers, pricing, marketing strategy, social media messaging etc. Gather these details and present it in a concise form in the competitive battle card.
Customizing the Battle cards
Not all battle cards are the same but should be made contextual according to the situation. Battle cards will need to be customized based on the requirements. For example, competitor battle cards are surely different from own product battle cards. Similarly, battle cards could be varying in their coverage (based on the requirements).
While a battle card will need to have as many details as possible, it should be concise in its form – an overly lengthy battle card will not be used by salespeople.
Storing Your Battle cards
Make sure these battle cards are stored at a common database such as Google Drive or Dropbox for ready access and use. Categorize them according to the purpose they serve and use tags so they are easily searchable. These battle cards should be easily accessible by salespeople.
Distributing Your Battle cards
Distributing your battle card to sales folks is as important as creating them. They should be made aware of their existence. So, notify your sales teams every time you create a new battle card or update an old one so they are aware of it.
Auditing/Updating Your Battle cards
As a marketer, you don't want your sales staff to use the wrong battle card. It could result in incorrect information communicated to the client and jeopardize deals. Imagine the embarrassment if your sales teams promise discounts on the product that no longer exists! When you create a marketing calendar for the year, remember to set aside time to audit and update battle cards.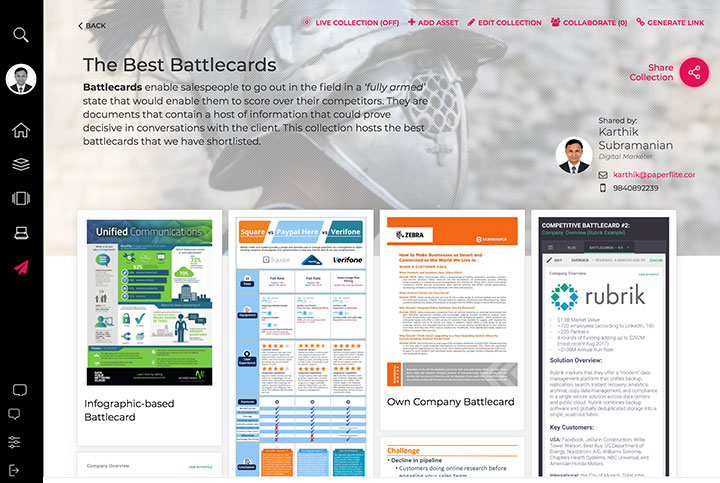 What are The Elements of a Sales Battle card Template?
Distilling the information to include only the vital pieces in the sales battle card template is key to getting your sales teams to make effective sales pitches. While there is a lot of information that an ideal sales battle card template could have, it should certainly have the below elements:
Information About Your Company/Product/Service
Sales folks are ambassadors of their firms and are expected to know everything about their company such as history, management, business divisions, geographical presence etc. Information about their product/service is also important, although they aren't expected to know technical details. Much of these could already be on the company's website, but it could still be handy to have it ready during a sales call. Design the sales battle card in a manner by which it is easy to glean such information for sales folks.
Profile of The Ideal Target Audience
The sales battle card should have the ideal facets of an ideal buyer persona. What are the traits of an ideal buyer, what is it he/she looking for? For example, a customer of a business intelligence firm could be a chief product officer responsible for meeting the product and business's goals. Knowledge about his/her business priorities, budget, preferences etc. is important to speak the language that he/she is most familiar with.
What are the unique selling points of your product? Simply put, why will a customer prefer your product over the other? Think about a distinctive aspect of your product that your competitors cannot easily emulate and ensure you put it down on the battlecard.
Use Cases Applicable to a Client
If you're cold calling a prospect, your battle card could have a separate section on how the product could solve a business problem for a client – these are called use cases. Clients would love to hear how you are thinking about them all the time. Use instances of how you are doing it for other clients in the same industry and include it in the sales battle card.
The benefits of your product is what you are trying to sell and is a key component of a battlecard. For example, if you're enabling customers launch their products 30% faster, then that should be clearly called out in a sales battle card. Client benefits could be qualitative as well – such as higher brand recall that cannot be measured – but should still be mentioned in the battlecard.
Sales persinnel should be aware of the trends shaping their industry. That includes: who are the incumbent players, newer entrants, government policies, regulations, etc. A brief overview about the industry trends on the sales battle card will prep up the sales folks to handle their customer conversations better.
What are the key factors that differentiate your solution versus the competition? Invariably, salespeople will be confronted with this question. Moreover, the customer is becoming smart, having already done his research by the time he buys a product. For example, ROBO (Research Online Buy Offline) Economy reported that 82% of smartphone users refer their phones on purchases they were about to make in-store and 45% read reviews before making a purchase. In B2B scenarios, customers have a due diligence process before engaging with vendors. The sales battle card must call out at least 3 key differentiating factors why your soclution is better than the competitors.
Real-Life Success Stories
Nothing satiates customers more than hearing examples of how you solved a real-life problem for another customer. You don't have to name the customer, but it is important to briefly mention them on the battlecard. For example, a customer of a business intelligence firm looking for how your product could give him untapped insights, will want to know how your company has helped similar clients in the past. If you are able to back it up with customer credentials, then you have done well in closing the loop there.
It is also important to remember to steer away from conversations where you know you may not be winning against competition. For example, features of your product or your geographic presence – these could be areas that might not go down well clients. The battlecard must cover these pitfalls as well and tell sales folks not to engage their customers on these lines.
Answering Counter Questions
Customers often engage with salespeople after trying other products/services. In these cases, they're clearly hunting for the best product that matches their desired features, budget, etc. When they are confronted with such counter questions about their products/services, they must be ready for it.
Whose Job is it to Create Battle cards?
Marketers of course! That is because they are in the most ideal position to create it given their knowledge of the company. But, it will be asking for too much if marketers were to do it all alone. They would need inputs from numerous other teams within the company such as product leads, customer support, engineering, business development etc. At the same time, as users, sales teams are expected to provide feedback to marketing teams about their utility.

Battle Cards: Rounding It All Up
We often hear about how sales and marketing teams can achieve a lot when they work together. Competitive battle cards are vital pieces of collateral that can make sales teams become fans of the collateral that the marketers produce. Marketers must ensure battle cards are well compiled, usable, updated and easily accessible for salespeople.
At the core of it, don't forget that salespeople hardly have a few moments in hand to speak to customers, so don't expect them to open a 50-page battle card document. Refining the information from a horde of scattered material across the company, products, competitors, etc. in a simple format is not easy, but the results are totally worth it. Think about how salespeople will use the battlecards – are they going to use it in its digital formats or are they going to pin it up on their desks? That will give you answers about the creating the ideal battle card.
Here Are A Few Related Blogs That Might Interest You: