Sales Enablement Solution
In part two of our Sales Enablement series, we examined the reasons why enterprises are missing out on different opportunities due to the widening gap between marketing and sales technologies.
What Will You Learn From This Post?
Implement sales enablement solutions that equip marketing and sales teams with effective collaboration, specifically around the content, and messaging to close sales deals faster by driving contextual conversations aligned with client business needs.
The Solution: How Do You Overcome These Challenges?
Sales enablement operates at the intersection of marketing and sales to increase marketing efficiency, accelerate sales, and enhance customer experience by leveraging content and technology. It helps marketing teams pass higher quality leads to sales, allowing sales reps to focus on higher priority activities. This effort, in turn, drives a steadier, more predictable pipeline.
While marketing and sales have their own process cycles, it is important to visualize them in the context of a buyer's journey as they move up in the interest value chain. Successful sales enablement functions not only focus on enabling internal sales teams but also actively engaging with prospects and alleviating your sales team from performing that task.
Implement sales enablement solutions that equip enterprise marketing and sales organizations with effective collaboration, specifically around the content, messaging, and digital assets to close sales deals faster by driving contextual conversations tightly aligned with client business needs.
Since 2012, the average sales cycle has increased by 24% according to SiriusDecisions. With sales reps already struggling to meet their quota, delayed sales cycles only reduce the likelihood of winning deals. Sales enablement initiatives that focus on improving a rep's productivity lead to better outcomes.
An increasing number of executives are turning to sales enablement initiatives largely driven by the lengthening sales cycle (42%) and inability to measure ROI on marketing spend (40%) as seen in the below data from Aberdeen Group.
Sales enablement platforms connect people, process, and technology to align with a prospect's journey rather than a company's internal processes. Sales enablement tools are designed not to optimize the sales process but to increase the velocity of the sales cycle by delivering messages that are closely aligned with the prospect's problem.
How Can You Find the Right Sales Enablement Tool?
Sales enablement tools are widely available, but choosing the one that best fits your organization's requirements is challenging.
The vendor selection process will vary by type and size of the company, but the implications are similar. Investing in the right technology can dramatically increase your success measures, so the process needs to follow a well-defined, structured methodology. Listed here are some important points to keep in mind as you begin the evaluation process.
Sales Enablement: Evaluation Tools
Identify the problem the technology is to solve. While it might seem like the right thing to keep up with the latest industry trends, if you are not able to clearly dene your current state and challenges, it would be counterintuitive to realizing the digital vision. implement another solution.
A start small, grow fast approach will help you best maximize your technology investments. A multi-year roadmap strategy might become obsolete before you could even begin execution.
Businesses need to get value from their technology investments. Implementing technology is just the start. Technologies that aren't used won't drive their intended value. Proper training and adoption need to be built into your plan.
Change management and education are as important as technology. None of these technologies work without human intervention or intelligence. Encouraging ongoing adoption is key, so areas of potential customization can be identified and prioritized.  Discuss with your technology vendor their ability to support this, and to what extent.
Evaluating the Right Sales Enablement Platform: The 12-Point Checklist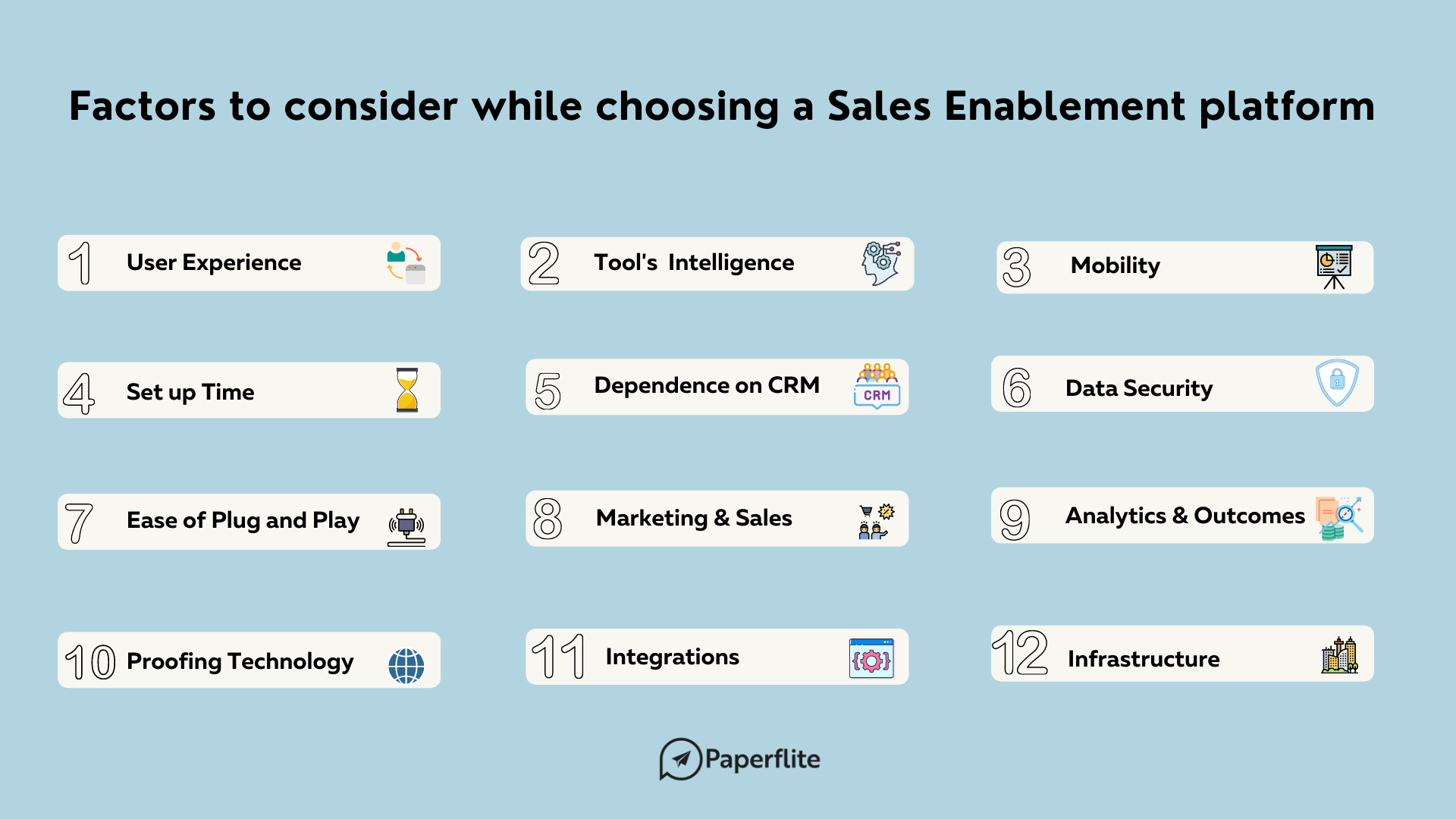 1. User Experience
One of the most significant shifts in technology recently is the increased importance of User Experience. Users expect flawless experiences from their software and devices and have a low tolerance for subpar user experiences. Both the user experience and the user interface should represent your unique brand identity.
This is particularly important for an application that is the face of your enterprise to a prospect. An impeccable customer experience during a sales meeting speaks volumes not just about the quality of the product but also about your company.
Executives have reported that time spent by sales reps in non-selling activities was too high, so choosing a tool that reps can intuitively use and easily incorporate into their daily activities is essential.
How intuitive is your application?
How customizable is your tool?
Can my brand identity be easily incorporated?
What is the fee structure for customization?
Does your application usage require additional training? How easy is it use?
2. Intelligence
A tool's intelligence can be measured in its ability to enable a user to do their job better than it did the day before. Buyers should be able to distinguish between features and intelligence in the product. Features represent the ability to perform an action whereas Intelligence proactively equips a user with information without requiring them to repeatedly perform the same action.
For instance, take the case of an app store, there is a difference between 'Editor's Pick' and 'Recommended For You'. Editor's Choice is a feature intended to promote newly published apps whereas Recommended Apps are based on algorithms that suggest relevant apps to users based on their historical usage and peer downloads. The algorithm learns from user interactions and can serve more accurate results based on usage patterns.
Does your application provide a personalized experience to users?
Does your application have deep learning capabilities?
Can the tool help connect client business issues with contents?
Does the application have the intelligence to recommend contents for a sales meeting?
3. Mobility
Prospects expect sales reps to be instantly available for their queries. Sales reps who respond first have much higher chances of winning the deal. The sales enablement tool you select should be accessible across multiple devices operating under different network conditions.
Your sales reps should always have access to all content irrespective of their network conditions. Sales reps who are equipped with a tool that will help immediately nd and show any relevant piece of content is more likely to sustain a selling conversation.
Mandating connectivity and requiring pre-set up files to access content will negate the very purpose of using a dynamic content management system. Being able to quickly react to the ever-changing needs of a customer will position your company, and your reps, above your competition.
Is the application accessible on all devices?
Will the content be available both online and offline?
Are there any network restrictions on application usage?
Are there automated alerts to instantly notify sales rep on customer request?
Is the application experience consistent across devices?
4. Time to Set Up
Thanks to digitalization across the enterprises, expectations for product set up time into an enterprise environment should not be in the range of weeks but days or hours. Long installation schedules might suggest product inflexibility.
How long does it take before the tool is ready to use?
Does the tool set up require additional programming on existing tools?
How are new feature rollouts handled without disrupting the exiting product usage?
5. Dependence On Existing CRM Systems

Some sales enablement tools are so tightly coupled with specific CRM systems that their functionality ceases to exist unless they are used in conjunction. With sales leaders struggling to increase CRM adoption introducing another tool whose success is largely dependent on CRM usage might not get the desired results. It is important to evaluate a tool that utilizes information from the full enterprise tool suite but can function independently.
Does your solution work independently of CRM systems?
How dependent are tool outcomes on the CRM application?
Our CRM is highly customized. Can your tool still connect seamlessly?
Our CRM has multi-level user access. How does this tie back to your access management?
6. Security
It is essential to evaluate how the platform handles data ow across multiple users in different countries with no vulnerabilities. This would include features such as how data is handled when user access is revoked, or who is granted authorization to invite users and where the data servers reside. Evaluating the product's user and access management will equip you with the necessary information on the security of the platform.
Does the application conform to EU data laws?
Does the application conform to US data protection laws?
How do you ensure the security of the contents?
What security controls are in place to avoid data theft?
7. Ease of Plug and Play
Products that quickly plug into your environment and seamlessly work without disrupting your existing tools are ideal. When evaluating prospective vendors, discover how each tool helps to build more on top of the systems that are already available.
We have multiple content management tools such as Dropbox and Box used by different teams. Can your tool connect without having to duplicate the contents?
How is easy is to share contents across users in different teams and geographies?
8. Alignment With Marketing, Sales, and Buying Process
For your sales enablement initiative to be successful, it is imperative that your marketing and sales processes are in sync. Most available tools align with one specific user group to the exclusion of the others. This significantly reduces the chances of a 3600 feedback mechanism that will maximize corporate value. By connecting the enterprise marketing and sales cycle with the buyer value chain, the tool should be capable of handling information ow across the entire customer life cycle. Encouraging your customers and prospects to provide feedback on how relevant they found the content to their stated problems will help leave a positive impression in their minds.
Are there user-specific modules for marketing 

and sales teams?

How long does it take before the contents are accessible by sales rep?
Are there feedback mechanisms for marketing and sales teams to interact?
Is the interface my sales reps see the same as the one my customers see?
9. Analytics and Measurable Outcomes
One of the major reasons for abandoning new tools is the inability to identify and measure a positive influence on their outcomes. The tool you select should be able to measure the objectives for which it was intended. It is important to review the data available from the tool and determine which of those are critical and reliable measures of gauging success.
How real-time are the analytics on content usage?
What type of analytics are available?
How customizable is the analytics dashboard?
How can I monitor the application usage?
10. Future-Proofing Technology

The success of an application is not dependent on its feature set alone, but on the environment in which it resides. For example, a sales enablement tool with an iOS app should reflect a new theme, design, and features that are compatible with every iOS launch. When evaluating each tool, it is critical to understand the underlying architecture of the platform to ensure that the tool is scalable to handle the nuances of new advancements without significant architectural re-design.
How do you ensure the application will work on most recent devices and operating systems?
How fast would do you respond with an update for mobile upgrades?
11. Integrations
With an increasing number of tools to their suite, Hubspot recently found that over 62% of marketers need better integration of existing tools to enable them to make better use of the existing data technology. In addition to ensuring, the tool can integrate seamlessly within your ecosystem, when evaluating sales enablement tools, you need to determine how to secure the integrations are across the upstream and downstream systems.
With what applications can the tool integrate?
How do you handle integration among different tools?
How complex is it to get the application installed in an enterprise ecosystem?
Are there any constraints to be integrated into the enterprise tool kit?

12.  Infrastructure
A platform's ability to optimize data movement across networks is critical. Content transfer across multiple users could lead to higher infrastructure costs. Ask your vendors how efficiently their tool optimizes the data ow bandwidth across networks. This is not only to manage infrastructure expenses but also critical for platform performance.
How scalable is the application?
How do you charge for infrastructure usage?
What techniques do you follow to optimize data transfer?
How secure is your infrastructure?
Sales Enablement Solutions: Expected Results
Higher Marketing Efficiency
Tracking marketing efficiency is the first step towards measuring the success of a collaborative marketing and sales function. Before implementing a solution, it is a best practice to document the current state so that you can measure against it. Successfully implementing sales enablement solutions are about much more than just increased potential to close more deals. It is also about how to better focus your marketing spend on efforts that give you maximum returns.
Identifying how effective your marketing is across channels will help strengthen your positioning and messaging to deliver consistent brand identity.
Faster Sales Cycle
Enterprises that have successfully implemented sales enablement initiatives have seen a steady decrease in their average sales cycle. Various research firms such as Forrester, SiriusDecisions and Aberdeen Group have found significant variations in sales cycles among companies that have a strong enablement function and those that don't.
Their research also found that on an average, best in class companies have a much higher overall team attainment of sales quota compared to those who do not have a documented sales enablement strategy and In some cases, they even experience an increase in the sales cycle.
Larger Deals
An Aberdeen study, 'Putting Content in Context to Seal the Deal' revealed that organizations experience an average 13.1% year-over-year increase in corporate revenue, vs 4.3% for the industry average and a 0.5% decline in laggard companies when sales enablement solutions are implemented. This also results in over 75% of their sales reps achieving their quota as compared to only 50% of the industry average, and 27% at laggard firms.
Thanks to having access to the right sales information at the right time, at the right place, sales reps are better equipped to drive sales conversations that are well aligned to a customer's business issue than shooting in the dark.
Stronger Customer Engagement
Gallup found in their customer engagement survey that a customer who is fully engaged represents an average 23% premium in terms of share of wallet, profitability, revenue, and relationship growth compared with the average customer. In stark contrast, an actively disengaged customer represents a 13% discount on those same measures.
In short, when customers believe they are getting more value from a business, they give more to it. In the retail banking industry, customers who are fully engaged bring 37% more annual revenue to their primary bank than do customers who are actively disengaged.
Sales Enablement: Conclusion
When sales and marketing work well together, companies see substantial improvement on important performance metrics: Sales cycles are shorter, market-entry costs go down, and the cost of sales is lower. Companies have long paid lip service to the need for sales and marketing to better align their processes.
But given the complexities of the buyer ecosystem, enterprises that don't align their functions to deliver a contextual solution will lose customers to the companies that do.
The best common ground upon which to build this collaborative foundation is to focus on content and a platform that allows for this seamless flow: Sales Enablement.
Additional Reading:
3. Choosing the right Digital asset management software