Sales Enablement - What Businesses are Missing Out On
In the second part of our Sales Enablement series, we examine the missed opportunities for businesses due to the misalignment of Marketing, Sales and Buyers.
In the first part of our Sales Enablement series, we explored how the different players in the buyer's journey are interconnected and delivering the right message at the right time to the right audience is critical for their success. Sales enablement, which involves equipping your sales teams with the tools and resources they need to effectively engage with prospects, plays a pivotal role in achieving this alignment.
 
In this second part, we will understand the reasons why enterprises are missing out on different opportunities due to the widening gap between marketing and sales teams.
Marketing, Sales, and Buyer Alignment - What Are The Missed Opportunities?
Today, buyers consume an average of 5-6 assets per sales rep in each stage of the buyer's journey. And, this is not a combination of marketing and sales content - it is sales content shared by sales reps!
But, the irony is that B2B buyers spend only 17% of their time meeting vendors and devote the rest of the time researching independently online/offline (source: Gartner). Moreover, when they are comparing multiple vendors' the time spent with a sales rep may reduce to just 5% to 6%.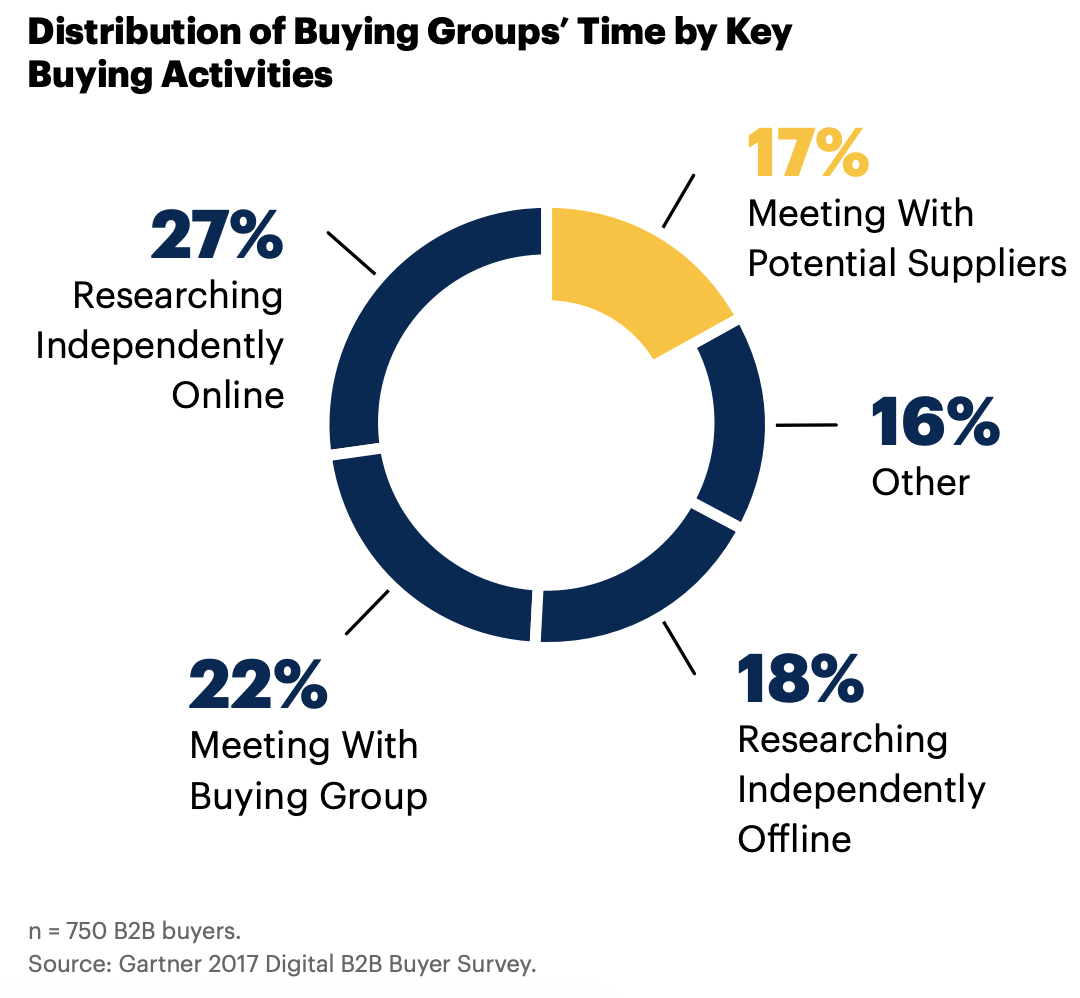 ---
"The hardest part of B2B solutions isn't selling them' but buying them. Today's buying journey has effectively reached a tipping point where it's become nearly unnavigable without a significant amount of help." -- Brent Adamson' Principal Executive Advisor, Gartner.
---
On the other hand, despite the advancements in marketing and sales technologies, most reps continue to struggle to provide value to buyers. They are still heavily reliant on e-mail, calendars, customer relationship management platforms, and social nodes.
A 2014 survey of top business issues for sales leaders by SiriusDecisions revealed that 71% of respondents said that reps were unable to connect their product offerings to client business issues. 65% of sales leaders said sales reps spend too much time on non-selling activities.
As a result, sales reps are not able to instill a sense of confidence within the buyer community, that leads to lost deals. According to SiriusDecisions, the number one reason sales reps couldn't meet their targets is their inability to communicate unique value to their buyers.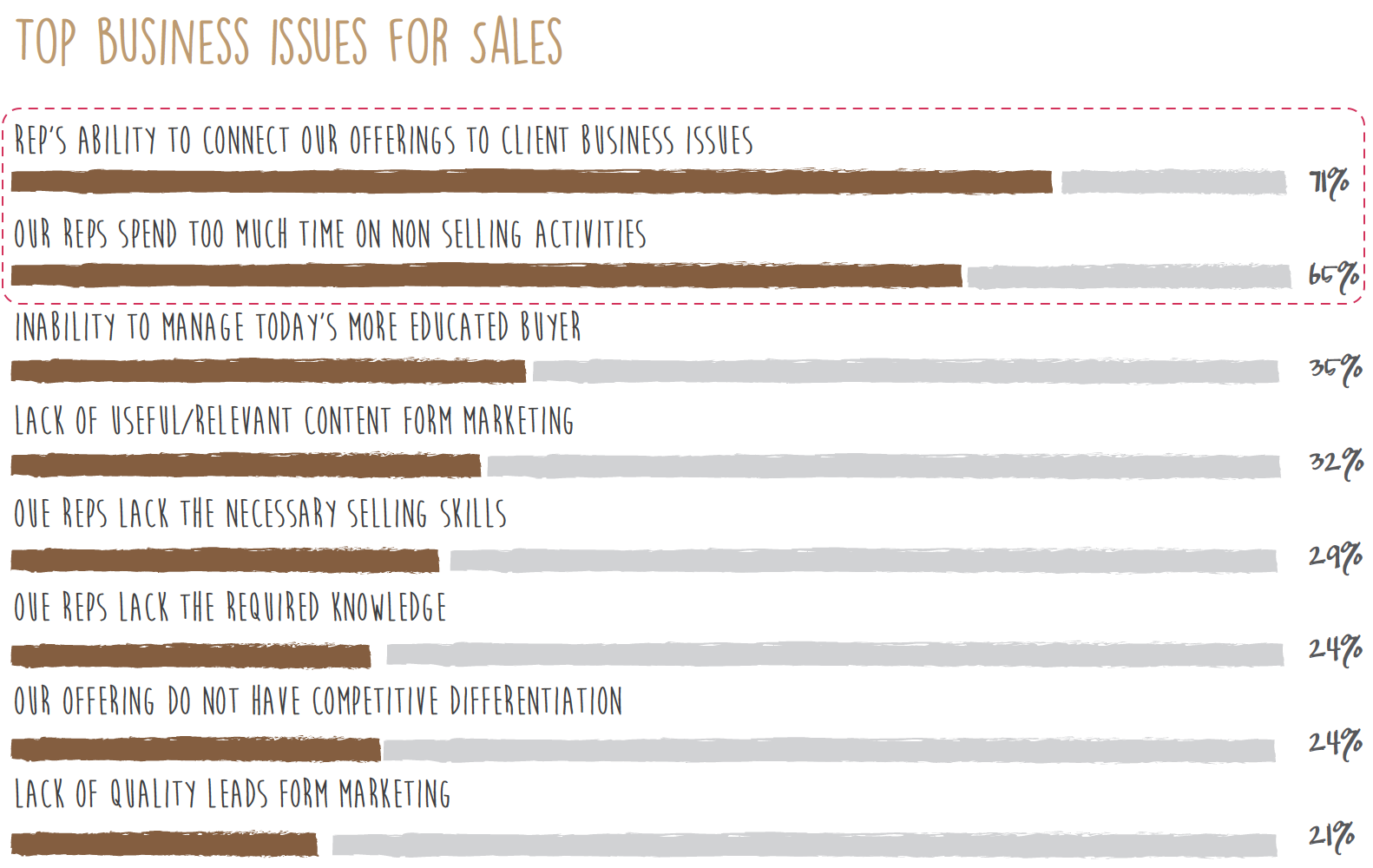 Let us examine a case study to know how deep-rooted this problem is.
*****************
A Fortune 100 CIO needed to change his company's core business to on-demand delivery for their customers. This multi-million dollar project required a detailed vendor selection process, inputs from different stakeholders, specific technology capabilities, and a team of professionals that understood the benefits of this transformation.
At one of his vendor site visits, the CIO sat through several presentations from representatives of each technology function of their proposed solution. Hearing conflicting data and statistics from each presenter that lacked coordination and coherence, he made his conclusions about the quality of their approach and the robustness of the proposed solution.
These inconsistencies and poor communication among the vendor teams did not convince the CIO of their ability to deliver on his requirements. It resulted in a CIO nowhere close to meeting his business' needs and a lost deal for the vendor.
*****************
What is Causing the Missed Opportunities for Businesses?
The biggest reason why businesses are missing out on key opportunities is that they are unable to make the best use of their existing content.
In today's business environment, content sells. It is at the core of every business. It connects every person and every team in an organization. It converts a prospective customer into an actual one.
But, B2B content itself cannot exist in silos! It needs to flow from one team to the other, from one member to another and finally to the external world - which is its ultimate destination. That is why it is extremely crucial that businesses are able to point out content that is resonating with their target audience.
However, as marketing teams create content for the sales teams to use, having an effective content management system in place empowers the latter to easily access and deliver the right content at the right time to the right prospect. This synergy enables the company's sales and marketing teams to operate in perfect harmony, maximizing their effectiveness.
---
Content is at the core of every business. It converts a prospective customer into an actual one. 
---
Let us now understand what is causing businesses to miss valuable opportunities. Here are three prime causes that we have identified:
Cause #1. Inability to Measure Content Performance
Cause #2. Failure to Increase Sales Effectiveness
Cause #3. Inability to Drive Stronger Customer Engagement
1. Inability to Measure Content Performance
Content marketing gives your customers relevant and contextual information relating to their business issues. The best content marketing initiatives demonstrate your industry expertise and leave the customer with a positive impression of your business when making their purchasing decision.
1A. Marketers are Unable to Measure ROI on Content Assets
B2B content marketing spend expected to touch $300 billion by the end of 2019, which comprises 26% of the total marketing budget. The most successful businesses spend ~40% of their overall marketing budget on content. On the other hand, firms with a good grip on their content marketing strategy spend about one-third of their earmarked budget.
But, here's where it gets interesting. About 70% of content created by B2B organizations goes unused, which means the ROI on ~$200 billion (70% of $300 billion) of content is zero. SiriusDecisions states that over 62% of sales executives find an overwhelming amount of information to be their single biggest sales communication challenge.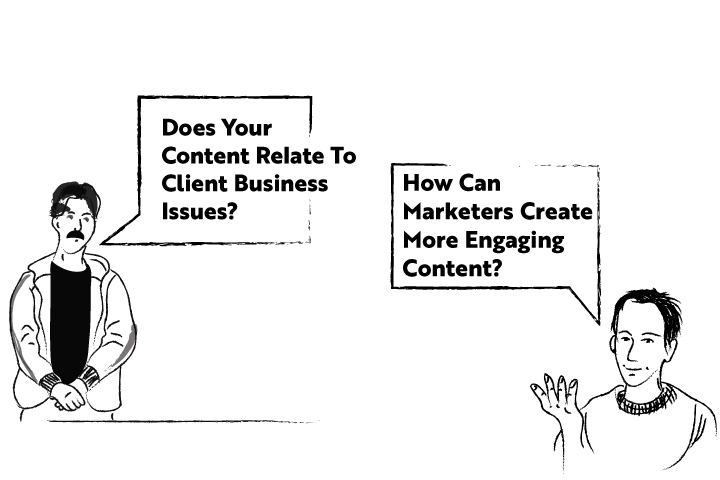 1B. Marketers Have Little Visibility Into the Sales Pipeline 
Content marketers strive to create content assets that are relevant, timely, and contextual to the sales discussion. But, they are unable to measure the utility of content assets, their effectiveness in closing a sales deal, and its relevance to customer problems. 
Most content distribution and management tools provide one-way communication (from marketing to sales) and very rarely enable a loop of feedback and meaningful conversations. Marketing has very little visibility into the sales pipeline, leaving them unable to suggest specific content that can connect well to a client's business problem.
In the absence of this, sales reps have no way to identify which of their curated content assets can be related to a client's problem. This results in a wasted effort by the writers, and no feedback loop from which they might otherwise create content that can better resonate with the reader.
1C. Marketers Are Unable to Relate to a Customer's Challenge
A Forrester survey of 113 B2B marketers revealed that:
87% said they struggle to produce engaging content.
47% produce content only for websites, online advertising, email, and social media, ignoring the remainder of the customer life cycle.
Only 5% of respondents consider communicating with their customers a priority.
In the absence of a reliable methodology to track prospect engagement with content assets and the content mix that sales reps use for customer conversations, marketers rely on their gut feel.
Tracking the outcomes from prior meetings and how customers engaged with your content during both successful and unsuccessful sales cycles can enable marketers to identify the most suitable content that is working its magic on the audience.
However, according to IDG's Role & Influence of the Technology Decision-Maker survey, the reality is that buyers are left groping for answers to their challenges. As a result, IDG reports the below statistics after a meeting is fixed:
77% of decision-makers seek details specific to their business use case.
58% will want the information to make a final purchase decision.
47% will view a demo or learn from a case study related to the product/solution.
The Bottom Line
An effective sales enablement strategy ensures that marketers can create content that their customers are looking for based on customer intent data and insights. For example, knowing which pieces of content are driving audience engagement can help them put out more such sales enablement collateral. This content can be automatically pushed for use by sales teams. Sales reps can quickly discover such content, identify updates to older versions, and distribute it to prospects and customers.
2. Failure to Increase Sales Effectiveness
Sales reps spend 65% of their time on non-revenue-generating activities, leaving only ~35% of their time for selling. McKinsey Global Institute reported that sales reps spend 28% of their workweek managing their e-mails, and ~20% on seeking internal information/tracking down colleagues for specific tasks.
In 2018, 57% of sales reps did not meet their quotas. Assuming that sales quotas increase every year, what impact would a decrease in preparation time and an increase in actual sales conversations have on quota attainment and your company's topline?
2a. Long Ramp Up Times for Sales Effectiveness
According to The Bridge Group's survey of 384 companies, the average ramp-up time for a new sales rep is 4.5 months. 20% of companies surveyed said it took them more than seven months to get sales reps up to speed. 
Often, sales reps sell multiple service lines or products, and as a result, they receive marketing content for each product line. Most of such content is distributed via emails, storage repositories such as Dropbox, SharePoint, et al.
Companies lack the technical nous to help a new sales rep know sales collateral that resonates with the target audience or identify effective content that top sales reps use.
The question facing sales leaders is, "How do I clone my star sales rep and bridge the growing gap between my poor performers and the best?"
2b. Lost Opportunities to Cross-Sell
Sales executives routinely report that it takes longer to acquire a new customer than to sell to an existing one. However, reps don't have tools to enable them to identify opportunities within existing accounts for additional services readily. 
Your clients' business challenges and needs are continually changing. So, sales reps must have both the knowledge and the technological ability to cater to client needs instantly.
---
"Sales executives routinely report that it takes longer to acquire a new customer than to sell to an existing one."
---
2c. Meetings in Context
Research indicates it takes at least five meetings for a deal to close. Successful meetings depend upon how well you can build upon learnings from your earlier meetings with the prospect. With no documented history of what transpired earlier, customer engagement of content, each meeting may as well be the first.
2d. No Information on New Leads Within the Company
The single biggest reason for a delayed sales cycle is the inability of decision-makers to reach consensus on a solution. Numerous presentations precede a business decision. Often, insights on internal discussions and the addition of new decision-makers do not get documented.
The Bottom Line
Sales reps need the ability to reach more prospects and customers and deliver superior experiences through content personalization and insights into buyer intent. The impact of deep insights to create hyper-personalized content experiences is more vital than simple SEM and SEO optimization strategies that are aimed at a generic audience.
---
"In this age of the customer, the only sustainable competitive advantage is knowledge and engagement with the customer." Forrester
---
3. Inability to Drive Stronger Customer Engagement
Gartner's research reveals that customers spend about two-thirds of their B2B buying journeys learning from whatever content they can dig up. Which means the type of content they encounter is critical. It matters much more than a specific product/service feature or individual sales rep conversation.
In reality, buyers do not choose between the communication channels - digital, social, or personal. What they are looking for is simple content that helps them solve their challenges.
Marketing teams are unable to create content that is channel-agnostic, shareable, consistent, and focused. Let us look into each of these aspects.
1. Channel-Agnostic - Content must be accessible across the preferred channels for buyers, even before they engage with a sales rep. It makes them feel empowered and better informed.
2. Shareable - With the increase in the number of stakeholders, geographical, and time-based barriers, content must be easily shareable. 
3. Consistent - No matter what the channel of content delivery is, it must be the same story everywhere to drive the same message.
4. Focused - When confronted with several options, content must help decision-makers make up their minds. Content targeted towards specific buyer groups can nudge them faster in the right direction.
The Bottom Line
Focused sales enablement collateral drives stronger buyer engagement, simplifies the buyer's journey, and reduces the burden on sales leaders to invest in sales rep training. It scalable across different buyer groups and job profiles. By using the right information at the right time to help customers complete any of the six jobs' sales reps create fewer sales skills demands and ease the complex purchase process for their buyers.
Sales Enablement Content - What You Still Need to Know
The good news is that not all is lost. B2B companies can fix the misalignment between marketers, sales reps, and buyers by taking concrete steps to unify the three groups. It begins with identifying the broken processes that are causing this disarray and then adopting technologies that connect marketing and sales teams with the buyers to deliver a consistent story.
As you evaluate different sales enablement technologies to make the best of the above opportunities, here are eight questions that you should consider as a marketing or sales leader:
---
1. Have you identified what are the obstacles for customers in their buyer journeys? 
2. Can your sales reps anticipate and buyer challenges in the buying journeys?
3. Are you able to deliver sales enablement content consistently to your sales reps?
4. What kind of content experiences are you delivering for your prospects and customers?
5. Do you know the 'buyer intent' of your target audience? 
6. Are you helping them solve their business challenges, or are you forcing your content on them?
7. Are your sales and marketing teams working together to help prospects and customers, or are they working against each other?
8. Do your business processes and technology align with the buyer journey or disrupt it?
---
In part three of our Sales Enablement series, we will see how a robust sales enablement strategy can unify marketers, sales reps, and buyers to drive customer engagement and reduce the sales cycles.