The Ultimate Guide to Creating Marketing Collaterals for Consulting Companies
As marketers at consulting companies, no matter at what stage you are in your content creation and distribution journey – delivering effective marketing collateral that backs the abilities of your consultants will build more credibility with your clients and provide value to them.
Introduction To Marketing Collateral for Consulting Firms
The earliest known consulting company was formed in 1886 by Arthur D Little and Roger B Griffin. The firm is credited with driving several seminal projects of the 20th century including establishing General Motors' R&D Labs, surveying Canada's natural resources for the Canadian Pacific Railway.
What hasn't changed since then is the nature of the projects that consultants take up.
The consultant pedigree is quite unique. Consultants are confronted with all sorts of problems – lack of data, processes, manpower, technology, broken systems, dipping revenues, employee morale etc. Clients often tell consultants their problems, but fail to track down their root causes – that's where consultants step in.
Or, clients may not have the resources, manpower or the expertise to do it. In the 2009 comedy-drama flick, "Up in the Air," George Clooney's character (Ryan Bingham) works for a Human Resources Consulting firm and makes his living firing employees on behalf of employers.
This is an environment where consultants thrive, and where they make sense from things most of us would have even failed to notice.
"Consultants are confronted with all sorts of client problems that need unique skillsets."
The Uniqueness of a Marketer's Role at Consulting Firms
Marketing at consulting companies is extremely different from other businesses. Milan Kubr laid out the 7 biggest marketing principles in his book titled "Management Consulting: A Guide to the Profession" on page 649 that include:
Regard the clients' needs and requirements as the focal point of all marketing

Remember that every client is unique

Don't misrepresent yourself

Don't oversell

Refrain from denigrating other consultants

Never forget that you are marketing a professional service

Aim at an equally high professional performance in marketing and in execution
Kubr explains that clients are paying for a promise by consulting companies that the latter would deliver the best service. There is always an element of risk involved in it – what worked for client A may not work for client B. More importantly, consultants are humans who deliver their services to other humans. Hence, the marketing function of consulting firms must adapt to their style of functioning.
"Marketers at consulting companies need a unique approach to match the nature of their business."
The Need for a Different Approach to Create Marketing Collaterals
Content marketing is expected to be a $300 Billion industry by 2019 and B2B accounts for 52.7% of content marketing revenues[1]. Consulting firms can hardly ignore this trend. We explained the term 'marketing collateral' in one of our earlier posts titled "An Introduction To Marketing Collateral." However, the approach to creating and leveraging marketing collaterals for consulting companies to drive revenues must be different due to the nature of their business. Below are the reasons why the approach must be different:
1. The Target Audience is Niche
For consultants, their target audience is mostly CXOs whose time is at a premium. In a 2013 McKinsey survey, nearly half of the executives admitted they were struggling to devote time to guide their business strategically[2]. The business problems that they have are quite different too – such as taking up greenfield projects, setting up new operating units, declining profitability of business units, expansion in newer geographies, launching newer products or defining the company's vision. These projects are unique because they are not everyday problems and need extraordinary acumen that is not common.
2. Content Consumption Pattern OF CXOs is Unique
A report by Forbes Insights and Deloitte[3] says that 75% of CXOs prefer to read a four-five page report on a PC, 70% of them prefer it on a tablet, while 59% of them choose to use a smartphone for it. Furthermore, Quartz's 2015 Global Executives Study[4] revealed that sponsored content is preferred doubly over banner ads and Industry Analysis (68%) is the most preferred form of branded content.
Bottom Line: Executives are very unique in their content consumption patterns.
3. The Buyer's Journey is Different
For consulting companies, the buyer's journey of their target audience is very different from others. It may take several weeks or even months before the CXOs make up their mind to avail the consultant's service. Most often, consultants never sell their services to clients upfront – in fact, it is the other way around. Consultants understand the problem at hand and then work their way to the best solution. The solution could be a combination of industry expertise and technology proficiency.
4. The Unique Needs of the Target Audience
Both B2B and B2C consulting companies use content extensively (despite the ticket size of B2C transactions being much lower than B2B). Today, B2C consulting companies go to the extent of customizing their branded content for their specific target audiences much similar to their larger counterparts. That shows how much importance consulting companies attribute to creating effective marketing collateral to appeal to their target audiences.
Bottom Line: Earning the trust of the CXOs via branded marketing collateral that is tailored to their liking is all the more important.
5. The Need to Show Value at Every Stage is Key
Consultants are often mandated to review progress at regular intervals with the client. At every stage, consultants must show how their presence is adding value to the client. Marketers must nurture their audience in a manner that shows how their companies have achieved success with similar problems and how the future roadmap looks like.
6. The Eternal Pressure to Differentiate Themselves
Marketers at consulting firms acknowledge that they're always under pressure to differentiate themselves in the marketplace. They must convince the potential leads that their consultants possess all the technical and functional knowledge to address the client's problems. This cannot be done by consultants themselves all the time. Marketers must create the content that matches their consultants' prowess which backs the skills the consultants exhibit at their job.
7. Nurturing Middle-Level Managers is Important
Most of the time, while the CXOs sign the deal with their clients, it is the middle-level managers with which the consultants end up working with. Consultants spend several hours working with these managers who may not have even witnessed the deal being signed. And middle-level managers can influence the decision-making process. So, the middle-level managers are a segment of the target audience that needs constant nurturing too.
As a result of these factors, the sales cycle for consulting companies tends to be a lot longer than B2C transactions. So, customizing the marketing collateral for the target audience is imperative.
"Marketers at consulting companies must customize marketing collaterals to the unique needs of the target audience for best results."
Types of Marketing Collaterals That Drive More Revenues
It is now time for marketers to roll up their sleeves and start creating collaterals that their clients can become a fan of. Due to the unique nature of their business, the below forms of marketing collateral, which are quite different from conventional forms of marketing make more sense to create.
1. Free Passes
Consulting companies are always coming up with innumerable hacks for their clients which often vary from each client. These come at a cost but hold promise for creating more trust within the client community due to the intrinsic value they possess and the thought process that goes into building them. Some of these can be given away free for their clients (unless they have an inherent privacy layer attached to them or if they've been built for specific projects).
Analyzers – Analyzers are tools that let users visualize scenarios and determine the output based on certain inputs. For example, AON Hewitt's Risk Analyzer helps insurers manage risk in their retirement plans based on actuarial and investment calculations.
Decision Tree Matrices – Decision Tree matrices are tree-shaped diagrams that predict a reaction for every action that we take. Each branch of the decision tree shows a line of action and its possible resultant impact. Decision tree matrices can be used by marketers to provide clients with many solutions to a complex problem. The Vroom Yetton Jago Decision Tree matrix tells clients the possibilities of decision making by leaders for a situation that they face. This matrix is based on five styles of leadership decision making Autocratic1 (A1), Autocratic2 (A2), Consultative1 (C1), Consultative2 (C2), and Group (G2). We came across an interesting piece that talks about how Quantas's CEO Alan Joyce chose to plough ahead with a corporate transformation program aimed at returning $1 billion to shareholders and save $2 billion in costs by cutting up to 5,000 jobs. Joyce's resilience in the face of backlash from the airline's employees as a result of his decision could be explained with a Vroom Yetton Jago Decision Tree matrix.
Maturity Models – Maturity models are designed to gauge an organization's readiness on a number of parameters and the areas that need improvement. ARC Advisory Group's cybersecurity maturity model lets managers assess the current situation, steps needed to reduce cyber risks and the costs involved at every stage.
Dashboards – Dashboards are powerful sources of information that tell managers the progress on key performance indicators for a business objective. They are connected to the underlying client data and are displayed in the form of line-charts, bar-charts, tables etc. They offer real-time monitoring and can be customized for individual client needs. Klipfolio is a company that specializes in dashboard building for businesses. We chose to feature them here to show you how you could leverage the dashboards that you have built for your projects.
"Analyzers, Decision Tree Matrices, Maturity Models and Dashboards are handy  marketing collaterals that marketers can give their clients for free."

 
Are you looking for examples/templates to put these tools up on your website? Don't worry, we've got you covered. We have sifted through the nuts and bolts that consultants use to fix problems and chosen the best ones that you could draw inspiration from. Here is the link for it.
2. Assessments by Consultants
Consultants use all kinds of assessments to identify symptoms and issues that must be resolved in order to move ahead. They're seasoned to assess an organization's needs and recommend suitable actions to remediate problems, to grow and to change.
Hermann Global, a North Carolina based consulting firm has created the Hermann Brain Dominance Instrument that helps clients maximize business results by using their full thinking potential. The assessment has helped clients achieve a 66% increase in team productivity and a 50% reduction in attrition.
The consulting firm has smartly put up a video on their website of how the assessment works and how clients stand to gain from it.
Pro tip: Assessments can be quite intricate and marketers will find it difficult to host it on their website. But, its inner workings and past successes can be put together in a powerful 60-second video or even in an infographic format. Make compact versions of your assessments in the form of infographics, and brochures. Ensure your consultants and account executives have the latest versions of these artifacts with them while talking to potential leads. It saves you valuable time and prevents leads from going cold.
"Assessments are excellent marketing collaterals that can be leveraged in their compact versions for distribution."
Here is the link to the best examples of assessments by consulting companies that we have shortlisted. Take a look and let us know if you'd like to see any other examples.
3. Industry Benchmarks
All consulting firms, big or small have numerous industry benchmarks that they use to tell clients where they rank. They are used to earmark the best examples of superior performance and determine the steps needed to achieve it. Companies can compare themselves against their peers in the same business area or geography. Quite a few consulting firms that we researched have a benchmark index or a report published on their website. For example, PwC's Innovation benchmark report tells us how global executives are coordinating with stakeholders to realize their innovation potential.
Pro tip: The benchmark reports are large research pieces that combine primary surveys and secondary research and are published on the company's website. Having the authors of the report blog about them on the company website and publishing short excerpts/videos that link directly to the report will boost the report's reach. The CXOs value such remarkable research pieces for the insights that they possess.
PwC's Innovation Benchmark Report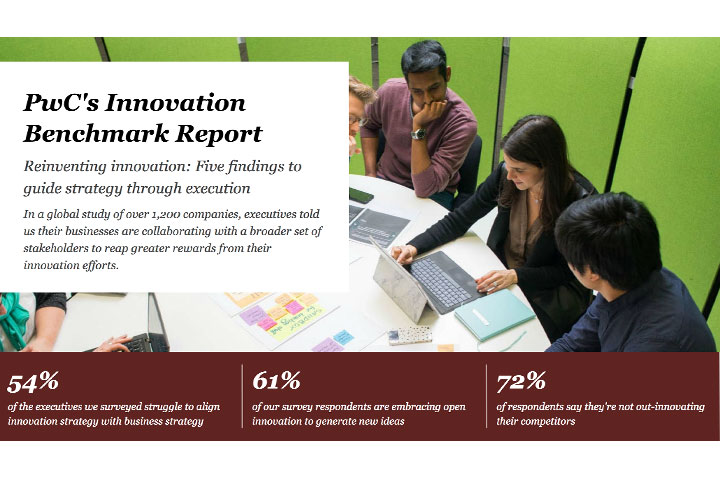 Here is the link to the best examples of benchmarks used by consulting companies that we have shortlisted. Let us know if you'd like to see any other examples.
4. Surveys by Consulting Firms
Market research surveys are a method of gathering first-hand information from individuals. They could be administered over the phone, email, or even face-to-face conversations using a questionnaire. Human resources consulting firm, Mercer's surveys such as Quality of Living City Ranking, Total Compensation Survey, International Geographical Salary Differentials are most sought after globally for their depth and wealth of insights that they have.
Here is the link to our shortlist of the best surveys used by consulting companies. Take a look and let us know if you'd like to see any other examples in here.
5. Interviews with Experts
Experienced consultants have a wealth of information that they have accumulated after handling numerous projects in their careers. Marketers view this as 'content gold.' There can't be a bigger source of authentic information than getting these experts open up from their vast experiences. And CXOs are always interested to know how their peers are solving business problems. Interviews on major themes can be recorded and published as videos/podcasts on social media.
A2L consulting's podcast directory provides listeners with information on the latest trends in trial presentations, preparing for trials, persuasion theory, and litigation support from top litigation and persuasion experts. We think this is a smart method of earning the trust of the litigant community. Plus, they rank very high on Google when you type "Litigation Consulting Podcasts."
Pro tip: Expert consultants can record their videos or sound clippings anywhere – in airport lounges, at their desks, or while waiting for their coffee in Starbucks and pass it on to their marketing teams for editing and promotion. There is no studio setting required unless it is a conversation between two individuals. Don't forget to paste the transcript of the conversation below the videos for your target audience to go through it.
"CXOs are keen to know how their peers are solving business problems, so expert interviews are practical pieces of marketing collateral."

 
Experts interviews are always insightful. Here is the link to our shortlist of a few interviews used by consulting companies. Take a look and let us know if you'd like to see any other examples in here.
6. Thought Leadership – Perspectives, Point of Views, White Papers
Thought leadership is a powerful form of marketing collateral that has the ability to influence target audiences. Consulting firms were among the first to have realized the value of thought leadership so much so that they have created a smorgasbord of original content in their websites. We believe the company with the most comprehensive thought leadership practice is McKinsey. The McKinsey Global Institute hosts a wealth of research and information created over a number of years. McKinsey's thought leadership is categorized into several sections such as Latest Research, Discussion Papers, and Briefings, Featured Research, etc.
We think the biggest asset that they have is the army of experts within McKinsey and outside of it such as academic advisors including Nobel laureates. When you have experts of such high caliber opening, people are bound to listen to them. Plus, they have a quarterly edition of the quarterly edition of global trends and issues for all industries that are extremely insightful.
Pro tip: Not all consulting firms are specialists in all industries. Some are experts in niche industries such as electric cars, solar panels, specialty foods etc. No matter what industry you are an expert in, we strongly suggest having a thought leadership practice in place. That also means when you create a content strategy at the beginning of the year, you consider thought leadership as a central component of it.
Are you looking for a simple strategy to create effective marketing collateral? Read our post titled "The Secret To Effective Marketing Collateral" on this topic for more insights.
"No matter what industry you are in, thought leadership is a core component of your marketing ."

 
7. Books by Consultants
Yes, you read it right. Books are another resourceful medium of showcasing your consultants' expertise. The knowledge and expertise that consultants possess can be condensed in the form of books. Bain & Company have a large collection of books published over a wide range of topics that CXOs can always buy and read.
Bottom Line: Physical marketing collateral is not dead. We explored this in our post "Is Physical Marketing Collateral Dead?" In fact, it might even give you higher returns than digital marketing.
Struggling to find ideas for a new book? Try compiling a book from all the blogs that you have published over a period of time. Or, get a survey out to your consultants asking them for the most pressing issues that are bothering their clients. Make sure you have exclusive material in your book to justify its premium value as readers are most likely to spend money buying it.
Pro tip: With 61% of executives choosing to read using a mobile device[5], try publishing eBooks that can be easily downloaded and read later offline.
How is Content Tied to Revenues at Consulting Firms?
Content marketing is a guerilla tactic that influences your clients to choose you. So, let us admit it – there are no easy shortcuts to measuring revenue driven by your content. But, adhering to the following principles can drive a higher ROI for your content:
1. Measure ROI of Your Investment in Content
Measuring real-time content intelligence such as the number of views, downloads, re-shares, time spent on each page etc. helps you determine the ROI of your content investments. How does this help? Salespeople and marketers know exactly which content is driving more conversions from leads. Salespeople can use more similar content to sell, while marketers can focus on creating more of it.
2. Create A Content Strategy for Your Firm
Creating a comprehensive content strategy for your firm around the types of collaterals, buyer personas, business goals etc. will yield you better results. Ensure you have prior stakeholder approval for it. Don't be rigid in it, feel free to change its contours if your approach is not working.
3. Create a buyer's persona – Who is Your Ideal Buyer?
We explained earlier how identifying the buyer's persona is so important to create highly effective marketing collateral. Personas should capture as many details as you can about your buyers. For example, what are the keywords leads use to land on your website? What are the reading habits of your buyers? How much time do they spend on social media? Without a buyer's persona, you are shooting in the dark.
4. Define Goals for Your Content
This question is about knowing what you expect your leads are doing after you launch the content piece. Do you expect them to download it or re-share it or use it as a reference – in which case you can ensure the collateral is a PDF document or an MP4 video?
5. Take Stock of Your Content From Time to Time
Make sure you set aside time to audit your content from time to time during the year. Weed out the stale ones as replace them ones that are more in line with your business goals.
Don't expect immediate benefits from implementing these steps however significant they are. The incremental benefits that you see after adopting these can add up to higher conversions and positive business results.
Marketing Collateral by Consulting Firms: Conclusion
"The journey of a thousand miles begins with one step."
Lao Tzu
It's easy to feel overwhelmed by the amount of content that you need to put out to catch up with the competition. But, take it easy (all of us live with that uneasy feeling). Take one step at a time. If you feel you are not able to cover an important point on a 60-second video, then go for a longer one, or commission a research document with a hypothesis, or create an infographic, or a GIF – whatever is working for you.
There are many forms of marketing collateral than what we have captured in this blog which may work for you. We put together this guide to give you a fair idea of some of the most effective pieces of collateral.
Is your head bursting with more thoughts and ideas? Is there anything that you'd like us to delve deeper into? Go ahead! Fire them away in the comments below.