Improve Conversions with Interactive Landing Pages
February 27.2022
12 minutes
Landing pages have become as ubiquitous as the leaflets of the 80s. Every other marketer holds a stack. And your prospective customers have become indifferent to their presence.
If your landing page doesn't arrest the eyes at first glance, most visitors are going to pop back to watching their cat videos.
That's one reason landing pages need interactivity.
Interactive landing pages personalise the sign-up process, provide a tolerable user experience and keep the visitors hooked throughout. They're designed to encourage participation.
To Make Content That Is Bingeable And Not Boring
But what are interactive landing pages?
Interactive landing pages are content pages with points of micro-interaction along the sign-up process. These pages have interactive elements like quizzes, mouse-hover animations and mini-games spun together with the design elements.
The best interactive landing pages tell a story. They create an experience to make the user an active participant. They delight visitors and guide them towards fulfilling your purpose. Yes, lead conversion.
With interactive elements, you not only improve the user experience but also express your brand's tone. The impression lingers for 5.5 seconds longer. (OK, that's an exaggeration)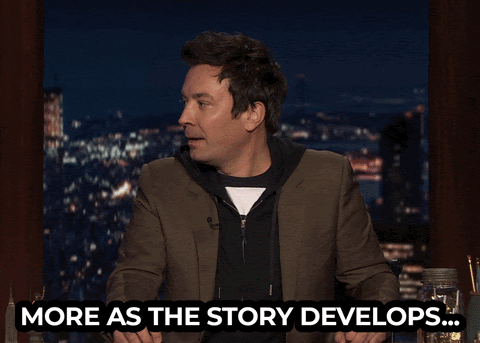 You can use these landing pages as dedicated sign-up pages, promotional pages, archive pages and many more ways. From eBook giveaways to music show promotions, interactive landing pages can be used for everything.
And the best thing: You can build interactive landing pages without writing any code.
And how do they improve conversions?
Well, with interactivity, your landing pages are different from the five other pages people visited minutes ago. They scroll through the content, read the story and interact with the elements. 
FedEx saw a 82% increase in month over month revenue by adding a freight shipping calculator on their landing page, along with other interactive tools.
BloomReach achieved a 70% conversion rate with an engaging quiz.
Tonic Site Shop gets a 78% opt-in rate with a quiz.
Netflix also acquired potential new viewers, through audio content on Spotify. Yes, interactive content speaks to the audience. Literally!
And with such interactive content, visitors stay longer on the page drooling on your genius. But how do they bring such stupefying results?
The reasons interactive content converts well are many. Some of them are:
Increases engagement: Interactive content engages the visitors and helps you build a deep relationship with them. They are clicking, scrolling, playing… and converting along.
Educates users: Interactive content, tells your stories through user participation. Visitors get to do something, instead of just reading on-screen text. They explore, learn, test... and receive immediate feedback.
Provides freshness: Interactive landing pages imbibed with your brand's personality, create an experience none other can offer. They set you apart from your competitors.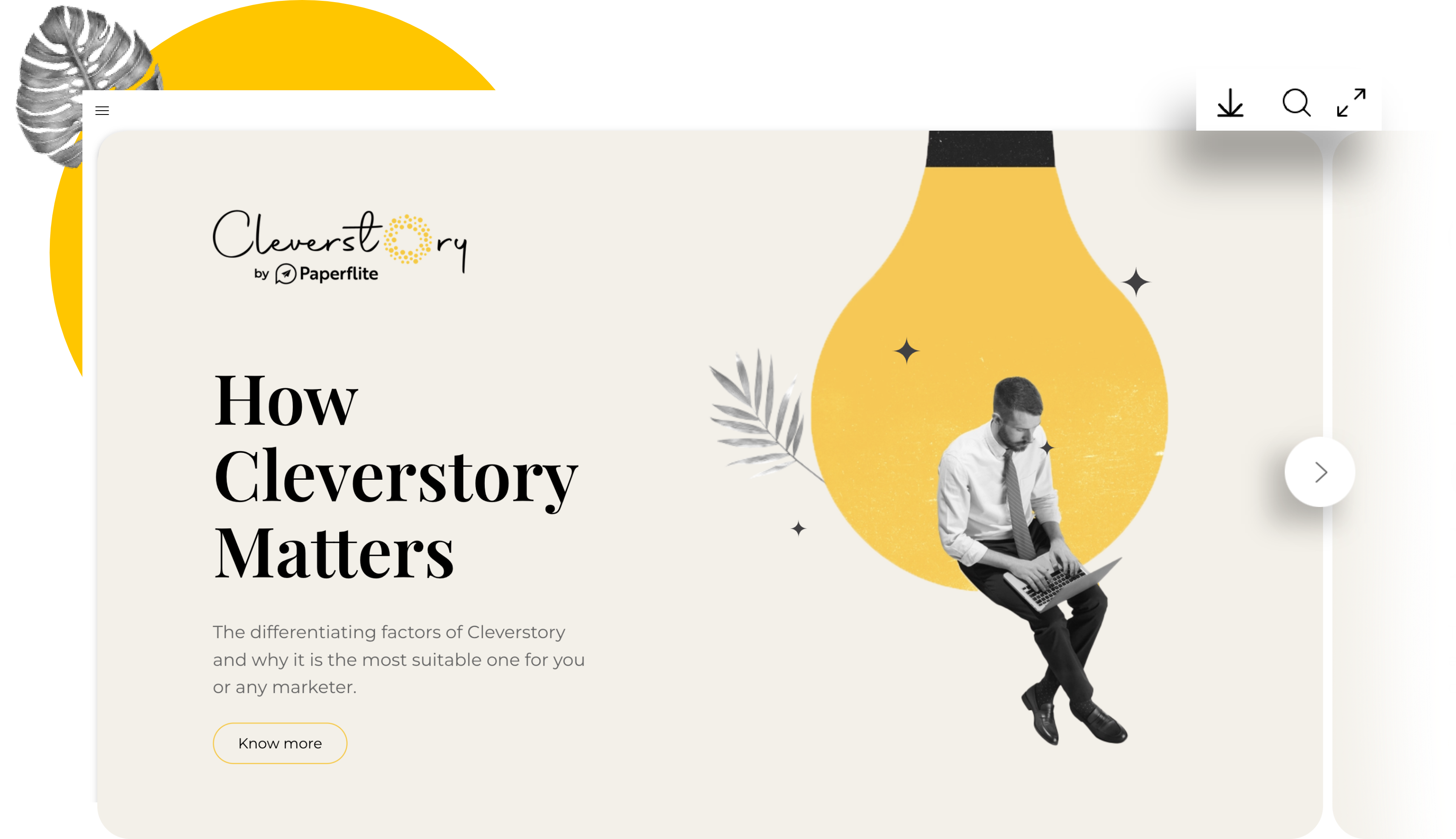 Interactive landing pages build the interest to qualify the leads better. And they can engage and capture interaction insights even before a lead converts.
How to make landing pages interactive?
Following are some elements that can make landing pages interactive:
1. Conversations
Conversations are the best (not the easiest, but the best) to engage and interact with visitors. You can ask them questions or show options to choose from.
And when it comes to the conversational approach, Drift is the forerunner in the space. It has been initiating conversations through its landing page chatbot. And then, it carries on the conversation to convert visitors with the best offer, suitable for them.
2. Stories
Stories also provide an immersive and interactive experience. Build one around your offer and engage visitors in choosing the outcomes.
Trello is a classic example of how businesses can use storytelling. It mentions what problems it's solving right in the headline. And as you scroll down, the page shows what else Trello has in its quiver, along with the CTAs. Storytelling is a nifty way to qualify leads based on what they choose.
3. Explainer videos
Explainer videos are among the tried (and tested) ways to engage visitors and convert. Videos establish trust and credibility, and they can explain complex subjects better than bland text-based landing pages.
CaseComplete uses this approach in its landing page. The explainer video illustrates everything it does and how it benefits the users.
4. Animations
Animations can add the brand's personality to the landing pages. They make the conversion journey more enjoyable. Demo animations, typography animations and playful illustrative animations are all different animations to turn lead conversion into a play.
And the landing page of Notion is probably the best example of using animations to its best. With simple animations, it shows how powerful the content management system of Notion is. The (renowned) Acme Inc. is using Notion after all.
5. Quizzes
Quizzes provide an interactive way to get leads and filter them. They help you offer custom solutions based on the answers. Quizzes can be entertaining as well as helpful, depending on what you do with them and how you implement them.
Sephora is one company that uses multiple quizzes. And then, depending on the answers, it suggests the best beauty products for the customers.
Interactive landing pages examples to inspire you
Some of the intriguing interactive landing pages examples out there are:
1. Wise
Wise (earlier TransferWise) is a service to transfer money worldwide. And its landing page addresses a primary objection – What does it cost? – head on. It has an interactive calculator which calculates the transaction fee in real-time. And it also has a large click-to-play video button to show the set up and transfer process.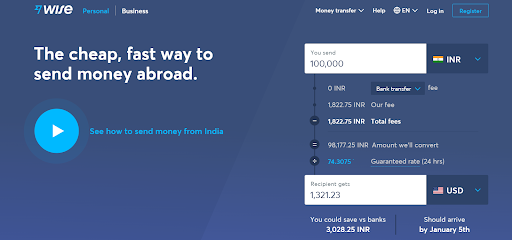 2. Landbot
Landbot is a no-code conversational chatbot builder. Its landing page tells what it does, i.e., personalizing client journeys in real-time. But it also goes one-step further by showing how. A conversational module is built right on the interface for visitors to interact. So, if you're looking for a conversational landing page inspiration, Landbot is the go-to.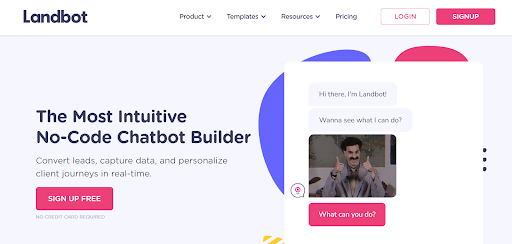 3. Freshworks Happy Sales
Freshworks built an interactive landing page with Cleverstory to share an HBR research document. Additionally, the page hosts different videos for you to stream, which have sales-related tips by successful business leaders. Towards the end, the landing page has an interactive quiz too.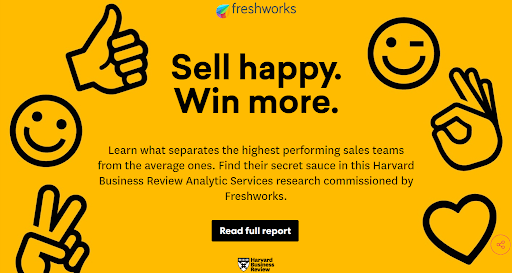 4. Mailflow
Mailflow is a plugin for Gmail to manage to-dos and notes. It's like a project-management tool, and the animation on the landing page right away shows how it works. As you scroll down this vibrant page, it shows the tool in action. And then presents a large text, "One-click install," along with the CTA button.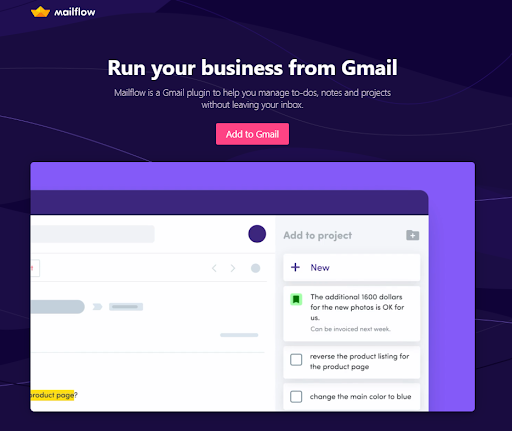 5. Wordtune
Wordtune is a browser extension to help you rewrite text by picking the right words for the occasion. The landing page has an embedded animation showing how to use it. You can even try the tool in real-time. The landing page also has other interactive elements which come to life as you scroll past.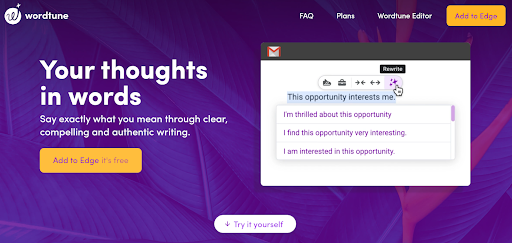 6. Intercom
Intercom is a messenger tool to manage customer communications. The landing page has a wide and lively animated "smile", which subtly guides the visitors to the starting point: the messenger button. The page also has bright graphics and animations showing different tools on the platform.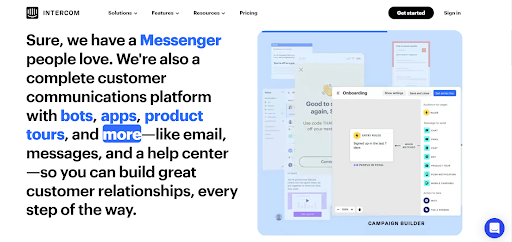 7. Scribe
Scribe is an online tool to create how-to guides with only a screen recording. The landing page is rather plain (with a large headline). But it tracks your scroll. And as you scroll down the page, a smooth animation slides in, showing what it takes to use the tool.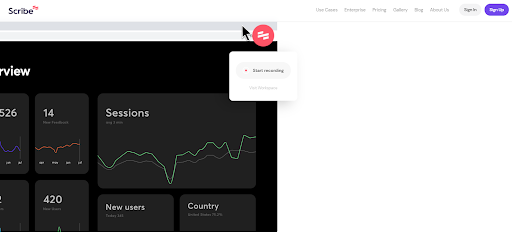 8. Bills
Bills is an online platform to help people with their loans and mortgages. It has an intuitive landing page, with an on-screen slider. You can move the slider to set an amount and start its free debt assessment. And as you scroll down, you can click and explore the other products on offer.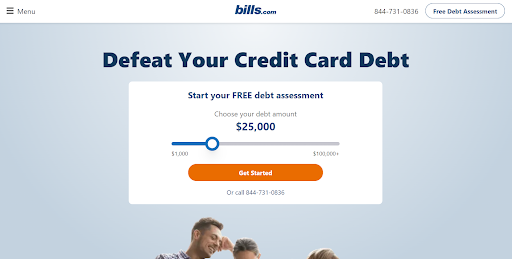 9. Apps
Apps is an apple cider produced by New Products Group. And this fun landing page provides an educational experience to the visitors. It's a quick cider-making simulator that shows how their ciders are produced. One can pluck apples, and squeeze and pour them into bottles. Definitely among the best landing pages out there.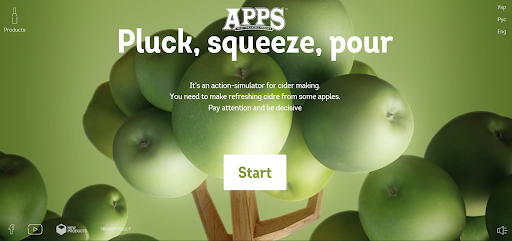 How to design a landing page that converts?
Here are a few things to keep in mind when designing landing pages:
1. Go guns blazing with the headline
Page visitors are looking for information on your products or services. But not everyone reads your entire landing page copy. However, most will pay attention to a bold and clear headline. So, put a headline that grabs attention. And pair it with a compelling subhead that emphasizes the product's benefits.
2. Show the benefits with interactivity
People are accustomed to seeing landing pages. They know what a landing page looks like: image, text block, another image, more text, a CTA/form. So, now is the moment to catch them off-guard. Splash some popping colours, slide in an animation, and show (don't tell) them the value of your offering.
3. Let page visitors enjoy the experience
When you build a binge-worthy content page, visitors stay for long. They're more interested in knowing you (and your offer, too). So, it's a good idea to add some elements of fun and make their experience enjoyable. It can be a fun fact, cute GIF or even a floating head.
4. Put in some real numbers
It's fine to entertain your visitors but to convert, they need convincing. They would like to know how effective the product (or service) is. That's why you must throw some real numbers. So, put in the statistics and metrics. But don't overdo it.
5. Throw in some customer testimonials
Customer testimonials are the most credible part of landing pages. They let visitors know what the product or service is like. Testimonials win their trust and confidence and gain you brownie points. And they even clear the doubts (if any) and push people towards the CTA.
6. Ask them to take the action
A landing page has only one goal: to convert visitors into leads. And for that, your landing page needs a clear CTA. Whether you want visitors to fill a form, download an eBook or transfer their property to you, now is the time. So, create a bold CTA clear about your "ask."
7. A/B test your copy
Now, you can't get the page right the first time. Not possible! Humans haven't been 100% decipherable yet. So, you'll need to test and twist your landing page to find which version yields better conversions. Short/long copy, image/video selection, CTA placement and size, the page layout, in general, are different factors to consider for tweaking.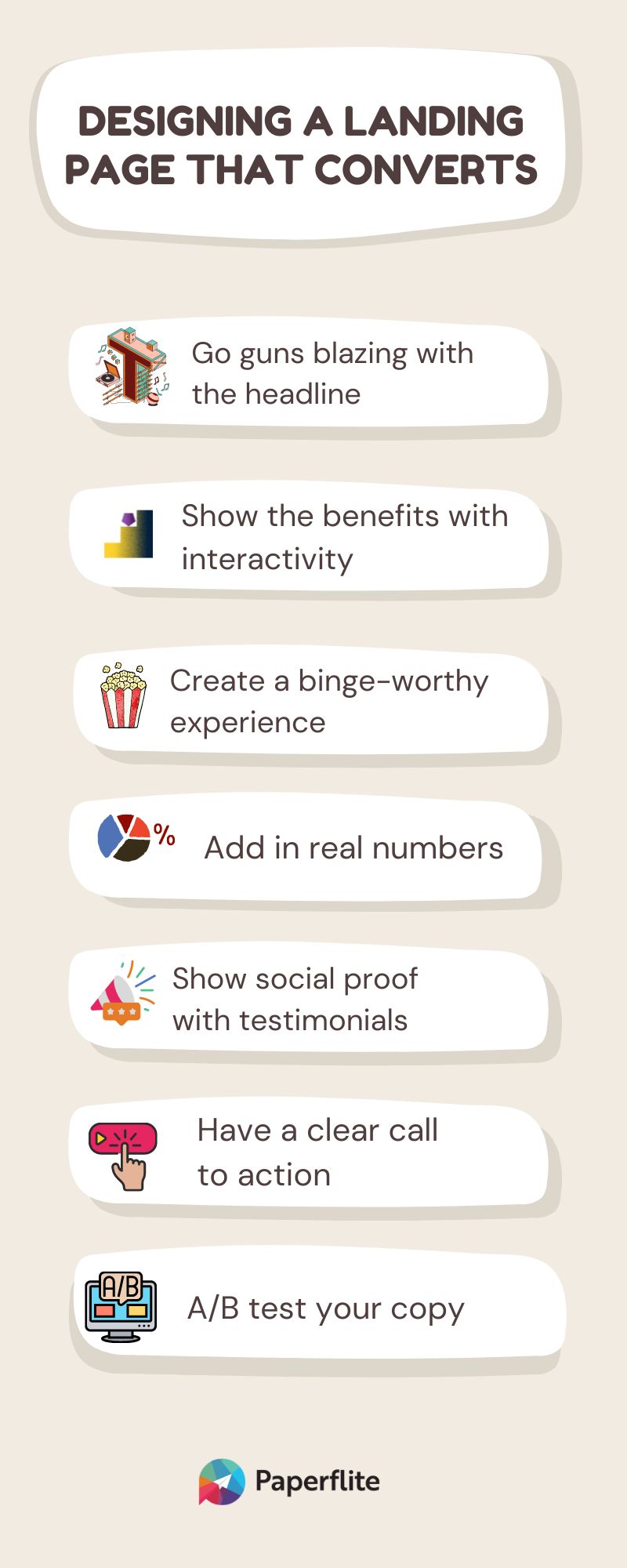 Wrapping up
The best interactive landing pages delight the visitors and transform them into leads. But you need to take the plunge. The rules aren't written in stone. The canvas is yours.
You can design everything from scratch or use the drag-and-drop interface of Cleverstory to whip some interesting interactive landing pages. You can design, manage and build your content story, all in one place with Cleverstory.
And that's all for today. Bidding adieu!