Making a Case for Interactive Content in 2021
Take your sales enablement and marketing content from yawn-inducing to dopamine-inducing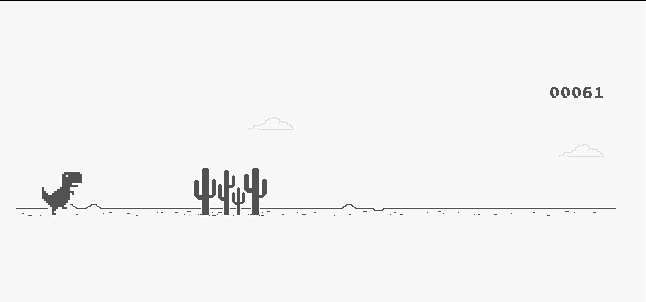 There are only two possible explanations if you've never seen this T-Rex on your screen until this point: 
The internet gods have blessed you
Google Chrome is your best friend. Not. 
What seems like a trivial addition to Chrome is an example of content that doesn't ramble on like a monologue. It instead opens up a space for all parties involved to interact, requires the audience to be invested in the process, and starts a dialogue - even if it simply means helping a prehistoric creature navigate across a desert. 
This is the kind of content that we marketers and sales folks like to slap a label on and call - Interactive Content. 
What is Interactive Content?
If this is the first time you're coming across the term, don't let the weight of it consume you. You'd have come across this type of content for ages! Only, you wouldn't have known it had a name.
Look at this billboard for instance: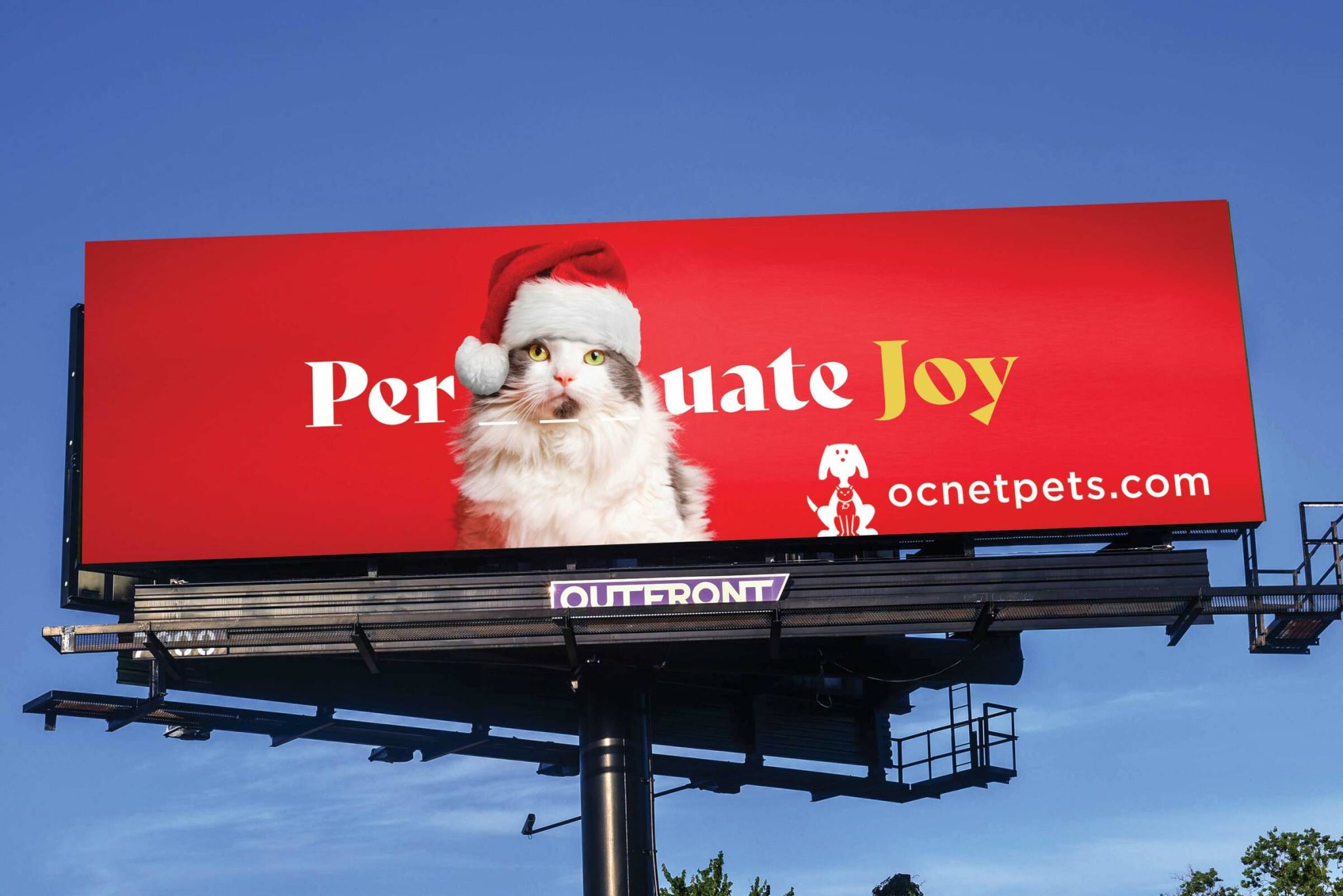 This feline face makes you stop in your tracks, piece together the answer to the blanks underneath her face, and finally leaves you with a biiiiiiig smile (if you need help, it's P-E-T that fills the blanks).
You see billboards, we see interactive content. 
So if you strip away all the fancy terms you see online, interactive content is simply any type of content that requires the audience to interact and actively engage with it. 
Bingo.  

If you dig a little deeper, you'll also see that interactive content:
Accommodates a wide range of file formats
Is compatible across devices
Offers new ways of navigation
Modularizes information & helps in easy discoverability
But, should you really care about interactive content?
Who should care about Interactive Content?
Content consumers today can be grouped into two categories - Divers and Dippers. 
While the divers do not hesitate to go right in for a head dive into the content they consume, the dippers are simply here for a quick glance and will maybe dip their toes.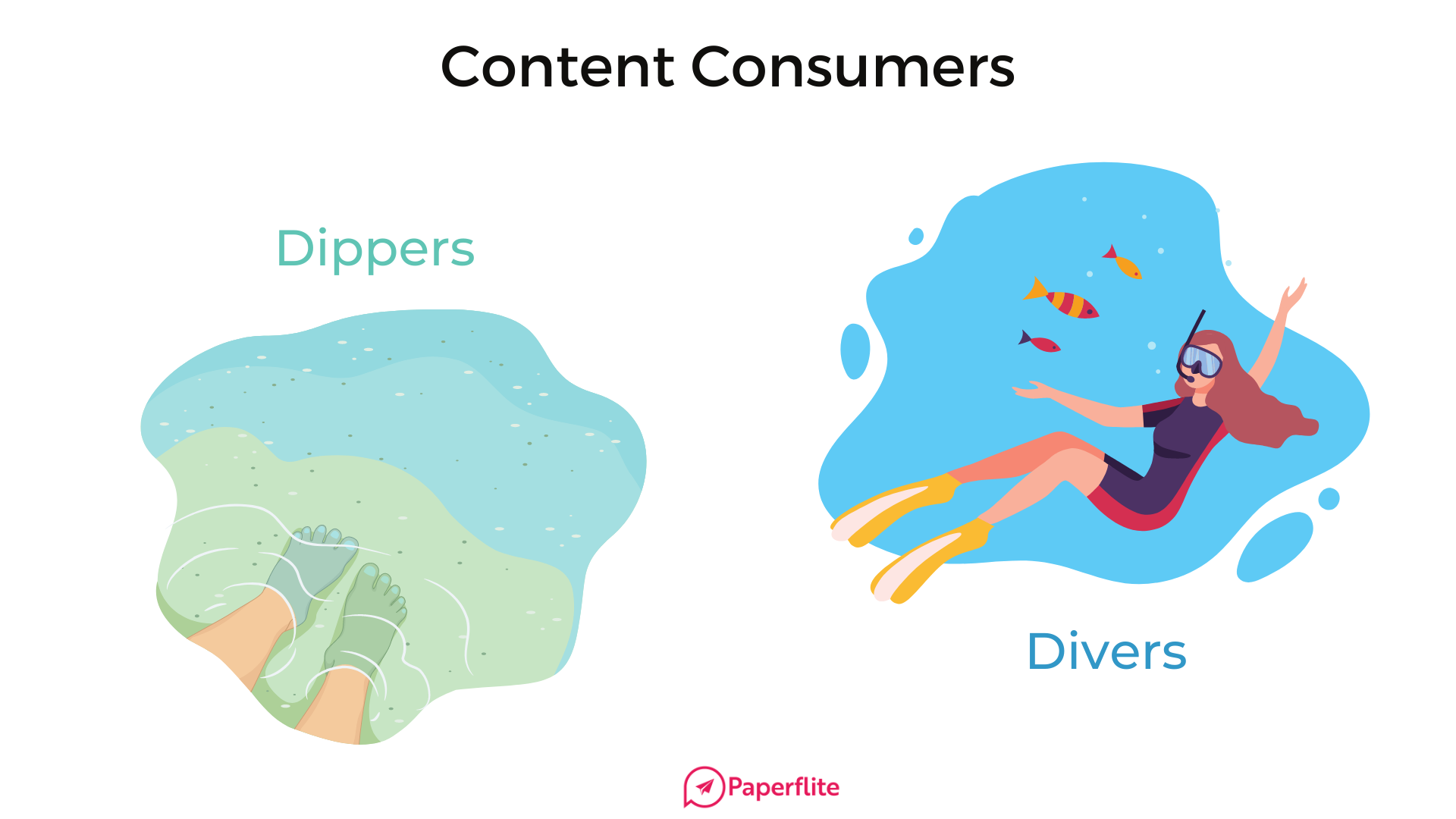 Interactive content satiates the content appetite of both these kinds of people. We'd even go as far as saying that it has the power to turn dippers into divers. 
Think about it - who wouldn't be tempted to try their hand at sailing in the Suez Canal after the recent fiasco? Or play with the adorable cat you saw on the cover image?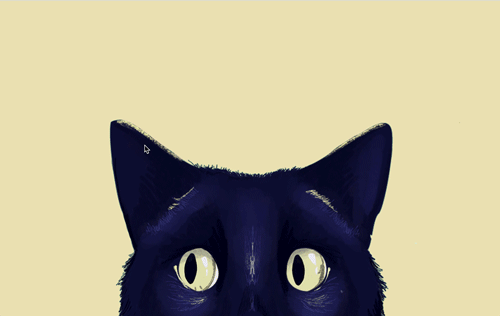 So whether you're a:
Content creator
Account executive
An inside sales person
Growth marketer 
Community manager
Sales enablement practitioner 
Visual designer
Or whatever you call yourself in the world of sales, marketing, revenue, and creativity,
interactive content can come in like a whirlwind and shake things up for better.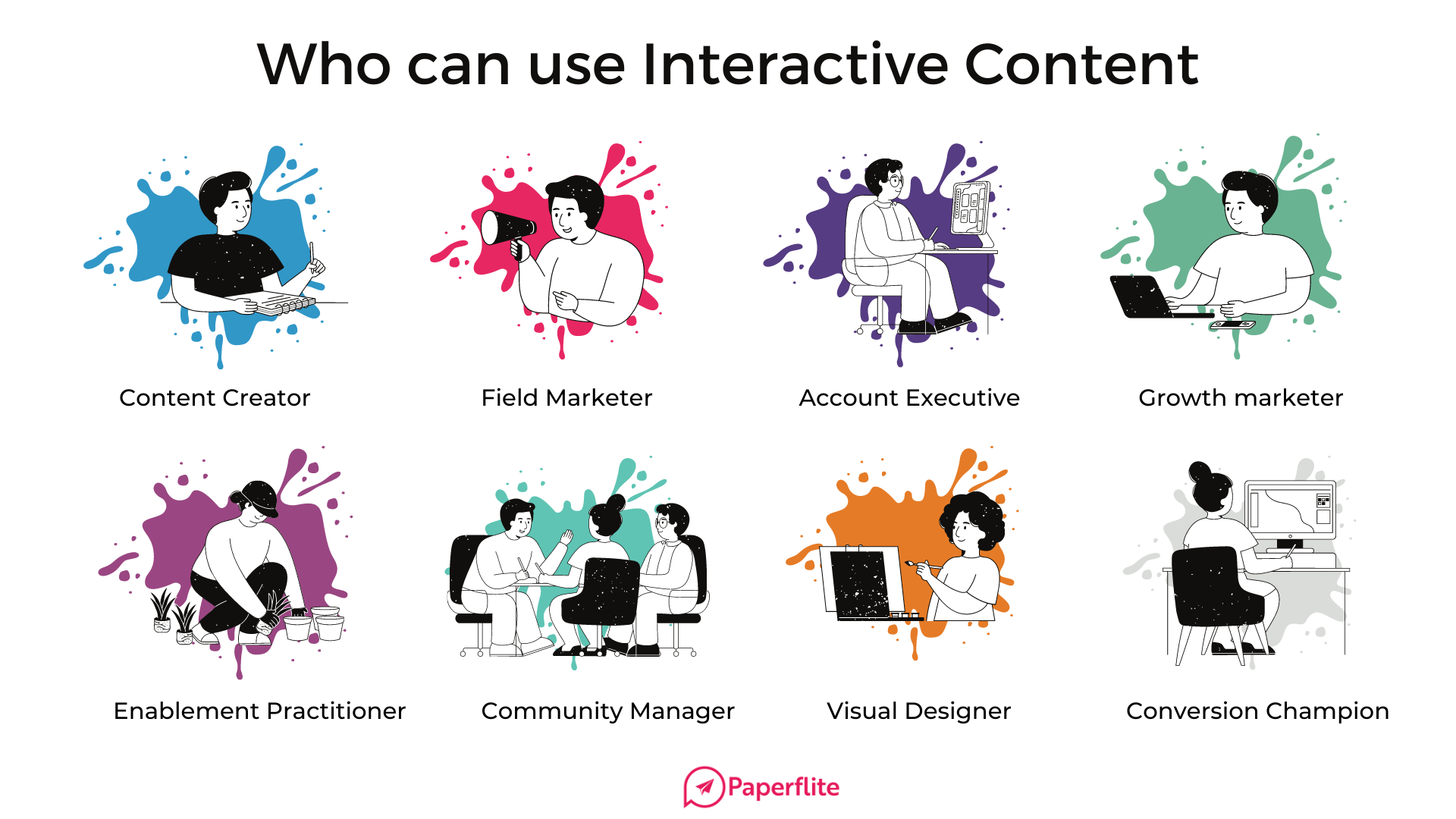 Think about all these times:
How many articles, ebooks, blog posts, slide decks, videos, or podcasts have you downloaded, bookmarked, added to your to-read list, or Pocket-ed? And how many of them have actually seen the light of the day and have been consumed?

What about all those posts you were SURE your audience would read without peeling their eyes from start to finish, only to later be told by a heatmap software or Google Analytics that they dropped off even before you could finish the first paragraph?
Or when you had to sit across the virtual boardroom and answer questions like:
"Why aren't people reading our stuff?" 
"This is too bleh and unexciting. Can you bring in the oomph factor?"
"Why hasn't John from Big Corp Inc.responded to our proposal yet?"
"Is marketing even producing content we can use?"
and the worst of them all - "What's the ROI of this??????"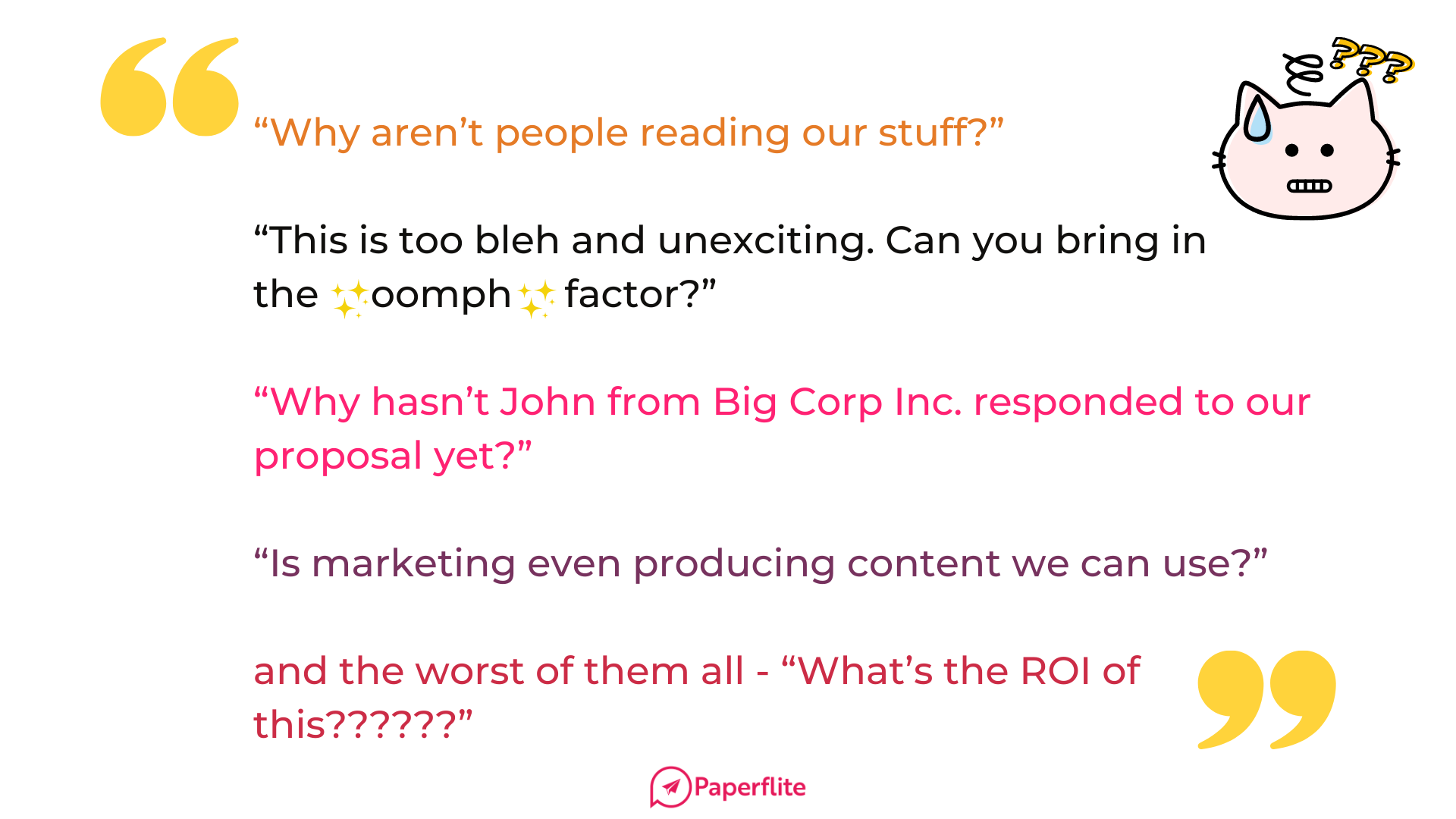 Interactive content can be the answer—a magic cure if you will—for all of this and more. On that note, here's what's popular when it comes to interactive content formats: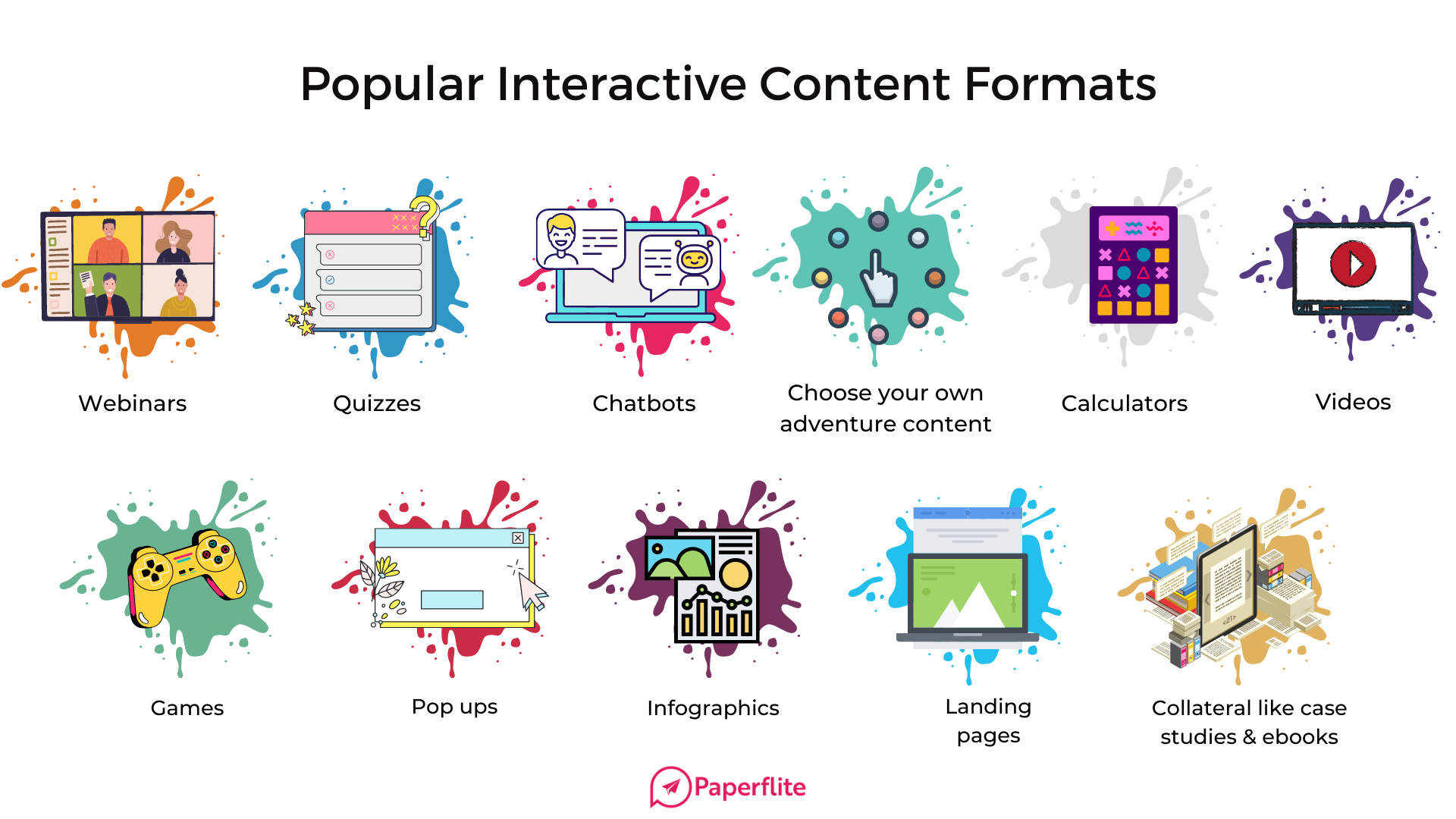 But what results have brands seen with Interactive Content?
Fantastic question. 
PureVPN increased conversion ratio by 4.6% using interactive videos and reduced cart abandonment by 27%.
WikiLawn recorded a 23% increase in email signups using a quiz.
Freshworks identified that on an average, every prospect consumed 2.6x pieces of interactive content and streamlined their campaigns based on that number.
Chilli Fruit saw a 5x increase in page views.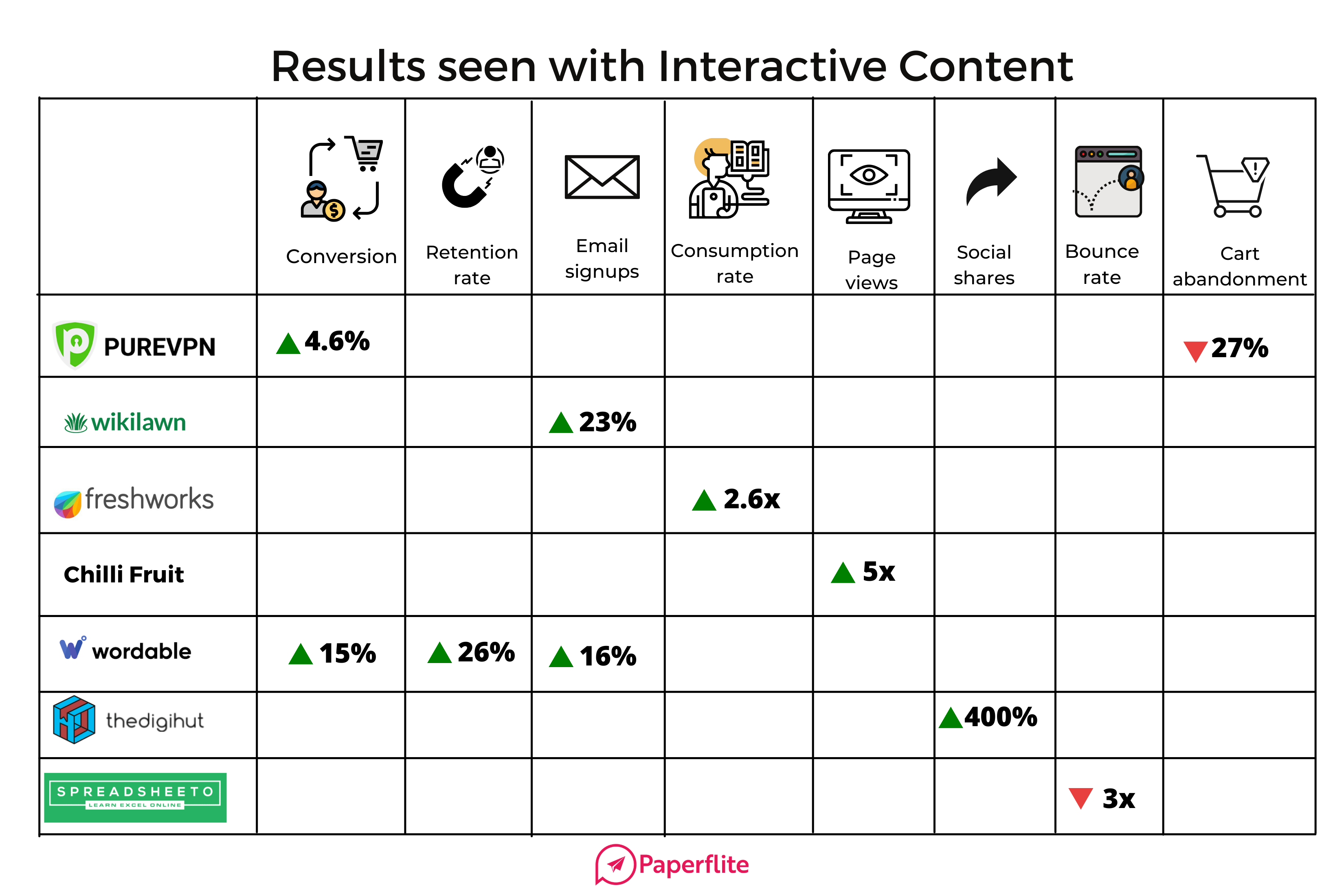 Crackle Marketing consistently drew new registrants that are the exact audience they look at to recruit new clients. 
Wordable was able to increase:
Open rate and CTR of the email sequences by 24% and 31% using popups
Signups from quizzes by more than 16% over the past 3 months
Case studies retention rate by 26% and 
The number of paying customers by 15% (of the total paying customers) over a period of 6 months
thedigihut saw a whooping 400% increase in social shares by using interactive content in blog posts.
Spreadsheeto decreased the bounce rate by nearly a factor of 3 through popups and in-depth free video content!
It's all fun and games until you have to speak metrics. What are the trackable KPIs for Interactive Content?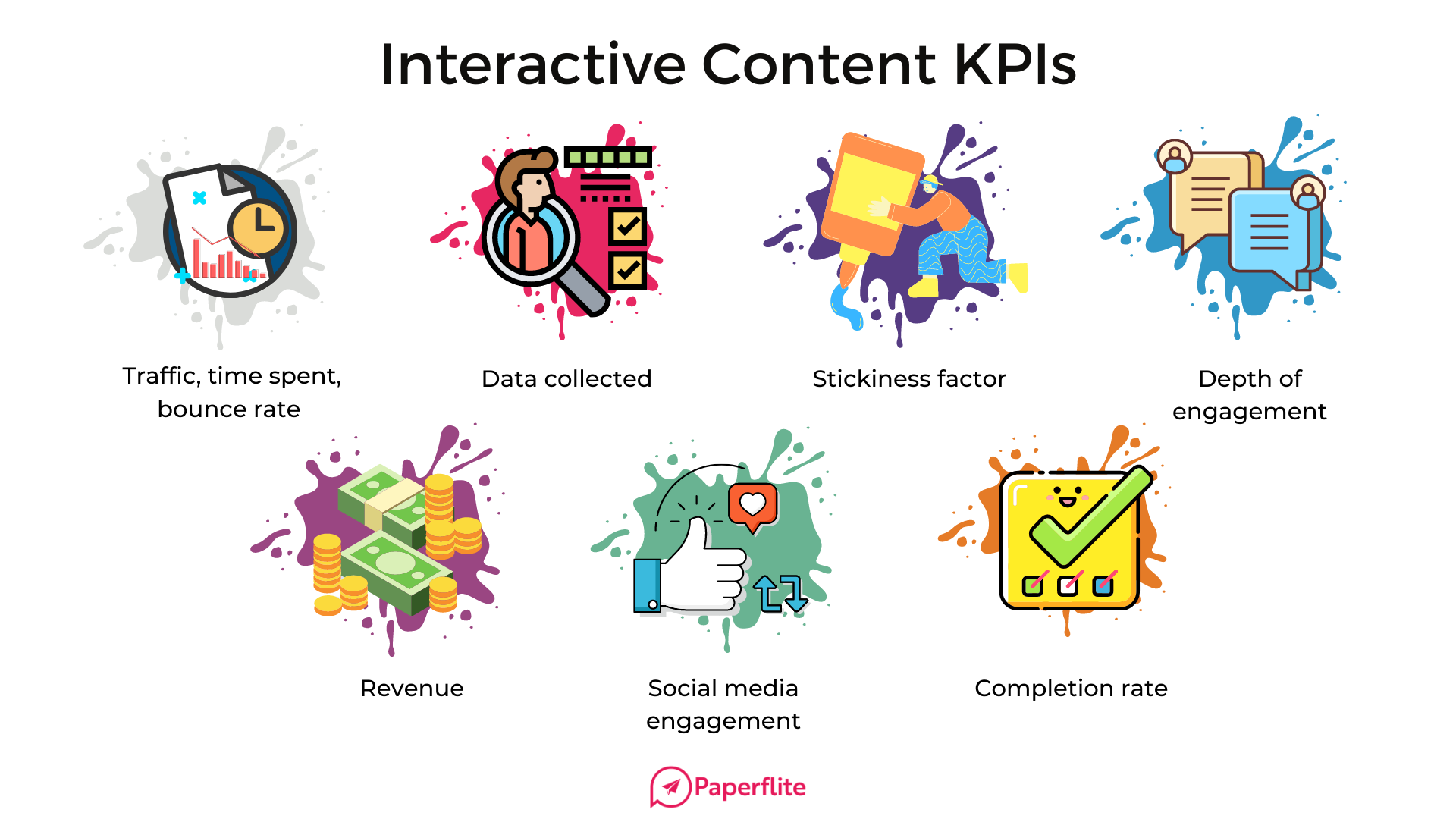 Traffic, time spent, and bounce rate
Traffic means nothing if your audience lands on your page and exits it merely after seconds. So it should be no surprise that time spent and bounce rate are the baseline KPIs tracked in interactive content, right after traffic.   
Because if someone is only spending two minutes on a page where they're supposed to spend ten, it might be wise to go back and tweak your content.
Time spent is also an important metric when it comes to interactive case studies and ebooks. That along with the volume of outgoing traffic to the homepage and the pricing page reveals how effective these case studies have been in persuading the audience.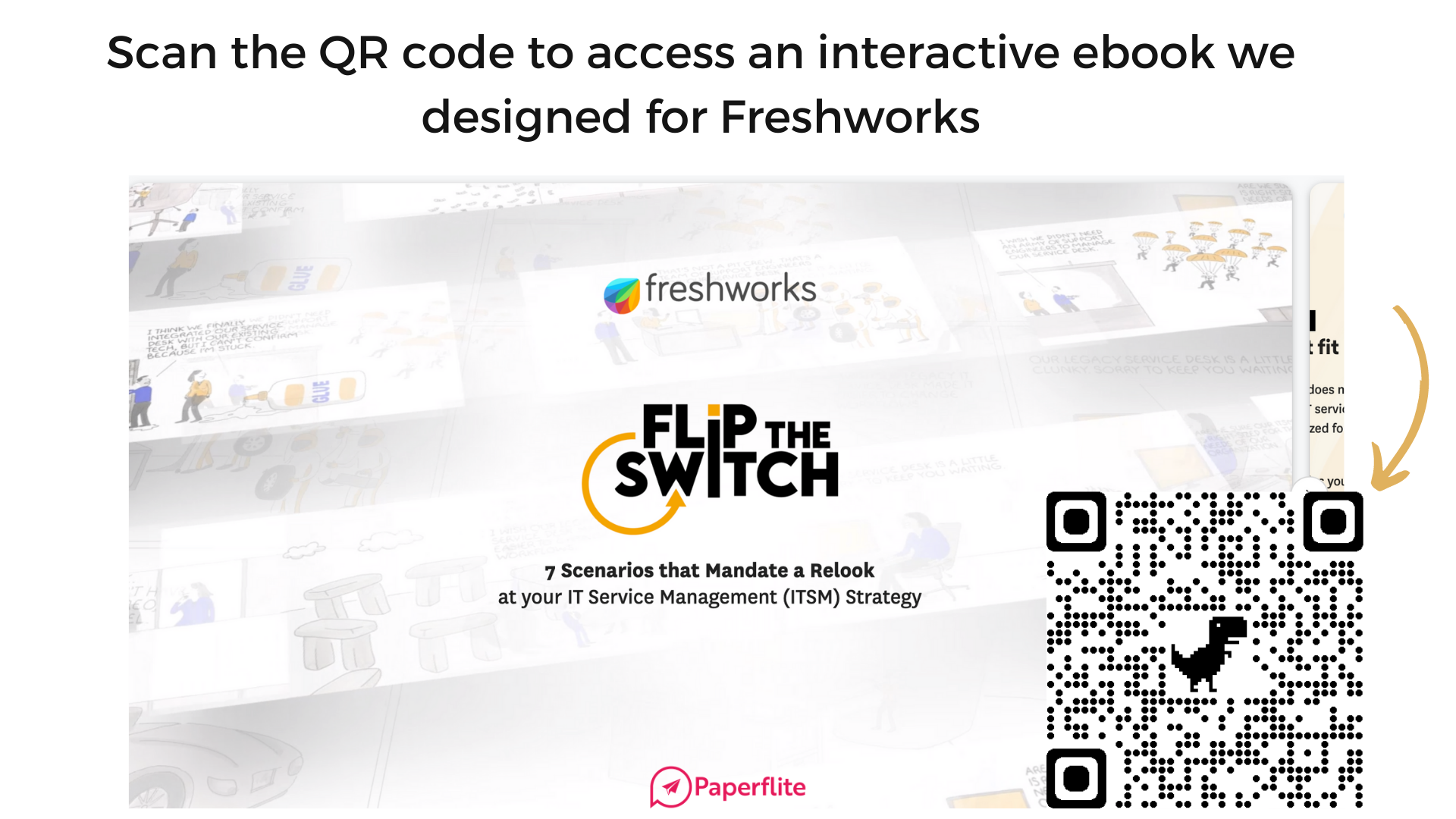 Data Collected
If Gollum was a marketer, he'd have treasured this single metric as his precious and defended it with his life.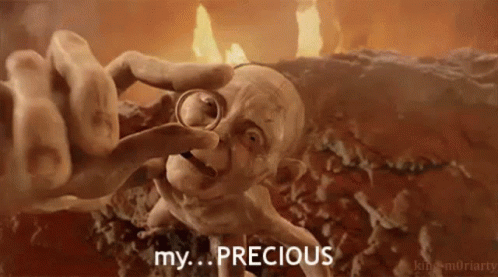 I mean, how many times have you heard the phrase 'data is the new oil?' (how you smirked and nodded away is irrelevant here).
Both the quality and depth of the data you collect are clear indicators of how engaging and valuable your audience finds your content.
The two most significant sets of data you want to collect are:
Behavioural (which, time engaged is a part of) and
Volunteered (data submitted by the user in exchange for using the tool). 
These contact and demographic details can be highly valuable as long as the collected data is clean and accurate. If you're seeing users consistently submit junk data, you may be asking for too much information.
Stickiness factor
How often are people willing to come back to the landing page or ebook you created? Suppose you create a calculator that has users returning to your site repeatedly to make use of it. Each trip back to your site provides an opportunity to engage with that audience in new and unique ways. 
By offering new pieces of content, event registrations, or access to exclusive user groups, you're able to guide these prospects on a personalized journey down your funnel, thereby providing more profound value on every return trip to your site.
WeTransfer does a great job at this.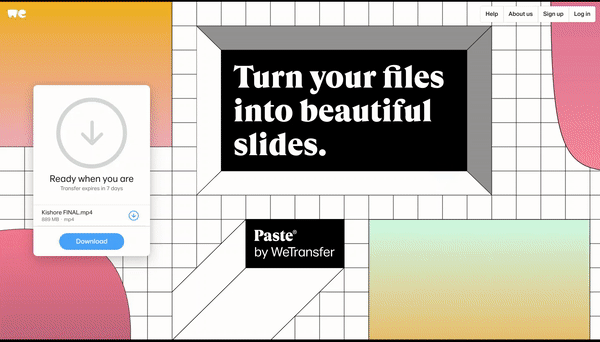 Depth of Engagement
When Freshworks hosted varied kinds of content formats and assets on the Cleverstory platform as an interactive landing page, it was important for them to understand on an average how many content pieces does a prospect even consume.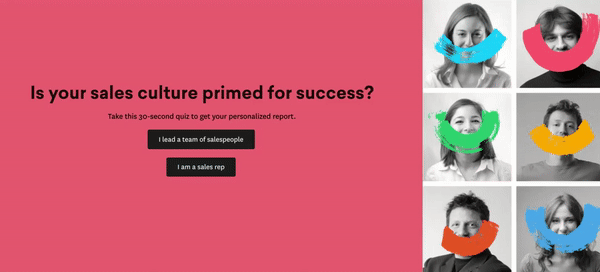 And this was important because it tells you multiple things:
Is your content valuable? 
Is the content format relevant?
Is it consumable?
How engaging are you as a brand?
As a metric, depth of engagement points out few other things to a marketer. 
What kind of content should you be planning going forward? 
Are the results based on the position of the interactive element? What happens when placed right in the top versus on the bottom? 
In terms of the investments that you would make as a marketer, what insight do you draw from these kinds of interactive campaigns and eventually plan the kind of formats and content and eventually a budget at the end of the day? 
Revenue 
Sales should bring in revenue. We're all in agreement there. When it comes to marketing, however, you cannot always directly tie things like brand loyalty and community to revenue (no, don't let some made-up metric tell you otherwise). But when you do see marketing bring in revenue, the entire marketing team is popping champagne bottles and having its own little party.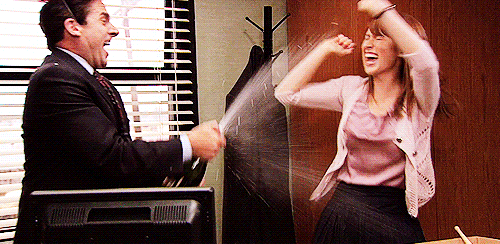 When it comes to interactive content, case studies, pop ups, quizzes, and landing pages have been popular conversion optimization elements. It'd be wise to view revenue brought in by them in relation to the average order value.   
Social Media Engagement
If you operate primarily on social media, you know that likes, shares, and comments are not just vanity metrics. They're indicators that your audience resonates with the content you're creating and isn't that what matters at the end of the day? Once you understand the kind of content your audience likes and engages in, start creating more of it! 

Completion Rate 
For quizzes and surveys, the completion rate is a good metric to track. Like bounce rate, completion rate also reveals gaps in your content if any and allows you to make changes accordingly. If you notice a consistently low completion rate, you might consider switching to a different format of interactive content that your audience would prefer over a quiz or a survey. 
Challenges with Interactive Content
Before signing off, we'll play the devil's advocate here. Interactive content does come with its own bag of challenges.  
Here's a bunch of challenges that are commonly named: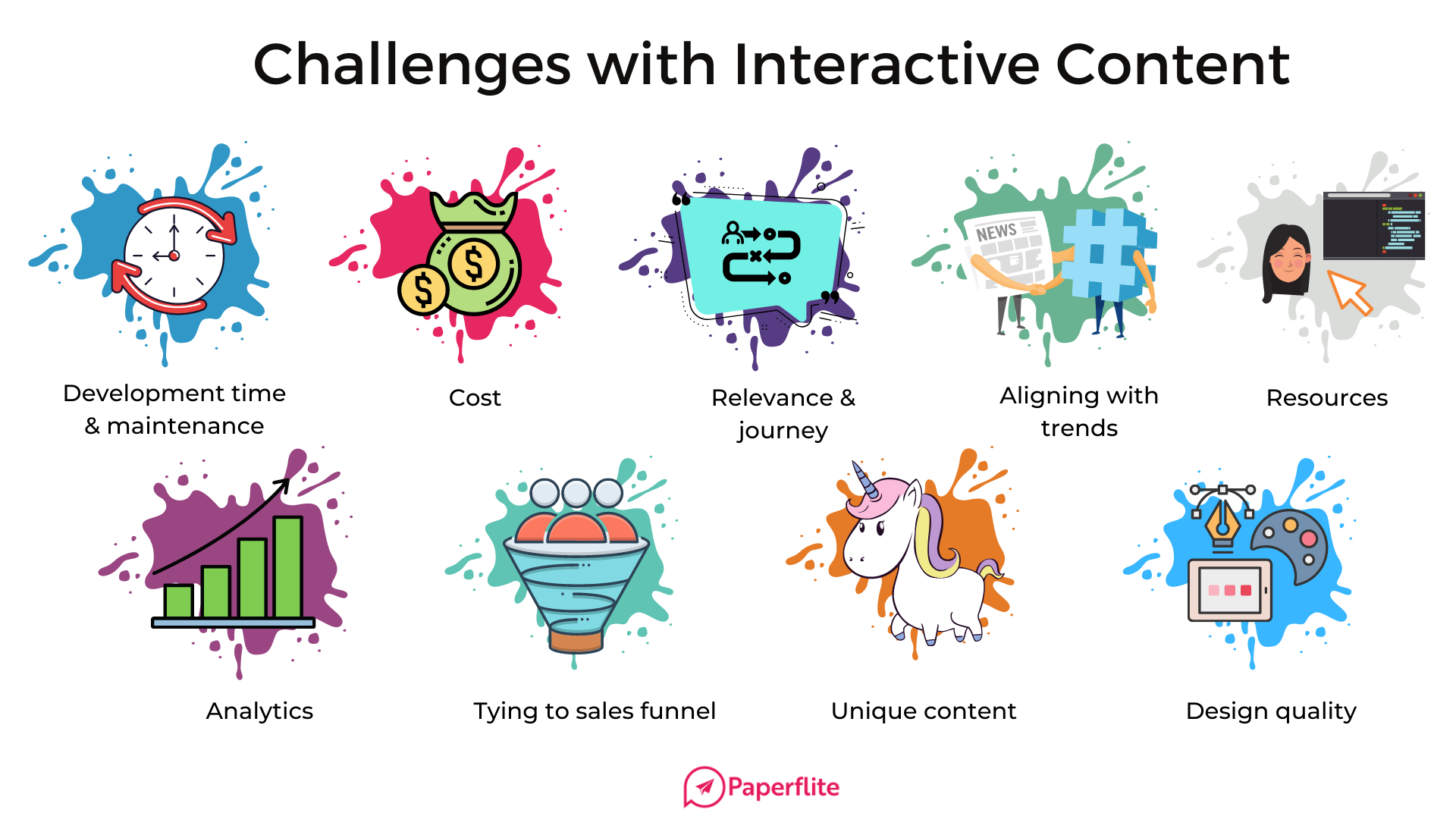 Development time and maintenance
Interactive content takes an exponential amount of time to create than traditional "2D" content, primarily because you have to plan for multiple outcomes, ensure each path is correctly functioning, and provide both a high-quality experience and valuable insights. 
It's not just enough to hit publish on that piece of interactive content and call it a day. Regularly updating it and making sure what you've created is still relevant and something people want is the other side of the same coin. 

Cost
Creating any type of interactive content usually requires a lot of money. It takes months of communication, revisions, and problem-solving to create it, even when it's such a simple little tool. Well-known chat/support tools for websites and businesses, for example, are effective but definitely not cheap!

Relevance and Content Journey
Interactive content is a miracle but creating one clearly needs a great understanding of human behavior. You have to be on your toes to understand audience demographics and what resonates with them. Predicting human behavior is a key challenge, especially when derived from social, cultural factors and impacted by external factors.

Creating quizzes, for instance, is a bit difficult considering you want the audience to complete the quiz. So the questions have to be relevant. This becomes even trickier if you have various customer segments and have to determine the content journey and flow of questions based on responses.
Aligning with trends 
The biggest challenge that comes with interactive content is also what makes it very exciting. For it to be effective, interactive content has to be in touch with the times and as these trends are ever-changing, one has to be quick in mastering and applying them to your strategies. 

Resources
Investment in resources and conceptualization can be a challenging task. Especially when you are a very small set up, you have to do the heavy lifting. While there are plenty of excellent tools out there, there isn't a silver bullet platform to streamline the process of creating automated experiences.

Analytics
Analytics is another challenge for interactive content. While many webinar platforms have done a pretty good job monitoring engagement and providing other useful metrics inside their events, the same cannot be said for all interactive experiences.
Part of the challenge is that we, as a community of marketers, are still discovering the right questions to ask when evaluating the success of these executions. The need to ask those questions shows how early we all are in our interactive marketing journeys.
Tying content to sales funnel
Tying the interactive content to the overall topic of the existing website/webpage and optimizing the journey from the interactive content to the sales funnel. It's usually relatively easy to create something fun and unique, but more difficult to make it relevant to a product or service.

Unique content
Creating unique content that will resonate with all segments of your audience, having to constantly come up with new and unique content, finding topics that are original and can instantly grab attention, are all overlooked but crucial aspects of interactive content. 

Design quality
We're floating in an ocean of content today. Design, therefore, becomes a crucial differentiator and steers your content towards further engagement from your audience. Common challenges with design include:
Ensuring there's a seamless flow of content
Building the direction of the conversation
Having a design that doesn't lose audience in between

Conclusion
True, overcoming the above-mentioned challenges will take more than crossing your fingers tight in prayer. But what doesn't come with challenges? 
While marketers and sales folks struggle to generate the responses they need from their ICP, interactive content can make people beat your door down to respond to you. Interactive content can be the answer if you:
Produce chapter-driven, organized content
Want to enhance the content consumption experience of your audience
Need to keep track of logical sections while reading
Dive deep only into sections you want to read
Elicit a positive response from your prospects and clients
Want to produce proposals, pricing, and reports that people will actually read
Abolish dull and boring content for once and for all
Not sure where to start? Write to us at marketing@paperflite.com and we'll help you get started!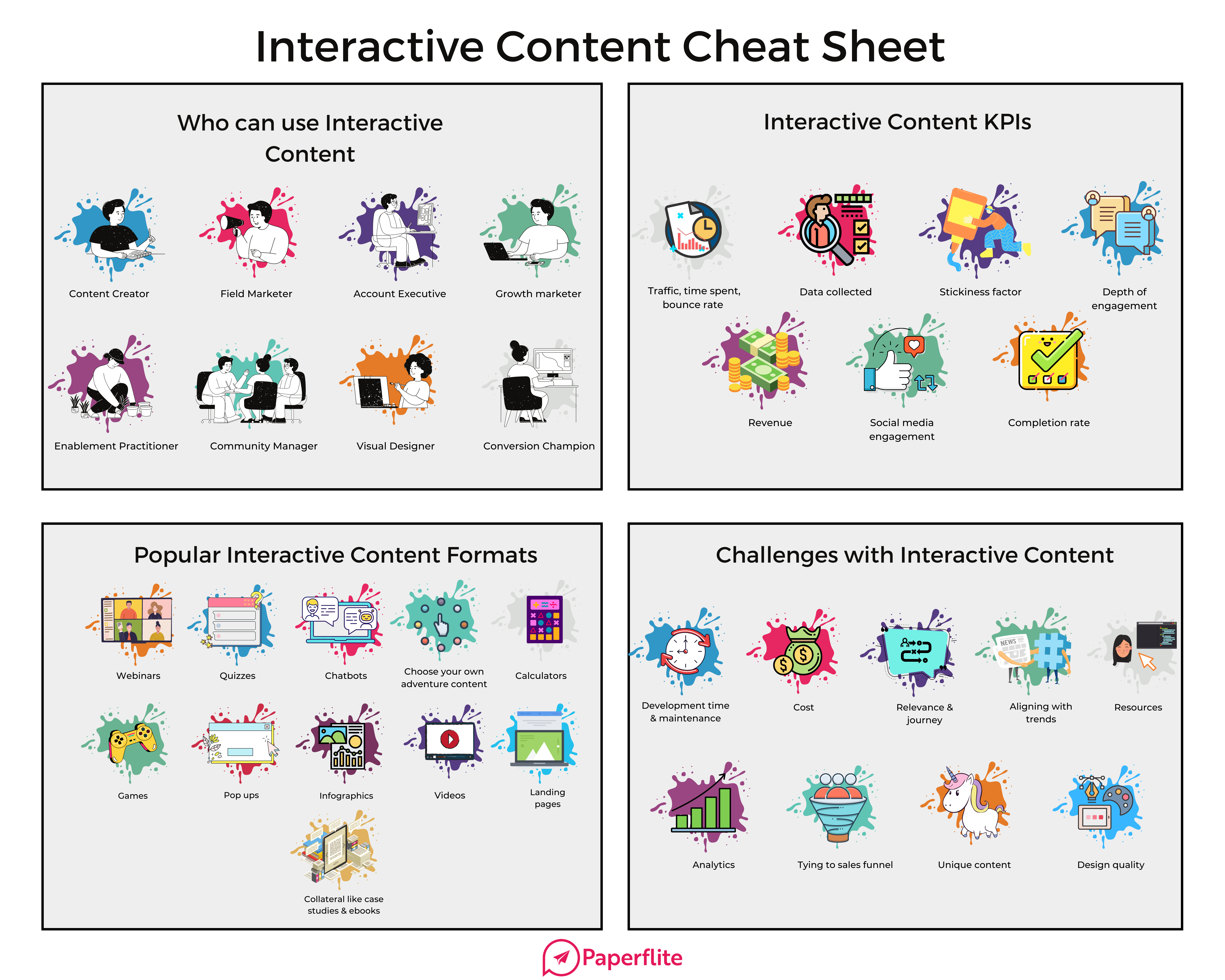 The incredible people who contributed to this piece