What is Field Marketing and Why Does It Matter?
Learn what field marketing is and how it aligns with marketing objectives to drive sales for a company.
What is Field Marketing?
Field Marketing is a series of activities carried out by highly trained marketers that contribute to the brand building, customer relationship management, lead generation efforts of a client/company. Field marketing includes targeted direct sales promotions, merchandising, auditing, sampling, demonstration, experiential marketing, organizing roadshows, and events.
The Field Marketing Council defines field marketing as 'measurable, face-to-face brand development and customer relationship management through using highly trained people.'
Field marketers are responsible for interacting with the brand's customer/prospect base to inform, educate, influence, and persuade them towards a purchase decision.
In the B2B context, field marketers have a mixture of sales and marketing expertise and engage with customers/prospects across several touchpoints such as events, trade shows, conferences, webinars, and in-person meetings.
In the B2C context, field marketers are present at locations where there is a high density of prospects - at shopping malls, street corners, eating joints, gyms, marathons, etc.
Benefits Of Field Marketing
Field marketers are highly trained to match the needs of the target audience and are fully aware of their business and brand values.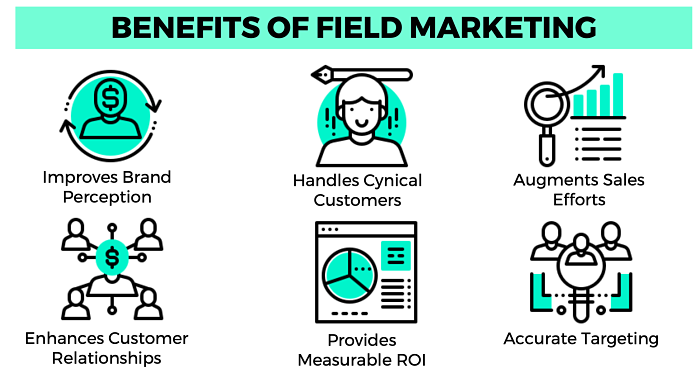 Here are the most significant field marketing benefits that every company could experience:
Improves Brand Perception
Field marketing enables brands to interact directly with their target audience and allows them to experience the brand first-hand. 
Field marketing is often at the point of sale or during specific events (such as exhibitions, conferences, roadshows, webinars, etc.). 
These are ideal points to gain mindshare of the prospect, instill brand values, and increase brand loyalty until they become customers.
Field marketing is the process of registering your offer in the minds of customers to remind them of your product's existence and availability when they have a need. 
Handles Cynical Customers
Customer cynicism is real. Customers are intelligent, savvy, and better-informed. They are looking for instant gratification rather than drawn-out negotiations, as they try to get answers to their questions.
Field marketing is best suited to deal with cynical customers because field marketers can answer real-time during product demonstrations, onboarding, events, webinars, POS interactions.
Augments the Sales Effort
Sales reps have their hands full by attending to qualified leads that the marketing teams get into the sales funnel. Often, they may not have enough bandwidth to onboard customers or nurture them as they gradually become familiar with a product/service.
Field marketers can take the lead here to take the pressure off sales teams and handhold prospects until they are comfortable on their own.
Enhances Customer Relationships
Field marketing helps provide a consistent customer experience wherever and whenever the customer touches the brand.
Once customers have purchased a product or availed a service, they expect to be identified and recognized - this is table stakes in today's fast-paced world.
For example, once a customer has been to a retail store, he or she expects the retailer to know everything about himself or herself in the next interaction.
Field marketing reps can provide customers with consistent answers for all their queries, thereby increasing their trust in the organization.
Successful field marketing campaigns give quantifiable and tangible results. Brands get real-time reporting through the use of field marketing reporting software that loads onto a multitude of devices like mobile phones, tablets, and laptops.
Product managers and brand owners can view reports on a real-time basis through tablets, mobiles, websites, dashboards, and learn how their field marketing campaigns are performing. 
Field marketing activities include sales promotions, onboarding, nurturing, sampling, demonstration, experiential marketing, organizing events, roadshows, and conferences.
Field marketers responsible for these activities, choose the locations, formats, in-house (and external) experts, and marketing collateral after researching about their target audience. This approach helps them cater to the needs of the target audience in a focused manner.
Explaining Field Marketing Activities
Field marketing activities include five major disciplines that we have explained below:
Highly trained sales staff find, understand, and hold dialogue with the target audience intending to sell. This field marketing activity is usually carried out at events with a high footfall of the brand's target market. Brands often outsource this activity to field marketing agencies so that they can concentrate on their core business.
Merchandising is the positioning of marketing material (such as posters, shelf barkers) in a retail environment.
Merchandising in field marketing also encompasses:
Developing a relationship and rapport with the retailer.
Ensuring that products are well stocked, captivatingly displayed, and vigorously promoted.
Measuring and evaluating the performance of the brand within the retail outlet.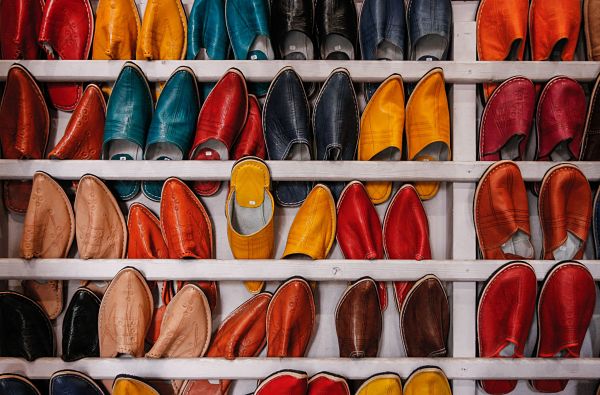 Auditing is the recording of information about the position of a brand in the marketplace. A field marketing audit reports how a brand and its competitors are distributed among stores and within them. It also measures how the products are displayed by mapping product stock levels, facings, and order sizes.
Auditing helps formulate a strategy for other marketing and field marketing activities. With real-time reporting tools, the audit process has become swift and less tedious.
Sampling and Demonstrating
During this FM exercise, a field marketer demonstrates the working of a product to the customer or allows the customer to try/taste a product.
This activity is most effective when a targeted customer chosen for sampling and demonstration has the capability of being a brand ambassador.
These brand ambassadors are usually people who can influence more sales by showing the brand in a positive light and discussing it within their social circle.
Experiential Marketing, Events, and Roadshows
DMA defines Experiential Marketing as: 'A live and interactive marketing discipline, which builds positive emotional, sensory engagement between a brand and its consumers.'
Although every field marketing activity helps the customer to experience a brand, this specific activity is synonymous with exciting, engaging, and entertaining.
Field marketing using events and roadshows induce an emotional relationship between the customer and a brand. 
These field marketing activities, individually or combined, develop brands and in their implementation, show a real ROI to the company.
Field marketing activities are in alignment with marketing objectives that will be achieved by their implementation. They help create attention on a product/solution/brand, at a specific time, when customer awareness and experience of a brand can be influenced.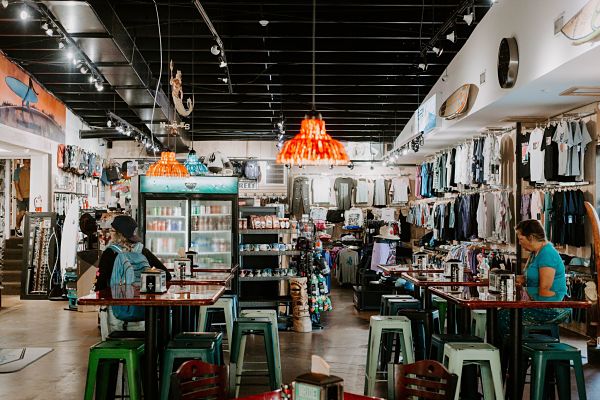 Field Marketing vs. Digital Marketing
Field marketing and digital marketing are different disciplines.
Digital Marketing is about reaching customers via digital media over digital platforms using digital devices.
Sounds complicated? Let us break it down.
Digital Media - Digital media includes email, messaging, apps, internet, and intranet.
Digital Platforms - Platforms such as Facebook, Twitter, Instagram, and LinkedIn are different digital platforms.
Digital Devices - Mobiles, tablets, laptops, desktops, television, and gaming devices.
Let us now look into the difference between Field Marketing and Digital Marketing:
| | | |
| --- | --- | --- |
|   | Field Marketing | Digital Marketing |
| Definition | A series of activities that contribute to the brand building, customer relationship management, lead generation efforts of a client/company. | Digital Marketing is about reaching customers via digital media over digital platforms using digital devices. |
| Point of Communication | Field marketing takes place at Point-of-Sale, during events, conferences, exhibitions, etc. | Digital marketing is through digital media such as ads, blogs, websites, and promotions. |
| Mode of Communication | Field marketing is done face-to-face with customers such as freebies, handouts, etc. | Occurs using digital means such as internet, television, etc. |
| Audience Reach | Limited reach. | Wider reach with the targeted audience. |
| Applicability | Retail, convenience & department stores, IT companies. | Applicable to all kinds of industries and businesses. |
| Personnel Training | Field marketing requires staff training. | Digital marketing needs specialized skills such as SEO, content marketing, etc. |
| Cost | Expensive. | Not expensive, executable using the internet and a device. |
| Results | Can take time – days, weeks, or even months to take effect. | Real-time, such as clicks, signups, purchases, and conversions. |
| Viral | Limited to the target audience at point-of-contact. | Videos, pictures, tweets, etc. can be instantly viral. |
Best Field Marketing Event Ideas
In this section, let us look into a few field B2B marketing event ideas that you can use at your organization: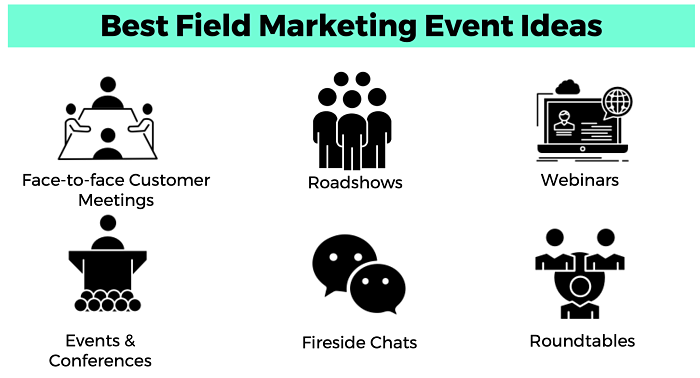 Face-to-face Customer Meetings
Field marketers can work with the sales and customer support teams to set up in-person meetings to guide customers through their buyer's journey or understand their challenges. They have the requisite knowledge, skills, and understanding and are best positioned to step in here to handhold customers.
Roadshows are splendid opportunities for lead generation and brand promotion. Field marketers can use branded marketing collateral and props/standees to host a booth and help prospects learn about their offerings.
Interested passersby get to sample the product and provide immediate feedback. Roadshows can last anywhere from a couple of hours to an entire day.
Field marketers can participate in webinars to demonstrate how a product works. Experts (such as product managers, analysts, customers) can be invited to weigh in with their thoughts. Specific features of a product can be explained to ensure leads or prospects know how to use it independently.
Webinars enable field marketers to reach out to a niche target audience that has a strong buyer intent and answer their queries directly, so that decision making is easy.
Events and conferences are a field marketer's favorite hangout. They provide natural opportunities to network with potential leads/prospects and understand what their challenges are. Customers/prospects can be engaged on the sidelines of a conference, and a quick demo helps them acclimatize with a brand or a product or a service.
Fireside chats originated during President Franklin D Roosevelt's time when he addressed American citizens on a series of national topics over the radio.
They are short sessions featuring subject matter experts such as economists, researchers, scientists, CXOs, thought leaders who hold sway over a broad audience. Field marketers can either quiz them directly or invite an expert to interview them.
Roundtable discussions involve a select group of eminent personalities discussing a chosen topic hosted by an expert. These forums feature a niche target audience ranging about 30-50 members.
Roundtable discussions feature pre-decided topics enabling panel members to prepare for them and answer audience queries.
These field marketing event ideas can help teams ponder over the best ones that fit their budgets, objectives, and marketing strategy. Field marketers can plan and execute their campaigns that are most suited to their business, products, and the target audience's tastes.
However, what is important is to capture lead information from these events and nurture them meticulously with marketing collateral until they become customers.
Uncovering the Most Successful Field Marketing Campaigns
In this section, we have handpicked the most successful field marketing campaigns that have helped companies to generate interest and curiosity amongst the target audience. 
1. Marketo hosts branded roadshows in London, Chicago, and Boston called Marketing Nation Roadshows and has an attractive agenda planned throughout the day. The company invites experts like Seth Godin to speak and provides opportunities for participants to network with their partners and community members.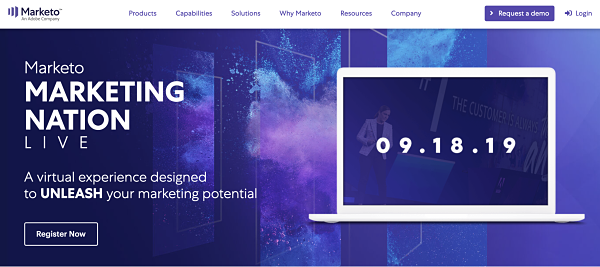 2. SAP, Salesforce, and Oracle are famous for its landmark events that they host every year - Sapphire, Dreamforce, and OpenWorld. These events attract thousands of existing customers, partners, resellers, and prospects. Field marketers begin planning for these events at the beginning of the year and allocate separate budgets for it.
3. B2C brands such as Red Bull, Sumo Salad, and Bud Light use wrap advertising to good effect. They leverage attractive images and caricatures on cars and buses to attract attention. These brands use car wraps to appeal to their target audience, i.e., millennials and college-going youngsters.
4. Amongst B2B conferences, we like Gartner's round-the-year conferences where CXOs learn new strategies and best practices to steer their businesses. These conferences are thematic, and CXOs get to hear from Gartner analysts.
5. Small Business Expo is America's largest B2B trade show aimed at small businesses, entrepreneurs, and startups. Here is a list of the top 100 trade shows in the US categorized by different industries. When participating in trade shows, we suggest crossing over into multiple complementary industries to promote your products and solutions.
Hosting successful field marketing campaigns need a systematic approach and close alignment with a company's marketing strategy.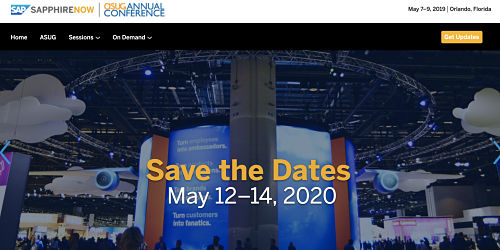 Developing an Actionable B2B Field Marketing Strategy
Field marketing opens up numerous opportunities for you to interact with customers. If you are planning a campaign, here are tips for an actionable B2B field marketing strategy that you can use right away. You don't need multi-million dollar budgets or an army of people to launch it - use these smart tips to get the biggest bang for your buck.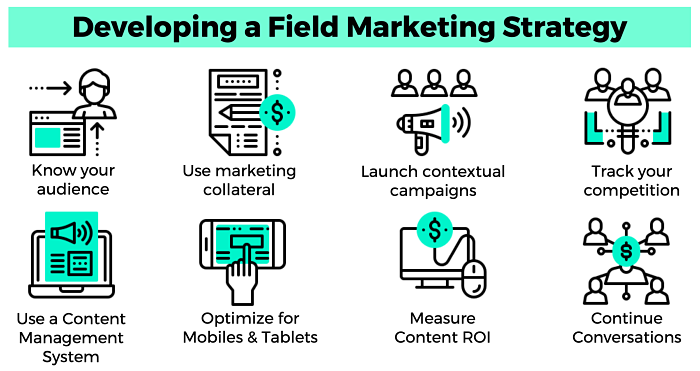 The first step in developing a field marketing strategy is to know who your target audience is. Learn their challenges, job profiles, and what they are trying to achieve. Molding your message to their needs will resonate better with them.
Use marketing collateral at every touchpoint.
Marketing collateral speaks for your business, so use it as much as possible to engage with your target audience. B2B field marketers need marketing collaterals such as brochures, case studies, onboarding videos, customer testimonials, images, presentations, battle cards to nurture their prospects.
Bringing them closer to the product during demos by using contextual marketing collateral will nudge them closer towards becoming a customer.
Launch contextual field marketing campaigns
In today's era of hyper-personalization, a one-size-fits-all strategy will not work. Instead, we recommend launching field marketing campaigns that appeal to every section of the target audience.
For example, IT companies need to have different field marketing campaigns for their small, medium, and large customers.
Know what the competition is up to
Your competition is always nipping at your heels. So, track them to know what they are doing and stay one step ahead of them.
But, it is not as easy as it sounds, because it needs tools, resources, and workforce to accomplish it. Use a competitive intelligence template to capture information that gives you a unified view.
Leverage a content management system.
Using a content management system can help field marketers discover content, subscribe to their favorite themes, distribute content, and measure content ROI.
Content management systems integrate with CRMs, email providers, marketing automation tools, etc. It makes it easier for you to synchronize your field marketing campaigns with your content.
Let There Be No More Content Scavenger Hunting
Use mobile devices & tablets to make a more significant impact.
If you are hosting a roadshow or operating a booth at a conference, then use iPads or Android tablets to showcase your marketing collateral.
Intelligent platforms such as Paperflite let you display your content that is contextual to your prospects while protecting other content on your device. Field marketers can use such technology as a lead generation tool using their gated content.
A lot of times when you are out in the field, you might have poor internet connectivity, so download content ahead of the events/meetings and use tablets to showcase to your prospects.
As your prospects engage with your marketing collateral, field marketers can measure its ROI. Marketing collateral that captivates the target audience can be produced and distributed more for better buyer conversion.
Field marketers use a heterogeneous mixture of marketing collateral for field marketing campaigns such as case studies, images, videos, brochures, powerpoint presentations, etc.
But, it is crucial to know which of these different pieces of content is resonating with the target audience. It is because the most effective content can drive higher sales conversions.
For example, if your target audience is engaging with a product demo video, video analytics can tell you viewing patterns, including frame-level numbers.
Get Actionable Insights That Moves Sales Forward
Keep the conversation going.
Far too often, field marketers drop the ball once the field marketing campaign is over. Instead, they must engage their audience with meaningful marketing collateral long after the marketing campaign is over to ensure their sustained interest.
Learn the different types of marketing collateral that you can use to nurture your prospects through the buyer's journey.
B2B Field Marketing Job Description
Let us now describe a B2B field marketing role and what it entails. It includes:
Work with marketers, sales managers, campaign managers, and product marketing managers to conduct and manage corporate events, campaigns, messaging, and communication programs.
Align all programs with brand strategy, business objectives, and corporate campaigns to drive sales.
Build and review the marketing plan with marketers and sales executives periodically and align it with corporate marketing to meet the company's goals and priorities.
Partner with sales teams to understand revenue targets, monitor influenced sales pipeline, and provide quarterly campaign results and adapt as needed.
Participate in monthly marketing calls and work with sales and marketing teams to achieve revenue targets.
Ensure brand positioning and representation and communicate messages to prospects and customers effectively.
Maintain complete transparency of all field marketing activities and campaigns by logging results in CRMs.
Field marketing is a part of the whole sales and marketing efforts, consistently contributing to brand building.
Selecting the Field Marketing Agency
Sometimes, B2C and B2B organizations prefer selecting a field marketing agency as against working with inhouse staff. It helps the company free up time for their marketers and sales reps to focus on their jobs instead of working on peripheral activities.
Here is a quick field marketing checklist that you can use prior to selecting an agency: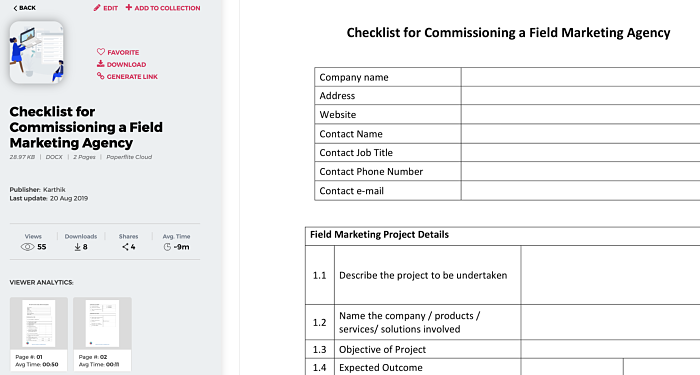 But, selecting and working with a field marketing agency is not a straightforward process. Here are ten questions that you need to ask yourself while working with a field marketing agency so you can get the best out of them:
Does the field marketing agency know your business, products, solutions, target customers, and their personas well?
Does the agency have credentials of helping customers like you in the past?
Does the agency have an adequate geographic presence to match your requirements?
Has the field marketing agency described the outcome, i.e., sales, profits, expenditures, and ROI?
Are they charging you correctly for their services? Is it within your marketing budget?
Have you briefed the objectives of the agency's appointment? (The better the brief, the more successful will be your campaign.)
Will the field marketing agency tackle bring a bespoke and innovative approach to the marketing campaign? (Simply cobbling together template solutions from previous projects will not help).
Are you comfortable sharing your business secrets to an external vendor?
How frequently are you expected to review the progress of the campaign? (Fortnightly, Monthly, Quarterly.)
In the event of an emergency, does the field marketing agency have adequate backup support?
What Does a Field Marketer Do?
A Day in the Life of a B2B Field Marketer
Field marketers are required to wear multiple hats, and as a result, they are adept at sales, marketing, customer onboarding, training, nurturing, and hosting events. They are closely involved with sales and marketing teams to help each other achieve common organizational goals. 
Here's an example of a field marketer's daily routine: 
7:00 am – Set out for a product demonstration meeting with prospects
My main task for the day is to host a breakfast meeting with prospects. Leave home to make it to 7:15 fast train. East Bloomington, here I come!
8:00 am – Gather my marketing collateral for the product demo
I arrive with 15 minutes in hand, so I have a last check over my briefing notes and refresh on the key points. I pull out my iPad and load up all the marketing collateral (including demos, brochures, case studies, and use cases). It helps me introduce familiar with our product and its features quickly.
10:15 am – Wrapped up the meeting
Nine of the ten prospects who had registered for the meeting have turned up, so it is a near full-house. They are happy to engage with our marketing collateral. The demo ends well, and they are excited to use our product right away. They have a lot of queries which shows they are keen to put it to use.
I am responsible for nurturing them through the 2-week trial prior and ensure they have a smooth experience. I make a quick note of reaching out to the prospects individually before the end of the day.
11.00 am – Attend the new product launch meeting at the office 
Arrive at the office and greet our teams. We are three weeks away from launching a new nationwide product campaign. So, everybody from sales, marketing, media, communications, and advertising teams are in one room.
The product launch will be a big gathering of influencers, customers, brand loyalists - we have booked the Orange Country Convention Center for the event.
The meeting is productive as each team acknowledges its roles, and we have consensus on the expected outcome.
12:30 pm - Meeting with the sales reps
Meet with the sales reps who have been churning in good numbers. We discuss the recent prospects who need nurturing with contextual marketing collateral, and I take ownership of that.
We use a marketing collateral management system to exchange notes of which content is resonating with our target audience. The sales guys offer me lunch, which looks tempting, but I don't have time for that. 
2:30 pm – Meet with partners and resellers
I am driving through Elliottsville to meet a mixed group of partners and resellers. This group needs training on our recently launched product features and key talking points.
They tell me that prospects have been dialing them up on a few queries about the product and they want to sort it out asap. Together, we explore our company's new marketing collateral that can be put to use for their conversations. 
4:00 pm - Visit the venue booked for the new product launch
The partner meeting is done, which is a useful one. It is time to hitch a ride to the Orange Country Convention Center to meet the staff ahead of the event and finalize the stage, banners, danglers, kiosks, and break-out area.
6:00 pm - Head back to the office for an all-hands meeting
The meeting with the event staff goes well, and they have always delivered when it matters. Arrive back at the office 30 minutes before an all-hands staff meeting. I have just enough time to check email and catch up on the day's events.
Field Marketing: Conclusion
'Tell me, and I will hear, show me, and I will see, involve me and I will believe.' -- Confucius
Field marketing is everything that Confucius said thousands of years ago. It offers prospects and customers a chance to experience a product or a brand in unique ways that are not possible in a straightforward buyer-seller relationship.
On the other hand, it gives field marketers the ability to find out how prospects and customers might engage with the brand.
Together, it enables a one-on-one dialogue between the customer and brand ambassador while experiencing a product or a brand or a service.