Competitive Intelligence Done Right [Free Templates]
Competitive intelligence templates can size up your competition
What is Competitive Intelligence?
Competitive intelligence is about knowing how good your business is versus competition. Acknowledging the presence of your competitors (and their strengths) helps you in two ways:
Know your position in the marketplace.
Formulate next steps to compete with them effectively.
The Importance of Competitive Intelligence
"The competitor to be feared is one who never bothers about you at all, but goes on making his own business better all the time." Henry Ford.
No matter what your business is - a real estate firm or a technology consulting company - you cannot afford to give competitive intelligence a miss because it helps companies:
Quickly identify top industry trends, your strengths, weaknesses, opportunities, and threats.
Determine the future direction of your company.
Provide executives with handy information for easy decision making.
Know how to become the leader in your industry.
Close B2B deals faster
Obtain approvals (HR, budgetary, legal) for executing your plans.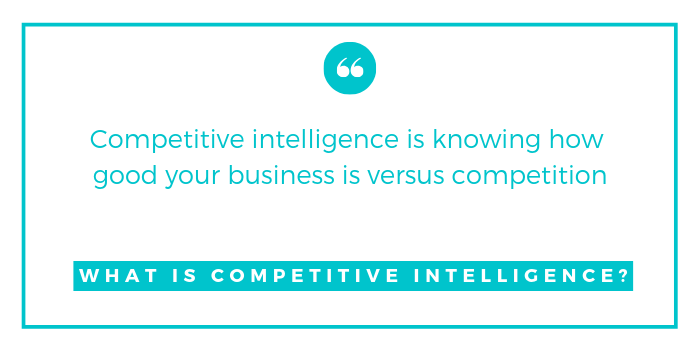 Competitive Intelligence Use Cases
For a company, there are innumerable ways how you can gather competitive intelligence. If you do not have an active competitive intelligence program in your company, here are a few that can help you get started:
Use Case #1: Learning About Your Competitors' Sales Teams
If you are trying to understand the strengths of your competitors' sales teams and their deployments, try figuring out their headcount, planned seasonal campaigns, campaign-specific targets, commission schemes, and bonus structures. You could interview competitors' sales staff for this as the information could be classified.
Use Case #2: Looking Under the Hood
If your competition is continuously thwarting you, then it might be a good idea to track their strategy (localization campaigns in specific geographies), products, and personnel using a combination of primary and secondary research.
Engaging their personnel, customers, and partners through questionnaires can reveal meaningful insights into their sales strategy and customers' perceptions of their products' capabilities. These insights can be used to enhance your product line proactively and attack their vulnerabilities.
Use Case #3: Applying Competitors' Best Practices
If you have a fledgling business striving to grow through strategic partnerships, replicating your competitors' best practices is a good start. For example, you could look into what underpins their recruitment approach, their investments in partner relationships. Interviewing their marketing personnel through a primary research methodology will help develop a compelling value proposition for your partners to join you.
Use Case #4: Stopping an Exodus of Customers
Many businesses experience an exodus of customers to rivals due to various reasons such as more product features, prompt customer support, their marketing focus, approach, selling and pricing arguments. Interviewing your former customers will help you find out what went wrong and chinks in your armor that led to customer defection. Simultaneously, talking to customers of your competitors will enable you to know why they prefer their products over yours.
Use Case #5: Benchmarking Commissions and Fees
In some instances, customers pay commissions and fees to use products which may vary between different vendors. Often, customers may switch products based on the costs they are paying. For example, overdraft limits and fees charged by credit card providers can be a keenly contested space.
If you're looking to know what your competitors charge their customers so that you can compete with them effectively, then a secondary research exercise will help you understand your competitors' fee policies and discretions.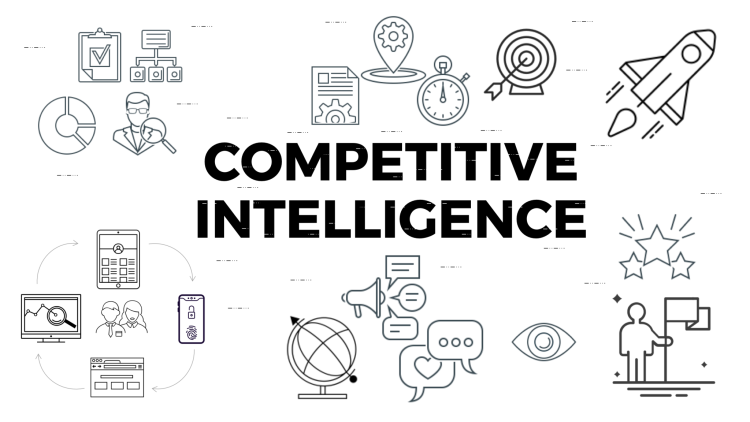 Once you have figured the use cases why you need competitive intelligence, you are ready to begin gathering them. In this section, we will look at how to do a competitive analysis.
How to Do a Competitive Analysis?
Here are seven easy steps to creating a competitor analysis framework. 
1.   Identify Competitors
Know who are your competitors. Not all products will match your product feature-wise. In this case, your competition is the product that your target audience is using to fulfill their needs.
2. Know the Objectives
Learn why you are gathering information about other products/solutions. Are you looking to:
Close in on your competition (in terms of revenues or outlets).
Add more features to your product.
Explore new geographies.
Improve your brand value.
Increase your marketing footprint.
Enhance your customer service.
Improve distribution channels.
Reduce customer rejects.
In reality, there are a lot more reasons for you to compile competitive intelligence data. Agree with stakeholders on why you are doing this exercise beforehand to avoid ambiguity later.
3. Earmark the Evaluation areas
Once you have figured out what you wish to achieve, it is now time to identify measurable metrics. For example, if you are looking to improve sales enablement in your organization, then you need to measure the closing rate and sales cycle length. If you wish to enhance your marketing footprint, then you should track traffic to your competitor's websites, their pricing policy, and SEO strategy.
4. Know the Stakeholders
Know who will consume this competitive intelligence in your organization. Learn what stakeholder expectations are. If you are comparing yourself with your competition's products/solutions, then your stakeholders are the Chief Technology Officer, VP of Product Engineering, and Head of User Experience. Similarly, stakeholders will vary according to what you are trying to achieve.
5. Choose Data Sources
Choose your data sources with care. For company data such as revenues, employee numbers, history, annual reports, Hoover's and SEC filings are your best bets. However, if you are looking for more classified data that companies are unlikely to part with, like customers, upcoming features, then analyst reports, expert interviews should be your preferred choices. Your competitive analysis report will be robust or below par based on your choice of source data.
6. Competitive Intelligence Templates
As you gather information, it is a good habit to keep plugging data in competitive intelligence templates before you lose track of it. These templates must be designed before this exercise and shared only with those who are responsible for updating it.
7. Publishing Research 
Publish results to your stakeholders when data gathering is over. Seek feedback on any additional information that is needed and remember to update it periodically.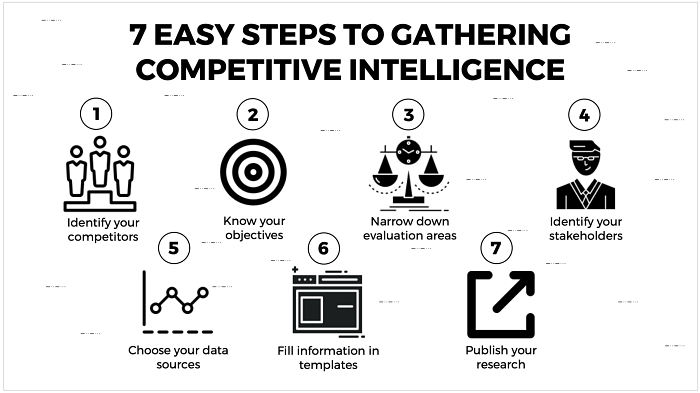 What is a Competitive Intelligence Template?
When you begin gathering competitive intelligence, you will need to organize your findings. There is no better way to do this than in a competitive intelligence template.
A competitive intelligence template is a document that captures information in a structured report/format to develop or fine-tune strategies and plans. Assembling competitive data in an organized manner can help companies assess their strategic options, be aware of external threats and help protect their market share in the long-run.
Uses of Competitive Intelligence Templates
Competitive analysis templates enable benchmarking a company's performance with its direct competitors. Here are their applications:
Competitive intelligence templates help you map out a company's external environment.
They condense and aggregate information that executives need to strategize.
Your business can be proactive or reactive about internal and external situations.
Highlight performance gaps, areas of improvement, and demarcates competitors' strategies that you can counter.
In this post, we will look at different types of competitive intelligence report samples, steps to create them and free templates so you can get started right away.
Types of Competitive Intelligence Templates
In this section, we will examine various types of competitive intelligence reports that you can compile. Along with it, we also bring you examples of competitive intelligence templates that you can use right away.
1.   Company Data
This competitive analysis delves into your company's financial strength including:
Revenues, expenses, and profits.
Employees.
Company history and background.
Recent mergers & acquisitions.
Location, facilities, and delivery centers.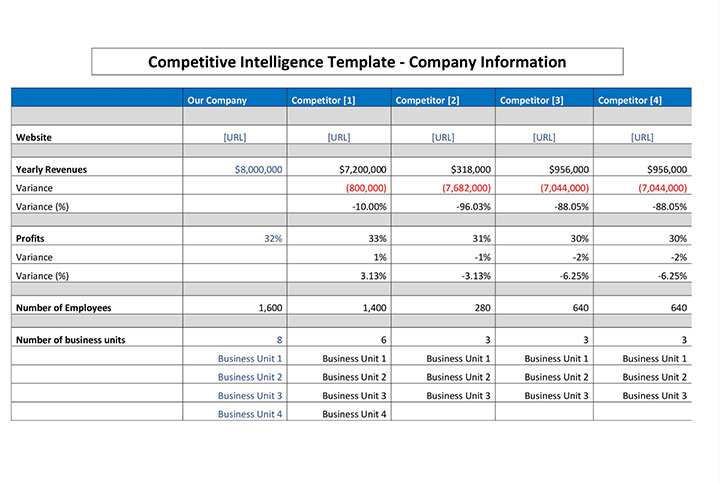 2. Financial Data
It delves into your company's financial strength including:
Performance metrics - Revenues, profits, operating expenses.

Business segments - Performance of each business segments.

Return - Return on capital employed and equity.

Assets - Total value of tangible and intangible assets.

Capital - Total shareholder capital and promoter stake.
3. Product Comparison
Learn about your competitor's product merits based on:
Existing Features - Features that are present in your competitor's product and how you rank against it.
Upcoming Features - Features that your competitors are building.
Pricing - Offer price of their products (including discounts, individual pricing plans) versus yours.
Market Share - Product market share in geographies and customer segments.
Marketing - Marketing efforts of your competitors.
Customers - Number of customers for each product that you compete against and their wallet shares.
Your game plan - List down ways how you will compete with them.
This template allows you to determine if your product is on par or different or has better features than your competitors'.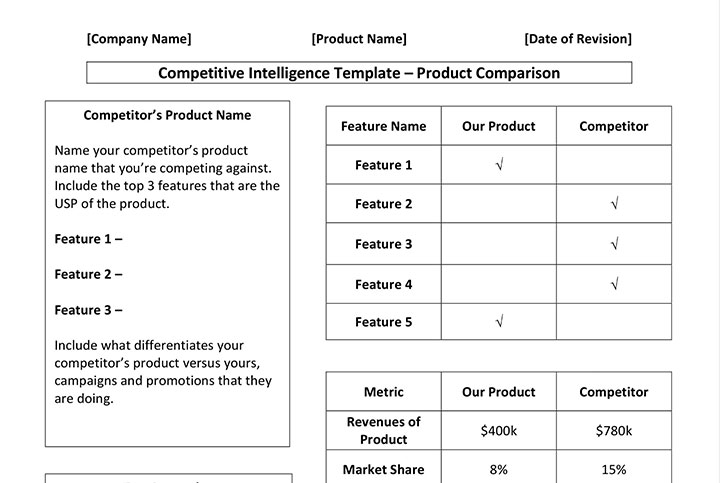 4. Strategic Comparison 
Compare your business performance with your competition using a strategic intelligence analysis. Here is how you can use it.
Strengths:
Core features - Core features of your competitor's products.
Assets - It includes tangible (machinery, property, facilities), and intangible assets (trademarks, patents, goodwill) that your competitors have.
Management - Key executives in the competitor's company and how crucial they are to their chances. Will your competitor go under if they depart?
USP - Unique selling proposition of their product and what makes customers crave for it.
Weaknesses:
Shortcomings - Demarcate your deficiencies against your competitors.
Competitor's strengths - What is your competition good at, e.g., customer service, supply chain management, faster delivery.
Opportunities:
Customer segments- Newer customer segments that you have not explored yet.
Business segments - Uncharted business territories that your company has not explored yet.
Geographies - Newer countries or geographies where your product is not well-known.
Threats:
Emerging competition - Emerging new competitors and their USP.
New technologies - Technologies can outsmart you faster than you think, more so if your competitors have identified them before you. Knowing about them earlier can put you ahead. 
Negative customer reviews - Negative customer reviews and press coverage can cause you reputational damage.
A lot of this information can is available from corporate results, registering for patents, trademarks, real estate permits et al.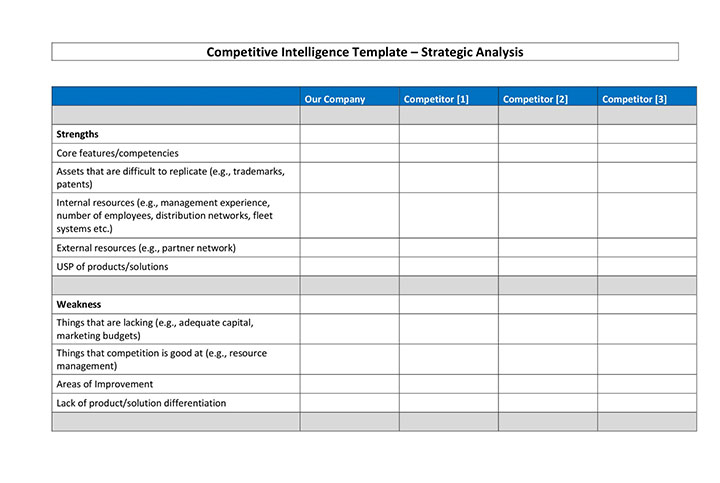 5. Quantitative Scorecard
This numeric scorecard tells you how good your business is across qualitative parameters including:
Core product features/competencies
Assets that are difficult to replicate (e.g., trademarks, patents)
USP of products/solutions/services
Location
Customer support
Customer reviews
Company reputation
Ease of using
Partner & Reseller network
Marketing strategy
You can fill this template on a scale of 1 to 5 for all your competitors. Since this is in a numeric format, it becomes easy to populate and draw conclusions.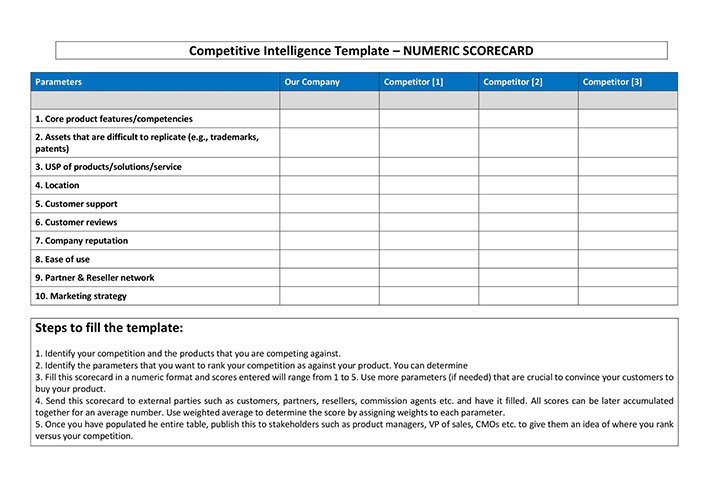 6. Marketing Intelligence
The competitive marketing intelligence template explains how your marketing efforts stack up versus your competition. You can measure the following parameters:
Target audience - Customer segment that your competitors are targeting.
Website - Landing pages that your competitor has including blogs, resources, investors, events, industries, etc.
Traffic - Website traffic of your competitor.
Marketing collateral - Marketing collateral themes including videos, white papers, and eBooks that they have.
Sales Collateral - Sales collateral that sales reps at your competitors use to close deals.
Awards – Awards that they have won.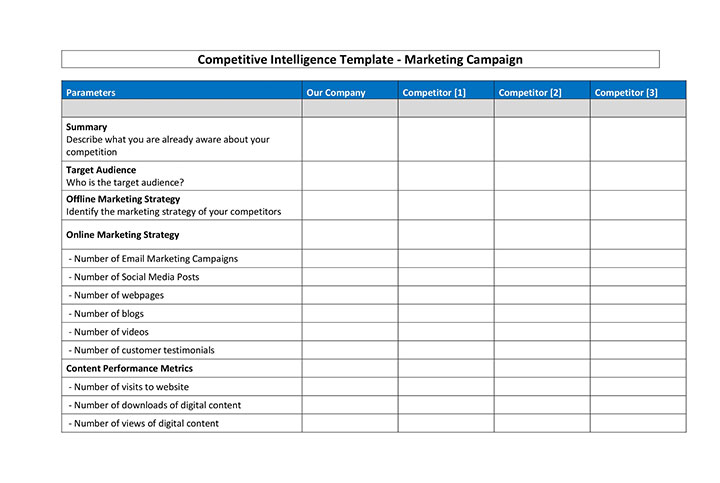 If you are looking for all these templates at one go, here is an entire collection of them.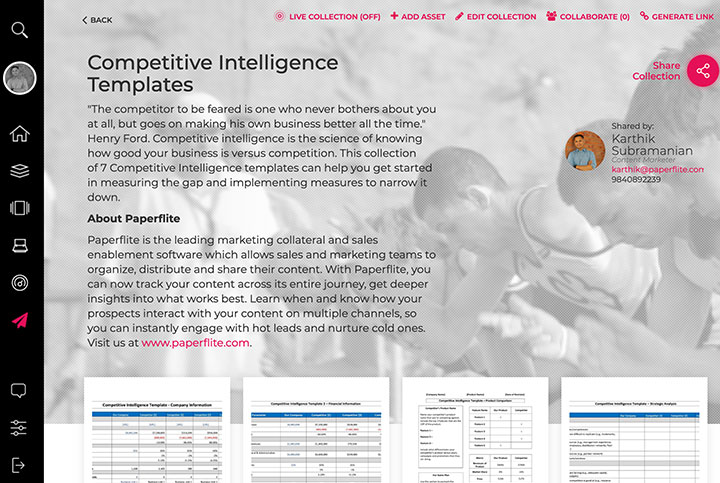 The Best Competitive Intelligence Resources
The next step is to determine how to create a competitive analysis framework through tools/data sources. In this section, we have outlined different sources of competitive analysis that give your business more advantage:
1. Company Intelligence Data
It is general information that is available publicly, and all that you have to do is pick one reliable source. Depending on what you are looking for, they could be a treasure cove of information. Here is what you get from each source:
Annual reports - All publicly traded companies publish annual reports. It contains images, graphs, management commentary, and detailed financials.
SEC Filings - These are mandatory statements that public companies in the US need to file with Securities and Exchange Commission and are reliable sources of financial data since 1994.
LinkedIn - While it began as a professional networking site that let you connect with co-workers and make connections with business associates, it now allows you to blog, post, and share information. LinkedIn now even lets companies host their pages and use it as a medium to communicate to a broader audience.
CompanyCheck - An online database of over 7 million UK based companies that lets you do unlimited searches including addresses, registration details, key financials, and director records.
Hoover's - A business intelligence company that has been around since 1990, it is used for information on public and private companies, executives, industries, and current events.
Reuters - It is a Canada-based multinational mass media and information firm that traces its origin back to 1851. Reuters provides a summary and detailed information about a company's operating segments and financial metrics.
GlassDoor - If you are a fan of user-created content as a source of company information, then GlassDoor should be on your list. It hosts information such as company reviews, interview questions, office pictures, salary details, and employment experience.
PrivCo - A rare source of information on private companies, PrivCo provides valuable data on deal history, key contacts, and ownership that are notoriously difficult to obtain online.
World Market Intelligence - It provides qualitative information on valuation, funding, acquisitions, investors, and executives for around 75,000 companies.
​​​​​​GlobalData - A data analytics and media company that offers subscription-based information and consultancy services aimed at consumer, technology, and healthcare companies.
​​​​​​Timetric - This London-headquartered company provides information on insurance, construction and infrastructure industries.
SGA Talent - This organization provides a phone-verified database on executives with names, titles, emails, direct dials as well as live links to their profiled executives.
Apart from SEC which is a government website, most of these sources are subscription-based. So, choose your research sources with care.
2. Financial Data
The best place to obtain financial data is the company's annual reports or exchange filings such as the SEC. Within these, look for information in financial statements of the company such as:
Profit & Loss Statement - For data on revenues, expenses, and profits.
Balance Sheet - For data on assets and liabilities.
Shareholders Equity - For data on share capital, reserves, net income and dividends.
Cash Flows - For data on cash flow from operations, investing and financing.
Statement of Fixed Assets - For data on capital expenditure, fixed assets, depreciation.
This competitive analysis report reveals the financial health of your competitors and crunching these numbers will help executives to determine what needs to be done to match their prowess.
3. Product Comparison
Product feature intelligence templates can be created using data from your competitor's websites, case studies, digital brochures, product videos, and customer testimonials. There are a host of online tools as well that let you compare prices, features, and discounts. Here are a few:
Pronto - A handy price comparison website for store owners.
CamelCamelCamel - A price comparison tool for Amazon that tells you list price, current price, and average price.
ShopMania - A price comparison platform that lets you see the deals and promotions within your country.
Price Runner - A price comparison website for UK-based establishments that compares sites such as Amazon, ASOS, House of Fraser, and other top brands.
Google Shopping - A simple, yet useful platform for store owners looking to find competing products and compare their pricing. Businesses can even add their products to drive more traffic to their website.
G2Crowd - A grid scoring system-based platform that helps business buyers shortlist and compare solutions. It uses peer reviews to rank software that B2B buyers and analysts will find useful.
Capterra - It connects buyers with appropriate vendors and lists products in about 300 categories along with purchase guides, user reviews, and blogs.
PCMag - A mélange of hardware and software reviews along with opinion sections, technology trends, DIYs, and How-Tos.
Useful tip - To get an accurate picture of your competitor's products, you could become a customer and buy their products. Try their products/services for yourself and see what differentiates them versus you. If you are a product manager in an airline company, besides doing your internet research, try flying in your competitor's flights to experience their service first-hand. Don't blame us if they don't let you board their flights :).  
4. Strategic Reports
This information is classified and can be obtained only through non-conventional sources such as:
Surveys - Ask partners/resellers of your competitor why customers crave for their products. You could even ask their customers for this information using surveys and reward them if they are willing to part with this information.
Analyst Reports - There are research firms that specialize in such qualitative information. The most popular ones are Nielsen, Gartner, IDC, Everest, Forrester, and HFS amongst others. These companies publish their research on industry trends, top players, changing consumer tastes and preferences. For example, Gartner's Magic Quadrant gives us a wide-angle view of your competitors' relative market positions.
Expert Interviews - There are experts such as independent market analysts, equity research analysts, and journalists who track industries, companies, executives, and customers. Engaging with them in interviews could reveal insights into your competition.
Reviews - Forrester's research tells us that 68% of customers want to research on their own online before making a purchase and 60% prefer not to interact with a sales rep as their primary source. In B2C scenarios, product reviews form a vital component of a competitor's strategy to succeed. Shoppers on Amazon invariably read reviews before buying them.
Events - Events, conferences, trade shows, seminars, symposiums, industry meetups are extremely instrumental when it comes to knowing the ground reality. Get out of your office to understand your competitors' perception that people have.
For more details on review sites, here is HubSpot's blog on 22 Customer Review Sites for Collecting Business & Product Reviews.
Useful tip -  Obtaining this data could be difficult and time-consuming because it is unorganized, so plan for it early. Besides, these could also prove more expensive than other means of data gathering.
5. Competitive Marketing Intelligence
Let's face it - there are probably millions of web pages out there, and that makes compiling marketing intelligence reports an unenviable task. However, the good news is that there are many tools that you can leverage such as:
SEMRush - This platform can give you a lot of insanely useful data about your competitors' online marketing efforts - identify different trends within your niche, earmark a variety of keywords, track search traffic, audit your competitors' on-page SEO, check their rankings and backlinks.
Ahrefs - This is a close competitor to SEMRush and is known to be a swiss-army knife for marketing warriors. What started in 2011 as a backlink analysis tool, now lets you analyze behind-the-scenes work that your competitors have been doing such as backlink analysis, rank tracking, review keyword rankings positions, and content analysis.
Moz - Before you start using Moz, we recommend you read this post by Rand Fishkin about its origins. It is a great tool to snoop on your competitors for their backlinks, content creation strategies, on-page optimization, and keyword ranking. One of their most popular features is the MozBar, a web browser extension that nestles on your browser and lets you analyze domain authority and page authority for every keyword that you're targeting.
BuzzSumo - A monitoring and research tool that lets you find content that is highly shared by your competitors on social media know topic-based influencers, set alerts for brands, keywords, authors and domains. Not only do you know who is leading for a particular keyword, but you also learn new topics that you can go after.
Serpstat - Another tool that takes on the above-listed platforms is Serpstat. It gives you essential metric information such as keyword search volume, backlinks, filter toponyms, the cost for it, and difficulty level. Enter the URL of your competitors to know their ranking, their keyword elements, and you will notice all this information come in handy.
All these are paid tools, and you probably cannot imagine investigating your competitors without them. More importantly, keep in mind that none of these tools can pull a rabbit out of the hat for you. They act as guides that help you become smarter when it comes to knowing what's working, what's not and even inspire you to explore topics that you have not done earlier. Choose a tool that is not expensive for you and gives you the marketing intelligence you need. 
Competitive Intelligence - Where can you go wrong?
Despite all your efforts in creating a comprehensive competitive intelligence report, there are a few perils that you should consciously avoid:
1. The devil is in the details
The lack of adequate data can lead to incorrect conclusions. By looking into the depths of your data, you might find several adjustments are necessary to your company's overall direction, and those details will give you a stronger case to present to stakeholders.
2. Get Rid of Bias
Collecting data from numerous sources can be daunting, and there are chances of biased assumptions, decisions, and conclusions. Don't believe something for which you do not have conclusive evidence. If you think your competitors are better than you, search for data that can prove it and then work out your strategy to outsmart them.
3. Look Backward, not Forward
While compiling competitive intelligence templates, look at what has already happened. Instead of looking ahead (which is about strategizing as a result of the competitive intelligence exercise), discover gaps that exist. As we all know, past performance is no guarantee of future results!
4. Apples & Oranges, or Armani vs. Walmart?
We know that a Mercedes Maybach S600 costs more than a Mazda CX3. However, that is not even a meaningful comparison, let alone actionable. Similarly, buying a piece of apparel at an Armani store is way higher than a Walmart store. So, while your product may be satisfying the same need as that of your competitors, try and compare the value it delivers. Think why customers will give up using your competitor's products to use yours and use that as a measurable metric.
5. Tailor Competitive Intelligence Templates to Stakeholder Needs
Competitive intelligence templates must be easily consumable by your stakeholders. If you are creating a 20-page report for an audience that is perennially short on time (e.g., CXOs), no matter how comprehensive it is, it will remain buried in their inboxes. In such instances, focus on creating shorter capsules that can be quickly consumed and acted.
6. Hosting Competitive Intelligence Reports
When your competitive intelligence analysis is over, organizing it in a content management system for easy retrievability is vital. The content management system should be a secure platform that lets you edit reports, notify stakeholders of its availability and make it accessible to everybody at all times. Sending competitive intelligence analysis over does not give you the flexibility of a content management platform.
7. Failing to Follow-up
Once your competitive intelligence templates have been filled up, it is time to publish them to your stakeholders and take necessary steps. Failure to run this last mile can make your entire exercise futile.
"It doesn't matter what you think about your competitors. What matters is what your customers think about them."
By gathering data about your competitors over some time, you can formulate your strategy to stay ahead of them and even learn from them. So, keep revisiting your data and make course corrections as needed.