Piñatas break. Sales pipelines shouldn't
Notes from the UNMUTE 2021 stage ft. Annika Helmrich
Ever walked away after signing a "save the environment" petition and felt incredibly targeted? How do these people always know to target the metal-straw-in-her-drink holding, faux leather-wearing, super cool 26 y/o girls walking out of vegan cafes and the flannel-wearing, kind-looking dads with 2 kids on the side and one in hand? It's almost like having coloured hair is a criterion to be the designated "I'll sign it" person in the group.
Field marketing and account-based marketing (ABM) works in similar ways (but a lot less ludicrous). We're marketing geeks, so we were super excited to have Annika Helmrich talk about this at UNMUTE (excuse our collective swooning), and we promise she tells it a lot better than we do (overdoing the analogies already?). 
We made notes, and we're sharing them with you, so read on. 
Did someone say Content Hubs?
At E2open (where Annika works as the Senior Director of Global Field Marketing), one of the main goals was to eventually accelerate the sales pipeline and shorten the sales cycle through content targeting programs that align with the buyer's journey. 
What was their winning algorithm to accelerate pipelines, you ask?
Precision based targeting. That, and relevant, personalized content.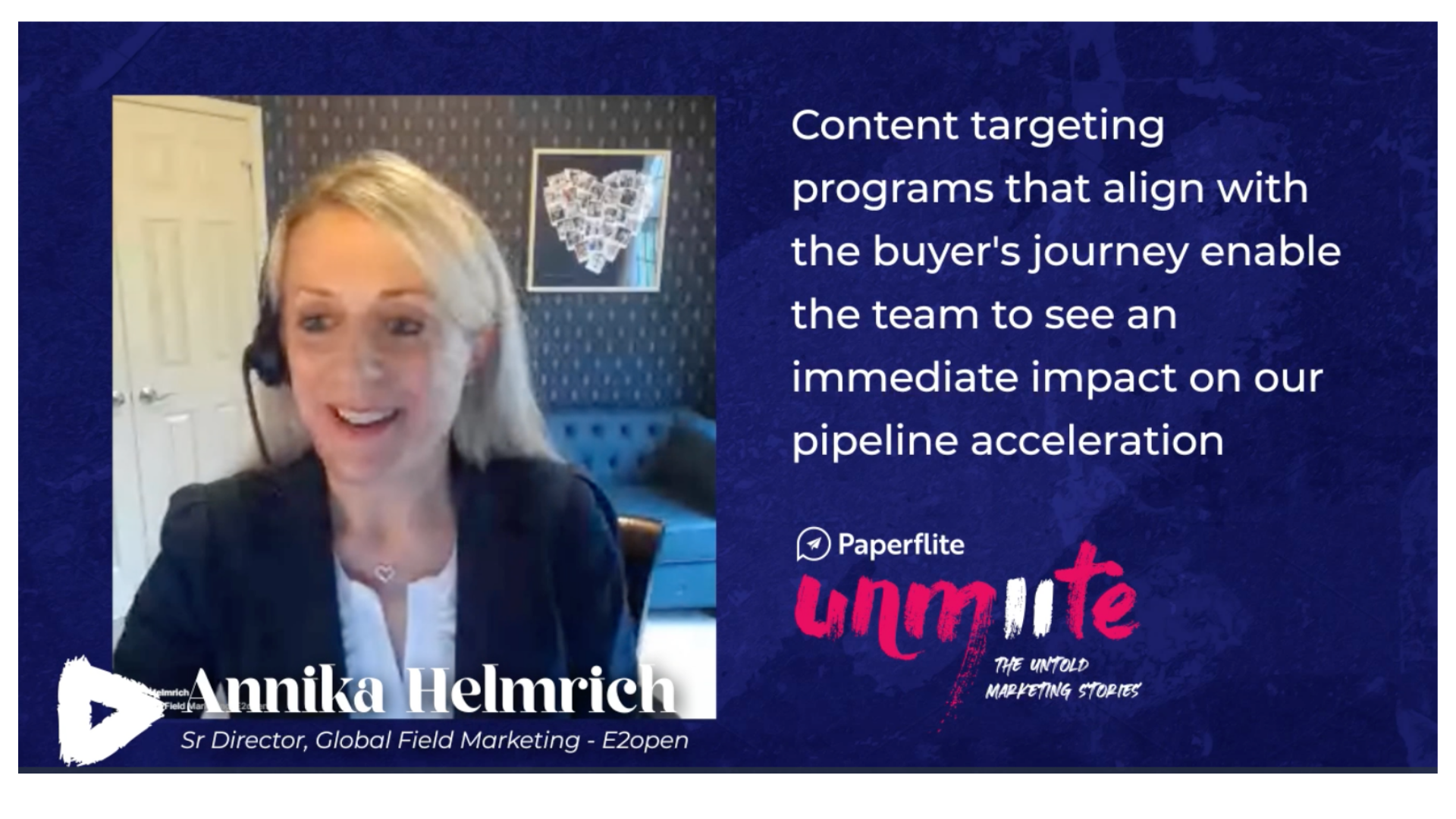 In the tell-all session, Annika breaks down for us how personalized experiences can help your sales team drive accelerated pipelines and shorter sales cycles. She starts off with a simple statement, "It's really all about getting to the right buyer at the right time with the right content."
Why Are Content Hubs All The Rage? (and why they deserve it)
Imagine walking into a library (in this digital era? Phew. But we're old school like that, so bear with us), determined to read something about European history, specifically, ancient Rome. You walk in, but the books are sorted linearly, in the order they were written, not divided according to categories. Even the thought sends shivers down our spine. 
Now imagine if you owned a library, and you were the only place in town organizing books according to categories. Not only do you have the best books, but they are also oh-so-easy to find. (Now that's a flex.) 
In case the analogy wasn't clear enough, content hubs serve exactly this purpose. The right content, perfectly organized, at the right time, to the right person.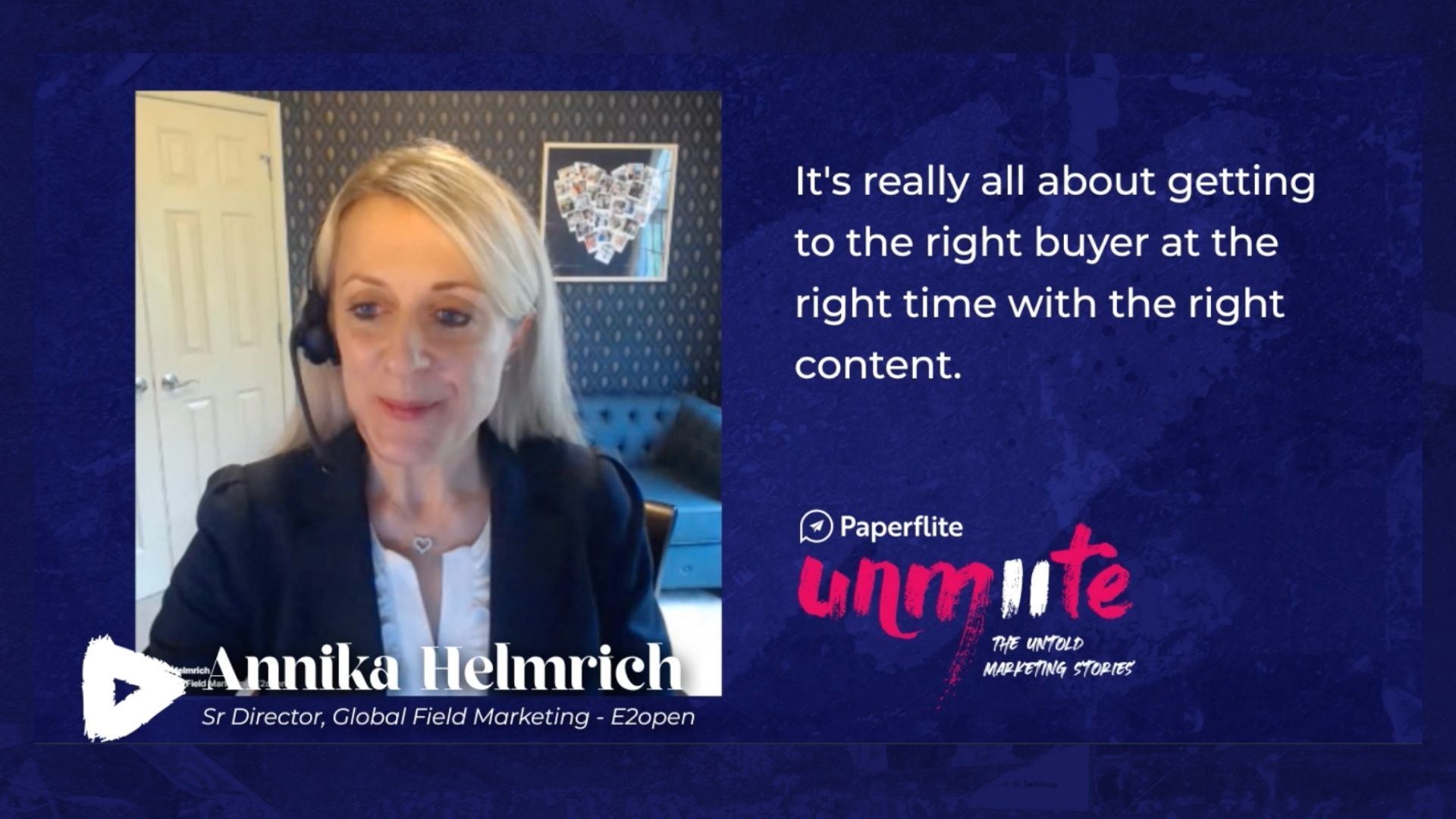 Talking about the importance of content hubs, Annika says, "As of today, I believe there are over 500 opportunity-driven content hubs and adoption is continuing to increase. These hubs have also uncovered net new contacts on our opportunities. Specifically, about 50% of overall engagement has been from newly discovered contacts we maybe never even knew existed. And most importantly, these hubs are helping to accelerate million dollar deals on average for our sales team, so yeah, we're happy."
The "How-to" Manual
In a complex business environment with often lengthy business cycles that require reaching out and finding new buying personas across multiple buying committees globally, content hubs come to the rescue. Annika elaborates on 'how to leverage content hubs effectively' and we took notes so you don't have to.  Here are the 5 key steps: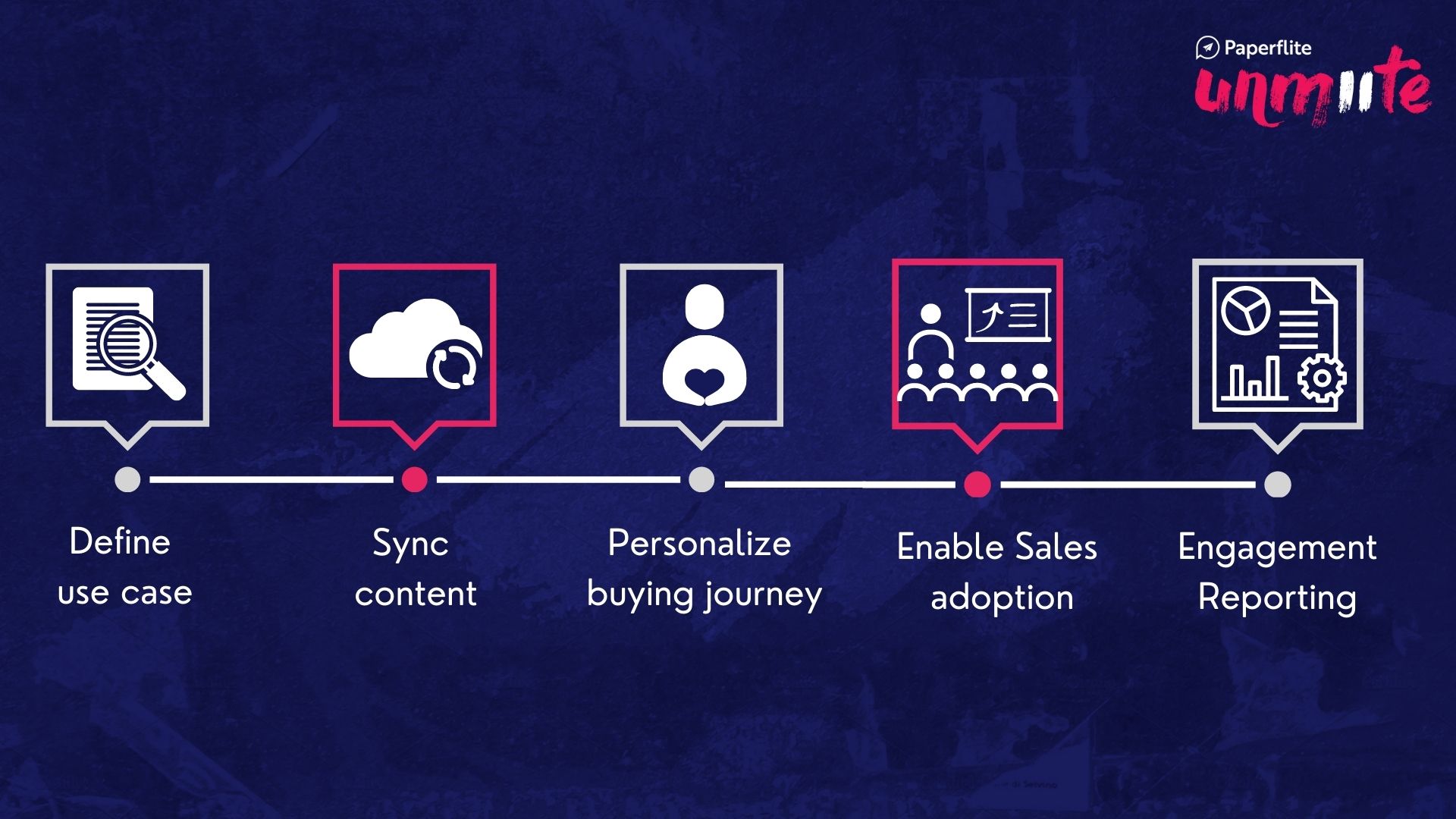 Step 1: Define your use case
Annika's team started out by defining what content hubs meant, which in their case meant 'supporting active sales cycles to accelerate and grow pipelines'. Defining your use case helps you draw boundaries to your team's imagination, keeping things in control and secure. We don't want the definition to be loose enough to mean everything, nor too niche that it ultimately means something really specific (that no one has any idea about).
Annika's team decided on what they wanted to position themselves as early on, and ideally, so should you. Simple: If you don't know where you're going, you won't end up there.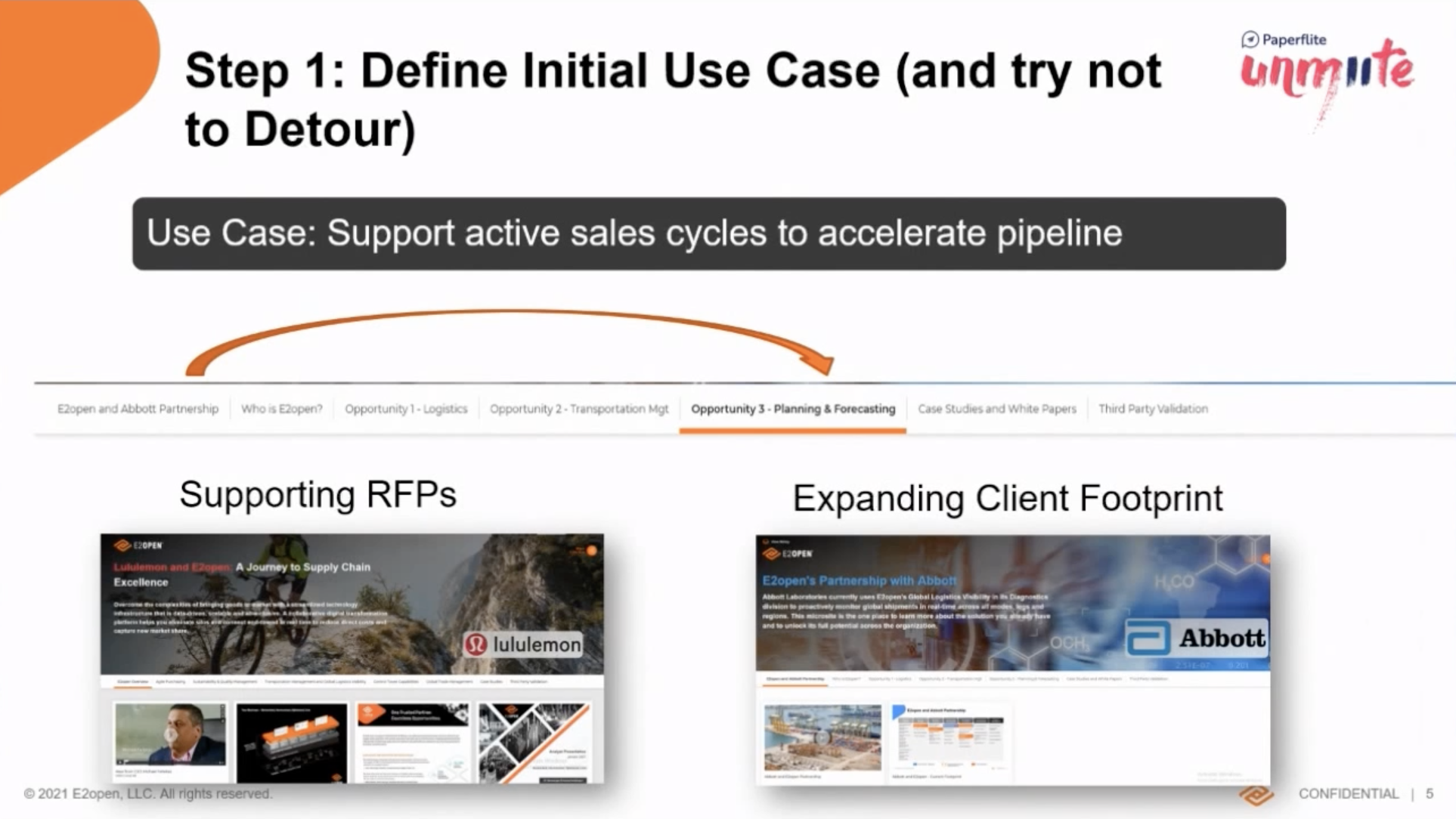 "These opportunities hubs were either supporting an RFP process with a highly personalized, centralized location to share relevant information across the accounts, or with the account across the various buyers, or to help to expand our existing footprint at some of our existing accounts by providing one place for the client to understand the full scope of offerings and illustrate where we can fill in the whitespace.
And so we are establishing ourselves as a trusted long-term partner who they can come back to, and we continue to add that content to the hub as we grow our relationship with them."
Step 2: Syncing your content
Content from 2019 isn't relevant today for the same reason news from 2019 isn't relevant today. We have had a whole entire pandemic, a few forest fires, and an entirely new government since then. The world just isn't the same anymore, nor will it be 2 years from now. Your sales team needs access to up-to-date content that is relevant, not stale content that is rotting away in someone's 2016 Microsft Word folder. 
"If the content is updated in your CMS, the content will be updated automatically in the content hubs. And then most importantly, you should tag and categorize your content, where it lives first, and make sure that it transfers over to your hub platform, making it very easy for the sales team to pull in content.
That applies to anything you're categorizing like the solution area, your industry, your buying stage, your persona, all of that you can do it. Categorize the content any way you like, depending on your business and your needs, and your go to market strategy."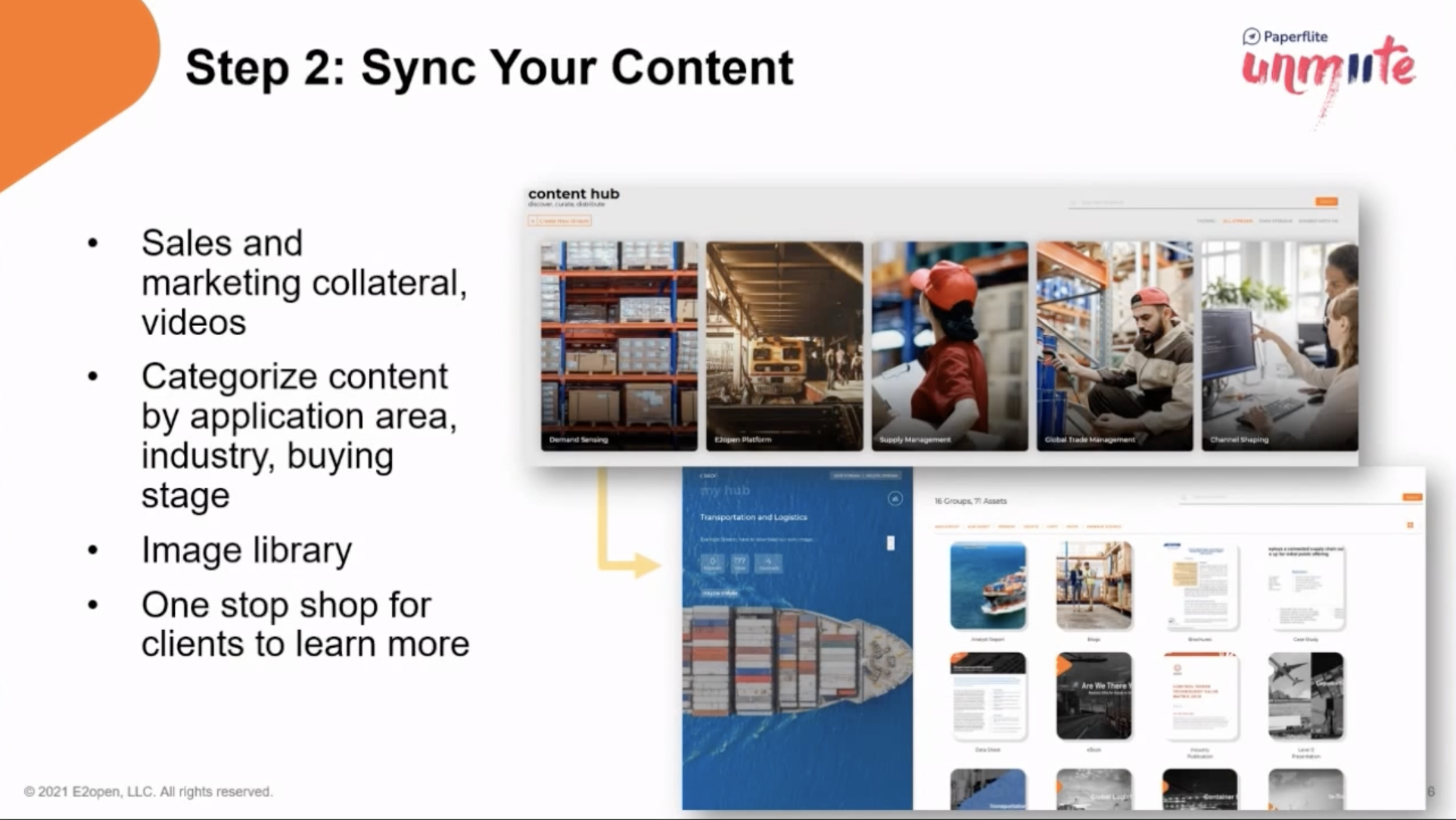 Moreover, you can choose who sees what, and how. You can restrict access to content so you don't share content your sales team doesn't quite need, and they don't end up doing the same with internal resources. 
Step 3: Personalized buying journey
It's not revolutionary in marketing to focus and stress on personalization, especially to build relationships. In this case, however, it's not just who they are, but also what they need, i.e, personalization here goes beyond using their first name and company in the email. It also stresses on what they need as a company. 
Going the extra mile and personalizing in a way that makes them feel like you filmed that short introduction video only for them can make them feel special, and it's only human to appreciate that.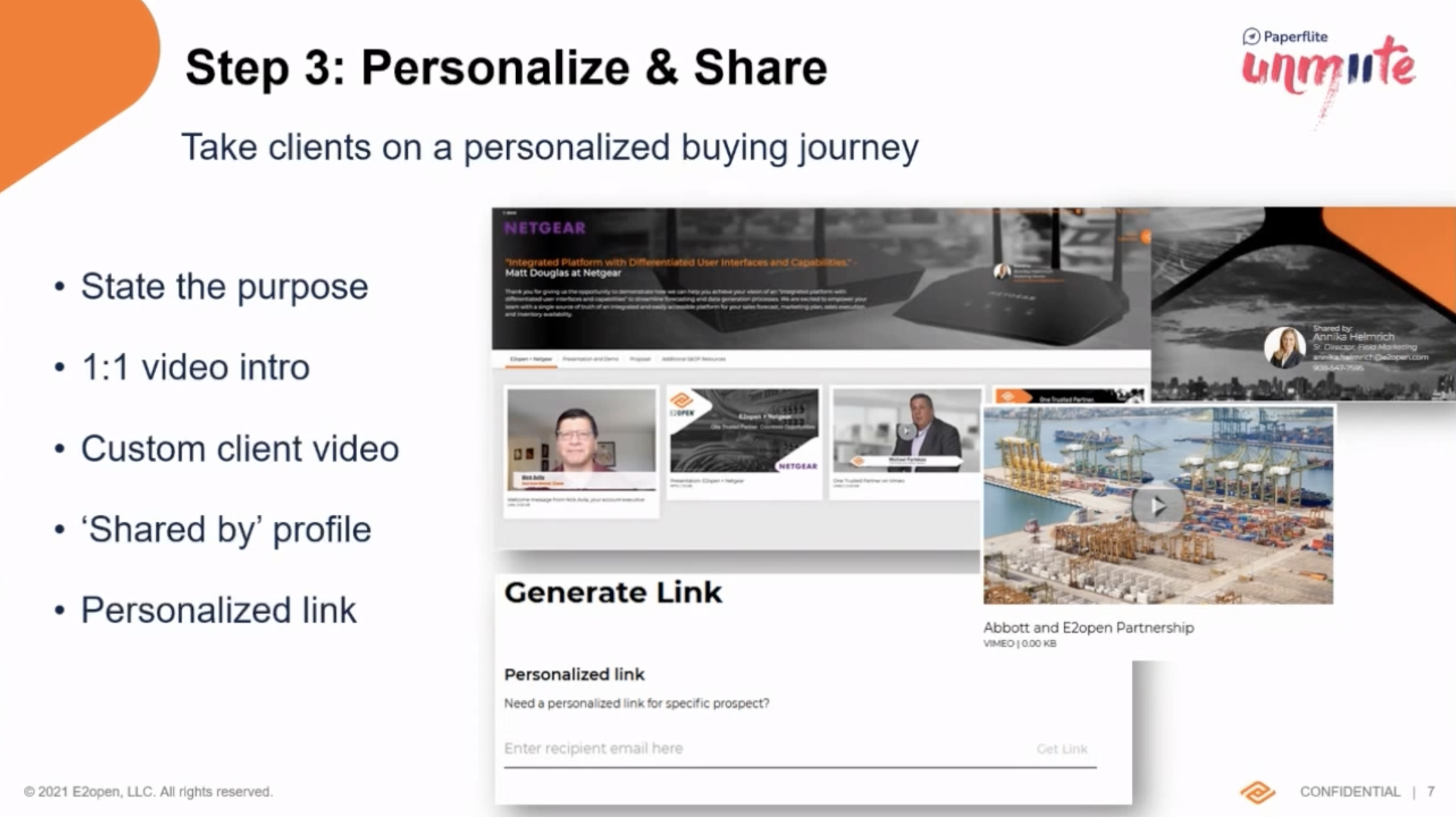 "The more you personalize, the more sincere you are, the more you show how you understand their pain and this demonstrates that you are their trusted partner with a solution that fits their needs. So we recommend it to the sales team to add personal zoom videos, a professionally-produced custom video on your solution, and maybe even add demo recordings there introducing the client to the hub. That's a really nice personal touch." 
Note: Remember to share with a personalized link so that you can track the content engagement.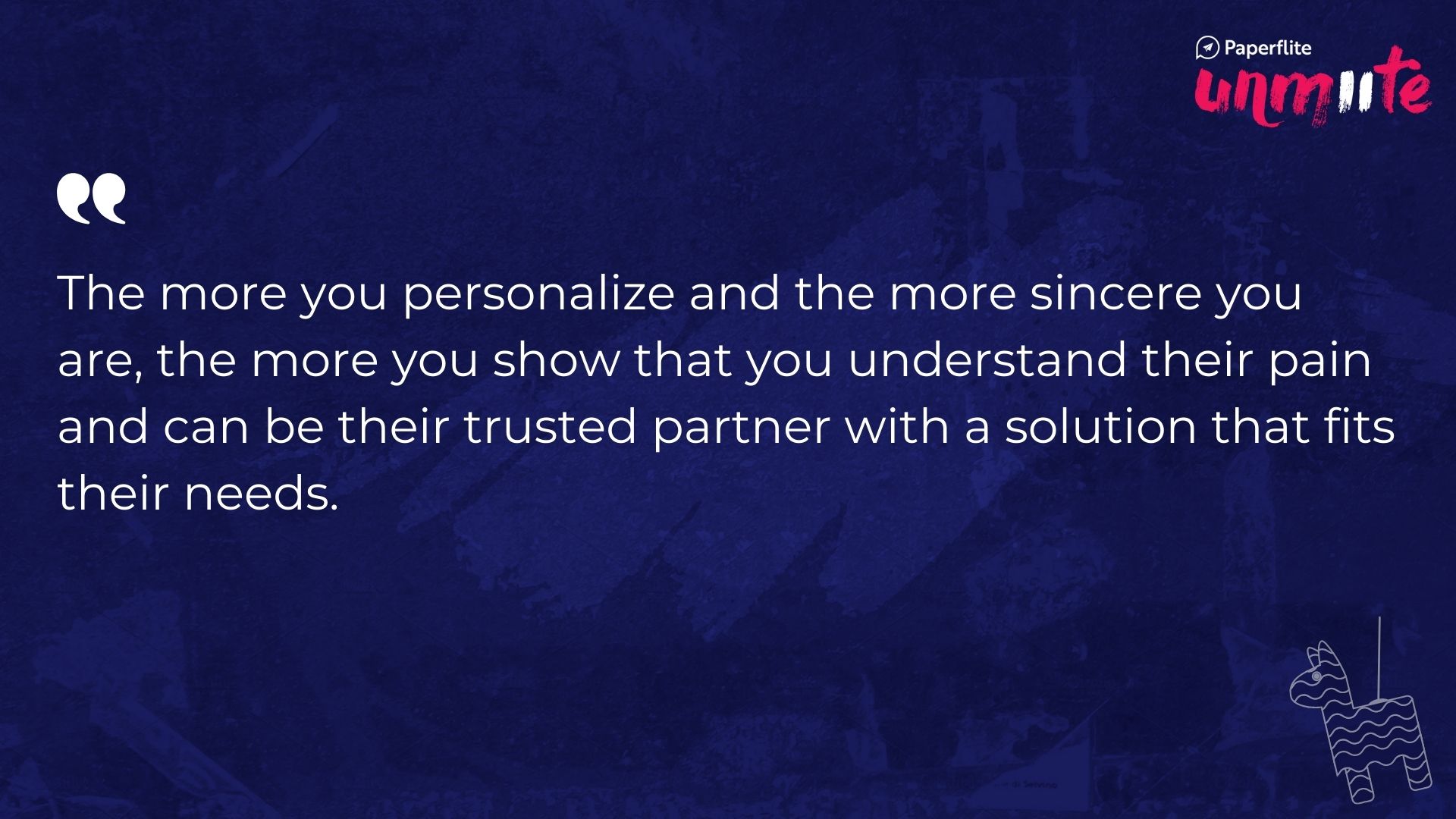 Step 4: Enabling sales adoption
Setting up sales for success is a critical part of this step. In simple terms, helping sales adopt content hubs is through helping them create and manage them. Marketing should create a training content hub to train sales about content hubs (getting meta here!) that includes training videos, SOPs, video demos, in-house training material as well as material from vendors.
That way, Marketing can also see the sales team engaging with the training content and learn what's working and what isn't. Templates that can be tweaked and edited and then used by the sales team should be shared with them. If they're industry-specific and hyper-personalized, even better!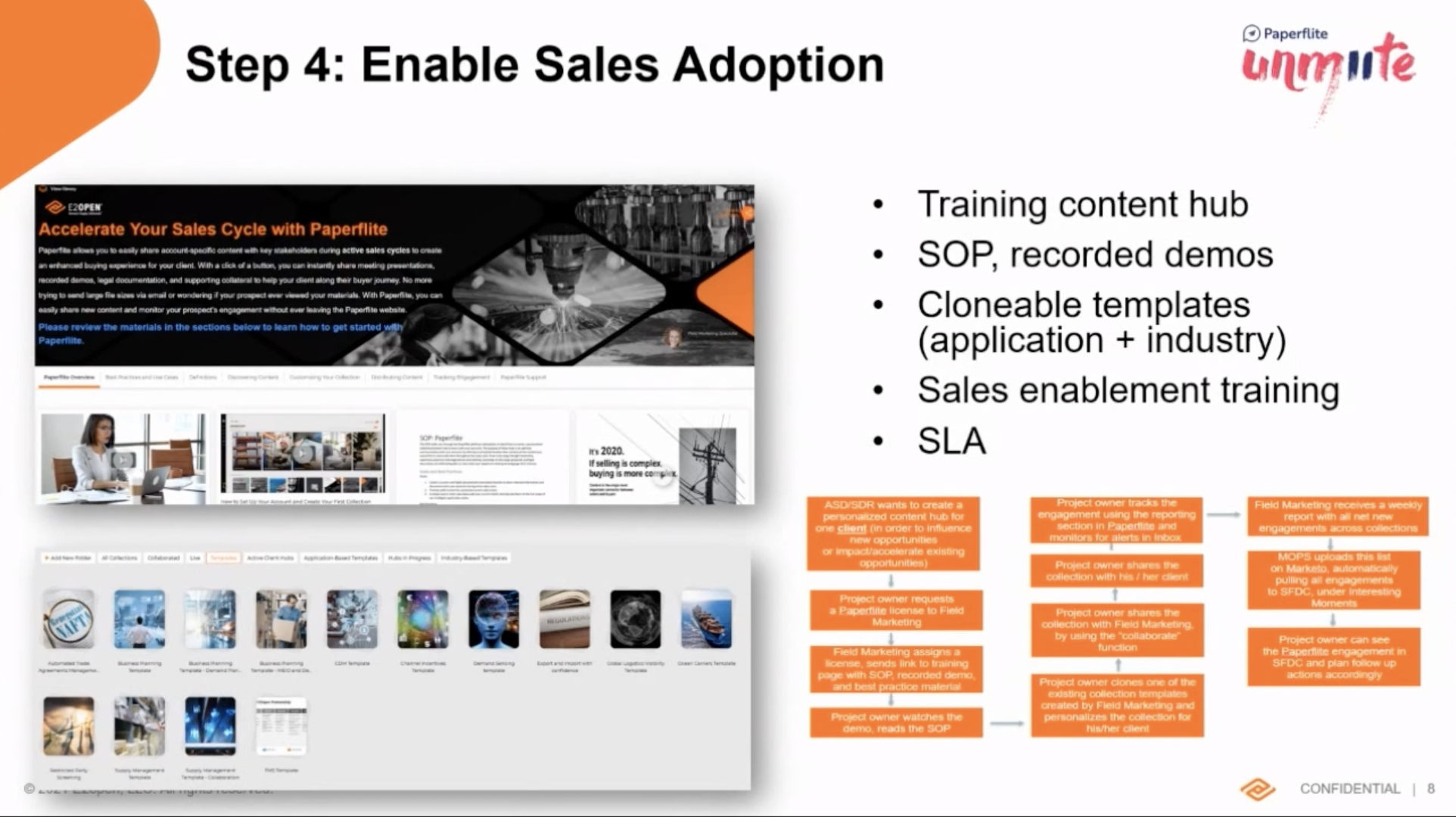 "And finally, establish an SLA so that sales has a clear understanding of how to create hubs and when marketing supports them in the process. While we made this truly self-service for sales, we do ask that sales collaborate or share their hubs with the marketing team so that at any point, we can jump in and we can make content changes, update images and links.
Marketing is really that safety net, to be there to be available and to ensure the best experience is created."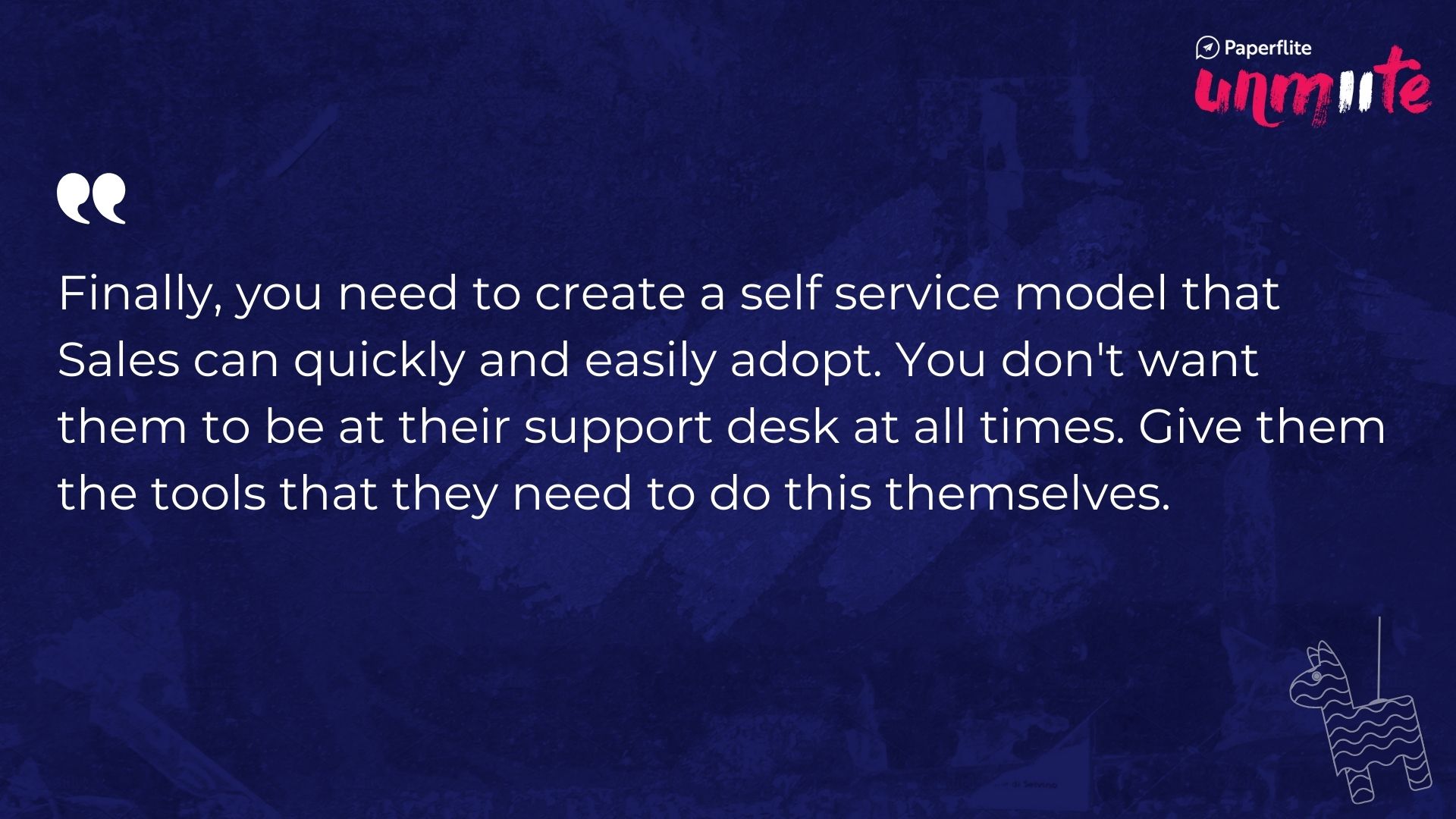 Step 5: Engagement reporting
The final goal is to increase your close rates. Your platform should offer you key engagement metrics so that you can track the engagement on each hub and measure it against your goals accordingly.
"Key engagement metrics could mean the number of shares, unique viewers, the asset views, average view time, and most popular content that's being shared across the various hubs or within that hub itself. So make sure to look at these KPIs holistically across all of your hubs, as well as on a hub specific level"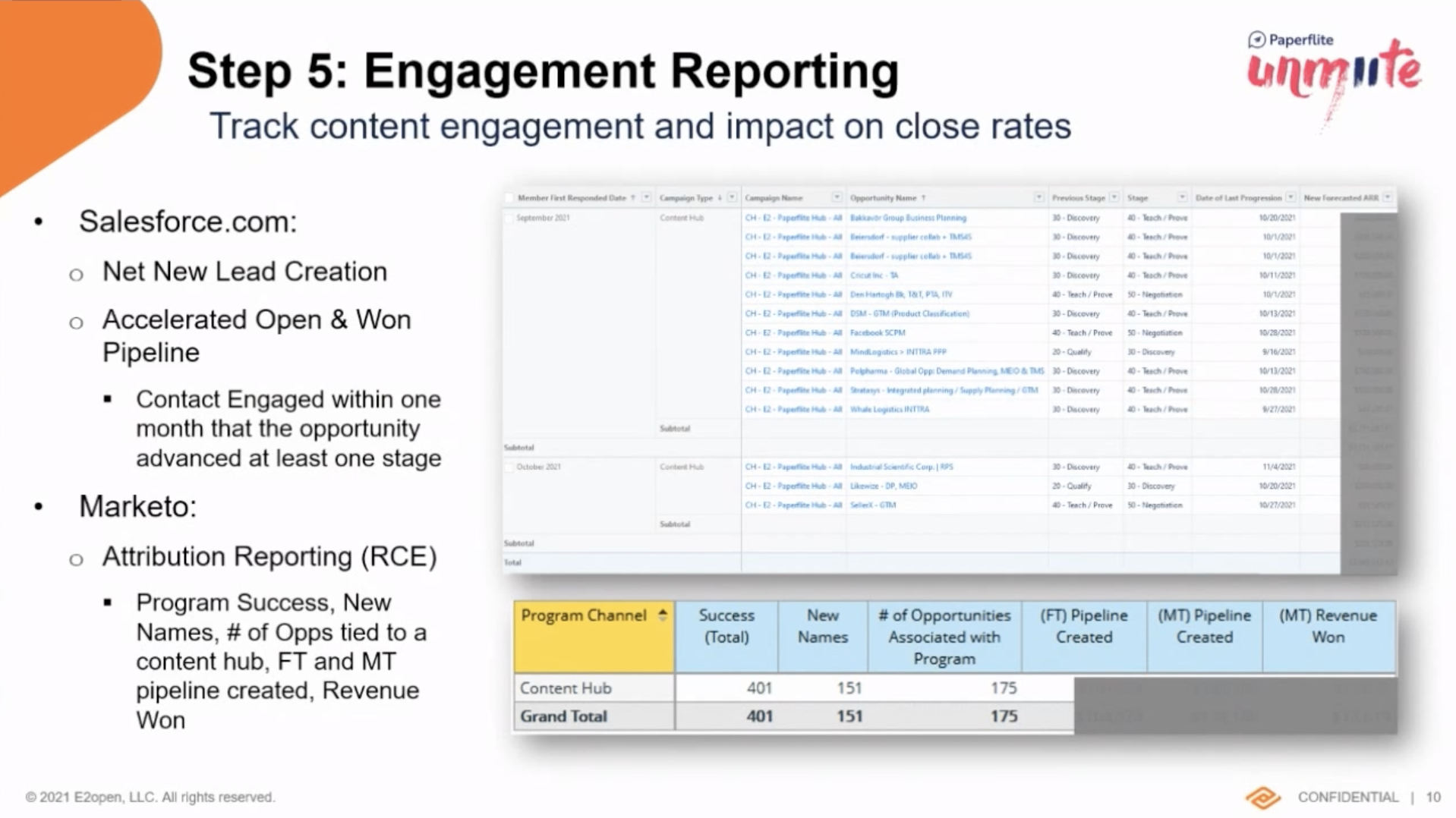 Closing thoughts
Annika mentioned that the top 2 ways to take your ABM strategy to the next level would be to leverage intent data (and hence gain a competitive advantage) and take a multi-touch and multi-channel approach.
"If you really want to take your ABM/S to the next level, start leveraging buyer intent data. We are using an ABM platform to identify intent-based buying signals. We use this third-party data to inform how we personalize the content in these opportunity-based hubs.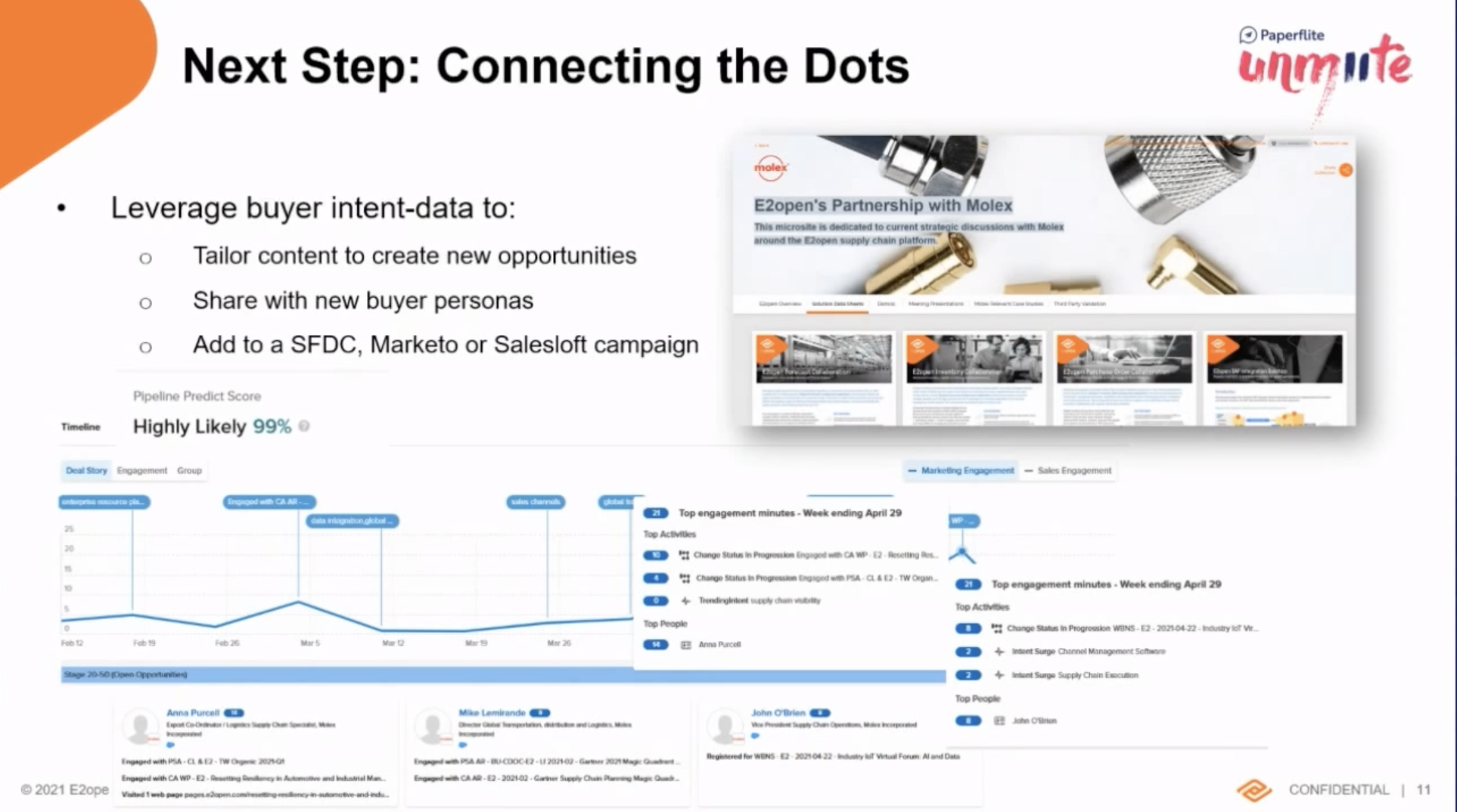 But I think marketing can really add value to this process by delivering intent-based insights to the account owner in the sales organization so that they can tailor the content for competitive differentiation. And finally, really think about multi-touch and multi-channel with your content experiences, automate intent-based orchestration, by adding these influencers to intent-driven nurture campaign that complements the content hub"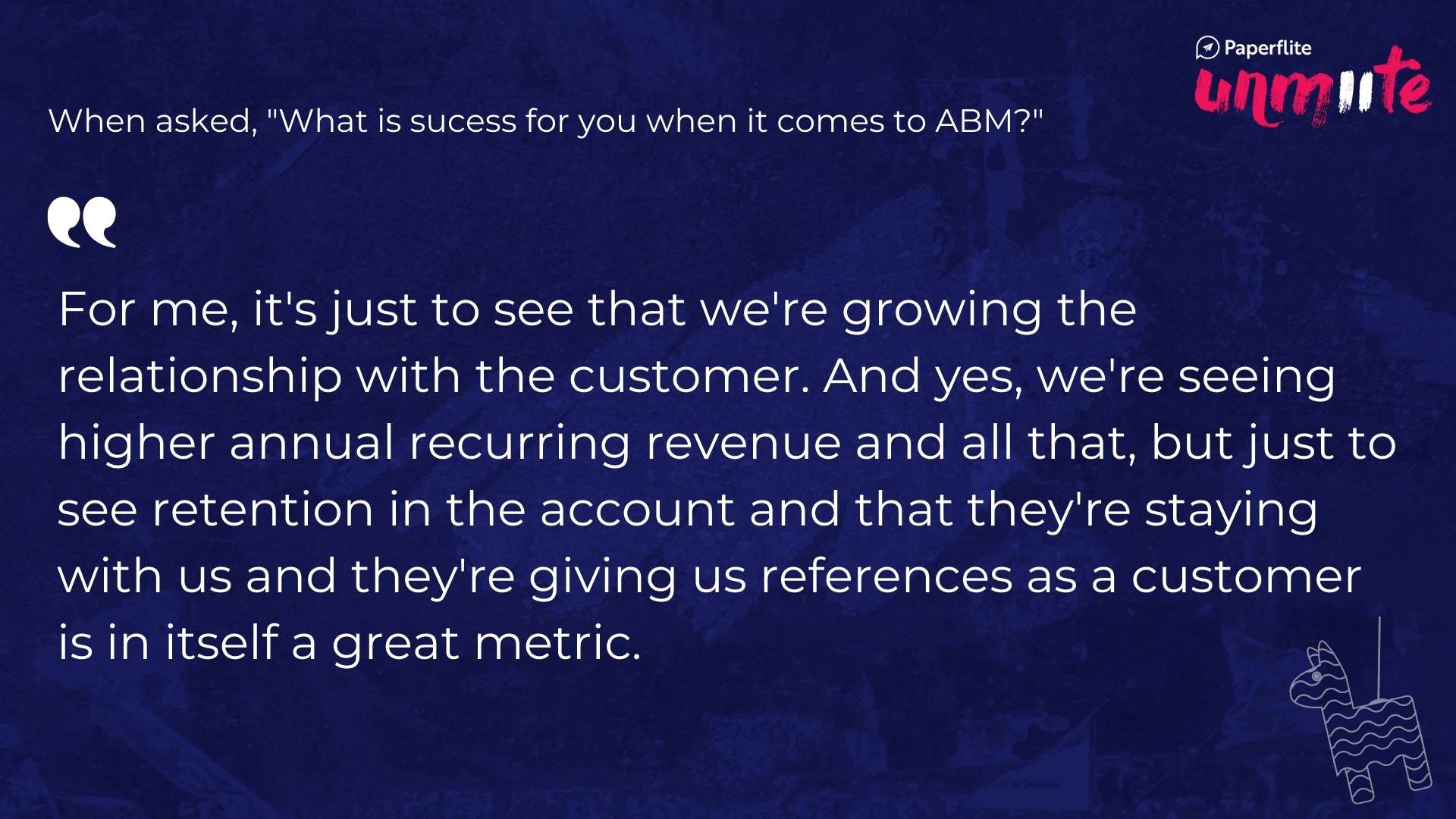 Paperflite is proud to power E2open's Content Hubs. If you'd like to start creating content hubs for your team, talk to us today!
Other Notes from UNMUTE 2021