PersonAAAAAHHHHH
Notes from the UNMUTE 2021 stage ft. Nick Bennett
November 20.2021
8 minutes
Account-Based Marketing (ABM) is all about creating moments for your prospects. The big piece of ABM that some forget though is how do you incorporate what really matters to the person vs the persona? And what happens when you intertwine the unique pairing of personal branding with ABM?
At UNMUTE, we got answers to these questions and made frantic notes. And they're yours now :)
This is Nick Bennett's story about personal branding and ABM. 
Nick is a field marketer at Alyce, a podcast host, and a personal branding aficionado. Outside of the office, sports is Nick's biggest passion. He has co-founded an adult amateur baseball league and plays the game even now. "How can you not love America's greatest pastime?" you'll hear him say. 
What personal branding really is 
There are enough books, articles, and so much literature on personal branding. But it's not enough just yet. So what does personal branding really mean? 
According to Nick, personal branding is the way that you want someone to perceive you. But, he pauses, there's also a lot of misconception because there's personal branding and then there's reputation. And there's an overlay into what they are. 
Reputation is what you're known for. It's what people think of you when you're not in a room. Personal Branding is what you want people to think of you and your legacy. What do you want to be remembered for? And that's what you can set for yourself.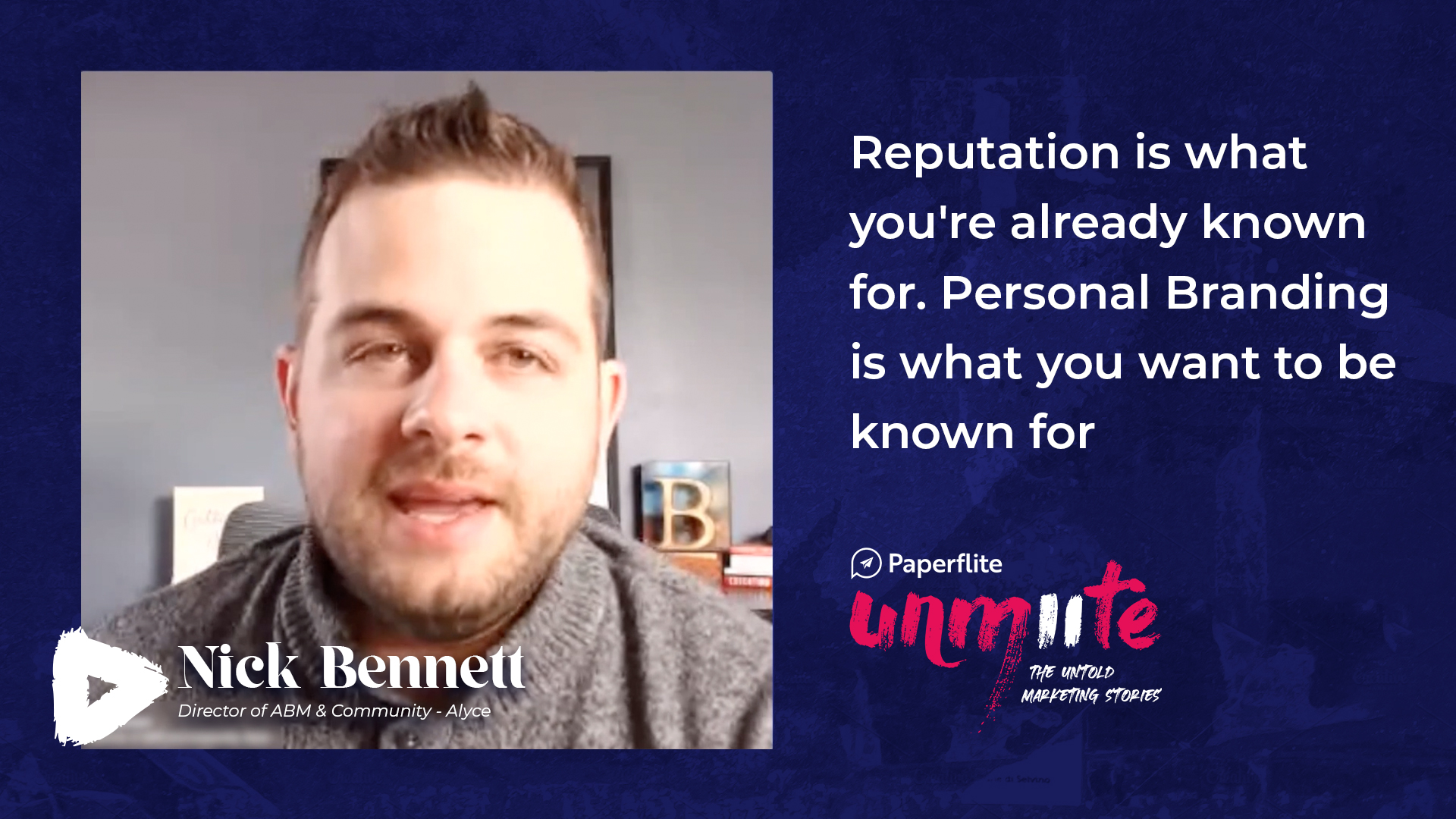 Consistency in personal branding
Personal branding to a lot of us is like a New Year's resolution. All of us have done this at some point in our life. We've all promised ourselves that we will accomplish what we set out to do. But truth to be told, being consistent is not that easy. 
But how does Nick do it?
"I'm not saying you have to do it five days a week but atleast devote two days a week to give back to yourself. Because it's a long game. Employment isn't the same as what it was for the previous generation. For example, my mom worked at a company for 40+ years and it's been her only job ever. I've worked at probably eight companies and I'm only 35. So it's just not the same.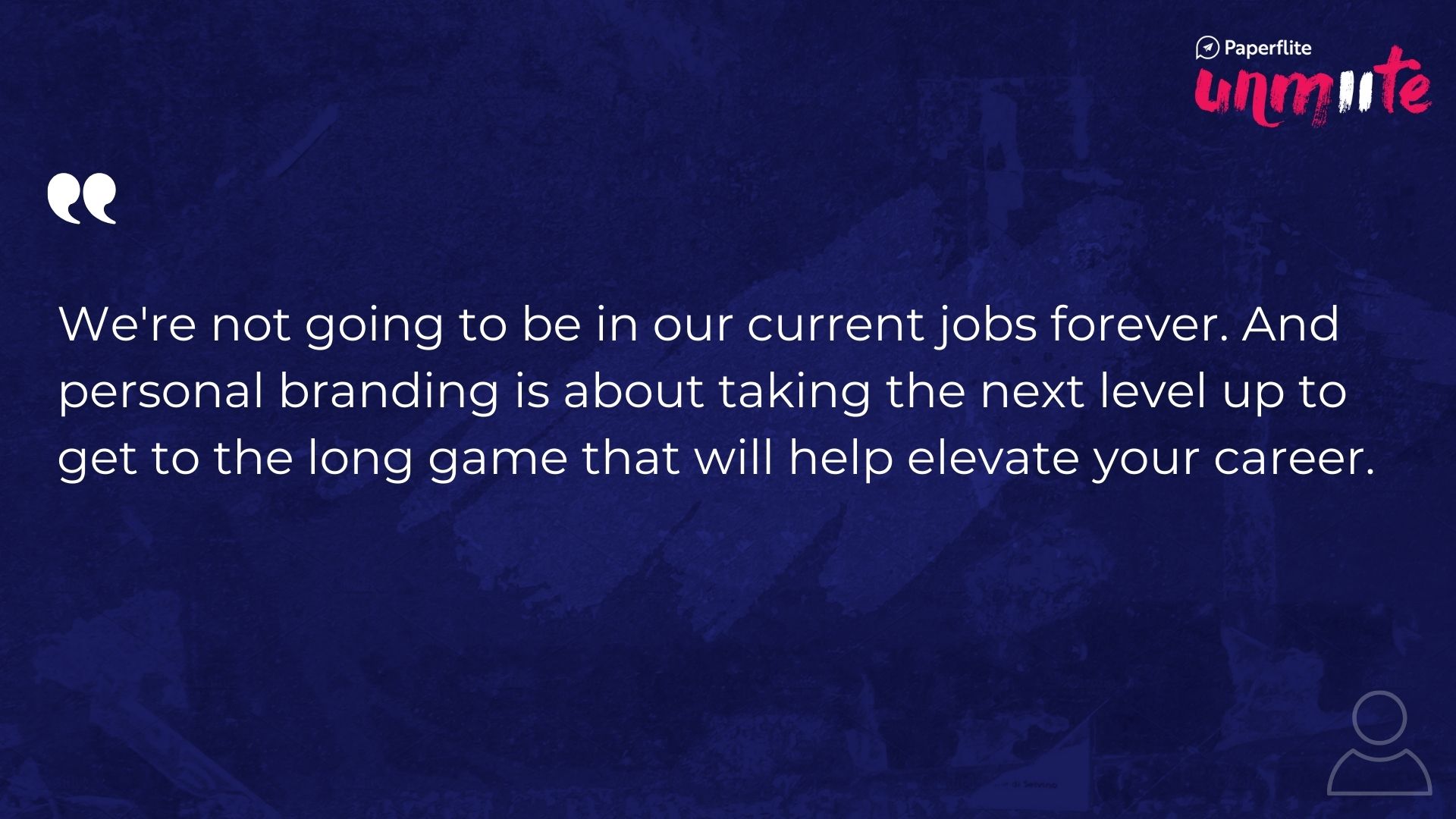 In 2019, Nick shipped 2.8 LinkedIn posts per week and he thought that was starting slow. Then came 2020 and the number of posts shot up to 7.6 per week. Enter 2021, and he currently ships 6.3 posts per week and now it's become a habit for Nick.THREE years. Let that sink in. 
And fun fact - about 90% of the content Nick puts out there is brand new and 10% is probably repurposed but with a new spin to it.
But has he ever thought of giving up like any other normal human being?
Turns out, he did. 
"Yeah, you know, I have thought of giving up because it wears on you over time. There's a lot of there was a lot of times that I said, 'I'm just gonna give up and like, it's just not worth it for me'. But then I was starting to get invited to podcasts and getting invited or having access to VPs of Marketing and CMOS that I would never have had access to before. 
I could now just send a message like, 'Hey, can I pick your brain for 20 minutes? I'd love to learn more', and they would just answer me and be like, 'Hey, I saw your content!'. That was at the point where I knew this is gonna open more doors. And it's a long game that you have to invest in yourself in because no employer is going to invest for you".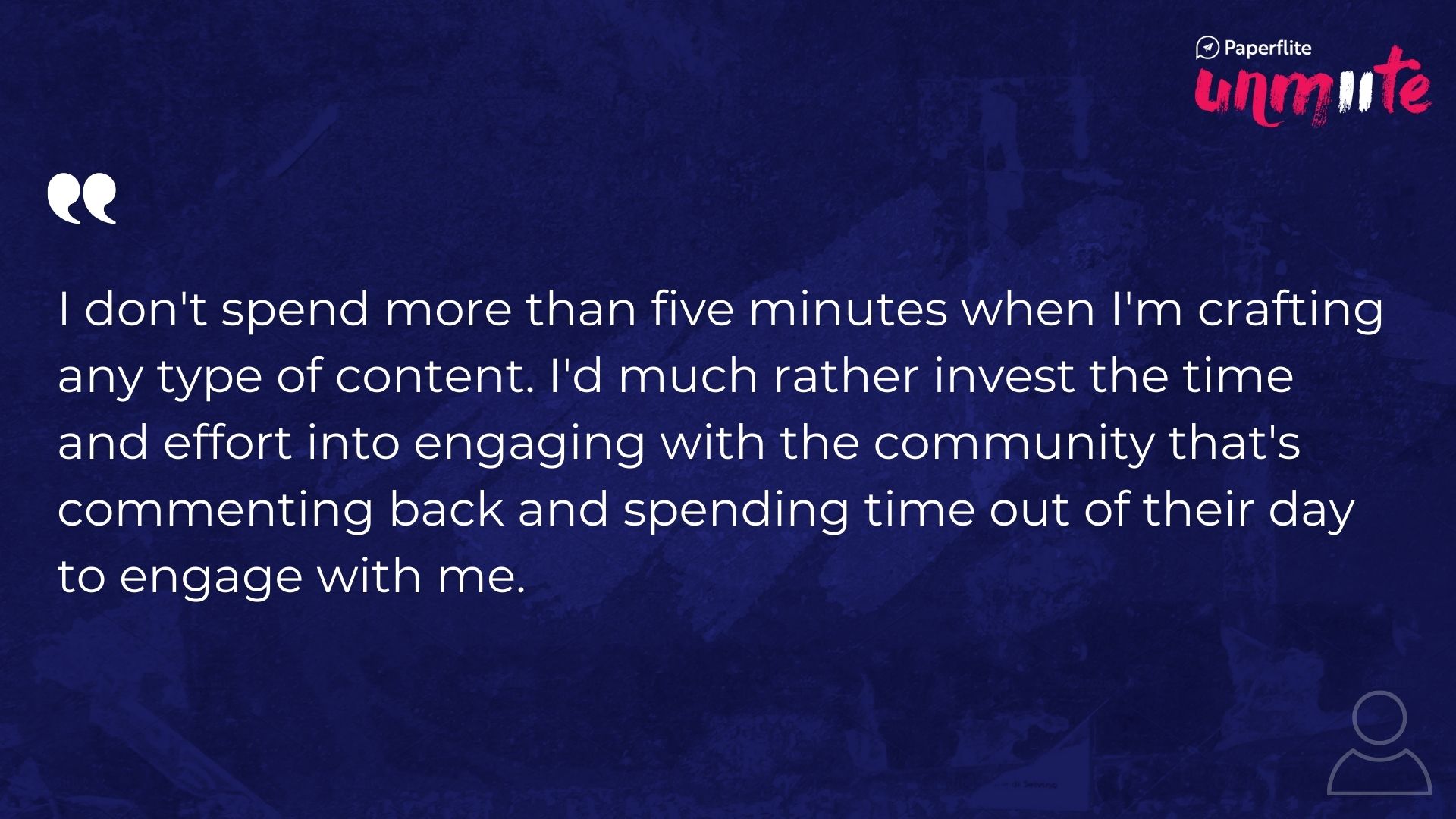 So much value in about 5 minutes? Which brings us to…
The creation process
It has taken Nick some time to nail down the process that works for him when it comes to creating posts. While he could have spent a lot of time perfecting every word and phrase, he says that would have prevented him from shipping anything at all. 
"If you're not going to just ship something, you're never going to do it. You're going to say 'Oh, you know, I'm going to overanalyze this'. And then you overanalyze it so much, that you don't actually end up doing it".  And so Nick developed a habit of spending only 5 minutes in creating one post and didn't beat himself up about grammatical errors or typos. If he did find missing pieces in his post, he mentally thanks the edit button and fixes it. 
"There are people that I know that spend 30 to 45 minutes thinking of what to write and I don't have the time in my day to even do that. I'm usually in the shower first thing in the morning and I don't write anything down. And so my goal is, by the time I get out of the shower and get to my phone or my computer, I should have an overall idea of what I want to talk about that day".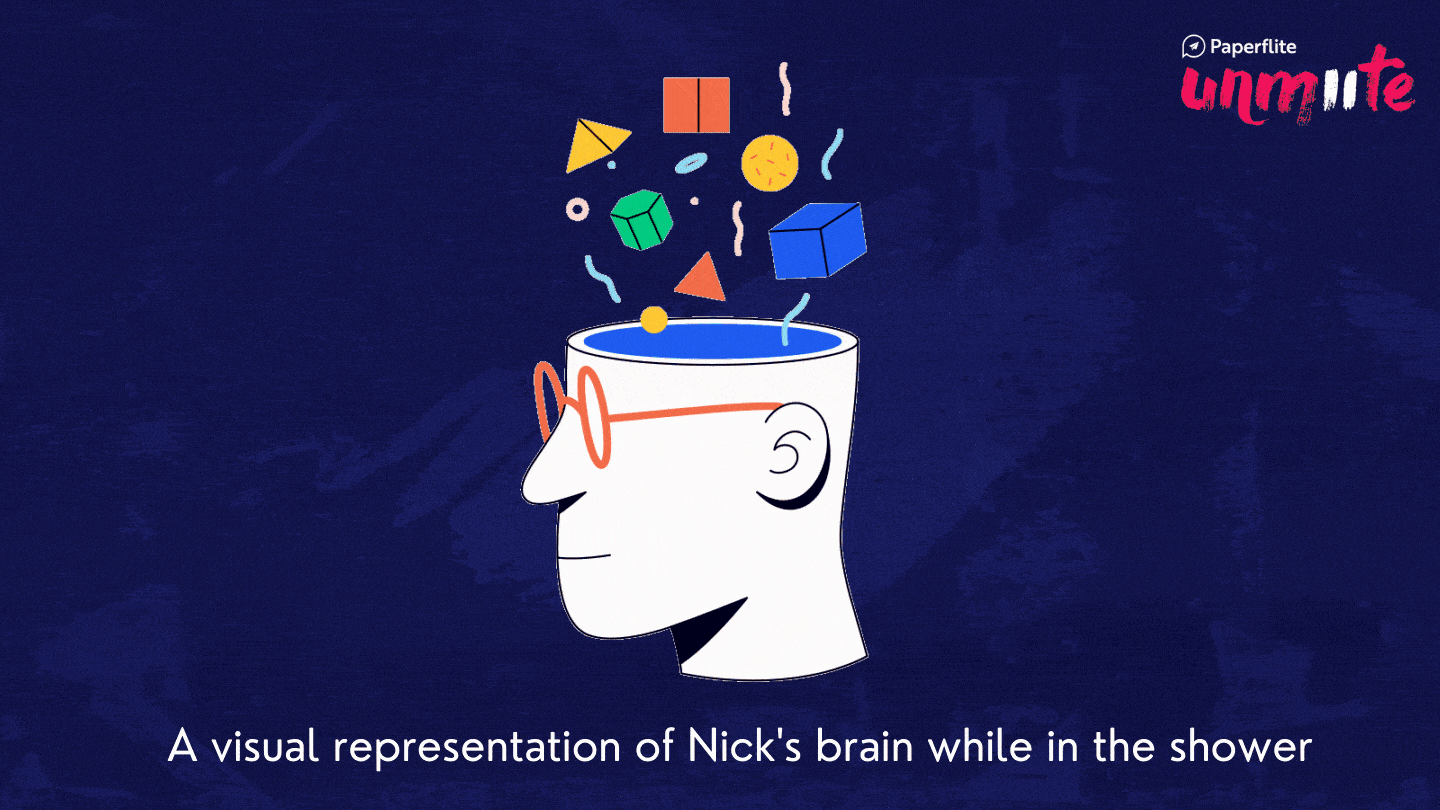 How personal brand impacts the employer brand
Luckily, Nick works with a company that supports employees building their own brand. On the other end of this spectrum are companies that frown upon spending time on social media during work hours. But what these companies don't realize is that discouraging personal branding of employees actually hurts the business in the long term. Nick explains with a story:
"I was talking to someone this morning and they have about 125 people within their company that post every single week. Out of those 125 people this week alone, they drove over 200,000 impressions from their content. And then what will happen is, you'll see where this person works and you'll tie the company name to who that person is. So it actually will 100x what any company page will ever get, if you do it right".
Speaking of the benefits a company can reap from personal branding neatly leads to the other half of this story, which is ABM.
What is ABM, really?
Nick says that if you remove the bells and whistles, ABM is really just targeted marketing to a subset of accounts. And field marketers have actually been doing ABM for years because most likely they're aligned to regions or territories. They're working with specific sales teams and driving specific accounts towards pipeline and revenue. But lately, ABM has become such a hot buzzword and everyone wants a pie in the cake.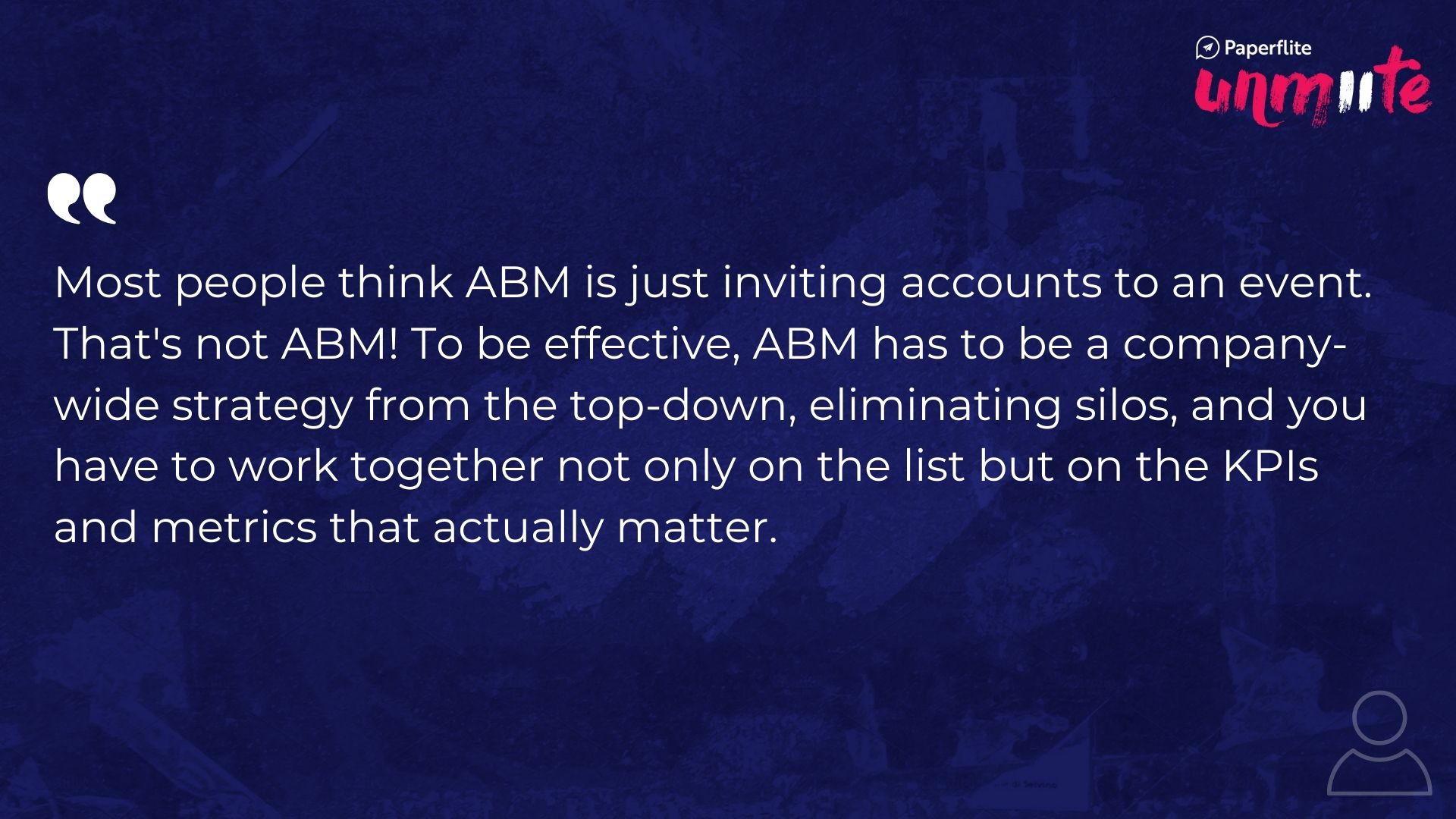 Personal branding meets ABM
It's important to know that we all have lives outside our day jobs. Everyone knows that you're a Director of Marketing or director of ABM. Anyone could go search on LinkedIn and find out what someone's job is. But what is that person passionate about outside of work? If you can figure that out, you can connect to someone on a human to human level.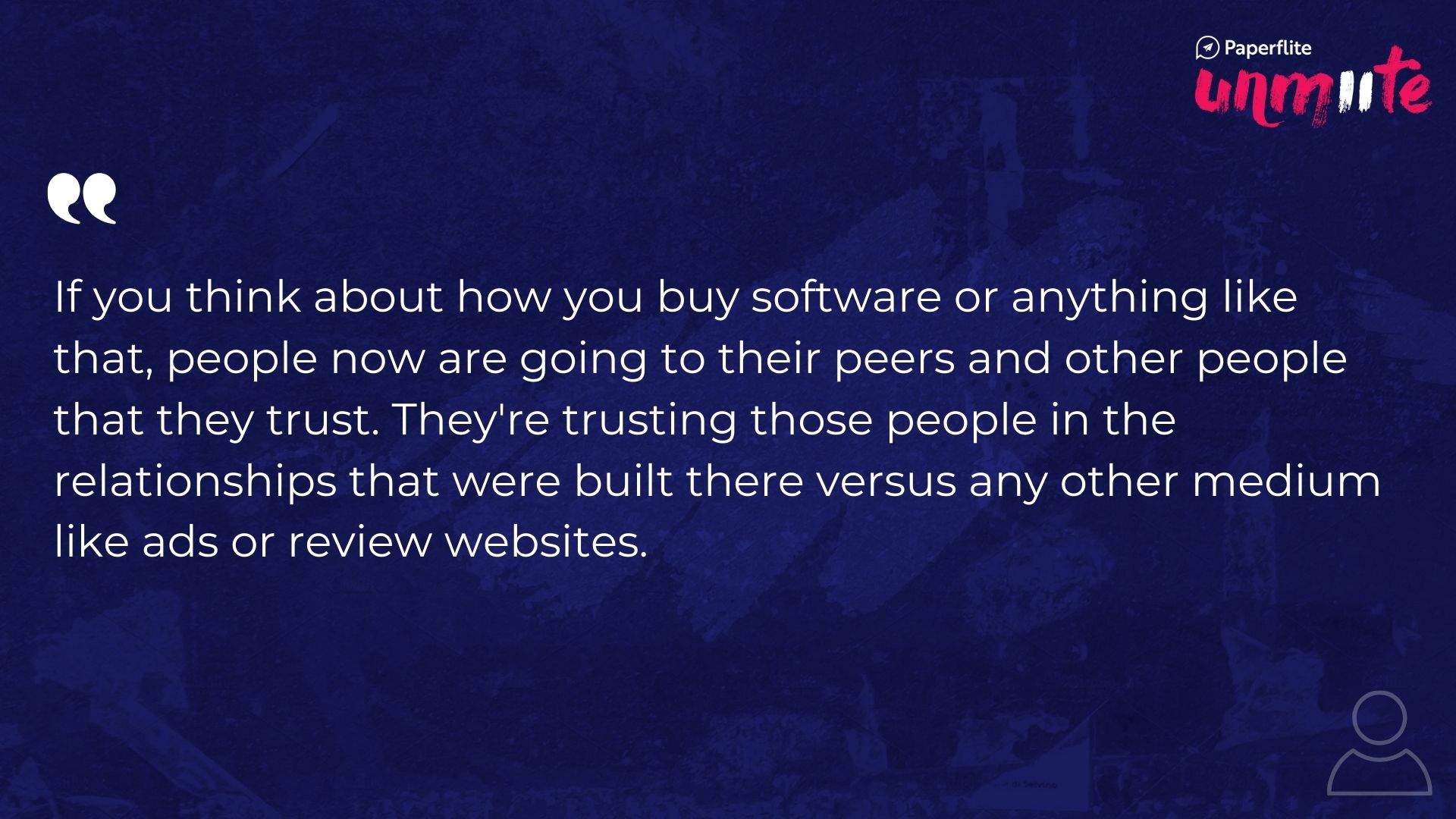 "ABM is all about the experiences that you create. I think it's a little bit easier because I'm in the Martech industry. And so when you're marketing and selling to other marketers that are exactly like you, it's a little easier to kind of tie the two together. And honestly, when I started out with creating a personal brand for myself, I actually had no intention of tying it into an ABM strategy. I mean, I wasn't even at Alyce when I started to build this. Honestly, I didn't even know what personal branding really was!" 
Marketing serendipity
"I went to school for sports management. I got out and I was like, 'Oh, I'm gonna be a big shot athletic director or a sports agent'. But I went into sales for an industrial tooling company and I was really good at it.  But it was a grind and I was just on the phones all day,
So when I came across field marketing, I immediately thought, Oh, this is pretty good! I get to experience all of the great things without a cord hanging over my head".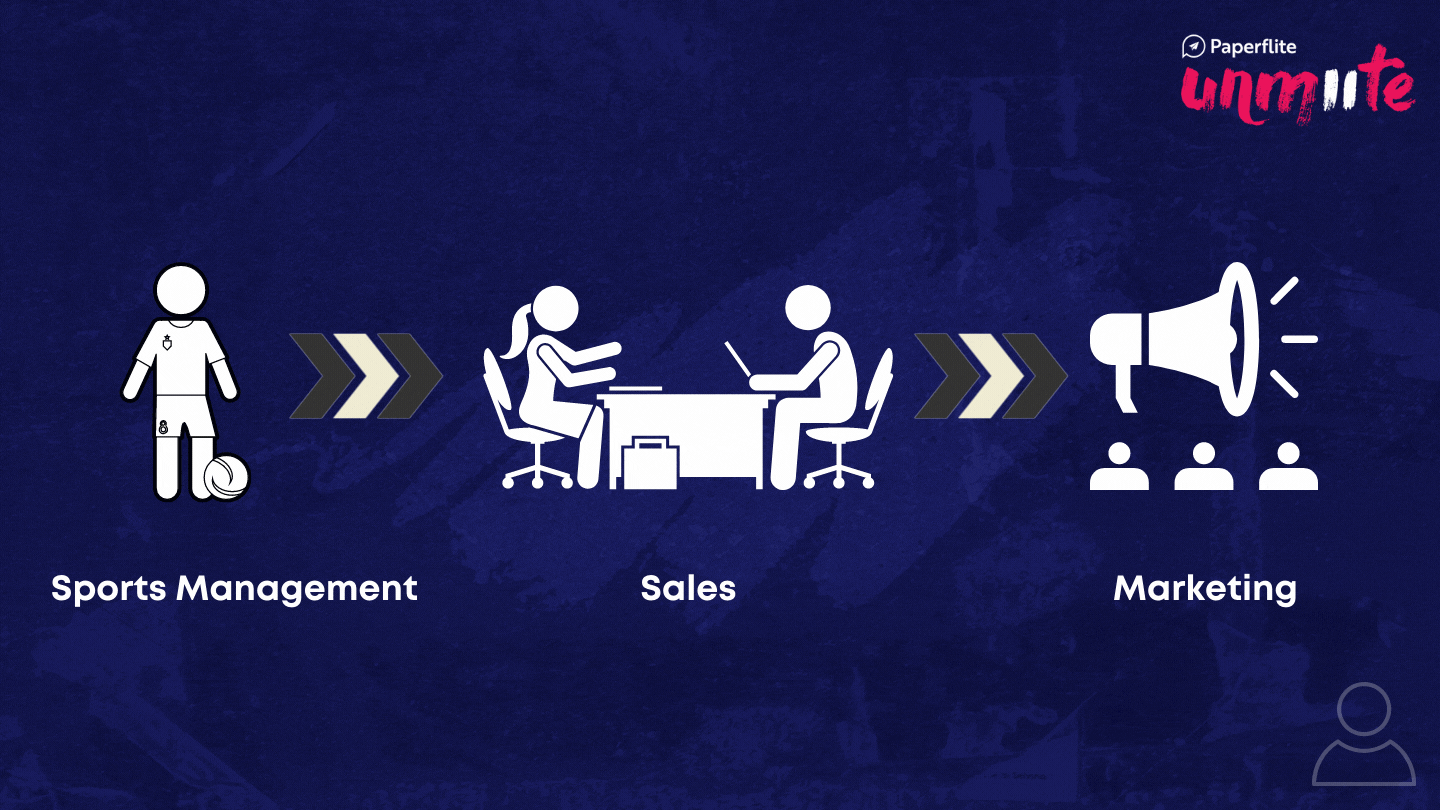 At that time, Nick was at Clari. And the then VP of Growth, Kyle Coleman, who's very well known on LinkedIn, put out a challenge to the team. He laid out the success and opportunities that had opened up because of him showing up on Linkedin and pushed his team to give it a shot as well. Nick along with a few others started, but the only person who stayed with it and kept going was Nick. 
The inbound magic
When Nick got to Alyce, he realized that people connected the content that he created every single day to the company that he worked with. This way, the opportunities started coming to Nick inbound. 
"I'm connected to all of our target accounts including field marketers, ABM practitioners, and marketers in general. A lot of our target accounts were coming to me and they would say, 'Hey, you know, I see you posting content about this. you know, we're up for renewal with a competitor of yours and we'd love to have a conversation with you'. And I actually had no intention of doing that. 
Blown away by this, Nick convinced a lot more of his teammates to show up on LinkedIn and build their personal brands.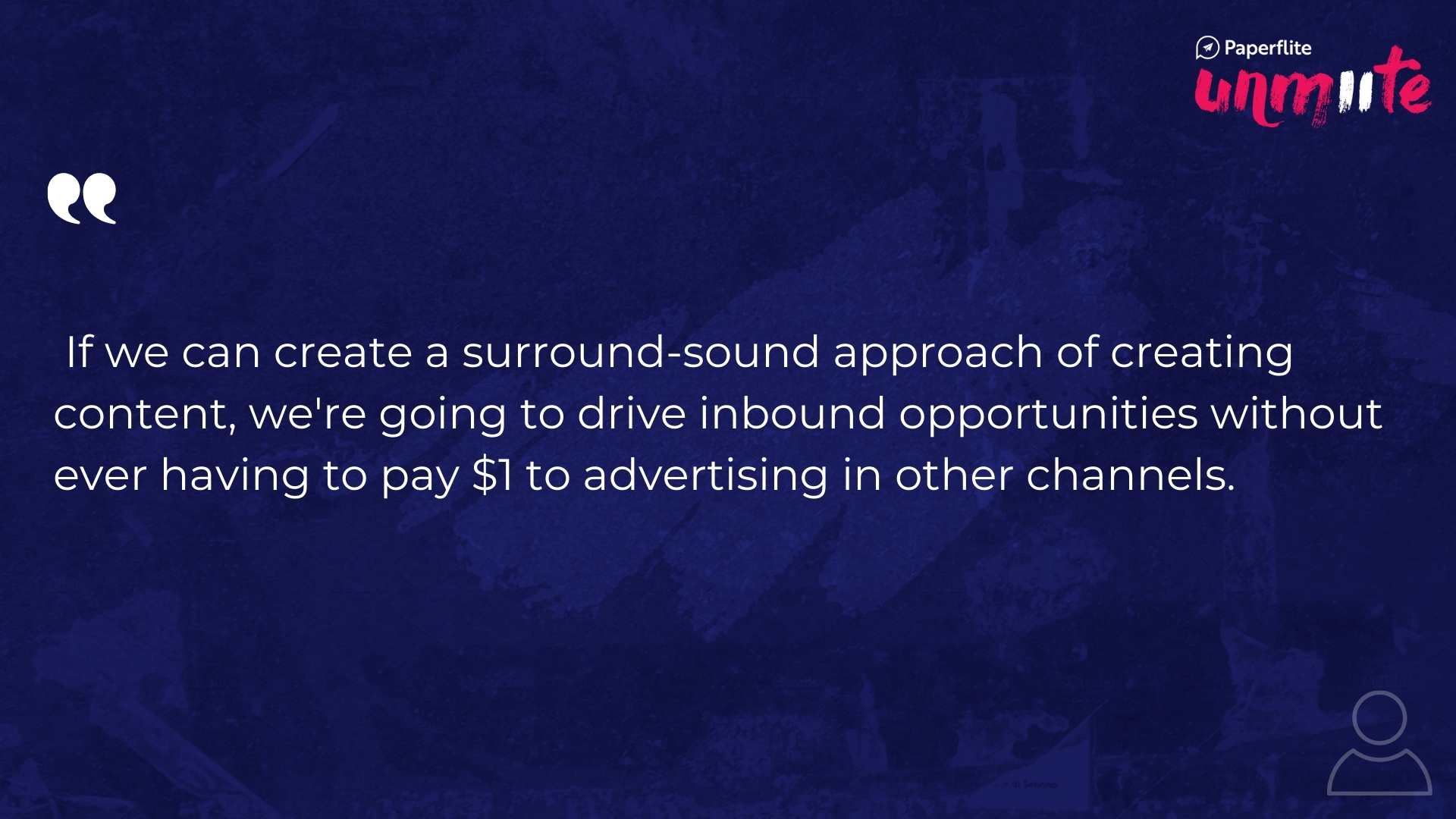 And you know, in the last seven months, I've probably driven 30 opportunities, just from the personal branding aspect of target accounts for our sales team. And you'd be surprised at the doors that it actually opens for yourself. 
People just end up associating your name with the company that you work with. So even if they don't have a need right now, they know who to talk to when the need arises because they're constantly seeing your content. And I think that's the big piece that goes undervalued in a lot of this.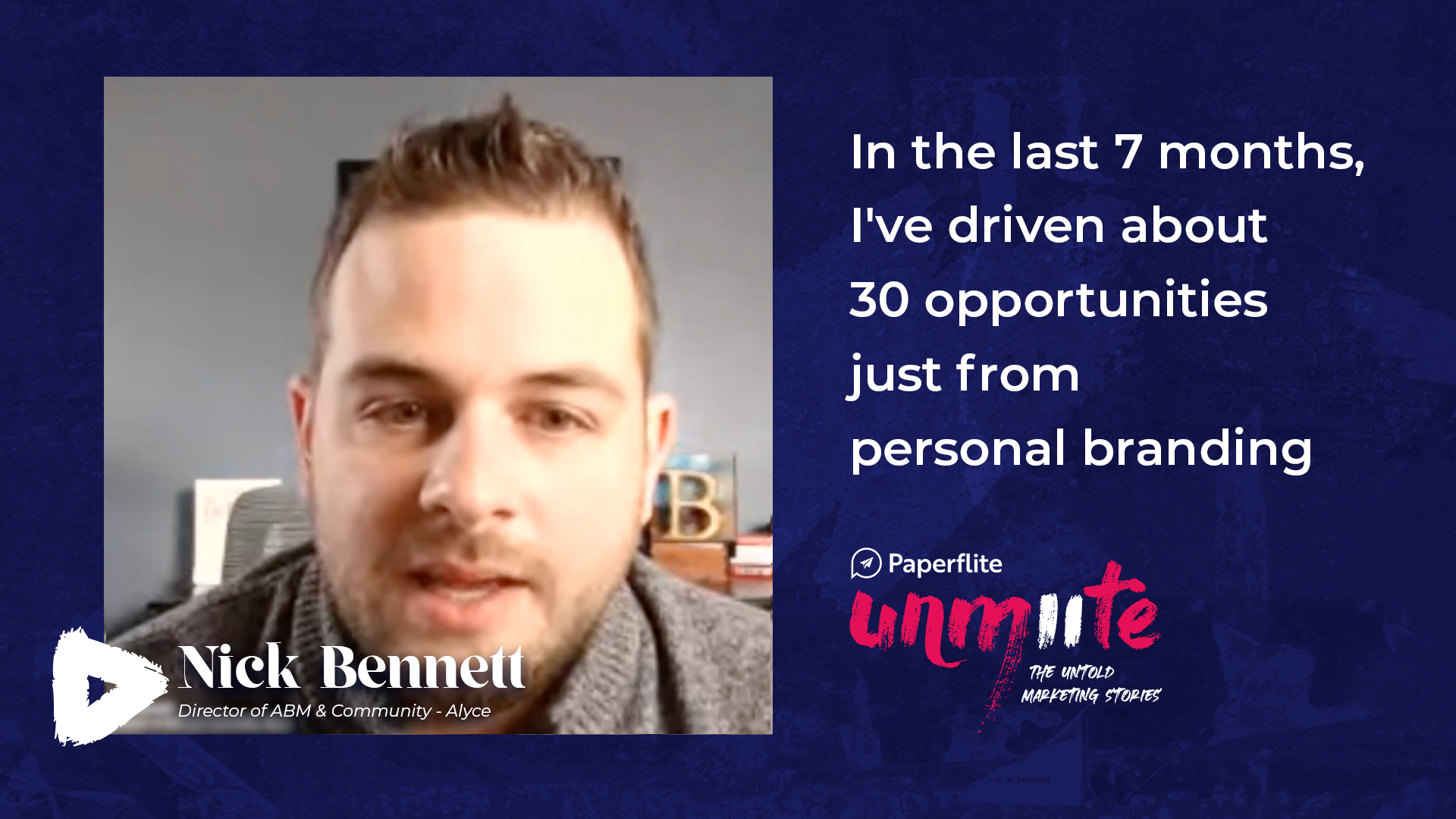 Closing thoughts
If Nick has convinced you to begin your personal branding journey on LinkedIn but you aren't sure where to start, he suggests you do this:
Find 5-10 people you want to learn from who are posting content on LinkedIn regularly
Figure out when they usually post
Comment in their posts by adding insights to the post or something of value 
Do this consistently for 6 months 
"You'd be amazed at how many people come back to your own LinkedIn profile, even if you don't create content! This way, you're going to start to build an audience for yourself. Six months down the road, if you decide to start creating content, you'll already have a self-established audience that you can then reach".
Oh, and the cool part? Nick said he'd be happy to support and cheer you on in your personal branding journey if you tag him in your first post ;)
Other Notes from UNMUTE 2021