8 Must-have Salesforce Integrations for Sales and Marketing
October 07.2020
7 minutes
What Xerox is to photocopies, Salesforce is to Customer Relationship Management, or CRM as it's widely known. When a brand becomes synonymous with its product category, it becomes evident that it's doing something exceptional.
Today, one cannot imagine a workspace without Salesforce. From managing data and nurturing leads to enabling effective customer service and introducing automation to the otherwise tiring manual activities, Salesforce is the elixir to the modern-day sales, marketing, and customer success teams.
What happens when you combine an already robust platform with another equally robust platform? Keep reading to find out because in this article, we list down 8 must-have Salesforce integrations that we swear by!  
Category: Revenue Intelligence Technology for Sales teams
Compatible Salesforce Editions: Enterprise and above
Apart from being a people's favorite brand on LinkedIn, what impresses one at first glance about Gong is their tagline - 'Goodbye opinions, Hello reality!', and their mascot - Bruno the bulldog. Look at him and tell us he doesn't instantly warm your heart!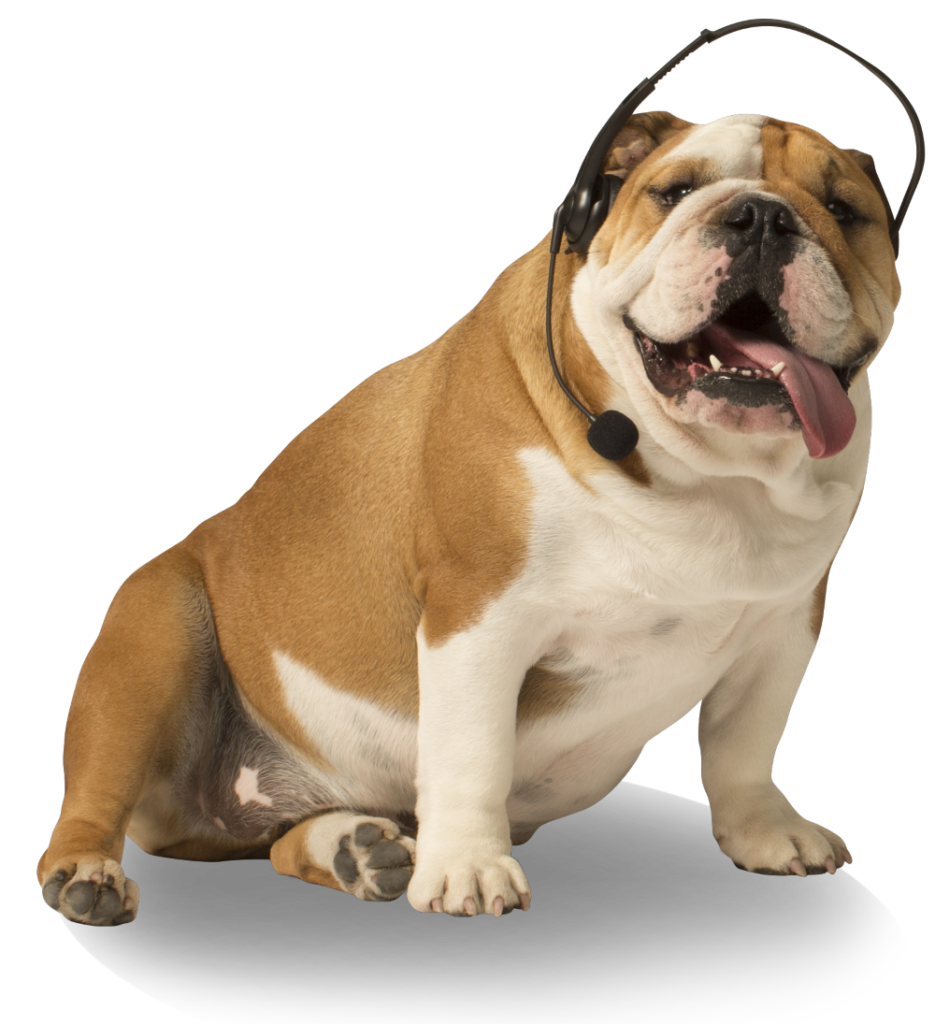 Forcefully peeling our eyes from the image of this good boy to tell you what Gong actually does - A Revenue Intelligence platform, Gong helps sales teams increase their revenue by having better conversations. 
Gong does this by using AI that identifies effective patterns across successful conversations and helps teams repeat these patterns at scale. Think of it as a search engine for your sales calls. 
The transcription functionality that Gong offers is pretty accurate and if there's something it repeatedly gets wrong, you can teach it the word or name it's missing.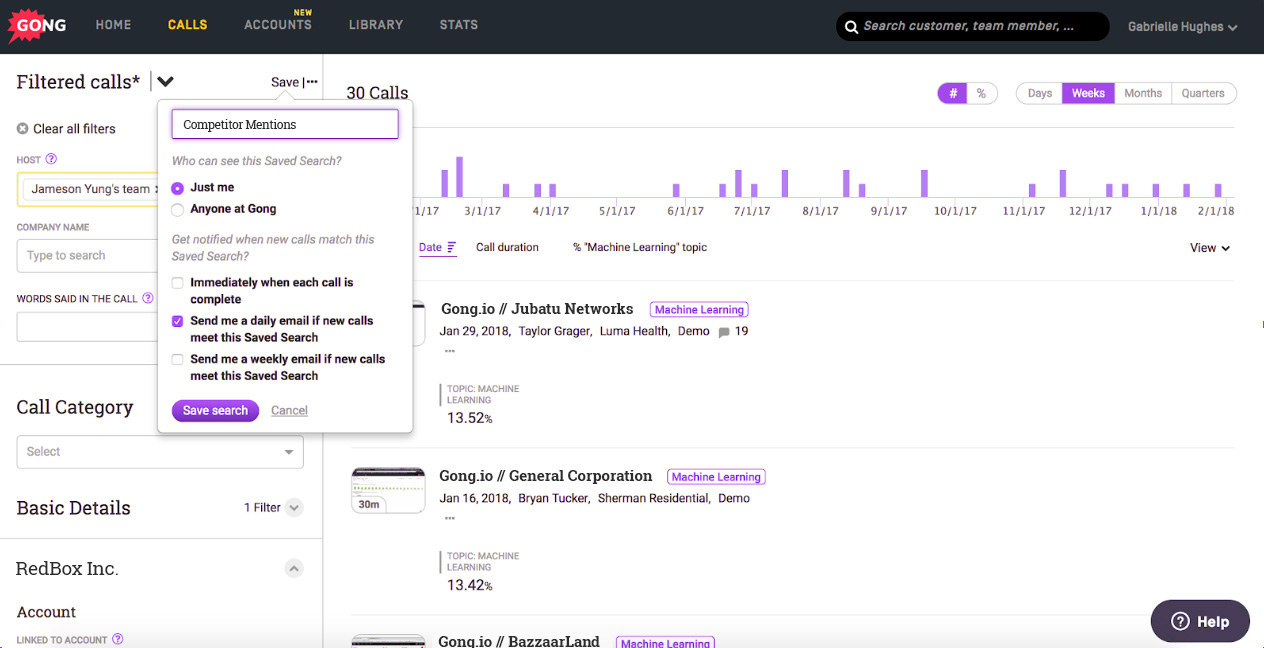 The Gong-Salesforce integration increases the efficiency with which sales teams track prospects and close deals. Like any Salesforce integration, it matches specific Triggers to specific Actions. For example, every time a new call is detected on Gong, the integration will trigger activities in Salesforce such as:
Add contact to a campaign
Add a lead to campaign
Create attachment
Create record
Update record
Find record
This way, your sales team can focus more on becoming data-armed sales superstars while the manual updation and creation are automatically taken care of. 
The integration with Salesforce further helps:
Leverage data from Gong against that of Salesforce for even deeper insights on behaviors of both inside and outside sales teams.
Easily look for specific calls when they are already linked to an account
Catch up on the interpretation of calls for which you were absent
Category: Marketing Automation 
Compatible Salesforce Editions: Enterprise, Unlimited, and Professional
Even with about 8000+ service providers in the martech space currently, it doesn't take long for one to find his/her way to Marketo. 
A powerful and customizable marketing automation platform, Marketo empowers marketers by giving them unlimited possibilities with what they can do with their marketing leads. 
The Marketo-Salesforce integration, however, empowers your sales team by helping them identify and focus on the right opportunities that drive revenue.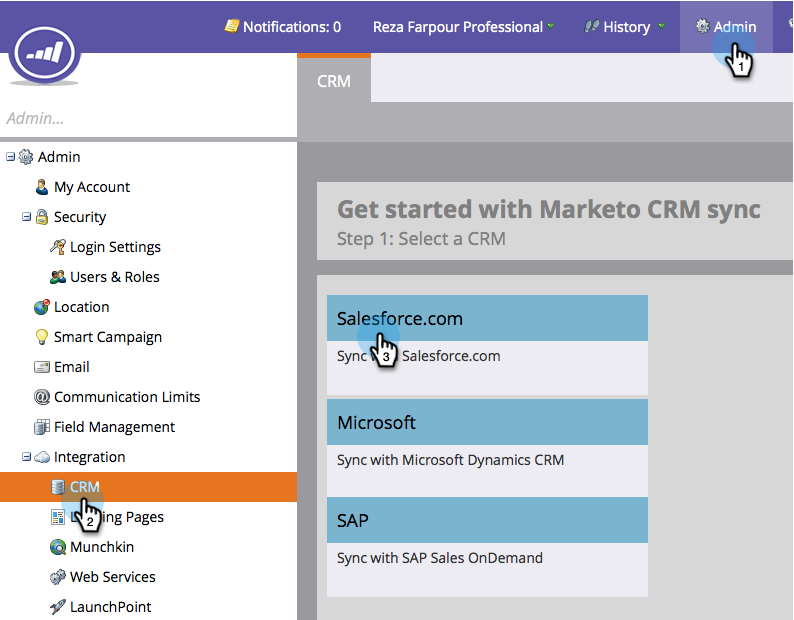 Marketo stacks up as one of the most high-powered Salesforce integrations because of the incredible functionality that includes:
Ranking customers by how likely they are to show a certain behavior 
Lead scoring that indicates which opportunities you should spend more time on
Mapping a Marketo program to a Salesforce campaign 
Marketo offers native integration for Salesforce and enables two-way syncing between the two platforms once every 5 minutes. 
Once integrated, the dashboard reveals the best leads, tracks behavior with buying intent, and turns insight into action by sending emails from within Salesforce. 
Category: Forecasting & Pipeline Management
Compatible Salesforce Editions: All editions
An easy-to-use Revenue Operations platform, Clari is another brand that has made heads turn and take notice. Clari helps revenue generation teams forecast revenue accurately, drive pipeline, and reduce churn. 
Clari comes as a massive win especially for individual contributors as it helps:
Paint a data-driven picture through highly efficient forecast reporting
Customize views to see active opportunities
Quickly move between ongoing opportunities to forecast at the click of a button
Analyze wins or losses with increased accuracy
See which accounts are trending in the right direction and which accounts need more follow-up 
Take advantage of the intuitive forecast roll-ups
Encourage higher adoption of your CRM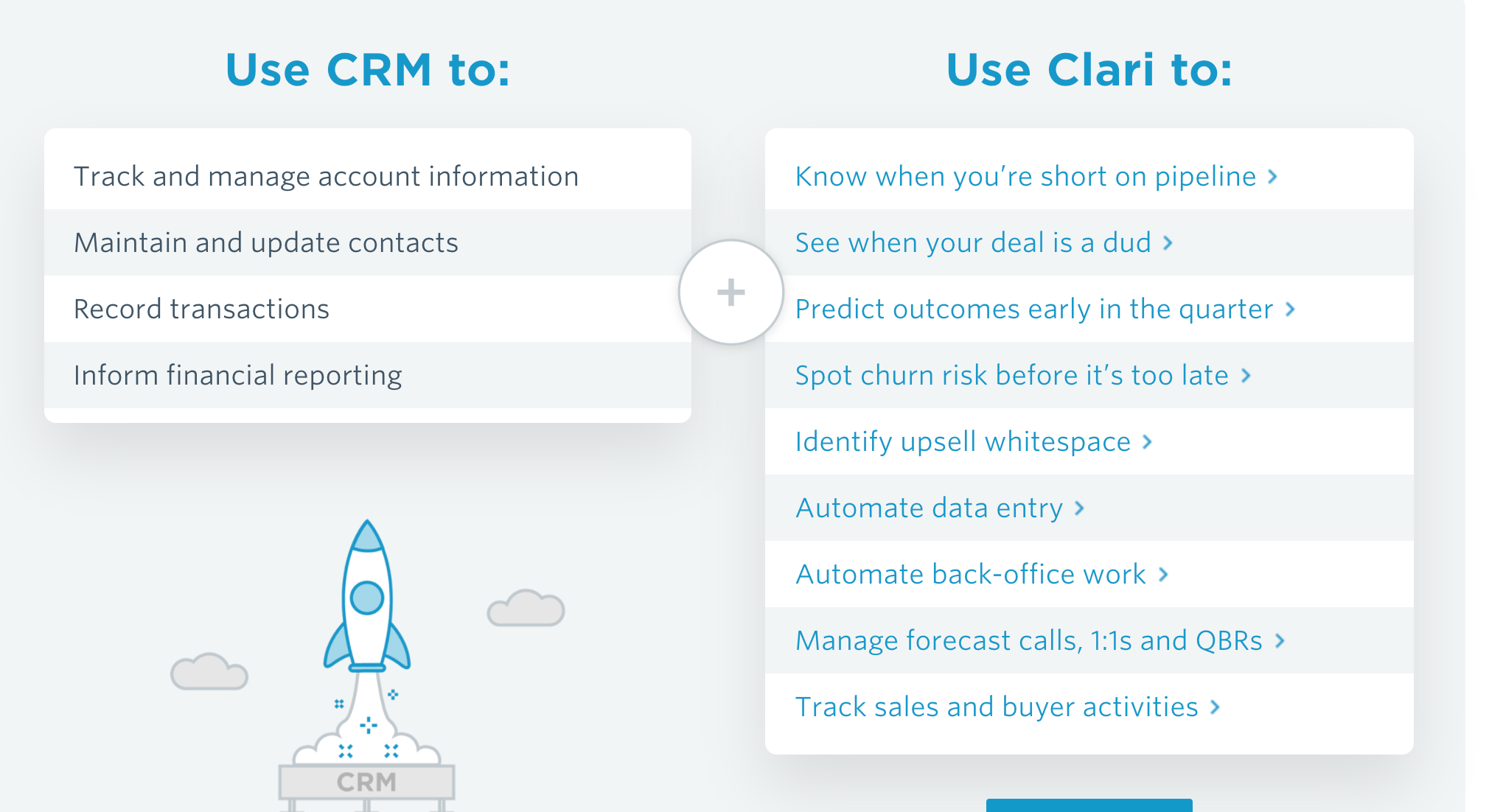 When integrated with a CRM like Salesforce, Clari's AI and automation give you greater control over your revenue process, bring alignment to the numbers across the organisation, and make revenue more predictable.
It can become the single source of truth and helps simplify the otherwise complex Salesforce reports. All adjustments to the pipeline will have to be made only once on Clari and this works much faster when compared to updating it directly on Salesforce. 
Here's what the Clari team had to add - "We support both Classic and Salesforce Lightning UI. There is no limitation of the API versions as well, but we recommend using API 39 and above".
With the accessibility to any information like close dates, ASV, DR number, next steps, etc., you can walk into meetings with the 3Cs - Confidence, Crystal-clear understanding of Forecasts, and Concise Data. 
Category - iPaaS (Integration Platform as a service)
Compatible Salesforce Editions: All editions
Zapier is an integration FOR integrations! A cloud-based integration platform, Zapiers helps connect your desired web apps and systems—including Salesforce—and automates repetitive workflows.  
What makes Zapier extraordinary is that you can build a lot of automation between various platforms you use, all without any code. 
Here's how one user aptly put it - "Want to build a Workflow on Google Sheets when Salesforce is updated ? Zapier. Want to build a Slack Post when a Google Sheet is updated ? Zapier".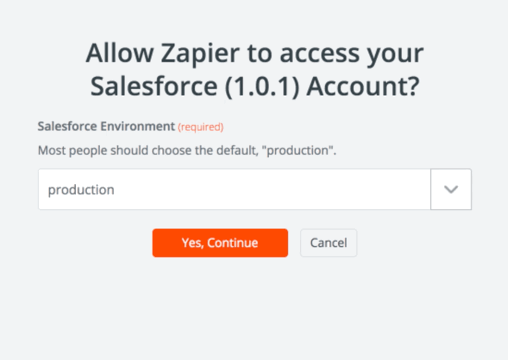 The Zapier-Salesforce integration allows you to easily connect more than 2,000 apps to Salesforce, so you can make the most out of your CRM.
Apart from helping you integrate Salesforce with multiple other platforms, Zapier also automates certain tasks like:
Creating leads in Salesforce anytime people subscribe to your newsletter
Enabling movement of information between Salesforce, your online payment processing platform, and your accounting platform whenever someone makes a purchase
Creating a Zap that sends thank you cards to customers after the closing of a deal (Zaps are connections that automate workflows)
Category: Content Enablement
Compatible Salesforce Editions: All editions
Paperflite is a content enablement platform designed to accelerate your content performance across all touchpoints. 
It manages all of your organization's content—in any form or size—with little effort on your part, allowing each member of your team to connect and create content streams instantly. 
The Paperflite-Salesforce integration further enables your sales reps to nurture their prospects at every stage of the buyer's journey with contextual content by indicating how these prospects engage with your content.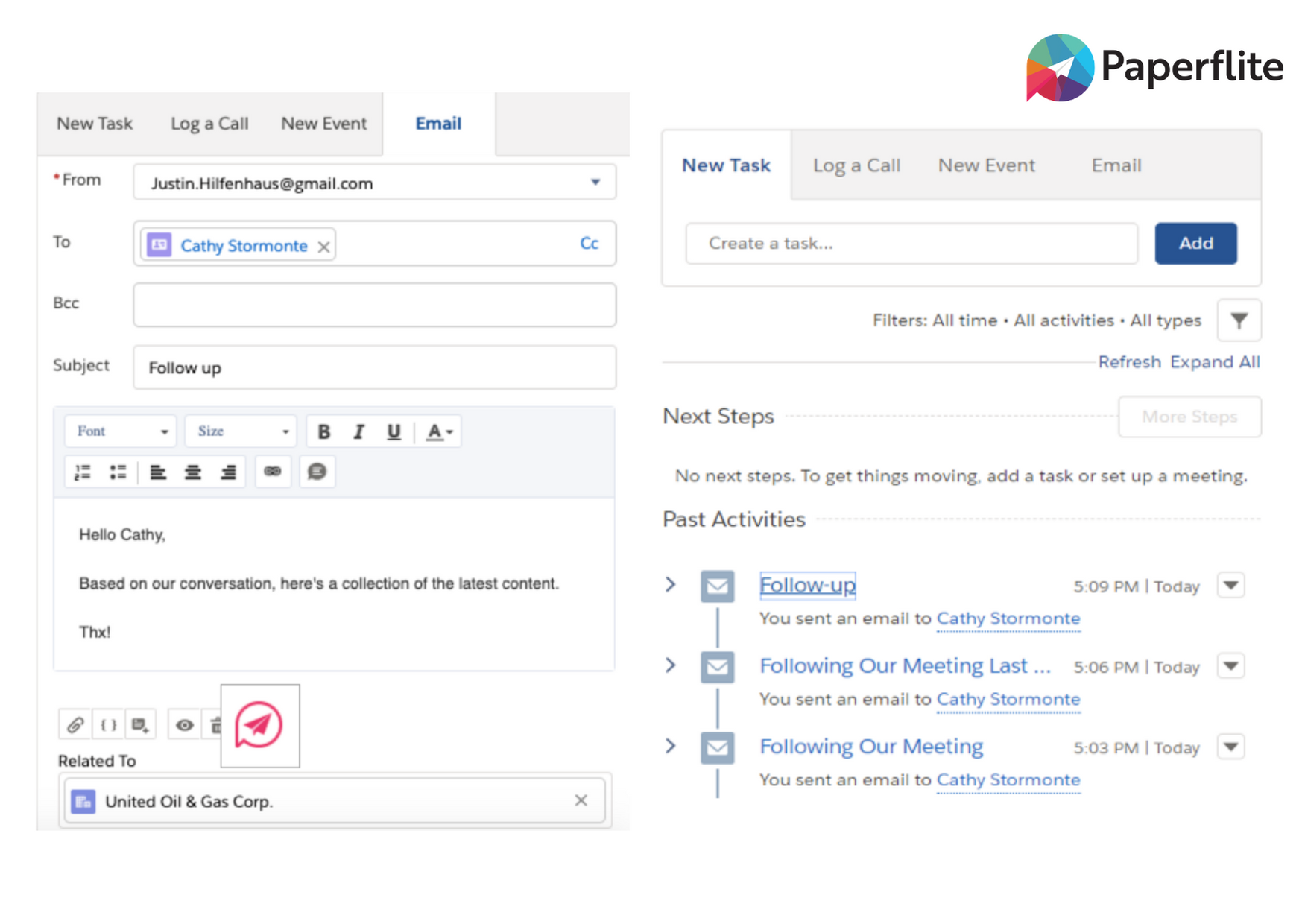 This integration helps:
Turbocharge your sales funnel and put both your CRM leads and content on a single platform
Share enterprise-wide content with anyone you want right from where you work
Save hours from the monotonous and time-consuming data entry 
Once integrated, head to your Salesforce account and select the Paperflite icon at the bottom. You'll be able to access the content you've stored in your Paperflite account this way, including the email templates.
When you have sent your emails, you'll be able to view the content intelligence. All you have to do in your Salesforce account is scroll down to the bottom of the lead/contact/account to track content engagement and hit 'Past Activities' to see the engagement metrics like reshare, download, time spent, etc.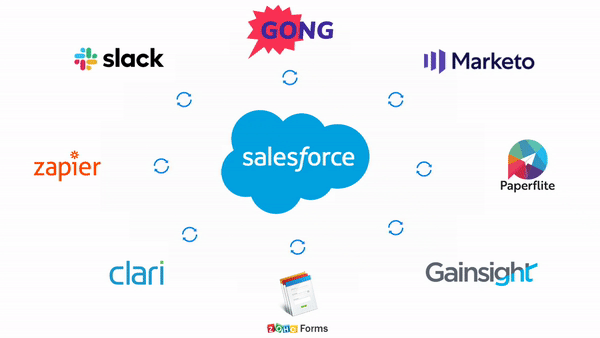 Category: Communication
Compatible Salesforce Editions: All editions
Slack was one of the applications that rose to fame when the working force became completely remote. Despite being around since 2013, Slack finally received the recognition it deserved only this year and has redefined the way teams communicate and collaborate.
Wake up - Slack - Work - Repeat pretty much sums up our routines post the lockdown and reveals how essential this app has become in our everyday work lives. 
The Salesforce-Slack integration increases the efficiency of managing your sales pipeline.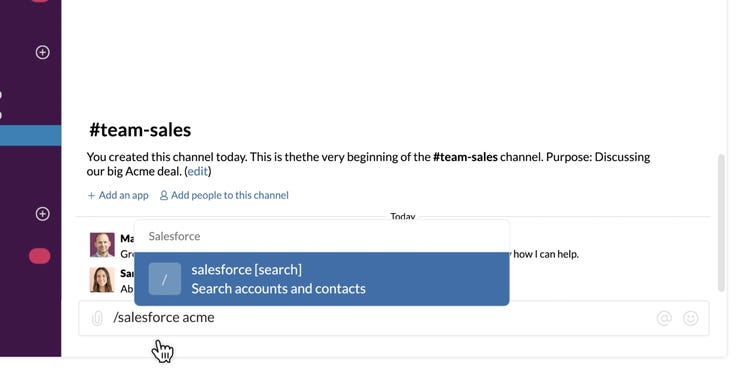 Once you have both the apps installed, here's how you connect them:

We love this integration for several reasons including: 
Real-time communication between the two platforms (Salesforce Chatter and Slack channels)
Increased collaboration and productivity
Streamlined search across platforms
Search and share of Salesforce contact and account records alongside leads and opportunities
Customized notifications on Slack
Preview of Salesforce records without leaving Slack
Effortless looping in of people
Addition of important Slack conversations to Salesforce records
Category: Form Builder
Compatible Salesforce Editions: Enterprise, Unlimited, Developer, Performance 
A very intuitive platform with an easy interface and customizable templates library, Zoho Forms is a fuss-free option to create forms that can be shared both online and offline (through scannable QR codes). 
These forms can be easily built by the drag-and-drop mechanism and include a multitude of fields such as Image Capturing, Instant Alerts, Collecting GeoLocation, Scanning Business cards, QR Codes, Bar Codes, among others.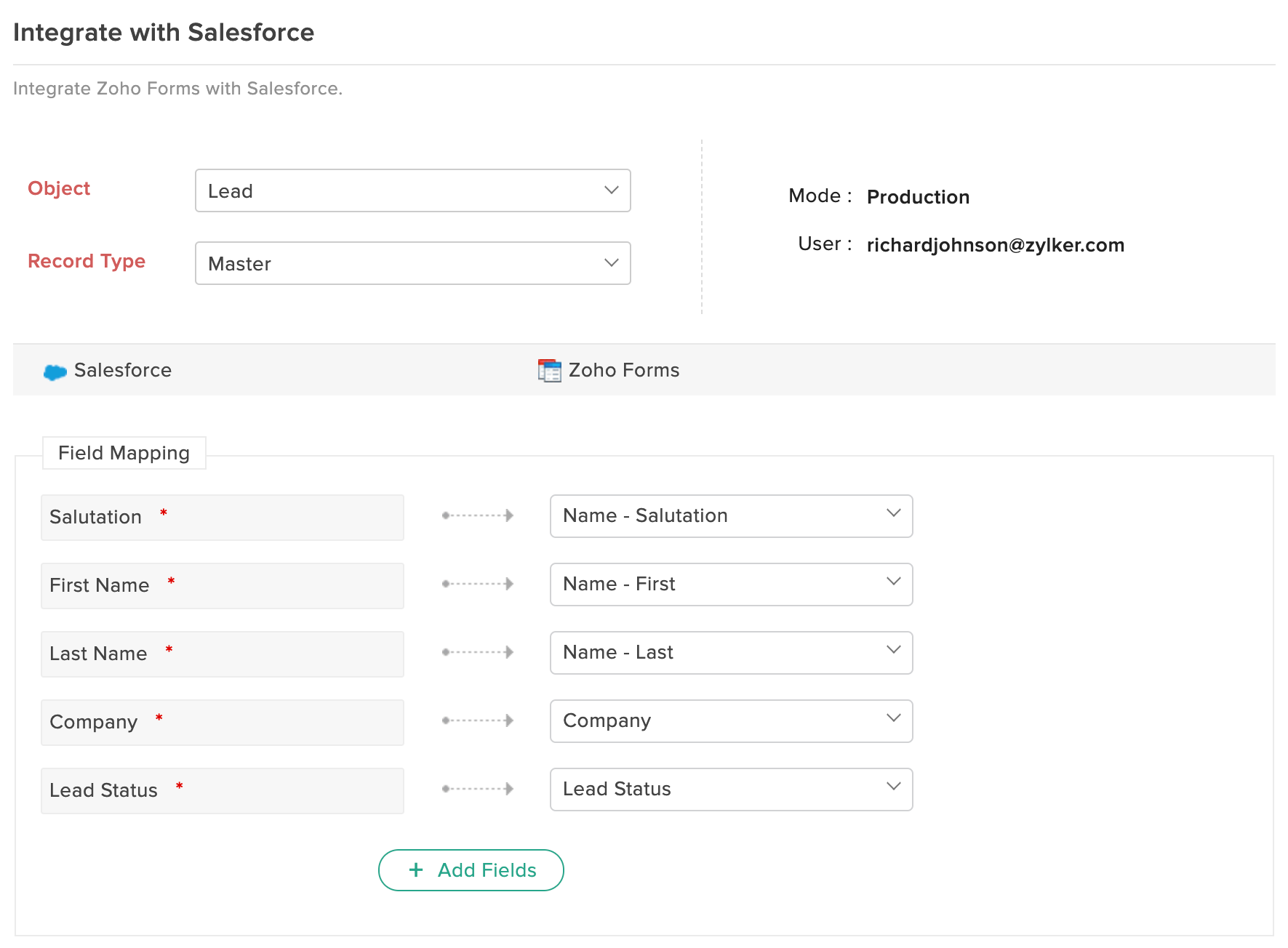 With the Zoho Forms-Salesforce integration, you can automatically push your form data into Salesforce objects every time someone fills out your form. Ensure that your Salesforce administrator enables API access for you to implement this integration. 
The various submissions from Zoho Forms that can be pushed to Salesforce include: 
Leads
Contacts
Accounts
Opportunity
Custom Objects
Additionally, you can push form attachments, upsert a record, and trigger approvals and assignment workflows in Salesforce when pushing form submissions from Zoho.
Category: Customer Success Management
Compatible Salesforce Editions: Enterprise, Unlimited, Force.com, and Performance
Gainsight has proved its mettle as a Customer Success Management platform and has equipped teams with visibility like never before into customer lifecycles and interactions, segmentation, reporting, and workflow management among others. 
From creating specific Calls-to-Action and playbooks to NPS Surveys and Health scores to drive better customer outcomes, Gainsight is a versatile tool that helps manage the customer lifecycle across initial engagement, implementation, and go-live phases, and following through to renewal.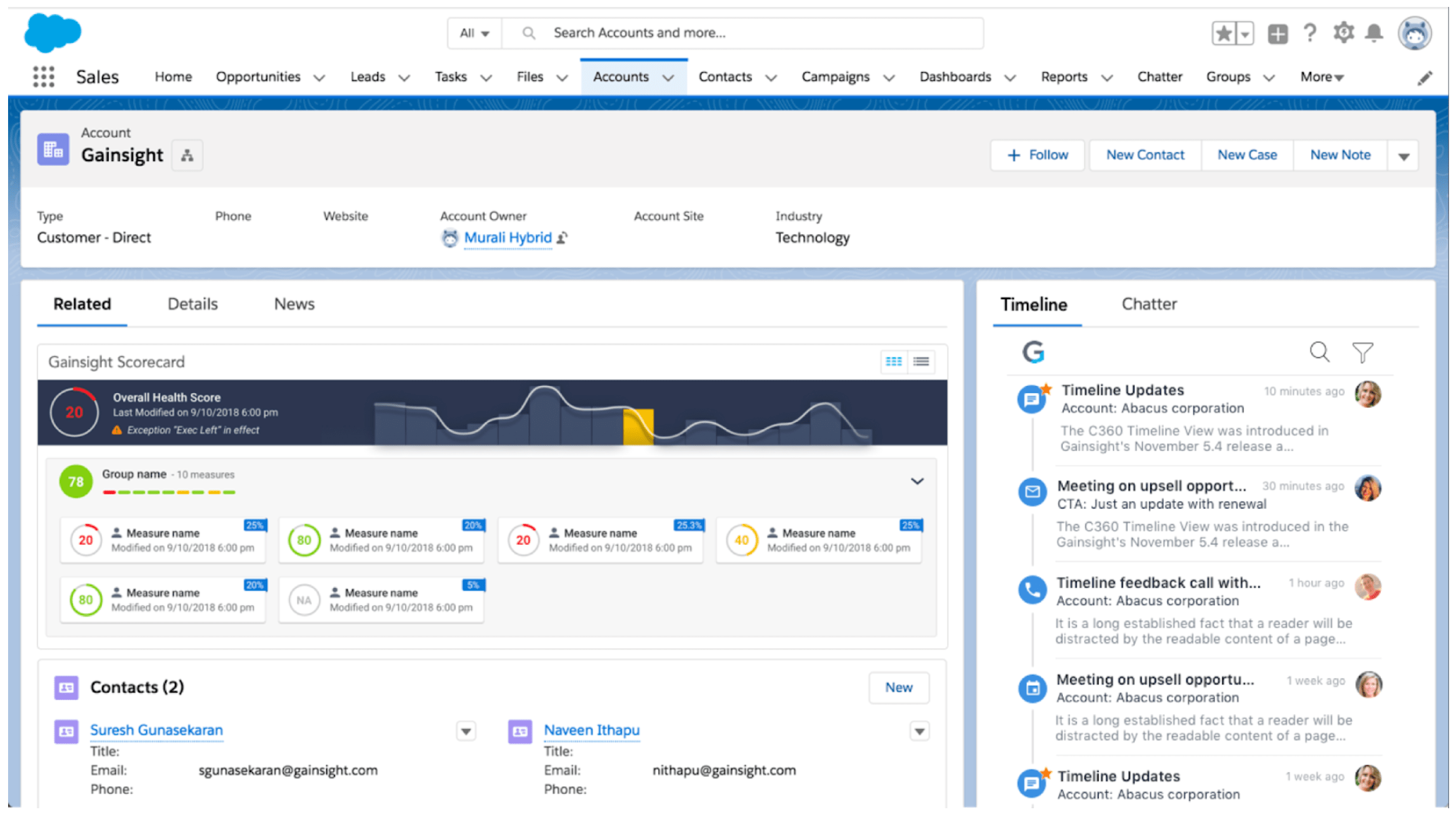 The Gainsight-Salesforce integration is an especially powerful solution for companies that are heavily invested in Salesforce already and helps with the following functions:
Ensures visibility of client data to the rest of the organization by bringing everything together in the Gainsight Customer 360 platform
Standardize customer onboarding process
Strips down the complexities of Salesforce by giving a streamlined view of reports in Dashboards instead of multiple clicks in Salesforce
Ties usage data from Gainsight to the data in Salesforce and triggers reminder based on usage
Helps easily mitigate risk, drive advocacy, and identify opportunities for expansion
Cockpit and dashboards prepare CSMs for business reviews
Offers extreme flexibility in scorecards and data control - you can create scores for any data you have access to and adjust how heavily those factors are weighted against an account's overall health score
 Easily automates triggers to call out high-risk factors and be more proactive
In addition to this, your development team can also use the available APIs to create completely customized integrations using an API management platform. For example, when you need to cross two APIs to process one piece of information before triggering the next automation.
Salesforce on its own is a powerful CRM and is charged by rocket fuel when it integrates with similarly powerful applications like the ones listed above. These integrations are one way to get the best of both the applications without ever compromising or redesigning the interface and functionality. 
Have a favorite Salesforce integration you want to see here? Write to us at marketing@paperflite.com to let us know!