A Beginner's Guide to Newsletters - Cuppa Press
In talks with Dozie Anyaegbunam
September 28.2020
5 minutes
We were today years old when we learnt that being called 'Newsletter Nerd' or 'Newsletter Monster' was not common. What an absolute shocker. 
Newsletters are one medium for brands to stay in touch with their customers and often used to keep them up-to-date with the latest trends or promotions. 
However, they are not a new phenomenon, and have been around for several centuries.  According to Orange County Attorney Journal, the first newsletter appeared in 1704.
So if you've been toying with the idea of starting one yourself but aren't sure where to begin, this episode of Cuppa Press will most certainly give you the clarity you need to launch your very own newsletter. 
With guest speaker Dozie T'Challa Anyaegbunam, we present to you the latest one on Cuppa Press - A Beginner's Guide to Newsletters.
SPOTIFY
Time Stamp
1:10 - Shift from Sales to Marketing
3:33 - You can't sell what you don't believe in
4:41 - Choosing a niche
7:00 - Building an email list
10:22 - Determining the frequency
11:20 - Special appearance by Dozie's 4-year-old
13:02 - Choosing a service provider
15:18 - When should you start charging for subscription
16:37 - Staying committed to creating content
19:07 - An experiment that worked well
20:34 - Newsletter content creation as a service
22:09 - Dozie's top 5 favourite newsletters
22:56 - Mutual obsession over Cole Schafer's newsletters
(Cuppa Press is a talk-show series where experts join us as we talk about Marketing, Sales, Technology, and a lot more! Don't forget to follow us on Youtube and Spotify if you don't want to miss out on the upcoming episodes.)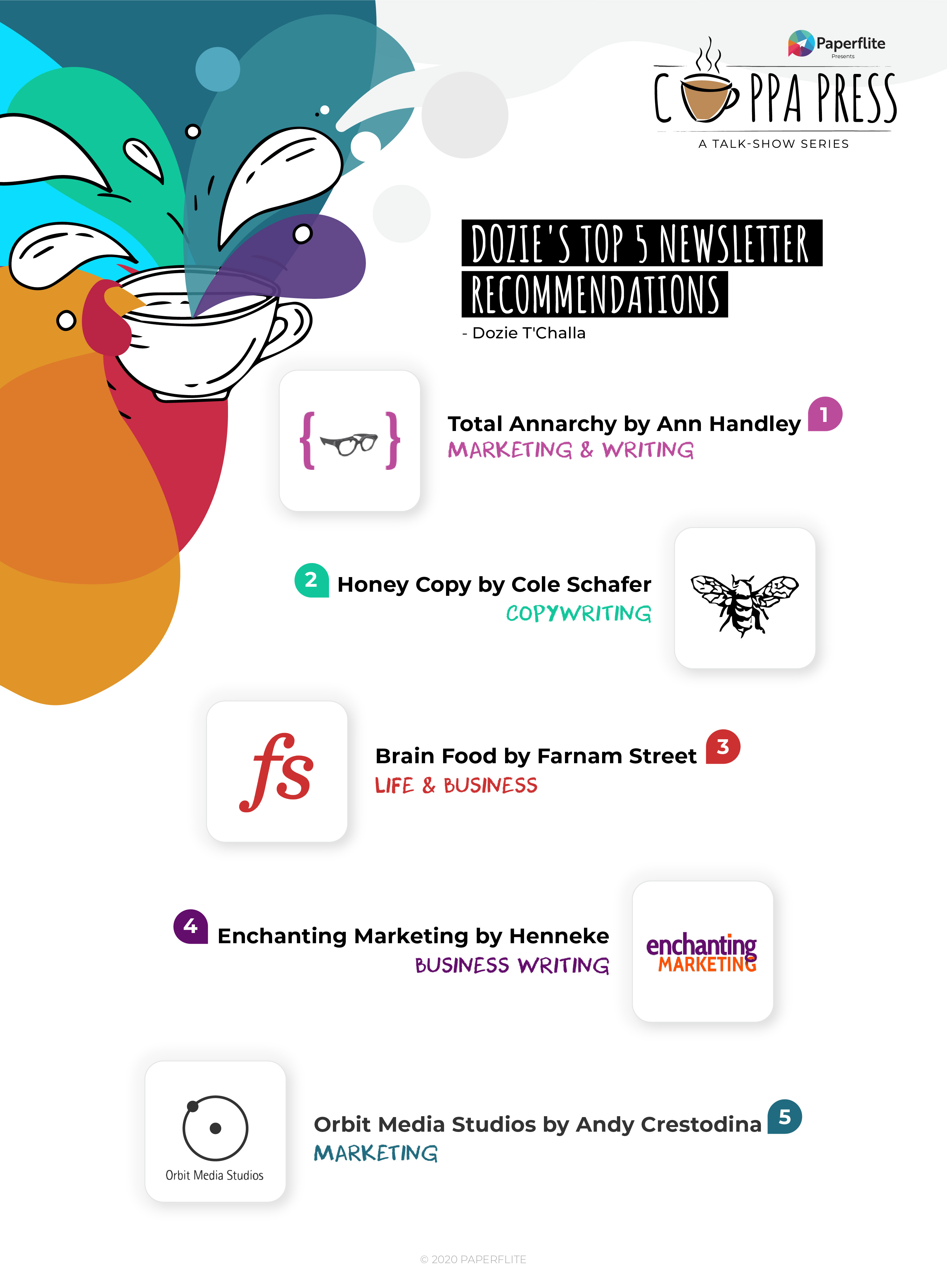 Previously on Cuppa Press