Striking Gold with Sales Enablement
If sales growth is gold, sales enablement is a combination of a treasure map and the tools to find the gold. 
November 06.2020
6 minutes
Imagine being stuck on a highway because of a flat tire and not having a car jack with you. You wait for roadside assistance as you see other cars speed by. If only you had the right tools, you wouldn't be standing here, waiting to be rescued! 
But you thought a jack could wait. 
Having the right tool at the right time, for the right situation is important - in life, in business.
So when your prospect waits for contextual advice, you can't keep them waiting because you don't have immediate access to the right content that answers their query.  
This is where sales enablement comes into the picture. 
Sales enablement improves marketing efficiency, accelerates sales, and enhances customer experience by leveraging content and technology. In other words, it helps you become resourceful, handle prospects better, and offer contextual advice, always.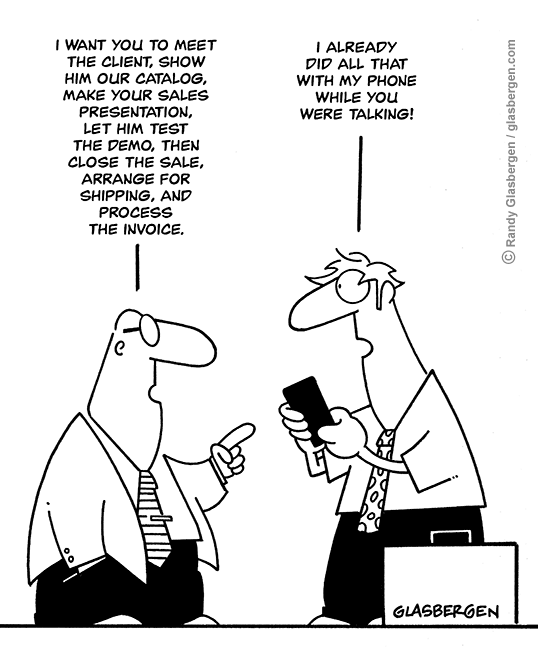 With the required content at a click's reach, your team can connect relevant pieces of content to engage, delight, and excite your audience, without having to jump hurdles or tread carefully across landmines. And all through this, you know what's working in your favor so you can take control of the further discussion. 
Think of sales enablement content as a vehicle that takes a prospect to their destination- towards a solution. And you get to help them make it through!
Sales Enablement: The Need for the Hunt
Here's an interesting fact:
The Product Marketing Alliance released the first volume of the Sales Enablement Landscape,2020 recently. 
The study found that the responsibility of creating and owning sales enablement content was spread across Marketing, Product, and Sales Enablement teams for the most part, while Customer Success held a small but significant 5% share.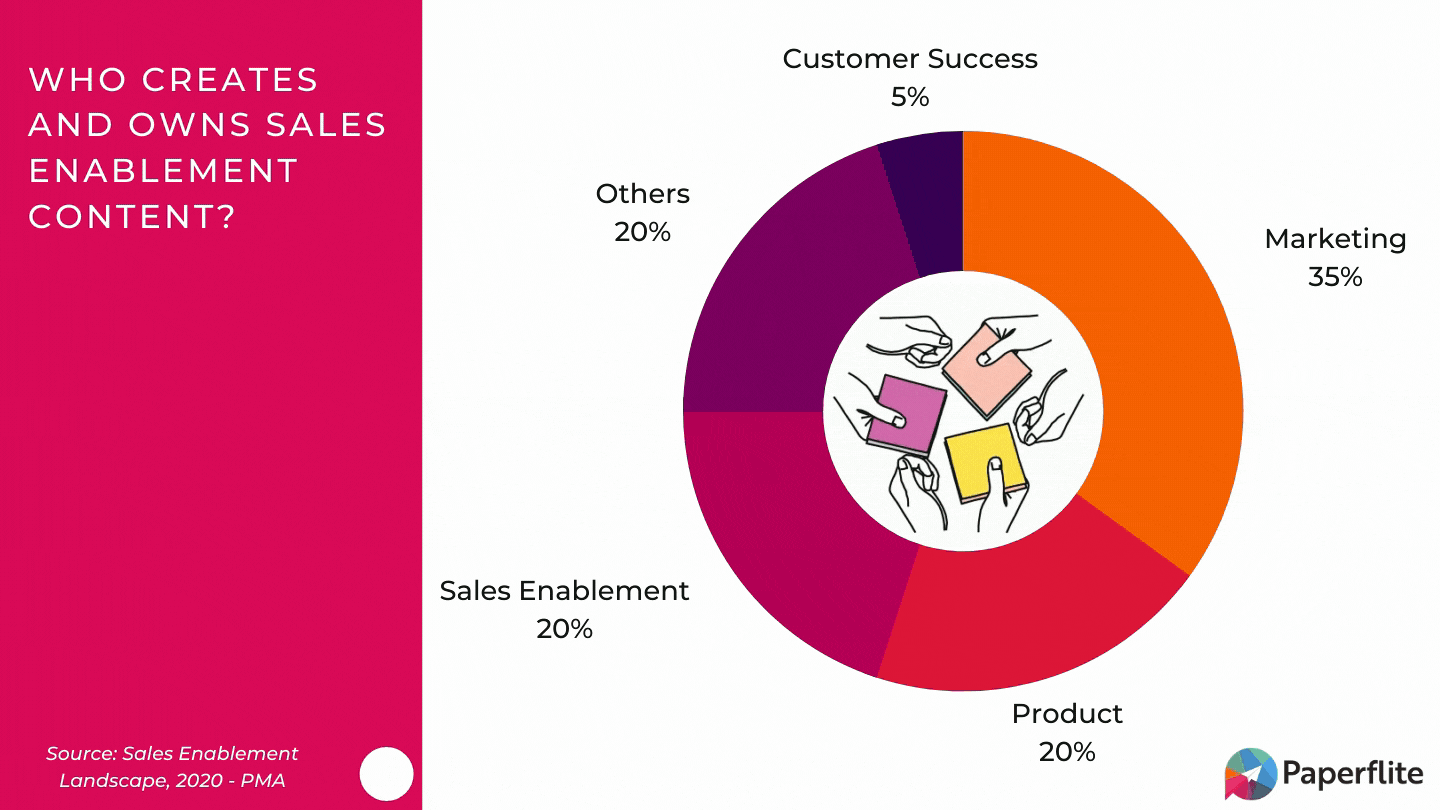 The study also found that 47.9% of the respondents do not have a dedicated sales enablement team and have no plans to put one in place. 
These numbers bring to light some staggering truth:
Try as you may, but sales enablement content (think battlecards, comparison sheets, product walkthroughs, one-pagers, etc.) cannot exist in isolation and isn't any one team's responsibility. You need to adopt a collaborative approach and have all hands on deck to put in place a sound sales enablement strategy.
 Not every organisation will see the need for, and furthermore, have the budget to have a dedicated sales enablement team.
If you think this describes your organisation and find yourself nodding along, here's the good news -  none of this should hamper the effectiveness of your sales enablement function.
You don't need a dedicated team to handle sales enablement—especially if you cannot afford to have one—if you have the right set of tools.  
And even when a single team doesn't own the whole process, these tools will serve to fulfill the needs of the entire organisation. 
Thus emerges the need for striking gold with sales enablement.
 
Striking Gold: The Hunt Begins 
If sales growth is gold, sales enablement is a combination of a treasure map and the tools to find gold. 
With a map in your hands and the tools by your side, you are equipped to dig deep at the right place and find gold (unless the pirates got to the map first and it's all now a sham).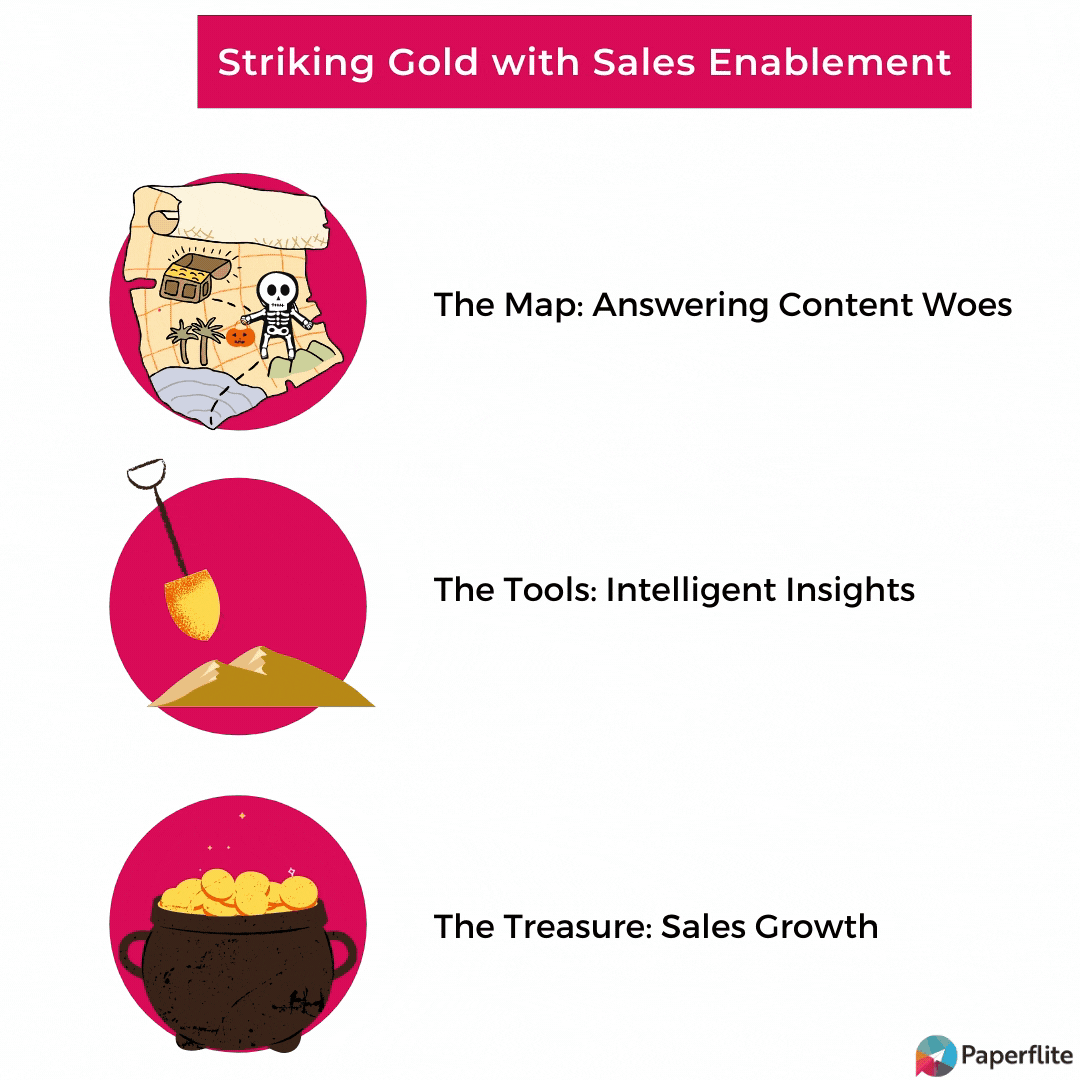 The Map: Answering Content Woes

Did you know 58% of deals in a pipeline stall because the sales team is unable to handle the customized content requirement of a prospective client in the absence of a sales enablement solution?  
The reason for this might be any or all of the below:
Inability to easily find the required content from the large content pool
Misalignment and poor coordination between sales teams and marketing teams
Absence of a collaborative platform for creation, curation, and edit of required content 
Sales teams find personalized content efforts tricky, time consuming, and dare we say - only as a nice to have
And lo behold, this is when a sales enablement software will save the day and allow you to:
Easily discover and handpick the required content from the content pool you already have
Distribute and collaborate in real time with various teams in your organization
Put together scattered pieces of a puzzle and present them as personalized pages, thereby giving your prospects a distinct content experience
All without even breaking a sweat!
To put it in perspective:
A sales enablement software is the successful triad of content discovery, distribution, and experience.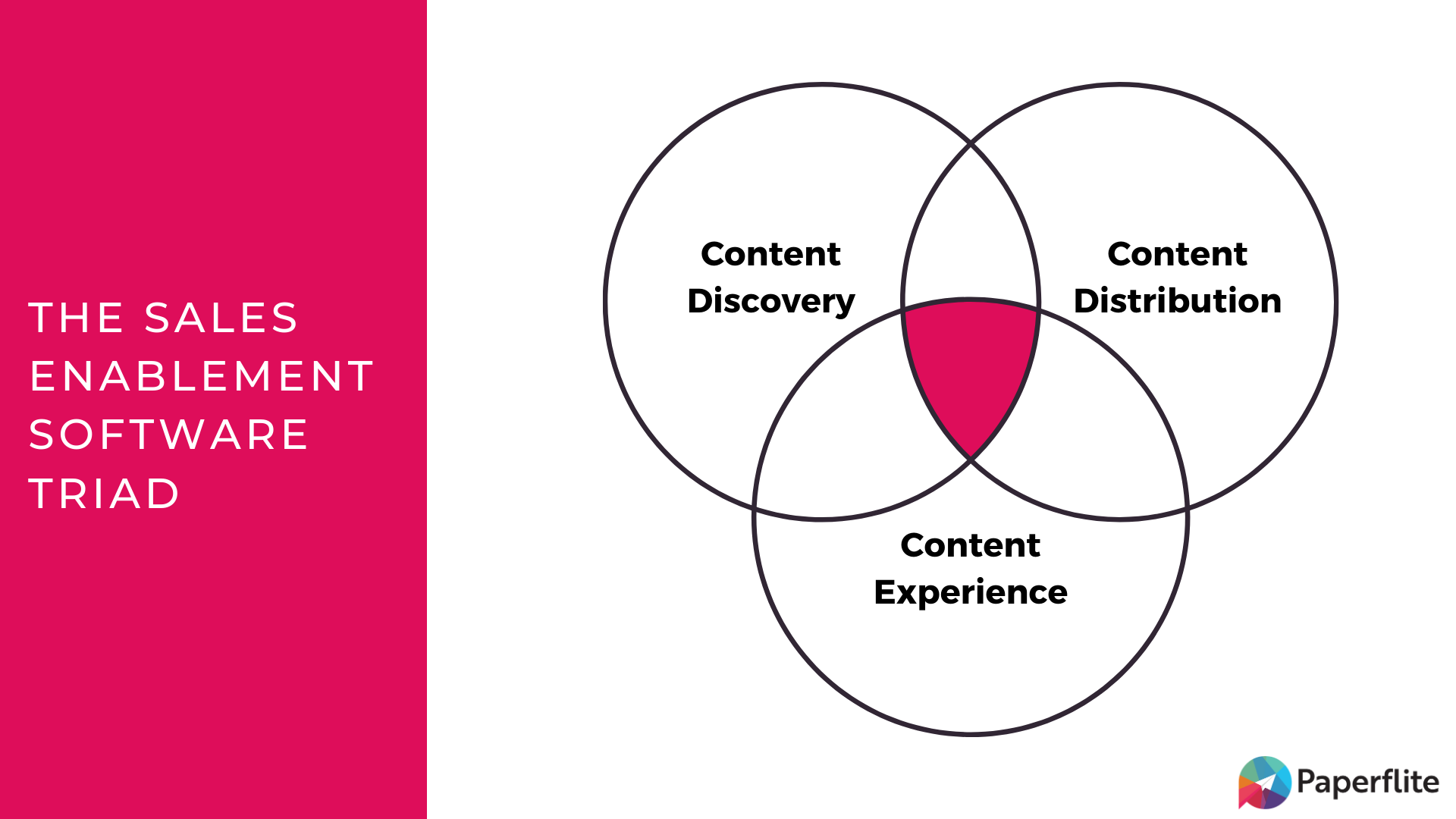 The Tools: Intelligent Insights 
Let's say you've hit the right location with a treasure map and have a shovel handy. All you need now is to understand how deep you need to dig.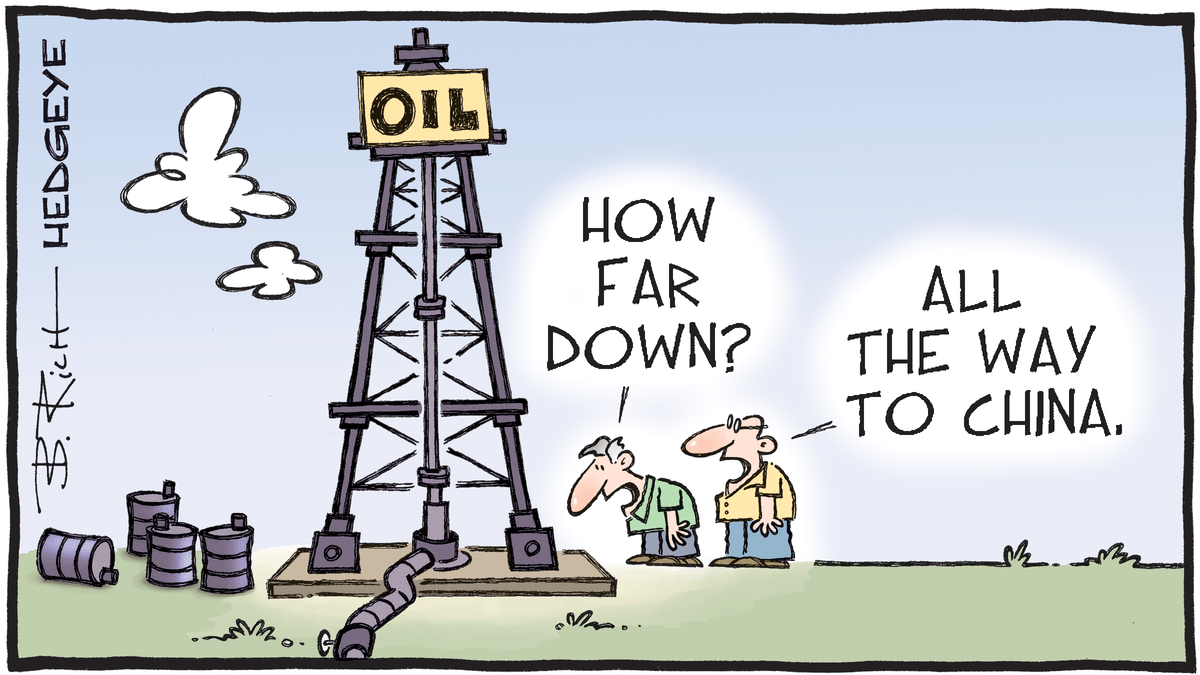 To reduce the guesswork, all you need in the intel to discover, unearth, and offer relevant content. And intel you shall receive, with the right sales enablement software. 
From knowing at which point a prospect lost interest in your content and dropped off, to seeing how they interact, reshare or download it, you can get your hands on real-time intelligent insights and analytics. And then you'll know exactly how deep you need to dig for hitting the sweet spot!
So to go back and add to our previous statement:
A sales enablement software is a successful tetrad of content discovery, distribution, experience, and intelligence.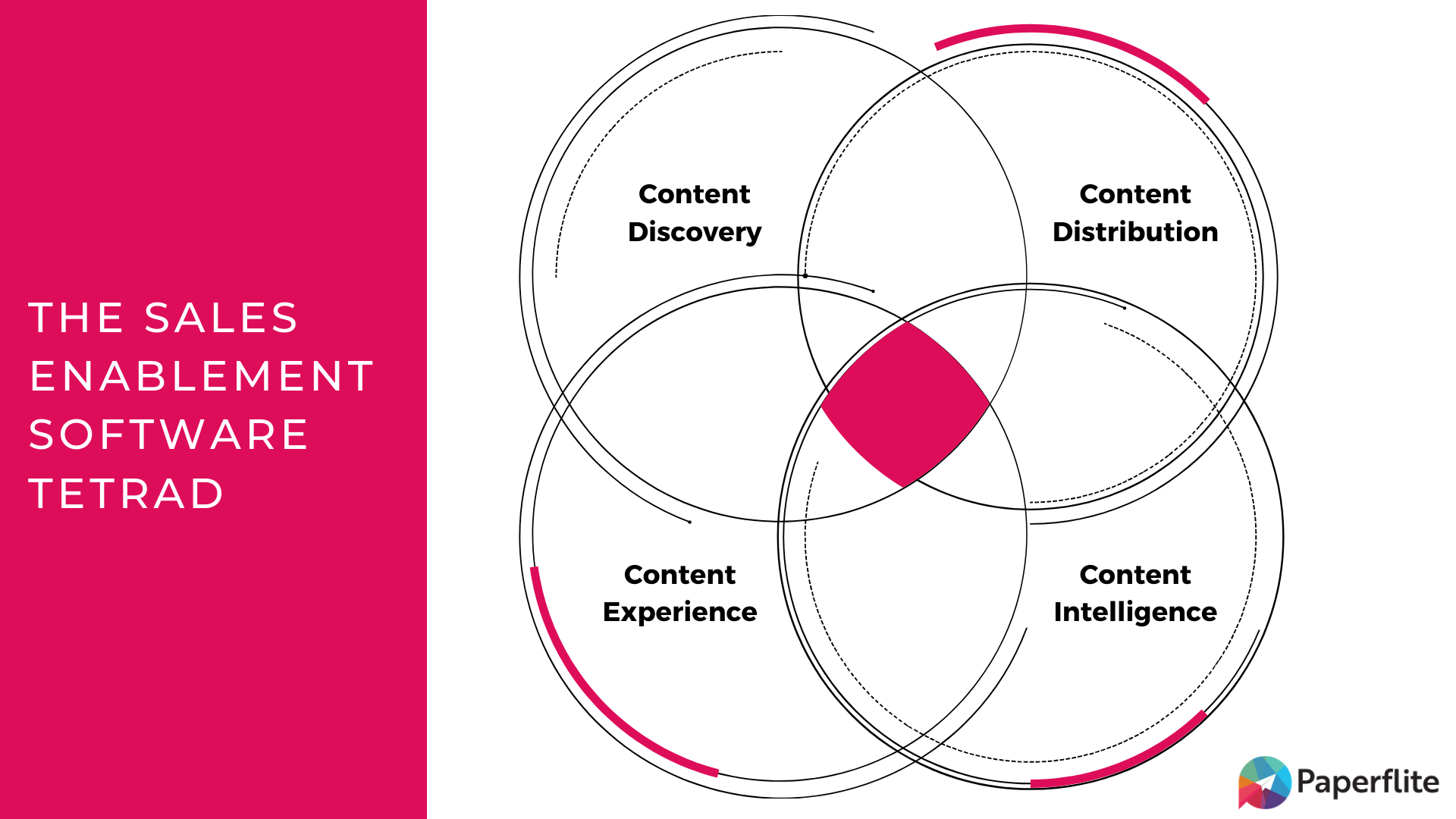 The Jackpot: Better Growth Prospects 
With a solution in place, you can do more when it comes to improving your growth strategy.  
Equip Teams for Sales Readiness

Your sales teams will get the content, tools, and information they need to understand, answer, and persuade. When they know the product better, they'll educate and coach prospects in a better way.
Improve Engagement and Retention
According to SiriusDecisions, high-performing sales teams have access to a continuous learning mechanism such as an effective sales enablement tool. 
Sales teams are more engaged on-the-job when they are better equipped to handle sales calls. When they are better prepared, they tend to perform better, leading to higher on-the-job engagement and retention.
Sales representatives, customer service teams, and channel partners benefit from a sales enablement software as it prepares them to handle client queries in a better way. They see what's working and what the client needs before they take them to the next level. The depth of engagement will give them reasons to talk and bring them closer to their goal- onboarding an informed customer. 
Unearthing the Treasure

You want to hit gold every time you get the opportunity and not just let fate decide if you will unearth the treasure. 
Sales Enablement Software: What Difference Does it Make?
Content Discovery and Curation
With a Sales Enablement Software: Simple and straightforward. Teams only compile what is required saving time, effort, and money.
Without a Sales Enablement Software:  Hard and sometimes impossible. Difficult to handle customized requirements.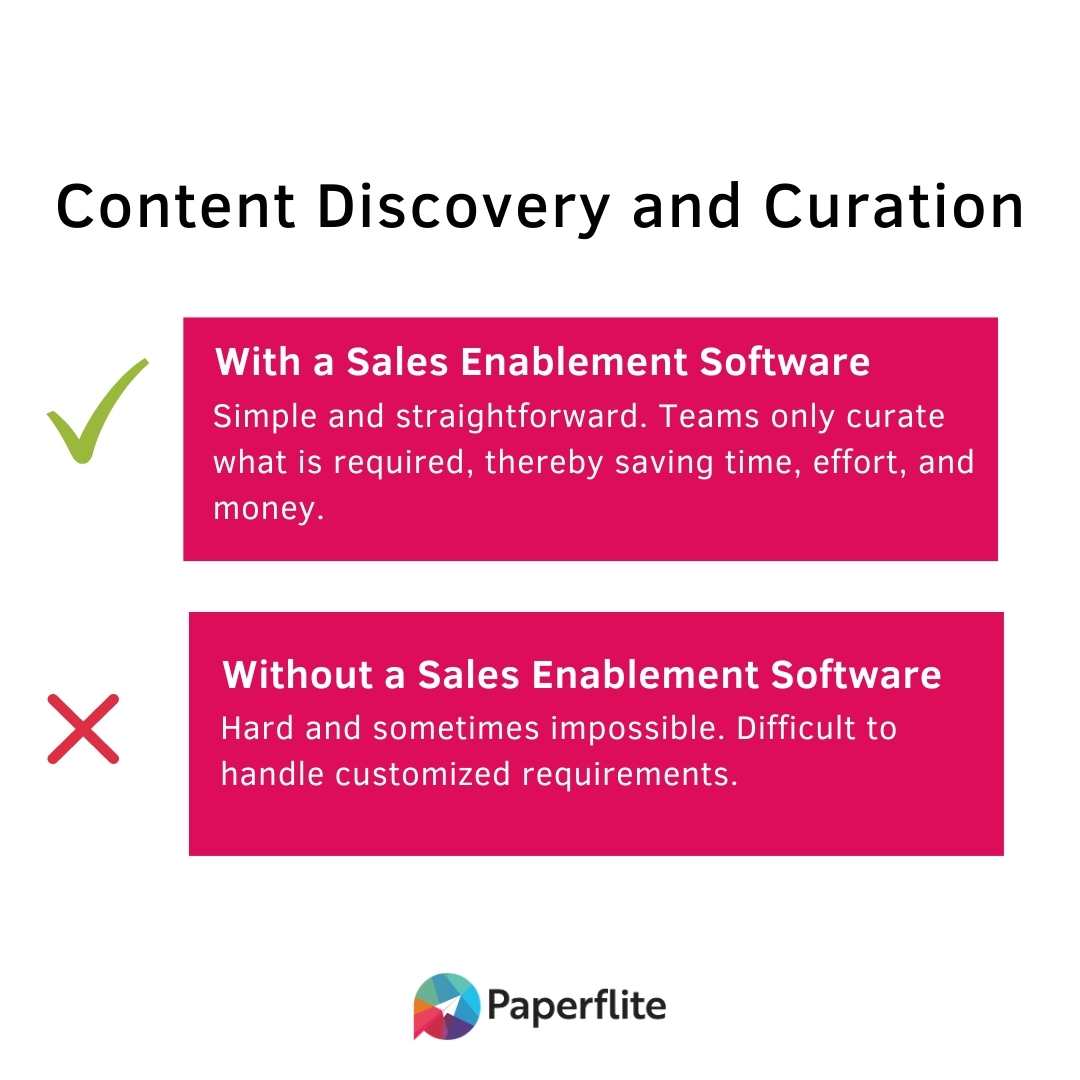 Sharing and Distribution
With a Sales Enablement Software:  Easy and automated sharing with sync to CRMs for a deeper understanding of customer's expectations.
Complex, long-form content can be shared in bite-sized information which is easy to consume.
Without a Sales Enablement Software:  Manually sharing lengthy content over email can cause discrepancies in sales and marketing communication, leading to distrust.
The effort to go through complex and boring content will push the prospect away.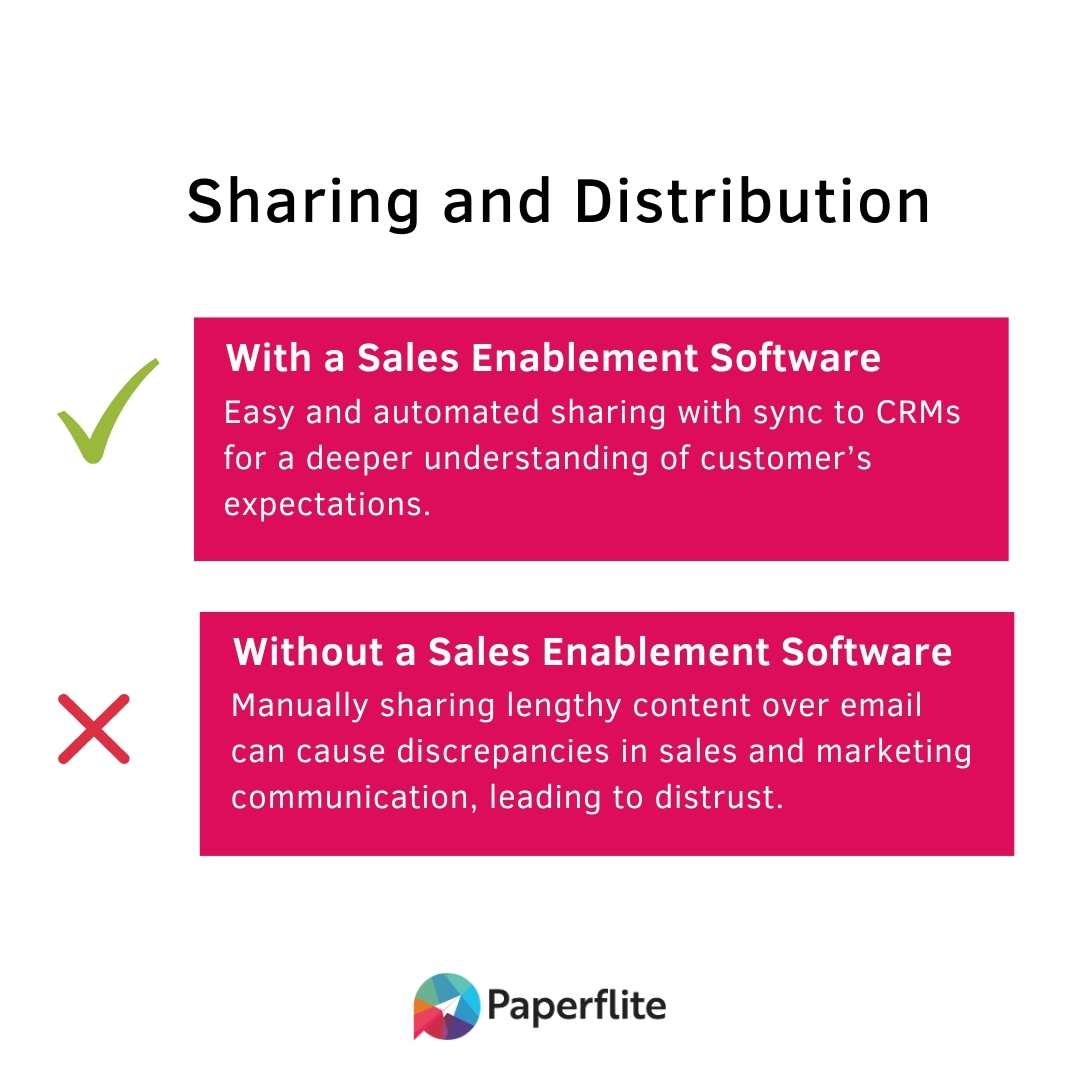 Prospect Engagement Insights
With a Sales Enablement Software: Deep insights to help a team start a conversation on the right foot.
Without a Sales Enablement Software: Insights are a rarity owing to no collateral engagement tracking process.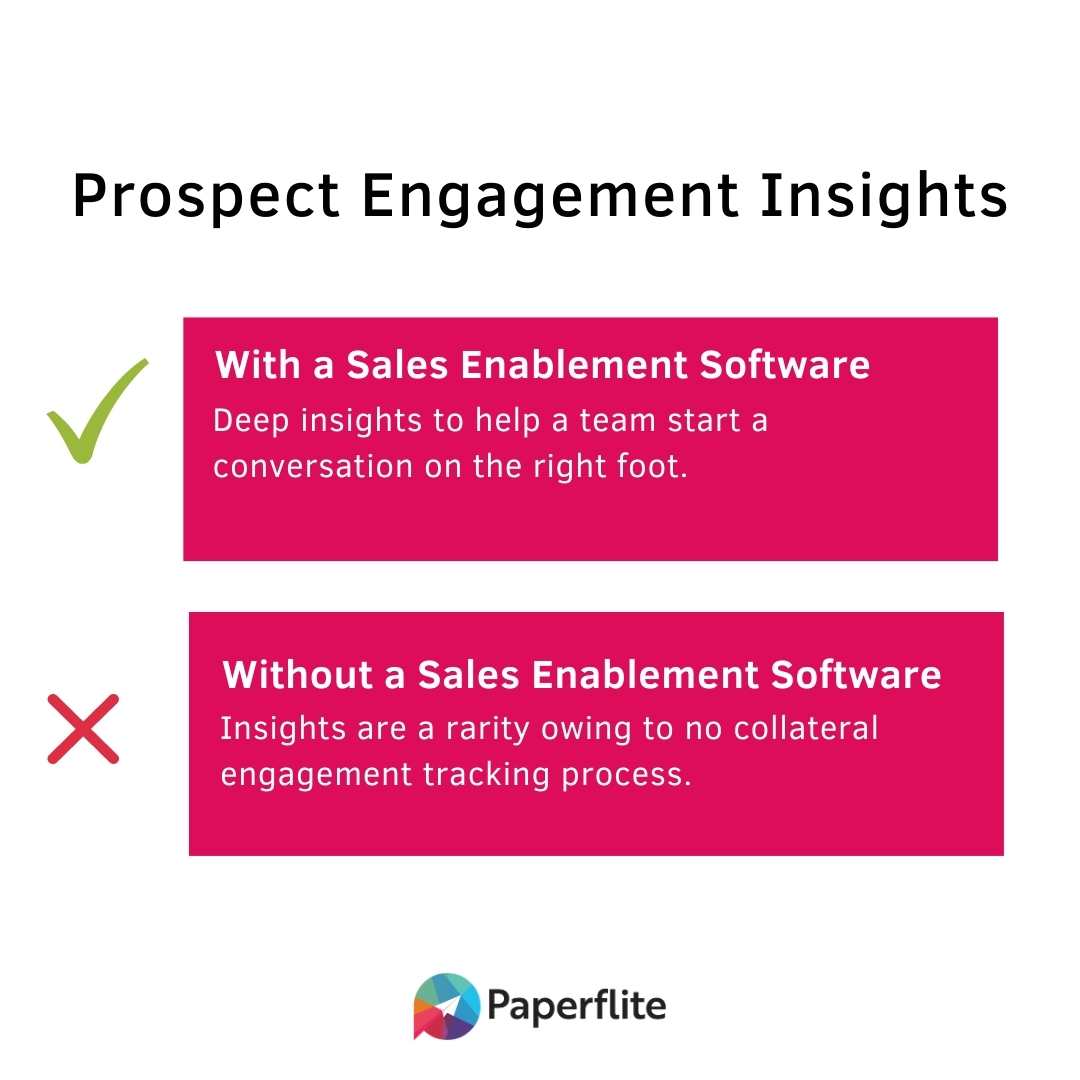 Conversions
With a Sales Enablement Software: Higher, owing to contextual query resolution right from the first call.
Without a Sales Enablement Software: Lower because teams will have to spend hours looking for the contextual content and cannot act at the right time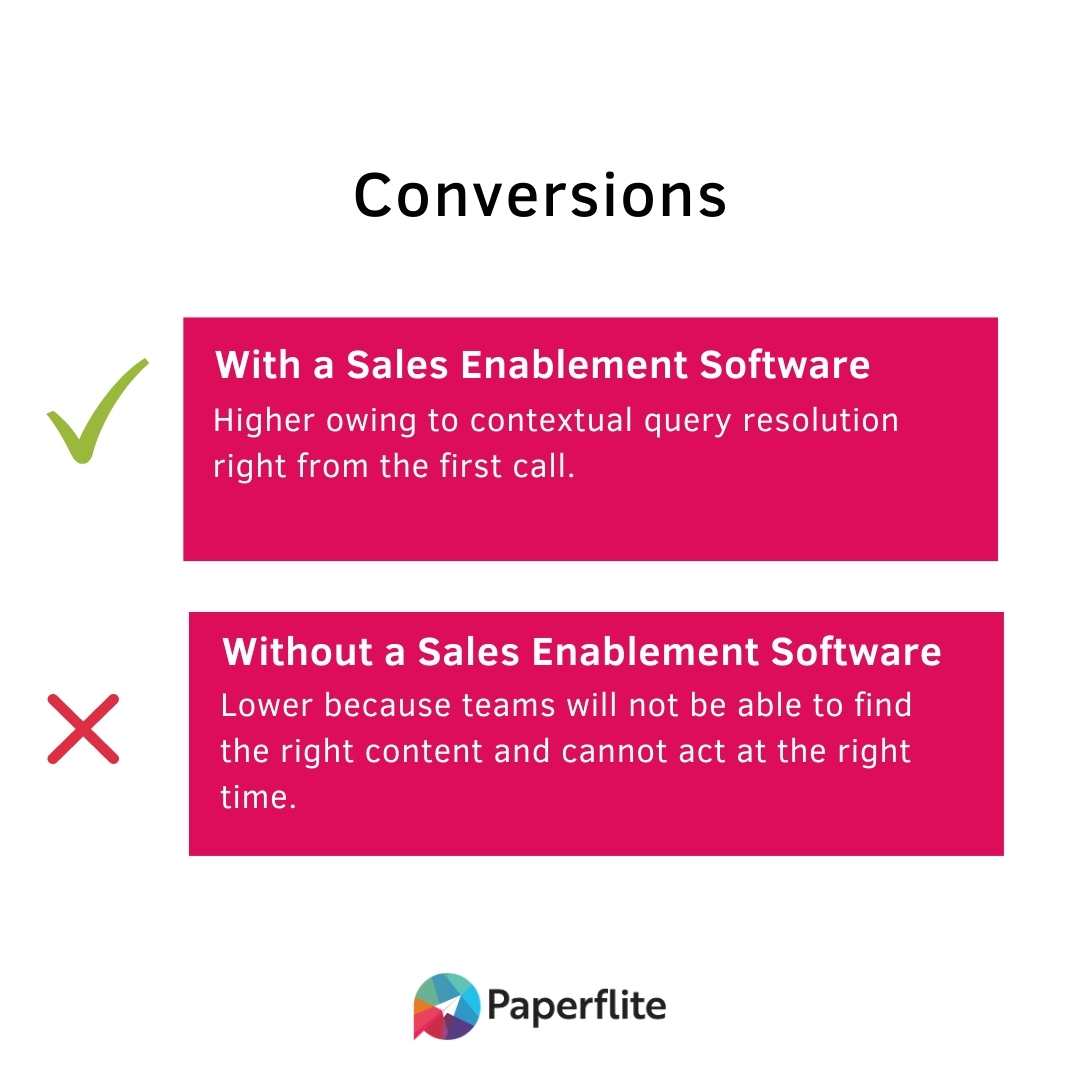 Team Focus
With a Sales Enablement Software: Directional towards the end goal
Without a Sales Enablement Software: Distracted and scattered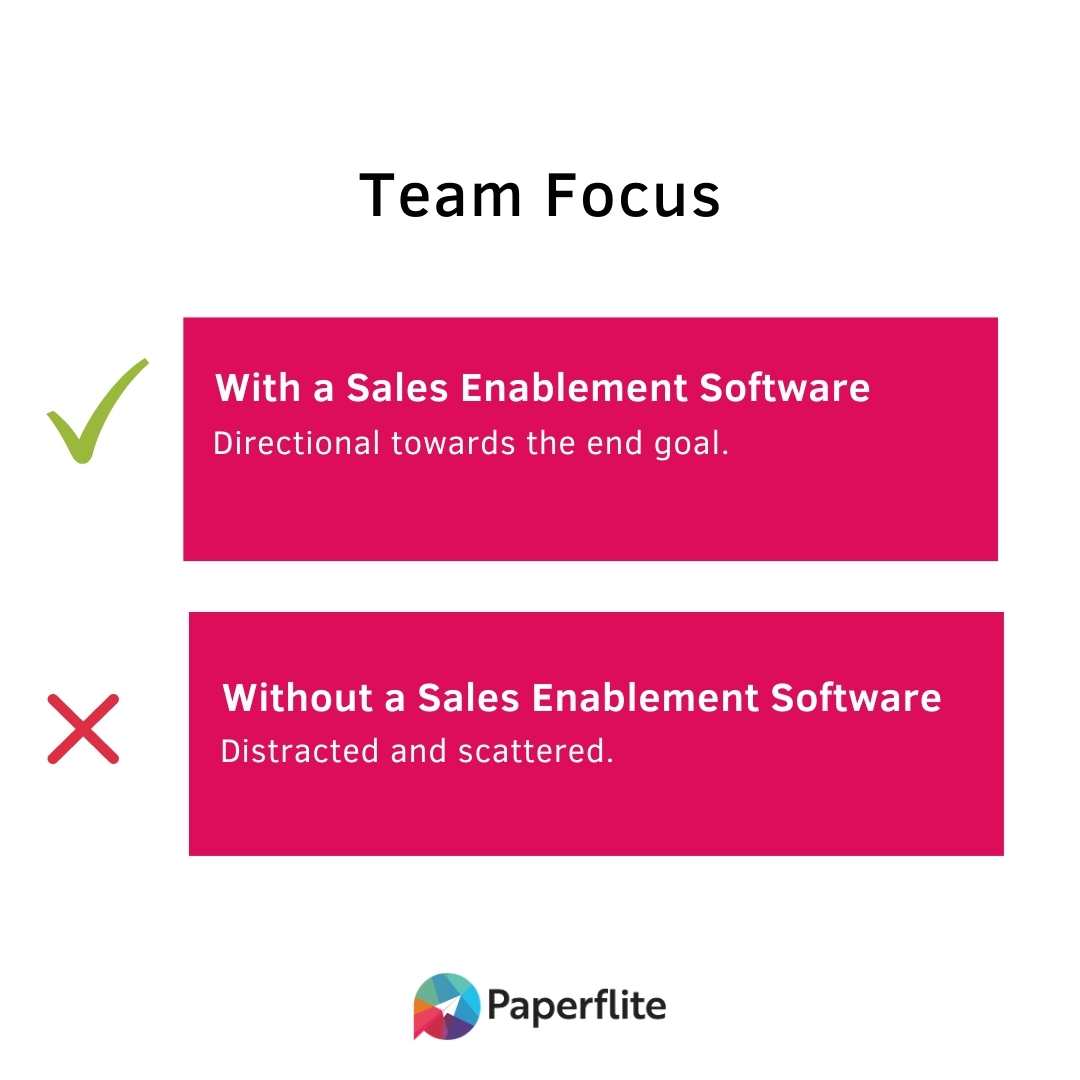 With the rise of AI and technology, delighting your prospects hasn't been this easier. To ensure you don't leave any money on the table, you need a solution to discover the right content and provide the right context at the right time, every single time. 
That's how you'll hit the ball out of the park and clinch in deals, one after the other. Oh, and did we mention the treasure?