33 Best Sales movies and Marketing movies of all time
A Curated list of 33 sales and marketing movies for you to binge-watch
We, the people at Paperflite, just like you, have always been fond of movies and TV series. We've got some serious movie buffs in the team and we are confident to beat even the best on a pop-quiz or trivial pursuit on movies and TV series.

One fine day, during our regular virtual(due to COVID-19) team building activity hour, we decided to discuss some of our favourite movies and TV shows. This is a filtered list of only the sales and marketing specific movies amongst the other hundreds of movies that we discussed.
List of 33 best sales movies, marketing movies or for that matter sales and marketing movies:
1. Promised Land (2012)
2. Catch me if you Can (2002)
3. Steve Jobs (2015)
4. Glengarry Glen Ross (1992)
5. Mad Men (TV Series) (2007 - 15)
6. Moneyball (2011)
7. The Pursuit of Happyness (2006)
8. Death of a Salesman (1985)
9. The Wolf of Wallstreet (2013)
10. Thank you for Smoking (2005)
11. Boiler Room (2000)
12. 12 Angry Men (1957)
13. Tommy Boy (1995)
14. Jerry Maguire (1996)
15. Door to Door (2002)
16. Suits (TV Series) (2011 - 19)
17. The Social Network (2010)
18. The Founder (2016)
19. Rocket Singh (2009)
20. The Greatest Movie Ever Sold (2011)
21. Miss Sloane (2016)
22. Syrup (2013)
23. The Circle (2017)
24. The Joneses (2009)
25. Elmer Gantry (1960)
26. Inside Out (2015)
27. Joy (2015)
28. Tin Men (1987)
29. The Big Kahuna (1999) 
30. The Big Short (2015) 
31. The Internship (2013) 
32. Trading Places (1983) 
33. White Gold  (2017 - 19)
1. Promised Land (2012)
Moral Dilemma of a salesman
"We have nothing left to sell and we can't afford to buy anything. You came here to help us. Offer us money."
Storyline:
A salesman for a natural gas company experiences life-changing events after arriving in a small town, where his corporation wants to tap into the available resources.
Why we like it:
Steve Butler is an excellent salesman. He has an excellent track record for quickly and cheaply persuading landowners to sign mineral rights leases that grant drilling rights over to his employer. The initial few segments are all about how to have an emotional concept. Right from the shirt to the boots he wears, he literally gets into the shoes of the buyers.
Butler is likeable, even sweet when we first meet him. But later he seems to pout on behalf of the entire natural gas industry when he runs into inconvenient questions about his story and his motives.
This story asks an important question that's seldom seen in sales movies - Would you sell something that you don't believe in?
2. Catch me if you Can (2002)
Conviction is the Key
Storyline:
A seasoned FBI agent pursues Frank Abagnale Jr. who, before his 19th birthday, successfully forged millions of dollars' worth of checks while posing as a Pan Am pilot, a doctor, and a legal prosecutor.
Why we like it:
One of the finest example of sales movies. Confidence and conviction: The protagonist of the story, Frank impersonates a pilot at the beginning of the narration without even setting foot at the airport earlier. Often, resourcefulness beats experience: Frank, with his innate ability to learn quickly and think on his feet, impersonated some of the most educated careers in America.
Dress plays a part: Dress like you already got the deed. Appearances can be deceiving, make people believe you deserve to be there.
Age is just a number: By the age of 17, Frank did things that learned professionals struggle to do even by 50.
Embrace the unknown: Frank did what he did as he had an open mind, clean slate to learn. It took lots of on-the-spot education, but if you never try, you'll never know.
3. Steve Jobs (2015)
Don't Sell Products, Sell Dreams.
Storyline:
Steve Jobs takes us behind the scenes of the digital revolution, to paint a portrait of the man at its epicentre. The story unfolds backstage at three iconic product launches, ending in 1998 with the unveiling of the iMac.
Why we like it:
Steve Jobs's aura can be made into multiple sales movies or marketing movies. His passion and ingenuity have been the driving force behind the digital age. However, his drive to revolutionize technology was sacrificial. Ultimately it affected his family life and possibly his health. In this revealing film, they explore the trials and triumphs of a modern-day genius, the late CEO of Apple inc. Steven Paul Jobs. In this biographical film, Steve Jobs' noteworthy personality is portrayed better than the earlier attempt. This sales and marketing movie dives into the logical reasoning on why he made what he made and that gives us what goes in the mind of a sales and marketing genius and how he deals with his employees, management skills, and work-life balance. There are abundant learning points on what to do and also what not to do. And, more importantly, you learn how much he impacted a company like Apple - which is the synonym for perhaps design and technology in the world of today.
4. Glengarry Glen Ross (1992)
The "ABC"s of selling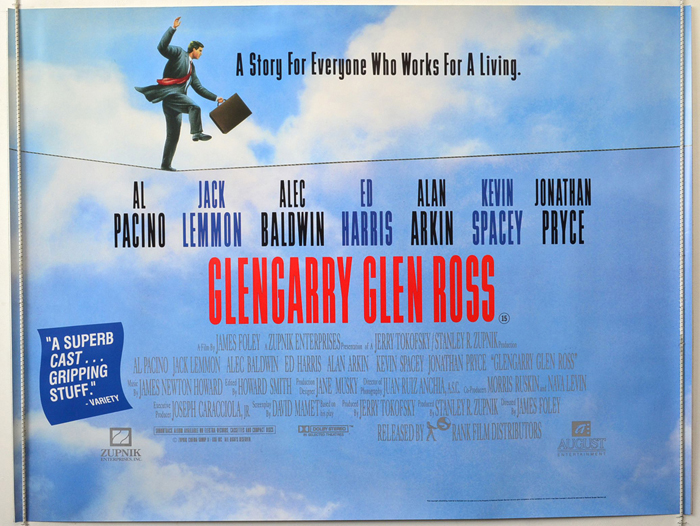 "As you all know, first prize is a Cadillac El Dorado. Anyone wanna see second prize? Second prize is a set of steak knives. Third prize is you're fired"
Storyline:
This sales movie highlights the real story behind the world of sales. This is a realistic portrayal of what it is to try making a life in high-pressure sales with all its highs and lows; promises of fortunes and deliveries of dross. Red-leads and dead-leads are to blame for life's outcomes. Living with "Objection, Rebuttal, Close"
Why we like it:
Can you recall the most unusual, vicious and profane monologue delivered by Blake in Glengarry Ross? If you are a sales enthusiast, you might have definitely watched this 1992 cult movie's most infamous scene. If not, here's a brief summary: Four Chicago real-estate salesmen face difficult times. Sales leads are weakening, and desperation is beginning to spread, so the corporate office decides to send a trainer to "motivate" their staff. Blake, Alec Baldwin's infamous motivator, delivers the persuasive speech on a famous scene known as the "pep talk scene". Letting aside the rudeness, his monologue, indeed, delivers some of the best sales lessons and strategies. 
The AIDA model is perhaps the best-known marketing model among all classical marketing models among non-marketers. The AIDA model describes the cognitive stages that a person is going through for a product or service during the purchase process. 
Always be closing. The movie reflects upon some infallible cold-calling basics. Always be closing essentially means that for every move the sales reps make, they should be considering closing a prospect. In other words, with their image and appearance, a successful salesman will often close prospects because it is often said people purchase from people they like, and they are buying the sales rep, not the product. All in all, this idea is simply meant to remind sales reps always to remember to ask for a prospect to buy, giving them the compelling call-to-action in their communication messages at each stage of the sales cycle.
5. Mad Men (TV Series) (2007 - 15)
Find what truly matters
"You can't tell people what they want, it has to be what you want"
Storyline:
A drama about one of New York's most prestigious ad agencies at the beginning of the 1960s, focusing on one of the firm's most mysterious but extremely talented ad executives, Donald Draper.
Why we like it:
There was a lot of cross-dimensional thinking going on in this show, but if you watched with the hat of a sales and marketing professional or as an entrepreneur, the significant chunks of the movie had to do with the business itself. Even during the last scene when we thought things were going to get emotional and sentimental, it all came back to business. Over a period of time, there were some really good pointers on how to be a successful entrepreneur, or, for that matter, how to be successful in any professional endeavour. Mad Men is one of the greatest television dramas about the rise and fall of an entrepreneurial venture (and the people who live for it).
6. Moneyball (2011)
Trust in Data and it never lies.
"If we try to play like the Yankees in here, we will lose to the Yankees out there" – Billy Beane.
Storyline:
Oakland A's GM Billy Beane is handicapped with the lowest salary constraint in baseball. If he ever wants to win the World Series, Billy must find a competitive advantage. Billy is about to turn baseball on its ear when he uses statistical data to analyze and place value on the players he picks for the team.
Why we like it:
Baseball is America's preferred pastime, and it is a great sport to learn about business and sales. In the movie, Brad Pitt plays Billy Beane, cash-strapped Oakland Athletics' hiring manager. He gets creative because he lacks the financial resources available for other team managers. While his peers talk about which players "look good," Beane hires a statistician to run data analytics, finding the players who actually contribute the most to team success. Moneyball teaches the most critical sales strategies which are very relevant to the ever-changing world. 
Data in sales is critical to informed decision making about the best way to grow and manage your team. It can give you insight into the areas in which reps excel, where they are struggling, and what other factors are at play. In these modern times, it is more important than ever to make use of the analytics and real-time insights that are available to us. Thanks to all the Sales Enablement tools out there! Moneyball 's entire premise is based on the use of analytics in sports which was a new concept at the time. It becomes imperative in the current times for the organizations to use more analytics to delve deep into the insights and help the sales rep understand their customers better. This is where the sales enablement software comes in handy. It helps sales reps track the content across its entire journey, giving the organization deeper insight into what works best when. Sales reps can know how their prospects engage with their content on multiple channels, so they can instantly engage with hot leads and nurture cold ones.
7. The pursuit of Happyness (2006)
How important is optimism as a trait in a  salesperson?
"You got a dream...you gotta protect it. [When] people can't do something themselves, they wanna tell you, you can't do it. If you want something, go get it." 
Storyline:
Chris Gardner has big dreams for him and his family but it doesn't seem to come together for him. Chris has an opportunity to be a stockbroker but first, he has to go through a gruelling internship which means no pay. Chris decides to do it but when his wife leaves and he is evicted, he has to take care of his son on his own. So they find themselves sometimes living on the street and struggling to get by. But Chris is determined to make it.
Why we like it:
Happiness in the work-life of a sales rep seems too far-fetched, more often than not, given the cut-throat competition in the life of a  salesperson in achieving the quota targets. Albeit, this movie teaches some of the best sales lessons to the sales reps out there in a highly competitive world – Unrelenting optimism.
The Pursuit of Happiness describes the tale of Christopher Gardner, the character (played by Will Smith). Gardner is a homeless salesperson, selling bone density scanners to medical institutions. Unfortunately, second-rate conversion rates. In selling the functional product, Gardner is tasked to sell a completely functional product that does not offer any meaningful advantages over the status quo. 
It is imperative for each sales rep out there to remain very optimistic and determined in his/her attitude. Gardner, in the movie, realizes that he can't get the number of sales calls he makes, no matter how hard he works. Quite frequently we encounter salespeople who are angry or depressed or disappointed and as consumers, it turns us off immediately; but here is a man who, even after countless hours of disappointing efforts, always retains the optimistic, enthusiastic outlook that eventually lands him the sales order. 
Some of the best sales reps use their unwavering optimism as a force multiplier in their sales pitches which eventually improves their conversion rates.
8. Death of a Salesman (1985)
Existential purpose of a salesman
"I've got to get some seeds, I've got to get some seeds, right away, Nothing's planted. I don't have a thing on the ground."
Storyline:
Salesman Willy Loman is in a crisis. He's about to lose his job, he can't pay his bills, and his sons Biff and Happy don't respect him and can't seem to live up to their potential. He wonders what went wrong and how he can make things up to his family.
Why we like it:
Death of a Salesman, starring Dustin Hoffman is a dark depiction of the end of the life of Willy Loman. He was once a stellar salesperson but fails to accept the changes transpiring within himself and the society around him. However, if we reflect positively on the movie, we could fathom some of the hidden lessons in the storyline of the movie which perhaps, teaches the most critical lesson of a sales rep.
In a scene, Willy says, "I've got to get some seeds, I've got to get some seeds, right away, Nothing's planted. I don't have a thing on the ground." Though Willy spoke of actual seeds he wanted to plant in his yard, this line in the movie acts as a metaphor for the selling career. In the career of a sales rep, it is quintessential to be at the top of the game in creating more and more prospects in the pipeline. Prospecting helps your clients move a stage ahead in the sales funnel. All in all, to be successful in sales, we need to always keep planting new seeds.
9. The Wolf of Wallstreet (2013)
Unhinged growth has consequences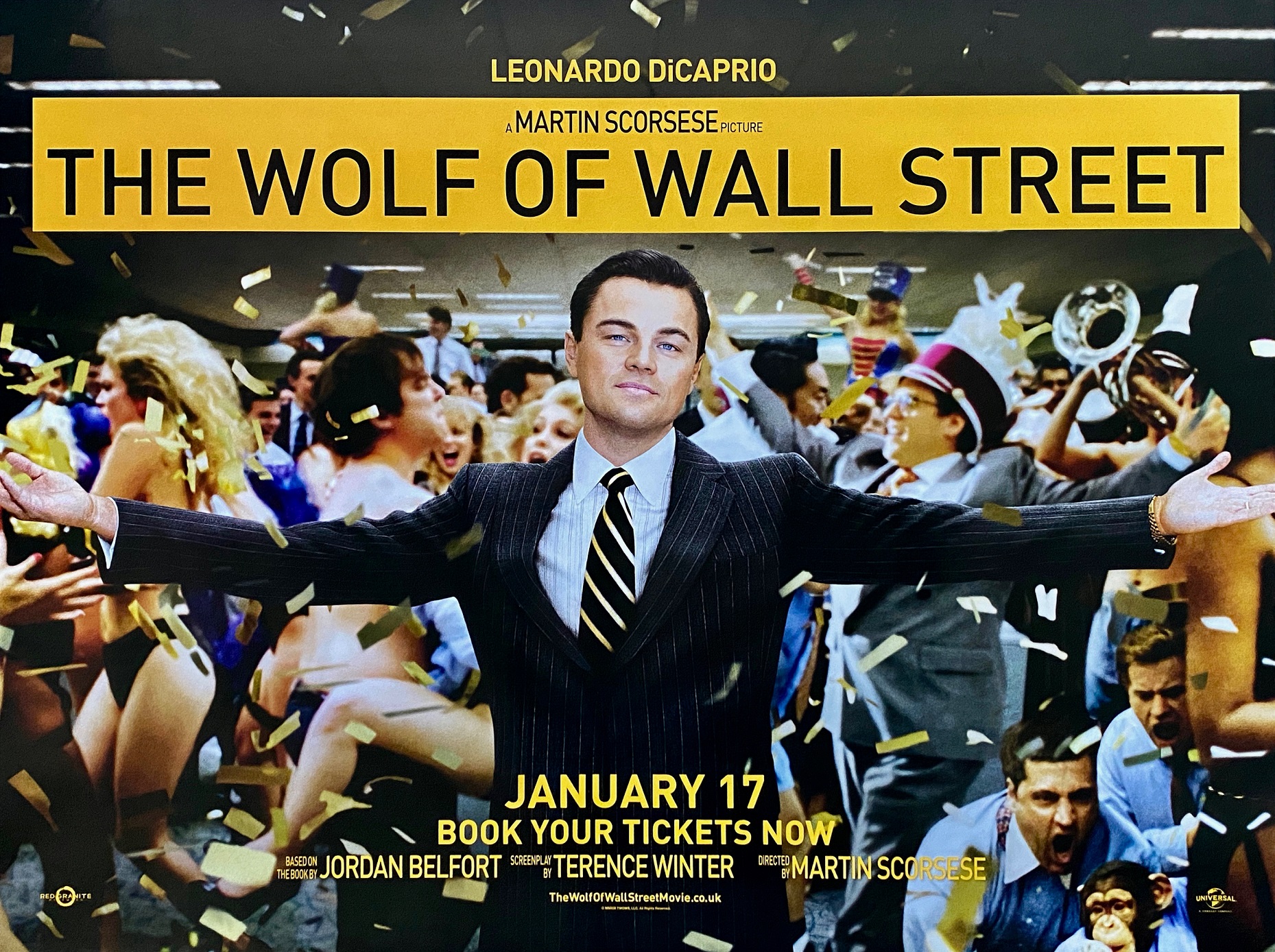 Without action, the best intentions in the world are nothing more than that: intentions."
Storyline:
Jordan Belfort is a Long Island penny stockbroker who served 22 months in prison for defrauding investors in a massive 1990s securities scam that involved widespread corruption on Wall Street and in the corporate banking world, including shoe designer Steve Madden.
Why we like it:
The popular film The Wolf of Wall Street, directed by Martin Scorsese and starring Leonardo DiCaprio, is a bio-picture of Jordan Belfort, the "Wolf" himself. The top takeaway for all the salespersons from one of the best sales movies, The Wolf of Wall Street, is reflected in the quote from the real wolf of Wall Street, Jordan Belfort: "If you give people a good enough 'why', they will always figure out the 'how'".
Invoke Urgency and give your prospects a call-to-action: Any marketing communication needs to follow the model of AIDA – Attention, Interest, Desire, and Action. Be it a print ad, an email newsletter, or an ad campaign. Mapping a product to the particular need of a prospect and making them feel like they want to purchase it is the best way to close a deal because the prospect wants to buy it; they 're satisfied with their investment because they know it's their own decision. Sales reps should not just go on with bombarding the follow-up emails before establishing what stage of a buying process is the prospect in. Belfort educated his team on this idea by asking them to "sell me this pen". Although several struggled through their pitch, one said "why don't you write down your name on a piece of paper for me", to which Belfort responded, "I don't have a pen". The salesperson established need and urgency at this moment and proved the point made by Belfort.
10. Thank you for Smoking (2005)
Creating Value in the key sales strategy.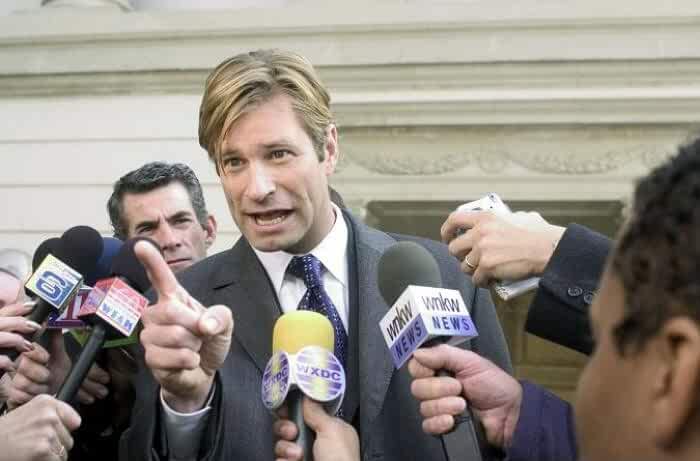 "That's the beauty of argument, if you argue correctly, you are never wrong."
Storyline:
This sales movie is a satirical comedy follows the machinations of big tobacco's chief spokesman, Nick Naylor, who spins on behalf of cigarettes while trying to remain a role model for his twelve-year-old son.
Why we like it:
Let us reflect on a sales movie that could be a quintessential movie for a negotiation class amongst the list of sales movies. Having said that, it is equally important to understand that negotiation is an integral part of sales. Hence, this movie "Thank You for Smoking" can give some of the best takeaways for the sales reps. To give a brief about the movie, it is a 2006 satirical comedy about Nick Naylor (Aaron Eckhart), a tobacco industry spokesman who is willing to trick anyone or anything to keep the tobacco industry profitable. Yet it is not too easy for him, considering the fact that there are people on the other side of the smoking debate with whom he will aggressively contest. Nick also has to be a role model for his son (Cameron Bright). So, what sales strategy does this movie elicit?
Reps need to think in any negotiation about providing real value to consumers or customers by addressing pressing business problems. Some of the best sales reps concentrate on four ways of demonstrating the value they bring to customers: business, financial, user, and solution value. For any negotiation to take place, the stakeholders need to convey the value for both sides. The brief negotiation for cigarettes that took place between Nick and the film executive created value for both sides. They worked on how cigarettes would be incorporated into the project, and how much the Big Tobacco company of Nick would pay for the product placement. It was a clever way to get more of what both parties wanted: cigarette exposure and money to make the film.
11. Boiler Room (2000)
There is no such thing as a no sale call.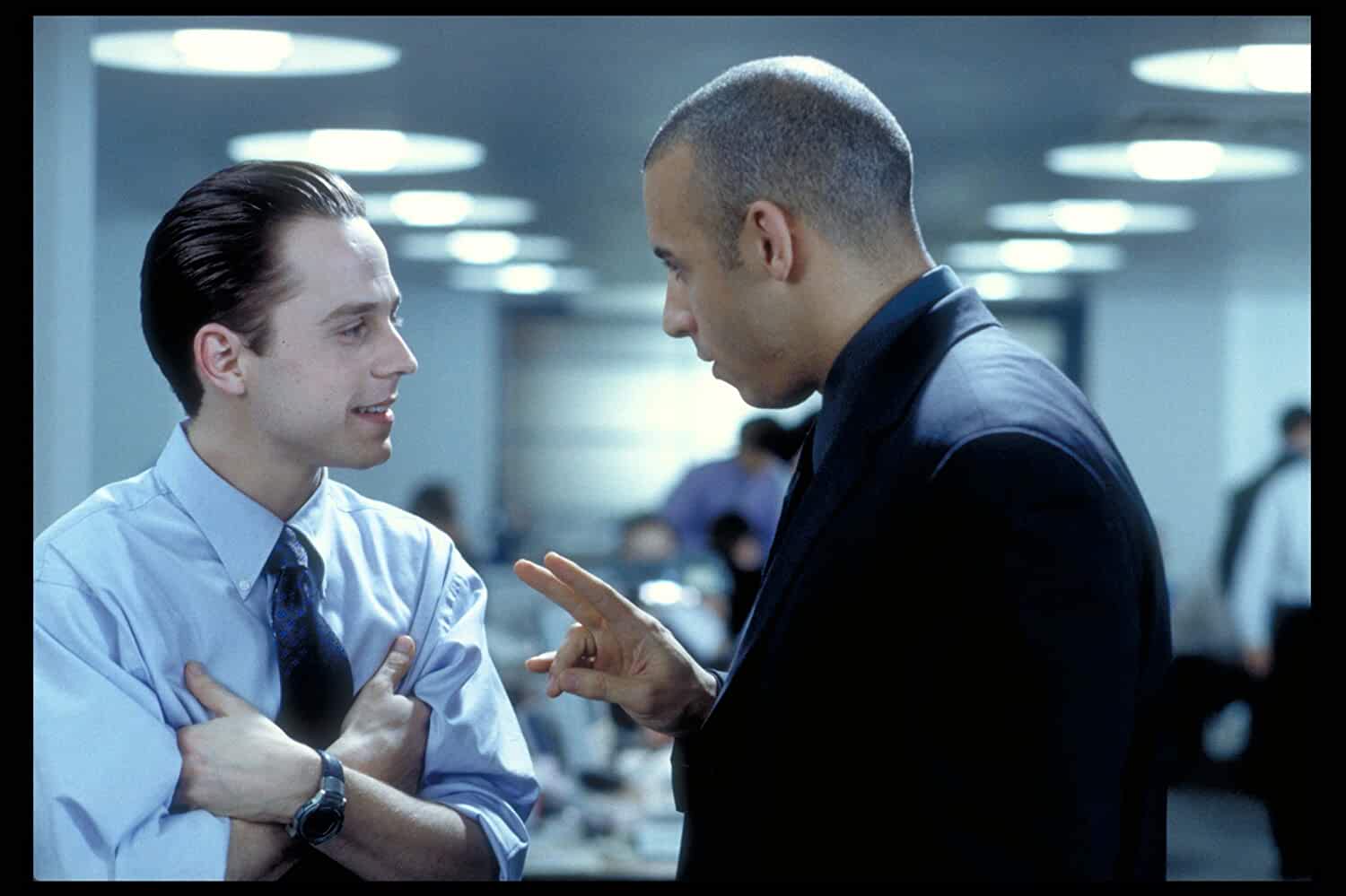 "A sale is made on every call you make. Either you sell the client some stock or he sells you a reason he can't. Either way a sale is made."
Storyline:
A college dropout, attempting to live up to his father's high standards, gets a job as a broker for a suburban investment firm which puts him on the fast track to success. But the job might not be as legitimate as it first appeared to be.
Why we like it:
Inspired by the same source material as The Wolf of Wall Street, Boiler Room tells the story of Seth Davis (Giovanni Ribisi), a 19-year-old college dropout who goes from operating a casino out of his apartment to trading stocks at a corrupt brokerage house. This film does an excellent job to illustrate the importance of selling with integrity. The movie provides the sales reps with the ramifications of falling into the trap of unethical sales. This movie gives a very important lesson to the sales reps which is very relevant in today's world when sales is more often than not associated with unscrupulous practices – Ethical Sales. This movie gives a powerful reminder to even the most effective sales reps out there to be at the top of their game of ethical sales. 
Increase the Customer Perceived Value by invoking urgency and scarcity. Another important lesson that Boiler Room gives to motivate the sales reps is the practice of using scarcity to increase the CPV (Customer Perceived Value). In the Boiler Room's "closing" scene, the buyer's interest skyrockets as soon as he realizes that the commodity (in this case, an investment) will become unavailable soon. Sales reps need to create a sense of urgency and scarcity to move their prospects ahead in the buying process.
12. 12 Angry Men (1957)
In Empathy, lies the life
"It's very hard to keep personal prejudice out of a thing like this. And no matter where you run into it, prejudice obscures the truth."
Storyline:
When a young Puerto Rican boy is on trial for the alleged murder of his father, 11 of the 12 jurors are quick to vote that he is guilty in an ostensibly straightforward case. The remaining juror, Juror #8, seems sceptical about the evidence at hand and demands a thorough deliberation of the facts from each juror before sentencing the boy to death, to prove the defendant's guilt beyond a reasonable doubt.
Why we like it:
The film 12 Angry Men, which won an Oscar and stars Henry Fonda, is about a jury that has to decide a guilty or innocent defendant on the basis of reasonable doubt. It's a great noir thriller that focuses on the power of persuasion, authority, and building consensus in a negotiation. This movie, perhaps, teaches us the best lessons on interpersonal skills which are of paramount importance for the sales reps. 
From the very beginning, Henry Fonda's character tries to put himself into the boy's shoes. He tries to empathize with the boy and understand what it must have been like to live in a slum and grow up in a menacing environment. He tries to see things from the boy 's perspective instead of rushing to judgment, potentially a prejudiced one. Hence, this is a great example of showing empathy for others. The sales reps are in the same plot when they are in a sales meeting with a prospect. It is important for a sales rep to try to understand the needs of the client and tailor his solution according to the needs of the customer. This comes in handy in a B2B sales environment, when it becomes imperative for a  salesperson to indulge in consultative selling for closing the deal. Sales reps need to seek and discover the explanation behind why people do what they do. Walking into the shoes of others will encourage you to feel how a decision is likely to affect the prospects, and how it can have long-term effects on your relationship with the clients.
13. Tommy Boy (1995)
Embracing Sales Training has its variations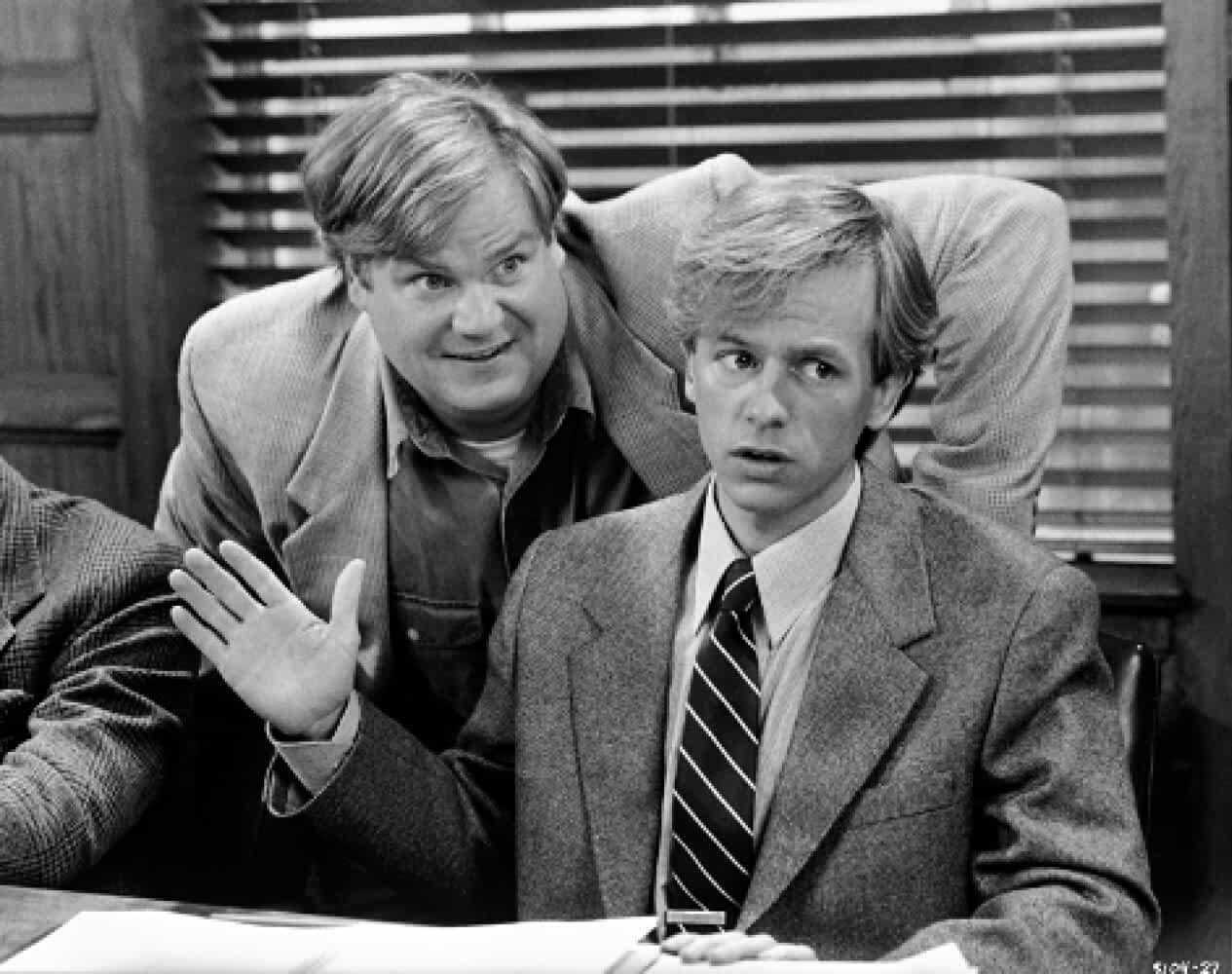 Storyline:
When Big Tom Callahan dies, his auto parts factory passes to his family, many of whom want to sell it to a corporation that plans to close it down. Now it is up to Tommy Callahan Jr. to generate enough brake pad sales to save the factory and its employees from losing their jobs.
Why we like it:
Ready to feel old? Chris Farley classic, Tommy Boy released back in 1995, is a comedy classic that can indeed provide a sales executive or any agent, for that matter, a starting point to sharpen some very important selling practices. The movie tells the story of Tommy Callahan who takes over the family company, Callahan Auto Parts, following the sudden demise of his father. He is accompanied by Richard (David Spade) reluctantly and they both go ahead with their venture of selling the new line of brake pads. This sales movie gives a very important lesson in Sales Training for all the new salespersons looking to start their careers in this field.
The first few sales calls that Tommy and Richard are going on in Tommy Boy are unpleasant, to say the least. Tommy takes it to heart after some coaching suggestions and a little pep talk and begins applying Richard's sales lessons on the next sales calls. And not surprisingly, Tommy successfully closed his first order. And, from there, there was no looking back. Sales reps should embrace all the resources available, which will make them a better salesperson and help them meet their KPIs (Key Performance Indicators).
14. Jerry Maguire (1996)
Focus on the customer and not on the product
Storyline:
When a sports agent has a moral epiphany and is fired for expressing it, he decides to put his new philosophy to the test as an independent agent with the only athlete who stays with him and his former colleague.
Why we like it:
Jerry Maguire(Tom Cruise) is a story of a successful sports agent working for the Sports Management International (SMI) who is willing to do anything to get the biggest contracts for his customers. The movie reflects on the critical principle of social selling - Authenticity
In modern times, sales reps need to demonstrate their core motive in helping the customer by focusing more on them than on the product or quota. As a sales rep, you should build a connection with the client by deep-diving into the prospect's strategic goals and initiatives. Thrive to help them in achieving their strategic goals and objectives. Build a strong relationship by exuding your credibility and sincerity in efforts that will help you in winning the trust of your clients. In this way, your clients will be more receptive to your sales efforts and will eventually, perhaps, lead to a purchase.
15. Door to Door (2002)
Persistence is the key strategy in sales!
"The world has no hold on you. Whatever has a hold on you comes from your mind. – Bill Porter"
Storyline:
Bill Porter, a man afflicted with cerebral palsy, is desperate to find a job despite his condition. He uses his sense of humour, determination, and winning spirit to convince a manager to hire him as a door-to-door salesman for Watkins, a supplier of household items and baking products. Porter walked several miles every day on his sales route, eventually working his way into the hearts of his customers.
Why we like it:
Door to Door is a 2002 television film about Bill Porter, played by William H. Macy, an inspiring and successful door-to-door salesman with cerebral palsy. Born with cerebral palsy, several have told Bill he was unemployable. Bill Porter supported himself for decades selling door-to-door household goods for the Watkins Company, with the constant help of a devoted mother and the indomitable spirit that became his hallmark. 
"Door to Door" tells Bill's life story but it also makes the sales reps filled with motivation when they witness how hard work and determination can help them become successful and make a fortune out of a sales career. A secret to sales success is to back your target with perseverance and uncompromising willpower. Decide to pour all your heart and soul into your success and achieve your dream of a sales & marketing career. Persistence is as important as the product knowledge to excel in the career of sales.
16. Suits (TV Series) (2011 - 19)
Believe in your product to sell your product
Storyline:
On the run from a drug deal gone bad, brilliant college dropout Mike Ross, finds himself working with Harvey Specter, one of New York City's best lawyers.
Why we like it:
We often savour binge-watching our favourite TV shows, but eventually, we find ourselves filled with guilt because of doing nothing productive over the weekend. But, have you wondered if there is even a thin possibility that there are TV shows that teach you some of the best sales skills that can perhaps help you in becoming the best salesperson, or an astute businessman for that matter? One such TV show is Suits. It is set at a fictional law firm in New York City and follows talented college dropout Mike Ross (Patrick J. Adams), who starts to work as an associate lawyer for Harvey Specter (Gabriel Macht) despite never attending law school. The series focuses on closing cases for Harvey and Mike while keeping Mike's secret. This renowned TV show teaches us some important sales lessons.
Authority and Credibility: To become the best salesperson, you need to talk to your customers in such a way that it exudes your authority and credibility. Prove that you have industry experience in executing and closing some of the biggest sales. Prove that you 're a solid person. No matter who the client is, they do like to deal with people they trust.
17. The Social Network (2010)
Awareness first, Revenue second
Storyline:
As Harvard student Mark Zuckerberg creates the social networking site that would become known as Facebook, he is sued by the twins who claimed he stole their idea and by the co-founder who was later squeezed out of the business.
Why we like it:
The film portrays Zuckerberg as a brilliant but socially awkward and jealous individual seeking to create an online version of the college social experience. All these things set apart, it provides some very critical lessons for a sales rep
Every sales rep should first focus on the top of the sales funnel and should not try to leapfrog to the conversion stage; it will only make you come across as a desperate sales rep, at best, and will make you lose the prospect, at worst. In the film, Zuckerberg opposed the policy of his partner of introducing ads to boost revenue. Instead, Zuckerberg focused on creating a great product, which would garner more attention and would be loved by users.
18. The Founder (2016)
Setting the agreements right is important
Storyline:
The story of Ray Kroc, a salesman who turned two brothers' innovative fast food eatery, McDonald's, into the biggest restaurant business in the world, with a combination of ambition, persistence, and ruthlessness.
Why we like it:
The Founder is the story of Ray Kroc and the McDonald brothers who in their burger company had come up with a swift system. Kroc entered into an arrangement and franchised the company, ultimately bringing the McDonald brothers into business with 'McDonald's.' The rest of most of the larger cities you visit is very self-evident. This movie is important for the sales reps as it provides a caveat of setting the agreements right whenever sales reps sit across the table for negotiation. A sales order should be a win-win scenario for both the indulging parties. It is important to on-board a client for a sales rep but it is more important for a sales rep to close the deal in a profitable way. They should not give in extra margins and commitments just out of the desperation of getting more orders. The Founder teaches one of the best sales lessons of not indulging into any agreement that is not sustainable for you or your company.
19. Rocket Singh (2009)
Hope is a good thing.
Storyline:
Harpreet Singh Bedi (Ranbir Kapoor) has just graduated and decides to five into the world of sales for an adventurous career. But soon his idea of success begins to clash. It's the story of a fresh graduate trying to find a balance between the maddening demands of the 'professional' way and the way of his heart - and stumbling upon a crazy way which turned his world upside down and his career right side up.
Why we like it:
Harpreet Singh's journey from being an ordinary B.Com student to Rocket Sales Company member teaches us many sales lessons.
The movie inspires each sales rep who might be losing their motivation, owing to unmet quota. It teaches the sales reps to be a self-starter in their career. Some of the best sales reps attribute their success to this trait. 
Harpreet, in the movie, never lost his hope, even in the most desperate circumstances. Rather than mulling through the issues, he worked on solutions. He always made his way from clutter to clarity, motivated his partners, and made them deliver their best. Be a self-starter! No matter what!
20. The Greatest Movie Ever Sold (2011)
Know what you are talking - Talk what you are knowing
Storyline:
A documentary about marketing, branding, advertising, and product placement that is financed and made possible by brands, advertising, and product placement.
Why we like it:
This movie is a fascinating satire of the process of placing products into movies (marketing movies) and the ubiquitous nature of advertising in our society. It takes us deep inside the process by showing what it takes to make a movie and to gain corporate sponsorship for the same. The documentary movie allows us to see the process by getting corporations to underwrite the movie about product placement. They use humor – as they did with fast food in Super Size Me - to point to the insidious way into which advertising has slipped into film-making and become a major part of its profit model of film making. Steve Colbert has also does so regularly on his show. Still, by putting it into a documentary form, the creators have taken the critique to a new level. The movie-going public will benefit if they become more cognizant of the pervasive nature advertising in films.
21. Miss Sloane (2016)
Keep your trump card till the end
"The winner plots one step ahead of the opposition. And plays her trump card just after they play theirs. It's about making sure you surprise them. And they don't surprise you."
Storyline:
In the high-stakes world of political power-brokers, Elizabeth Sloane is the most sought after and formidable lobbyist in D.C. But when taking on the most powerful opponent of her career, she finds winning may come at too high a price.
Why we like it:
In one (maybe two) word(s): Jessica-Chastain.
22. Syrup (2013)
Marketing warfare is incidental.
"The real question here is, who would you rather have running your marketing department? Someone with integrity, or someone who will do anything to get to the top no matter what the cost."
Storyline:
A slacker hatches a million-dollar idea. But, in order to see it through, he has to learn to trust his attractive corporate counterpart. Based on Max Barry's novel.
Why we like it:
This engaging marketing movie on marketing drama shows two advertising and marketing executives trying to position and sell their energy drinks by means of creating the right image. Any soft drink for that matter is just syrup and water and what it contains is really unimportant. How you position it in the market is the most important tenet. Brand image is everything, and consumers are more often than note, gullible. This movie details how the marketing industry does whatever it takes to sell a product. You can see how to grab your buyer's attention, create an upmarket image, and sell yourself.
23. The Circle (2017)
Transparency sometime triumphs over all others
Storyline:
A woman lands a dream job at a powerful tech company called the Circle, only to uncover an agenda that will affect the lives of all of humanity.
Why we like it:
The latest pseudo-dystopian thriller "The Circle" incites the over-obvious suspicions of social media and data-mining in our current streaming surveillance culture and shines them up into a bright, engrossing yarn in mass entertainment. To go a step further, Mae, a character played by Emma Watson, is the company's first spokesperson to go "transparent," exposing herself to public scrutiny and monitoring 24/7, gaining millions of followers. The film reminds the salespersons of the importance of the overpowering personal connection over a social connection. Though many Baby Boomers still prefer the personal connection, the Millennial sales reps should not give in completely to the virtual connections. It is important to socialize and have a relationship with the prospects.
24. The Joneses (2009)
Being a part of the community is quite important!
Storyline:
A seemingly perfect family moves into a suburban neighbourhood, but when it comes to the truth as to why they're living there, they don't exactly come clean with their neighbours.
Why we like it:
The Joneses is perhaps one of the unique movies based on sales and marketing strategies. Kate, Steve, Mick, and Jenn Jones move into a high-income suburb, pretending to be a normal family relocating because of the shifting nature of Kate's careers and Steve's. In reality, Kate is the leader of a team of stealth marketers who disguise product placement as a daily routine. Local stores and businesses soon stock products based on the trend-setting styles of the Joneses. The story culminates when Steve realizes higher sales when he started pitching products as a solution for suburban boredom. Steve exhibits a very critical sales strategy in his plot. Being a part of the community! Sales reps need to find the people who need the goods they offer. As the Joneses join a neighbouring suburban community and golf clubs where their customers are the happiest and content. Sales reps need to be a part of some community to know their customers and learn about what their customers want.
25. Elmer Gantry (1960)
Persuasion and persistence will take you a long way.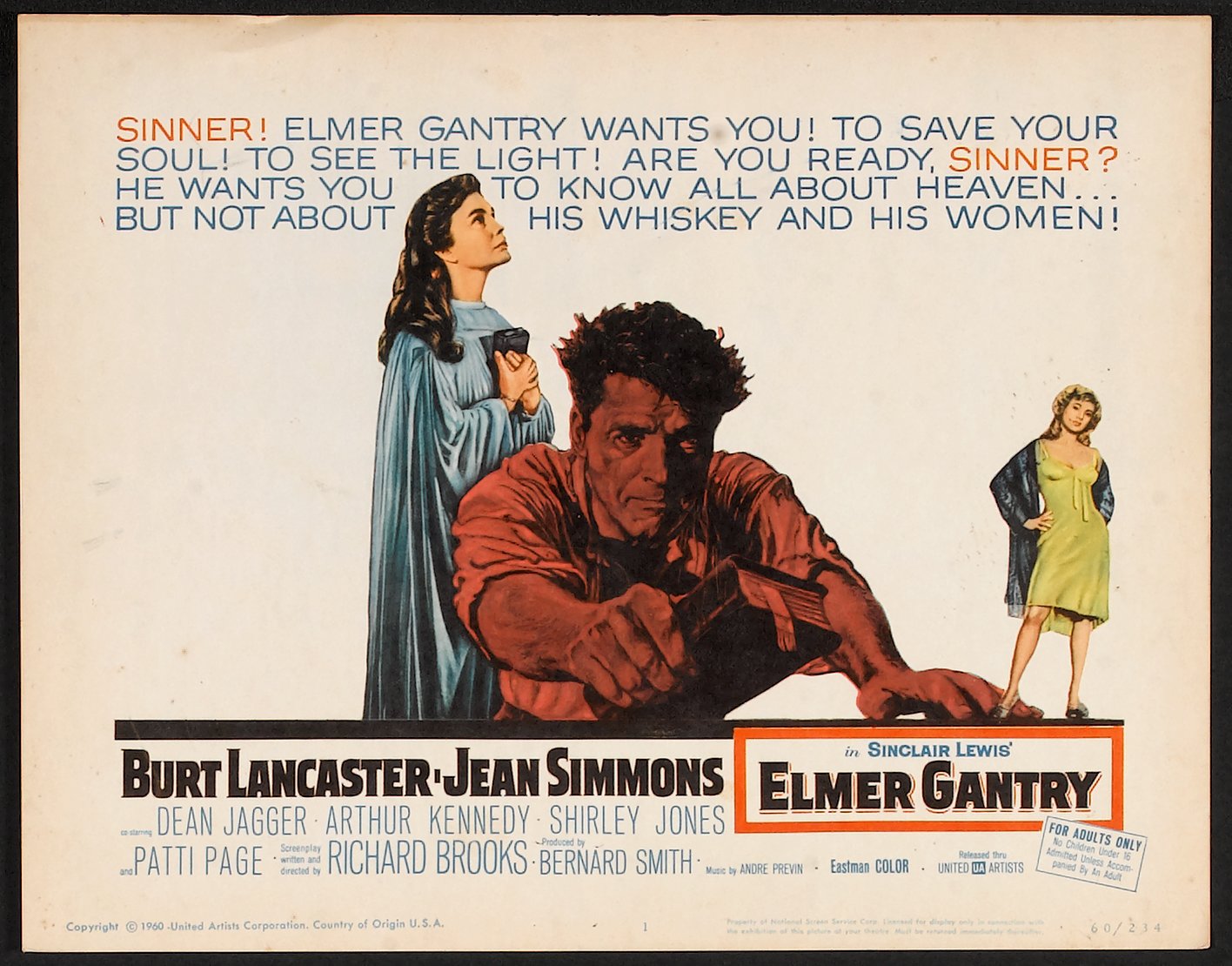 "Well, as long as I got a foot, I'll kick booze. And as long as I got a fist, I'll punch it. And as long as I got a tooth, I'll bite it."
Storyline:
Salesman Elmer Gantry, salesman teams up with evangelist Sister Sharon Falconer to sell religion to 1920s America. They make enough money to build a temple, and Sister Sharon falls for Elmer. He is tested by temptation and almost capitulates, but is then wrongly accused by the jilted temptress. But Sharon stands by Elmer and truth prevails until both are seduced by fame and blind faith over common sense, and fate deals them a crushing blow.
Why we like it:
The art of persuasion is of paramount importance, particularly for salespeople. It is a crucial part of succeeding. Training to be more convincing in sales leads to more revenue creation, which helps salespeople to add value and make a difference in their customers' lives.
There are a few quick, actionable tips that are easy to incorporate to take on the role of the persuader expert. As a sales rep, you have to listen more, and better understand the language of customers. Many people are good at speaking about what's interesting to them, especially in sales. Knowing how to really listen and consider what the real needs of your customer shifts the seller into the position of a vanguard.
26. Inside Out (2015)
Always, Think Positive!
Storyline:
After young Riley is uprooted from her Midwest life and moved to San Francisco, her emotions - Joy, Fear, Anger, Disgust and Sadness - conflict on how best to navigate a new city, house, and school.
Why we like it:
The movie "Inside Out" teaches one of the most crucial sales lessons to the sales reps - Emotional Quotient. Without the high emotional quotient (EQ), personal success and high performance simply don't happen. Decades of research identify emotional intelligence as the critical characteristic that distinguishes top performers from the rest of the sales force. Sales jobs sometimes have high-stress levels, and professionals lacking emotional intelligence are frequently the first victims to fall by the wayside. Salespeople would fail to stay motivated and establish relationships with clients without emotional intelligence.
27. Joy (2015)
Don't wait for it to come your way. Act on it.
 
Storyline:
Joy is the story of the title character, who rose to become the founder and matriarch of a powerful family business dynasty.
Why we like it:
Joy is a bright, energetic young woman with a complicated personal life. She is divorced with two children, her ex-husband lives in her basement, her mother lives upstairs and just watches soap operas all day, and her father (divorced from her mom for 17 years now) is now also living with her. Joy designs a revolutionary new mop and this leads to all sorts of adventures, good and bad.
The best lesson from the movie for sales reps is getting ready to go to war every day if you want to create a huge clientele. Joy has always shown a multi-front battle as you're not just fighting one war every day, you 're fighting about ten, especially when you're starting to get your revenue through the roof. Do not wait for anybody. You have an idea, you should act upon it right away.
28. Tin Men (1987)
Do not treat your competitors as your enemies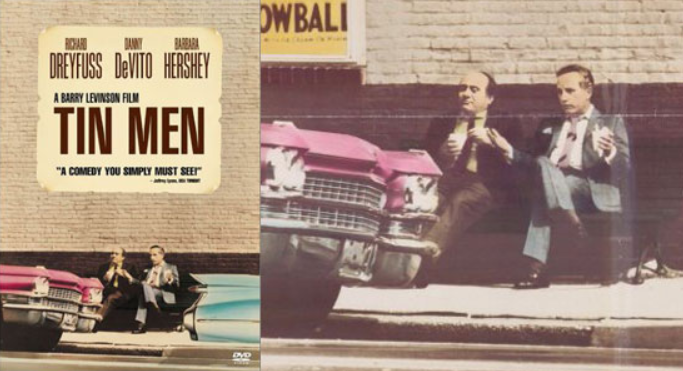 Storyline:
One step short of larceny, the aluminium siding salesmen in this movie sell their wares, compete with each other, and engage in a lot of great dialogues. Tin Men focuses on the rivalry between BB Babowsky and Ernest Tilley. At the same time, the end of the small world in which they are kings looms near as a government probe investigates their industry. Pirates of Silicon Valley
Why we like it:
One important lesson for all the sales reps from this movie is to never treat your competitors as your literal enemy. Healthy competition is imperative for the sustainable growth of your revenue. You will come across as under-confident about your product if you start indulging in undermining the products of your competitors in front of your clients. Acknowledge the strengths of your competitors' products and take them back to the product development team to help them develop the best product. Play to your strengths and not others' weaknesses!
29. The Big Kahuna (1999) 
Your customers still want to talk to a human being
Storyline:
On the last evening of a convention two seen-it-all industrial lubricant salesmen and a youngster from the research department gather in the hotel's hospitality suite to host a delegates party. The main aim is to get the business of one particular big fish. When it becomes apparent that it is the lad who has developed a direct line to the guy, his strong religious beliefs bring him into sharp conflict with his older and more cynical colleagues.
Why we like it:
Contact your clients the way they want to be contacted. It's shocking to see how sales reps often use modes of communication where they think just of themselves. They approach the task from their perspective, putting their preferences first, and prioritizing channels of communication with which they are most familiar. Instead, they should be thinking about who they are selling to, and how they want to contact that "type of person." Every target segment you sell has its own preferences and hence the "one size fits all" strategy does not give you desired results in sales!
30. The Big Short (2015) 
Don't put all your eggs in one basket
Storyline:
In 2008, Wall Street guru Michael Burry realizes that a number of subprime home loans are in danger of defaulting. Burry bets against the housing market by throwing more than $1 billion of his investors' money into credit default swaps. His actions attract the attention of banker Jared Vennett, hedge-fund specialist Mark Baum and other greedy opportunists. Together, these men make a fortune by taking full advantage of the impending economic collapse in America.
Why we like it:
Christian Bale plays Michael Burry's character which comes under unprecedented pressure from his investors when his prediction of a housing market collapse fails to come true. Michael Burry is the first to acknowledge the mortgage crisis ahead and he is eager to act because otherwise, he might miss the opportunity. Though it is important to focus only on a particular set of clients at a single point in time, sales reps should not give away all of their resources on a single customer. Sales reps often focus all of their efforts on a single client, when they see high chances of conversion. Even if an opportunity is good, don't bet all your capital on it. Even if you don't leverage it completely, other changes will follow. But if you bet and lose everything, then you're broke!
31. The Internship (2013) 
Be open to learning from your colleagues
 
Storyline:
Billy (Vince Vaughn) and Nick (Owen Wilson) are salesmen whose careers have been torpedoed by the digital world. Trying to prove they are not obsolete, they defy the odds by talking their way into a coveted internship at Google, along with a battalion of brilliant college students. But, gaining entrance to this utopia is only half the battle. Now they must compete with a group of the nation's most elite, tech-savvy geniuses to prove that necessity really is the mother of reinvention.
Why we like it:
The movie revolves around a team of interns who work together. Each intern has different qualities that allow the team to function effectively (eventually). Sales reps should ensure that they take the time, in their stint as a sales executive, to get to know their colleagues. It will help them immensely in imbibing both the soft skills and the technical skills from their peers!
One of the funniest scenes in the film involves the two men taking part in an online interview and yelling out to their young interviewers as they crowd into the frame. It is then obvious that they have never previously used a camera. This is a quintessential reminder that learning new tech skills is never too late. Club your soft skills with the technical skills (sales enablement tools) to ace your sales career with flying colours!
32. Trading Places (1983) 
Think big, think positive, never show any sign of weakness.
Storyline:
Mortimer and Randolph Duke are commodity brokers who enjoy a little wager now and then. For the latest bet, Randolph believes they can take a common criminal and make him a successful businessman in the company. The criminal, Billy Ray, is to be given the job and home of Louis, who in turn is set up for crimes he didn't commit, to see if he resorts to crime once he's lost his rich environment and friends.
Why we like it:
This is one of the unique sales movies. Being street smart can take you a long way in sales, and in life. You learn to read people when you're street smart. You also discern how to communicate with different types of people and you almost certainly know how to use humour to diffuse a situation that is stressful, tense, or bad. However, book smarts are equally important as well. Understanding how things work and what people have done in the past gives you a foundation for future decisions. Sales reps should get acquainted with different types of sales strategies that can be used in selling such as SPIN Selling, Consultative Selling, Inbound Selling, SNAP Selling, Cross-Selling, Upselling, and many more! Learn which sales collateral is required at what stage of the buyer journey. 
33. White Gold  (2017 - 19)
Sales is murky at times unless you know how to swim through it.
Storyline: When the owner of a struggling used car lot is killed, it's up to the lot's hot-shot salesman to save the property from falling into the hands of the owner's ruthless brother and used-car rival.
Why we like it:
This is an original comedy in 6-parts produced by the British Broadcasting Corporation (BBC), set in the 1980's Britain that tells the story of a "double glazing showroom" in Essex County in the UK. Led by salesman Vincent (played by Ed Westwick), he's charismatic, smart, handsome and confident, and will not hesitate a second to break the rules if it enables him to close the deal faster.
As per the words of BBC, "this is a story of dodgy shenanigans, petty rivalries and scams – alongside free-flowing cash and drugs". This movie also looks at how Sales and Marketing have evolved. In the year 1983, the options to generate leads came down to charm, wit, perseverance, and a little "stretching" to close the deal. This show also brings about the power of ambition and competition in creating a salesperson who can be the best.
A couple of other blogs that might be of interest to you:
50+ Zoom virtual background images you can use to express yourselves.
Best Virtual Team Building Activities and Games for Remote Teams