6 Must-Try Content Marketing & Management Platforms for 2023

Sure, I can talk to you about all those companies who failed at content marketing and thus sabotaged their own brand's success. But let's face it. Cautionary tales are so passé. 
So, I'm not going to do that. Instead, I'm going to tell you the story of a company that did content marketing like it was supposed to - and succeeded in building a spectacular brand loved by millions around the world.  
"Investopedia" is a website that we all must have gone to at least once in our lives. There's a reason they're the first name that comes to mind when it comes to financial learning. It is because of stellar content marketing. 
Investopedia has done everything right with their content:
Insightful, information-rich articles. 
Simple language. 
Easy-to-understand graphs and images. 
Links to external, reputed information sources. 
Engaging videos with compelling narrators.
It is by following these steps that Investopedia receives over 20 million unique viewers each month! 
Your content can mimic the same results that Investopedia has received. That is, if you use the right content marketing tools to supercharge your content. 
Why is content essential for your company?
Content is evergreen. It is an essential and integral component of a business' marketing strategy. Throughout the coronavirus pandemic, content that helped brands gain visibility, build engagement and retain customer mind space.
In a 2020 survey, 96% of surveyed marketers said  said that content was instrumental in helping them build customer trust and gain credibility. In another study, a staggering 61% of surveyed consumers who read articles and blog posts, purchased the products/services recommended in the post.
 
What's more? For brands, content marketing tends to be a lot less expensive than other traditional forms of promotion. For example, if you choose to write the content yourself, you can easily create an effective campaign under a small budget. 
 
Need we say more about why you need to focus on content marketing in 2021?
Making your content marketing and management more efficient
Despite content being so integral to marketing campaigns, only 9% of B2B marketers feel their content marketing & management process is efficient. The common challenges marketers cite when it comes to content marketing & management are:
Identifying what content material to create for their website.
Planning the content creation process end-to-end.
Figuring out how to align marketing & sales content to goals and create a cohesive campaign.
Knowing where to post content & how frequently.
Struggling to maintain a consistent content marketing schedule.
Let There Be No More Content Scavenger Hunting
Using specialized content marketing  platforms and software can help brands overcome these challenges. The 6 key content marketing & management platforms we recommend to you for this are: 
Category: Content Management Workspace
Price: Free at the moment. May launch paid plans soon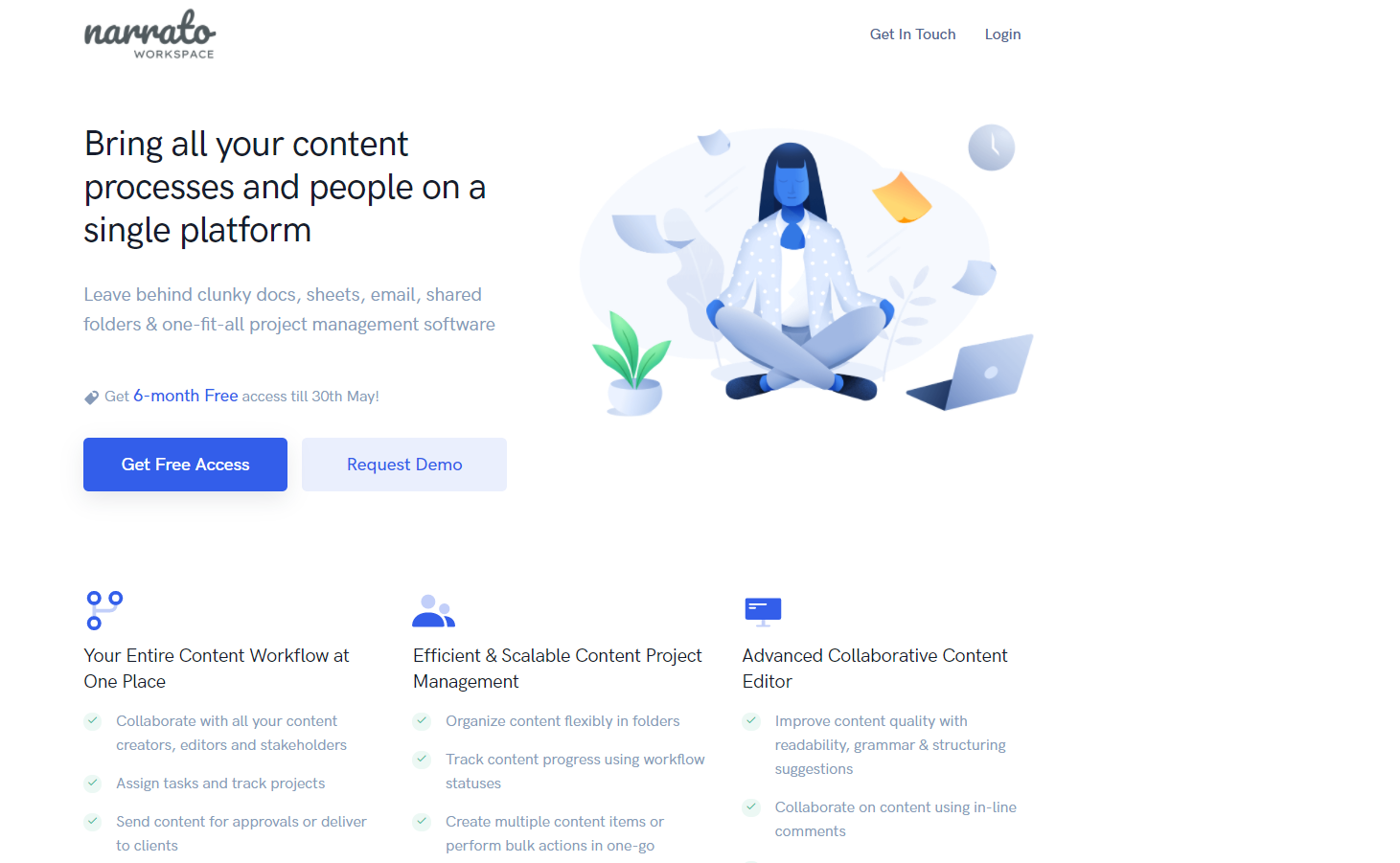 Quality always trumps quantity when it comes to content marketing. Plus, consistency always beats burst efforts.
But how do you maintain content quality and quantity, when your content creation process is all over the place? This is where it helps to have technology that can give you the tools to put a solid content creation workflow in action. This is something that the Narrato Workspace platform does.
Narrato Workspace is an intelligent content workflow management software designed specifically to empower marketing and content teams in their content production journey.
You can bring your content creation processes and team members on a single platform. On Workspace, you can create, organize, plan and collaborate about content. It also supports content publishing and offers some smart tools and integrations to make content creation more effective and efficient.
 
With Narrato Workspace you can:
Create quality content
The advanced content editor gives great readability and content structuring suggestions (besides grammar corrections), which is extremely useful for creating great quality web content. It also has a plagiarism check on text available. The in-line commenting tool is very useful for collaboration.
Create Content That Is Bingeable And Not Boring
Organize and plan content schedule
Narrato Workspace doubles up as a repository for all your content. You can organize your content under projects and folders, and use the content calendar and due dates to plan the schedule ahead of time.
Track content process
You can use workflow statuses on every content item to track content progress. Project status bars give you quick overviews of the status of your project progress.
Assign work and collaborate with your teams
You can assign work to different team members, freelance / in-house writers or content creators, and use in-line commenting to collaborate on content
Publish and deliver content
Narrato Workspace offers a publishing integration with WordPress. There is also an option to copy the text in HTML for easy publishing. Another nifty feature is the client user role. This allows you to share and deliver content to clients (agency use case). The workspace's privacy settings are great too - only content marked for client visibility is viewable by client users.
Overall, this is a great software if you wish to structure your content creation workflow and organize content in a single place. It can bring significant efficiency improvements to the content creation process.
Category: Online catalogue Creation
Price: Starts at $29/user/month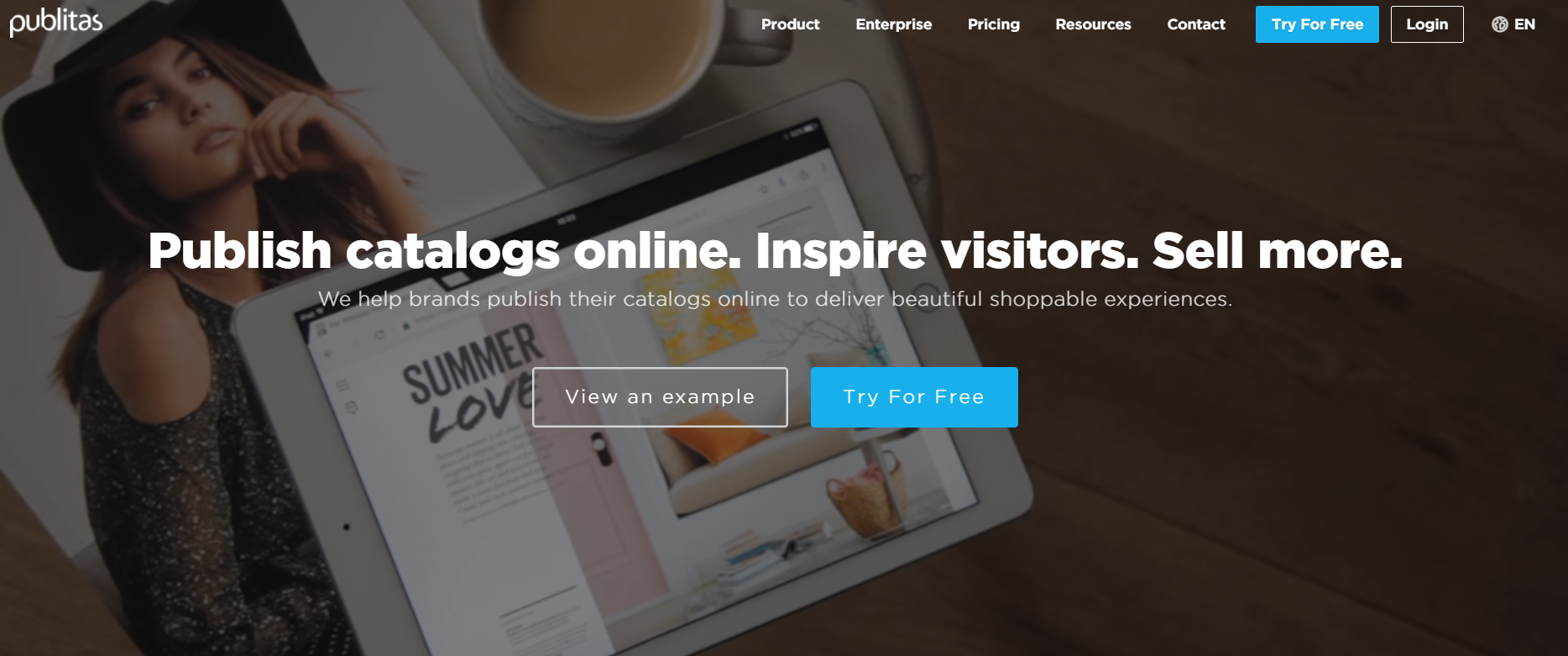 Visuals are as important as words when it comes to content creation. In fact, sometimes visuals are more important. Take mattress company Casper for instance, whose magazine Wolly covers topics on homely comfort and wellness products like jackets, wall hangings, journals etc.
These are essentially mundane products. But on their landing page, Casper used colorful images to advertise their magazine, catalog and content.
 
If you're a store who needs to display a catalog, you will need to create stellar aesthetic material. One way to do this is by approaching a custom web design agency that can develop bespoke visual elements that you can be proud to own.
 
But if you don't have the budget to spend on custom design services, consider using a content marketing tool like Pubiltas.
 
Pubiltas is a nifty platform that helps brands by converting their print catalogs and brochures into digital ones.
Here is how you can use this platform to make your content creation more seamless to use: 
 
Enable robust navigation
Pubiltas offers an intuitive navigation feature, which prospects can use to browse seamlessly through your online catalog. 
Facilitate QR code identification
Have website links or tracker QR codes that you want to publish on your digital catalog? You can integrate them into the catalog using Publitas and help interested prospects make their way to the integrated shopping page.
Assure fast loading aesthetic
The catalogs by Publitas are created using HTML5 technology which is highly responsive and has a fast load time. The platform is compatible with iOS and Android and its device optimized too. Images don't pixelate and resizing is perfectly aligned to the device specifications. 
Provide realistic catalogue feel
To help catalogs retain their authentic physical feel, Publitas allows brands to make the content touch & page-flip optimized.  
Video and description optimization
Publitas helps you add videos and rich product descriptions to the catalog. This is bound to make your content more engaging than ever before. 
Category: Content Management and Intelligence
Price: $30, $50 /user/month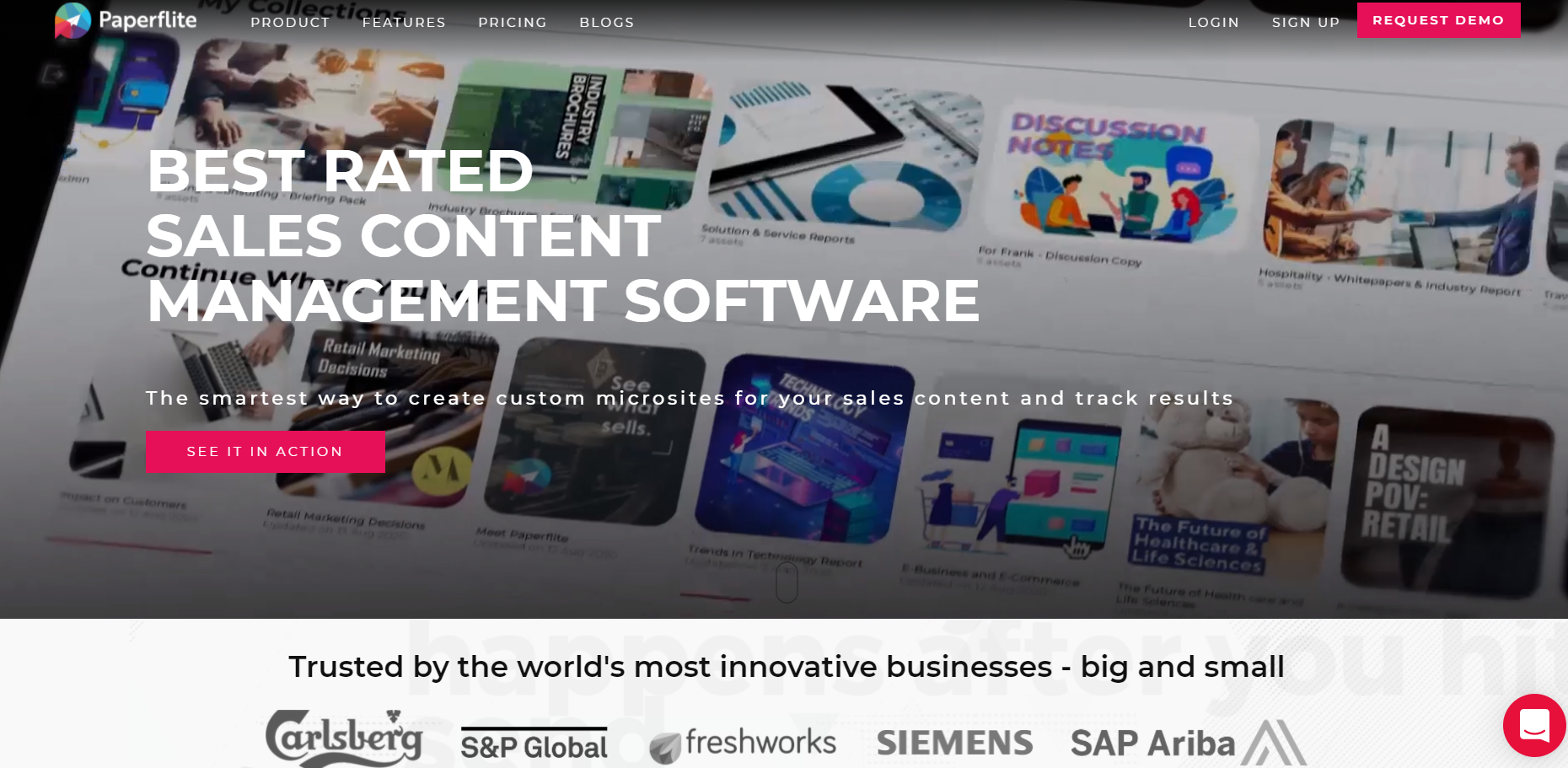 The right marketing content, published at the right time, can help sales teams capture qualified leads. The marketing collateral can then supplement salespeople during their lead nurturing campaigns and convert them into paying customers.
But the biggest challenges that companies face is this:
Knowing what content to publish
Knowing how to align both marketing and sales processes 
Paperflite can help you solve the above problems. 
Paperflite is an intelligent content management platform that enables you to find, share and track content across channels. It is a tool that integrates seamlessly with all CRM, marketing automation, sales automation and email automation systems. 
 
With Paperflite you can: 
 
Various sales and marketing teams can work together during different stages of the sales journey. They can follow each other's activities and plan their campaigns in alignment with each other to close more deals. Paperflite also facilitates Facebook, Twitter, Instagram and LinkedIn lead generation. 
Share content
With Paperflite, it becomes easier to find the sales enablement content you want - almost like a Google search. You can filter it by factors such as geography, industry, buyer's stage in the purchase process. 
Maintain a centralized content library
Paperflite has a central library, where you can store absolutely all your sales and marketing collaterals.You can easily export content from devices/accounts across the enterprise into the platform, making it available to everyone who needs access. The platform supports a variety of formats from white papers to PPTs to videos to brochures.
Create storyboards 
Paperfilte allows you to seamlessly create business content storyboards by bringing together all of the different digital assets you have. This way, your prospect gets a great content experience, instead of just a bunch of content pieces put together.
Generate real-time content performance reports
Paperflite tracks content you share in real-time so you can see how recipients are engaging with your content. There is also a discovery metric where you can generate reports that track audience engagement patterns for a time.
With these reports, you'll be able to know who your primary users are, what content they engage with the most, on what channels, and when they're most active. This information empowers you to plan marketing & sales activities in tandem and ensure you're able to get conversions.
Get Granular Information About Every Content Being Sent
Category: Marketing community-cum-suite 
Price: Freemium - paid versions start at $20/user/month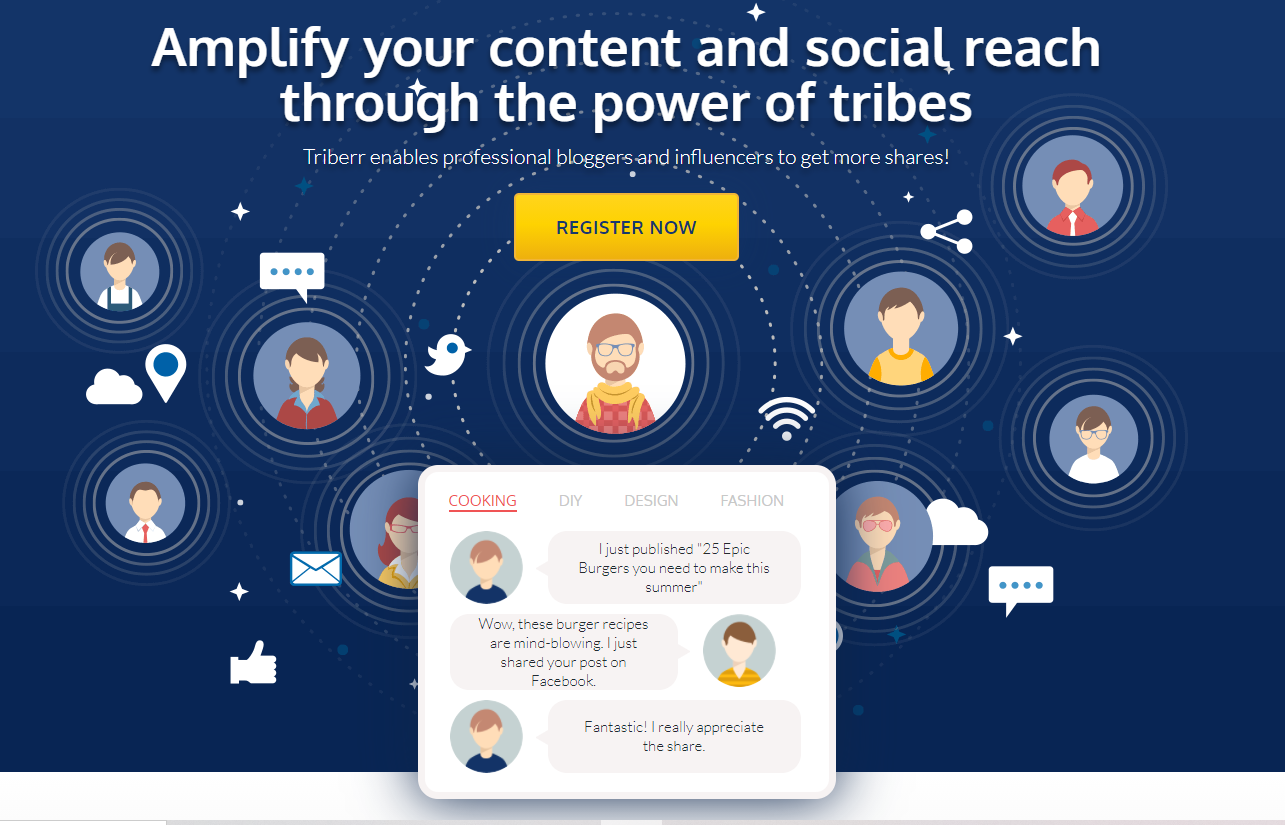 Sometimes, creating and managing your content marketing process isn't the challenge. The real challenge is finding new readers and influencer/affiliate partners.
 
Imagine creating unbelievably amazing content, only to have no person read your work. That defeats the purpose of your content marketing campaign, doesn't it? But there's no need to worry if you're facing this situation. Today, you have a tool that you can use in exactly these scenarios. It is a tool called Triberr. 
 
Triberr is a specialized engagement platform where writers, bloggers and influencers can find like-minded people and build communities/tribes based on mutual interests. You can apply to join a tribe that is closest to your industry. Once you're in the tribe, you can build the connections you need to succeed.
Here's how you can do this:  
Easily engage fellow influencers anytime, anywhere
When you join a tribe on Triberr, you can like, comment on and share posts written by tribe members on your content feed. 
 
Receive engagement from a vast audience
Similarly, the content you post can be engaged with and shared by other tribe members too. In this way, you can build your network of writers and influencers and cultivate these relationships outside the tribe too.
Seamlessly collaborate on marketing campaigns
With Triberr you'll be able to easily collaborate with influencers or affiliate marketers and run your campaigns across different websites and channels. In particular, Triberr makes it easy to run micro-influencer campaigns which are inexpensive and will help you reach niche audiences.
Monitor content performance and tweak campaigns quickly
Triberr offers a dynamic analytics tool that allows you to track how many likes, comments, shares and CTRs your individual content pieces and shared/collaborative content have received. You can tweak your campaign, change who you collaborate with and work on gaining better social coverage.
 
Category: RSS Feed Generator
Price: $5/user/month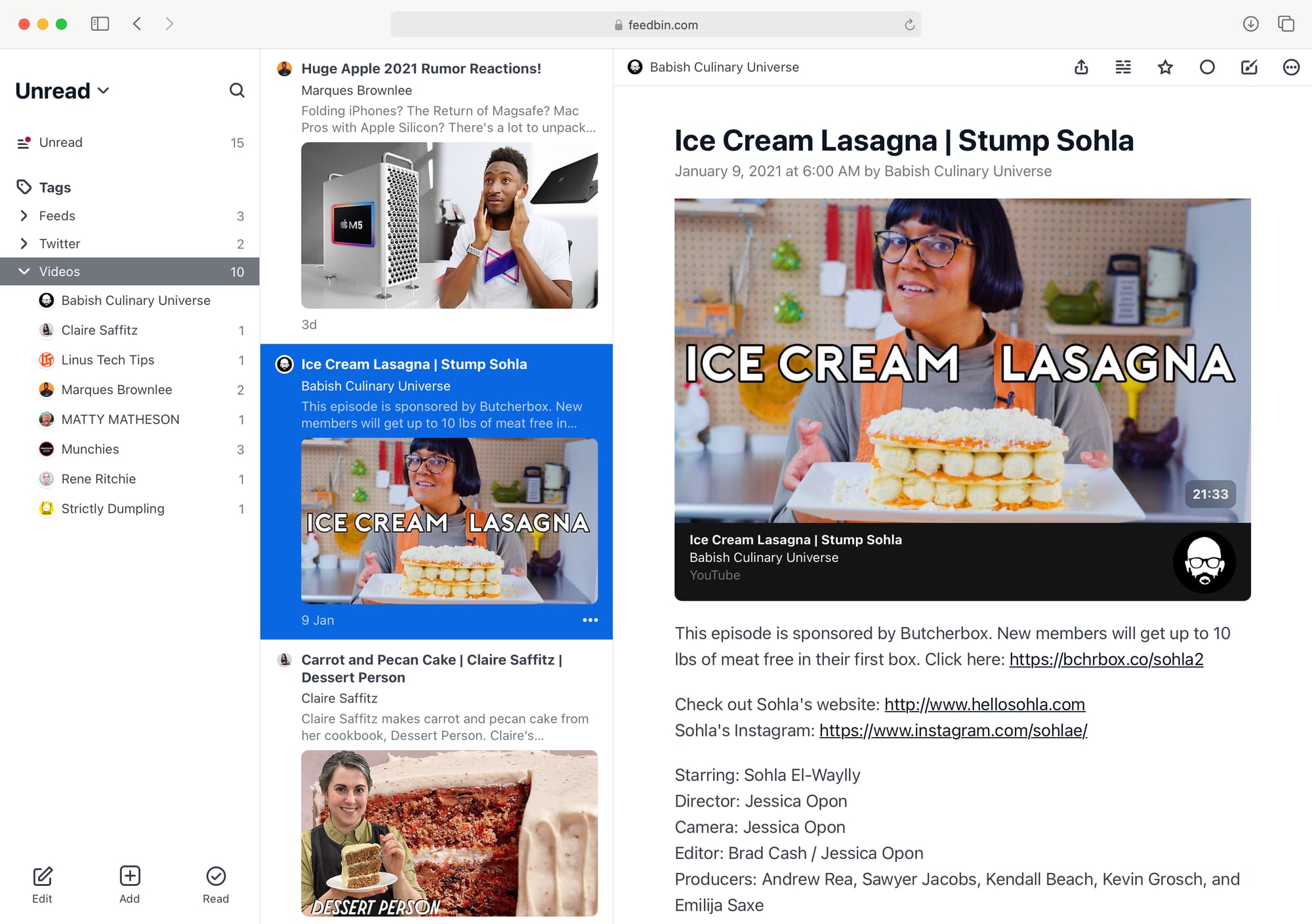 Are you finding it difficult to create content for your website or social media profiles? An RSS feed can be your answer to this challenge.
 
Consistent content creation and publishing is the key to a brand's success online. When you don't publish content regularly, you'll find that your brand is sliding out of a customer's memory and is being replaced by a competitor's.
Here is an additional fact. Brands that are consistent in their content marketing are also viewed as more credible and authentic. Plus, they are valued 20% more than brands that are inconsistent.
 
A tool like Feedbin and its robust features help. you overcome these problems. Feedbin helps you: 
Collate content from different sources
Create an evergreen supply of fresh and relevant content which your audience will enjoy, using Feedbin's RSS generator. 
Facilitate social media integration
Easily integrate Feedbin into your content platforms and social media channels and ensure your audience has a stream of premium quality content. 
Engage a global audience
Feedbin's RSS feed is highly diverse and covers content from across numerous industries and geographies. You can collate content that is multi-culturally engaging. 
Category: Content curation & link bookmarking 
Price: Freemium - Paid version starts at $12/user/month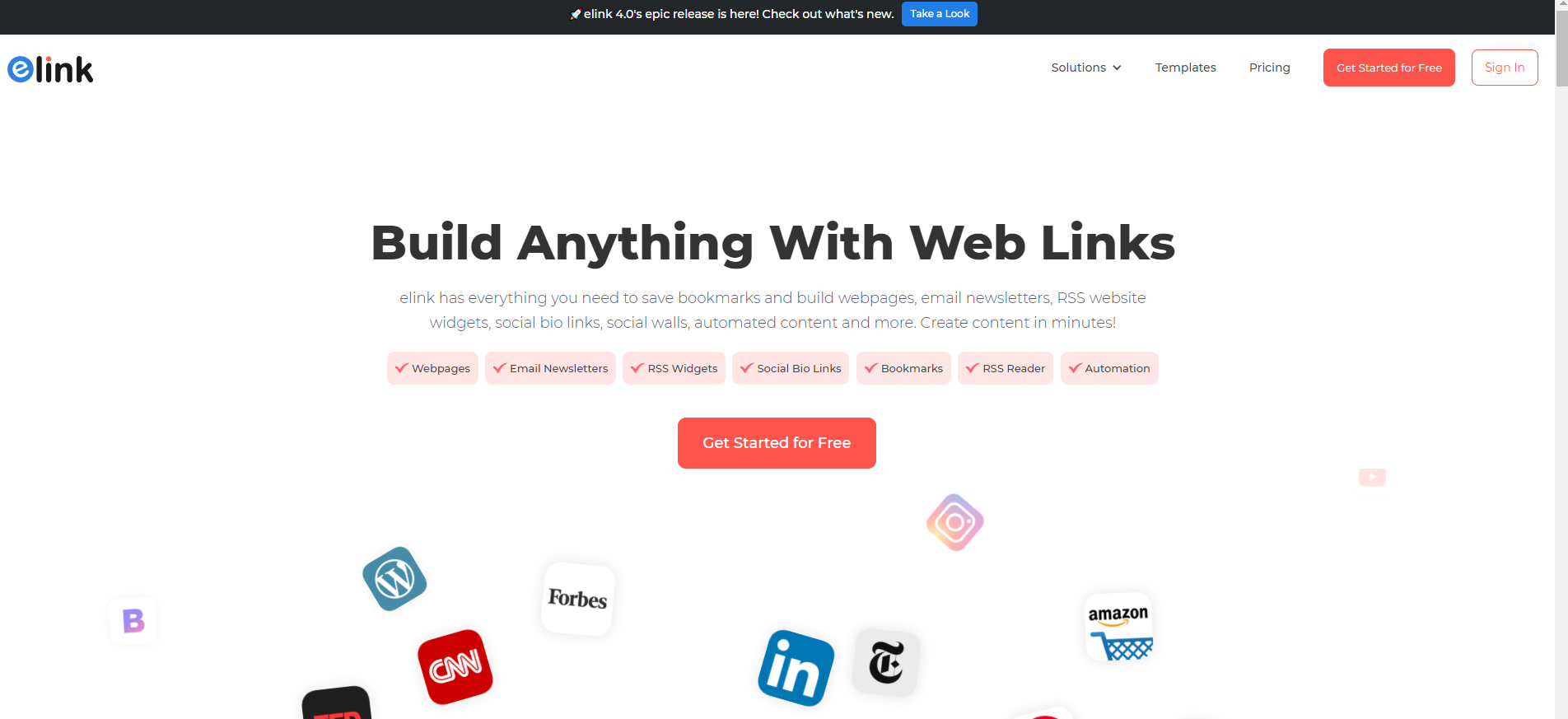 Not every person who visits your website or blog will be interested in consuming the same type of content. In fact, dull content can easily push audiences away from you. When this happens, you will find it immensely difficult to attract buyers. Using a platform like Elinks can prevent prospect disengagement.
Here's what you can use Elinks for: 
Develop aesthetic email marketing campaigns
Elinks has a rich array of features that helps you design and create aesthetically beautiful and engaging email campaigns and newsletters. 
 
Bookmark and share important links
At its core, Elinks is a link bookmarking and RSS feed collation tool. Now, you can bookmark links of interesting content from other creators and share it with your audience through its built-in RSS tool. 
 
Develop landing pages that impress
Elinks enables you to create dynamic and ever-changing website landing pages which can be personalized to your target audience. The platform comes built with hundreds of templates from web pages to press releases to sales proposals to social media walls/feeds.
Choose the template you want, source the links you prefer and publish a ready-made landing page in minutes.
 
Automate content effortlessly
Elink is also a content automation platform. It allows you to save compelling articles, important links and key social bios as needed and publish them on your website according to your content schedule.  
 
Try these content marketing and management platforms today and see your engagement skyrocket
 
Interactive content creation, content marketing & content management don't have to be very difficult. You can make your campaigns seamless to run and create memorable audience experiences, by using the tools and platforms we have mentioned above. So, try these out and let us know how you fare. We're certain you'll love these platforms as much as we do.
This post was penned by Nisha Prakash from Godot Media, as part of our content partnership program. To become a partner, write to us at marketing@paperflite.com or drop a text in the chat menu.