The Slack Story
October 31.2021
6 minutes
It's 10 minutes before a meeting with your manager. You're supposed to be presenting the budget variances from last quarter. Except, you haven't started with the presentation and you need numbers from Finance. All too familiar.
There are two ways to go about it, you think. You could walk up to Renee two floors down and ask her for the reports. Or you could write an email to her to check if she could send it across in the next minute or so.
Panic sets in as you realise either of those aren't the most efficient ways of getting that file before the meeting.
But what if there was an effective middle ground?
No, not going halfway to Renee's desk and then sending her an email. (Brace yourselves for all the bad jokes coming your way)
A middle ground that made collaborating with your colleagues easy? 
"And kids, that's how I met your favourite chat app came to be"
Well, not so fast. 
Slack: The Origins
Stewart Butterfield, had been working on a role-player game called Glitch, after having sold his photo-sharing service Flickr, to Yahoo.
Glitch was the first computer game developed by Tiny Speck, the company Stewart co-founded with a bunch of former Flickr employees.
Glitch did not take off as well as expected and Stewart and the team decided to shut it down, with a note alluding to the future of the Tiny Speck team.
"We have developed some unique messaging technology with applications outside of the gaming world and a smaller core team will be working to develop new products."
This unique messaging technology ended up becoming Slack and went on to change how teams worldwide communicated and collaborated.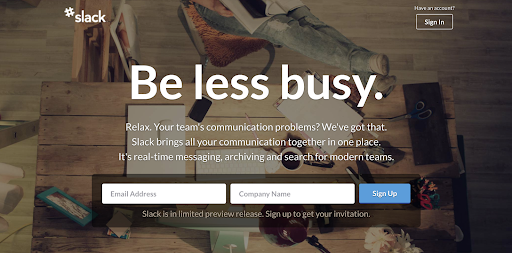 On an unrelated sidenote, Flickr too was a spin-off of a game Stewart was working on before Glitch. 
At Tiny Speck, the team worked out of different locations across America and to make way for effective communication, they had built an internal communication tool. Stewart and the team realised the potential of what they'd built and decided to invest in it and take it to market.
"We realized, wow, this is hugely a productive way of working and I think all of us agreed we wouldn't work without a system like this again and maybe other people would like it"
Slack, as the chat app was called, had a powerful in-built search feature that allowed users to search for messages and files. It seamlessly integrated with other business apps such as Dropbox, Zendesk and Github and could sync across all your devices.
Users now didn't have to use multiple platforms and Slack became the one platform where work happened.
Go-to-market
They started off by cajoling their friends at Cozy, Radio and Medium to give it a go, as beta users. The Slack team received a lot of love and some valuable insights that they used to improve the product before launching it to the public. 
And in the subsequent months post the launch, Slack was being used by big companies such as Sony, Dell, Paypal, eBay, Intuit etc. Slack was clocking in an average of 16,000 daily active users within 7 months of the public launch.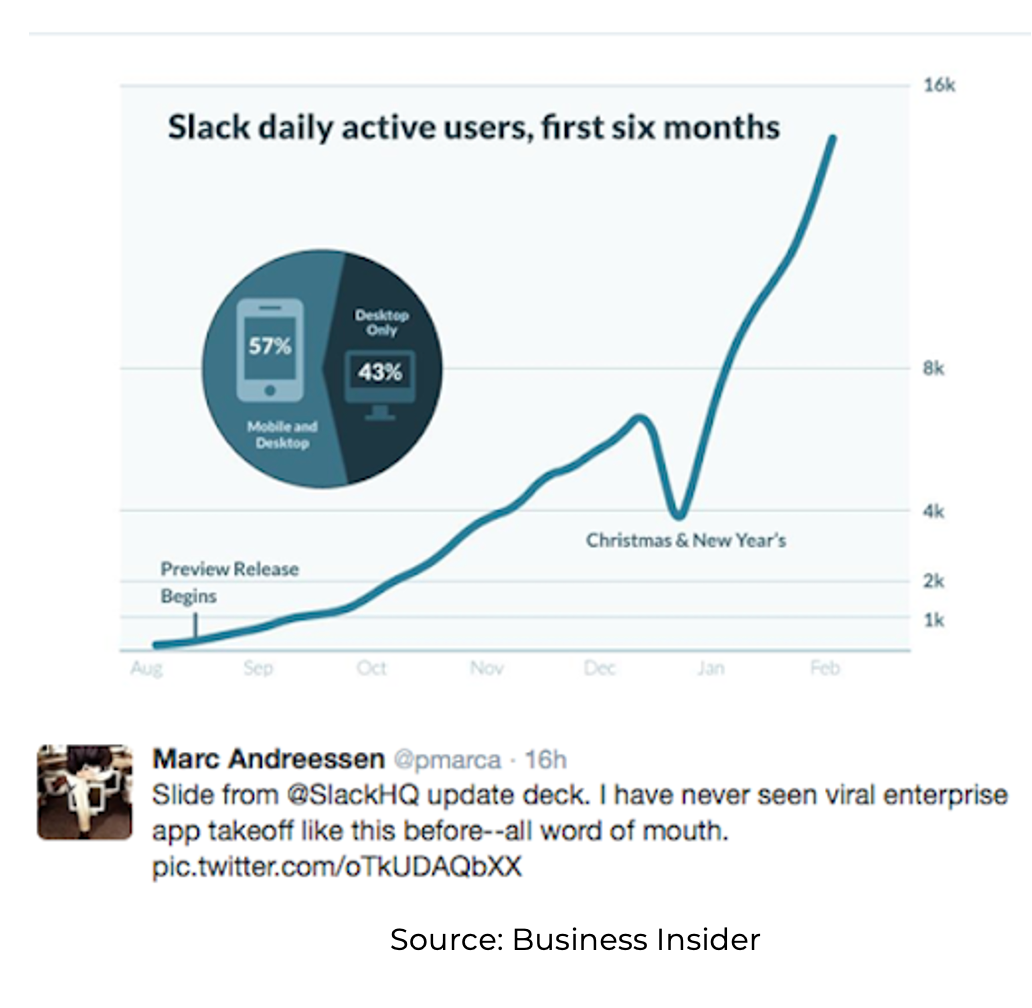 Growth
By the end of 2014, half a million people were using Slack as their primary work communication medium. And in October 2016 Slack hit about 4 million daily users and 1.25 million paying users.
And this is how the daily user graph looked by the end of 2018: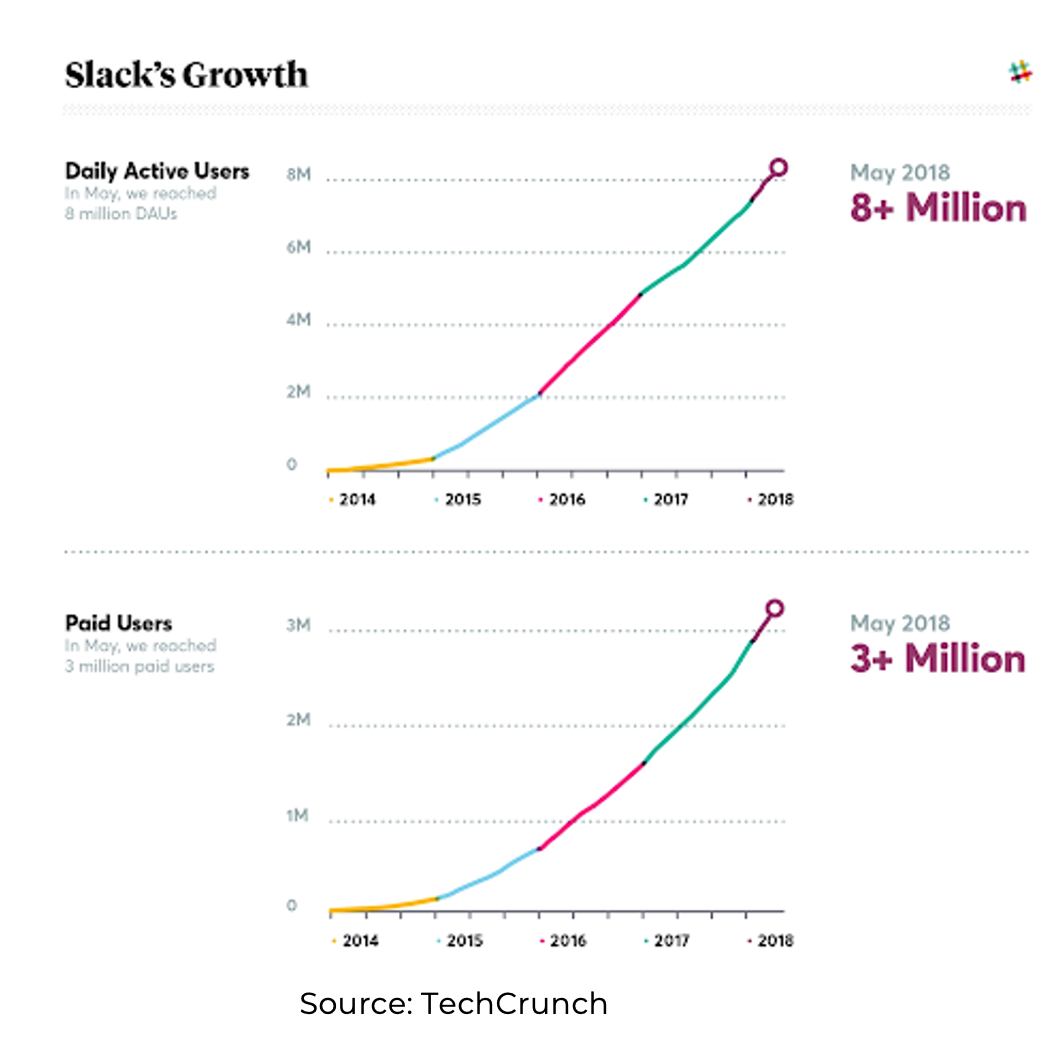 Cut to 2021, there are about 12 million daily Slack users.
The growth story of Slack has become the playbook for many other SaaS companies and the internet is littered with case studies that dissect Slack's trajectory.
In Stewart's own words, this growth was mostly due to word-of-mouth marketing. In one of Stewart's interviews with First Round, here's what he had to say: 
"We bet heavily on Twitter. Even if someone is incredibly enthusiastic about a product, literal word-of-mouth will only get to a handful of people – but if someone tweets about us, it can be seen by hundreds, even thousands"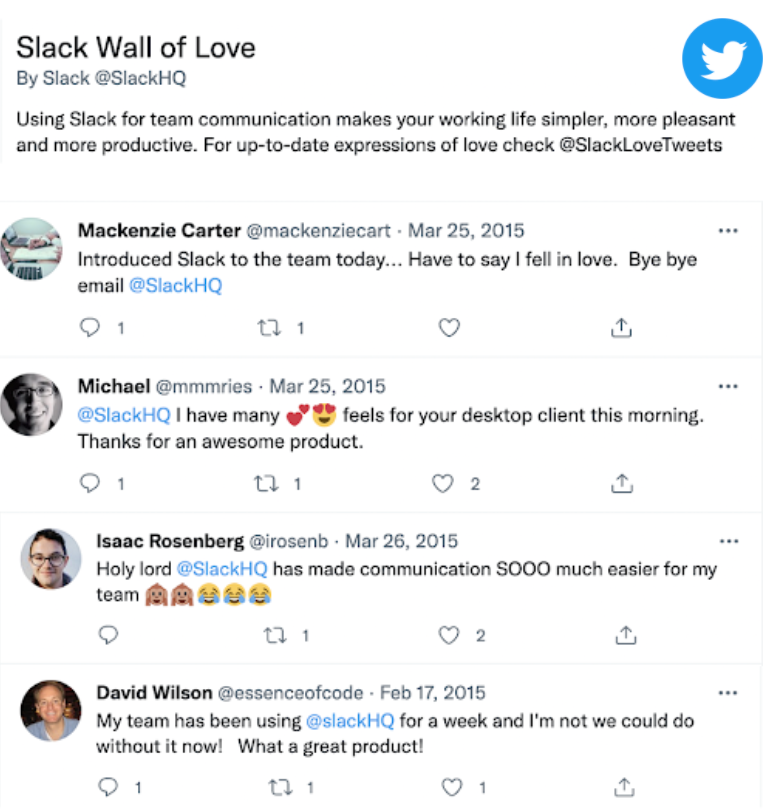 The Slack team also prioritized customer feedback, responding to every email, help ticket, question or tweet posted about Slack. Actively listening to their users helped them iterate and improve the product.
All of Slack's growth was without any conventional marketing tactics, ads, growth hacking etc. And up until late 2014, Slack hadn't hired a CMO. 
One of the factors that helped Slack get adopted quickly was how it made email redundant and came to be seen as an email killer, making for much more fluid conversations. Slack allowed for transparency, unlike email where if you weren't cc'd on something, you'd be out of the loop on conversations.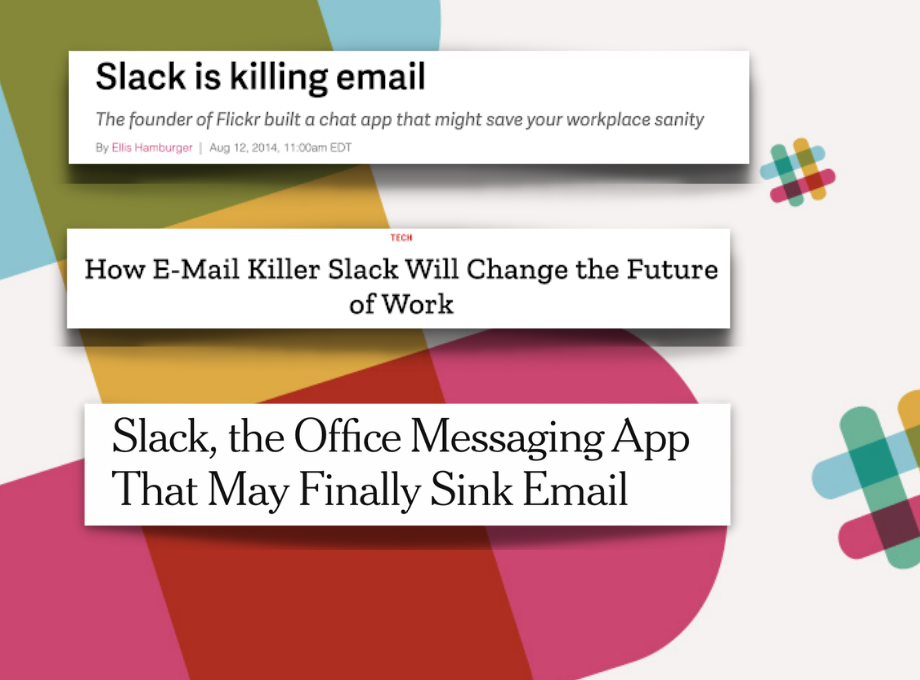 Funding and Acquisition
In 2011, Slack, back when it was Tiny Speck, had raised close to $19M through their Series A and B funding rounds, led by VC firms Andreesen Horowitz and Accel Partners.
After multiple funding rounds through the years, Slack was valued at a billion dollars by the end of October 2014. Subsequent funding rounds in 2017 ($250M, led by Softbank) and 2018 ($427M, multiple investors) took Slack's valuation close to $7B. 
In 2019, Slack debuted on the public markets and after a brief period on the bourses, Salesforce bought Slack in December 2020 for a whopping $27.7B
Current Scenario
With about half the world working remotely from their homes or the Rockies, Slack has made remote work easy and has helped remote workers feel "included". 
And as the world moves from product-led growth to community-led growth, Slack has been at the forefront of this change, allowing for online communities to thrive.
The notification-snooze features on Slack make for a better work-life balance and the plentiful emojis make for better team camaraderie given how hard it is to convey tone in chat messages and emails.

You probably would have gotten a couple of Slack messages with its signature "knock" notification while reading this piece. 
And if you haven't heard someone saying "just Slack it to me", be aware that the verbifying (we don't know if verbifying is even a word but go with us here) of Slack is on its way. 
Slack has become pervasive in our lives and we'll just leave you with this comic from Tom Fishbourne that describes exactly how pervasive.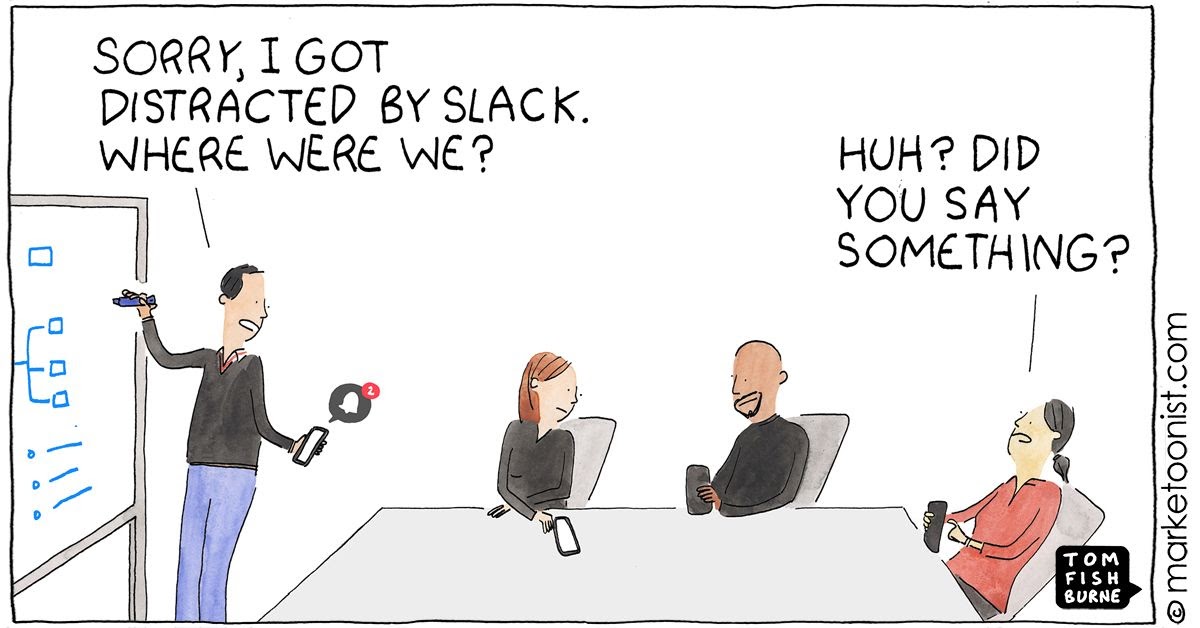 Previously on Stories That Inspire