Lesser Known Methods in Real Estate Selling
Learn the tools & techniques to sell smarter in the real estate industry
Buying a home for most of us is a one-time life experience. We want to be extremely sure of every nook and cranny before we make it ours.
No matter where we are - in the shower or waiting in a queue to buy a latte - we're continuously finding answers to questions like "How will the paint on the walls look? Who are our neighbors? Can we set a barbeque in the backyard on weekends?" This is because a home is meant to create lasting memories, and we don't want to leave it to chance.
That is true for entrepreneurs and business owners as well who move into their offices for the first time. After all, they have foregone a lot to start a business and setting up their first office is a small step towards vindicating their decision to be an entrepreneur.
That is why keyless locks, self-guided viewings, and white-gloved service are quite common in the real estate industry.
Real Estate By The Numbers

Now, consider these statistics for a moment:
Moreover, unless you have been living under a rock, you'd know that real estate prices were on the rise in 2017 before tapering off in 2018. However, in 2019, prices are expected to rise at a slower pace. This coupled with rising mortgage rates, can dissuade the keenest of buyers.
For real estate sales agents, it is about focusing on the buying experience and getting it right. A buyer's experience may begin with a chauffeured limo service that takes him around a sprawling mansion; for others, it may start with a VR headset.
For most, it begins with marketing collateral in the form of a sign on the porch, or a newspaper ad, or a brochure picked up at a tradeshow.
Setting Up the Content Experience
Imagine yourself as a real estate sales agent who is about to launch an email campaign for your leads using marketing collateral. You have already narrowed down on a list of buyers who are looking to buy real estate property, but you aren't sure which prospect prefers what.
For example, a couple looking to buy an apartment in the suburbs of a city may not be interested in an upscale villa. Similarly, the Chief Operating Officer of a healthcare company may be interested in a rented office space for his 300-member team in the central business district, and not in the city outskirts.
This is where you need content intelligence to track buyer behavior and intent. When a prospective buyer engages with the content that you have shared, knowing which portion of the content they have spent more time on, helps in making your follow-up conversations more contextual.
 
Diving Deeper With a Use Case
In the image below, notice how Catherine (a prospective buyer) has engaged with a digital booklet of the property that you've sent her. Here's what you can glean from your campaign:
The prospect has viewed the booklet 7 times and downloaded it once.
She has spent 38 minutes viewing the booklet.
Page #11 of the document has attracted maximum attention with 15 minutes.

These data points can be gathered with every prospect that you share your content with irrespective of their tastes. So, the next time, you are in conversation with them, you can be more contextual in your outreach and handhold them until they are sure of what they need.
Here is how you can have a follow-up sales conversation with Catherine:
*********************
You: Hello Catherine, how are you doing today? I just wanted to check with you if you found the Riverside Apartment brochure that I sent you useful.
Catherine: Yes! That was very helpful.
You: I noticed you spent some time on the floor diagrams on page #11. Is there anything that I can help you?
Catherine: Yes, can you tell me what type of flooring will the living room and bedrooms have?
You: Yes, sure. I suggest hardwood flooring for the living room and bamboo for the bedroom. I'll send you some images, so you know how exactly they look.
Catherine: That sounds great. Thank you!
*********************
 
Personalizing Content for Potential Buyers
Despite prospects knowing what their requirement is, they still need different choices to identify a property that they are ready to explore more before investing. This is where content personalization comes in.
You can personalize your marketing collateral in different ways, such as:
Types of properties - Apartments, villas, office spaces, commercial, residential.
Different facilities - Bedrooms, living rooms, dining rooms, kitchens.
Types of Neighborhoods - Farmlands, business centers, industrial areas, foreclosed properties.
Budgets - Based on different budget levels of the audience.
Income brackets - Classified into income demographics such as high income, middle income, and low income.
Amenities - Schools, hospitals, connectivity, gymnasiums, swimming pools, & transport facilities.
Rentals - Depending on property rentals in different areas.
Developers - Similar properties by various realtors and developers.
Furnishing - According to different types of furnishing (semi-furnished, unfurnished, and fully furnished).
Floor plans - Based on floor charts & plans, interior designs, landscaping, and blueprint.
Buyer intent - Purpose of buying property such as dwelling, investment, letting out, weekend getaways.
Notice how the image below shows different marketing collateral categorized by images, videos, brochures, and 3D tours. Sales agents can reach out to their buyers with such marketing collateral personalized for their different needs for a villa - bedrooms, dining rooms, backyards.

This is where content management systems can enable sales agents not just with discovering contextual content but also customizing it for your clients.
Personalizing content is a tried and tested strategy that lets sales agents to match their content with buyer personas and personalize content for easier recall and action. While real estate marketing collaterals are rarely created to suit individual needs, sales content management platforms even help personalize generic content.

Real estate sales agents are always under the pump, scheduling house visits for their clients, driving potential buyers to houses, meet sellers, get agreement contracts and a whole lot more.
However, marketing collateral can help you make the most of your time, build trust within your customers, and attract new customers - all before you schedule the first appointment.
Marketing Collaterals for Real Estate
Let us now explore different types of marketing collaterals that real estate sales agents can use while reaching out to clients.
Videos are an integral part of real estate marketing, that help sales agents show off their property listings to prospects. According to one study, real estate listings with videos generate 403% more inquiries than the ones that do not have them, while another study found that 40% of prospects find virtual tours to be helpful.
Videos that feature beautiful scenery, spacious rooms, facility tours, and other amenities help potential leads evaluate their options and shortlist them before making a trip to the site.

Real estate-specific video players such as Animoto, Renderforest, and Placester let you produce engaging videos without breaking the bank. They offer easy-to-use templates to create videos effortlessly.
 
However, even if you have created the best videos, knowing how your prospects are interacting with it is key to getting the deal. We refer to it as Video Analytics - it tells a real estate sales agent about the utility of his videos to his prospects.

The below screen grab shows key analytics for a video on a sales content management system.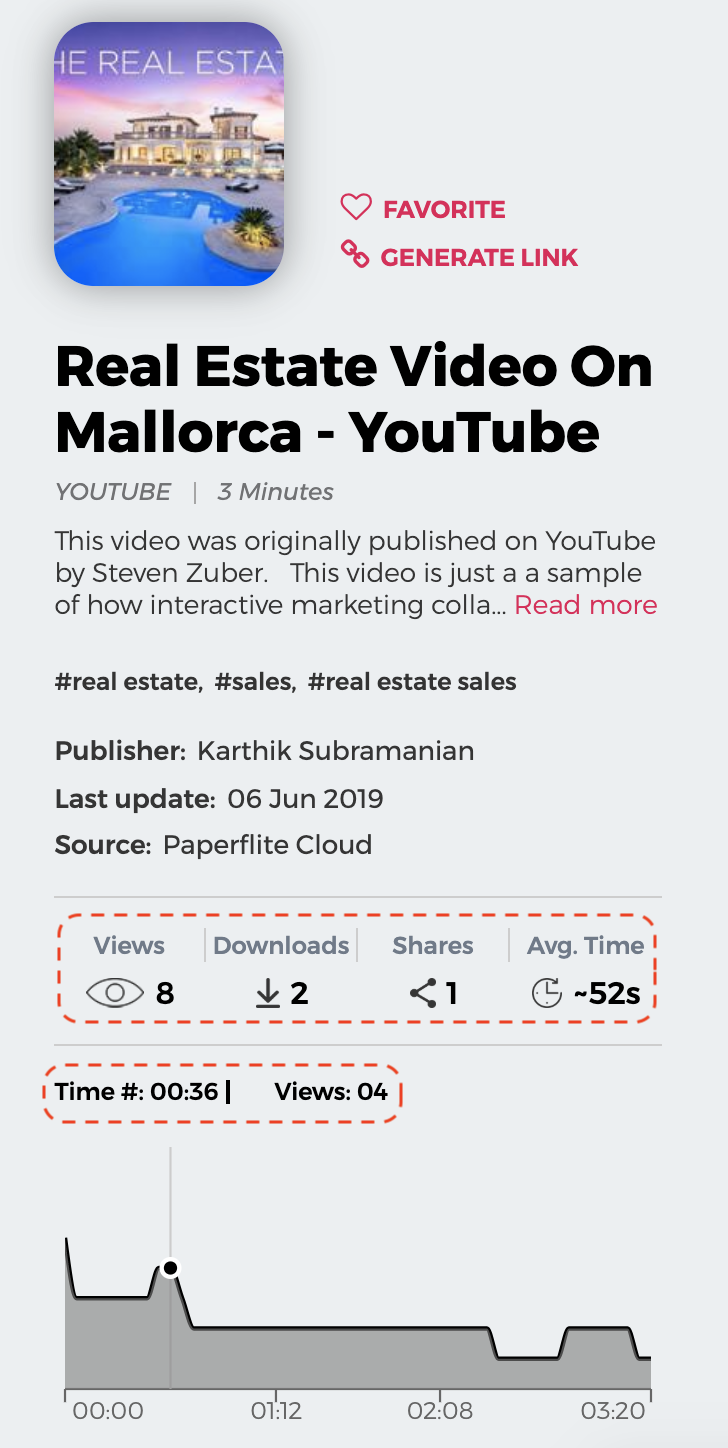 The portion in the dotted area highlights the number of times the video has been viewed, downloaded, and reshared. Despite being a 3-minute video, the average time spent on it is just 52 seconds - which means not all prospects are viewing the entire video.
The graph at the bottom of the screen grab shows that the video has drawn audience attention most around the 36-second mark with 4 views - which means prospects have engaged with this segment more than the rest. These insights help your sales conversations become more contextual and actionable.
Here is a useful blog on the top 25 video marketing examples for the real estate industry, including valuable tips about adding narrations to a video, using testimonials, and virtual staging.
 
Real estate brochures are marketing collaterals that breathe life into your property listings. Customizing the artwork, pictures, and graphics based on your company's needs help you showcase branded collateral to your prospects.
Sales agents can display an apartment, a house, condominium, commercial properties - all in a single brochure. Including details such as floor plans, pictures, 3-D images, maps, and contact details is essential to get your prospects to engage with it.
Companies like Flipsnack, Xara, and MyCreativeShop provide sales agents with many options to create professional brochures without any design skills.
Even with impressive brochures, it is essential to know how your target audience is interacting with it.
Imagine you have launched a campaign targeting 50 prospective buyers with a brochure. It is vital to know the ROI of your brochure during the campaign.
Why? It helps sales and marketing teams know what is resonating with their target audience and ultimately finds its way into the company's content marketing strategy.
Notice the analytics of an 18-page real estate brochure in the screen grab below. The highlighted portion shows the key metrics for this brochure - 33 views, 3 downloads, 1 share, and the average time spent is 13 minutes.
Page #14 of the brochure has attracted maximum attention with the prospect spending about 10 minutes on it.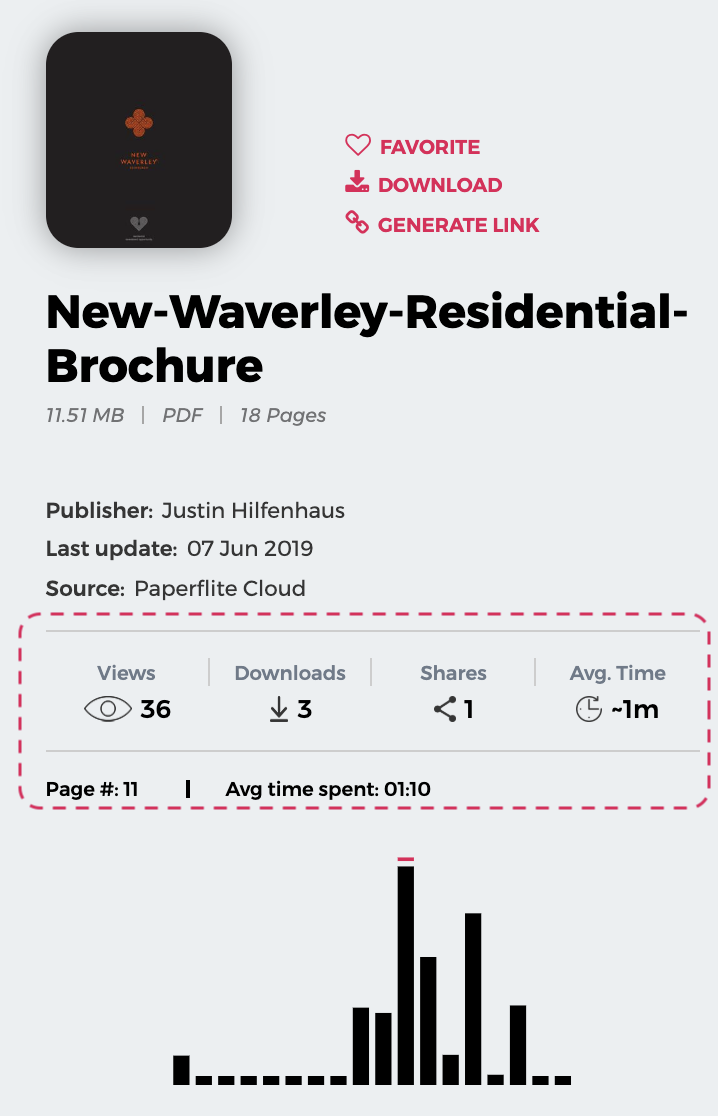 These insights can help you drive more contextuality into your conversations with leads and nurture them with appropriate content as they move closer to deciding.
 
Consider this statistic - 74% of realtors do not have an active blog, while only 14% are planning to have a blog.
Too many real estate sales companies do not take blogging seriously, and they are leaving a lot of money on the table.
However, the truth is that realtors with prolific blogs are outmatching their competitors who do not include blogs in their sales outreach. Blogs are an inexpensive way of letting your audience know about your expertise. Including blogs in your sales campaigns can help you become a thought leader that your target audience looks up to.
Blogs can be used to educate, inform, and convince your target audience in the awareness, interest, consideration, and decision stages of the buyer's journey.
But, how do measure the ROI of your blog if you've included in your campaign? Sales content management systems can enable you to do just that.
In the screen grab below, notice how the analytics load up for the blog. It has 16 views, 3 shares and the average time spent on it is 3 minutes. It tells you how your blog has performed in the campaign.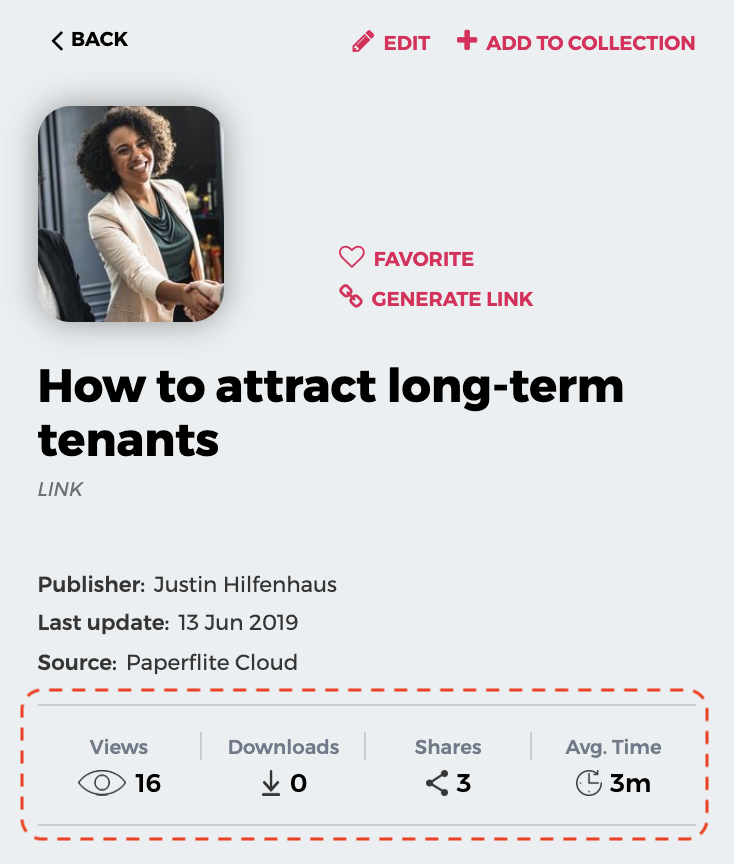 You've made many real estate sales, and this is probably how it goes: You provide property listings to prospects, from which they shortlist a few. This is followed by property visits, tours, negotiation, and agreement signing. 
There is nothing wrong with this process as it has worked for decades. 
Yet, there is always room for improvement. 
While VR or Virtual Reality is associated with retail, gaming, and the entertainment industries, it has begun to impact the real estate industry too. 
How? Here is what you can do with VR in the real estate industry: 
360 Tours
Use a 360 camera to create a panoramic video walkthrough of your property, and your clients can view them using a simple VR headset. Here's a link to a tutorial that shows you how to create a 360 video tour of your property listing. Using a video walkthrough gives your clients a first-hand experience of the property. 
Interactive Tours
This is (will be) a game changer. Clients get a virtual experience without any tool like a VR headset. Unlike a 360 video, an interactive tour lets your clients navigate around the property by themselves. This experience is the closest it gets to a real property visit.
To give you a better idea of how it looks, here's an interactive tour filmed using Matterport technology. Click on the image below to play with it
Virtual Furnishing
Selling an unfurnished space? Help your clients visualize how their future home/office will look with all the bells and whistles. A VR tour of a vacant property that can be modified to add furniture and other elements makes it easier to visualize. Here's a link to a blog that features a list of 13 companies that will help you virtually furnish your properties.
Conclusion
Real estate deals are about selling dreams to buyers, and marketing collaterals help sales agents deliver it - whether it is through virtual tours or listing videos or pixel-perfect images or detailed brochures to create unique experiences.
As a sales agent in the real estate industry, you cannot afford to repeat the same dialogues and punchlines to every buyer. In an industry that is defined by clients' unique tastes and preferences, don't be the average Joe sharing the same tidbits with all clients. Instead, use effective marketing collateral that educates and informs buyers, and nurtures them in every stage of the buyer's journey until they make a purchase.