What is a Product Catalog & Why Do You Need It? [Free Templates Included]
A detailed primer on product catalogs and their utility to modern businesses.
A product catalog is a type of marketing collateral that lists essential product details that help buyers make a purchase decision. These details include product features, descriptions, dimensions, price, weight, availability, color, customer reviews, and more.
The best example of a product catalog is the Amazon marketplace, where you can get a host of information in a single click. Think about a book that you've been trying to buy - Amazon lists all the information that you need. It includes the book title, author name, publisher's name, number of pages, a brief snapshot of the book, price, dimensions, offers/discounts, reviews, and more.
These documents are quite common both in the B2B and B2C domains.
"A product catalog is a type of marketing collateral that lists essential product details that help buyers make a purchase decision."
Who Needs Product Catalogs?
Product catalogs are useful to several business users and groups such as sales reps, inside sales, buyers, store clerks, field marketers, and managers. Here's how each group uses it:
Sales reps and inside sales teams use a product catalog to convey vital information about a product or a service to their customers. They can refer to it while communicating with their prospects and customers about the benefits of using their products.
Buyers and decision-makers need it as reference material while making a purchase decision. It helps them to compare different products/services from various vendors and decide the most suitable option for their business.
Store and warehouse managers, shift managers, and operators use it to know about the details of the inventory in their godowns. 
Field marketers can use it while they are walking customers through demos of their products and solutions. It helps them dive deep into their offering and offer value to their customers as the latter group is experiencing the product.
External parties such as agencies, partners, resellers, and value-added sellers use it to get information about a product and service and sharing it with end-users.
9 reasons why you need product catalogs
Before we go any further, let us understand why we need product catalogs.
Information such as technical information and features about products is impossible to memorize. Recording them on documents in a usable format helps the user know about a product in detail. Publishing information on product information packs that find a place on websites allows customers to know about it without a sales rep's interference. 
Imagine having to go back and forth with customers on emails sharing information endlessly, which leads to no positive outcome. Instead, sharing information on digital catalogs can help move the deal from one stage to the other. With information available to customers efficiently, it reduces clogs within the business cycle.
Sales reps have just one primary responsibility - to sell. Collecting product data from different sources inside a business to disseminate to customers is not what they are paid to do. That is why digital catalogs help them share information effortlessly to their customers and generate sales. It saves them valuable time as all the information they need is available on their fingertips.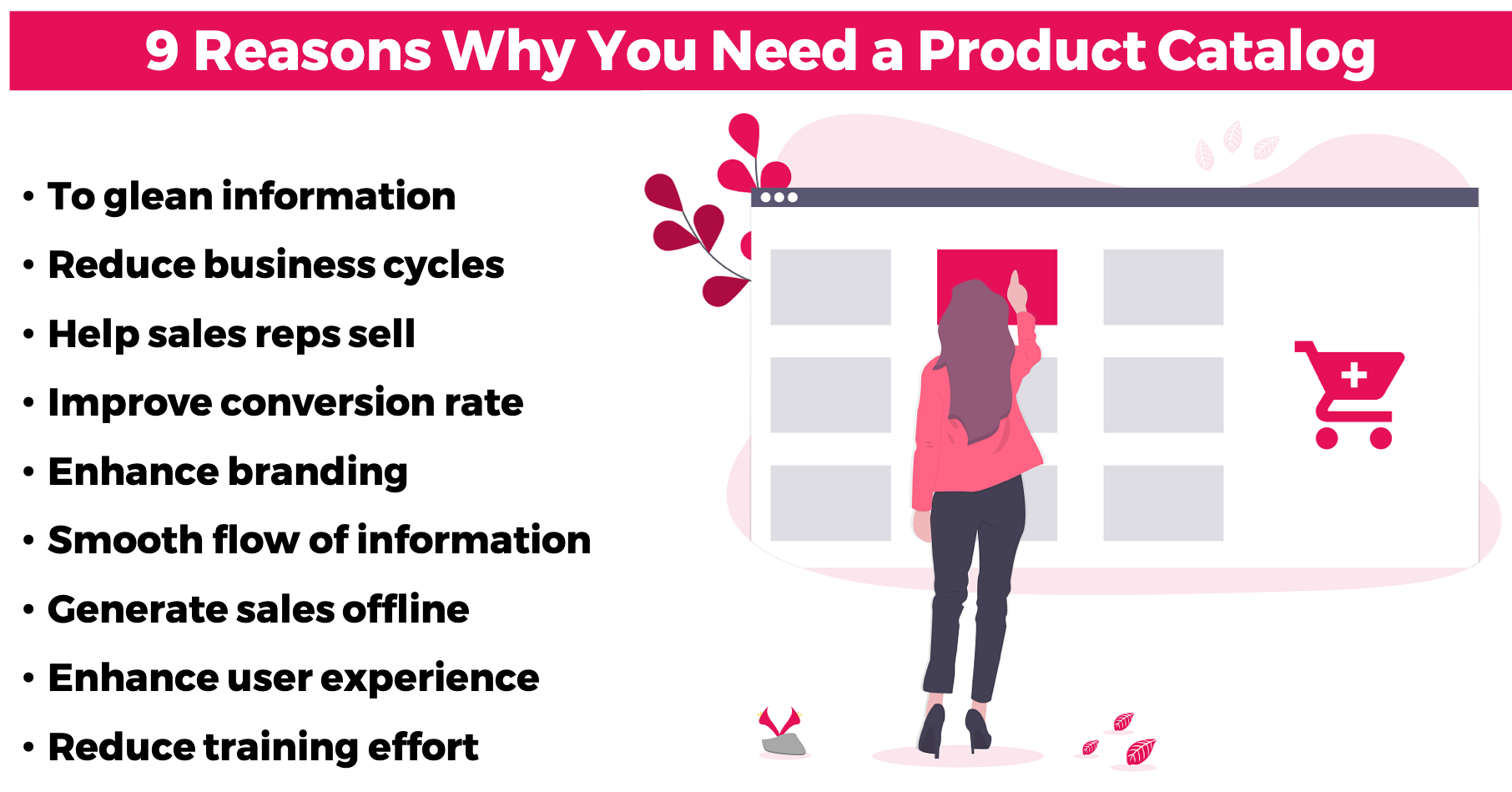 Product catalogs help businesses improve conversion rates as salespeople, and customers/prospects can have contextual conversations instead of spending time on problem discovery and solution. When customers have all the data that they need, they can seek approvals, make decisions, and buy products more efficiently. 
Product information documents are useful places to promote a company's brand. Using distinct colors, images, caricatures, cartoons, logo, font family, and a call to action can enable your brand to stand apart from the rest. Some businesses record their history and journey to establish a connection with their audience without being physically present. This enables users to easily recall a brand after browsing through its product catalogs.
Smooth Flow of Information
It helps in a steady flow of information between internal and external stakeholders from the origin to the final destination. Product marketing teams, who are responsible for catalogs, can publish information on content management systems (CMSs) for end-users (sales teams and customer success teams) to use. There is no fretting over stale information in emails, CRMs, storage repositories, desktops, and libraries.
Today, buyers research products online and make purchases offline - in malls, shops, events, etc. In such instances, it is important to help customers with information on their mobiles and iPads to fast-forward the buying process. Websites, landing pages, and microsites enable customers to research the requisite information to make up their minds.
When customers have product information in a PDF or a webpage embedded with images, links, reviews, price information, it enhances their user experience. Especially when all information is consistent across different product categories, it moves them one step closer to a purchase. Product marketers must anticipate buyer needs and create catalogs that match them instead of presenting general information.
Build Content Experience That Captivates Your Buyers
When information on products and solutions is in a digital form, it reduces the need to train and onboard salespeople, partners, retailers, and other users. It shrinks the learning curve as well because users do not need manual intervention. ​​​​​​
Ingredients of a Product Catalog
What are the ingredients of a product catalog? What should they have to help different stakeholders meet their objectives? A business cannot have multiple documents for various stakeholders unless there are different use cases.
To save you the trouble, we analyzed documents across industries to come up with a broad list of must-haves. These are not specific to any company/industry, so pick the ones that are most suitable for your company:
Product Details (in alphabetical order)
1. Call to Action - What do you expect the target audience to do after seeing your brochure? Download/email/call you/share it socially? Append this information to let users contact you.
2. Certifications - List the certifications earned by the product such as ISO 9001, ISO 27001, etc.
3. Constituents - Mention its core constituents, e.g., copper, steel, alloy. This element varies based on your industry.
4. Customer credentials - Include credentials from customers who have given a thumbs-up.
5. Description - Briefly describe it so users can quickly scan it for reference.
6. Dimensions - Call out the length, height, breadth, weight, the volume of the product.
7. Discounts - Are there any early-bird/seasonal discounts for your product?
8. Features - Include the top features of the product.
9. Guarantee/Warranty - Specify any guarantee or warranty clauses applicable to the product.
10. Ideal conditions of usage - Indicate the best conditions and criteria for using the product. e.g., temperature, surroundings, etc.
11. Name of the product - What is the product name? If you have a brand name for it, don't forget to include it.
12. Pictures - Pictures speak more than words! They are the most critical component of a catalog.
13. Price - Mention the price of the product and the currency/geography applicable.
14. Returns - Under what conditions will the company accept returns of the product?
15. Safety measures - If your product requires safety measures before using, include them to inform and educate users. 
16. Size - Name the size of the product.
17. Terms & Conditions - Call out the most typical terms and conditions of using the product.
18. Version - Name the version/release/series of the product. e.g., Windows 2016.
19. Year of the launch - Which year was the product launched?
Product Catalog Management
Product catalogs are detailed documents that need to be organized and managed to ensure higher utility. Here are the different aspects of product catalog management: 
A business has diverse needs to publish and store product catalogs - such as teams, geographies, campaigns, marketing themes, business units, industries, types, etc. 
Based on the unique needs of a business, content management systems can publish and store product documents for their users to access and use. These digital documents must be searchable - which means CMSs must attach tags and attach descriptions to them.
All products change - while some of them are subtle changes, the rest are complete overhauls. For example, a hardware product such as a laptop or mobile phone may undergo several upgrades within a year. In these instances, it is vital to update product information continually. Moreso, in the case of sales teams because they are in touch with customers.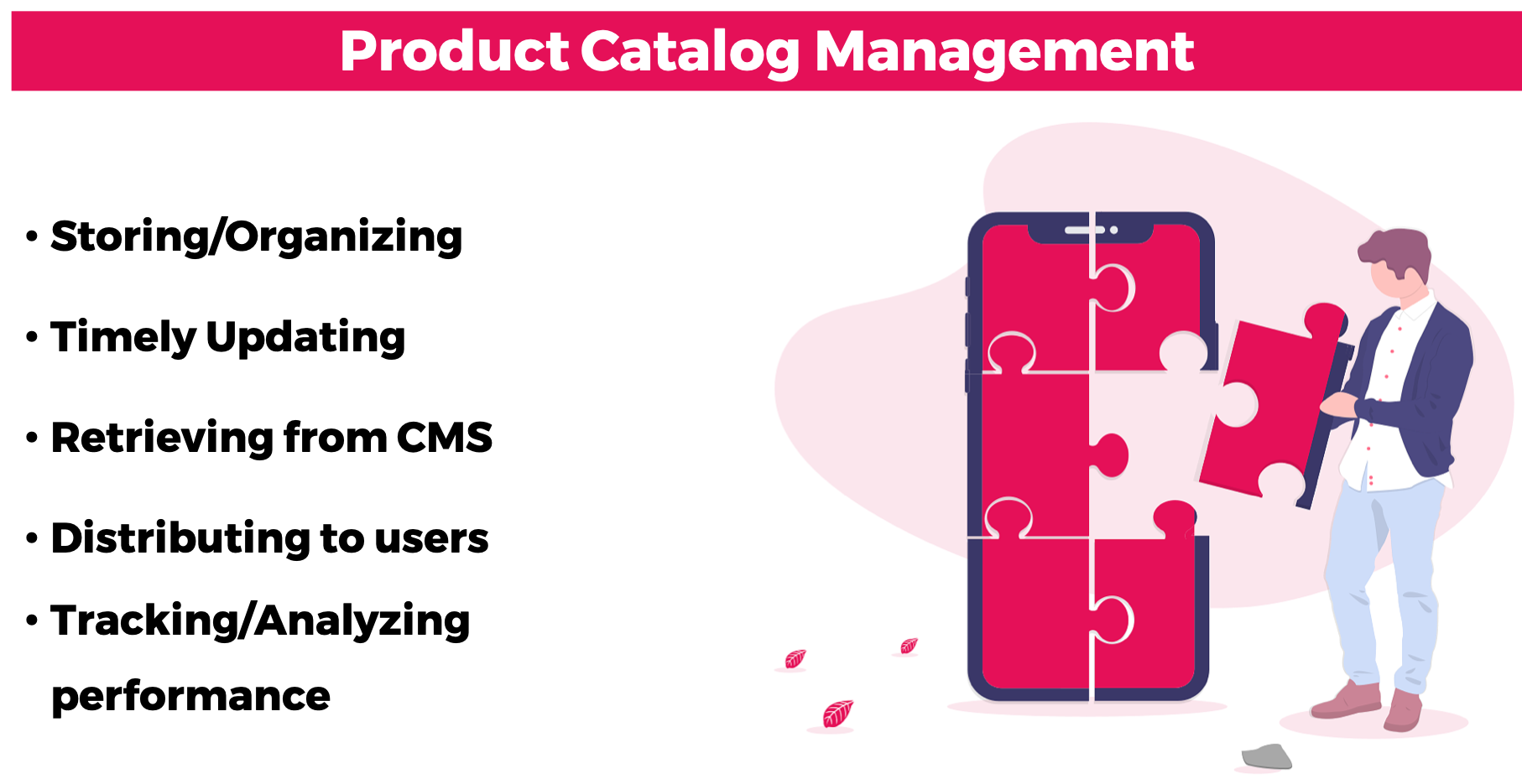 Product brochures must be distributable to enhance the user experience and help buyers compare products and decide instantly. One way of getting the attention of buyers is by creating personalized microsites with multiple product brochures, each of which conveys vital information. This way, buyers can glide through different brochures, and choose the one/s that suit them.
Tracking/Analyzing Performance
Users must be able to gain insights from the usage of product information sheets. It includes the number of views, downloads, re-shares, and time spent on each document. CMSs are powered by analytics capabilities that help product managers, marketers, and sales reps to efficiently analyze product performance, boost sales, and deliver a personalized user experience.
For example, in an email campaign, sales reps must know which product catalog is providing the most value to buyers. It helps sales reps engage with customers meaningfully in sales conversations and fulfill their needs meticulously.
Get Actionable Insights That Moves Sales Forward
Product Catalog Examples
Now that we have a fair idea of what is a product catalog, here are a few product catalog examples that designers could use to become inspired. Some of these are suitable for B2C companies, while others will be apt for B2B companies. Click on the image below to download any of these to get started right away.
Click on the image below to access the wide repository of 12 product catalog examples across different industries and companies that will inspire you create one for your business.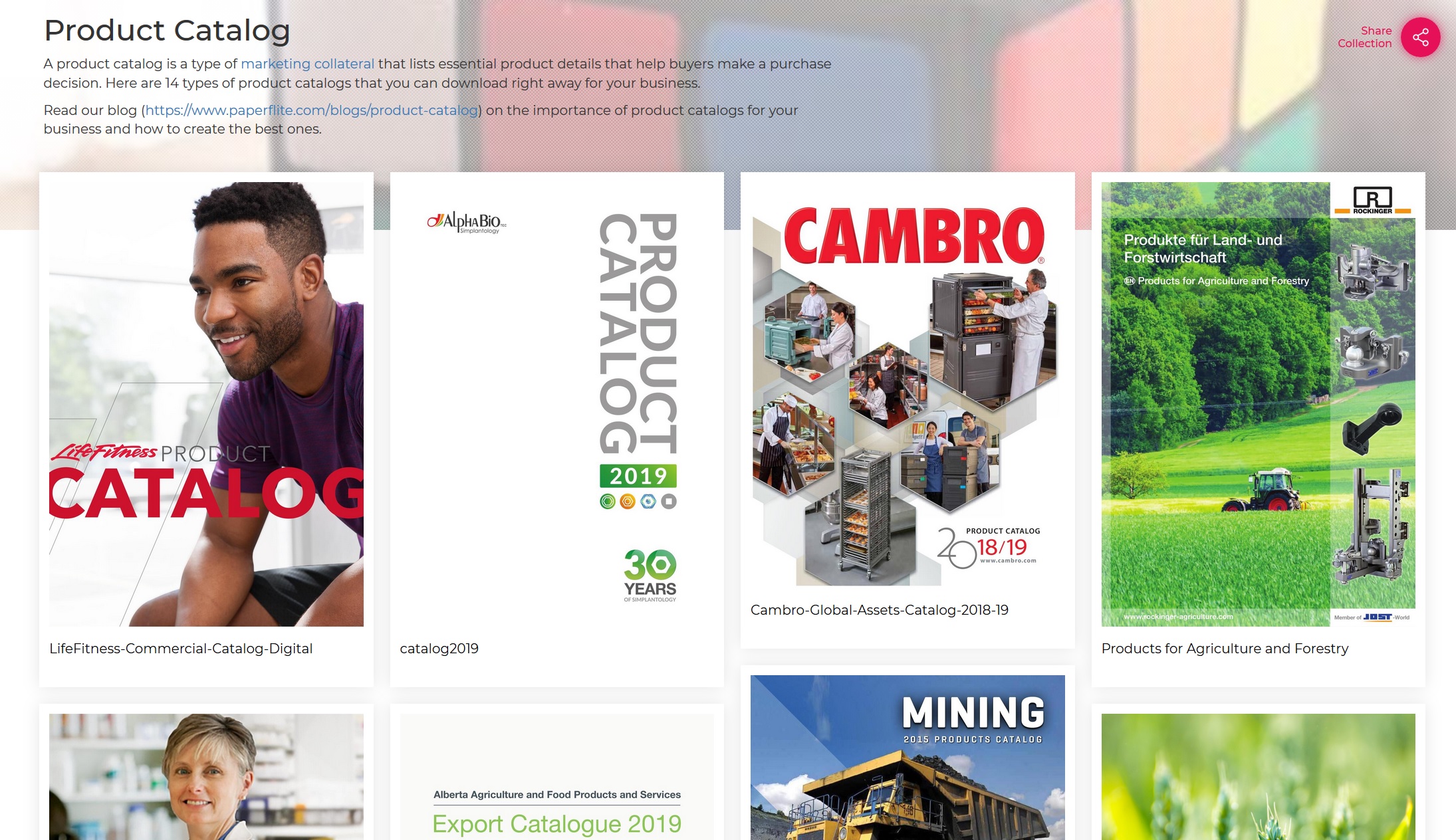 For starters, Rockinger's product catalog is 142-pages long, vivid in its imagery and has a detailed description of all its agriculture and forestry products. The product diagrams are accompanied by features and tables and have all the details that buyers will need before making a purchase decision. The document is in a two-sided format in English and German languages thereby catering to both target audiences.
The marketing team at Alberta Agriculture and Forestry knows how to design a catalog. It begins with a brief description of the Alberta region in Canada, its agriculture, and then delves into individual product categories such as bakery, beverages, cereals, etc.
It lists the suppliers and vendors (along with contact details) for each category accredited by the Canadian government. The images used in the product catalog speaks volumes of the effort that has gone into promoting the region's agriculture business.
Par Pharmaceutical's online product catalog is simple, yet effective. It lists down the different drugs, their dosages, generic names, package size, etc. An adjacent PDF document describes the molecular formation, indications, usage, and warnings.
Cambro is a 69-year old company with a vision to make a hospital meal tray of the highest quality possible. catalog caters to its business in the insulated transport, merchandising, ware-washing, and other categories. Each product captures details around the build, weight, dimensions, price, optional accessories, voltage, energy efficiency, etc.
The longest among the several product catalogs that we researched, it helps users understand the importance of granular details of such products.
Life Fitness's product fitness catalogs are a treat for the eyes. Their target audiences are owners/administrators from gyms, corporates, clubs, hotels, military establishments, and fitness boutiques. It includes the entire suite of products, apps, and services that the company offers to its members across different age categories.
Every fitness equipment has details around its design, build, material, and usage mechanism. With pictures of fitness specialists using the equipment, it enables buyers to easily relate with it and decide the best choices suitable for them.
AlphaBio has been providing solutions for dental implantology procedures for 30 years. The company's 2019 product catalog captures details of all their products, design features, composite material, dimensions, instructions, and clinical advantages. It is a universal document that helps dentists, surgeons, patients, partners, and distributors know what is on offer and how they could benefit from it.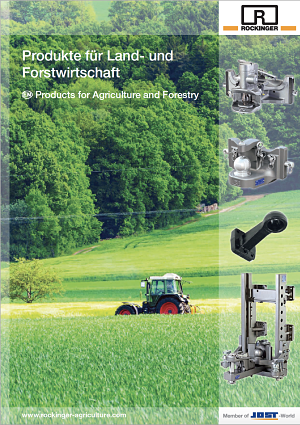 Product Catalogs - What You Still Need to Know
Buyers need to make decisions quickly, and businesses need to make their journeys seamless. Product catalogs must feature content that provides them with all requisite information. Hence, marketers must know what makes their product a must-have for buyers and include that information.