15 B2B Marketing Tools for Every Marketer Out There
"You're a tool," said no one to an efficient marketer ever. Do you know why? Because that efficient marketer knows the right tools to get the job done. You know you can be that marketer. You know what? You probably are. Now, this bit almost seemed like a Michael Scott presentation. But even Jim would agree that Michael's onto something here.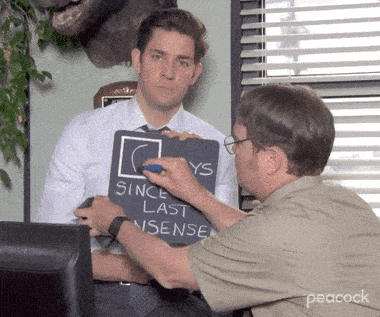 Did you know that 100% of people hate these introductions because they want to jump right to the solution of their query?
But where to jump? Sometimes efficiency means a one-stop solution. The other times it means having modern solutions to modern problems. The point is that both avenues of solutions are correct; it just depends on your needs and use cases.
We've hand-picked 15 Marketing tools for your B2B Business from different categories for your ever-expanding diverse needs, so your eternal journey of finding the right tools for your Martech stack ends here. Agh, the irony.
1. HUBSPOT — MULTI-FACETED MARKETING ECOSYSTEM AND OG OF INTEGRATIONS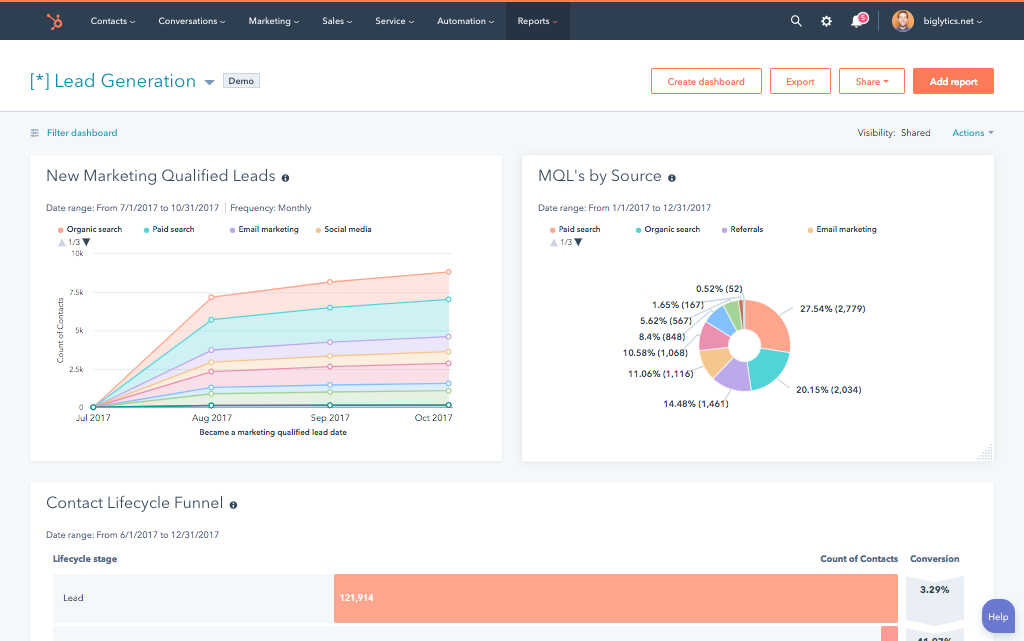 Part-Mailchimp, part-WordPress, part-SEO platform, even sprinkle some user profiles in the product mix — basically, it is your magic pocket for everything marketing.
Hubspot at the back is like, let's call all departments over for tea and then lock them in the same room till the end of time. *laughs in execution
On the upside, the offer sounds cool, comprehensive, and much sought after. But on the downside, it's one of those big-ticket items. Hubspot offers bundles. And you might not use all the offerings of a particular bundle and would end up paying for a service or tool that you don't really need.
But if you want to keep your marketing tech stack small, Hubspot might be your go-to tool.
Now, it might just be our opinion, but in the specialised world we live in, would you prefer companies that offer one specific service, or do you want a company that provides a plethora of offerings? It's highly subjective and need-specific.
One thing that stands out with Hubspot is that it offers a business strategy for inbound marketing and training programs at Hubspot Academy. But it's a fair bit complicated for beginners and small companies and limits you to their tools. So you would be at its mercy, which doesn't sound all that enticing.
Although for big companies and business owners, it's hands down the best in the game.
The thing to note here is that there's a reason it is on every list — Hubspot knows what it's doing, and it's good at it. Did we mention they're into hubs?
Flite Points: on top, one-spot solution, additional perks (but are they worth it?), over 1,000 app integrations, and works well if you have a spot full of marketing budget in your hub.
2. MARKETO — MARKETING AUTOMATION FOR GODS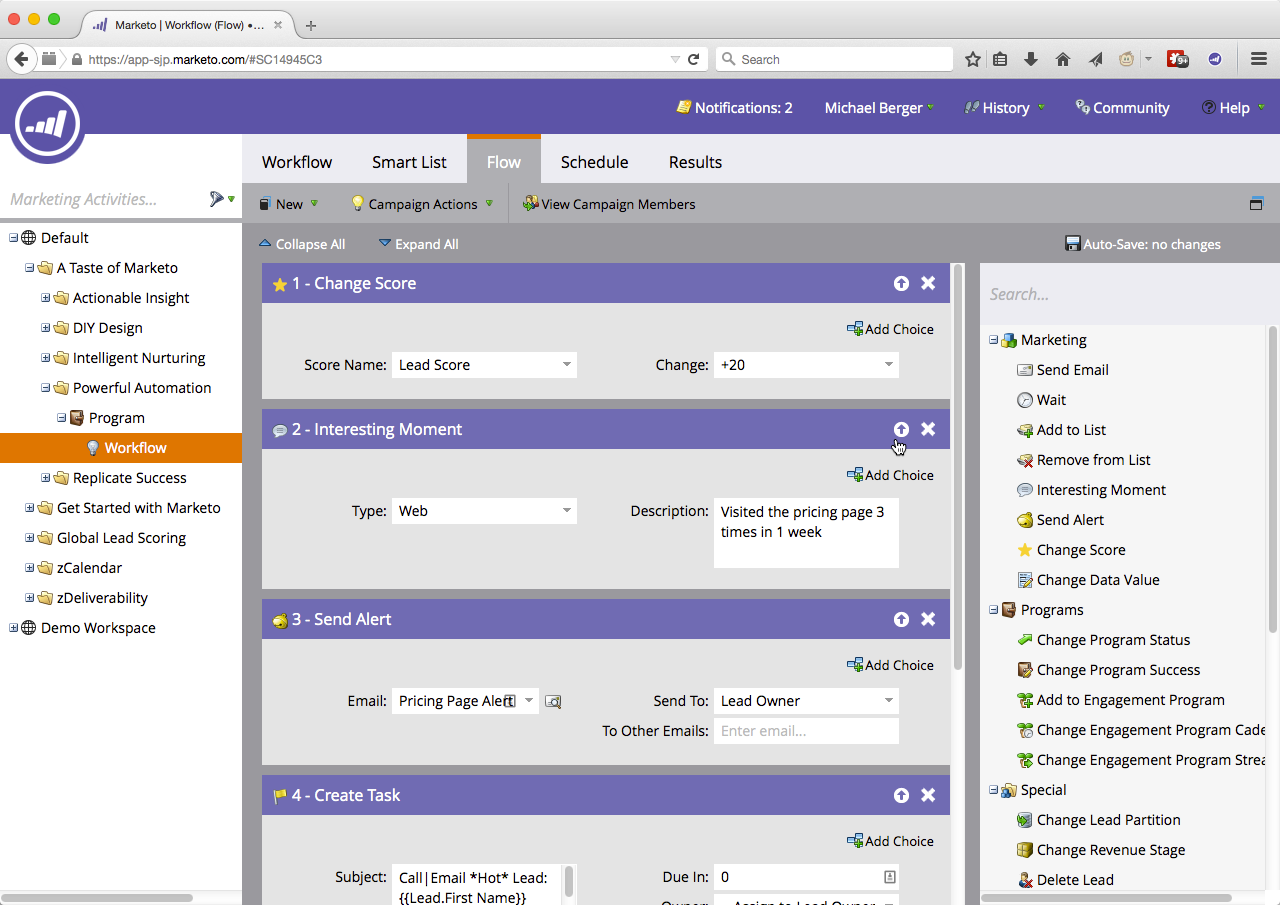 Marketo and Hubspot are sorts of fancy if-not-this-then-that tools. Marketo is a marketing automation tool purpose-built for Marketers. Simple. It's a part of the Adobe Experience Cloud — because big companies like eating small companies for lunch — providing solutions for marketing, advertising, analytics, and commerce.
Marketo, coupled with Bizible, measures the value and ROI of every interaction across the customer journey. It has integrations with Salesforce campaigns and is a streamlined marketing automation tool. It also touches upon ABM, but it's the specialist-generalist debate all over again.
Marketo's bundles and its a-la-carte options are, let's say, thoughtful yet pricey, but at least you pay for the tools you actually need.
The clarity it provides to marketers while conducting marketing ops and handling marketing interactions — it calls them programs that capture interactions as data — makes Marketo the perfect automation tool for beginners and seasoned marketers alike.
If Marketo Engage has engaged your interest, it might be the tool for you.
Flite Points: clean, simple, customisation and personalisation capabilities, techy and complicated interface, and class apart user experience.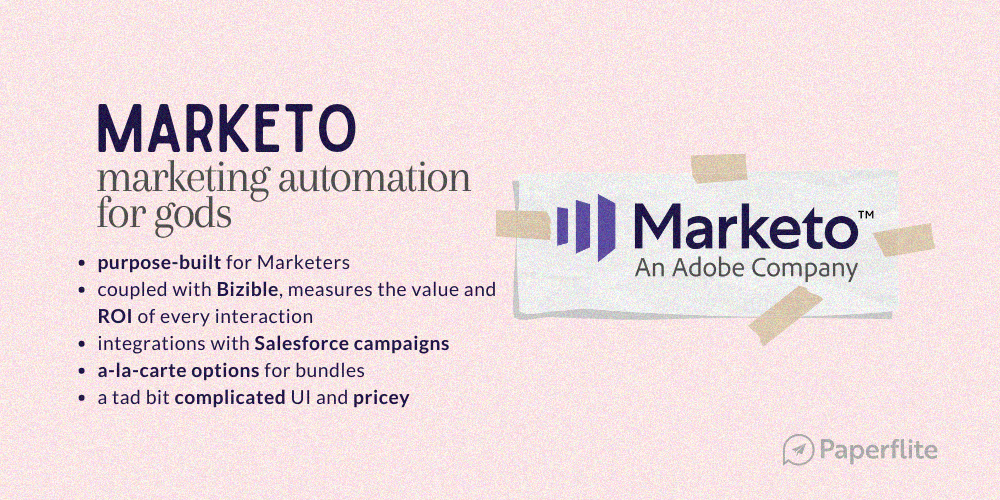 3. PAPERFLITE — CONTENT DECK TO DELIVER ROYAL FLUSHES AND NOTHING ELSE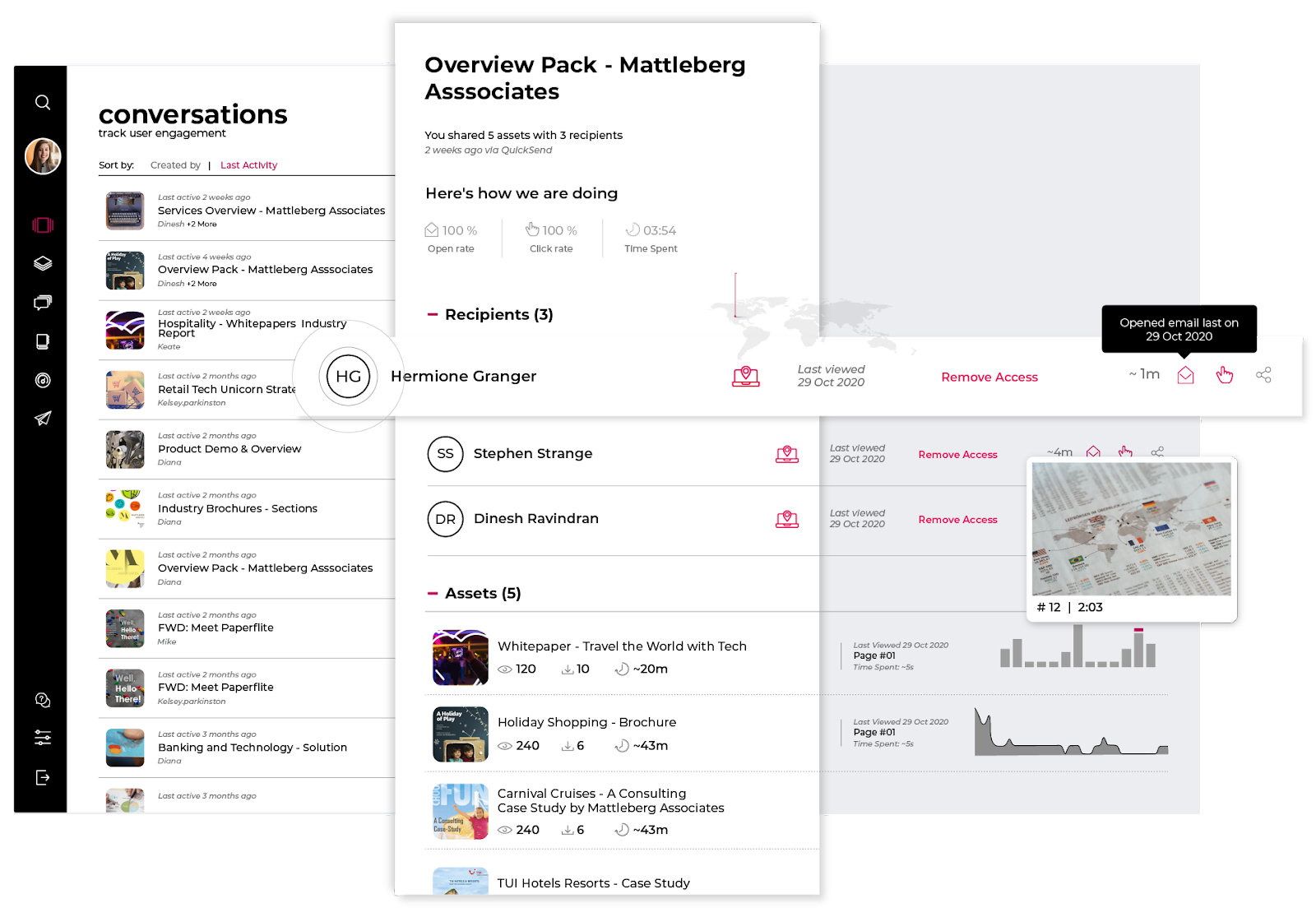 Paperflite is your go-to content management platform that helps you store all your content, marketing collaterals, assets, and sales enablement materials in a single centralised content repository. Paperflite makes it easy for the sales team to discover, distribute and track their sales content performance across prospects' journeys.
With Paperflite, you can easily see what sells, what's working, and what's not. Their content analytics empowers your marketing team with insights to understand if the content is being consumed effectively by the customer-facing teams for their client conversations and product pitches.
For all that it offers, the pricing is reasonably competitive. Paperflite has highly responsive around-the-clock live customer support, so you don't need to hit pause to hear back from the support team, no matter the timezone, country or planet you're on.
Get Granular Information About Every Content Being Sent
You can make one hell of a first impression when sharing your content materials with your prospects using Paperflite.
Paperflite is built with the end-user needs in mind and comes in handy when discussing tool integrations. It integrates a horde of B2B marketing tools — including Hubspot, Salesforce, and Klenty — ranging from email automation, CRMs, marketing automation platforms, and messaging and analytics tools.
 
Siemens, Freshworks, Carlsberg, and S&P Global are some of the organisations that trust Paperflite for their content management needs.
Flite Points: everything content; distribute, track and analyse your content performance, cost-effective and comes with a slew of integrations for every aspect of marketing.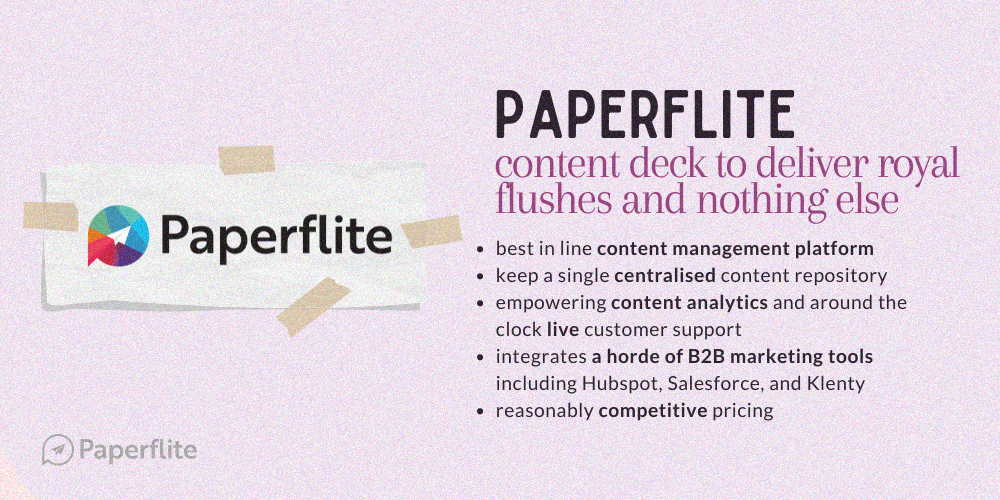 4. AHREFS — MAKING SEO SPECIALISTS DROOL OVER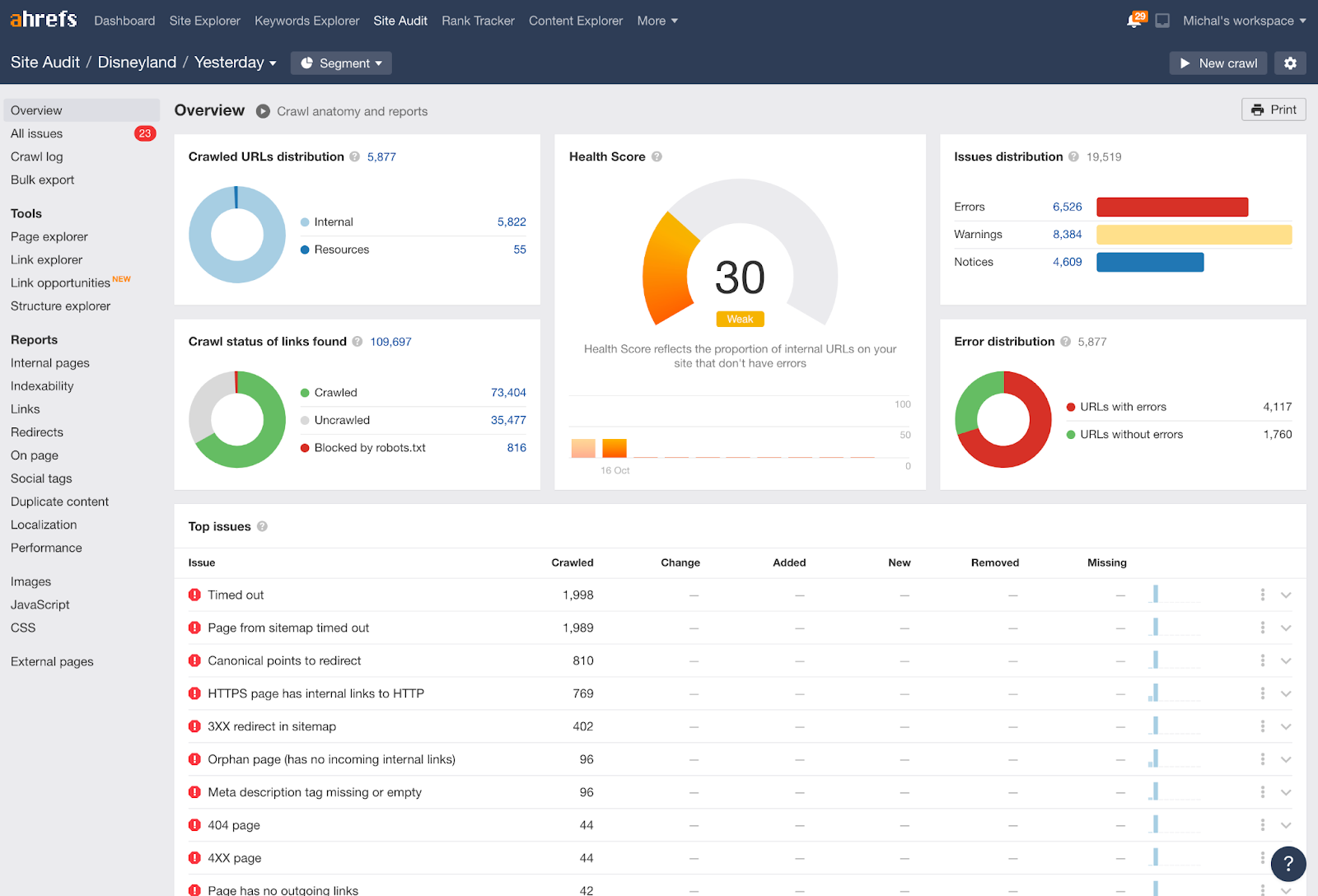 Ahrefs team will know if we write something about them because we think they keep track of their organic searches throughout the day. Imagine a person whose entire job is just this.
(P.S This person contacted us and asked to send help).
Anyway, Ahrefs is the leading all-in-one SEO toolset. With Ahrefs, you can 
analyse SEO data
audit your website
analyse traffic growth
store recent backlink data
trace and rank organic keywords
monitor your competitors
…and more. A whole heap of things your SEO specialist will drool over for.
Ahrefs' plans come with an exclusive members-only Facebook community of SEO experts and marketers, which is a) great for networking and b) you get to engage in discussions, hear opinions and get answers from industry experts.
As it is primarily an SEO tool, it does not run Google Search Ads or have a Google Analytics tag on the website. Instead, it provides organic search traffic data of websites as it gets its website traffic information directly from the depths of the internet.
Ahrefs is second to none in its offerings (maybe SEMrush), but its arsenal of tools and ease of usage comes at a cost, a hefty monetary charge.
Flite Points: everything SEO, easy to master, clean, additional perks, comes with a whole lot of social proof.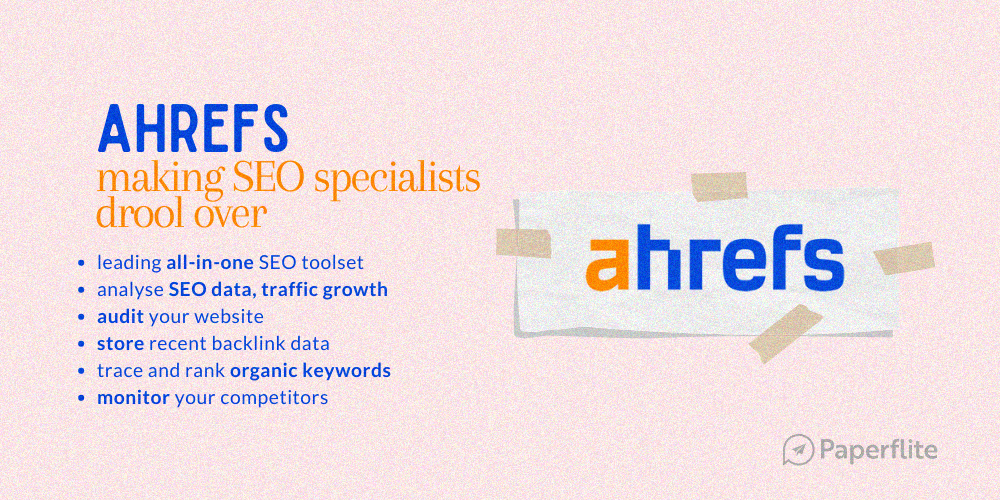 5. INTERCOM — BUILD LASTING CUSTOMER EXPERIENCES WITH EVERYTHING CONVERSATIONAL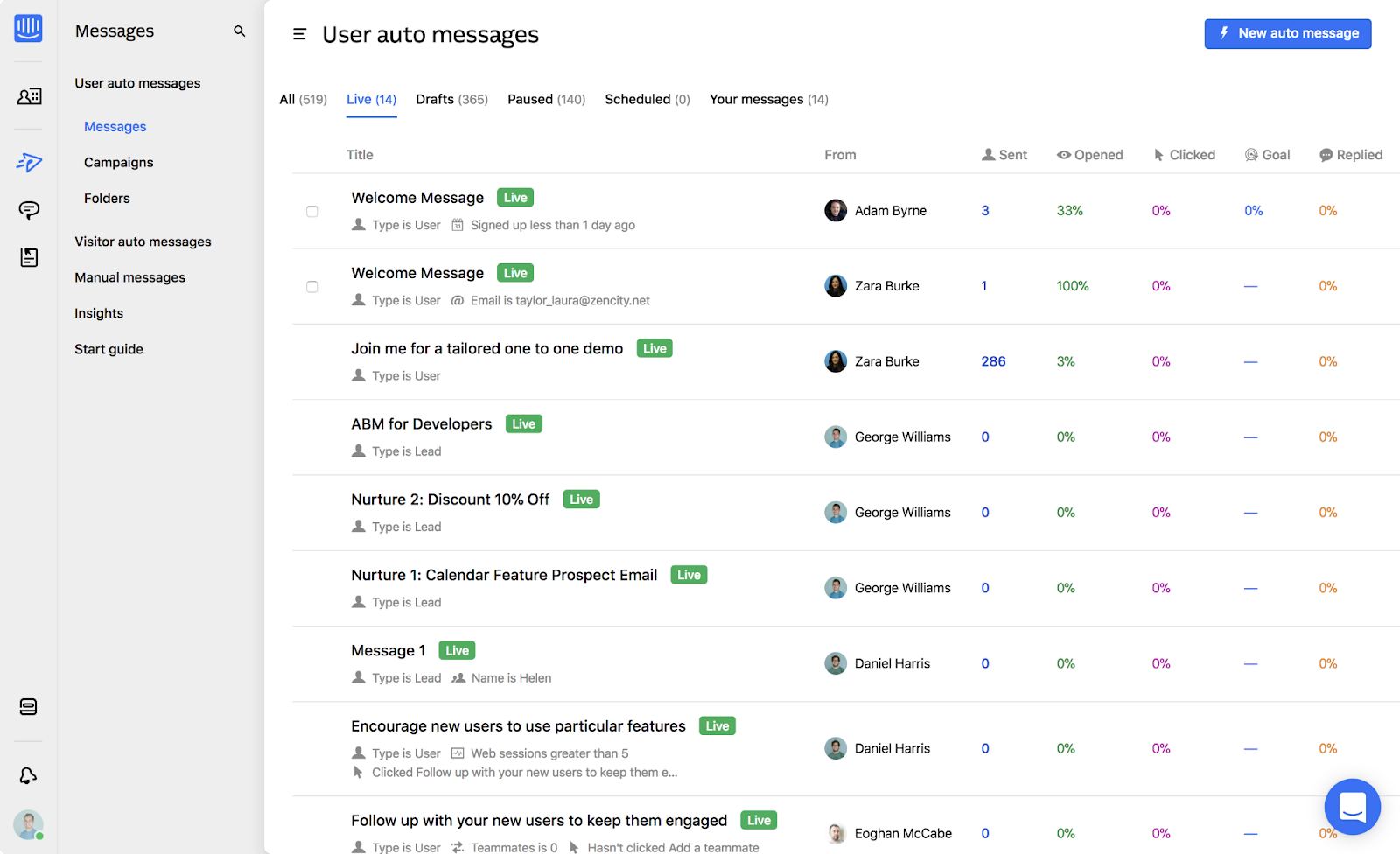 Intercom is the market leader in conversational marketing, support, and engagement. Do you wish to quickly transfer your inbound leads to your team to help potential prospects with their queries? Intercom works to facilitate customer resolutions. Its personalised and proactive software works to accelerate your entire deal cycle.
You can route accounts directly to the right person (that is, the dedicated sales rep) in real-time, get self-serving support with custom bots for your website to speed things up for every visitor (ultimately enhancing user experience), analyse your conversions, and take a peek into visitor engagement.
Now, in terms of integrations, Intercom doesn't fall short compared with other B2B Marketing tools — it offers 300+ apps and integrations to increase team efficiency and productivity and maximise customer satisfaction. So it clearly stands out when it comes to conversational marketing. And Intercom's competitive advantage gives you a tangible advantage over your competitors.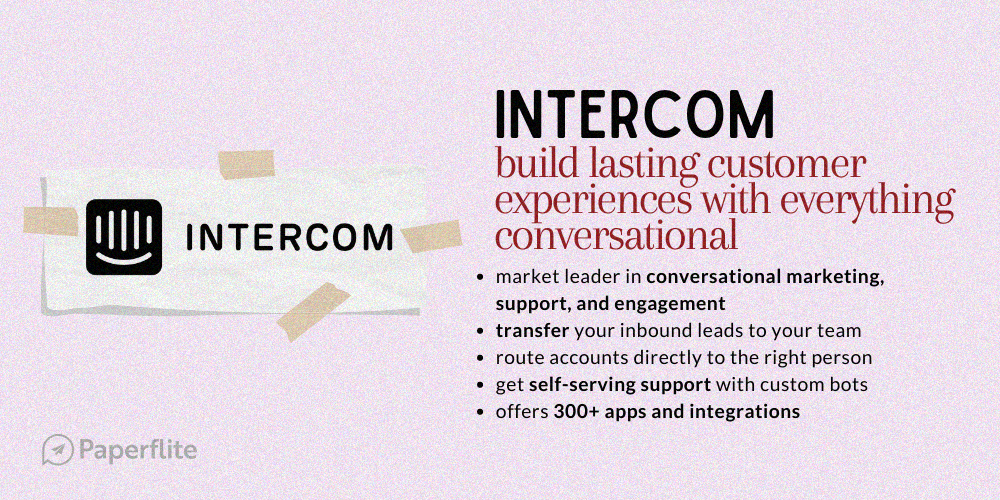 6. 6SENSE — ORCHESTRATE REVENUE STRATEGY WITH UNPARALLELED CONVERSIONS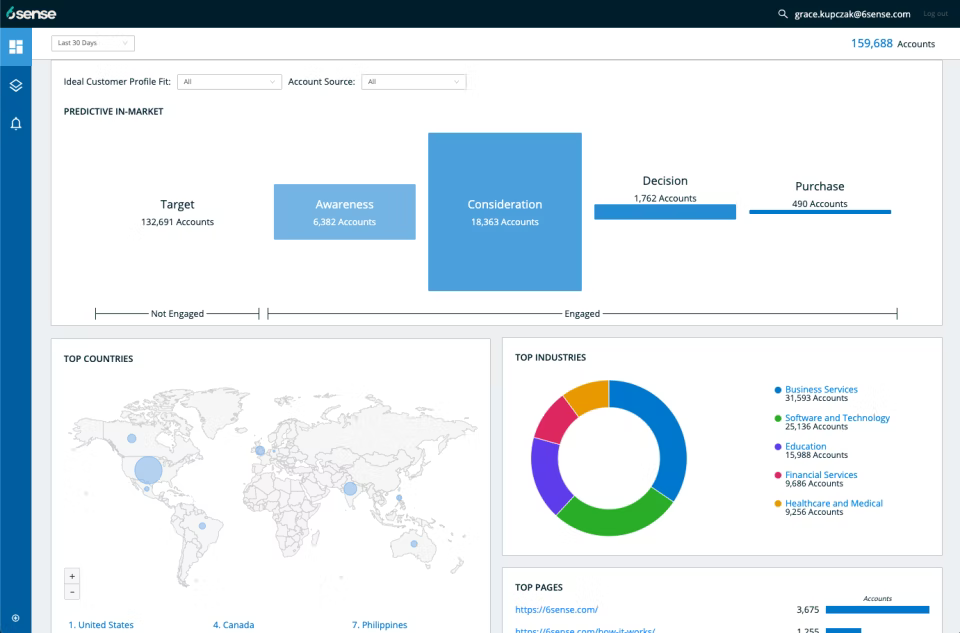 6sense is an ABM/ABX platform that helps B2B businesses orchestrate their end-to-end revenue strategy using transformative technology — AI, big data, and machine learning. While 6sense also comes bundled with Salesforce integrations, its key USP has to be telling you which prospects are most likely to convert.
To leverage, you get detailed information about your visitors — their company, contact information, and what they're researching right on the dashboard.
It offers a simple, user-friendly interface. While writing this, one thing that stands out is that 6sense provides phenomenal customer service, a feature most companies in this list are seemingly unable to provide (yet).
Another element of 6sense worth mentioning is that it comes with consistent updates — something that Marketo lags behind in.
Flite Points: clean interface, a transformative solution to the problem, accurate insights, and predictions.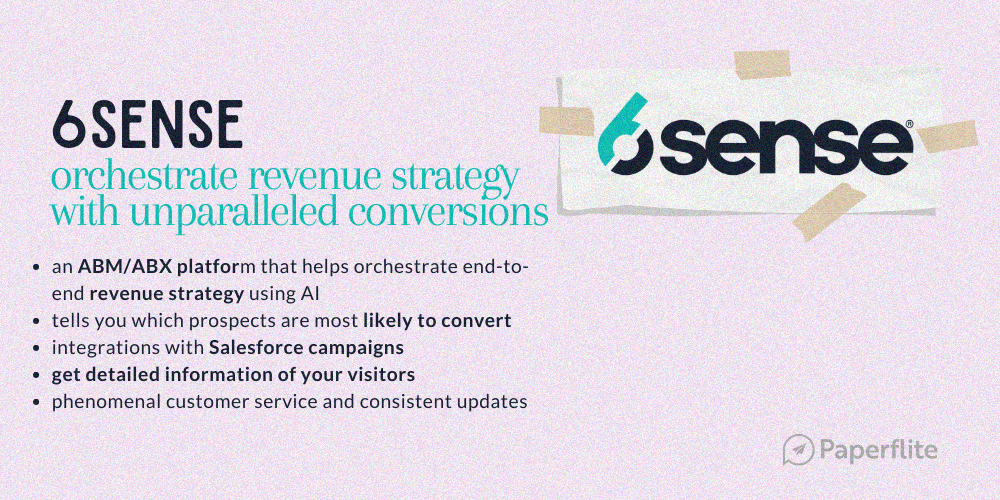 7. CLEVERSTORY — STITCH TOGETHER CONTENT EXPERIENCES WITH SIMPLICITY
Cleverstory is a zero-clutter no-code B2B marketing tool that allows marketers or anyone to create interactive content pages. It offers simplicity in operations. So no more seeking help from design development teams for new page efforts. It gives more power to you by giving you the freedom to design and build your content story precisely the way you want. No questions asked or revisions required.
Make Content That Is Bingeable And Not Boring
The AI-powered content experience platform lets visitors binge on your content by crafting micro-personalised journeys based on their reading patterns.
Build landing pages, run ABM campaigns, design events, create a resource hub — possibilities are endless with Cleverstory.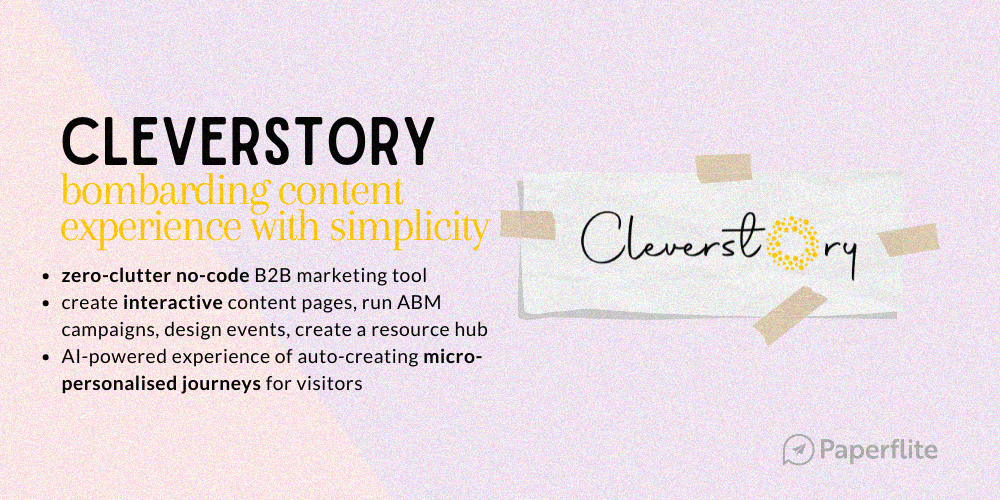 8. COSCHEDULE — TO AN ORGANISED DAY WHILE SLAUGHTERING GARBAGE HEADLINES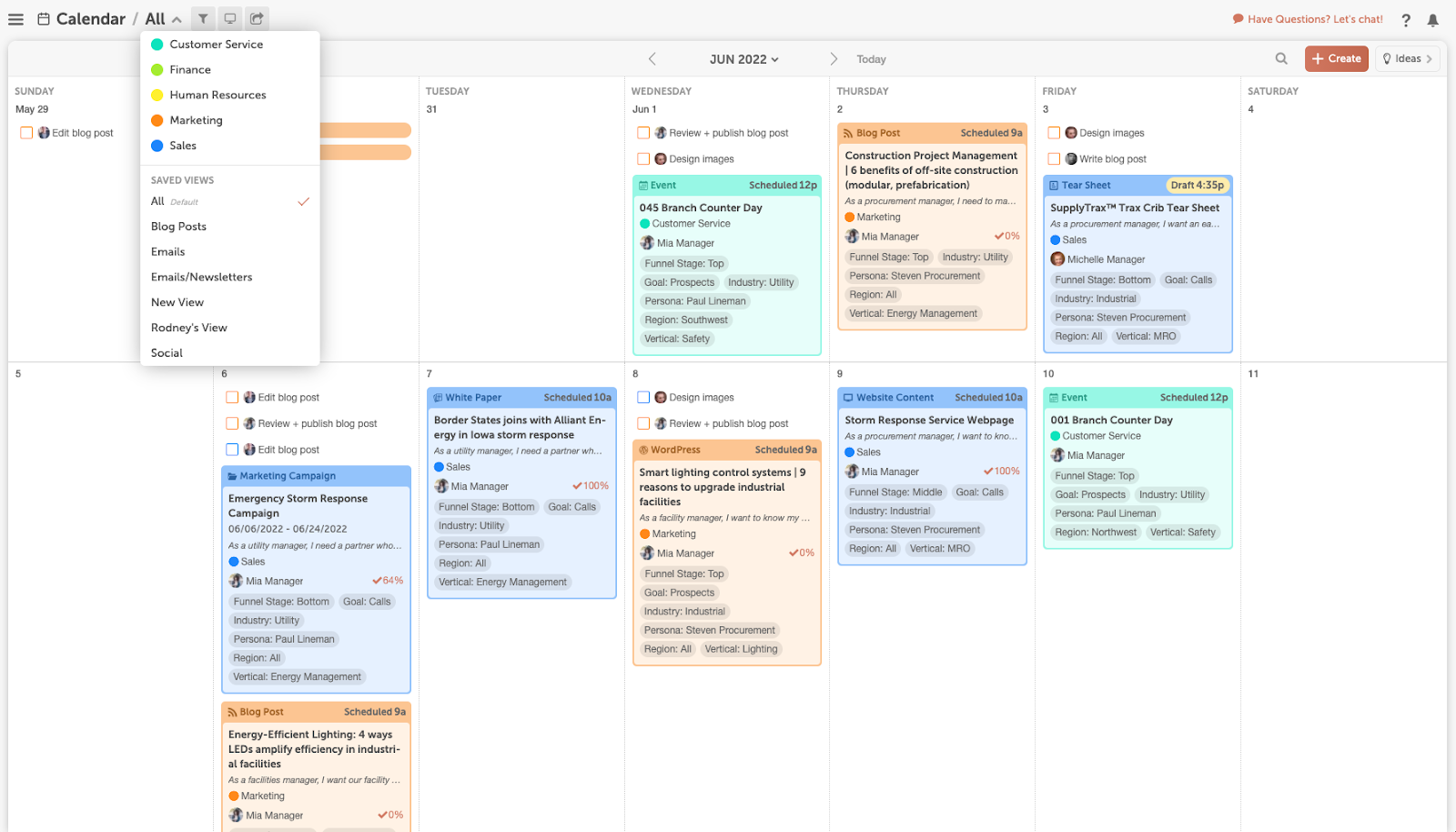 Coschedule is a marketing work management software that wants you to start your day in a reasonably structured manner. Its offerings include a marketing calendar, marketing suite, and a headline studio, basically niche products to carry out specific functions.
It's an intuitive platform with cross-platform integrations. Coschedule makes social media scheduling and project planning easy breezy.
Flite Points: easily navigable platform, headline analyser, structure and manage posts from different social media accounts in one place, colour coding, and project categorisation.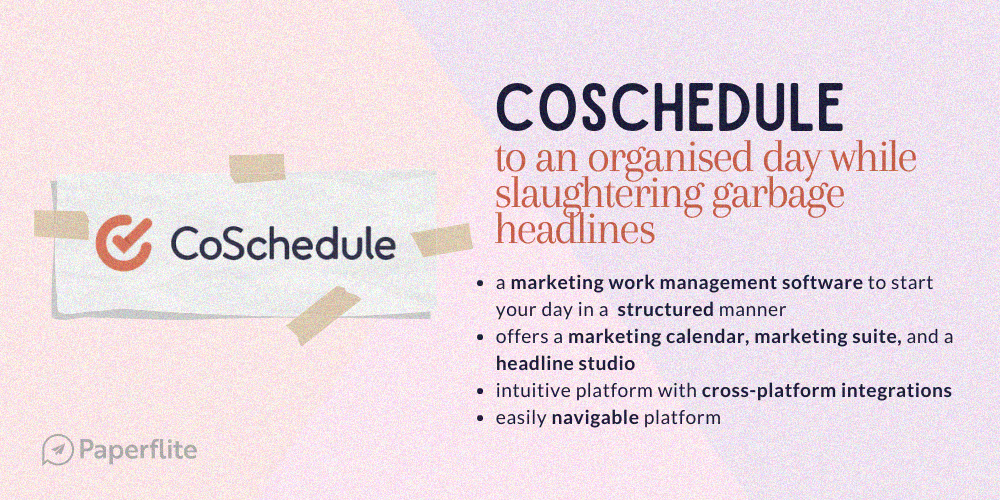 9. KLENTY — COLD EMAIL OUTREACH SUPREMACY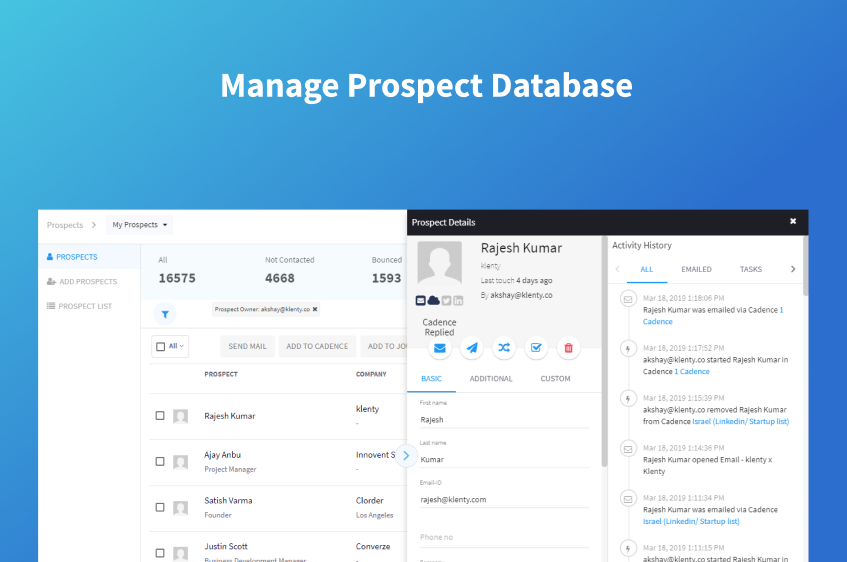 Klenty is an intent-based sales engagement platform that can help sales teams reach out to prospects by sending personalised emails and automated follow-ups. Klenty strives to be your go-to tool for automating cold email campaigns that generate leads.
It is simple, easy to navigate, and comes with a few integrations like Hubspot CRM. Klenty offers over 700 emails per day — that's some crazy reaching out. But for some power users, it can be a bit too basic. So Klenty might not be the favoured platform for people wanting to send complex, advanced HTML-based custom-coded templates.
Klenty is fairly priced for small companies, that is, if you are not looking for many integrations. And they have based their packages on accessibility. So the more you can afford to pay, the more integrations you get.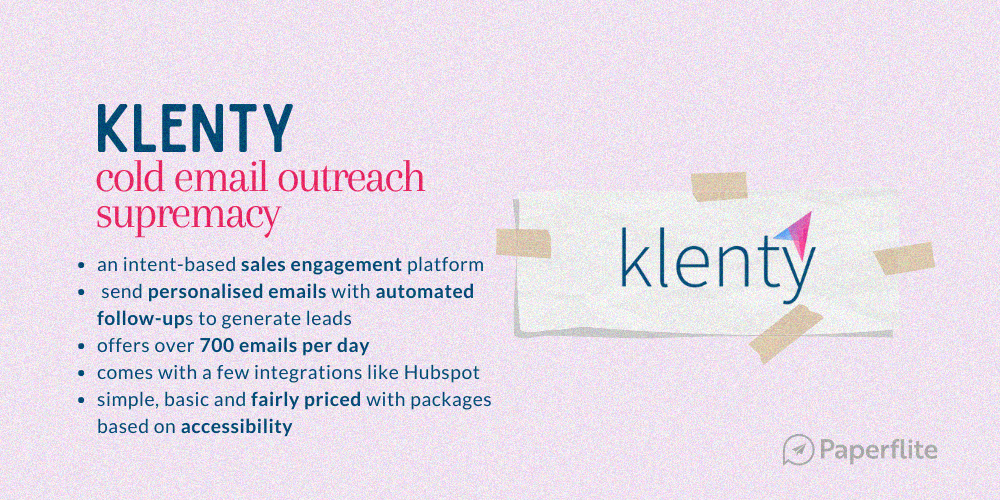 10. SPARKTORO — KNOW YOUR AUDIENCE LIKE THEY DON'T EVEN KNOW THEMSELVES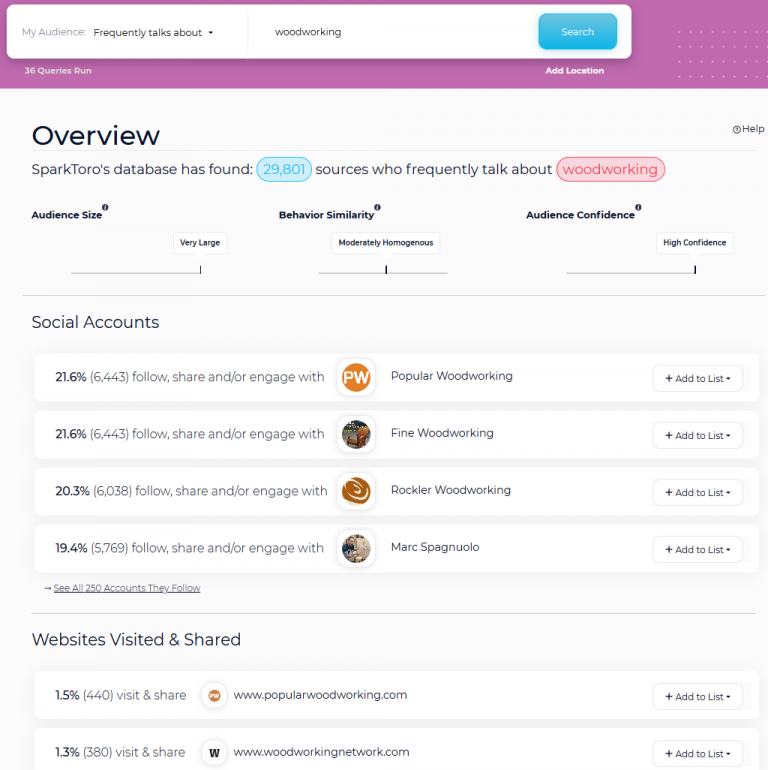 Sparktoro wants to change the way you research. It works to replace expensive market research surveys with crazy user insights like what are your prospects talking about, their favourite websites/accounts, or the words they use the most.
You literally have the power to shape your audience at your fingertips.
Know your audience with Sparktoro and create personalised content like nothing else.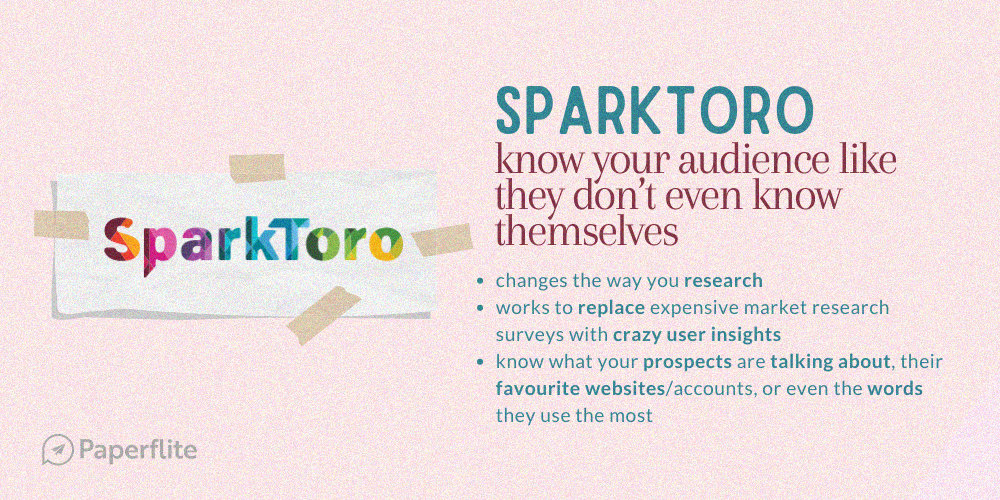 11. ZUDDL — RICH VIRTUAL EXPERIENCE, BUILT TO SCALE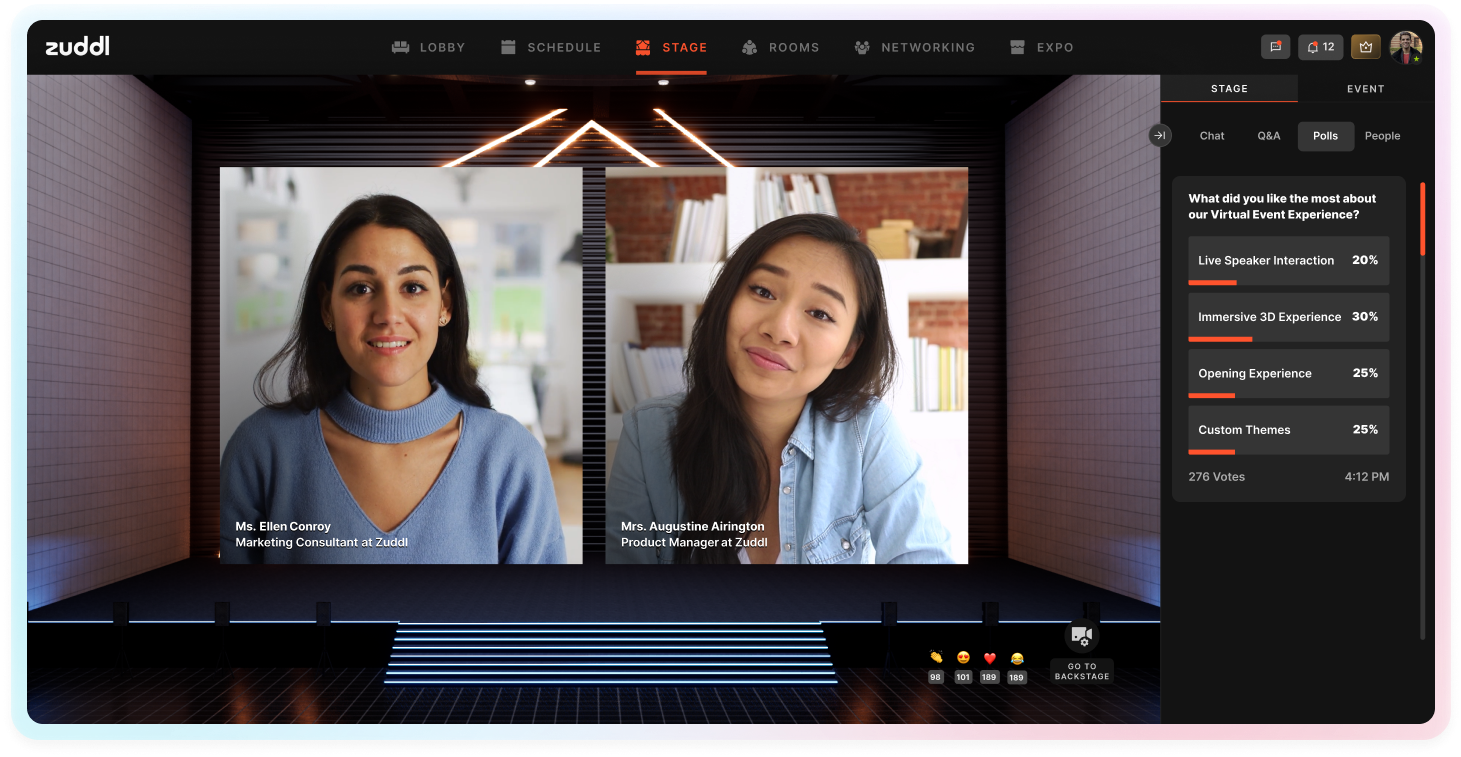 Zuddl is a hybrid and virtual event platform that lets you organise customised and scalable online events. It offers all the tools and plugins you will need to host premium flagship events with interesting meta-features like a virtual brand-flaunting lobby, parallel stages, AI-powered networking, and private rooms.
Zuddl wants to simplify your virtual event experience with a physical event persona.
This feature-stacked platform offers support right from technical planning to the final delivery of your event. Zuddl's pricing varies, but you can start with a single event for a few thousand bucks.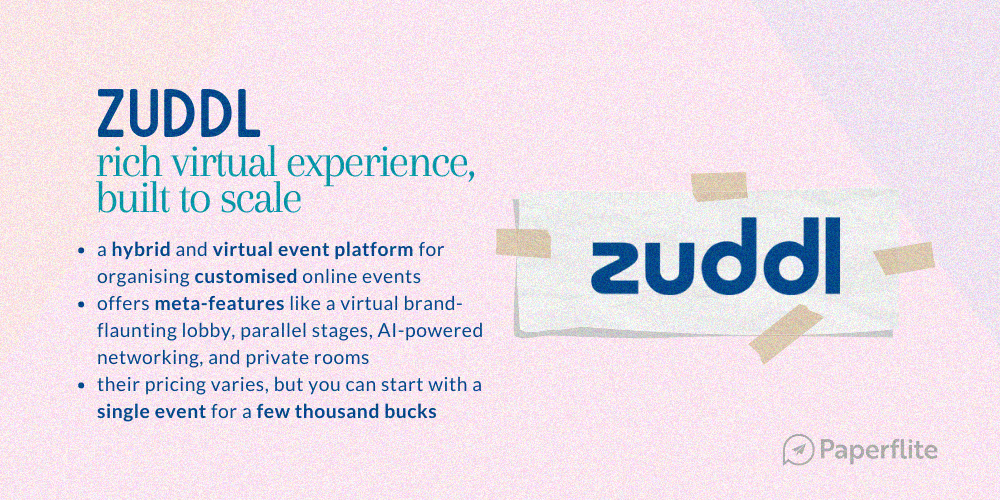 12. SMARTLOOK — ANSWERING "WHYS" WITH AN IMPRESSIVE USER BEHAVIOUR TRAIL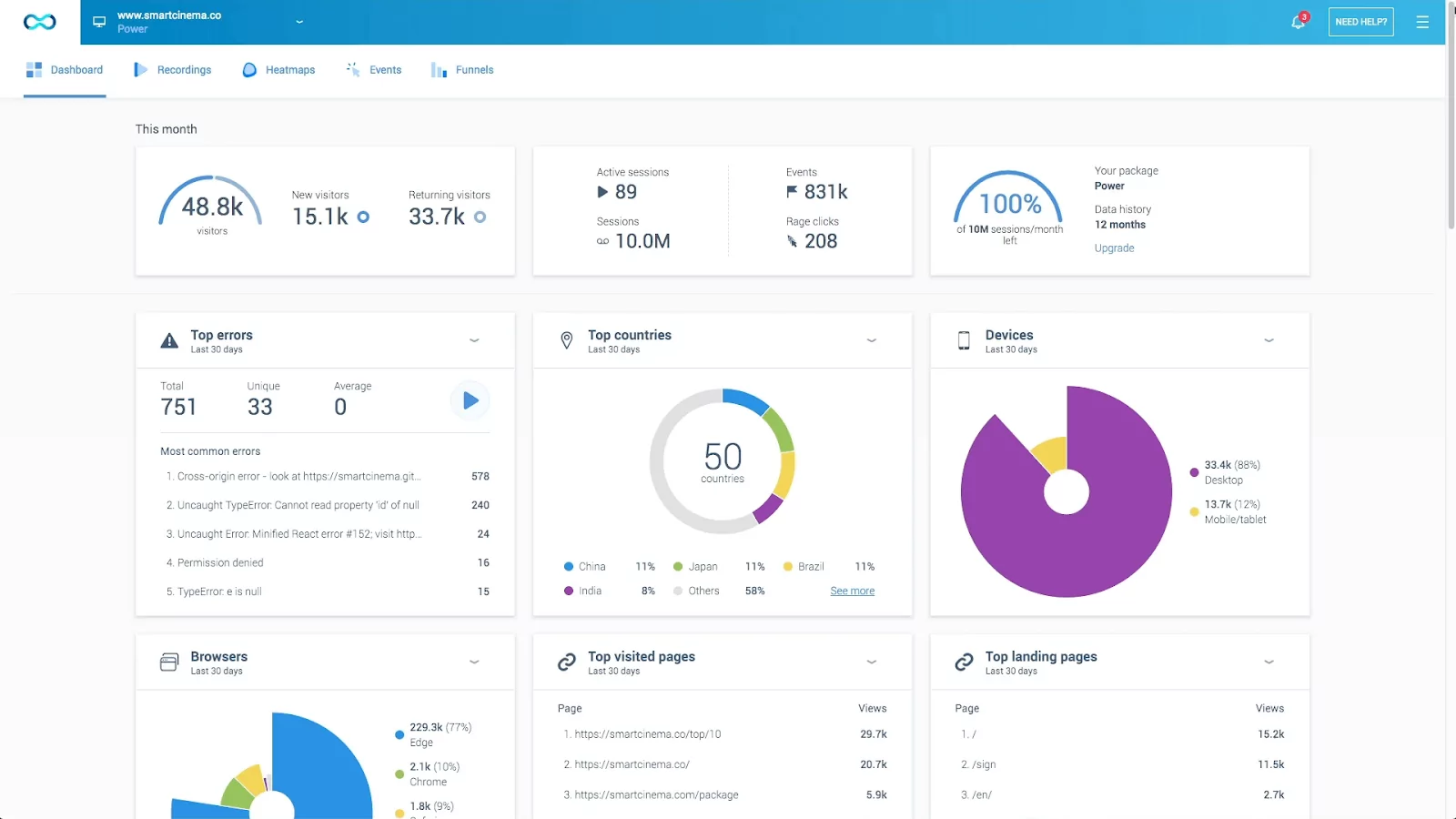 Smartlook is a qualitative analytics platform that offers an intuitive, visual way to discover, consolidate, and understand users' actions to identify (and build towards) user needs.
Smartlook makes it easy to record user interactions with your website via on-screen navigations and heatmaps. You can go all Marauder's Map on your visitors with it. Smartlook provides you with a real-time understanding of how your visitors are interacting with your site — where they are clicking, scrolling, even dropping off. And you don't have to stop there.
You can filter your searches. Smartlook offers over 30 filters to find the recording you need. Imagine you want to know who visited a specific URL, from a certain city or on a particular device; it's all possible with Smartlook.
Create funnels from events, monitor their performance, pick out anomalies, understand user behaviour, improve user engagement and nail the customer retention game.
Smartlook comes with a handful of essential integrations and massive social proof, trusted by brands like Volvo and Vogue.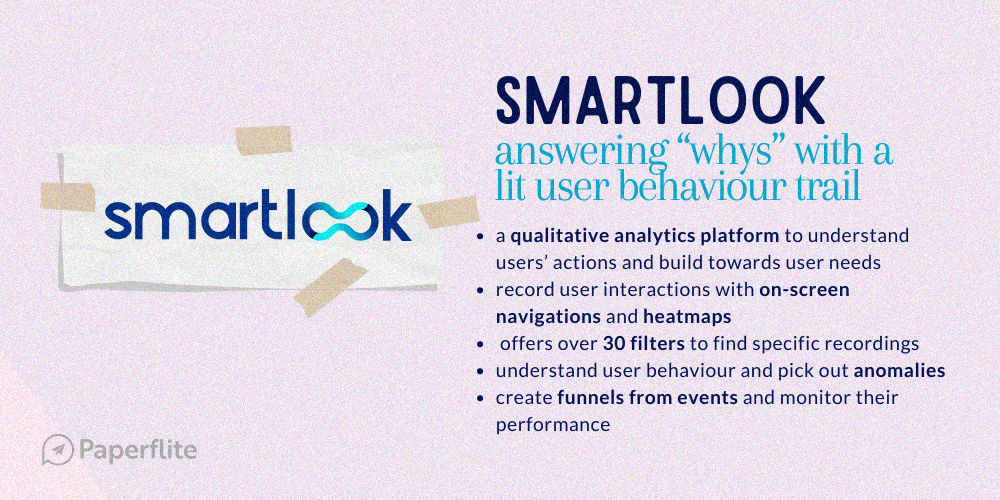 13. ZAPIER — ZEUS' THUNDERBOLT OF AUTOMATION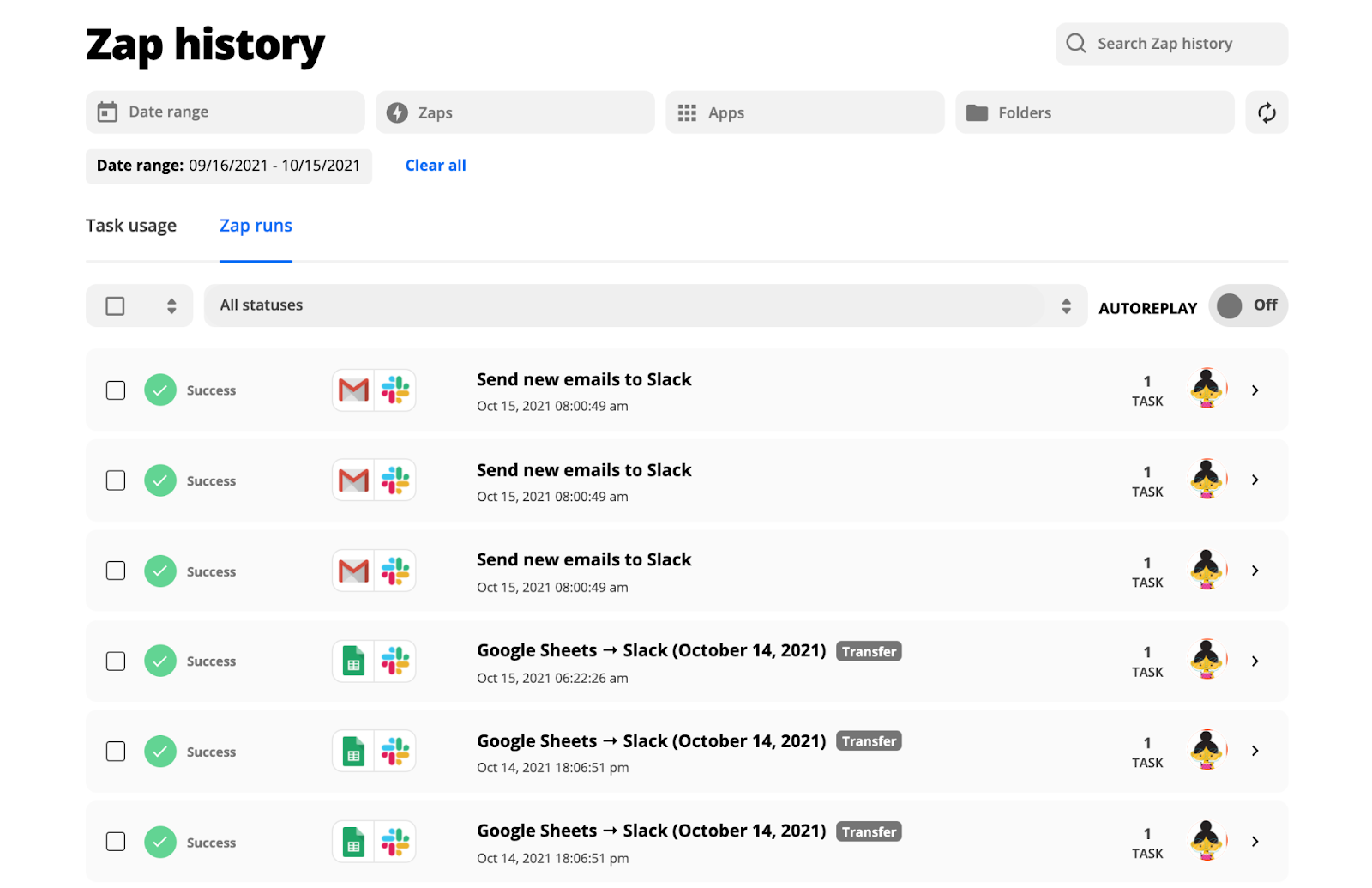 Zapier is the integrator your Marketing Director warned you about — it's simply unbeatable.
This quick-response automation tool gives you the power to automate well, everything, so you can focus on things that require your focus and attention. Get automated notifications, track every lead, loop-in customers, create tailor-made workflows, and expand your automation without writing a single line of code.
Zapier offers over 3,000+ app integrations. So no matter the tools in your tech stack, they have you covered. They have a user-friendly interface (a bit complex) with endless possibilities and pre-made Zaps — they're even doing the one thing you were supposed to do!
Flite Points: automate everything, experiment faster, masterful integrations, and a streamlined, clean experience.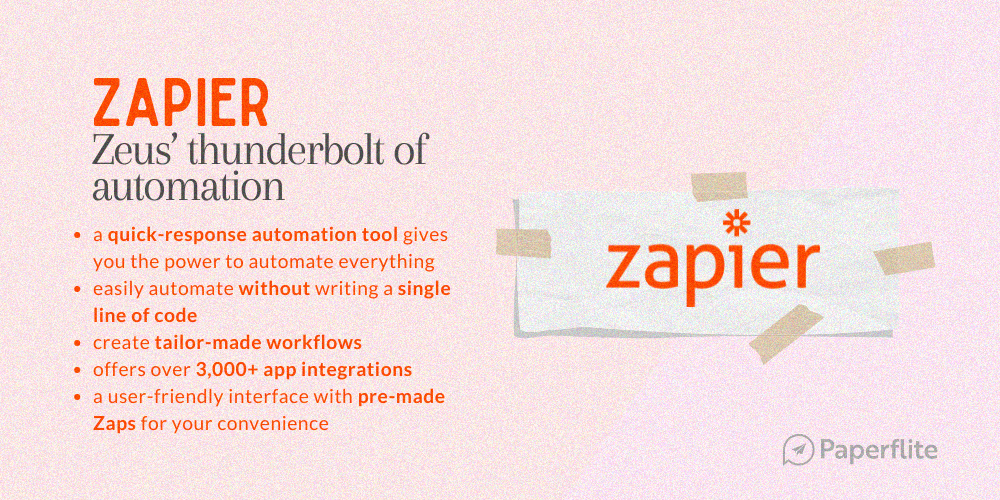 14. DREAMDATA — CONNECTING DOTS TO PREDICTABLE GROWTH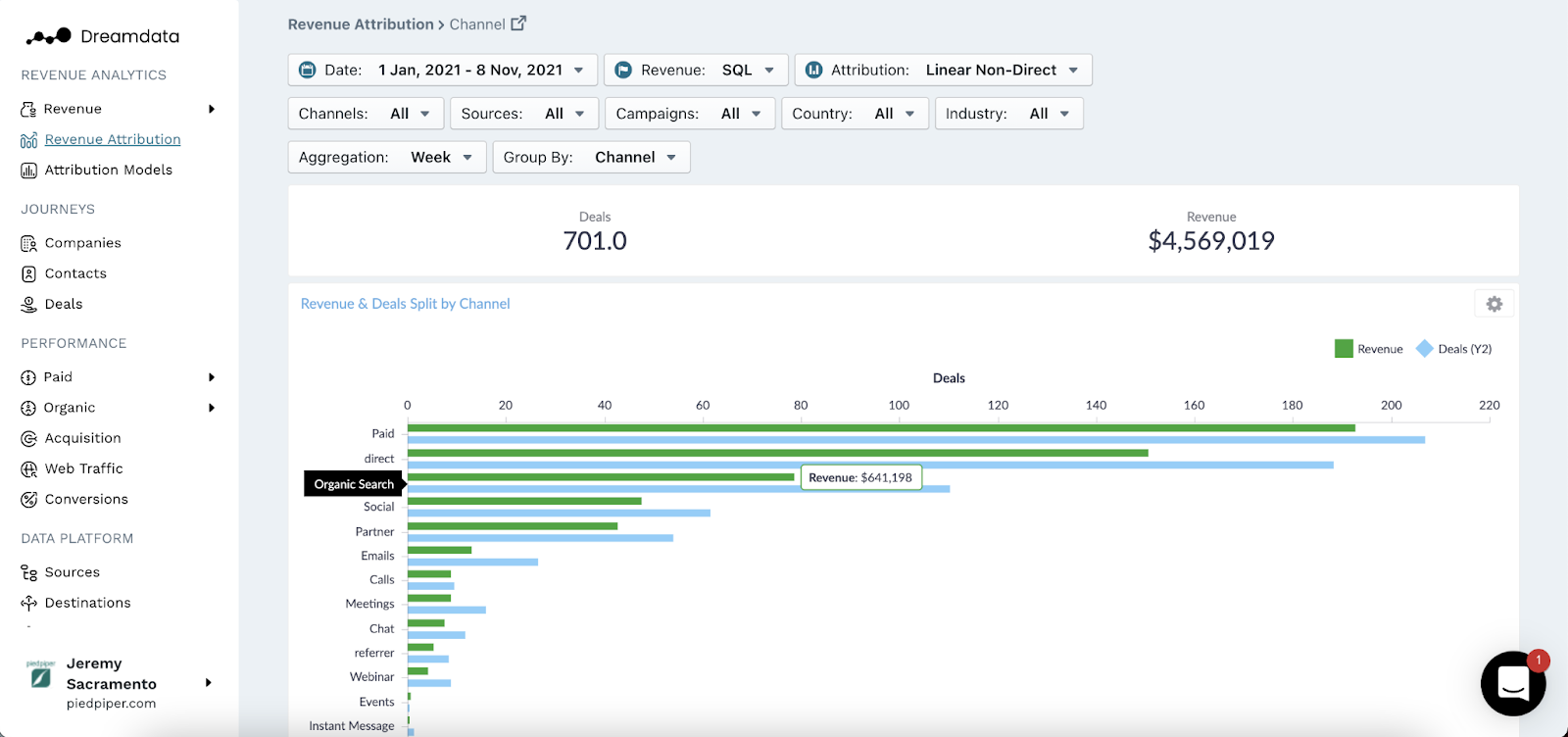 Dreamdata is a B2B revenue attribution platform that connects data from your tech stack to offer unprecedented insight into your B2B customer journey.
It is the perfect solution to accelerate your growth engine and drive revenue wherever possible. It tracks the customer journey to deliver insights —  longevity of sales cycle, marketing, and sales touchpoints, reveals the revenue-generating performance of activities across the pipeline, channels, and campaigns with B2B attribution, and helps you scale by building on that information.
Dreamdata wants to streamline and standardise your processes, with multi-tech stack integrations from CRM and marketing automation to data warehousing and everything in between.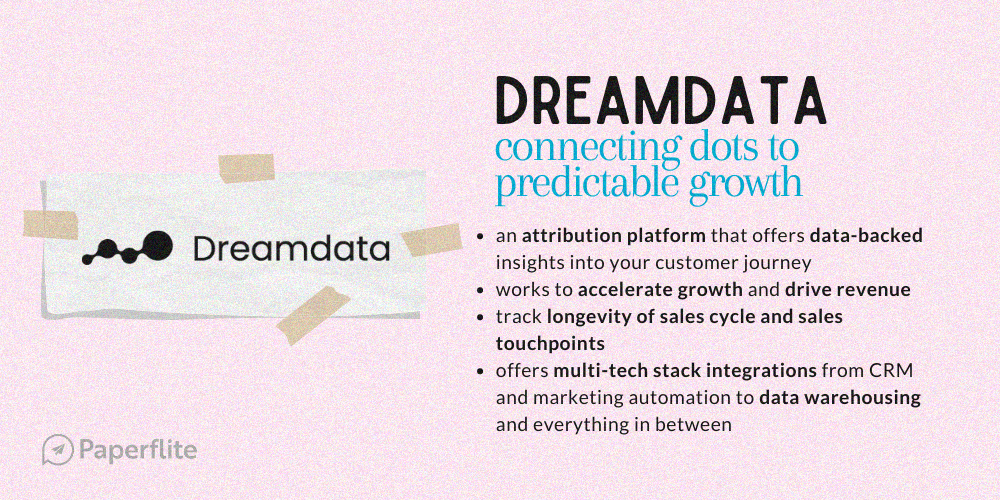 15. OPTIMONK — THE POPUP HAVEN WITH A ZEN AURA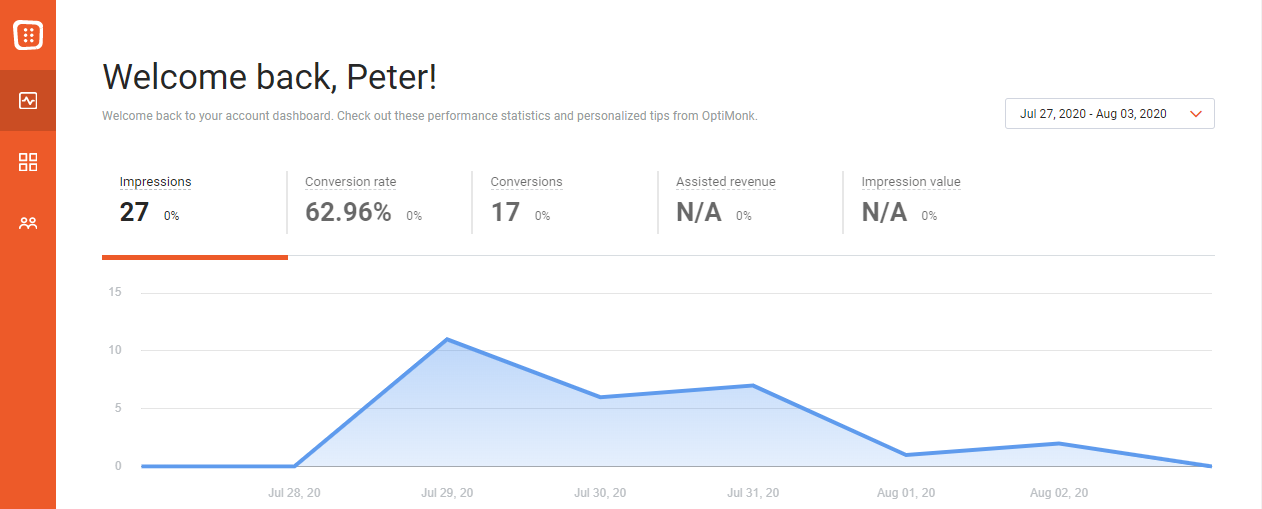 Optimonk is an on-site retargeting platform that helps you reach just the right visitors with the right message, triggered at the perfect moment. The feeling of having all pieces fall into place. Create a personalised popup strategy that your customers love instead of getting annoyed.
Optimonk is brilliant because it lets you create specified popups — for the first visit, for browsing, seasonal offers while adding to cart, checking out, feedback, even customer loyalty and retention with upselling and cross-selling popups. Here's an exciting feature of Optimonk — you can actually set trigger rules for popups so that they don't bother every visitor, only your target audience.
Optimonk has need-specific pricing bundles that are pocket-friendly and get the job done. It is hands down one of the best tools for monetising your site traffic.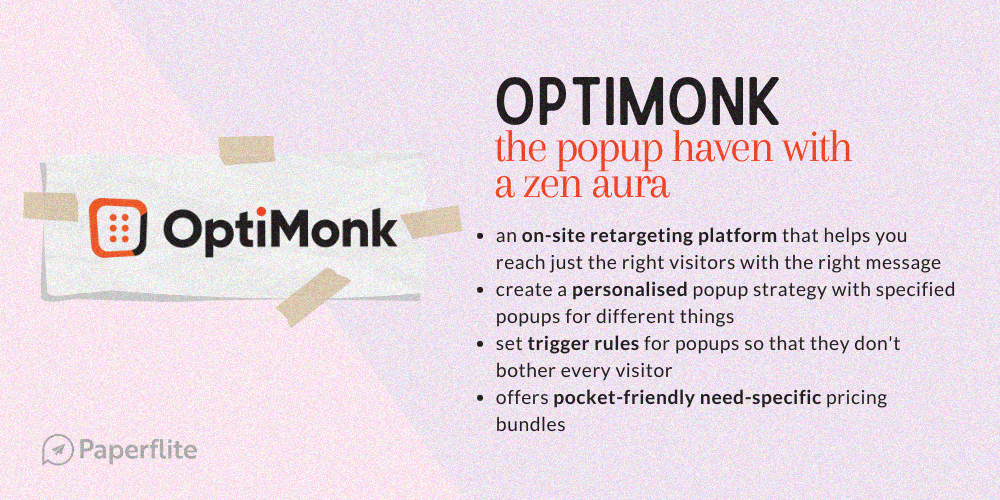 WE'RE NOT DONE YET, PRESENTING *CUE DRUM-ROLL — MARTECH SIDE-KICKS!
Behold your Martech side-kicks. Because even Batman doesn't work alone — even though his protégés don't live a long healthy life, the following tools will surely stay in your tech stack for a long, long time.
Here are six free tools for every B2B marketing team that wants to hit that sweet spot.
Google Analytics: Google Analytics provides real-time statistics and essential analytical tools you need to understand your customers better. It tracks and reports website traffic and collects data on how users interact with your website. Get insights into what's happening on your website, check goal conversions, bounce rate, user acquisition rate, and user behaviour.
Google Tag Manager: Tag Manager gives you the ability to measure your advertising ROI and keep track of your social networking sites and applications. Its design lets you add and update your own tags for conversion tracking, site analytics, and so much more.
Google Search Console: a complete website analysis in the palm of your hand — understand how your website is performing in Google — run penalty checks, optimise visibility, review URL submissions, sitemaps, indexing, and many, many more. It helps you maintain and monitor your website for no charge at all.
Microsoft Clarity: Clarity is free. How we wish the same were the case with humans. Anyway, Microsoft Clarity is a free user behaviour analytics tool that provides website usage statistics, session recordings, and heatmaps so that you can go all Marauder's Map again.
Google Data Studio:  after collection and organisation, data conversion leads us to visualisation, aka presentation of data. And presentation comes in handy when orchestrating sales. Data Studio helps with this. You can convert your data (collected from various sources — Sheets, Google Ads, Facebook Ads, etc.) into customisable reports, with flexible templates that are easy to share and help analyse your processes.
Google Optimize:  Google's in-house experiment analytics tool for B2B Marketers. With Optimize, you can do split-testing from Google that plugs into your website and enables you to experiment with how you wish to deliver content. It facilitates three types of testing – A/B, multivariate, and redirect tests.
FOR YOUR BEAUTIFULLY CRAFTED MACHINE
We view Marketing as a beautifully crafted, structured machine that works well when all the parts are in motion, all gears turn well, screws in place and the engine up and running.
But the thing with machines is that they go through wear and tear and require repairs and restoration. So you would have probably guessed where we are going with this — tools.
Every B2B Marketer needs tools. And a dedicated Martech stack can be the difference between unorganised results and data-backed analytics, stagnation and accelerated growth, and most importantly, prospects and clients. You can leverage your audience, bring in relevant leads, and build a strong brand with the right tools.
Your tech stack provides the advantage you need so that your processes never stop, the marketing function stays uninterrupted, and efficiency hits the charts.
So we hand-picked 15 Marketing tools for your B2B Business from different categories for your ever-expanding diverse needs, so your eternal journey of finding the right tools for your Martech stack ends here.