It's 2011, and four engineers and designers are at a Dublin cafe, sipping on coffee and talking about their unexceptional and wonted work lives. This sounds like the title sequence to a bromance, feel-good movie. But in this case, the discussion revolved around a plain gesture. 
It so happened that the owner of this particular cafe-shop in Dublin remembered all of his customers' preferences! That simple action led to the realization of how impersonal and spammy business had become. 
If a random salesperson followed us everywhere, screaming deals and coupon codes into our ears every few seconds, showering us with flyers, their tagline on repeat, we'd genuinely think they're a part of a cult!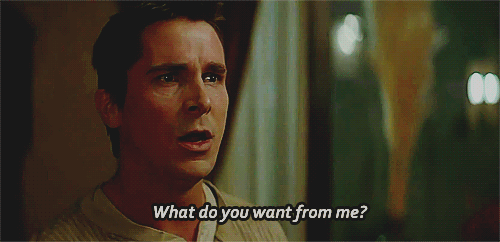 Doesn't the thought of that sound absolutely ridiculous? 
Why then, do we think it's perfectly okay for companies to send thousands of spam emails and offer us irrelevant products, give us FAQ pages and ticket numbers in response to query emails, just because it's online? 
For Eoghan McCabe, Des Traynor, Ciaran Lee and David Barrett, this realization set off a series of events. They were the developers of Exceptional, a bug tracking tool. This encounter gave them the inspiration to build an in-app chat solution for Exceptional. 
But, a greater need to build sustainable, interpersonal relationships even in the B2C space was realized. They then sold off Exceptional and used the money as an investment to develop and commercialize 'Intercom'.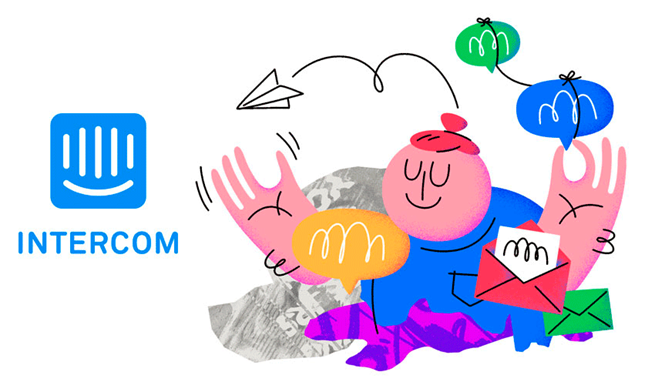 Intercom is a messaging platform that lets businesses chat with their customers on their app, website, social media, and via email - without sounding robotic. The chirpy 'Hi *insert name*' emails that you receive from brands asking you to buy yoga pants on discount that sound a lot like your late Grandma wrote them, is a great example of that.
Intercom's first external funding came from Biz Stone, (Twitter's co-founder) when McCabe 'guessed' his email id and mailed him a proposal. (If this doesn't teach you to shoot your shot, we don't know what will).
Below is a slide from Intercom's first ever pitch deck!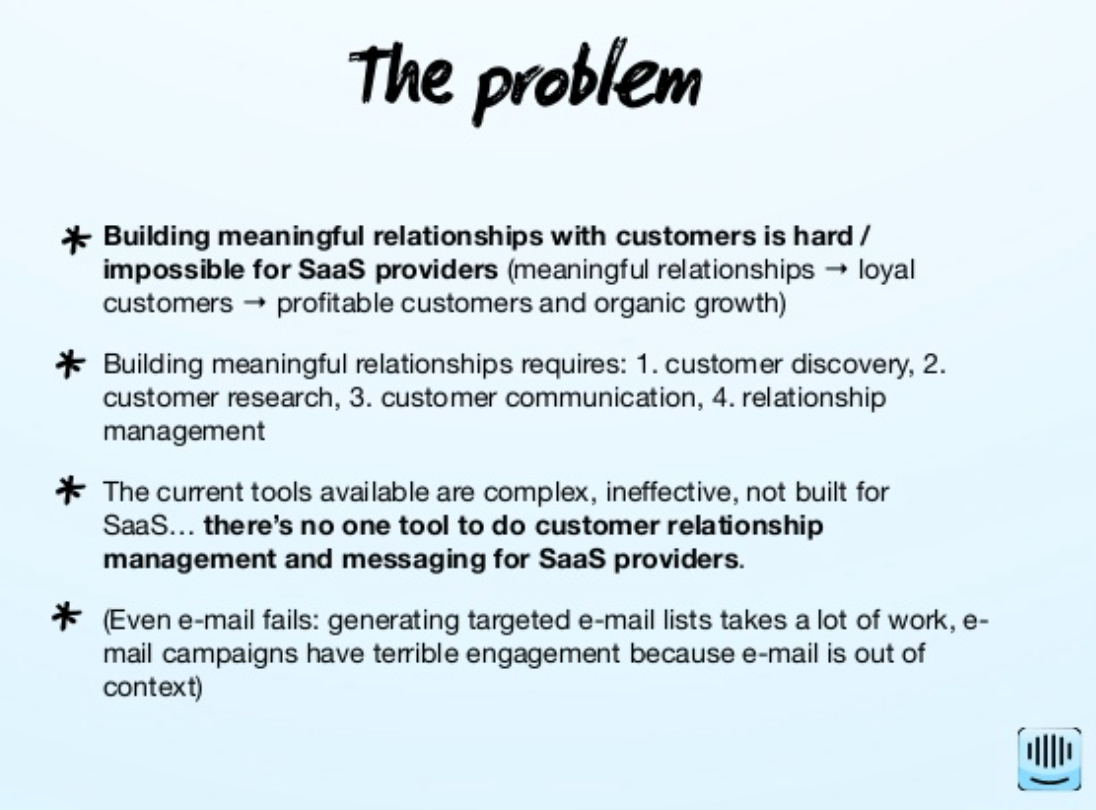 By April of 2013, their Series A funding had concluded. The quartet believed that your company's story is often why you show up to work every day. The journey from good to great is long, but good business relationships and customer service just aren't good enough.
After all, there are customer service touchpoints that we appreciate, and there are customer service touchpoints that we admire. This is all the difference between a happy customer and a happy return customer. Branding, often, is the sum total of all the tiny moments that your customer was made to feel valued and appreciated. (It's the next best thing to free therapy!)
In the next 3 years (that included 3 rounds of funding), Intercom grew to $50 Million ARR from $1 Million. By 2017, Intercom had over 1,00,000 active monthly users! 
Scalability is a great thing to aspire for, but it comes with its cons. You can hire a great sales and customer support team, but no one has the time to look up all interactions with the customer, including when they signed up, how often they buy from you, what they usually buy and more importantly, who they are. (It'd be creepy if they knew it all)
The founders at Intercom believed in building solutions for problems that were worth solving, and this problem was one a lot of companies faced, because by 2018, Intercom had over 30,000 paying customers.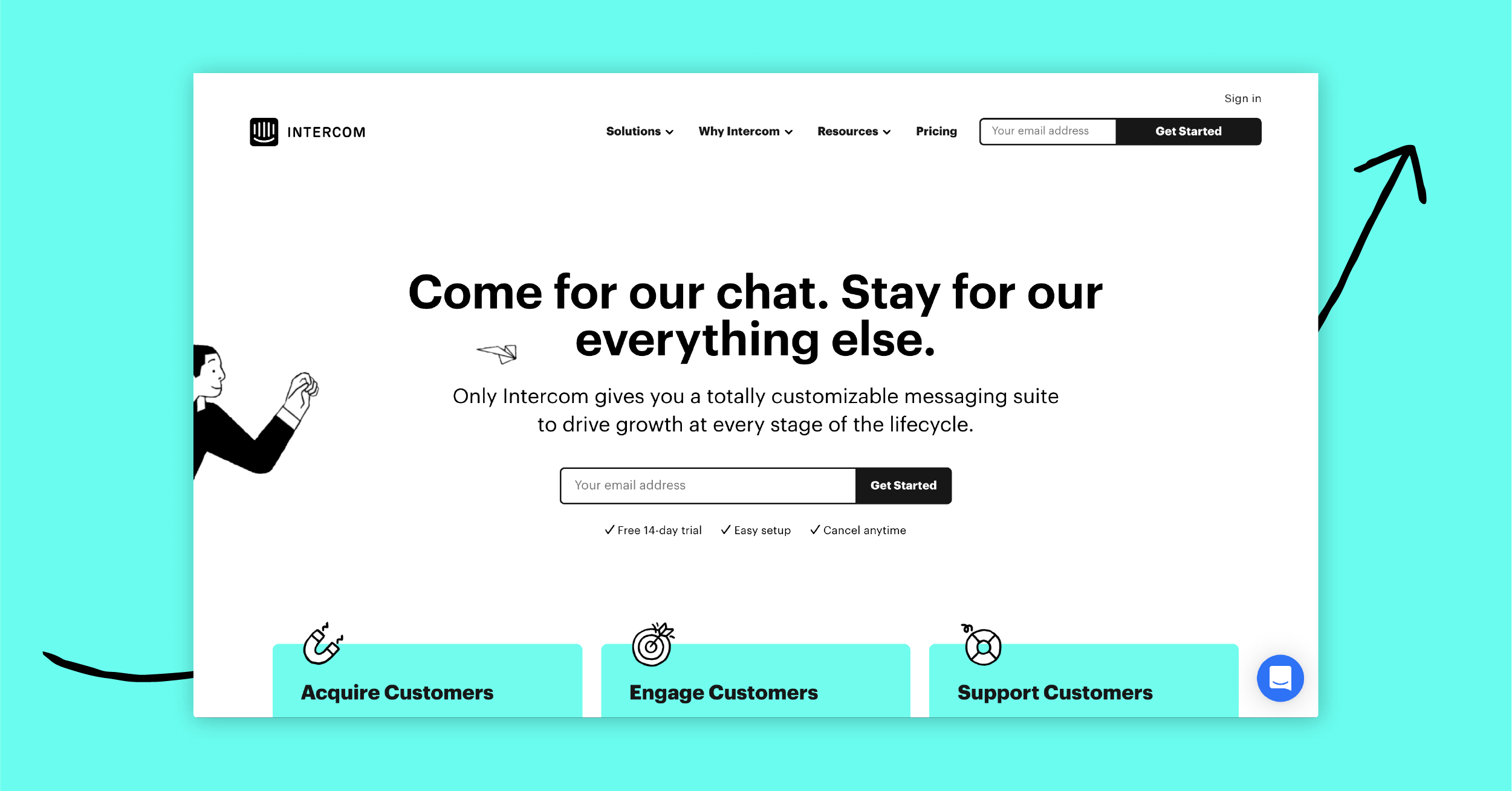 In 2020, Karen Peacock was announced the new CEO after McCabe stepped down as CEO (and moved to the role of chairman). Intercom now has 630 employees and recorded $150 Million in revenue!
Using a product is often an experience, and this is what modern brands leverage themselves on. In a world with 50 products that provide the same value, brands are using their experiences to differentiate themselves. 
Intercom made this happen, and that's exactly why it belongs in our series of 'Stories that inspire'.
Previously on SaaS Stories that Inspire