How Freshworks launched the Happy Sales campaign using Paperflite's Cleverstory and reduced its CPL by 70%
♪ Clap along if you feel like a room without a roof;
 Clap along if you feel like happiness is the truth ♪
When Pharell Williams composed "Happy" 8 years ago, we're pretty sure he didn't talk about a SaaS brand.
But for Freshworks, one of the world's leading SaaS businesses, happiness is the absolute truth and a core value that guides its philosophy.  
Named originally after its flagship help-desk software Freshdesk, Freshworks provides a suite of products aimed to delight a business's customers and employees. 
We sat down with Abhishek GP (Senior Director), Harish Rijhsinghani (Senior Manager), and Ashwin Subramaniam (Campaign lead) from the Global Integrated Marketing team at Freshworks to understand how a 'happy work environment' as a value set the stage for a global campaign they launched early this year. 
Read on to know how Freshworks went about its 'Happy Sales' campaign—for its product Freshsales - and how Paperflite's Cleverstory brought the multiple pieces together to weave a unified narrative.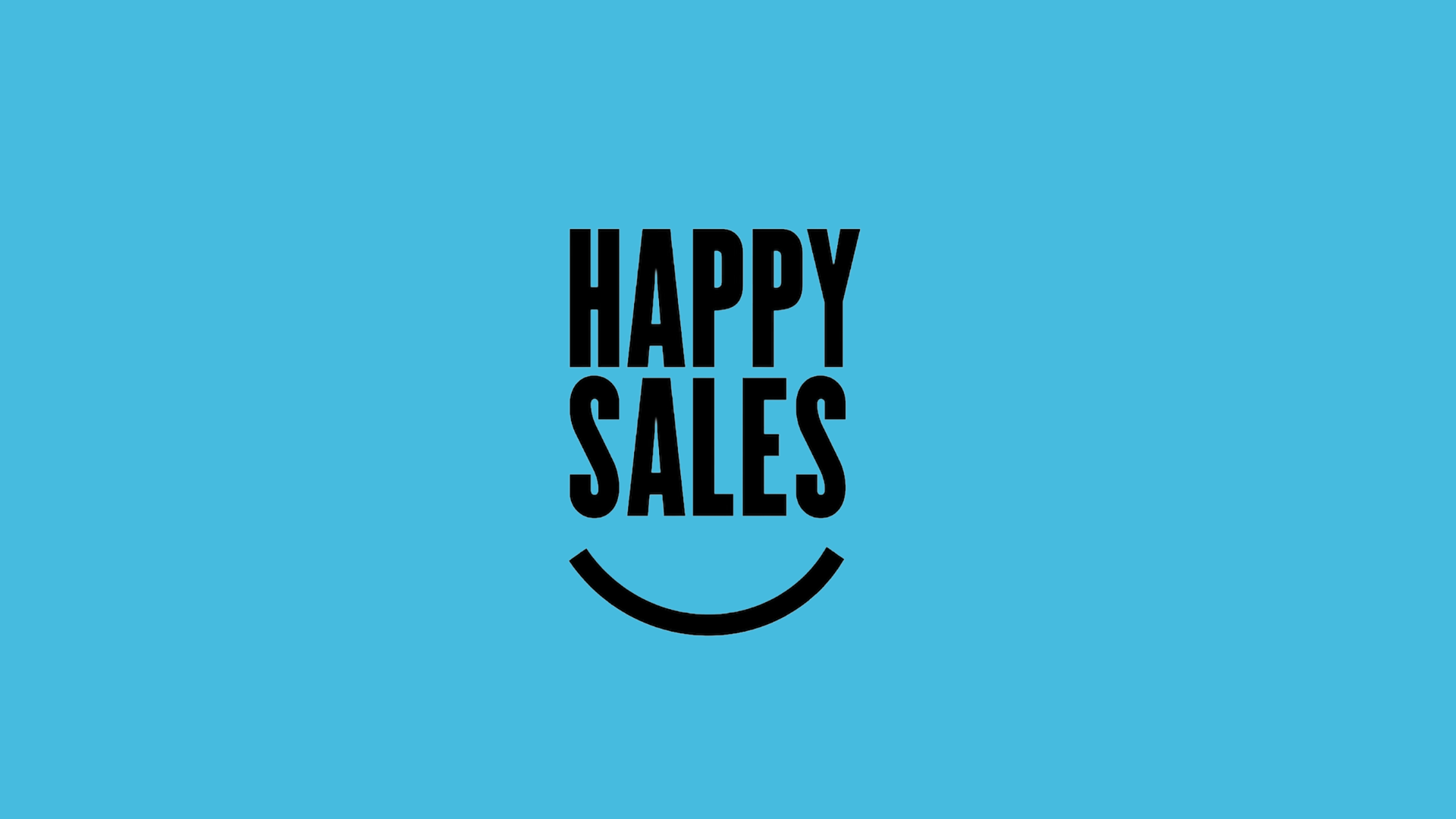 Sales Culture: The Road to Better Performance
Freshworks was operating in a market that was heavily crowded by legacy players as well as small scale vendors.  
"In terms of the customer base, we had probably 1/25th of the customer base of some of these bigger players. So our challenge was: how do we build that authority to talk about things surrounding a CRM when there already is a tsunami of content coming from these bigger players?" began Harish. 
"And what finally led to the Happy Sales campaign was a core insight we learned from our audience aka the people in Sales," chimed in Abhishek and here's what we learnt: 
At a time when Freshworks' competition was focusing on the functional benefits of their products, Abhishek's team wanted to drift away from the functional aspect and focus on the emotions that really mattered to sales teams. And then, tie it back to their product.
That's when they realised what makes sales teams unique was that they held culture very close to their hearts - much closer than their peers in Finance or Marketing! 
This way, with Sales culture as the North Star for their campaign, the Marketing team at Freshworks got to work. They interviewed dozens of salespeople across the globe and all the people they spoke to agreed that if you're happy, you'd eventually deliver great performance at work. 
If you're thinking 'Duh? This isn't news. It's common knowledge', you'd be right. 
Except, Freshworks uncovered a key insight from these interviews - People knew a happy Sales culture was important. But they didn't know how to get to the land of "Happy Sales Culture" and eventually to the land of "Better Performance".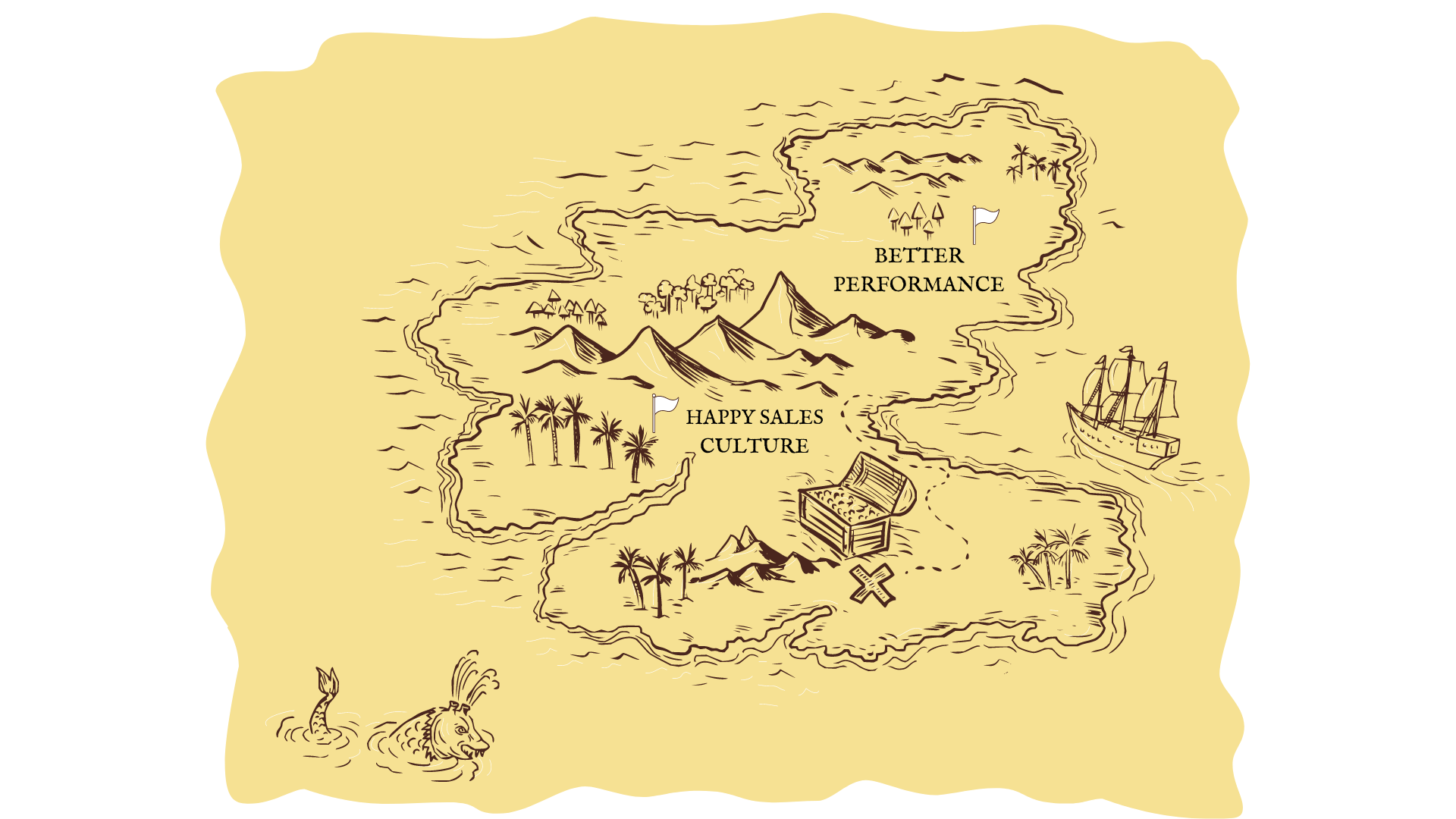 Abhishek's team realised that they'd cracked open a very compelling and universal insight. After all, who doesn't want to be happy at their work? They also knew that they'd be onto something big if they were able to: 
Quantify some aspects of a happy sales culture
Show how to build this culture and
Prove its impact on work performance
And this is where the Happy Sales campaign had its genesis. 
Campaigns in Freshworks were broadly divided into two categories. The first one aimed to build awareness and recall, and eventually, develop a positive perception of the brand. 
The second one was built around thought leadership and demand generation, and eventually, the revenue pipeline for the company.
Happy Sales was an intersection of both since it aimed at creating awareness among new audiences, and at the same time, had a layer of demand generation built into it. 
Science Meets Sales: The HBR Report
Now that Freshworks laid the foundation for the campaign, it needed a partner to help quantify something as subjective as sales culture. Because at their heart, Freshworks' customers were extremely data-led. 
"We're talking about sales leaders here and they talk about numbers day in and day out. It was imperative for them to understand that a concept like this is not just fuzzy and fluffy. We had to show them that there is indeed a science behind how you build a happy sales culture," said Abhishek. 
 But people don't believe every stat and figure they see online, do they? People—us included—are highly skeptical of the wild west known as the internet, and rightly so. 
For Freshworks, this meant that it had to make its campaign credible so as to not become yet another brand touting blatant wisdom. 
"When you're talking about a topic that's so universal and so compelling, you need an entity that really adds credibility to the topic". 
Harvard Business Review Analytic Services (HBRAS) checked both of these boxes for Freshworks - Credibility and Quantifiability. 
With HBRAS on board, Freshworks was able to commission a global survey of B2B decision makers and arrive at a report.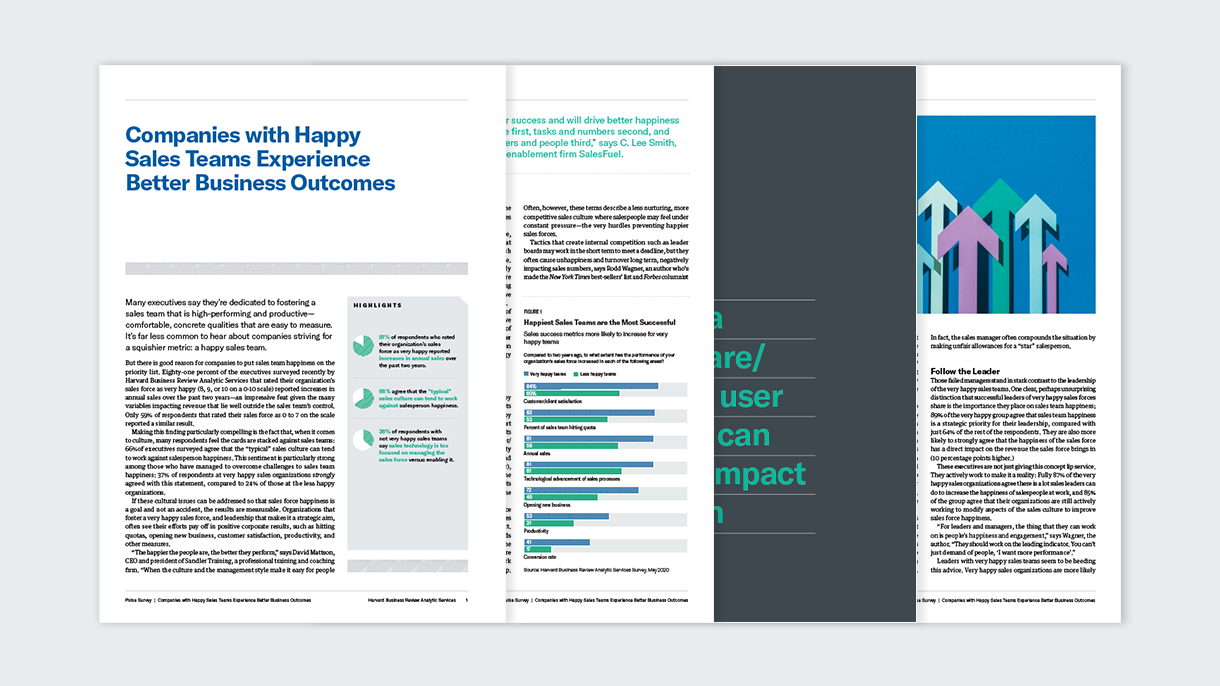 "We divided that sample into broadly two groups - the first group comprised of the salespeople who were very happy, and the second group comprised of those who said they're not happy.
When we tracked the performance of both these groups of people against certain business metrics, it became evident that happy sales teams are far more productive and deliver a far superior performance compared to unhappy sales teams!"

 Game.Set.Match, in favour of Freshworks. 
Hypothesis? Validated
Sales Culture? Quantified
Hotel? Trivago
The Secret Sauce: Happy Sales Masterclass 
What do salespeople love more than selling? Simon Sinek TED Talks? Well yes, but not really. What they do love is hearing from their counterparts about their processes.
Freshworks made this concept the next vital piece—second only after the HBR report—of the jigsaw puzzle it called Happy Sales. 
Sales leaders across the globe helped Freshworks create a series of videos on how happy sales cultures were built by answering unique questions about their processes. Eventually, this series became the 'Happy Sales Masterclass' and a playbook in itself. The masterclass series resonated well with those in sales leadership roles.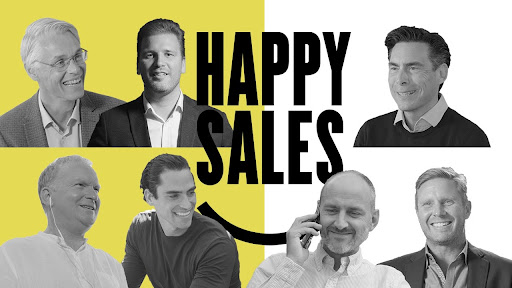 But it wasn't enough to just appeal to the leaders. If Freshworks wanted to appeal to those who were out on the field doing the job, it had to figure out the missing piece that appealed to them. 
And the missing piece it did figure!
Inside Out: Is Your Sales Culture Primed for Success?
The final piece of the puzzle was a self-assessment quiz for sales managers and reps. The 30-second quiz consisted of questions about manager-contributor relationships, the employee's perception of the company and the role, etc.  
At the end of the quiz, a score based on the answers was displayed along with a personalized report.
This way, the Marketing team at Freshworks built the Happy Sales campaign puzzle with three unique and different propositions - the HBR Report, the Happy Sales Masterclass, and the self-assessment quiz. 
They now had to find a platform that helped them bring these pieces together and weave a powerful narrative. 
Also Consider Reading: How Aspire Systems solved its deep-rooted content issue using Paperflite
Limitations of Their Existing Tech
Freshworks' existing tech stack had certain limitations that didn't allow the team execute the campaign the way they'd envisioned. 
Ashwin walked us through these limitations:
The CMS allowed for set formats that didn't support having various pieces on a single page
There always was a tech dependency on other teams to even make a minor change
The team had to comb through reports generated by this system before they found one relevant data point
Mobile optimization would take them 2-3 days
So the team clearly spelt out the criteria for the platform they needed. This platform had to:
Host diverse content formats in high quality
Allow the visitor to choose what content they wanted to consume
Encourage visitors to return by providing an engaging and binge-worthy experience
Provide granular behavioural insights and analytics that the team can act on
Be optimised for all devices
Meeting Paperflite's Cleverstory
"We understood that if we wanted to complement our narrative in a way we envisioned, we needed a very solid platform to back us up. And that's when we landed on Cleverstory," said Abhishek. 

 Cleverstory is a no-code interactive content creation software that helps marketers build interactive landing pages. All landing pages built on Cleverstory are SEO-friendly and are indexed by search engines as soon as the page goes live. 
"Initially, we only wanted a platform that would provide a great prospect experience both when they land and when they leave, and host all the different assets we had". 
Harish chipped in to explain why the platform also had to provide a bingeable experience. 
"It's common knowledge that the more time a prospect spends in interacting with your content, the more likely they are in terms of having a commercial conversation and progressing deeper into the funnel. We didn't want people to forget about Freshworks after reading the HBR report".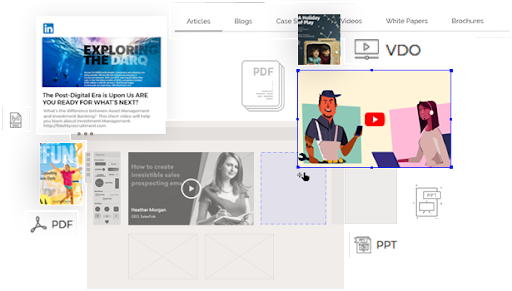 "Then came the intelligence. The platform shouldn't be asking visitors to enter their details every 5 seconds to download a new piece of content - the intelligence had to be baked in. So ideally, we wanted a platform that would ask for less but give us more in terms of insights and analytics," continued Abhishek.
 Cleverstory's AI requests lead information based on content consumption without being intrusive and stores this information for a period of time that you choose. 
The smart gating option also allows you to give your audience a sneak peek into your content and logically gate it only after their interest in the content has been established.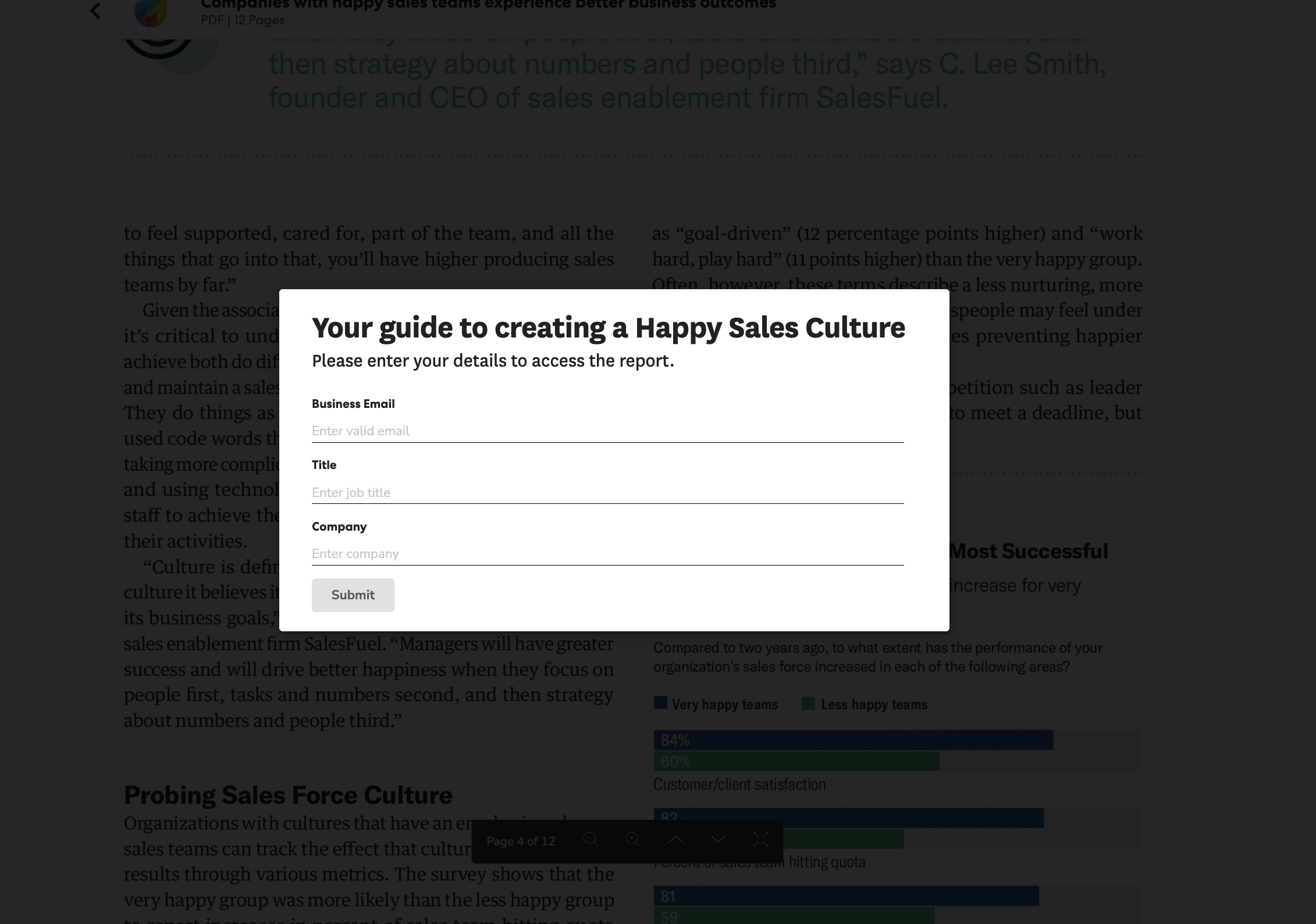 "When we learnt what Cleverstory does, we realised the sophistication of analytics that it could provide. The possibilities were immense and that's what really impressed us about the platform!" he added.
Alternatives to Cleverstory that were considered 
"We had no alternative to Cleverstory because we were already using Paperflite and it was on the top of our minds. Our marketing operations team recommended Cleverstory to us when we told them about the campaign. Shortly after, we had a demo of the platform and we fell in love!" Abhishek revealed.           

  "And the best part about all of this was the fact that Cleverstory could easily integrate with our existing tech ecosystem. We didn't really have to break our heads to ensure that a form response on the Cleverstory platform was taken to a particular Excel sheet and then that Excel sheet was taken to a person within Freshworks, who will then manually upload those leads and enrich those leads. Cleverstory made it all seamless by integrating with our existing marketing automation platforms and CRM,"  said Harish.

Record Time Execution 
The Freshworks team partnered with Cleverstory when they had three and a half weeks left before the launch date. 
"The campaign came together very quickly, almost in record time. It was faster than anything I'd experienced before," said Abhishek. 
"The agility that the Cleverstory team displayed in bringing this campaign to life including all the iterations between designing a certain creative, the look and feel, how it gets rendered on the platform, rendering the analytics based on the campaign was faster than we thought possible". 
"In the earlier organizations that I've worked in, it'd take us weeks to put a small section together. The Paperflite team was able to do that for us within a day or even less and it's absolutely commendable," smiled Harish. 

 Take a look at the campaign page created on Cleverstory by clicking here.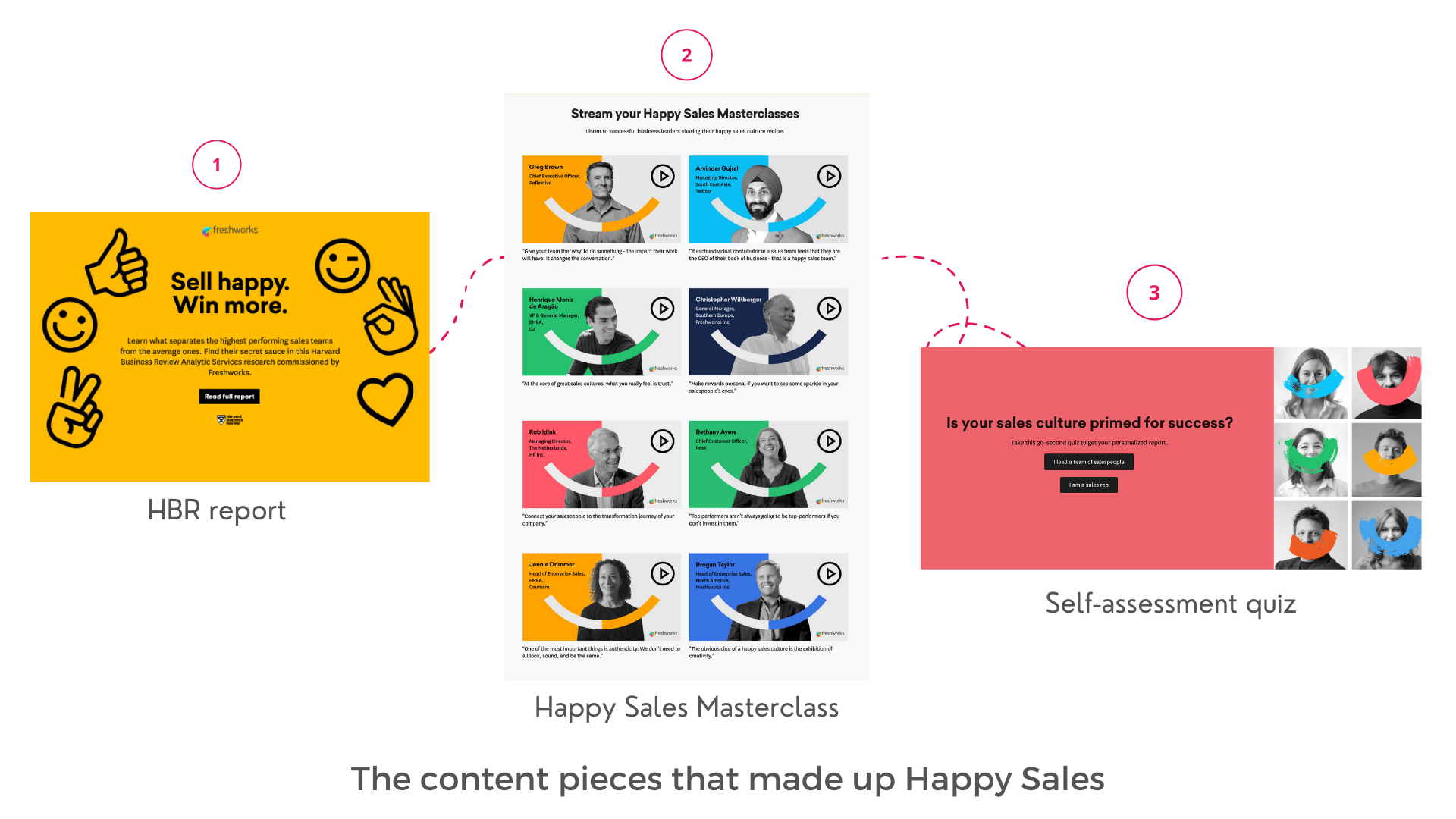 The Results
With the behavioural analytics that Cleverstory provided, Freshworks was able to create micro-segments of its audience, retarget them through personalised creatives and sales follow-ups, thereby leading to increased conversions.  
"Collectively, all of this is what marketing really is about - providing incredible value and great prospect experience to your users. That to me was truly the aha moment for Happy Sales culture," said Abhishek.

The key metrics against which this campaign was measured included:
1. Returning visitors
Increased by 26% 
Returning visitors indicates the rate of people who kept coming back to consume the content within 30 days. A higher % reveals that the content was effective and engaging. 
2. Cost per lead (CPL)
Reduced by 70%
Cost per lead indicates the cost of generating new leads for your sales team. Lower the cost, the better. 
Since Freshworks saw a higher % of returning prospects, it effectively lowered the cost per lead. Upon each return, prospects qualified themselves and became warmer as a lead. 
3.Depth of engagement
Stood at an average of 2.6
Depth of engagement indicates how many content pieces were being consumed by prospects on average. This metric further reveals:
If the content is valuable
If the format is relevant and consumable
How engaging you are as a brand and a platform
For Freshworks, the HBR report was the flagship content and acted as a magnet in attracting people. But eventually, people ended up consuming more than just the report, which was a bonus.
Depth of engagement also helped Freshworks understand how its future content strategy should be devised.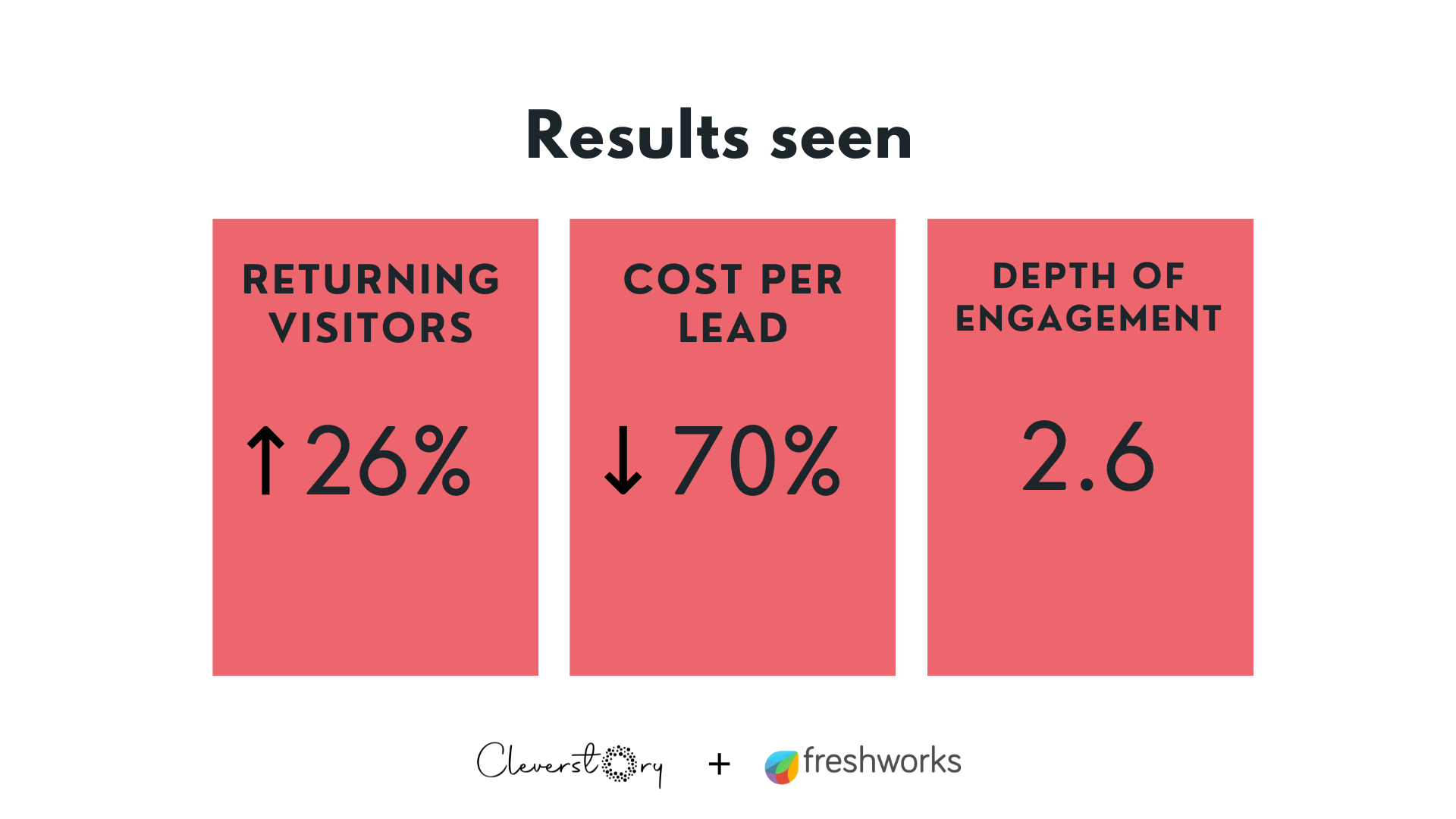 How Happy Sales was Perceived within Freshworks
While the metrics spoke for themselves, we asked Abhishek how people within Freshworks perceived the campaign.
"As soon as we pitched the campaign to the internal audience and leadership, they loved it! If you ask me, it could have been because of the name - Happy Sales sounded different. And as I previously mentioned, Happy Sales was a very emotive campaign. And so internally, it was easy for us to sell it. 

In fact, in the HBR report, the foreword was written by our CRO Siddharth and it blended very well with how we run the company, which is by creating happy sales teams. So at some level, it kind of meshed very well with the values that we have internally and became an easy sell".
How Cleverstory will impact future campaigns
1.High standards for internal team
Internally, the Happy Sales campaign raised the bar for Freshworks' Marketing team.  
"We are definitely looking at doing one up on Happy Sales going forward. Because sometimes, when you have a great idea and it gets executed well, you end up surprising yourself! And so your bar immediately raises up. That's exactly the zone that we are in. The campaigns that we plan moving forward should definitely be better than Happy Sales. 
We're also taking the expanse of analytics and insights that Cleverstory gave us as inputs for future campaigns. We've learnt what works in terms of the format, content, delivery, the look and feel, the experience that you give the prospect, and the balance between various stages of the funnel. All of this will add a lot of value when we're devising our future campaigns," Abhishek finished. 

2. Possibility of a simplified process
"The biggest takeaway from working with Cleverstory has been the simplicity of the whole process. There are about 10-15 different teams that we work with to ideate and execute a campaign. Cleverstory has replaced almost five different teams and made it you seem like working with a single team. 

Talking about simplicity, I think even the number of forms that we have on the page has gone down. When we built landing pages on our previous CMS, there were mandatory form fields that became a huge laundry list. But with Cleverstory, a lot of fields, like geography and even last name is automatically captured by the system. 
So based on our experience as a company and the user experience that the platform provides to the end users, I definitely want to carry forward on future campaigns the simplicity of the whole process," smiled Ashwin.  
3. Personalized nurture campaign
Harish came in from a personalized nurture perspective:
"One key takeaway that's very closely aligned to what I mentioned earlier is the ability to personalize the next set of messages based on the content consumption behaviour of prospects. 
 Since we've gotten multiple content types on the Happy Sales landing page, we are able to segment the audiences based on the type and amount of content they've consumed. That's a best practice that will be implemented in every future campaign at Freshworks. And frankly, at this point in time, I don't know any other platform other than Cleverstory that does this well".

4. Insights that result in Maximum ROI
"When we typically run campaigns within Freshworks, we spend a lot of time going through the different dashboards in order to find relevant data. And by the time we use that data to optimize something, it becomes obsolete. 
After working with Cleverstory, the time it takes us to look at the data and make the right optimizations that's going to impact the campaign positively is very minimal and that has made my life easy," said Ashwin. 
"It also allows us get the maximum ROI from our campaigns and as a marketer, there's no greater joy!" finished Harish. 
5. 360-degree view on a prospect's journey
Cleverstory was able to provide a complete picture of a prospect's journey, beginning from when they land on the page to when they became sales qualified leads, because of how it integrates across marketing and sales platforms.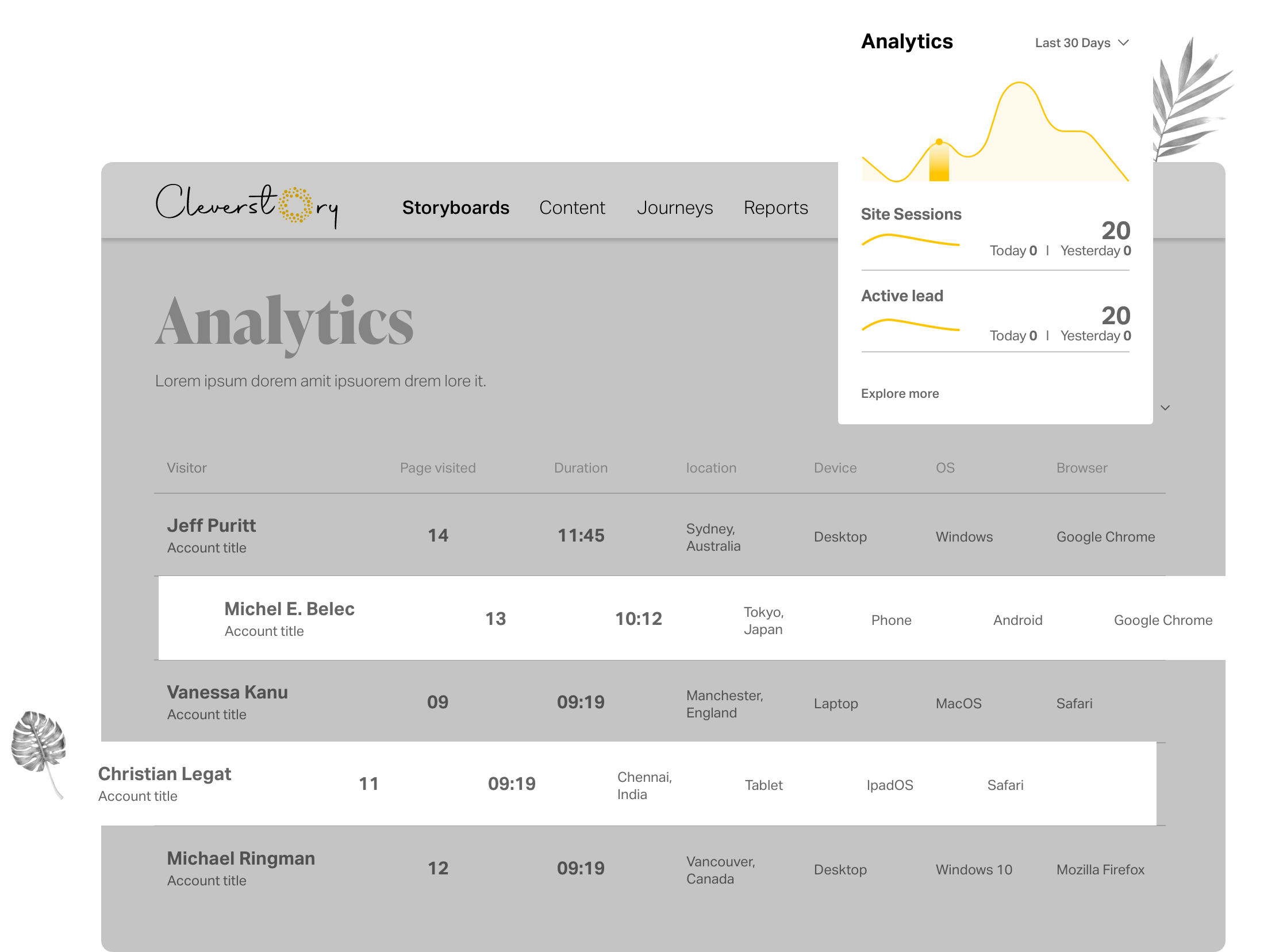 "That's one big change that directly impacts something that matters to the organization because we as marketers tend to think in terms of leads, but what the organization really cares about is how those leads contribute to the pipeline. Cleverstory had a significant role to play in that.

Cleverstory also shortened the time it takes from when a person converts on the Cleverstory page to the time that the lead is received by the SDR to make his initial qualification," finished Harish. 
---
Ready to make your next campaign phenomenal with Cleverstory?