Everything You Need To Know About Market Penetration
"For tomorrow belongs to the people who prepare for it today."

 
It doesn't matter what line of business you are in; whether you run a large technology firm or you are a solopreneuer, you need a game plan. A plan that is tailor-made to your objectives, industry, and opportunities. An integral aspect of the aforementioned strategic plan is the marketing plan. 
A marketing plan serves as a guide towards the ultimate marketing objective(s) of a company. Considering the numerous elements of a marketing plan, in this article, we deal with a specific one from the mix, i.e., Market Penetration. 
"Market penetration is a low pricing strategy adopted by companies for new and existing products to attract a larger number of buyers and a larger market share" - (Kotler and Armstrong, 2009)
Market penetration can be one of two things depending on the context. 
It is a metric.
It is an activity. 
Market Penetration as a Metric:
It is the measure of product adoption versus the theoretical market for the product. Let's understand this better with an example:
A wristwatch is a ubiquitous article of daily use. The potential market for such an item is significant. Imagine the target group is 300 million strong.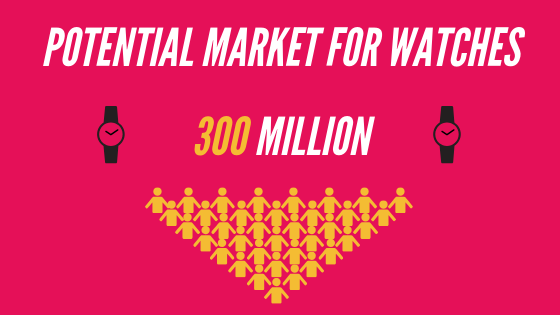 Among those 300 million potential users, 30 million wear wristwatches.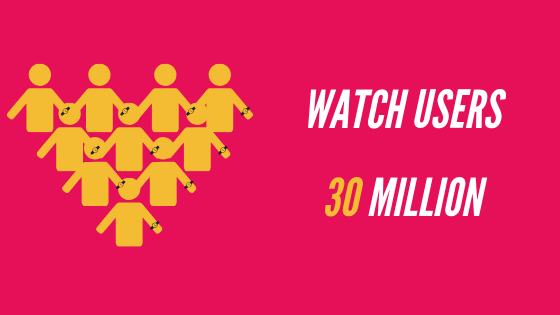 Market penetration is the number of people who wear a watch (30 million)  versus the total target group (300 million). Expressed in the form of a percentage,  Wristwatches have a market penetration of 10%.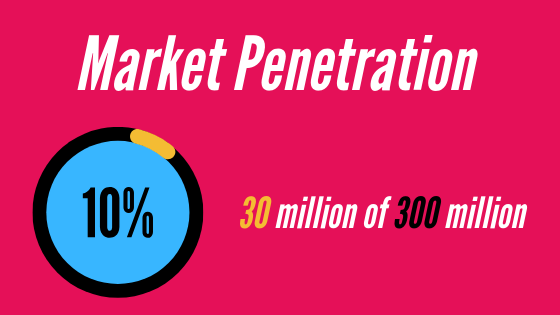 Market Penetration as an activity:
Market penetration is the set of activities pursued by companies and businesses that increase the market share* of a specific product or service. 
*Market share is defined as the amount of business a specific company controls in a market. 
At this point, drawing a comparison between Market Share and Market Penetration would allow for a better understanding of the concepts. 
Market Penetration vs. Market Share
In the perspective of the previous example, if you were to own a brand of wristwatches called Xelor and there are 7.5 million Xelor users out of the 30 million wristwatch users, then you have a market share of 25%. ( Damn!)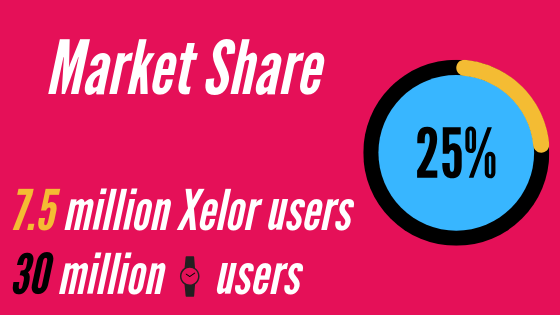 Although used interchangeably, market penetration and market share are different yet closely related. 

Market penetration or activities pursued to increase market penetration usually improve the market share of a product. 
Considering the wristwatch example, if Xelor runs a marketing campaign aimed at a target audience who do not wear wristwatches and are successful in reeling in 2.5 million new customers(who previously have never worn wristwatches) then: 
Xelor has increased market penetration from 10% to 10.8%
32.5 million watch users in the total market of  300 million. (10.8%)

Xelor has also expanded its market share from 25% to 30.7%    
10 million Xoler uses in amongst the total watch users of 32.5 million (30.7%)
In contrast, if Xelor's competitor were to do the same and increase market penetration and its market share, Xelor would see a drop in its market share. 
Product Market Matrix
An analysis of market penetration is incomplete without examining market penetration as a part of Igor Ansoff's product market matrix.
The best way to understand this matrix would be to apply it to a real business and see how the model has translated into profitable growth for the latter. 

Here we shall apply it to the sports apparel behemoth, Under Armour. Under Armour, founded in 1996,  is an American company that makes footwear, sports, and casual apparel. 

Market Penetration 
This involves improving the sales of the current product lines by optimizing the marketing mix. Under Armour realized this using a two-pronged approach:
1. Under Armour boosted spending on endorsements and advertisement by 35%.
One of their most successful endorsement deals included signing the rising BasketBall star, Stephen Curry, which contributed to a significant boost in revenue from footwear.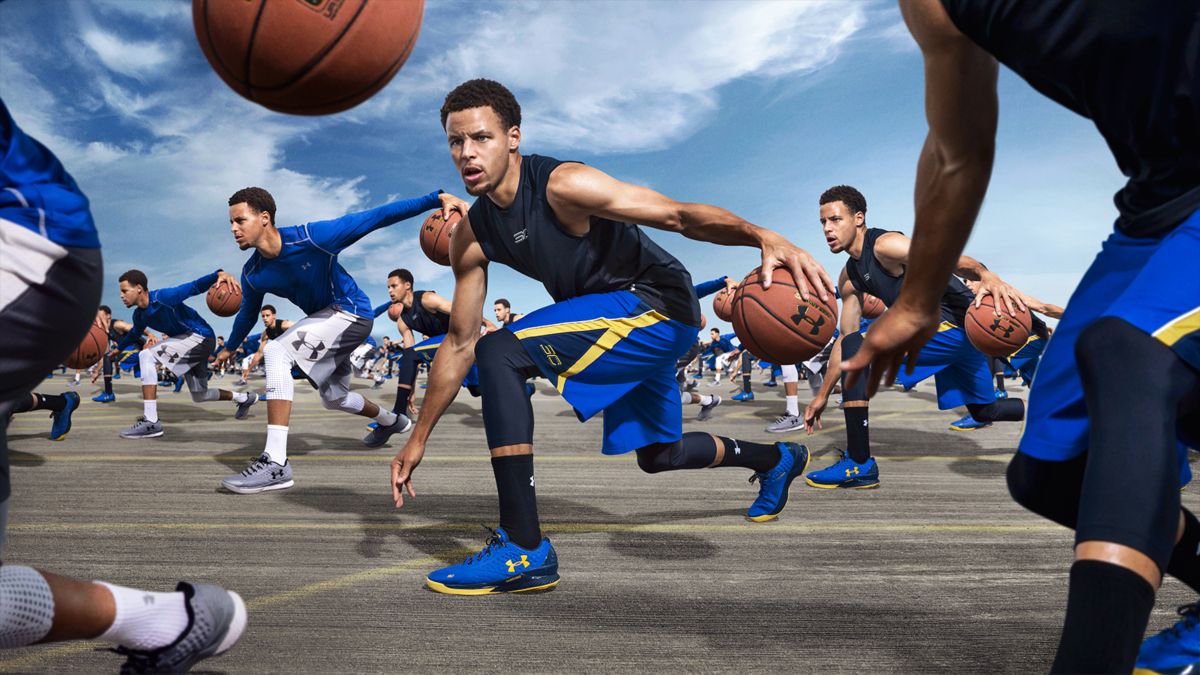 2. It enhanced the different channels of sale like stores, e-commerce.

With the decline of brick-and-mortar stores, UA intended to reduce its dependence on the latter. As a result, the tripling of direct-to-consumer sales was observed.
Market Development
Market development is looking out for and capitalizing markets and demographics for existing products. 
Under Armour executed this strategy by increasing its promotion of their products to the women consumers via stellar ad campaigns like the 'I will what I want'  campaign.
This campaign spurred sales in the Woman's apparel division and the sales numbers are set to reach $1.8 billion. 
Product Development
To engage in product development, new products are introduced to existing customers and demographics. 

In between the years, 2006-2009 UA: 
Signed a 6-year $60 million deal with the NFL (National Football League)
Released a new line of running shoes. 
This boosted sales by 44%. 
Diversification
Diversification is the high-risk maneuver of entering new markets with new products that are outside the company's current product mix.
UA exhibits this strategy by acquiring businesses in digital fitness tracking space like MyFitnessPal and MapMyFitness. It also collaborated with IBM to incorporate AI into fitness and sleep tracking. 
Market Penetration Analysis:
Before diving into formulating and executing market penetration strategies, it is vital to understand the company's current position in the market in terms of factors like product adoption, demographics. In case the company is a new entrant, it helps to learn the current state of the market and the big players in it. 
The insights we need to seek while performing a market penetration analysis: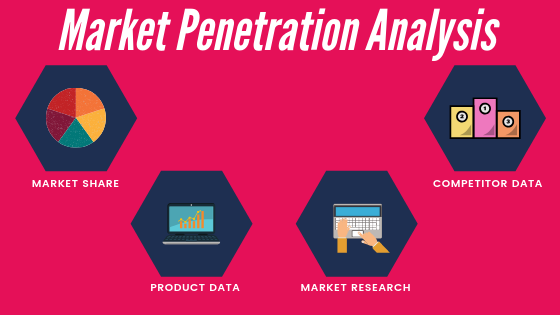 Market Share
In the long run, increasing market share translates into profits. Hence understanding the current market position and working upwards is necessary. 
Competitor Data
Currently, in the market, it is crucial to have the edge over your competition a.k.a a competitive advantage. Data gained from this should be used to understand the competitor's strategy, its products, prices, channels, and promotions. 
Product Data
Analyze every product/service provided to map its strength and weaknesses. Looking into aspects such as the attractiveness of the product's market and the product's strength in its market will allow you to determine and choose which opportunities to pursue. 
Market Research    
The first step of every marketing process is to engage in market research. It aids in understanding the complexity with which the market operates and also the needs and wants of customers. 
Areas of Research:
Demographics
The Economic Environment
The  Technological Environment
The Political - Social and Cultural Environment

Market Penetration Technology
Technology has greatly influenced how businesses and companies enter and thrive in a market. Resisting this change can be a severe disadvantage. 
The advent of the internet has changed the market landscape. The era of large monopolies ruling the market is waning. The internet has handed a plethora of tools into the hands of every commoner that would allow them to influence and sell to millions of people. 
Data:
Companies sit on troves of data on customers that they leverage to create profiles of likely customers and use targeted marketing channels to reach those people. 
Social Media:
The adoption rates of social media are insane! Over 2.77 billion people are estimated to be on social media by 2019. Businesses have used innovative social media campaigns to reach their target audience and promote their product. For example, a campaign by Coca-Cola called the 'Share a Coke' was launched in Australia to target 23 million potential customers. Since its launch in 2011, there was a 7% increase in consumption by the target audience, over 250 millions of bottles sold. 
So it can be concluded that technology, especially the internet, has dramatically impacted market penetration as an activity. 
Market Penetration Pricing
Penetration pricing is the process of setting a low price initially to increase the product/service adoption rate. This helps the company get a quick boost in market share and attract a large number of customers. 

Although there are certain aspects to consider while using this strategy:
The market must be price sensitive. 
An increase in sales should drive down production and distribution costs. 
Must have the financial clout to sustain the low-pricing strategy. 
Penetration Pricing Case Study:
Wavestorm was a new entrant in the surfboard market. Before their foray into this market, entry-level surfboards cost $300 to $1000. Wavestorm upended the market by introducing a surfboard at $ 99.99. This allowed them to capture a significant market share and propelled them to the position of the market leader, selling almost five times the number of boards compared to any other competitor. 
Conclusion:
Market penetration strategy is employed as a quickfire method to attract customers and increase market shares but it does come with certain drawbacks. Such as:
Product Costs
Negative Company Image
Insufficient Results
Saturated Markets
Proceeding with market penetration while keeping the aforementioned flaws in mind will allow for a thorough strategy and excellent execution.