#1 Content Experience Software in G2 Crowd
We have also been rated as the Absolute Leader in "Momentum Grid" Report
And with that huge leap, we have made it to the top. Thrilled and proud is an understatement.
As the tech companies battle it out to control the business software market—expected to go beyond half a trillion dollars in the next couple of years—G2 Crowd's Software Ratings is one of the measures to peek at who's leading from the front.
To know that, we at Paperflite, have made it top to be the #1 rated content experience software, with our consistent rating, exceptional product and unwavering support from you is just beyond amazing.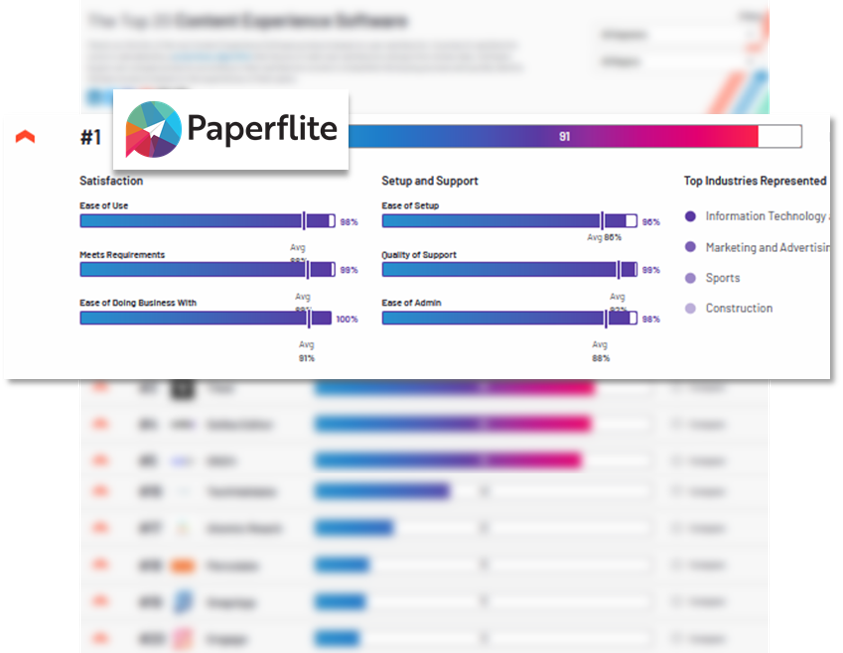 That's not all - We are delighted to announce that we have also secured the best spot in over 17-categories defined by G2 such as;
Usability Index for Content Experience | Summer 2020
Relationship Index for Content Experience | Summer 2020
Grid® Report for Content Experience | Summer 2020
Results Index for Sales Enablement | Summer 2020
Implementation Index for Sales Enablement | Summer 2020
Relationship Index for Sales Enablement | Summer 2020
Grid® Report for Sales Enablement | Summer 2020

Hang on, that's not the end. We are delighted to announce that we are also featured as the absolute leaders in the Momentum Grid for Content Experience.
Why should G2 Crowd rating matter, you ask?
It is the largest and most popular marketplace for business software. Their e-rankings are based on validated real user feedback.
"This isn't just a subjective list by a few people giving their opinions," CEO of G2 Crowd Godard Abel explains. "With the peak traffic and engagement, largest selection of products and services, and highest quality data, G2 Crowd can harness more than 5mn data points to examine and understand the products that are doing the best job on helping businesses reach their potential."
What does it mean to be the best in the Content Experience category?
Content experience software aims at enabling companies to create personalized experiences geared towards audience engagement. Used by marketing and sales teams, these tools help businesses drive real value from their content and interactions with audiences, pushing them to actively engage.
To qualify for inclusion in the Content-Experience category, a product/platform must:
Enable enterprises to cluster assets in a repository, with tools to segment, aggregate and organize the content for various use-cases, accounts and audiences
Offer custom-templates to design personalized content experience
Contribute to lead conversions via forms, recommendations (personalized) and CTAs
Provide metrics on how well each of the content is performing, including audience insights
This is followed by a detailed 21 point review checklist across three categories which includes pointers like satisfaction, set-up and support.
Here's how Paperflite fared against other comparable solutions:
In both the categories on satisfaction and set-up/support, Paperflite scored the highest which is way above the competition.

Content Experience Takes Center-stage

Over the years, the buyer's journey has changed, with consumers looking for personalized offers. And with it, so has the process of marketing and sales. Companies no longer market anything in the hope that customers will see their advertisement and buy their products.
Instead, marketing to specific buyer audiences has become the norm as that is yielding positive outcomes. Businesses are becoming interested in software that helps salespeople increase their operational efficiency and productivity.

Enabling marketing and sales teams to achieve more

Being featured as G2 Crowd's Momentum Grid Leader is proof of our commitment to helping businesses discover how exactly their content performs across all channels and devices, on a single intuitive platform.
At Paperflite, we've built a product that makes lives easier for marketers and sales reps while staying true to our roots. Our platform empowers our customers to discover, curate, share and measure contextual content with buyers for every stage of the buyer's journey.
 
Paperflite is transforming how teams work by making it easier for them to collaborate effectively, break down silos, and discover the potential of marketing. In a nutshell: custom-built technology by marketers.

If you're curious about how Paperflite can help accelerate your ROI on your investment in content, give us a  shout here.
We want to express special gratitude and an uber-tight hug to all of you who made it happen: Thanks a million.
To give you a quick snapshot here is highlighting some of the reviews received at G2 Crowd:

"Taking Emails and Follow Up To Another Level"
Kevin G
Account Manager
"Rare to find a support team this responsive."
Katie D
Marketing Administrator
"Use this if you want your sales team to share your content"
Ayshwarya V
Retail Solutions Specialist
"A content tool in time saves nine !"
Mahesh
Director – Marketing
"Working with content made super easy"
Monica M
Product Marketing Manager

"We are what we repeatedly do. Excellence, then, is not an act, but a habit."
-  Certainly not Aristotle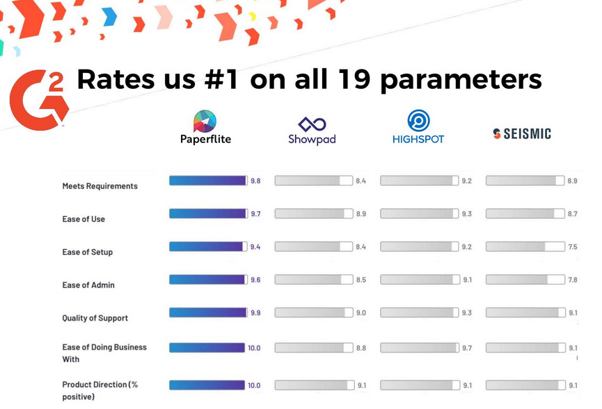 As we march-on with 2020 (& beyond), we promise to continue listening to you and innovating on our platform to ensure we're delivering the best experience that enables you to do your best work.