Who let the gods out?
Needless to say, we did! Announcing 4 incredible new features in this release.
We're back with our latest features. In this release, we are turning to the old Olympian Gods for help. Imagine the features we can bring to you from the most powerful council of Gods.
BE CAREFUL WHAT YOU PUSH FOR – NOTIFICATIONS
Watch out for Zeus as he hurls thunderbolt-like-push notifications every time your recipient engages with your content. Laptops, mobiles, tablets, in your car, the amphitheater or even the Acropolis, thunder strikes everywhere!
Think of it, aren't you eager to know if your prospect has viewed the content that you sent? After all, you've spent hours coordinating with the marketing team to get it out.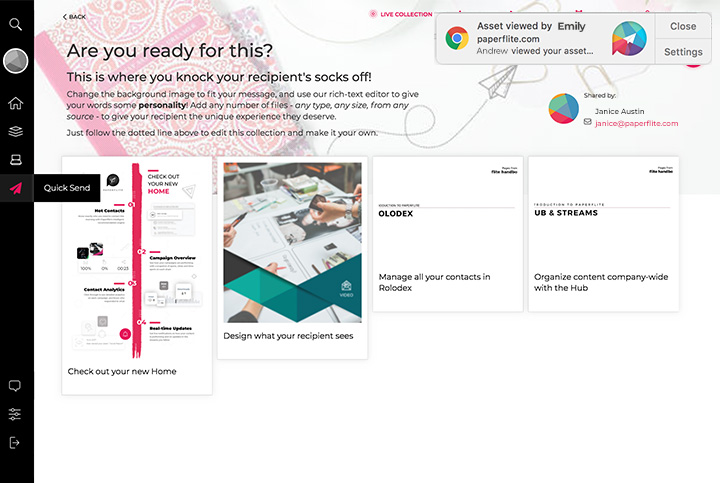 Now, Paperflite lets you know the moment when your prospect views, downloads, or re-shares your content collection within her company. You'll get the push notifications no matter what mobile or tablet or browser you use. You don't even have to be logged in to Paperflite to get them.
And did we mention you'll get them no matter where you are? Even if you're watching the play 'Oedipus Rex' by Sophocles or hiking on Mount Olympus, the throne of the Zeus.
Don't forget to update the settings for it though.
FOR THE SEA OF EMAILS – A PLUGIN FOR GMAIL
"A star is born," says Poseidon, the God of the sea. No more switching ports between Paperflite and your email. With our new Chrome extension for Gmail, Paperflite serves all its features straight into your email window. Sail smooth thanks to Poseidon.
We know many of you use Gmail. So, we wanted to give you countless new ways to reach your prospects and make your content even more useful to them.
Our Chrome extension for Gmail lets you maneuver any way you want without leaving your inbox. Now, add any content that you need from your Collections, Streams, and Favorites in Paperflite into your Gmail. Share your case studies, presentations, GIFs, videos, brochures, whatever it takes to convince your lead. You don't even have to log in to Paperflite to be able to do this. As simple as that!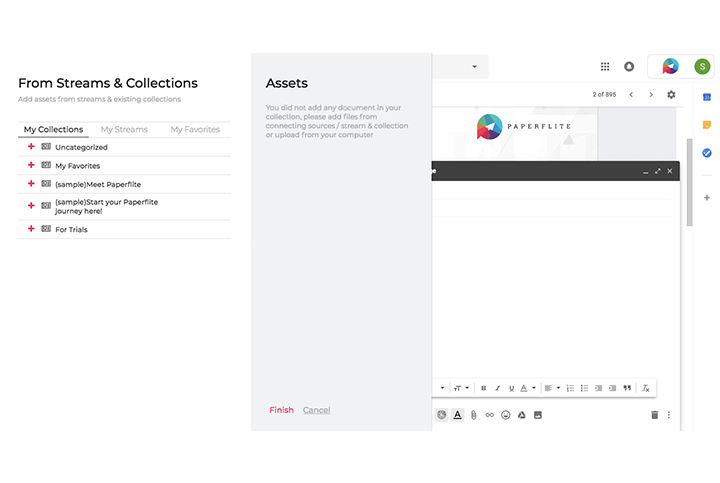 What happens after you mail the content? You can come back to Paperflite and track how your content is turning your leads into sales.
Download the extension and sail forth – may Poseidon protect you from the wrath of the seas and oceans.
AN ORACLE OF THE GREEK ANTIQUITY – ELOQUA NOW WORKS WITH PAPERFLITE
What can we ask for when Hera is in the council? Marriages! Marketing automation and content intelligence working together at the deepest levels to give you a precise view of your campaign ROI and content consumption density. By the power vested in us.
Today, our customers are increasingly using marketing automation systems such as Eloqua for designing flows and executing marketing campaigns. But, they're still manually uploading content on to Eloqua which can be cumbersome.
Besides basic analytics on campaigns that Eloqua provides, marketing teams are often left wondering on their key metrics such as content performance, audience engagement, and channel effectiveness.
Paperflite tackles that with our integration with Eloqua which offers seamless transition while executing marketing campaigns. You can now get the whole picture of your campaign performance.
Paperflite's integration with Eloqua lets you create and manage your content, efficiently execute marketing campaigns, score and route leads to sales and measure the impact of content on your business — all in a single product suite. No more guessing on how your content is performing across campaigns in the marketplace.
Hera, the queen of the Olympian Gods, is known for an uncluttered approach and we decided to obey her command. When we integrated with Gmail and Outlook last time, we promised we'll be back with more integrations and here we are!
BY ROYAL COMMAND - KIOSK MODE
Now our iPad app is equipped to put your content collections on display in our kiosk mode. That's an order from the goddess of wisdom, Athena, and we oblige.
There are so many ways to spread wisdom. Getting your content across to participants in events, summits, and conferences is a great way to let them know how you're solving their problems.
Imagine having a great conversation with folks around at an event and having your content handy to back up your proposition.
Now, use Paperflite's Kiosk mode on iPads to display your best content to your potential leads. Your leads can browse through what you have in store for them and share it further with themselves for later reference. All your content in the Kiosk mode is password-protected so your leads get to see what's meant for them.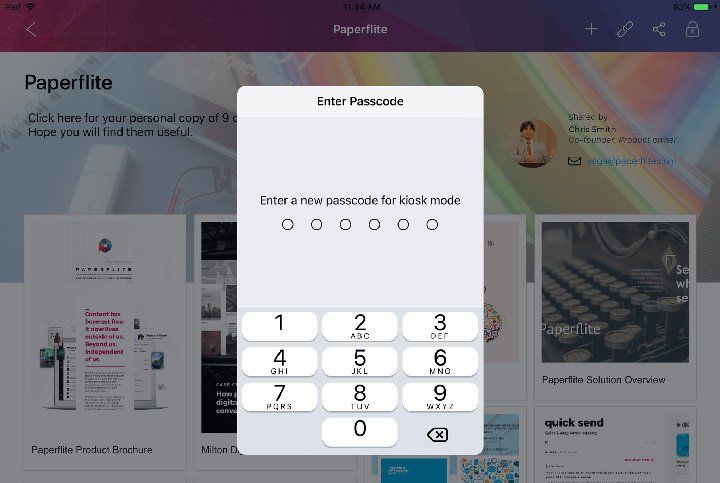 Don't forget to track how your content is being shared around.
As the guardian of the welfare of kings, Athena is the goddess of good counsel and practical insights – we let her good qualities prevail upon us.
We'll be back with more updates. Do give us a shout if you need help with any of these features.
Until next time folks.