Write an Awesome Headline on LinkedIn
Stand apart from the crowd with your unique headline in LinkedIn that tells visitors more about you.
A LinkedIn headline is like an article heading that entices the audience to read it. It is a unique opportunity, that lets you announce yourself to your profile visitors within 120 characters.
Imagine standing on a stage with millions of people, in front of an invisible audience that is even bigger. How do you attract the attention of the invisible crowds, to drop what they're doing, and look at you?
A LinkedIn headline is the first thing that gets noticed by visitors when they land on your profile. So, if you are not paying enough attention to this section, you're probably leaving a lot of money on the table(!).
In this blog, we will explore what a headline in LinkedIn is, and the most prominent personalities who are crushing it right now is.
What is a Headline in LinkedIn?
Let's first understand what a headline on LinkedIn is. It is the short description that appears right below your name on your profile.
For example, Bill Gates's LinkedIn headline says 'Co-chair, Bill & Melinda Gates Foundation.' It explains in simple terms what his position is after stepping away from Microsoft. Here's a screengrab of Gates's LinkedIn profile.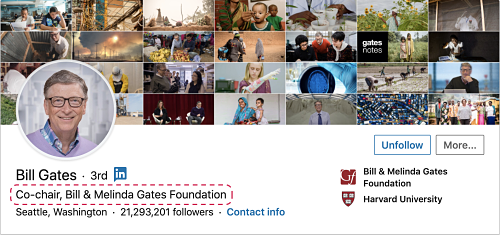 Here's Why Your LinkedIn Headline is Important
A LinkedIn headline is important because:
It tells visitors what your prime skill/job is and strengths.
It gives them a good reason to connect with you. For example, if your LinkedIn headline is 'I coach entrepreneurs for top results,' you are more likely to get visits and connection requests from CXOs.
It portrays you as a trustworthy member of your industry.
It is a niche marketing estate that you can use to brand yourself instead of letting LinkedIn take over and populating it on our behalf.
It convinces people to visit your profile to know more about you - so, in a way, it is a 'Call to Action,' which, when done correctly, can reap reliable results.
You have just about 5-10 seconds to encourage people to click on your profile - so every second count.
A LinkedIn headline appears in Google search results. Google picks up this short description and displays it, so people know quickly more about you.
Last, but not least, LinkedIn is not just a hunting ground for recruiters - it is one of the top platforms for building relationships with like-minded peers and professionals.
Most of us commit the blunder of having the default LinkedIn headline, which is our job title. So, if you are a Chief Financial Officer of a company, the default LinkedIn headline will read the same unless you change it.
Here's what you get when you look up Dharmesh Shah on Google. The first result is his LinkedIn profile with the LinkedIn headline. You know what he does for a living (although, probably he is chilling off right now :))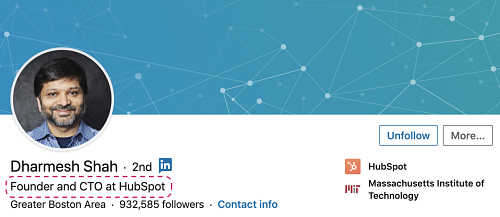 Now, imagine somebody looking up your profile on Google - you'd want the right information about you to be displayed. Let us now see how can we get it right on LinkedIn. 
What is a Professional Headline in LinkedIn?
How do you get a professional headline in LinkedIn that will enable you to stand apart from 30 million profiles so you can attract the right kind of audience?
Here are a few ways of doing it correctly:
1. Keep your LinkedIn headline simple
Remember that you are trying to give people a reason to click on your profile. So, why not write a headline that they can easily relate to.
So, if you are a creative digital marketer, your LinkedIn headline could be 'Combining creativity with digital marketing to turn opportunities into sales.'
It conveys what you are good at and how you go about your job.
Here's Michal Eisikowitz's LinkedIn headline that is amongst the simplest that we have seen in our research. Michal is a B2B copywriter and calls herself as a slayer of boring content. She implores the visitor to read her LinkedIn headline and think - is their content merely filling up space, or is it fetching them leads?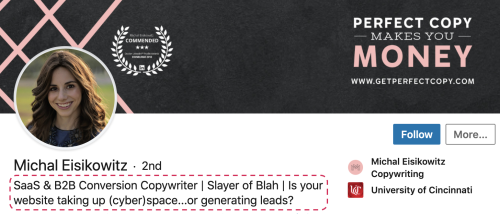 Shaina Keren uses the word 'You' to good effect. Career coaches are always coaching about how to become a better 'You' - so, why not put it to use right where it matters.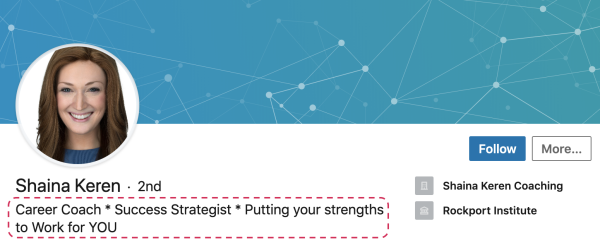 Pro-tip #1: Speak to your visitors directly in a LinkedIn headline. Do not write complicated things that visitors will struggle to understand. It will only discourage them from engaging with you.

2. Be clear, compelling and specific
LinkedIn gives you only 120 characters to explain yourself. But, while you have the liberty to use all of them, being clear and specific to your role as shortly as you can is vital.
A LinkedIn headline that reads, 'Translator with Marketing and Localization expertise for Japanese Market' explains what you are skilled at in very few words.
A recruiter who is looking at suitable profiles will want to scroll further down in this LinkedIn profile to know what more can the candidate offer.
Besides, no one has the time to solve cryptic puzzles in a LinkedIn headline, so make it compelling enough.
Here's a snapshot of Kate Forgione's LinkedIn headline. Kate has called out that she is a customer success leader and is not soliciting for any job prospecting. It tells us in simple terms that she loves helping customers, and that is her forte.

Dave Jackson's LinkedIn profile is even more precise. He specializes in enabling B2B companies to drive net revenue retention and is a top 100 customer success strategist. Using keywords such as 'customer success strategist' and 'revenue retention' helps in identifying Dave from several LinkedIn profiles.
 
Pro Tip #2: Use keywords that visitors are looking for. Notice how we used the keywords 'Translator' and 'Japanese' in the above sample LinkedIn headline.
3. Offer unique value
When people land on your profile, there has to be a unique value that you can offer them, which could be the skills that you have. When you let LinkedIn put in your current role or job at a company, you're aren't using valuable real estate space.


For example, some people say 'Managing Director at ACME Corp.' Well, that does not convey anything substantial to the viewer.
Instead, here's what you could say:
'Closed over $800K in new business for SaaS businesses,'
'Delivered 100+ lectures in Travel & Hospitality Management,'
'Created scaled drawings using design software (Adobe Photoshop, SketchUp, and 3d Studio VIZ)'
'Reduced customer churn rate by 30% for B2C companies'
Each of the above headlines indicates what you are uniquely known. 
Stefano Solferini's profile offers unique value to his LinkedIn profile visitors. It tells them that Stefano helps CEOs with revenue generation, improving cash flows, and achieve impressive valuations - all these backed by numbers.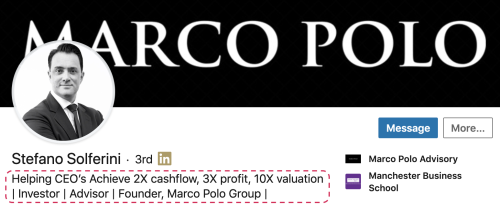 Pro Tip #3: Make your headline is action-oriented. If you are using words that signify action, such as 'Created,' 'Sold,' 'Managed,' 'Designed,' and 'Assisted,' your profile is likely to attract more visitors. 
4. Be a little boastful
It might sound a bit outrageous, but there is no harm in showing off because that is the right way of drawing attention. Show off the awards that you have won or your patents. A LinkedIn headline that says:
'Winner of the Awesome Rising Star award by Style Icon, Asia's biggest fashion award.'
'Winner of the Intel Foundation Young Scientist Award for designing prosthetic limbs'
'A Fitness expert who appears in leading magazines including Health and Runner's World.'
Boasting about your awards and accolades in a Linked headline is one way of telling visitors about your accomplishments and entices them to your profile.
John Turner's LinkedIn profile is an apt example. Josh is a Wall Street Journal best-selling author and an entrepreneur of an Inc 500 company - all of which find a mention on his LinkedIn headline.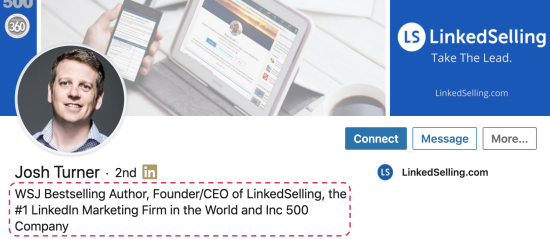 5. Change your profile to suit the situation
The skills that you had when you began as a rookie are not the same as you move ahead in your career. That is because, over time, you acquire new skills and become an expert in them. So, don't forget to update your LinkedIn headline from time to time.
A LinkedIn headline for a professional who's spent years in the industry should be more current and provide more value than a fresh out-of-the-college graduate.
Pro Tip #4: Make sure you plug in all your associated skills that link with your core skills. For example, if you are a Sales leader who loves speaking, your LinkedIn headline could read: 'Sales Leader | Entrepreneur | Speaker | Community Worker.' This way, people know that you have a diverse skill set.
What is a Catchy LinkedIn Headline?
While LinkedIn is a place for professionals, nobody ever told you not to be creative in projecting yourself in front of a global audience. Here are a few examples:
An architect could say 'Designed buildings that have withstood 16 earthquakes in 3 years.'
A software programmer for drones could mention 'An aeronautical engineer who builds drones that can fly over the Atlantic non-stop.'
A lawyer could say 'I am a corporate lawyer who does things legally.'
The advantage of having a catchy LinkedIn headline is that it grabs people's attention quickly, and they tend to remember your profile longer.
Here is Ryan Reisert's LinkedIn profile. He has used all the headline space for an unambiguous message that is simple to remember for peers and sales reps looking at his profile. The tagline 'Target + Message + Channel + Timing' is more natural to recall as that is most sales professionals are trying to get right.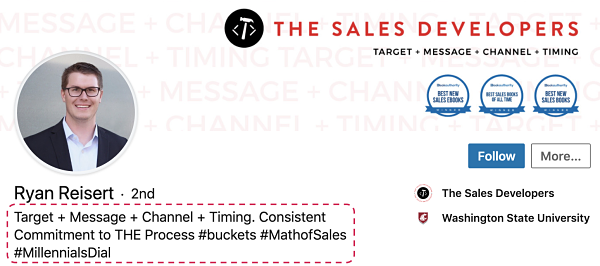 Sam Feldotto is head of sales at Pipestry. His LinkedIn headline is short (has just five words), quirky, rhymes with his company name and says what he loves doing. Even his background image shows his affinity to his company.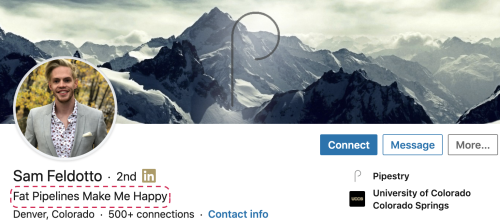 Some people prefer using numbers in their LinkedIn headline, and that's why we liked Kevin Perelstein's LinkedIn profile. While it may not be very catchy, the headline clearly says that Kevin helps B2B sales reps experience 10x pipeline growth, which is easy to remember.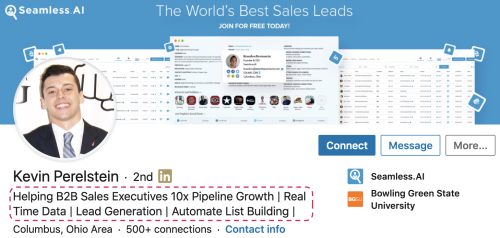 Laura Belgray's LinkedIn headline consists of only eight words. But, she has conveyed that newsletters are out of fashion, yet, she knows what it takes to convince recipients to engage with them.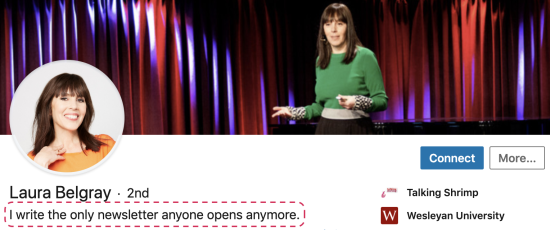 Updating your LinkedIn headline
Let us now look at how you can update your LinkedIn headline. Here's a step-by-step guide to it.
Step 1
Log in to your LinkedIn profile. By default, you will land on your homepage that shows feeds from the activity of the people you follow.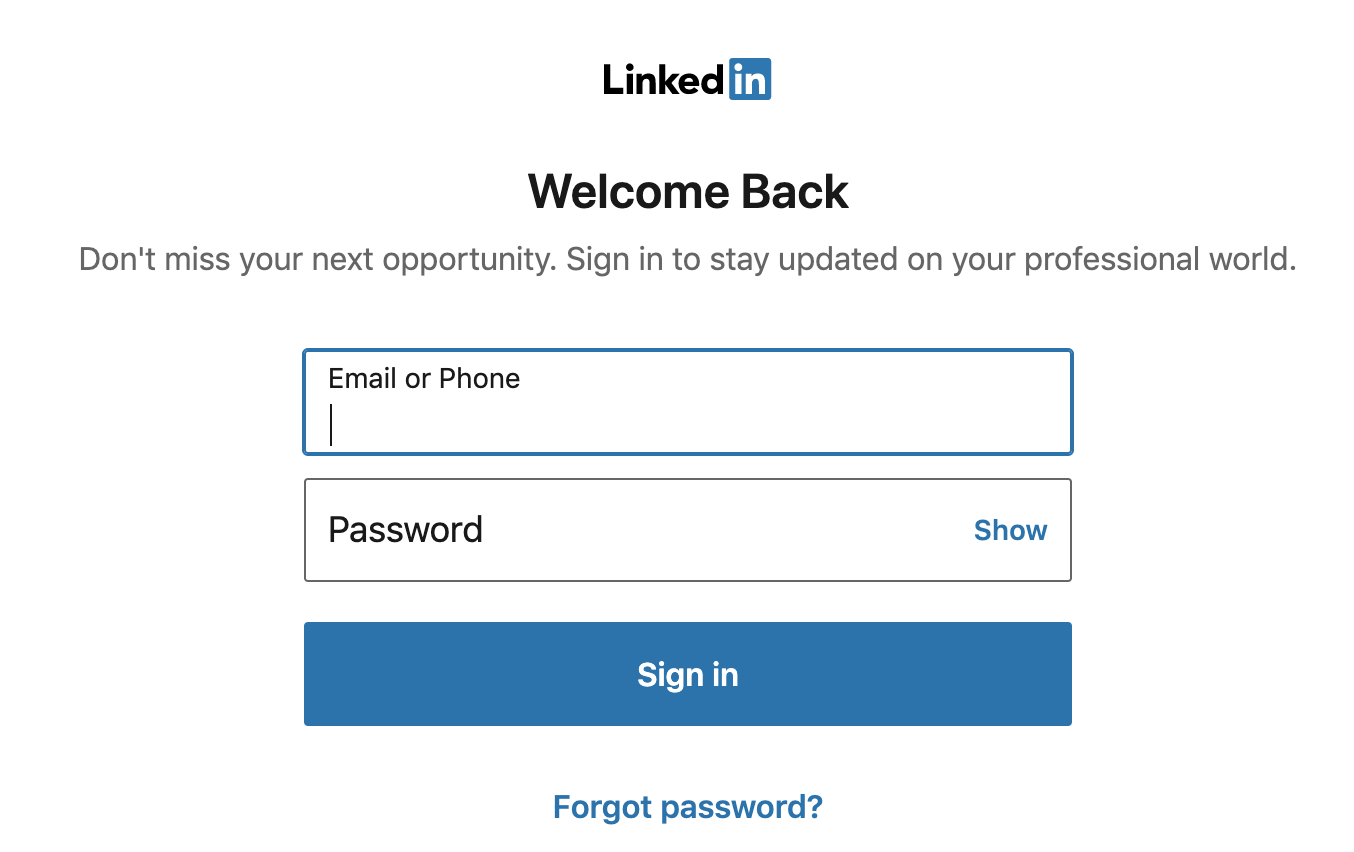 Step 2
Notice your profile picture at the top left of your screen. Click on it to view your profile. You can even click on the down-arrow at the far right top of your page as well to get to your LinkedIn profile.

Step 3
Now, notice the option to edit your LinkedIn headline. Click on it, and you will be able to create your LinkedIn headline or make edits to it.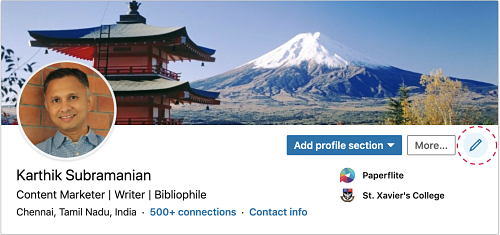 Step 4
Make the necessary changes and hit 'Save' at the bottom right. Your new headline is ready for the world to gaze at your profile.

Let us now look at the top LinkedIn profiles across different professions, so you have a fair idea on how to create a LinkedIn headline that makes your personality stands out. 
What are the LinkedIn headline examples for sales professionals?
We have shortlisted a few LinkedIn headline examples for sales professionals that our sales reps look up to and have analyzed their headlines to know what differentiates them.
Alex Boyd is the CEO of RevenueZen whose LinkedIn headline says that he is an expert in building B2B lead generation models. People searching for the keyword 'lead generation' are bound to come across Alex's profile.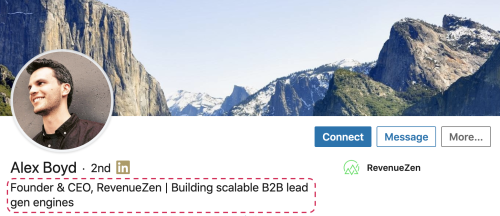 Matt Macnamara's LinkedIn headline is among the most attractive that we came across. It explains in simple words how his company offers architectural solutions to businesses. He has an active YouTube channel too that gets a mention in here, so visitors know where to look for more content.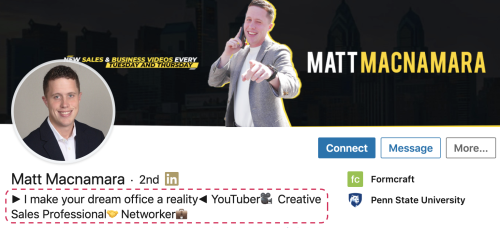 Stu Heinecke's LinkedIn headline is quite compelling and mirrors his most significant asset - his book and podcast titled 'How to get a meeting with anyone.' He clearly states that he works with B2B clients in connecting with their clients.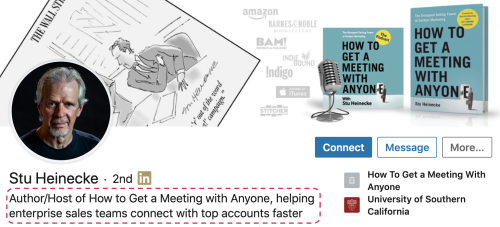 Rachel Gray's LinkedIn headline tells us that she is a SaaS and Inside Sales professional, and an account executive - keywords that are prominent about her profile.

Kira Hug is the co-founder of The Copywriter Club and co-host of The Copywriter Club podcast. Her LinkedIn headline calls this out explicitly without any ambiguity into what her core skills are, i.e., content writing and speaking about it on podcasts.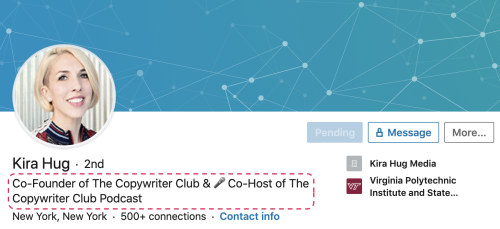 Here is a screengrab of Darryl Praill's LinkedIn profile. His headline lists all the things that he is good at. Darryl's background images lay bare some hard facts and numbers about marketing, which shows that he is a Thought Leader.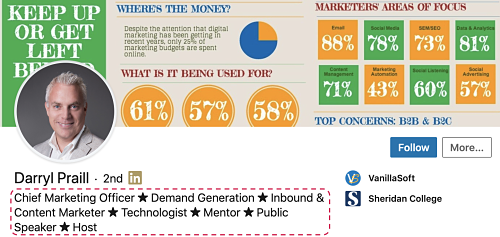 Our LinkedIn headline examples for sales professionals are only a brief shortlist of how you could tweak your profile to suit your skills and job profile.
 
What are the LinkedIn headline examples for job seekers?
Let us now look at the different options for LinkedIn headlines for job seekers. 
It is easy to get demotivated when you're running out of options, and a LinkedIn headline will probably be the last thing on your mind. But, having a great-looking positive headline can make a world of difference to your job prospects.
In this section, we will look at how can you put your best foot forward and what should your LinkedIn headline say when you're unemployed.

To start with, don't state the obvious :).
A lot of job seekers make the mistake of stating the obvious and use words such as 'unemployed,' 'actively seeking employment,' and 'looking for the right opportunity.'
By doing this, job seekers are not helping recruiters to spot their profile amongst the thousands of applications that abound LinkedIn. We suggest you steer away from using such words that do not let you appeal to the right audience.
Recruiters can scroll down your profile to know if you are available for a job (based on your past work experience, start date, and end date). 
Instead, list out your critical skills, qualifications, accomplishments, and experience that convey a lot more about you than words that suggest that you are looking for a new gig.
Here are a few actionable LinkedIn headline examples for job seekers:
'Seasoned B2B Sales Executive | Sold $1.3 million in 2019.'
'Paid Ads Manager / Generated $12 million sales pipeline for manufacturing companies.'
'Website and Blog Content Writer | Written 500k words in 2018.'
'Senior mechanical engineer | Designed wind turbines for Canadian renewable energy companies.'
'Empathetic B2C Customer Support Rep / Never lets a customer go unhappy.'
'Director of HR at ACME Corp | 12+ years experience in people management.'
'Lifestyle Coach | Freelancer | Enabling high performers to live stress-free.'
'Digital marketing veteran open to opportunities in Media & Advertising.'
'Converting data into actionable insights for leaders | Data Scientist | Financial Services.'
'I love lending / Farm & agricultural loan processing | Mortgage & collateral expert.'
They include keywords and offer a glimpse into your personality while enhancing LinkedIn search appearances.
Pro-tip #5: Make sure you are aiming for the job that you desire, and not for the last position that you left.
However, if you still insist on being upfront, go for it - but, do not forget to offer value as well. Here is how you could do it:
'Experienced Chartered Financial Analyst looking for strategic roles in Insurance companies'
'Project management professional seeking opportunities in the public sector.'
'Content marketing enthusiast with a penchant for writing short-form content that sells.'
'E-commerce Project Manager searching for roles in Consumer & Food Processing.'
We liked Laura Hilty's LinkedIn headline because she is quite clear about her priorities - that she'd like to work with international NGOs.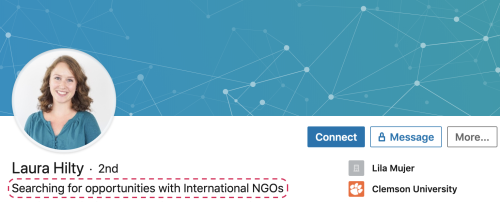 Dana Trent too has highlighted her intent for a role in office administration having spent a year or so working as a receptionist.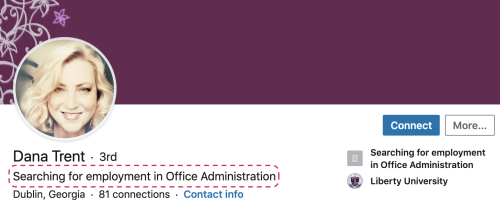 Michelle Mastrorio shows her top skills that include digital communications, content marketing, and social media, and mentions that she is open to new opportunities.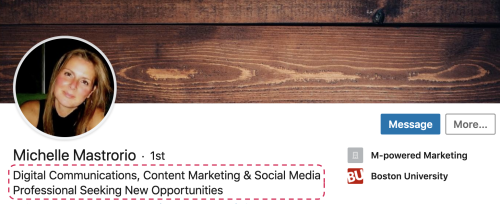 Deepti Bahel too, has specifically called out her skills in Analytics, Program Management, Data Science while looking for new opportunities in her LinkedIn headline. Analytics, Program Management, Data Science are keywords that a lot of recruiters will use to search for suitable LinkedIn profiles.

Pro-tip #6: Recruiters will rarely look for the keyword 'unemployed' or 'seeking' while searching for candidates. So, make sure you mention all your skills for recruiters to scan your profile effectively.
What are the LinkedIn headline examples for entry-level folks?
Now, let us look at the best LinkedIn headline examples of entry-level graduates.
When you have freshly graduated out of college, you are eager to prove yourself. You've probably spent a few months in companies working as an intern, and you have a fair idea of how corporate life can be unforgiving.
There is much more that you have got to offer the world.
Now, if everybody were to mention the word 'graduate,' or 'student,' how does a recruiter differentiate?
Here are a few things to keep in mind while typing out a LinkedIn headline that helps your profile surface on top:
 
Don't get overwhelmed. The corporate world could be intimidating, but you have a lot to offer the company that you're going to work for. So, make sure you highlight your most unique skills in the LinkedIn headline.
Write in sentence case, as writing in a capital case is akin to screaming to attract attention. 
Highlight the things that you have were known for in college - internships, research, scholarly articles, publications, courses, committee memberships et al.
Avoid jargon - nobody is wiser while interpreting it. So, keep things simple.
Do not use emojis that you'd use in a Facebook post - that does not convey the right impression to the visitor.

Here are a few LinkedIn headlines for entry-level graduates:
'Majored in Psychology, Finance, Economics | Student Coordinator, Placements.'
'Communications, English, Public Relations | Community manager.'
'Fashion stylist interned with haute couture magazines.'
'MBA from Northwestern University, majoring in Information Technology.'
'Culinary arts intern keen on delighting customers with delicious food.'
'Investment banking intern enabling analysts to forecast financials across industries.'
In our research of LinkedIn headlines, we noticed that students and graduates tend to mention their education profile, but had left out their fundamental skills and associated roles.
Let us look at a few LinkedIn headline examples of entry-level folks and fresh graduates who have nailed it:
Albert Zhang is a student of Economics at the University of Chicago graduating in 2020. His LinkedIn headline is short, concise and conveys his present occupation, i.e., Investment Banking Summer Analyst at Goldman Sachs. Scroll down his profile, and you can't help notice the impressive resume that he has built for himself.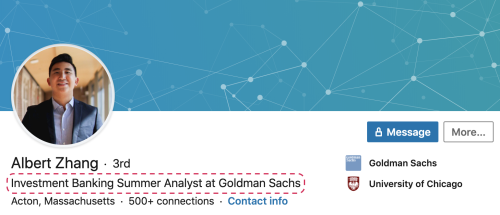 Sejal Parmar is an undergraduate at the University of Illinois and has a short, yet impactful LinkedIn headline that talks about her internship, community service, and fellowship responsibilities.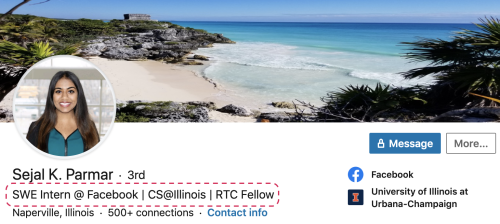 We liked Kallum Titchmarsh's LinkedIn headline as well. Kallum had graduated in 2018 and had specifically called out his primary subject and his present occupation as an analyst at Bank of America, which is in sync with his previous stints.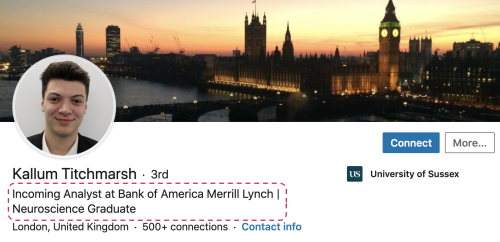 Anya Edelstein will complete her graduate degree in 2022, and her LinkedIn headline explains that she works at Armoire as a Marketing and Operations intern. 

Our list features the most effective headline for LinkedIn profiles by freshers across a range of skills, internships, and industries.
Pro-tip #7: Use 3 LinkedIn headlines to pen down what comes to you naturally and select the one that best suits you. Don't choose a headline from the first attempt - leave it overnight and come back to it the next day. You will quickly notice what you can let go for a compelling LinkedIn headline.
The good thing about a LinkedIn headline is that it is a flexible text field, and there is no one-size-fits-all format. You can change your LinkedIn headline any number of times.
If you are looking for inspiration, take a look at what your peers have said about themselves. Keep working on it until you are sure about its worth to your profile visitors.
 
Additional Reading:
Did you know that you could customize your LinkedIn URL for your branding? Read our blog to learn how.