Decoding a Unicorn's Webinar Strategy
How Freshworks leveraged webinars to introduce a new product and position it amongst some of the most established brands
October 30.2020
12 minutes
Early last week, the Merriam-Webster dictionary tweeted a time-travelling game so readers can find out which words first appeared in print the year they were born in. Go find out yours (but come back here cause there's more!).
Which words first appeared in print the year you were born?

Time travel with us:https://t.co/eX0PXxhe15

— Merriam-Webster (@MerriamWebster) October 19, 2020
Once you've looked up the birth years of yourself, your family, your furry four-legged friend(s), your celebrity crushes, anyone and everyone meaningful, look up the year 1998.
Here's what you should be seeing:

And here's what we'll focus on:

1998 is the year the word 'webinar' first made its appearance in print media. 
Now that we're smarter by a fact, let's dig in!
Thousands of years ago, the world was considered flat. The legendary Greek author Homer, the creator of Odyssey and Iliad, thought so too. Centuries later, this would be proved wrong. 
In 2005, Thomas Friedman claimed that the world is flat too. Only this time, he didn't mean literally—he referred to the period of Globalization, in which he viewed the world as a level playing field where all competitors have an equal opportunity. 
Was that truly a level playing field? Opinions differed. Especially in the startup world, where there existed a huge disparity in access to capital between the select few and the rest.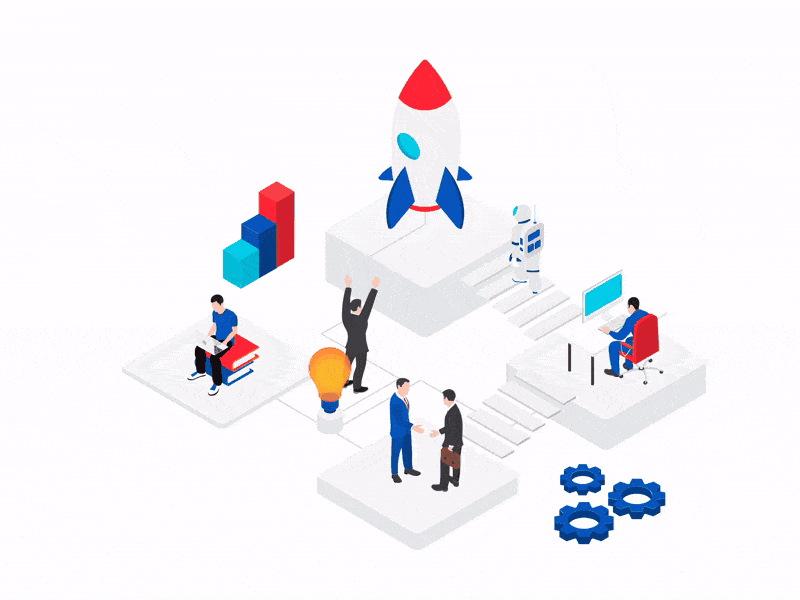 Heavily-funded established businesses had several opportunities to connect with their customers globally—including opening up local offices, participating in global conferences and events, and meeting with their customers face to face—while their start-up counterparts were limited only through digital communication.  
Cut to 2020, we live in a world where physical forms of communication took a hard hit and riding the digital wave is the only way to move forward.
This posed both a very interesting challenge and an opportunity for businesses. 
How do companies connect with their buyers in this remote economy? 
How do they cut through the noise in the digital world? 
We're almost at the close of this year. Three quarters have gone by and every planned activity had to be revisited or questioned to adapt to the new ways of doing business. You had an imperative need to act quickly and seize the day before your competitors did, while at the same time plan your future moves carefully. 
Enter Webinars. 
By now, we've all seen a sudden deluge of webinars. And like most, you would've probably considered jumping on this bandwagon and organizing one yourself.  
But webinars aren't a new phenomenon. As marketers, we've been organising webinars even before the pandemic locked us in our homes, with the only exception that they were merely a quarterly activity in our calendar then. More frequent for some, but others - quite occasionally. 
Depending on the marketing budget, companies on average spend around $25,000 per webinar, which includes speaker charges and promotional activities. However, the return on investment or the number of leads generated hasn't been something to be proud of.

With webinars becoming more common and the only means to establish topic authority with buyers, established businesses can't afford to not generate enough demand from them.
At the same time, if planned well, start-ups can really seize the opportunity to establish their brand digitally. 
We are taking this opportunity to decode how this Unicorn SaaS company leveraged webinars to not just drive leads, but introduce a new product, position it amongst some of the most established brands, and create a mind share that a lot of us can learn from. 
Let's get to business, shall we?
Freshworks
Founded in 2010, Freshworks is one of the world's leading SaaS businesses today, providing a suite of customer engagement products. 
Named originally after its flagship helpdesk software Freshdesk, how they grew to become India's fastest-growing unicorn company is a different story. 

One of their key successes is attributed to their ability to identify the market segment they serve early and adopt a focused marketing driven approach. 
Since 2010, they have had several marketing campaigns up their sleeves that the media has extensively talked about.
In this edition, we're focusing on a particular campaign they ran that would teach us a lesson or two.
In 2016, Freshworks launched Freshsales (now Freshworks CRM), a Customer Relationship Management Software.
With over 150+ CRMs in the market already, it was no easy job to introduce another CRM, let alone aim to get the lion's share and establish market leadership.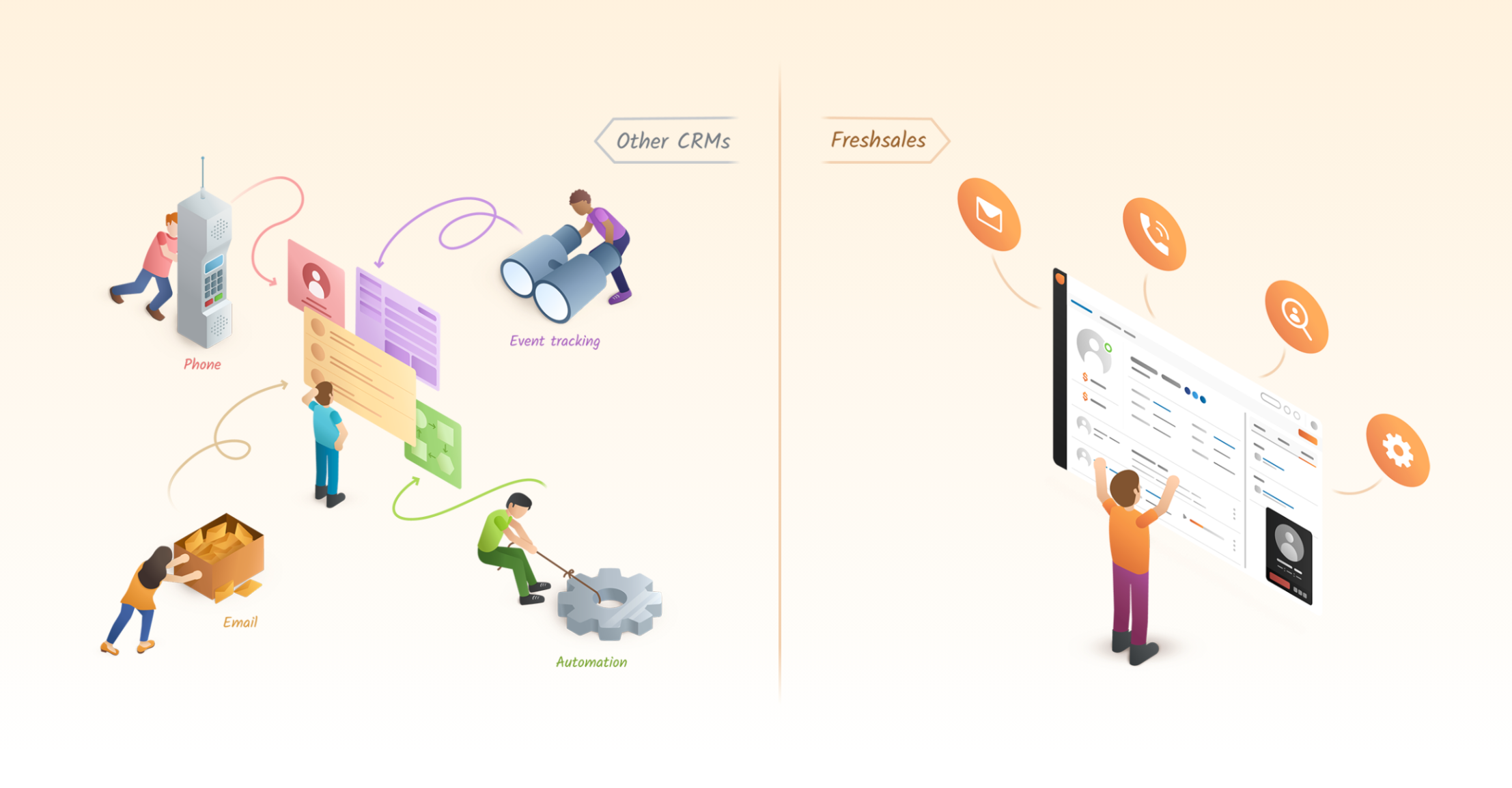 Although cross-selling to over 150,000+ existing businesses in Freshworks's portfolio from other products was a possibility, Freshsales needed to establish a brand of its own.  
And that they did, in their own style. Read more about it here. 
At the beginning of 2018, Freshsales hosted their first webinar and at first glance, it appeared to be yet another webinar. 
What followed next turned out to be one of the most well-executed webinar strategies— one that most of us today are attempting to drive, except they did, over two years ago.
What makes their webinar strategy unique?
There are four notable aspects that stand out:
Topics 
They steer miles away from topics that remotely sound like they are selling their product.  
Value/Affinity 
They focus on topics that make their user groups successful at work and not limit it to the success of their product. 
Frequency 
They are consistent and frequent to not only create but also retain mind share over a sustainable duration.
Positioning 
They are neutral and establish clear thought leadership.
And there was one more factor that tied the above mentioned four factors together - Persistence.
In the words of Ray Kroc, 
"Nothing in this world can take the place of good old persistence. 
Talent won't. Nothing's more common than unsuccessful men with talent. 
Genius won't. Unrecognized genius is practically a cliché. 
Education won't. Why the world is full of educated fools. 
Persistence and determination alone are all powerful". 
Here's a look at how Freshsales scheduled their monthly webinars persistently: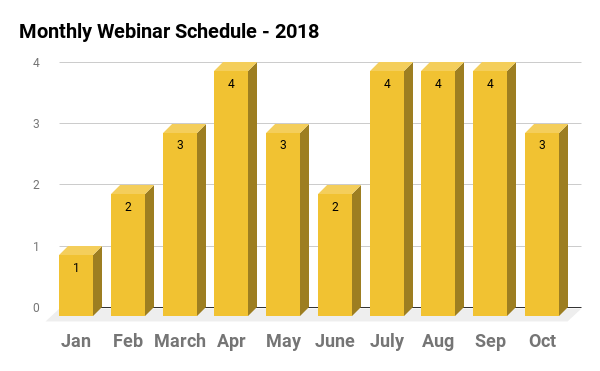 What started as a one-off webinar in January slowly ramped up each month as they began to get the word out. There is a strong correlation between how they choose the topic, the speaker, and the ability to attract an audience over a period of time. 
By the end of October 2018, the team at Freshsales had hosted over 30 webinars and that's certainly no mean feat. 
What can we learn from this?

If you look at some of the community platforms such as Sales Hacker—whose core objective is to bring practitioners together—you'd notice that their webinar frequency would be closer to this. 
It's quite rare for a business to have relentless focus over an entire year to drive this momentum.  
One of the key attributes for their success is this consistency to create mind share amongst their audience over a sustained period of time.
You'd also notice that the number of webinars increased as time progressed. 
Start small, get the word out, and grow your audience.  
Topics
Introducing a new product in the market requires creating extensive brand awareness and positioning to drive leads.  What uniquely stands out in this webinar strategy is that there isn't a single webinar that talks about either CRM or Freshsales.
There were topics such as creating predictable revenue, best practice inside sales, and implementing social selling amongst others, all of which were aimed at top of the funnel content to connect with the audience.
When Freshsales was launched, it was intended for Small and Medium businesses, moving them from an excel based pipeline tracking to an easy-to-manage sales software. Their primary industry audience were SaaS-based companies. 
But how is this relevant to the topics?
If you were to map the take away from each topic and their intended audience, you'll notice a clear pattern emerge. 
The word cloud would look something like this: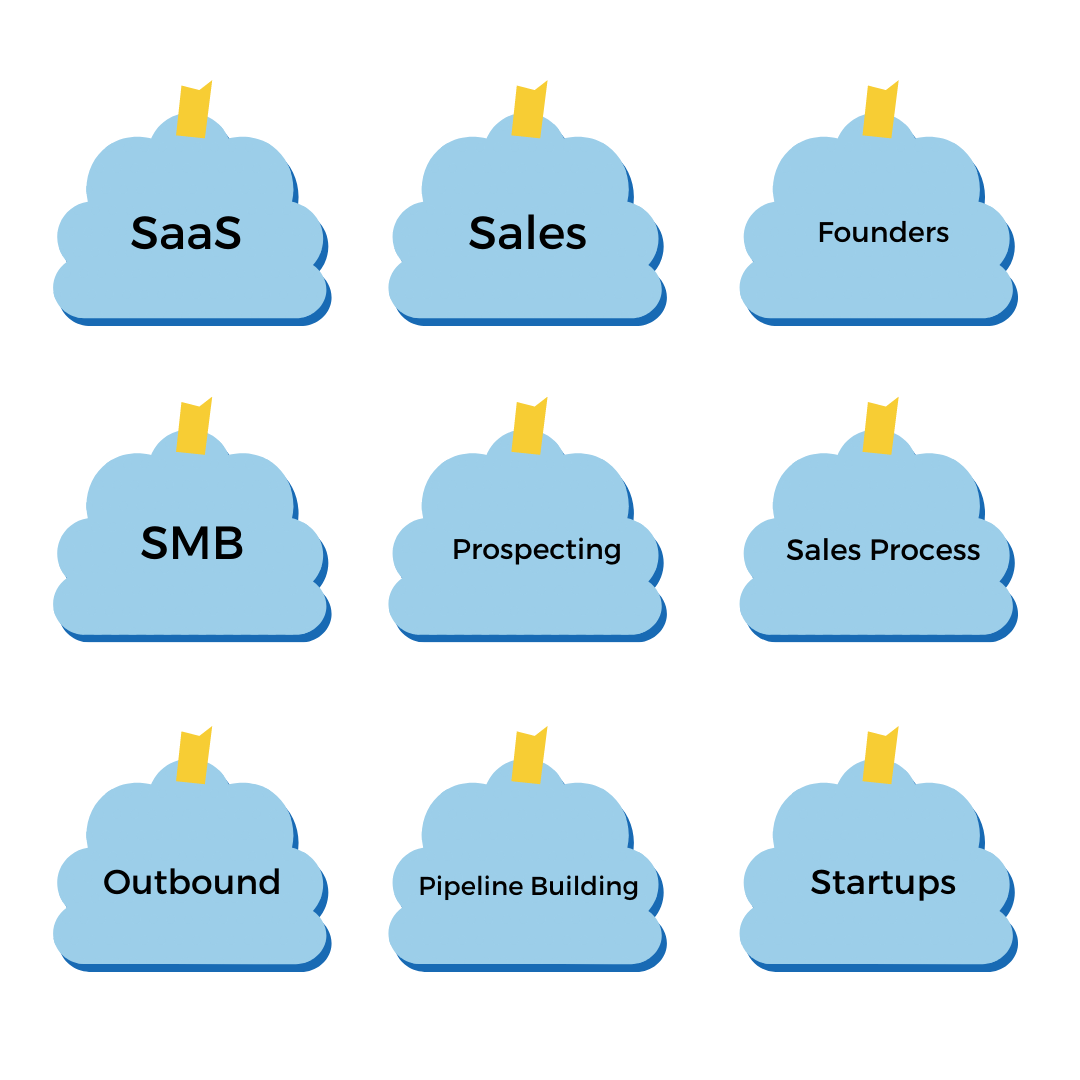 Knowing who you sell to is crucial to align with what you have to offer. 
Identify your ideal buyer persona and user persona. Following that, discover how you can add value to their day-to-day work and make them successful at their job. 
Knowing what challenges they are likely to encounter, bringing those topics for discussion, and letting them learn is a great way to show them you truly understand their way of life and thus, introduce your brand. 
What can you learn?

Although the first few webinars had a quick 5-minute overview of what Freshsales does, it was discontinued in the subsequent interviews, thereby making it pure thought leadership.  At times where most product companies host webinars that are very product-centric, it is a refreshingly good strategy to steer away from self-promotion. 
Speakers
From sales coaches to start-up founders and influencers, the Freshsales team was able to line up an impressive set of speakers.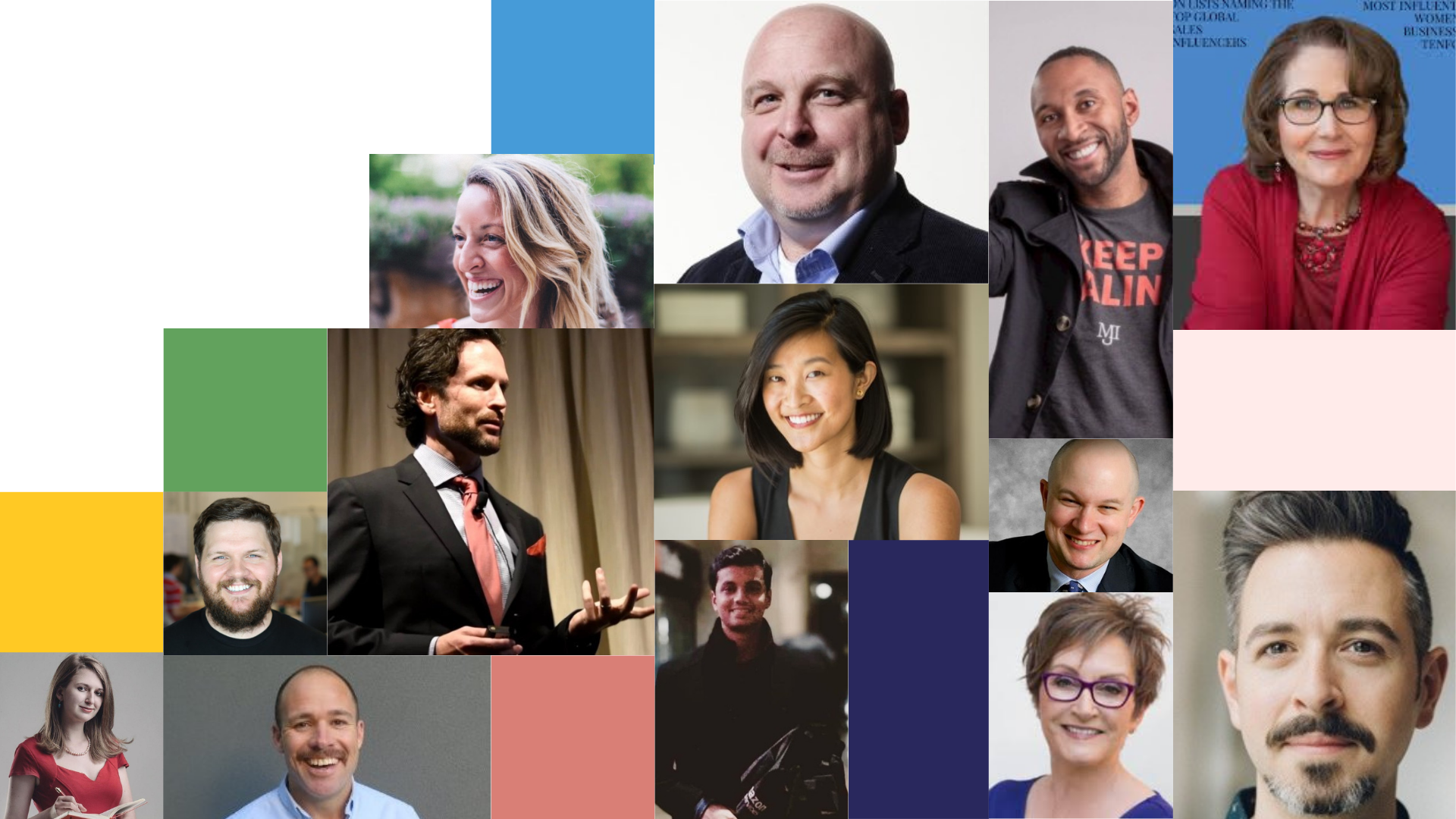 Some prominent names from the line up:
The most significant challenge for many who are looking to execute a similar strategy is the ability to attract quality speakers. 
How do quality speakers join a relatively new series? It's nothing short of a chicken and egg situation. 
That's where the good old network comes to play. 
The webinar team at Freshsales was quite active on LinkedIn. Having been connected to many thought leaders over a period of time, identifying the potential speakers that their audience would love listening to was not a challenge. 
Industry leaders are constantly looking for ways to share their learnings with the community. Given the right platform, they will be keen to share their insights.  On different occasions, the team has been generous enough to share their approach to how they prospected speakers. 
It can start with bringing in a few familiar names—speakers who are active in social platforms.
Here's what the team suggested as great places to start:
Events: Speakers who actively speak at events and conferences. They are more accustomed to speaking to an audience and are keen to present their views.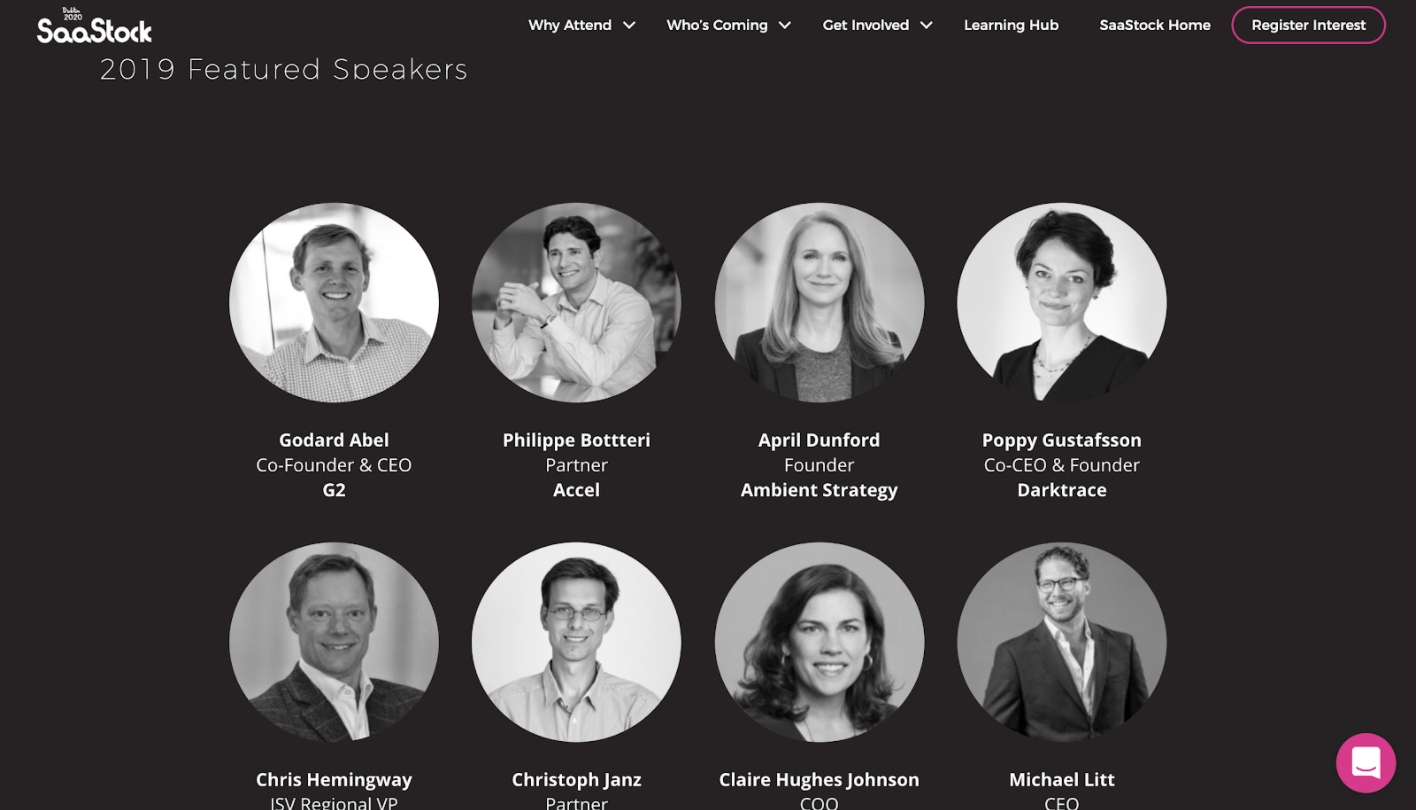 Podcasts: Speakers who have their own talk shows/ podcasts and speakers who have participated extensively in other shows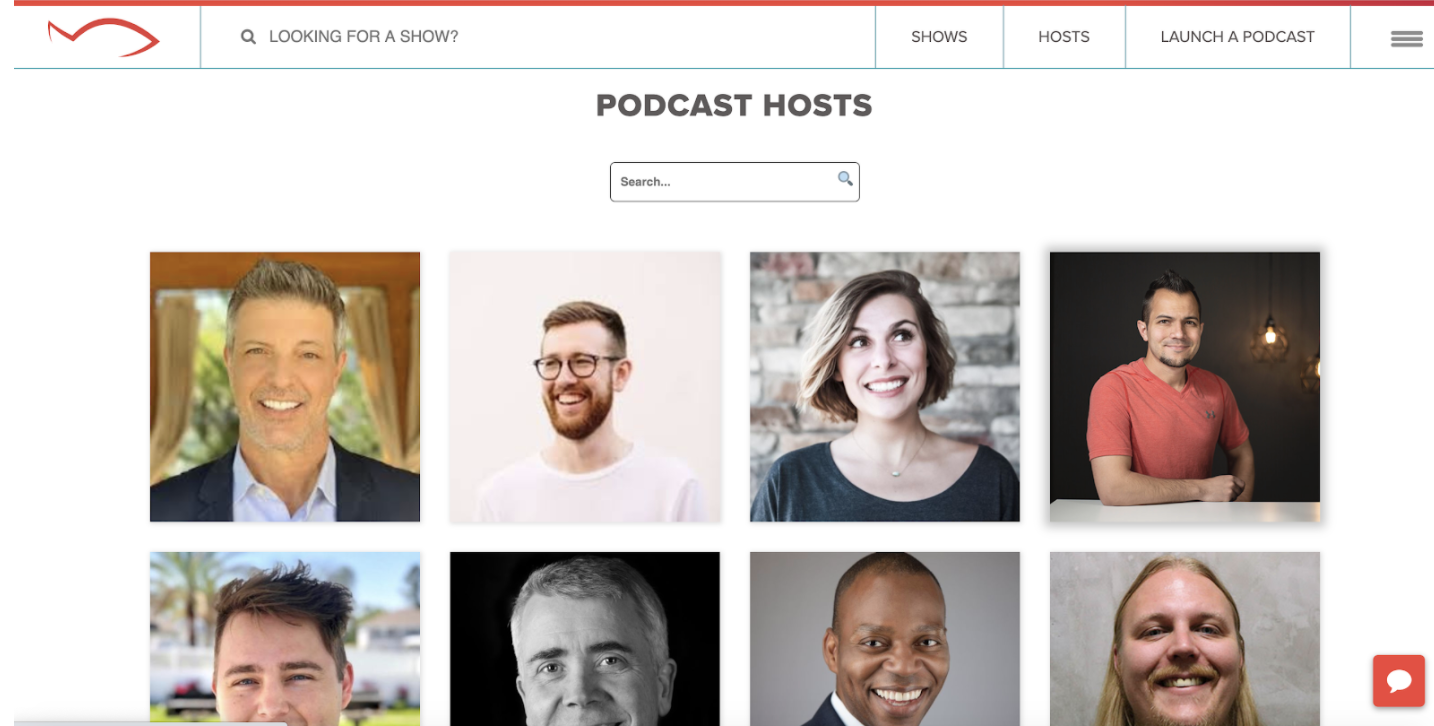 Listicles: Thought leaders who have been included in the lists specific to their areas of expertise.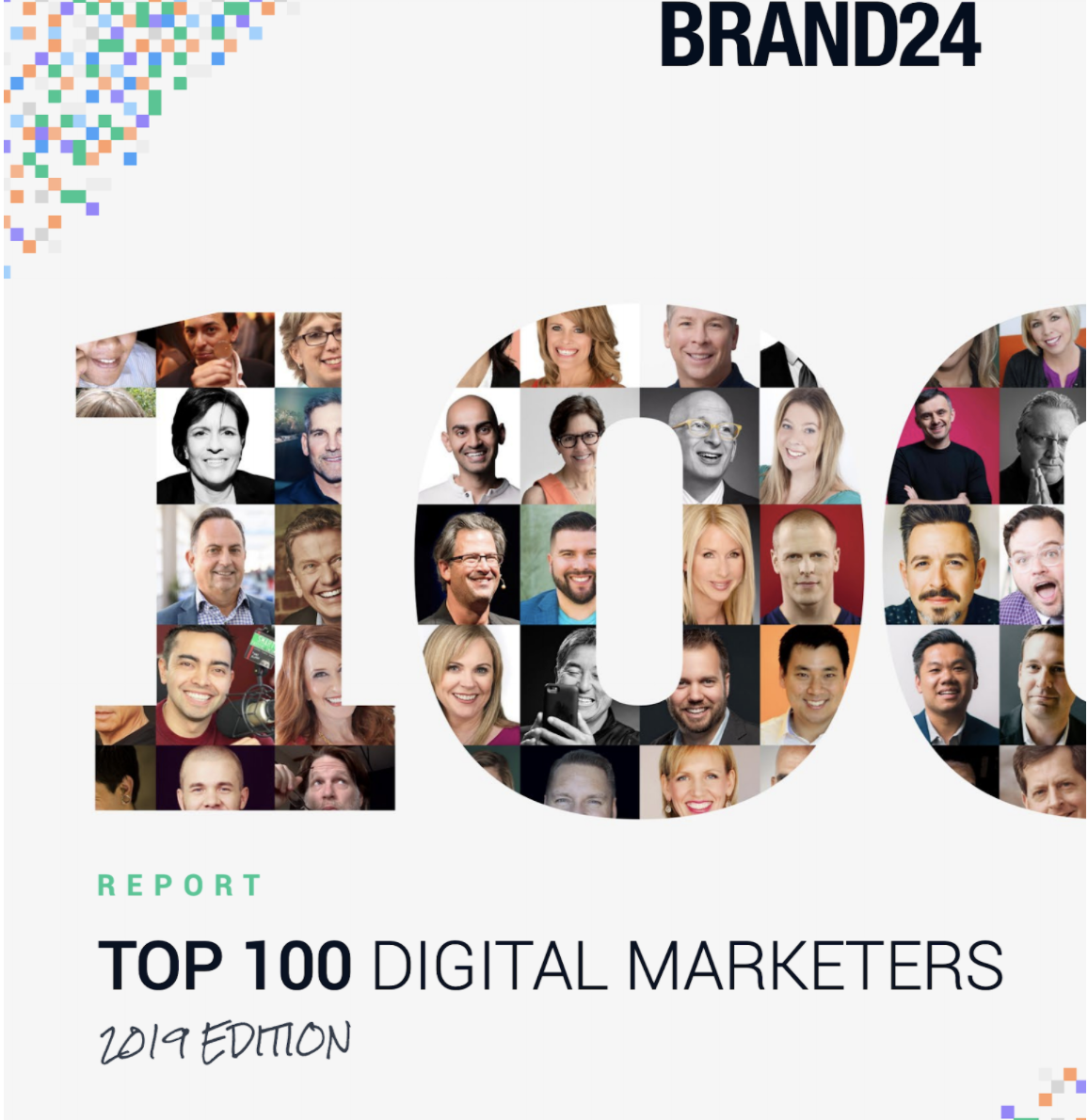 Communities: Leaders who are passionate and actively interacting about specific topics in groups and communities.
Authors: Leaders who've released a book or white paper recently.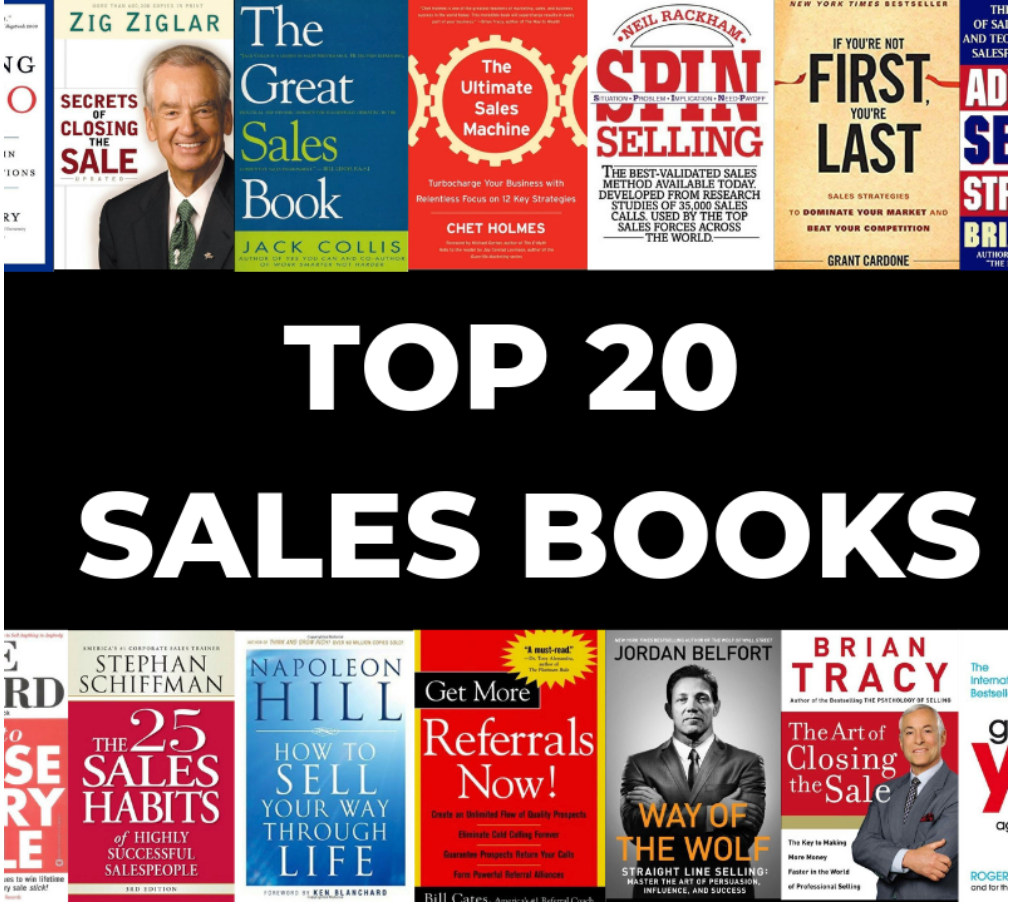 Team builders: VPs of companies who are successfully building world-class teams.
Once you have a few familiar names lined up, it becomes a tad bit easier to attract other speakers who would feel more confident to be a part of the initiative. 
Promoting the webinar
So you are all set – A seasoned lineup of speakers, authoritative topics, and a clean schedule to go by. 
All of this would be mute if it doesn't reach the intended audience. 
Here's how the distribution strategy worked for them:
Branding
Think of the last few webinar banners you've seen on social media.  It's quite likely they have a generic stock image with a small mug shot of the webinar hosts. Nothing that makes them stand apart from the rest. 
In the case of Freshsales, they made sure they highlight their speakers in the best way possible. A ton of real estate and add to that a stunning profile picture. Now, who wouldn't be happy to share this with their network? 
A beautiful capture of you is hard to not share with your audience. (P.S: Our favorite was Rand Fishkin— now who could sport that salt and pepper look so gracefully? Certainly not many of us! )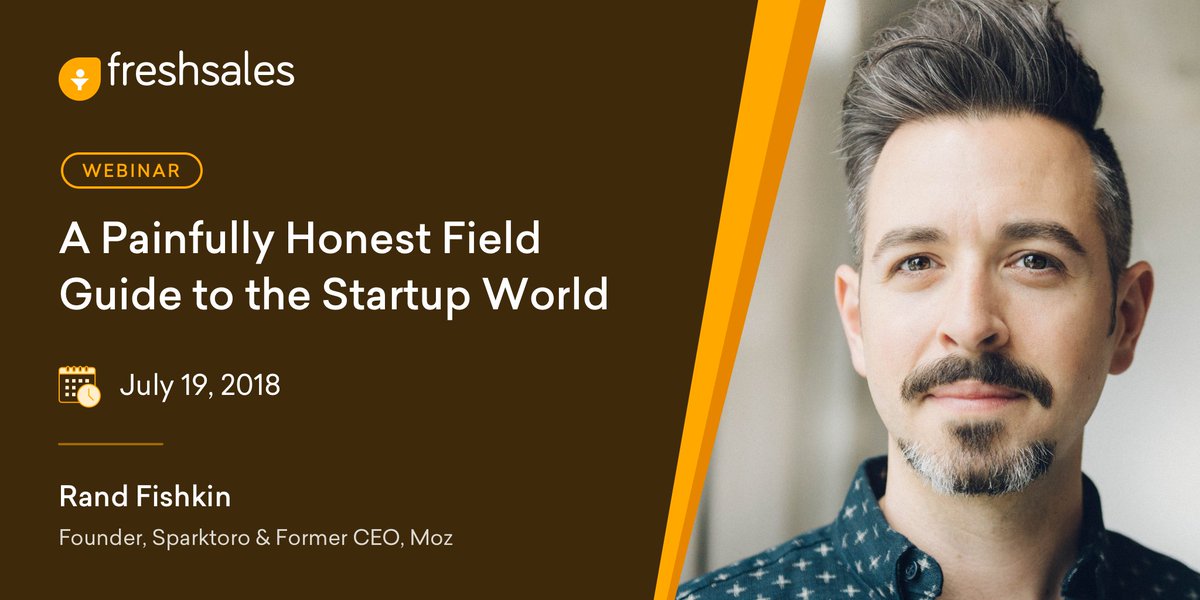 A consistent, well-designed banner started doing the rounds across platforms. 
Employee Advocacy
Shortly thereafter, employee advocacy kicked in. With associates from the company sharing it on their social handles, followed by concentrated promotions on relevant social groups.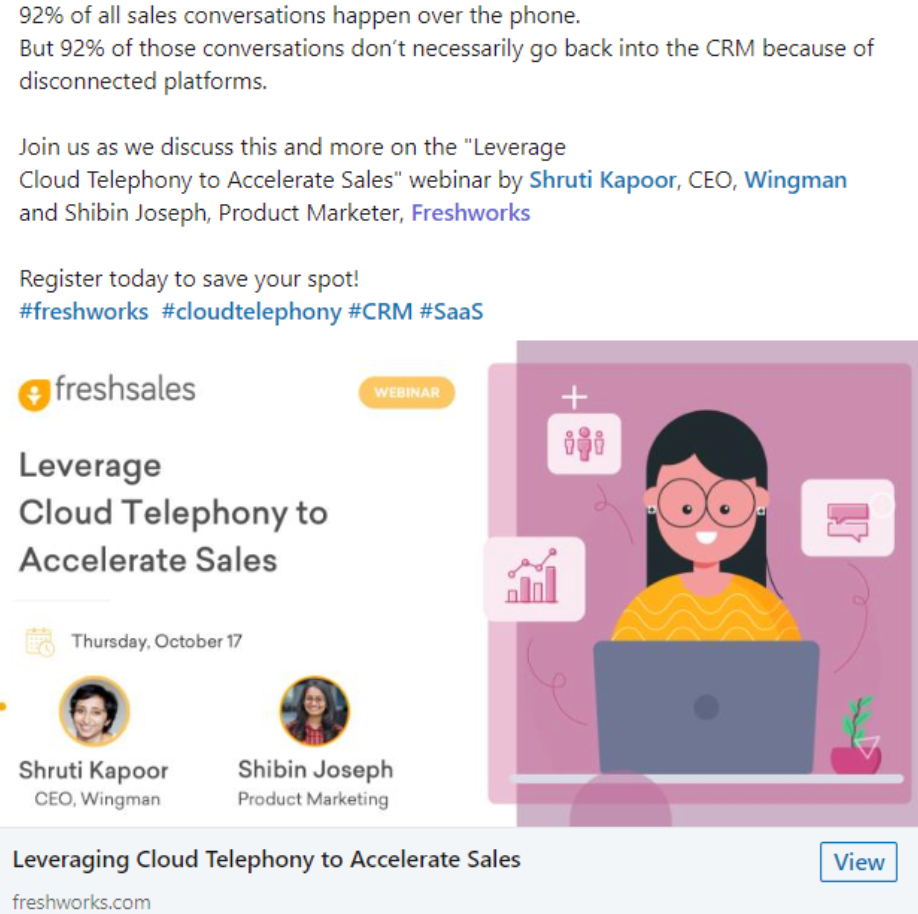 Teasers
As you move closer to the schedule, you could request a 30-second video clip from the speakers, asking them to share what the audience can learn from their session or you can introduce the webinar and ask your audience to share questions or topics they want the speaker to focus on.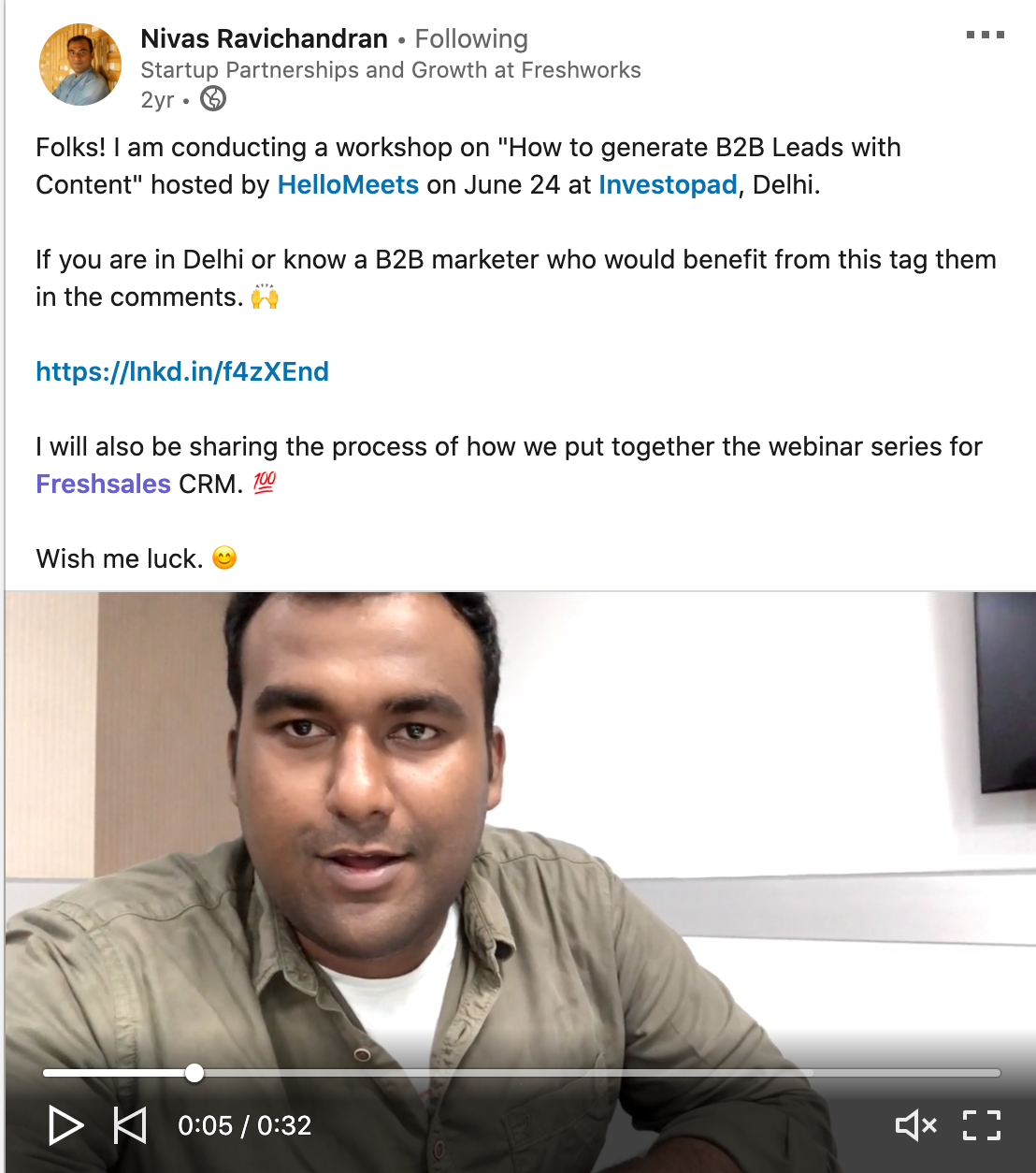 Existing User Community
All existing users were prompted to register for the sessions through in-app messages. 
Customer Success teams shared with their contacts to encourage users in their companies to be a part of these events.
This way, it's evident that brand loyalty can be built not just with the product, but also with the content. 
Reach out to community owners to share webinar invites in relevant groups.
Reach out to businesses that are open to add your information in their newsletters.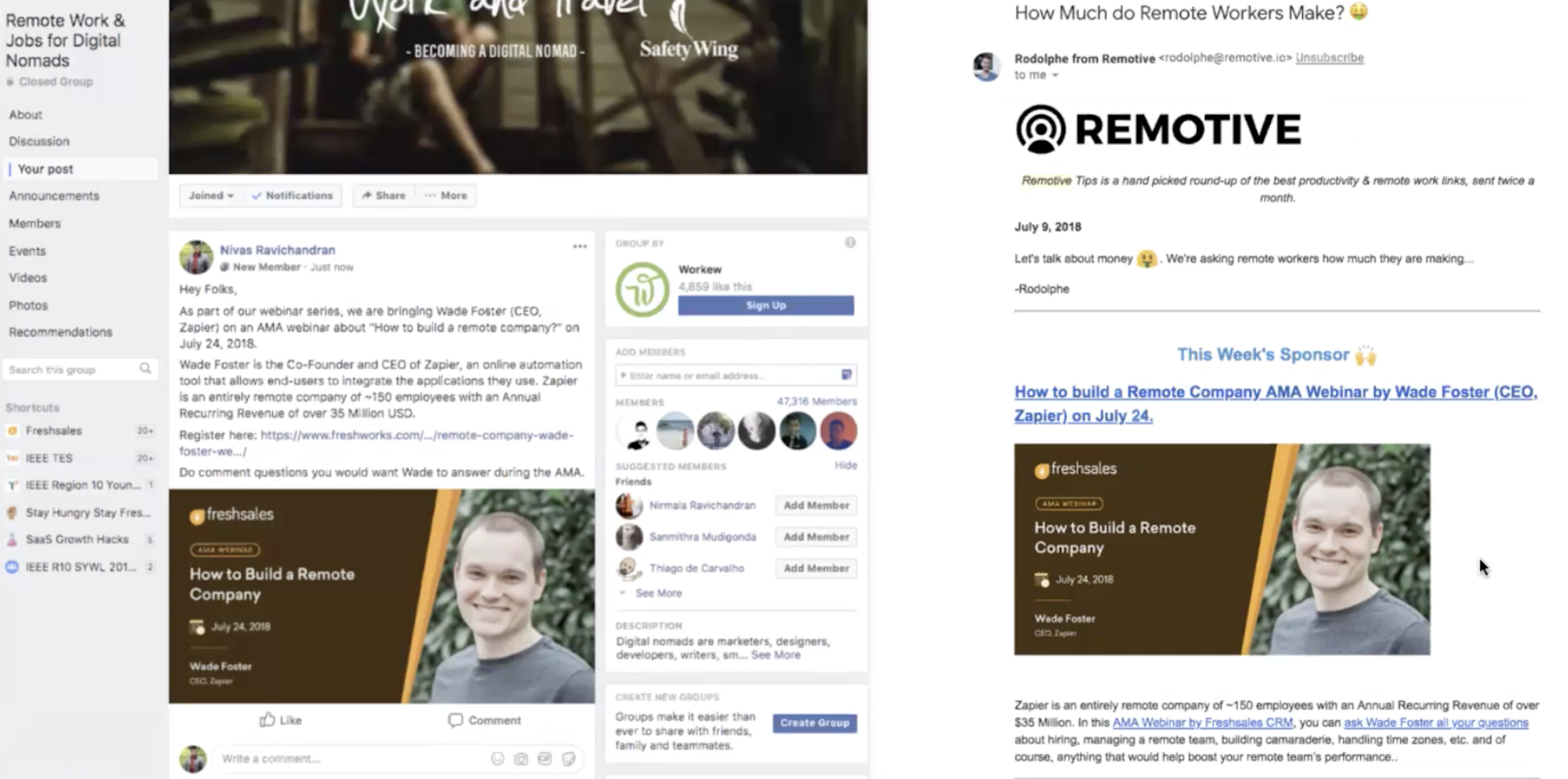 Sticky Notes on your website promoting new users to sign up for the educational series. A word of caution though - be mindful of what pages should have the notification panel.  You wouldn't want a lead who came to your sign-up page from an advertisement copy with an intent to buy now be routed into a different funnel.
Ensure you have a calendar invite reminder that alerts registered participants when the webinar is about to start. 
Even once the webinar has started, you could still share a message on your social platforms about the live status so users can either tune in directly or register to get a recording of the webinar. 
It isn't over until it is over! 
Taking this forward
A webinar campaign of such magnitude is every marketer's dream, for it houses such a wealth of assets. The audience who tune in to watch the webinar live is about 10% of your target audience. 
Therefore, it's important to work on a post-webinar strategy to make the most out of the content generated from these discussions.
Sales Content Management Software
Making sure your webinar recording is available to your entire customer-facing team in your sales content management repository— appropriately tagged—is the most critical aspect.  
This will ensure that different teams can discover the assets to be used for their individual needs and connect with their prospects/customers.
Webinar Content Hub
Ensure you get to host all the webinars and related content in a curated hub that serves your audience when they visit your website. This way, your webinar becomes evergreen content driving you leads every single day. 
In the case of Freshsales, their webinar audio was transcribed to text and written in a blog format seeded with the SEO process to drive organic growth over a period of time, thereby turning this into evergreen content.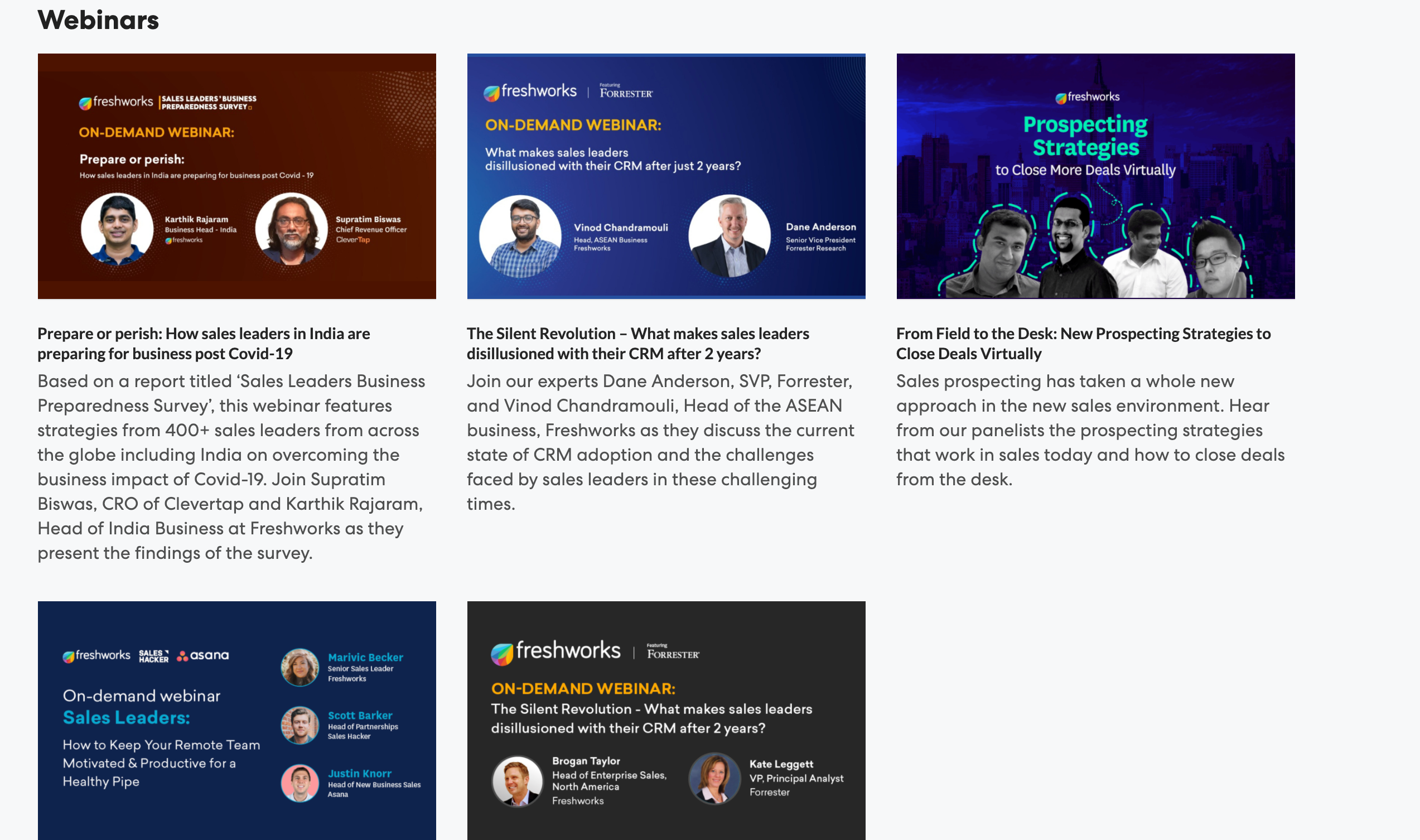 Byte sized videos for social promotions
Now here's another novel way to connect with your audience—although not from Freshsales—observe how Intercom reaches out to visitors when they browse through one of their webinars.  Notice the call-to-actions are very non-pushy and focused: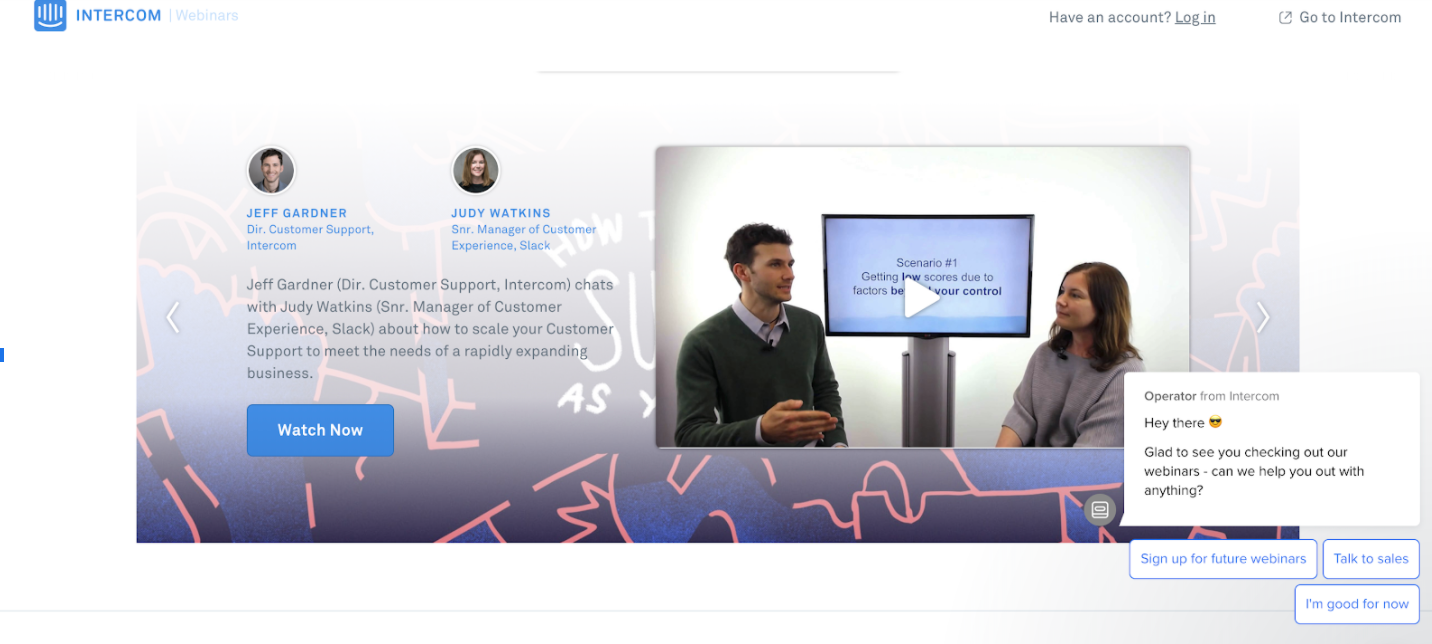 Subscribe for future webinars (Build audience)
Speak to Sales (Qualified leads) 
No action required
If you have a messaging software such as Freshchat or Intercom, creating custom messages and Call-to-Action should be fairly straightforward. 
Marketing Campaigns
The webinar is an asset to share with your blog subscribers across products. When you have 150,000+ businesses, sharing a webinar on how to make effective sales pitches can be relevant to a variety of companies even if they aren't using Freshsales - a great cross-selling opportunity right there! 
Key Asset for Outreach
As SDRs prospecting with buyers, attaching a recently concluded webinar that might add value to the buyer would be a great way to build a good first impression—especially for a stranger asking 20 minutes of their time to get on a discovery call. 
The use cases here are plenty, limited only by your creativity.  This includes using webinar assets to nudge a prospect who has turned cold or as a follow-up tactic to connect with a senior buyer. 
In this case, we've consciously excluded the standard social media promotions and other paid promotions that one is used to. 
Conclusion
This initiative has been the brainchild of Nivas Ravichandran, who has been spearheading it for the most part. A big shout out to him for the incredible work done and for graciously sharing with us how he went about this!
So where do webinars stand in the larger picture for Freshworks?
No surprises there:
From Virtual summits to building an online academy and establishing digital thought leadership, the Freshworks Marketing team has been a pioneer in many of the firsts. 
Collectively, all their efforts have now resulted in making the 167th CRM one of the market leaders along with an enviable position in the Gartner's Magic Quadrant.
B2B webinars provide companies a unique opportunity to educate a specific audience on select topics. 
Some businesses use it to solely promote their products and services while others use it wisely to establish thought leadership with their target audience. 
You just need to pick a side.