"To Write is Human. To Edit is Divine." - Stephen King
You can now EDIT documents & presentations directly from within Paperflite.
The foundation of sales enablement is to provide sales reps with what they need to successfully engage the buyer throughout the buying process. Hire great sales reps and empower them to do what they do they do best. For these high performing sales reps, a company should aim to strip away time-wasting inefficiencies.

At Paperflite, we strive to make your sales team more effective and more efficient.  And with our latest product update, we take another leap forward by offering Microsoft Office and Google Docs edit-access within the platform.
Some of the best sales reps customize sales presentations for every individual customer to make the content more relevant and personalized. They may add a customer's logo, modify the agenda, or add a few tit-bits of detail specific to that prospect minutes before meeting them. To make the changes in the old world, a sales rep must download the presentation or document from their content repository, make the necessary customizations, save it to their local hard drive, upload to their presentation software or sales enablement platform and then present to the client. This arduous process not only wastes time but makes the sales rep lose confidence and worse the prospect.
Now, Paperflite users can select any document or presentation in their content hub or collections, click "edit," and make changes in Office Online or Google Docs that are automatically saved in the platform.

Paperflite's intelligent tracking mechanism enables sales and marketing to track usage and customer engagement of presentations and documents even after they are modified, providing the unique ability to accurately analyze performance. With visibility into how content evolves in the field, content owners can make adjustments in real-time to improve quality. This helps sales reps be more effective and work more efficient.  

Paperflite integrates with Microsoft Office and Google's Docs within the platform. It does not matter you use Microsoft Office or G-Suite for your enterprise, Paperflite now integrates with both to enable a sales rep to edit documents and presentations directly from within the Platform. This integration allows sales to personalize the content they share with prospects while saving time, reducing opportunities for any error, and giving you advanced analytics on how sales content engages with your customers.  
It's as easy as slicing a slab of butter with a hot knife; See how it's done.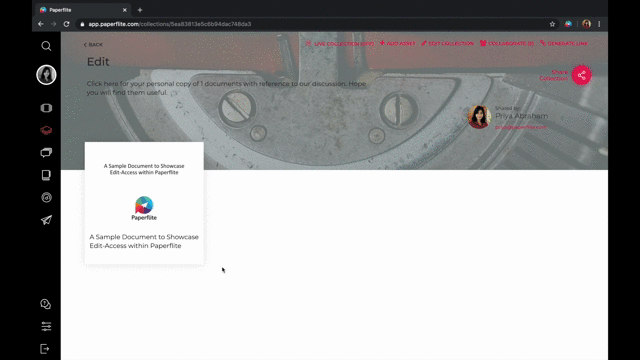 You can start with the editing work right away at Paperflite and please give us a shout if you need any help at any point of time.
Other blogs that may interest you at this point of time:
6 Content Strategies for Responsible Marketing in the wake of Coronavirus (COVID-19)
Integrated Marketing: How to market in the digital age?
9 Customer Marketing Strategies to focus on your existing customers.