The Best Sales Books That Will Up Your Sales Game
A collection of the best sales books that will make sales reps more productive
October 03.2018
6 minutes
Salespeople are always chasing targets and are under the pump almost all of the time. But, they must also hone their skills continue to make themselves more efficient so they are able to close more deals. Be it newer techniques of selling, best practices while speaking to a customer or fast tips to improve your conversion rates – one needs to stay updated all the time.
In this post, we have identified the best sales books that will make you a better sales rep. Books that you can read once, keep in your shelf and refer back to them whenever you are looking for a little motivation.
How did we shortlist this list of 'Best Sales Books'?
We asked our sales folks to name their most favorite books, ones that have impacted their daily life at work. They came up with quite a number of sales books, but then to shortlist the ones that really stand out from the rest was still a task.
So, we cross-verified these with folks outside our organization. We even asked startup entrepreneurs, investors, former salespeople and a lot more people. That helped us arrive at a list that was a good fit across all sales teams. So, you can be assured that this list is probably the best ones that's worth your time.
Let us dive right in.
Amazon Rating: 4.8/5 Stars
This book is one-of-its-kind in our collection that focuses on the basics – customer needs and challenges. Whether you are a rookie salesman or a grizzled veteran, this book offers practical insights and easy-to-follow methodology for developing new business. Mike Weinberg gives a field guide to anybody looking to get more sales in the kitty and makes the whole process seem workable.
For example, his suggestions that every salesman must craft his own sales story and must choose his words is key advice no sales rep would like to ignore. We particularly liked one key takeaway that goes like this: Sales follows strategy. It is the CEO whose job is to set the strategy and articulate it to perfection. He goes on to explain 16 reasons why salespeople fail at new business generation, but essentially, there are just 3 components that are needed for establishing a new initiative.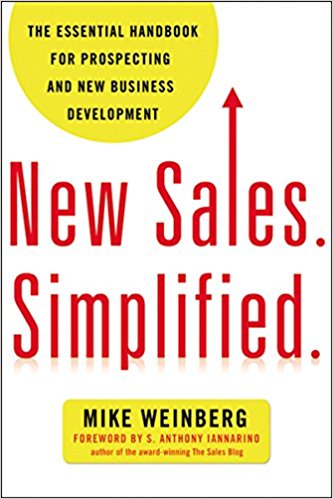 About Mike Weinberg
Mike is a consultant, coach, speaker, and best-selling author. His second book "Sales Management. Simplified. - The Straight Truth About Getting Exceptional Results from Your Sales Team" is considered as a blueprint for leading salespeople and building high-performance sales teams.
Amazon Rating: 4.8/5 Stars
In about 300 pages, Jeb Blount explains that the main reason why even capable sales folks fail is an empty pipeline and they often ignore the strength of prospecting. He has elucidated this with concepts such as the "30-Day Rule" that says no matter how successful a salesperson is, if he dodges prospecting for 30 days, it will haunt him in a few months' time.
The author attempts to beat stereotypes that salespeople are gifted and are not guilty about lying. Instead, he emphasizes the need for professionalism and technique. Jeb provides specific call and voice mail examples including the rationale why certain phrases and sentences salespersons should use to experience more success. He explains how to prospect on different platforms and environments including social media.
About Jeb Blount
Jeb is an influential sales and marketing leader and the author of no less than seven books. His podcasts are the most downloaded in iTunes history. The founder of Sales Gravy, an online Sales community touted as the largest sales community apart from LinkedIn, Jeb is mostly on the road teaching leadership teams how to build better sales strategies and provides talent management, recruiting and hiring services.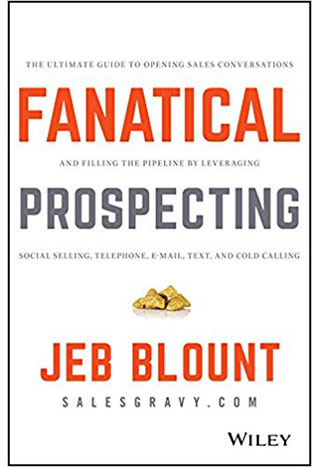 Amazon Rating: 4.8/5 Stars
The title of the book says "The Only Sales Guide You'll Ever Need," and not the "The Only Sales Book You'll Ever Need." The reason we say that is because the author has cleverly called this as a guide instead of a book because he has drawn references from a lot of other books. However, there are too many books out there that talk about methodologies and tools that could make anybody successful at sales.
That's why this book is a refreshing take on things that are anything but sales methodologies and tools. The first nine chapters of this book talk about caring, optimism, competitiveness, self-discipline, perseverance – all must-have attributes of successful salesmen. Anthony has drawn on his years of experience to focus on having the reader choose between transaction-based selling or value creation.
When you use a value-adding approach to selling, you will have a smaller niche market to sell to and lesser deals to work. The beauty of this approach is that each deal will have a higher gross profit and lesser customer acquisition cost. He smartly points out that the ratio between the price of a product and the value that it gives customers should be in the ratio of 1:10. A highly recommended book to anyone in sales.
About Anthony Iannarino
Anthony is an accomplished entrepreneur, speaker, columnist, and author. He is an internationally acclaimed figure as a thought leader in sales. He is a part owner of his family's staffing business and also a coach on topics such as professional selling, persuasive marketing social media marketing. His flagship brand The Sales Blog has an audience of 65,000 members each month and his Sunday Newsletters go to 80,000 people.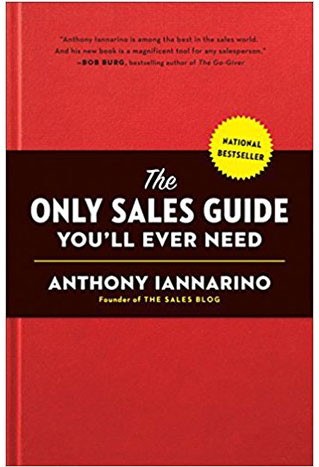 Amazon Rating: 4.8/5 stars
This is the second book from the same author that we have recommended in our list of best sales books and there is sufficient reason for that. Anthony Iannarino explains how by using certain wording you can win the commitments of people and their business as well. People who have read this book have reported that they have experienced success by using this technique.
In a sale process, the closing out the deal is often the toughest, but the author makes it sound simple by getting commitments of buyers at t ten essential points along the buyer's journey. Among the ten commitments that Anthony has named, we found one that was particularly impressive, viz. preventing the possibility of a failed sales deal by securing a Commitment to Resolve Concerns from buyers. He has a chapter for sales leaders that talks about how to coach teams so they're able to obtain commitments from customers.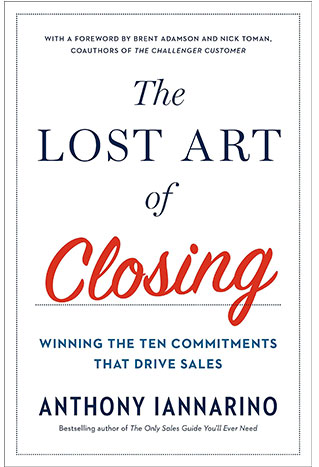 Amazon Rating: 4.8/5 stars
This book is exactly what the title says – High-Profit Prospecting. If you are a fan of Mark Hunter's YouTube channel, you are most likely to enjoy this book as well. Mark shares more of his wisdom from years of experience in a no-nonsensical approach Mark cuts right to the chase in his book as well that is full of unadulterated stuff.
For example, one idea that he proposes is that salespeople do not do enough justice to gather ideas from sales and marketing teams in other industries. This may be commonplace for some, but it is an invaluable suggestion. He then lists put 30 tactical questions that will help you gauge the efficacy of your sales prospecting.
He even explains why pricing should never be a part of your prospecting strategy and it made complete sense to us. In many ways, it tells us to go back to the basics of sales, i.e., to be successful in sales, it takes a lot of hard work, deals and leads do not come on their own.
About Mark Hunter
Mark is an award-winning sales blogger and speaker and his clients include Salesforce, Lenovo, Mattel, and Kawasaki. His first book High-Profit Selling: Win the Sale Without Compromising on Price released in 2012.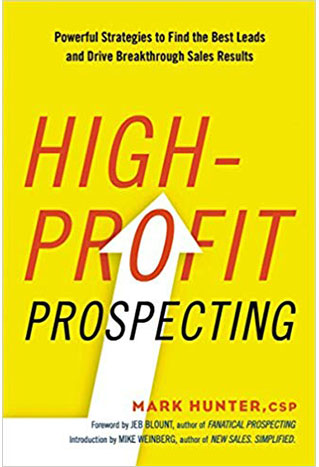 Amazon Rating: 4.5/5 stars
In today's economy, everybody is selling or helping in selling. Any activity that we do ultimately culminate in the process of sales. That is exactly why they must read this book for two reasons: 1) It is incredibly precise and to the point and 2) It is ideal for quick bursts of reading (you can be in an airport, pull it out and continue from where you left it).
Jeffrey's book is an easy-to-understand manual on not just the art of sales, but for anybody who is trying hard to succeed. This book also has plenty of 'To-Do' stuff, techniques, tricks and resources that might need you to visit his website frequently.
It includes a self-evaluation quiz that tells you what you need to do to get your act together. We were reading reviews of this book before purchasing it and found people on two extremes – ones who like and the ones who don't like it. We liked it though and will recommend it to anybody in sales.
About Jeffrey Gitomer
Some of the most famous businesspeople are college dropouts and Jeffrey is one among them. If you have not read his biography, make sure to read it here. Not many authors will describe themselves this way. He is an author, professional speaker, and business trainer, who writes and lectures on sales, customer loyalty, and personal development. He began writing and publishing Sales Moves, a weekly column on the science of selling, in the Charlotte Business Journal in 1992, which is internationally acclaimed.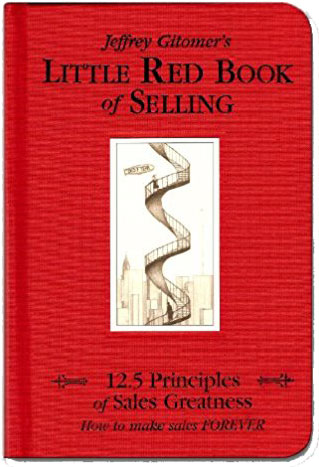 "Some sales teams hire people who don't know how to sell and expect magic to happen." This sentence on page #30 of this book sums up the core value that it offers.
Authored by industry veterans Cory Bray and Hilmon Sorey, this is probably one of the shortest books in our list of best sales books, that can be finished over a weekend. But, the lessons will remain with you over an entire lifetime. Each chapter in this book has a practical 'how-to' guide for you to implement in your sales conversations.
The fundamental concept in this book is that sales enablement is not an individual role. Instead, everybody in every department is involved in sales enablement such that the customer is at the center of the ecosystem. There are concentric circles around the customer as other team members contribute to sales enablement.
About Cory Bray and Hilmon Sorey
The authors are co-founders of ClozeLoop, a sales enablement platform, so they surely are experts well equipped to speak on the subject. While Cory has been authoring books on sales and a founding member of the Sales Enablement Society, Hilmon has been a management consultant for 10 years in the Bay Area working with Silicon Valley firms.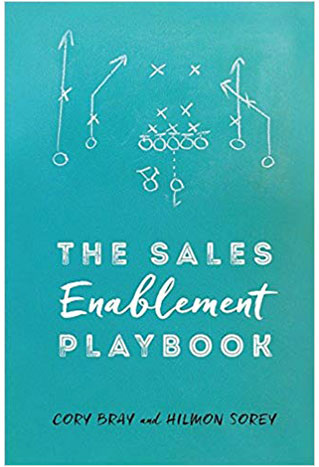 At this point, you are either completely sold on reading our shortlist of the best sales books or you're not. All of these books have helped our sales teams in many ways and that is why we thought you'll like them too. Using the numerous tips and tricks that these books have, our teams have been getting through to more prospective clients, finding more opportunities in existing accounts, and are receiving better responses from their prospecting emails. If you have any favorites, do let us know at Karthik@paperflite.com.