Going deeper, but with more control
Deeper analytics, edit after send, live collections, asset control and more!
The first features update of oh-so-many to come!
At Paperflite, we never stop working to make sure your experience is the best it can be. That's why we're constantly trying to understand what you need and how we can improve the Paperflite experience for you.
User feedback and experience is a critical input for our product roadmap. We aim to not only make sure you get more than you thought possible from our platform but also to save some more of those precious seconds from your schedule, making you more efficient and effective every day.
Our interactions with you in the past few weeks have given us some new ways to enhance the experience. Today, we're excited to introduce you to a lineup of new additions to the product that's going to make your life a tad bit easier and that much more powerful!
HERE'S WHAT WE'VE JUST ROLLED OUT:
---
1. DIG DEEPER INTO CAMPAIGNS AND CONVERSATIONS:
Insightful analytics to boost engagement
Until now, the Home screen welcomed you with the insights you needed on how each of your conversations was performing. With top-level metrics on the overall open rate and click rate, as well as the time spent on the Collection, your finger was always on the pulse of your conversations' status.
Today, we've gone deeper, with powerful insights on how every individual recipient in your conversation engaged with the content, with multi-recipient tracking. No matter how many prospects you share the campaign with, our conversation-level analytics tracks which individual recipients have opened the email clicked the assets, and the time they've spent on it. That way, you get a better understanding of which recipients are most engaged with your content, and learn how to better follow up with them.
You'll also see how each asset is performing in the conversation overall, gaining powerful content-insights, that you can then use to better the content you create and share.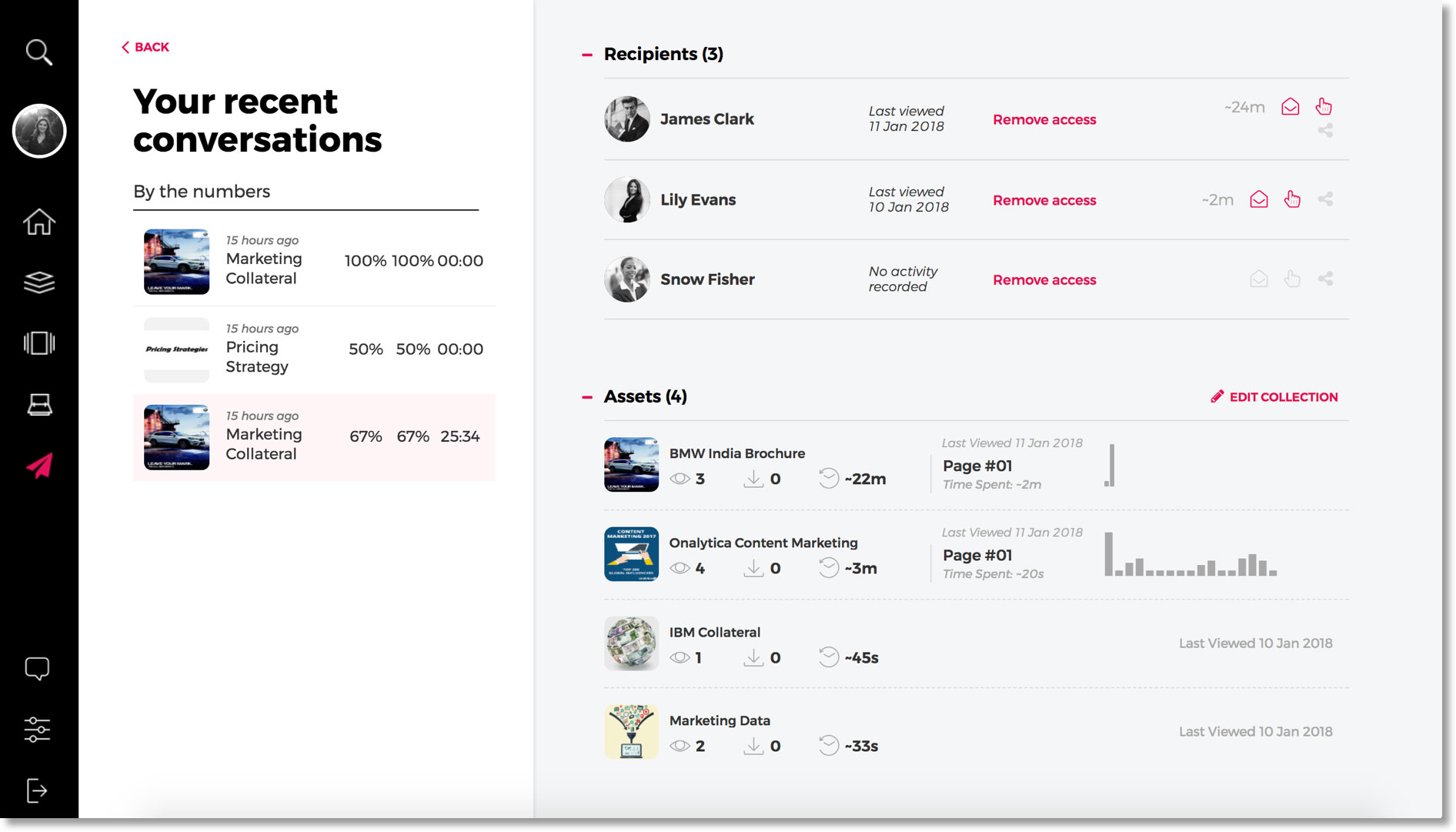 2. EDIT AFTER SEND:
Control your conversation even after you've hit send
Have you ever had those situations where you've sent out a collection to a prospect, only to discover that one of those files were outdated? Or how about when a new vital whitepaper is published the day after you've sent out the collection?
You know you need to let your prospect know, but would emailing them again be too much?
Well, Paperflite helps you remove this problem.
With the latest update, Paperflite lets you add or delete assets from the collection, even after you've hit Send, making sure that each prospect always has access to the right content at the right time.
You'll find this most useful when you run campaigns where you've shared content with multiple recipients, but would then like to update the Collection shared with a specific recipient – Paperflite gives you the power to control the Collection each recipient sees, allowing you to customize it further.
You can also remove access to Collections, in case of any changes in the prospect's status, as well as choose to notify them of updates.
 
3. LIVE COLLECTIONS:
Open a direct-sync channel with your prospect
Each Collection you share with your prospect impacts how they perceive your brand and the value you share. Therefore, it's important that you be able to use this to its fullest, maximizing the channel's potential, and using it as a way to maintain a relationship with your prospect.
We realized this, and therefore, have included the ability to make your Collection "Live" now. Just turn on the Live Collection option, and every update you make to the Collection will be available to each recipient. You can choose to broadcast a notification, as well, so that they know of the change made. This allows you to better utilize the Collections space for interactions with multiple prospects, and use it as an open channel to directly share updated content with them.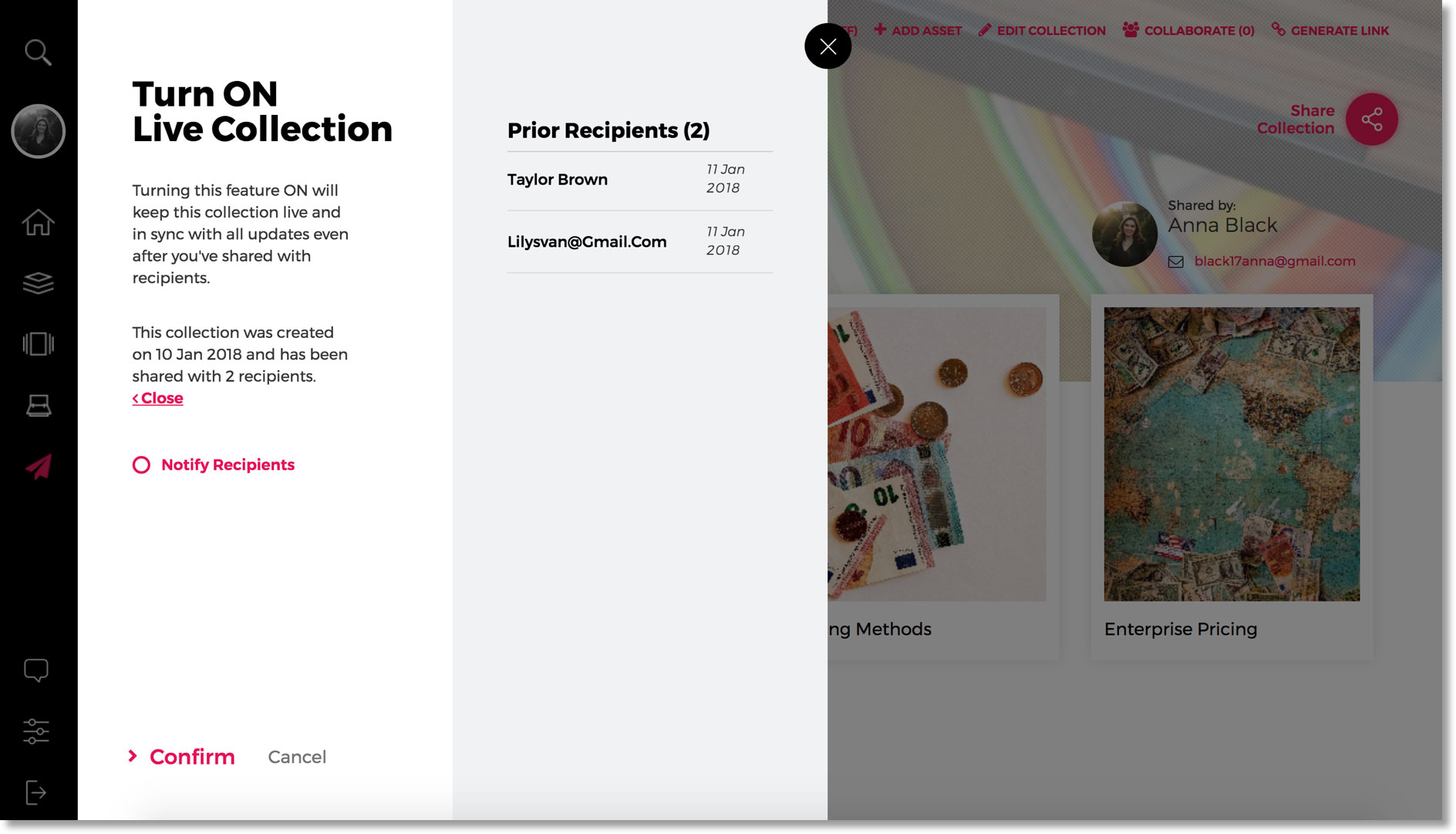 This can be especially useful if your Collection is linked to your blog, or other online resources, allowing you to instantly broadcast updates to your recipients as and when there are updates.
4. ASSET CONTROL:
More power over your content
Paperflite now allows you to control what prospects can do with the assets you share with them.
You now decide how they interact with it, controlling not only who views it, but also who can download it, and who can re-share it.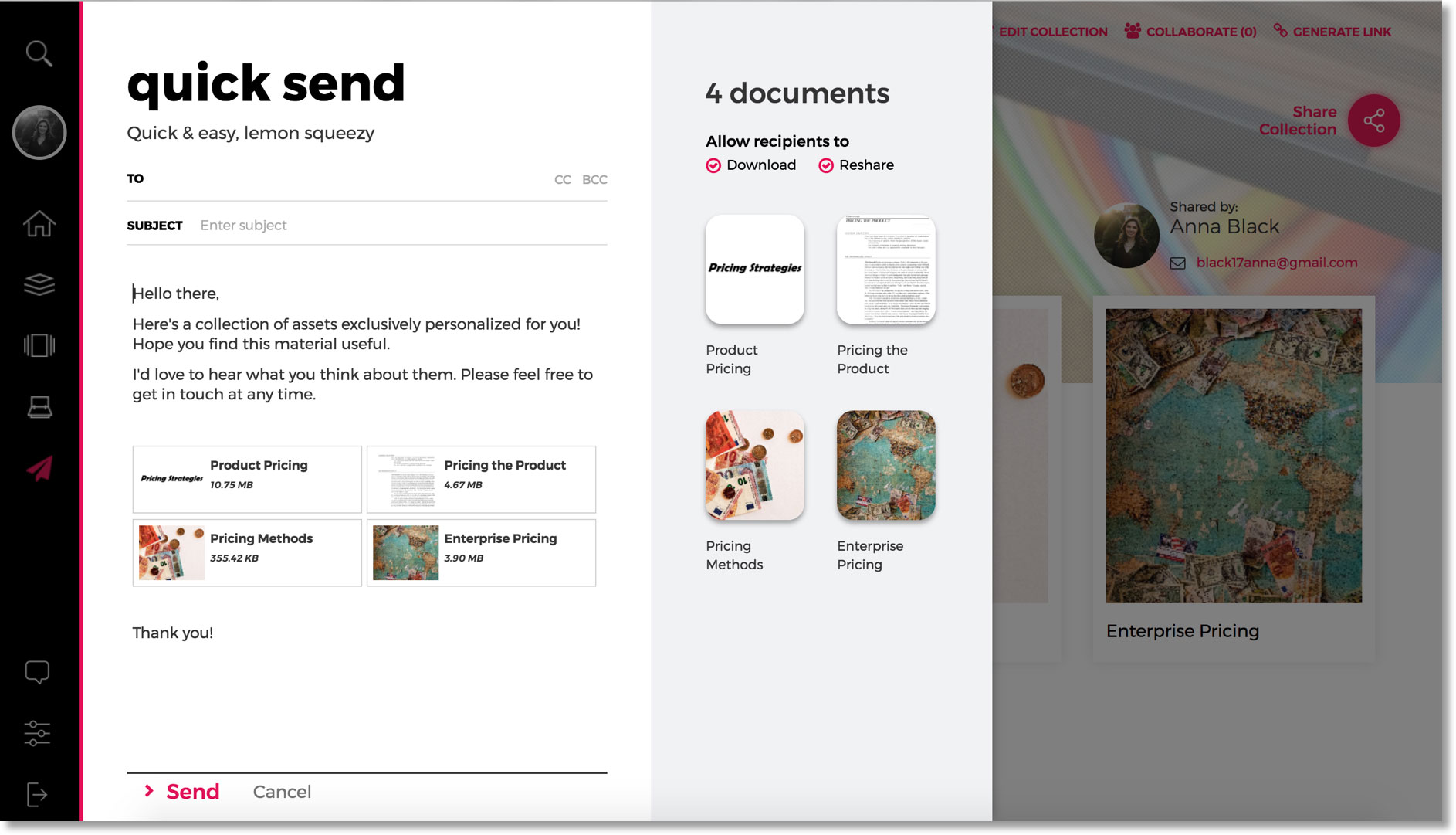 5. BLOGS
Lastly, and not really an update on the platform, but more like a general notice: as you've probably already gathered, we've started a blog here at Paperflite.com. The aim of this blog is not only to let you know how we're evolving Paperflite to become more powerful for you but also to share industry best practices, some of our own insights, as well as keep you informed on the latest happenings in the world of Sales and Marketing.

If you'd like to stay up to date on what we're doing, just enter your email address in the form on the side-bar, and we'll be sure to send you an Updates Digest every so often.

(Don't worry, we absolutely can't stand Spam ourselves, and we would never misuse your information.)
---
And there we have it – some of our latest (and greatest?) new features you'll see in the updated Paperflite, all designed to give you more power and more insight on how your content performs.
Log in to your account now and let us know how they work for you!
As always, we'd love to hear from you! Please feel free to share your feedback with us on these features, or on your experience with Paperflite. Just leave us a comment below, send us an email, or ping us for a quick chat.