An Ode to Paperflite's Customers
Ding Ding Ding! What season is it? 
Here's a hint: Red carpets, champagne, paparazzi, A-lister celebrities
Another Hint: It's the AWARDS season (gasp!)
And here's why it's our favourite season too!
G2 named Paperflite a Momentum Leader in six categories and awarded us with 25 other badges in the Sales Enablement, Content Experience, Content Analytics, Content Distribution and Account-Based Web Content Experience categories.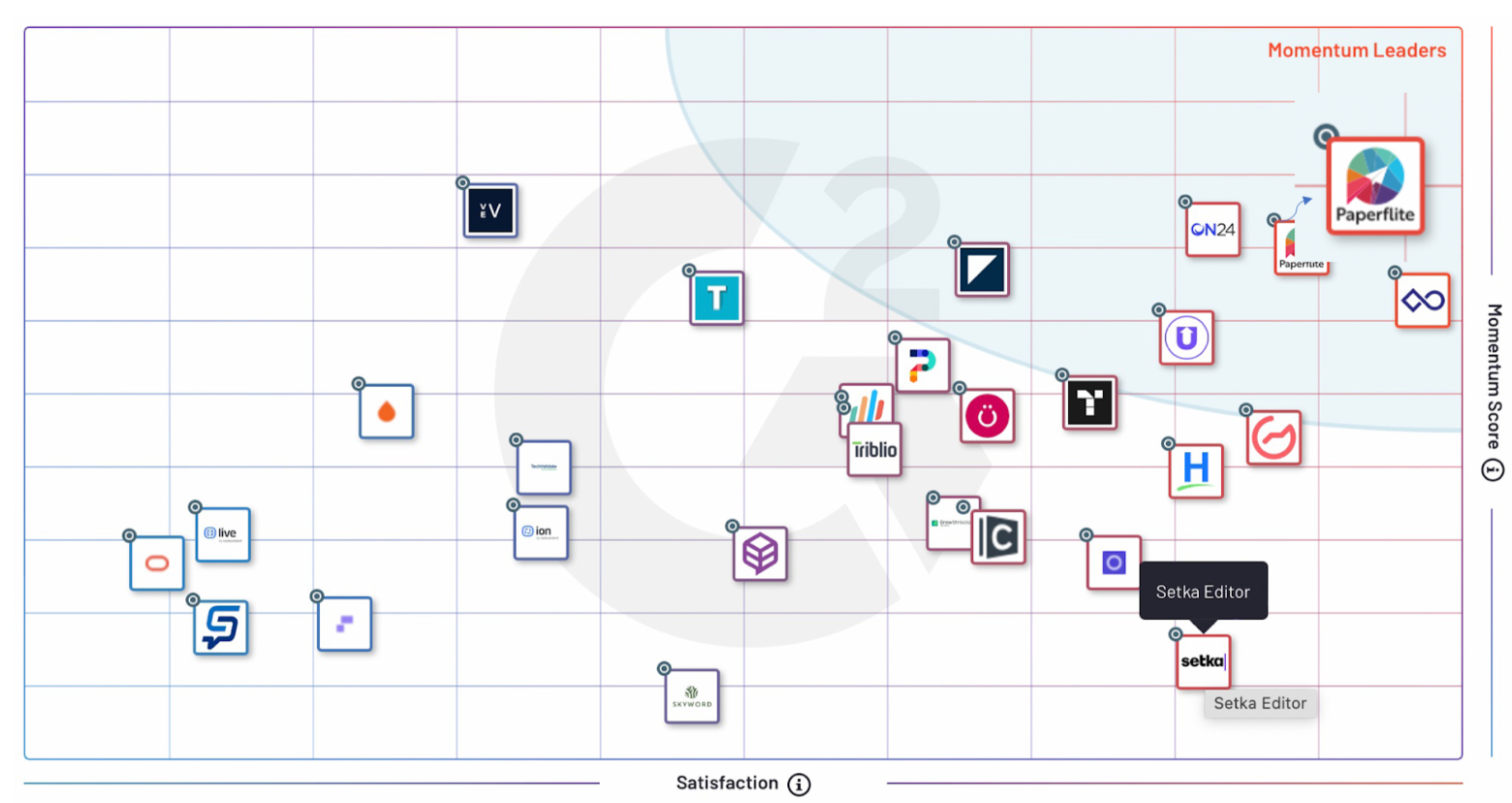 The occasion calls for another toast as Paperflite has received the title of a Momentum Leader for the fifth consecutive season! We value this achievement as it stands as an indicator of happy customers, happy employees and the social growth of Paperflite over the years, one step at a time.
We couldn't have achieved this feat without the love and support of our customers and well-wishers. 
Why should G2 Crowd rating matter, you ask?
It is the largest and most popular marketplace for business software. Their e-rankings are based on validated real user feedback.
"This isn't just a subjective list by a few people giving their opinions," CEO of G2 Crowd Godard Abel explains. "With the peak traffic and engagement, largest selection of products and services, and highest quality data, G2 Crowd can harness more than 5mn data points to examine and understand the products that are doing the best job on helping businesses reach their potential."
What does it mean to be a Momentum Leader?
A product's Momentum score is calculated by a proprietary algorithm that factors in social, web, employee, and review data that G2 has deemed influential in a company's momentum. Software buyers can compare products in the respective category according to their Momentum and Satisfaction scores to streamline the buying process and quickly identify trending products.
For sellers, media, investors, and analysts, the Momentum Grid® provides benchmarks for product comparison and market trend analysis. Badges are awarded to products with the top Momentum Grid® scores.
Category description as Provided by G2 for each of the categories in which Paperflite has been rated the Momentum Leaders.
What does it mean to be the best in the Content Experience category?
Content experience platforms enable companies to create personalized experiences geared toward audience engagement. These tools first provide features focused on the centralization and organization of marketing assets via tagging and categorizing based on audience or use case.
Once content is organized, content experience products offer personalization functionality to create custom experiences for audiences with the intent to generate specific business outcomes.
These outcomes can include capturing leads, scoring leads, or driving people to a contextual call to action, among others. Content experience platforms can also offer distribution features and analytics to track content performance and audience insights. Used by content marketing teams, these tools help businesses drive true value from their content and interactions with audiences, pushing them to actively engage.
To qualify for inclusion in the Content Experience category, a product must:
Enable companies to aggregate assets in a repository, with tools to segment and organize content for various use cases, audiences, and accounts
Offer templates to customize and design personalized content experiences
Contribute to conversion via lead forms, personalized recommendations and CTAs
Provide metrics on how content is performing, including audience insights
What does it mean to be the best in the Sales Enablement category?
Sales enablement software provides a repository for marketing collateral and sales playbooks to supply sales representatives with content that is productive, useful, and opportune during all aspects of the selling cycle.
Sales enablement tools ensure that any sales representative can find the proper content, submit it to prospects, and track prospect engagement within that piece of content.
These products are implemented to ensure that marketing initiatives and sales missions are aligned. Relevant content provided in sales enablement solutions help salespersons be more prepared during calls and presentations. Sales enablement software should be used in conjunction with CRM software.
Sales enablement software falls into the sales acceleration ecosystem with other software, including sales performance management software, email tracking software, and outbound call tracking software.
To qualify for inclusion in the Sales Enablement category, a product must:
Act as a repository of marketing content to be used by sales representatives
Track prospect and customer engagement on content and sales pitches
Allow users to upload a variety of collateral or build content directly within the tool
What does it mean to be the best in the Content Distribution category?
Content distribution software disseminates content to online audiences across a variety of communication channels, such as social networks, paid search, websites, blogs, email, and more.
Content can be distributed via paid media, such as native advertising platforms, owned media, such as websites, blogs, and social channels, and earned media, such as content promotion by website visitors onto their own channels.
These tools are used by content marketing teams to expand their audience reach and increase content visibility.
To qualify for inclusion in the Content Distribution category, a product must:
Allow users to share marketing content on multiple channels (web, social media, etc.)
Target customer segments with personalized content
What does it mean to be the best in the Content Analytics category?
Content analytics software provides users with detailed insights into employee and visitor interactions with published content, such as blogs, articles, and podcasts. Also known as content intelligence, this technology helps users gain visibility that can steer future content strategy.
Content analytics solutions may offer metrics such as page views and shares, outbound clicks, search rankings, average time spent on individual posts, and financial impact of content.
These platforms may also provide data such as desktop vs. mobile viewership, insights into the particular industries or demographics of viewers, and analyses of which content components are most effective. 
To qualify for inclusion in the Content Analytics category, a product must:
Track viewer engagement and/or employee involvement with published content on company websites, blogs, and other online sources
Provide various metrics related to viewership and business outcomes
What does it mean to be the best in the Account-Based Web and Content Experiences Software category?
Account-based web and content experiences software allows companies to create personalized, branded web and content experiences at scale to drive better results for account-based marketing strategies.
This type of software helps marketers create and distribute account-specific content to accelerate the sales cycle. Account-based web and content experiences software displays unique content for each targeted account on a company's website by personalizing text, branding, calls to action, images, etc. This type of software also assists marketers in monitoring page views and conversions per account as they engage with their website and content.
Account-based web and content experiences is one potential execution method within an account-based marketing strategy that marketers can implement to reach targeted accounts. Other execution methods can include account-based advertising and account-based direct mail, and companies can choose to implement one or a combination of execution tactics.
Similar to content experience software, which enables companies to create personalized experiences geared toward audience engagement, this type of software focuses on personalizing content and web experiences for targeted key contacts within an account-based marketing strategy.
To qualify for inclusion in the Account-Based Web and Content Experiences category, a product must:
Create hyper-personalized content and web experiences that can be targeted to contacts within specific accounts
Monitor page views and measure engagement with content per account and determine which experiences are resonating with targeted key contacts
All of this is followed by a detailed 21 point review checklist across three categories which includes pointers like satisfaction, set-up and support.
Enabling and making sure that the marketing and sales teams to have an edge over their content and the market.
Being featured as G2 Crowd's Momentum Grid Leader is proof of our commitment to helping businesses discover how exactly their content performs across all channels and devices, on a single intuitive platform.
At Paperflite, we've built a product that makes lives easier for marketers and sales reps while staying true to our roots. Our platform empowers our customers to discover, curate, share and measure contextual content with buyers for every stage of the buyer's journey.
Paperflite is transforming how teams work by making it easier for them to collaborate effectively, break down silos, and discover the potential of marketing. In a nutshell: custom-built technology by marketers.
If you're curious about how Paperflite can help accelerate your ROI on your investment in content, you can talk to us here!
We want to express special gratitude and an uber-tight hug to all of you who made it happen. Thank you so much.
To give you a quick snapshot here is highlighting some of the reviews received at G2 Crowd:
Paul I
VP, Life Sciences
"Incredible Platform for Personalization!"
Jasmine J
Business Development Representative
"A must-have in your sales enablement tech arsenal"
Adhithya
Founder
"Paperflite is a heavy lifter!"
Aashish
Digital Marketing Lead
Jamie G
Business Development Manager
"We are what we repeatedly do. Excellence, then, is not an act, but a habit."
-  Yours Truly!
As we march on Spring 2022 (see what we did there!) and beyond, we promise to continue listening to you and innovating on our platform to ensure we're delivering the best experience that enables you to do your best work.